Tender and moist grain free Chocolate Marbled Java Bundt Cake filled with hidden veggies and topped with a cashew, espresso glaze.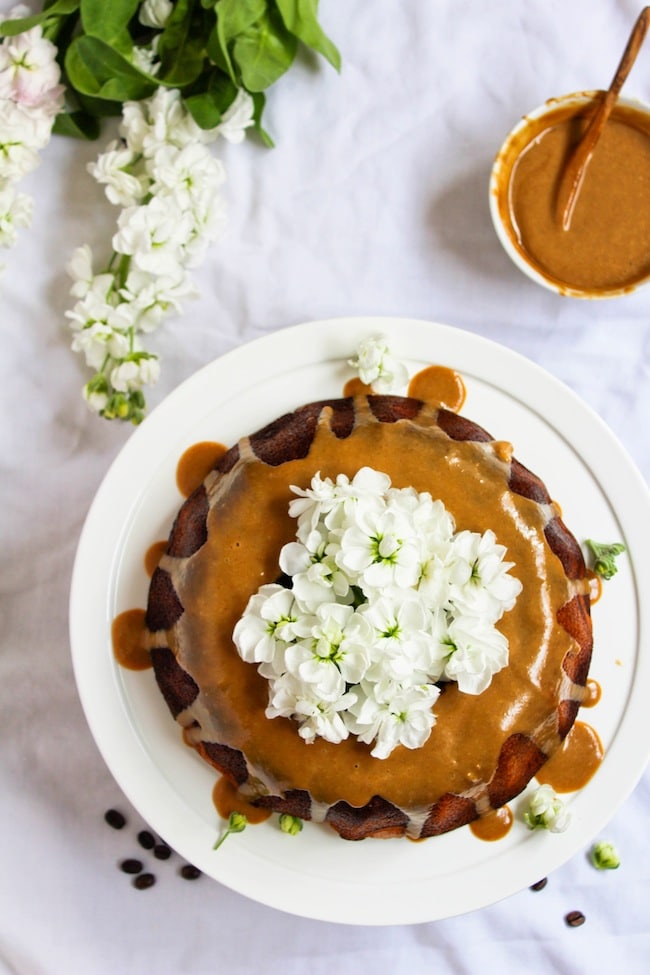 Chocolate Marbled Jave Bundt Cake with a Cashew Espresso Glaze. Say that five times fast.
Two cake recipes in two days?! I'm sorry – I promise I'll post something healthy soon! It's not every week that I get to celebrate my one year wedding anniversary though, so I hope you'll let me make an exception. My last post was my homemade, chocolate wedding cake which I was really excited to share with you all. As far as gluten free cakes go – you'd never guess that it was gluten free. But you know what they say – new year, new cake….or maybe I said that just now.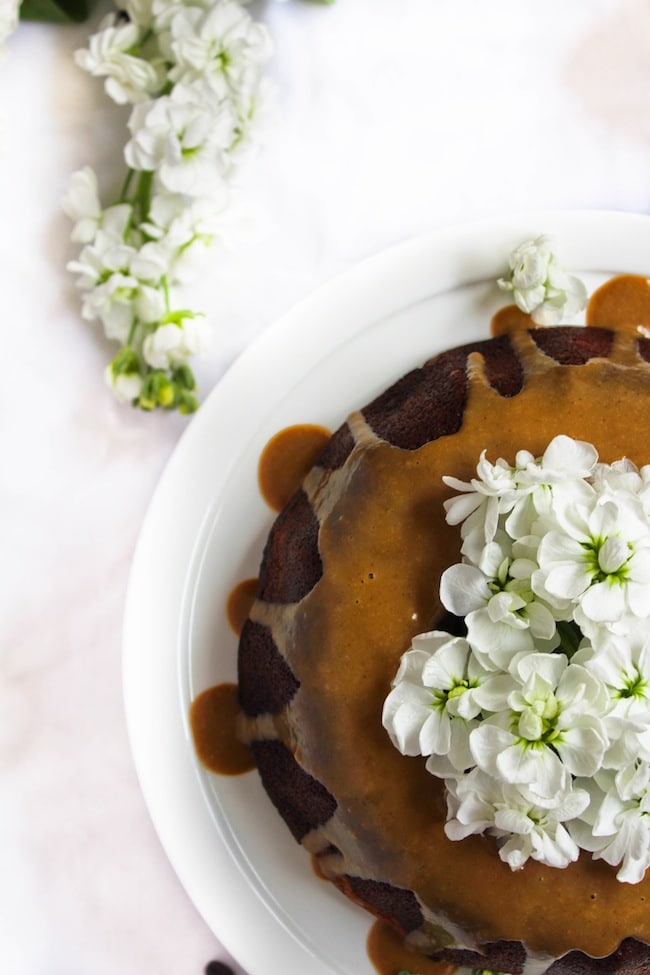 This cake though. This isn't just special because it's a bundt cake.
The chocolate cake I made for my wedding was more for Mike than anything else. If you're going off stereotypes you might think that I'm the chocoholic in our relationship, but really it's Mike who takes the cake in the department. (See what I just did there?) His love for chocolate really is that of a menstruating woman. But seeing as how marriage is a lot of compromise, I thought I'd make a cake that did just that. Don't get me wrong, I like chocolate, but there are a number of other foods I'd list before I got there…or should I say flavors? Close to the top of my list: coffee.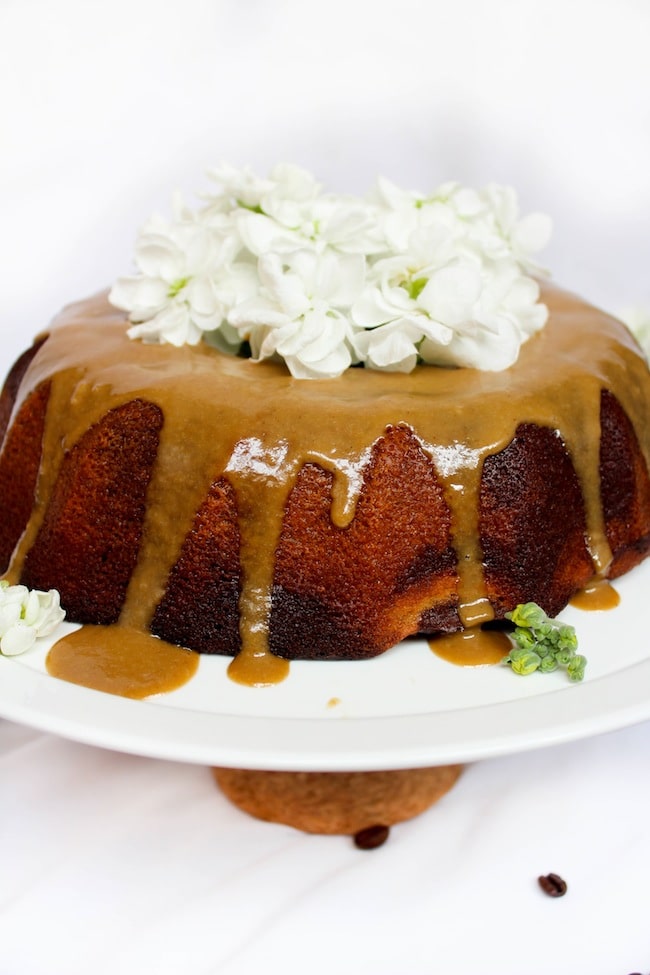 I looooove coffee. When I first moved to Sheffield and realized that people favored tea kettles over coffee pots I think a little piece of me died. Instant coffee is not that same and I will fight anyone who tried to convince me otherwise. Thankfully Mike came to the rescue a few months later and gave me coffee maker for Christmas in which I can grind my own beans. Does that make me a coffee snob? Maybe. #sorrynotsorry.
It's not the caffeine boost that most people get that I like – I think I'm pretty much desensitized to that by now anyways. It's the ritual of sitting down and relaxing with some warm and tasty. It's comfort in a mug.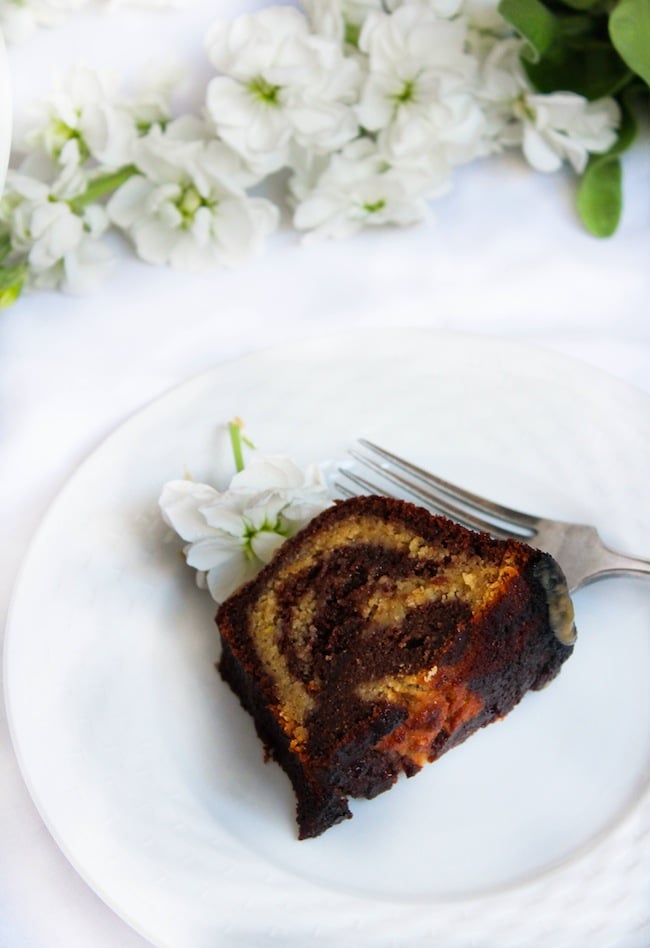 I've made banana flavored coffee cake before – a cake that you enjoy with a cup of coffee, but this is a coffee flavored bundt cake made with brewed coffee and cocoa. Swoon.
It's also got a bit of something else you may not expect to find in a cake: zucchini. When I was much younger I used to make these maple zucchini cupcakes that I found in a Taste of Homes cook book that I used to LOVE. Ugh. They were so good and so bad for me, but back then it was probably the only way you'd find me eating zucchini. Thankfully now, times have changed and I eat at least one whole zucchini daily in one way or another. That being said, I still love using it in my baking to add moisture and texture to my baked goods. Also, I like to throw in the odd vegetable in my recipes and pretend that makes them healthy.
And don't even get me started on this glaze. I am in love with this glaze. I got the idea to make a cashew cream glaze a few days ago when I was making some vegan cheese. I love my dairy cheese like nobody's business, but cheese doesn't necessarily get along with Mike. The way you make the glaze is very similar to how you make vegan cheese. You soak your cashews in boiling water for an hour or two and then you blend and flavor it with whatever you want. A little of this, a little of that, and wha-la! You've got yourself a non cheese-cheese. Instead of adding lemon juice and garlic like you might normally do to make cheese, I added instant coffee powder and maple and ended up with this glaze. Oh man, it's so good.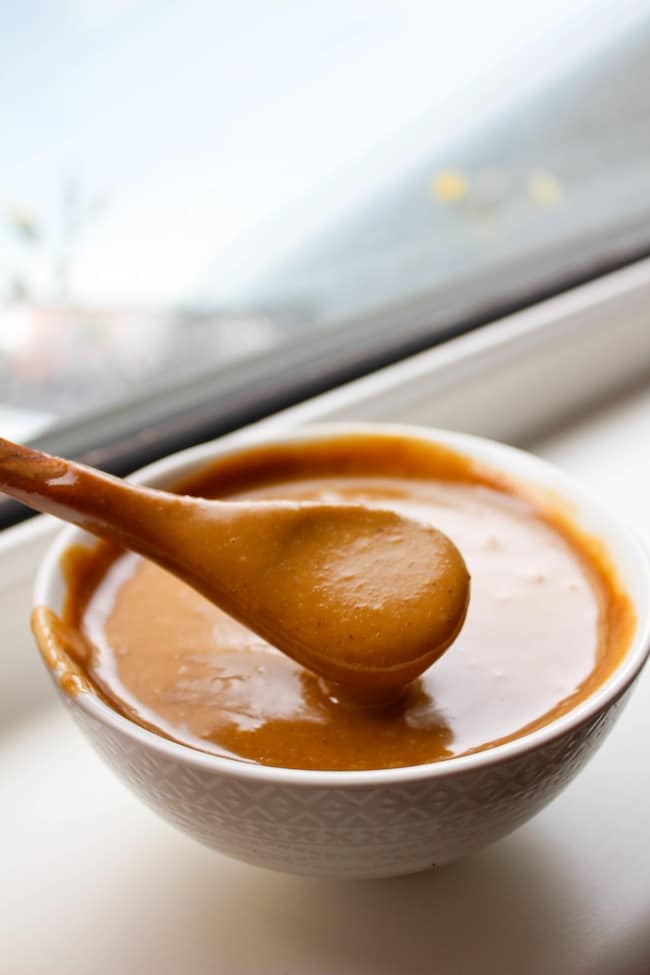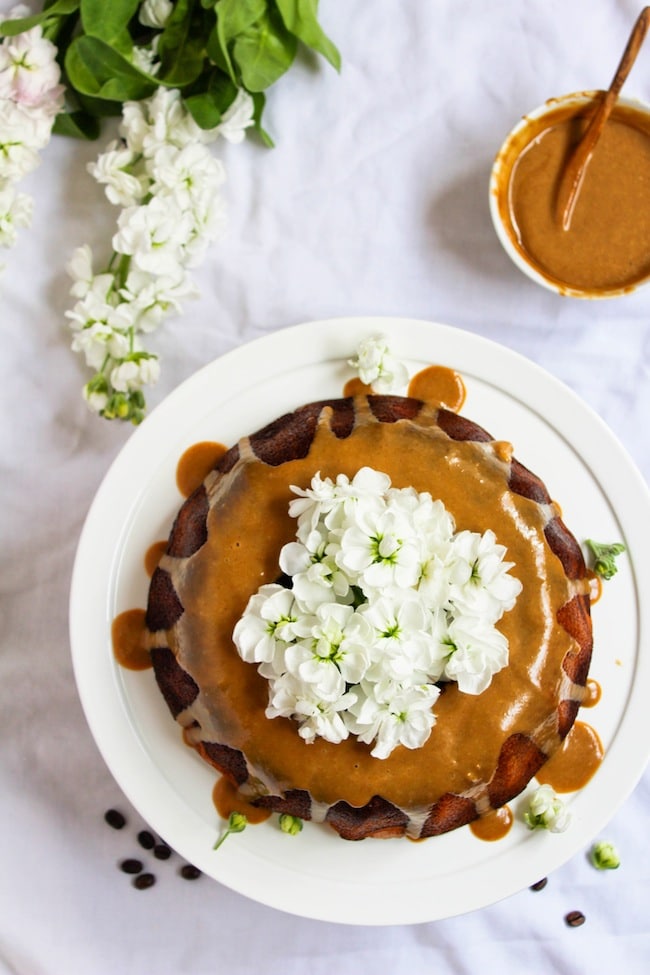 Recipe
Chocolate Marbled Java Bundt Cake
Yield:
8 servings
Prep Time:
20 minutes
Cook Time:
45 minutes
Total Time:
1 hour
5 minutes
Incredibly moist, grain free Chocolate Marbled Java Bundt Cake filled with hidden veggies and topped with a cashew, espresso glaze.
Ingredients
2 1/2 cups (240 grams) almond flour
3/4 cup (90 grams) tapioca flour
1/2 teaspoon baking soda
1 teaspoon baking powder
1 teaspoon cinnamon
1/4 teaspoon salt
2 cups (300 grams) grated zucchini - comes out to about 2 medium sized zucchini
1/4 cup melted coconut oil
2 eggs
1/4 cup coffee
1/2 cup (170 grams) maple or honey
1/4 cup cocoa powder
Instructions
Preheat your oven to 350°F/180°C and grease a large (12 cup capacity) bundt pan
To make the cake, whisk together the almond flour, tapioca flour, baking soda, baking powder, cinnamon and salt in a large bowl. In a blender mix together the eggs, grated zucchini, melted oil,coffee, and sweetener until combined. You can also mix you wet ingredients in a bowl by hand if you choose - you'll just end up with large bits of zucchini.
Pour the wet ingredients into the flour mixture and stir to combine. Pour half of the batter into another bowl and stir in the cocoa powder.
To make the marbled effect spoon the two batters into the bundt tin one at a time, alternating between the chocolate, and the coffee flavor. Keep this up until all of the batter is in the tin. Place in the oven and bake for 45-50 minutes or until a tooth pick comes out clean when inserted into the side. I usually check in a couple of places for bundt cakes.
Nutrition Information
Yield:

8
Serving Size:
g
Calories:

378
Saturated Fat:

7g
Cholesterol:

44mg
Sodium:

163mg
Carbohydrates:

33g
Fiber:

5g
Sugar:

14g
Protein:

9g
This website provides approximate nutrition information for convenience and as a courtesy only. Nutrition data is gathered primarily from the USDA Food Composition Database, whenever available, or otherwise other online calculators.
To make the glaze you need:
3/4 cup cashews (115 grams)
1 cup (250ml) boiling water
1 tablespoon instant coffee powder
1/2 teaspoon cinnamon
3 tablespoons maple or honey
3 tablespoons water
1. Cover and soak the cashews in boiling water for 1-2 hours (overnight if you don't have a powerful blender).
2. Drain the water from the cashews. Add the cashews, the instant coffee, sweetener, and water to blender and blend until smooth. If your glaze is too dry to mix, add another tablespoon of water.
3. Wait until you bundt cake is cool before add the glaze or else it will just melt into the cake.