Ginger Chili Chicken – a one skillet, 15 minute dinner made with fresh ingredients that pack in the flavour!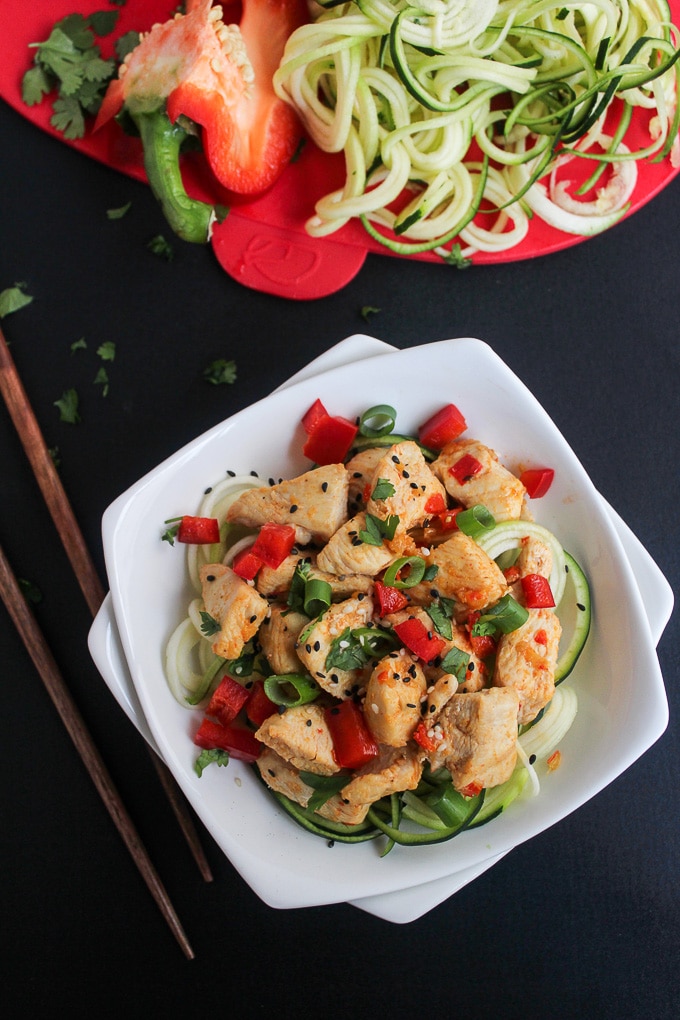 We are a household that is never lacking in two things: ginger and chili. That was true even before I moved to Sheffield. Since I've moved here we're also never lacking in garlic or coriander because without either – what's the point? Of course there are plenty of other things that I make sure to keep in at all times: coffee beans, peanut butter, avocado, etc, but those things are more for my own mental well being. If we're ever out of chili or ginger there's something going on because those two things seem to find there way into at least one meal a day.
So whenever I'm at a loss for what to cook for dinner this is usually what ends up happening – some sort of ginger chili chicken stir fry filled with whatever veggies we have in. Sometimes we have it with rice and sometimes we have it over zoodles and sometimes I 'forget' to make a side because it's the end of the day and I just can't be bothered. No matter what way we have it and what vegetables go into it it's always delicious and it's always satisfying.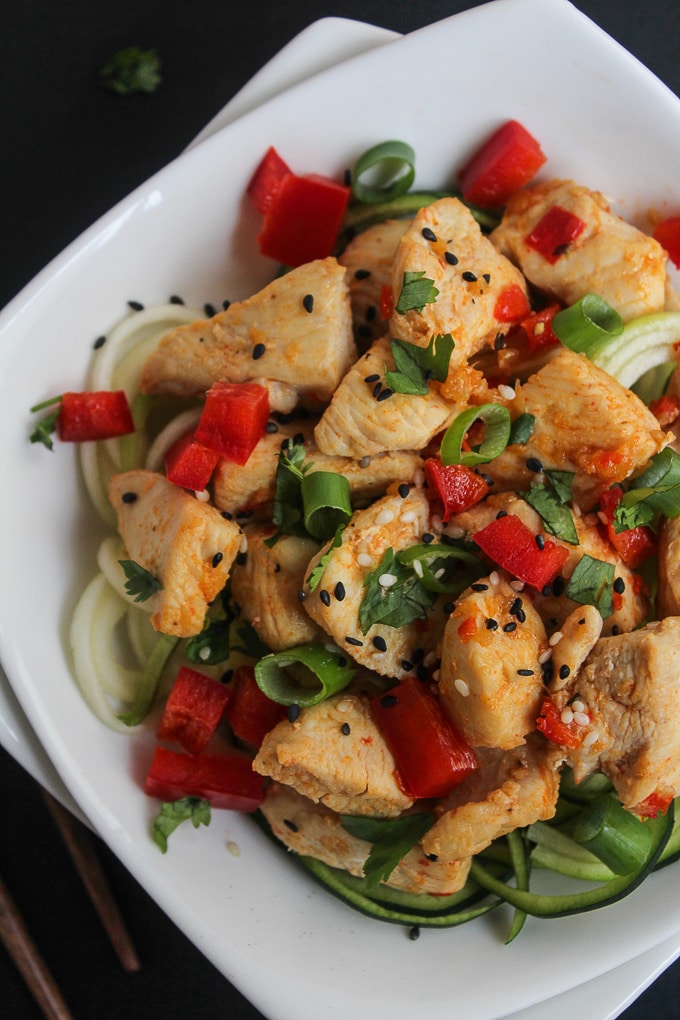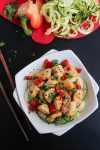 Ginger Chili Chicken
Ginger Chili Chicken - a one skillet, 15 minute dinner made with fresh ingredients that pack in the flavor!
Ingredients
2

tablespoons

coconut oil

3

garlic cloves

, crushed or minced

1

inch

chunk ginger root peeled and minced

2

fresh red chilis

, seeds removed and chopped

4

chicken breasts cut into bite sized chunks

1

red pepper seeds removed and cut into chunks

1

tablespoons

fish sauce

2

teaspoons

coconut sugar or regular caster sugar

black pepper to taste

2

spring onions chopped

sesame seeds optional for topping

small bunch of cilantro

(coriander) stalks removed and chopped
Instructions
Heat a wok and melt the coconut oil. Add the garlic, ginger, and chilies and stir fry until the garlic turns golden. Add the cut up chicken pieces and toss around the wok for 1-2 minutes. Add the red pepper.

Stir in the fish sauce and the sugar and stir fry another 3-4 minutes until cooked. Add the zucchini and the spring onions and fry for an additional minute to warm the zoodles through without them becoming too soft.

Season with pepper, top with the cilantro and sesame seeds and enjoy.
This post contains affiliate links.  I only post links for products I personally use and believe in. If you make a purchase on Amazon after clicking one of my links, I receive a small commission and the price you pay is not affected.  Thank you!
She brains and reluctant dishwasher for A Saucy Kitchen