This salmon salad is full of heart healthy ingredients that also promote brain and skin health. Salmon, summer berries, fresh thyme, walnuts, and seasonal greens topped with a tangy balsamic glaze for the ultimate feel good salmon salad.
I used to work at Sephora for a few years while I was going to school. For those of you unfamiliar, Sephora is a luxury chain beauty store owned by Louis Vuitton. They sell fragrances, hair products, skin care items – and of course makeup. Sephora is to women what candy stores are to 10 years olds.
Sephora wasn't anywhere I had imagined myself working at before getting hired there. I didn't even know how to do my own makeup, let alone tell anyone else how to do theirs. Growing up with four brothers I didn't exactly have a lot of practice in that department. Not only was it a great experience because it forced me out of my comfort zone by engaging with clients and teaching them how to apply their makeup, I also learned a TON of really useful and valuable information. After awhile of working there I got really interested in the skin care side of things. Sephora offered a ton of luxury skin care items that weren't exactly cheap (owned by Louis Vuitton, remember?) I figured that if I was about to sell someone a $120 face cream I wanted to know exactly if, how, and why that item worked so that I could pass that knowledge along to my clients.
Not only that, but I found the science side of skin care to be incredibly fascinating and useful. I used to go home after work and bore Mike with the nitty gritty details of skin toners, brightening masks, and hydrating creams. I loved learning about the connection between healthy skin and overall health and how unhealthy skin reflected poor internal health. After all, your skin is your largest and most unprotected organ in your entire body.
Since good skin is a reflection of good health, many skin care brands put a lot of emphasis on packing as many nutrient dense antioxidants, fatty acids, minerals, and vitamins into their products for you and I to put on our skin. Now, I'm all for a good face cream, but do you want to know another way to harness the anti inflammatory benefits of omega 3 or the brightening properties of vitamin C? Through your food!
Taking vitamins and nourishing our skins are great tools to achieve health, but the easiest and most effective way to take care of ourselves is by eating things that encourage health. That's what this salmon salad is all about. Let's break it down, shall we?
Wild caught Salmon is full of omega 3 fatty acids = brain, heart, and joint health.
Blueberries are packed full of vitamin C which helps with collagen production. More collagen = less wrinkles.
Walnuts also contain antioxidants and omega 3 fatty acids and well as vitamin E.
Seasonal Greens contain vitamins A, B6, and K
This biggest takeaway that I want you to get from this, is that omega 3 fats are crucial for obtaining good health whether you take it in supplement, topically, or through your food. I'd definitely recommend getting it through your food with this salmon salad though because it's everything that you want out of a salad and more. Your body will thank you for it later!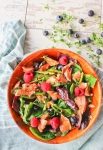 Powerhouse Salmon Salad
This salmon salad is full of heart healthy ingredients that promote brain and skin health. Salmon, sumer berries, fresh thyme, walnuts, and seasonal greens topped with a tangy balsamic glaze for the ultimate feel good salmon salad.
Ingredients
4

ounce

wild caught salmon fillet

4-5

asparagus stalks

3

cups

seasonal greens

1/4

cup

fresh blueberries

1/4

cup

fresh raspberries

2

tablespoons

olive oil

1

tablespoon

balsamic vinegar

1

tablespoon

chopped walnuts

(omit for AIP protocol)

small handful fresh thyme

squeeze of lemon juice

dash of salt & pepper
Instructions
Preheat your oven to 450°F/230°C. Season both the salmon fillet and the asparagu swith salt and pepper. Lay the salmon skin side down on a baking tray and lay the asparagus next to the salmon. Squeeze a bit of lemon juice over the salmon, and drizzle about 1 tablespoon of the olive over the salmon and the asparagus and bake for about 12-15 minutes until the fish is cooked through. When they are both done cut the stalks into 1-2 inch pieces and shred the salmon.

After the salmon and the asparagus are done baking you can begin putting together your salad bowl by simply adding the greens, the berries, thyme, and nuts to a bowl. Top with the salmon.

In a small bowl whisk together the balsamic vinegar, salt, pepper, and remaining oil and drizzle over the salad. Toss everything together to coat and enjoy.
Nutrition Facts
Powerhouse Salmon Salad
Amount Per Serving
Calories 565
Calories from Fat 378
% Daily Value*
Total Fat 42g 65%
Cholesterol 62mg 21%
Sodium 128mg 5%
Potassium 1319mg 38%
Total Carbohydrates 20g 7%
Protein 29g 58%
* Percent Daily Values are based on a 2000 calorie diet.
She brains and reluctant dishwasher for A Saucy Kitchen