Sesame Salmon Salad with a Ginger Shallot Dressing: sharp flavors & wholesome ingredients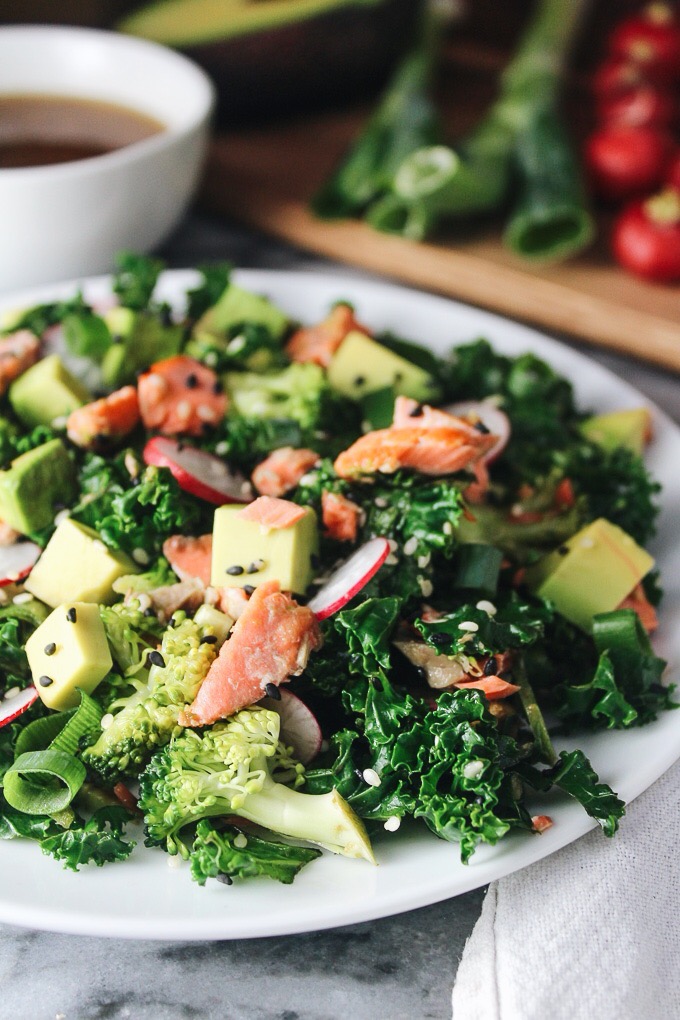 When Mike and I were still in the getting to know each other phase of our relationship we talked a lot. Like, a lot. We could probably fill several books worth of words exchange between the two of us – think Lord of the Rings length. I'm willing to stake a bet that we were able to learn more about each because we were doing the long distance thing since we had no choice but to talk.
I love thinking back to that time. It was so exciting uncovering bits of each other's personality one late night Skype session at a time. I got to learn what Mike's favorite sports teams were and his childhood nostalgia revolving around 90's attitude era wrestling while I got to vent about the woes of working in retail and trade music recommendations.
Of course one topic that popped up again and again was food – it's basically one of my love languages, so why wouldn't it? I'd badger him with questions trying to get an idea of what English food was like beyond fish and chips while he would name all the fast food places in America that he'd like to try one day. Unfortunately for Mike the whole Coeliac Disease thing has gotten in the way of his fast food journey across America so he'll be left forever wondering if Popeyes is actually as good he hoped it would be.
I learned pretty early on that there were quite a lot of foods that Mike claimed not to like: avocado, eggs, salmon, white sauces (????) to name a few. I say claim because every time he'd tell me about another food he wasn't too keen on I'd refuse to accept it and insist that he could like anything if it was prepared the right way. I'm a firm believer that any food can be made nice so long as you give it a little TLC.
Over the last year since I've started this blog I've learned even more how transformative food can be. It's an art and a science mixed into one and food that you might otherwise gag at can become your new favorite thing. Since I moved to England and started cooking for Mike I've taken his thoughts on food as a personal challenge to figure out ways to get him to enjoy foods he thought he didn't like. There aren't many days that go by without him eating eggs of some variety for breakfast and avocados for dessert. I've even got him requesting salmon for tea whenever there's a chance.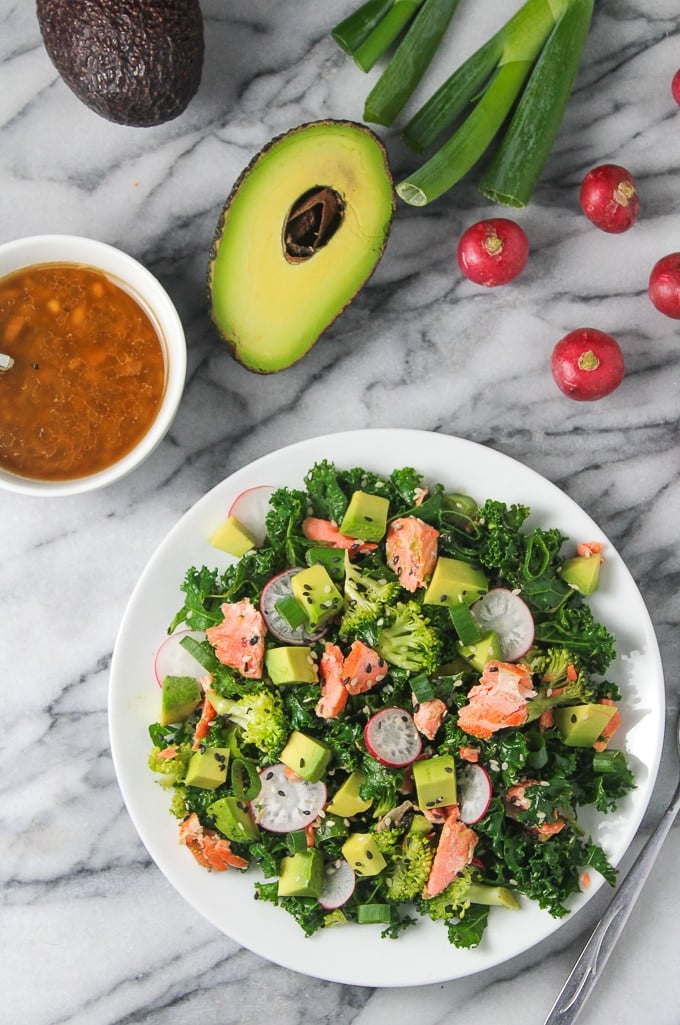 About this recipe
This sesame salmon salad is as nutritious as it it delicious. It packs in a lot of flavor thanks to these simple ingredients that balance out between soft and crunchy textures while offering up a blend of sweet, savory, and tangy flavors .
Blanch the kale to soften the leaves and reduce the bitterness by bringing a pot of water to a boil. Drop the kale into the already boiling water for about a minute until the leaves become tender then drain the water and rinse the leaves under cold water to stop it from cooking further.
The ginger shallot dressing is thrown together in minutes. Simply mince, grate, and shake together all of the ingredients to get in a small jar with the lid securely fastened and drizzle over to your hearts content.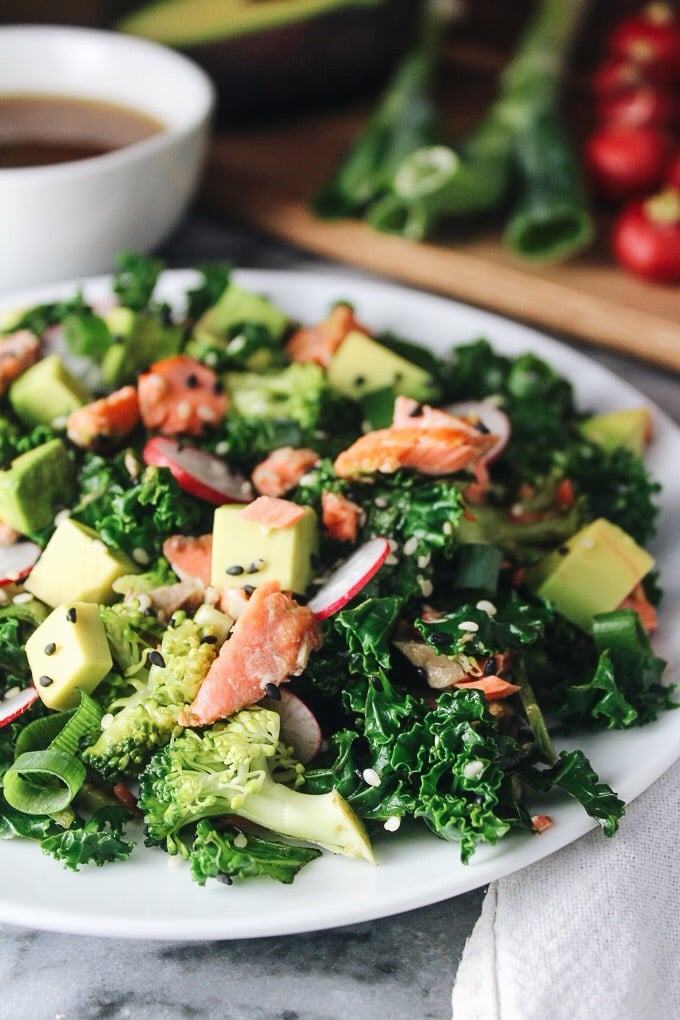 Recipe
Sesame Salmon Salad with a Ginger Shallot Dressing
Yield:
4 servings
Prep Time:
20 minutes
Cook Time:
10 minutes
Total Time:
30 minutes
Sesame Salmon Salad with a Ginger Shallot Dressing: sharp flavors & wholesome ingredients
Ingredients
For the Salad
2 five ounce salmon fillets
3 cups kale, , ribs removed and chopped (200 grams)
1/2 head of broccoli cut into small florets
2 avocados, , diced
4 spring onions, , thinly sliced
10 radishes, , thinly sliced
1 tablespoon black and/or white sesame seeds
For the dressing
1 banana shallot, , finely chopped
1 1/2 inch chunk of ginger root, , peeled and grated
6 tablespoons rice wine vinegar
6 tablespoons tamari or coconut aminos
6 tablespoons sesame oil
salt and pepper to taste
Instructions
Dressing Instructions
To make the salad dressing combine all of the ingredients in a jar and season with salt and pepper. Screw on the lid and shake the jar until everything is combined. Set aside for later.
Salad Instructions
Warm a non stick skillet with a splash of oil on a medium high heat. Once the skillet is hot add the salmon skin side up cook until golden brown for about 4 minutes. Flip the salmon fillets over and cook another couple of minutes until the salmon feels firm to the touch. Remove the salmon from the heat to cool. Remove the skin when it's cool enough to tough.
Next you're going to blanch the kale to reduce the bitterness and soften the leaves. Bring a small pot of water to a boil and submerge the chopped and washed kale in the water. Stir the kale for about a minute until the leaves become soft. Drain the kale and run the leaves under cold water to stop it from cooking. Pat the leaves dry.
Place the kale in a large bowl with the chopped broccoli, avocado, spring onions and radishes. Drizzle some of the dressing over the top of the salad. Break up the salmon fillets and scatter over the top of the salad and then top with the sesame seeds.
Nutrition Information
Yield:

4
Serving Size:
g
Calories:

411
Saturated Fat:

4g
Cholesterol:

19mg
Sodium:

1575mg
Carbohydrates:

17g
Fiber:

6g
Sugar:

2g
Protein:

15g
This website provides approximate nutrition information for convenience and as a courtesy only. Nutrition data is gathered primarily from the USDA Food Composition Database, whenever available, or otherwise other online calculators.
This post contains affiliate links. I only post links for products I personally use and believe in. If you make a purchase on Amazon after clicking one of my links, I receive a small commission and the price you pay is not affected. Thank you!