Crumbly, gluten free and vegan strawberry rhubarb bars spiced with a hint of ginger.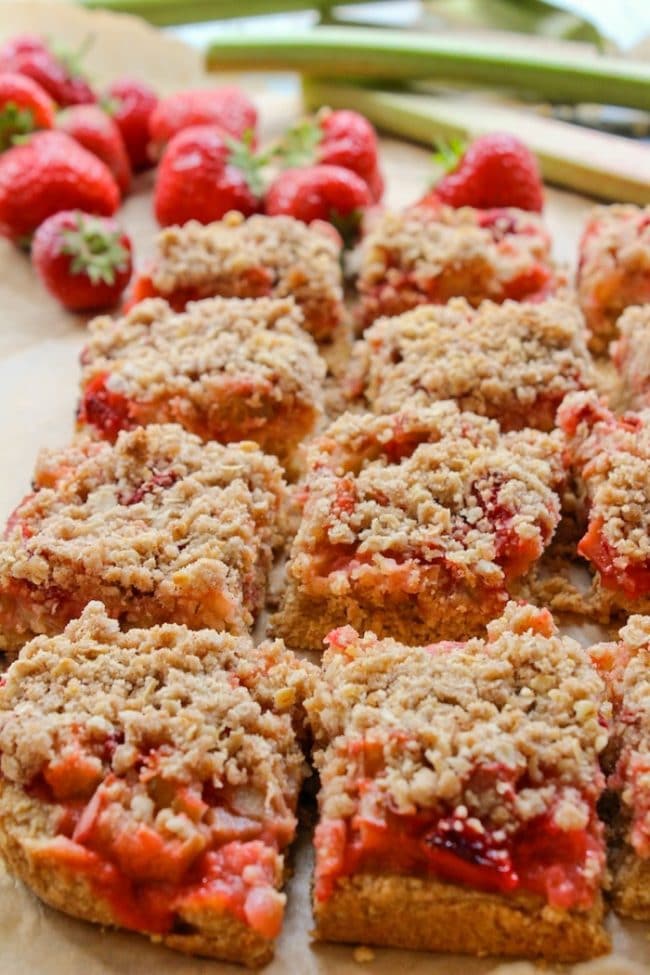 Is it just me or has this summer year been flying by? How it it almost August? When I used to work in retail now would be the time that we would have to start whipping out the fall decorations and before you know it Christmas is right around the corner. Ridiculous, I know.
That all being said, my window of opportunity for cooking with the seasonal summer fruits and vegetables is growing smaller. I've been trying to get in as many berries, melon, and summer squash as I can while it's still nice.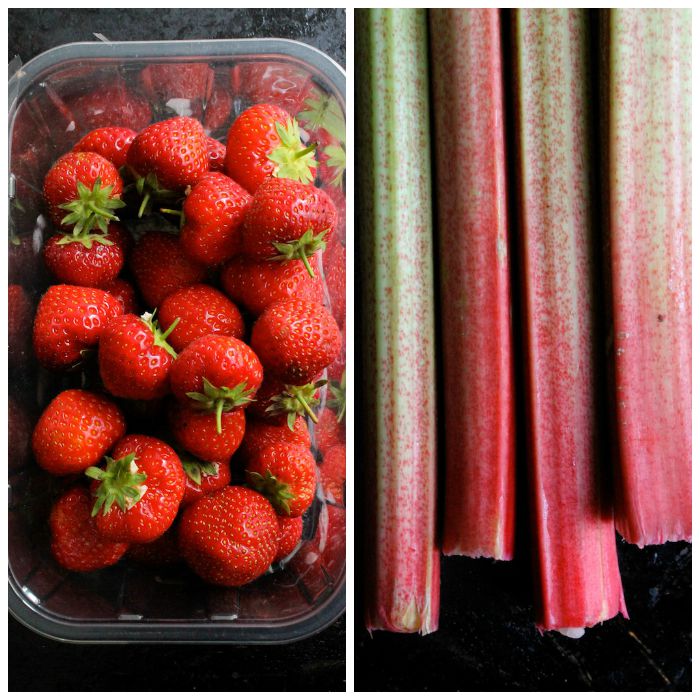 Rhubarb has been on my culinary to do list for quite some time now. Growing up in Arizona, I never really saw much rhubarb since the desert climate isn't exactly suitable for growing it. So when I started seeing the bright red and pink stalks taking up real-estate in the produce section of every grocery store I got excited thinking about all the things I could make with it. Before rhubarb season officially comes to an end, I wanted to make these.
A couple of things I learned about rhubarb while making these:
1. Rhubarb is a vegetable. Rhubarb is just a wanna be fruit. Looking at them it makes sense because they look like celery stalks, but I always saw them pictured with berries or in lemonade in some type of dessert – I assumed they were too.
2. The color of the stalk doesn't actually indicate ripeness. Different colors just mean that they are different types of rhubarb. The way to know when it's ready to eat is based on the the thickness of the stalk is at least 1/2 an inch to 1 inch thick.
3. The leaves are poisonous because of the high levels of oxalate – so don't ever be tempted to eat them no matter how deliciously green they look.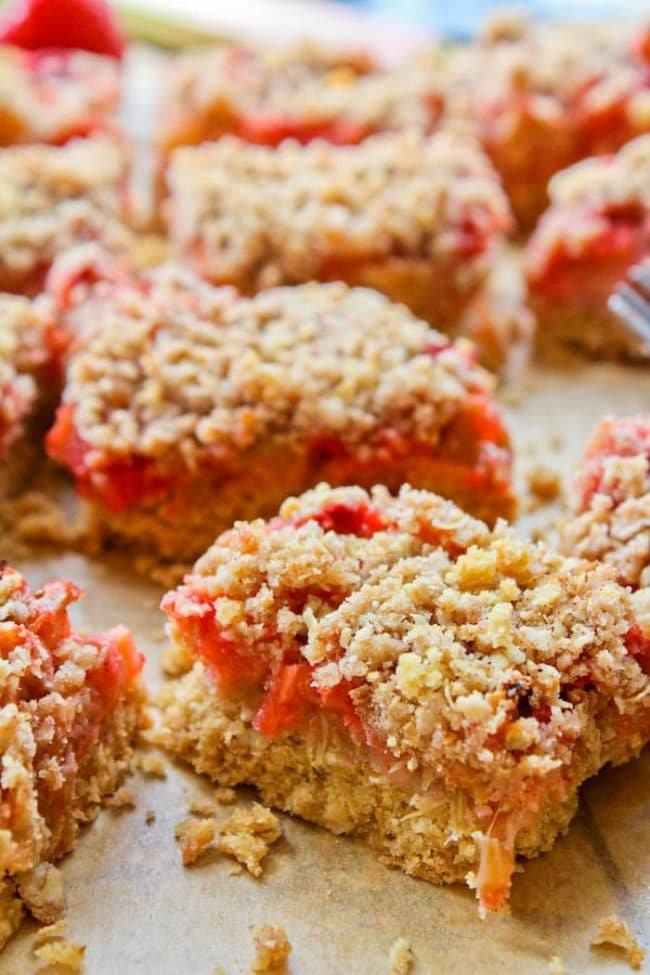 This recipe is loosely adapted from these Strawberry Rhubarb Bars found over at thekitchn.com. I say loosely because I played around with the recipe until I was able to come up with a gluten free, dairy free, and egg free. I also threw a bit of fresh ginger in for good measures because ginger makes everything better (and I needed to use it up before it went bad).
Hopefully it's not too hot for you all to use your ovens to make this because I wouldn't want you to miss out having one of these. The weather has been nothing but rain and clouds the past week so I've still been able to enjoy the perks of having an oven. If it is actually hot for you this summer, I suggest you cool down and enjoy these strawberry rhubarb bars topped with a bit of vanilla ice cream.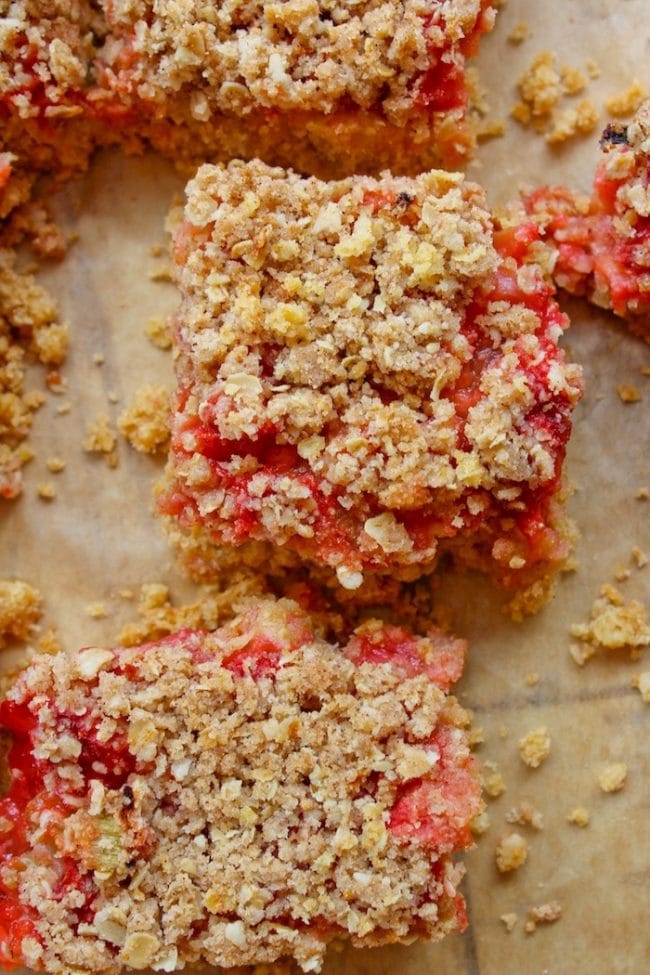 So, since rhubarb is actually a vegetable, these are healthy, right?  I'm pretty sure that means these should count as at least one of your five a day – strawberries, rhubarb, ginger. I think I've just created a super food. You're welcome, and enjoy!
FACEBOOK | INSTAGRAM | PINTEREST  
Don't forget to #asaucykitchen on instagram if you try these strawberry rhubarb bars! I'd love to see what you make with it!  You can also post your pictures to my facebook page!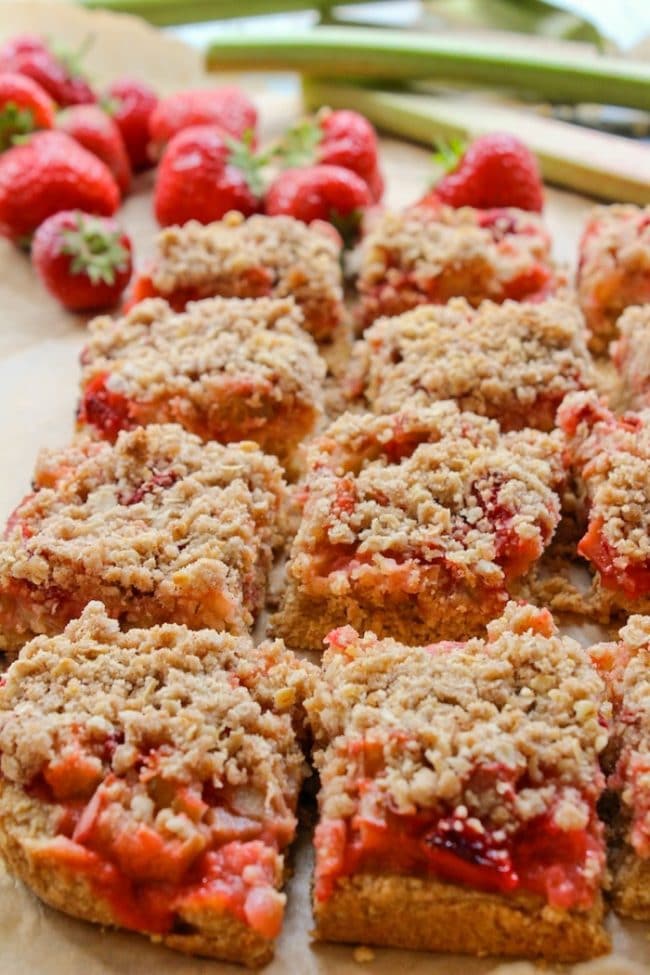 Recipe
Strawberry Rhubarb Bars (Gluten Free & Vegan)
Yield:
16 bars
Prep Time:
10 minutes
Cook Time:
50 minutes
Total Time:
1 hour
Crumbly, gluten free and vegan strawberry rhubarb fruit bars spiced with a hint of ginger.
Ingredients
Fruit Filling
1 1/2 cups | 6 oz strawberries, hulled and chopped
2 cups | 8 oz rhubarb cut into 1/3 inch pieces or smaller
1 tablespoon | 15 ml freshly squeezed lemon juice
1 tablespoon | about 1 inch ginger minced
1 1/2 tablespoons | 25 grams coconut sugar or cane sugar
Base & Crumb Topping
1 1/4 cup | 160 grams gluten free flour
1 1/4 cup | 105 grams certified gluten free oats
3/4 cup | 170 grams coconut sugar ( or 150 grams brown sugar)
2 teaspoons baking powder
1/2 teaspoon sea salt
1/2 teaspoon cinnamon
3/4 cup | 157 grams melted coconut oil*
Instructions
Combine the strawberries, rhubarb, lemon, ginger, and sugar for the filling in a medium sized bowl, stir slightly and set aside until later.
Preheat your oven to 350°F/180°C.
In a large bowl whisk together the oats, flour, sugar, salt, and cinnamon. Stir in the melted coconut oil until combined. Measure out about 3/4 of the dough and press into the bottom of a greased or lined 8x8in square pan. Bake for 10 minutes.
Strain your fruit mixture to get rid of the excess liquid and then spoon the mixture evenly onto of the partially baked crust. Take the remaining 1/4 of the dough and sprinkle it over the top of the fruit making sure to cover the majority of the surface. Place the pan back in the oven and bake for an additional 40 minutes or until the top comes out golden brown.
Cool for at least 10 minutes before cutting into slices and store in an airtight container for up to five days.
Notes
You can replace the coconut oil with butter if you can use dairy
Nutrition Information
Yield:

16
Serving Size:
bar
Calories:

179
Saturated Fat:

8g
Sodium:

91mg
Carbohydrates:

20g
Fiber:

2g
Sugar:

6g
Protein:

2g
This website provides approximate nutrition information for convenience and as a courtesy only. Nutrition data is gathered primarily from the USDA Food Composition Database, whenever available, or otherwise other online calculators.