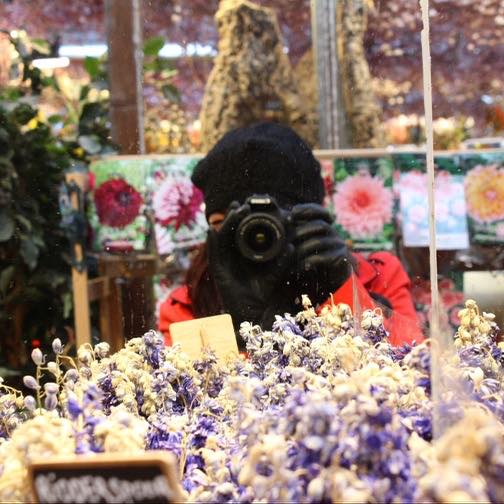 Hey! I guess this is the part where I awkwardly welcome you to my little corner of the internet and try to introduce myself. So…
Welcome! This is where I come up with any and every excuse to bake cookies and then try to eat tons of salads to make up for it. Balance and all that.
 I'm originally from Arizona, but I now live in England with my husband Mike. We met on Tumblr years ago back when it was still cool to be using Tumblr.
Wait. Was Tumblr ever cool?
If you'd like you can read more about our little love story here.
Why Gluten Free?
In case you haven't yet noticed – we don't do gluten here.
The long explanation:
When Mike was about 12 years old he basically got sick with the flu and never fully recovered. It took almost a year before he was diagnosed withChronic Fatigue Syndrome/ME and was left with that. Eventually he had to drop out of school because he was so unwell. At the age of 16 he developed rheumatoid arthritis in his left thumb which has left his hand permanently disfigured because his joints fused together.
It wasn't until Mike was about 22 that his rheumatologist started piecing together the symptoms and realized that Mike might have Coeliac Disease. Lo and behold, a few tests later Mike was finally diagnosed and things started making sense. The fatigue, brain fog, aches, arthritis were all because he had been unknowingly poisoning himself for years.  Not only that, but we soon after realized that Mike also has something called POTS which is a really frustrating and misunderstood condition where too muchblood flows down the body when you stand up causing dizziness, fatigue, and possibly fainting. Not fun.
The short explanation:
Gluten is literal poison for my husband.
While I have no medical reason that forces me to eat gluten free, I have adopted a gluten free lifestyle to support my husband and ensure that there is no cross contamination issues in our kitchen.
On a less serious note: I love food! Especially of the chocolate and peanut butter variety. I love what food is and does in our every day life and most of all I love sharing it with other people. Because I'm not so good at using my words, food is how I show people that I care.
Blog F.A.Q.'s
What is the Low FODMAP diet?
FODMAP is an acronym for:
Fermentable Oligo-saccharides Di-saccharides Mono-saccharides And Polyols
FODMAP's are sugars that are poorly absorbed by the body which can lead to IBS symptoms. A Low FODMAP diet is an elimination diet designed to ease the pain and discomfort of IBS. Because so many foods have high levels of FODMAP's (garlic, onions, apples to name a few) you should discuss the pros and cons of going a low FODMAP diet with a doctor before you try it. 
Are you still on a Low FODMAP diet?
Because there are so many foods that are considered high FODMAP, it's not meant to be a forever diet. Mike was on it for about six months before he was able to start reintroducing high FODMAP foods back into his diet. Before the diet he couldn't eat tomatoes, onions, or garlic without severe pain. Every now and then he'll have issues with stomach pain and gastritis. Whenever that happens he'll eat mostly low FODMAP for a few days before he's back to normal and enjoying a wide variety of foods.
What kind of diet do you follow?
Other than eating 100% gluten free there are no hard and fast rules that we follow. I cook with the seasons and try to get the best quality produce we can afford. We try to fill up on fruits and vegetables before anything else. Mike's a big meat eater, but most of my meals are vegetarian. Mike used to have a lot of issues with dairy, but he tolerates it much better these days. That being said the majority of recipes found on here will be dairy free or have dairy free options.
Because I understand how difficult it may be to cook with food allergies, I really enjoy coming up with recipes that are nut, grain, dairy, and/or egg free. I try to sprinkle in a little something for everybody.
Can I publish your photos or recipes on my blog/website?
Oh hey! Thanks for asking! If you want to use a photo to promote my blog or the recipe then you may post one photo as long as you link back to the place where you can find it on my blog. If possible it would be great if you could also provide a link back to my homepage (http://www.asaucykitchen.com). Please don't republish the recipe itself anywhere else without my permission first.
My photos and recipes are copyrighted material and may not published anywhere else without express permission from me first.
If you've got more questions about my policy you can email me at sarah (at) asaucykitchen.com

Please do not email me about changing links in my past posts to links to your website. I am also not accepting guest posts at this time. I try my best to respond to every email, but if you do email me about either of these things there's a good chance I won't reply. Thank you!
I hope you stay for awhile and enjoy what you see!