Make the most out of your pressure cooker by making this from scratch Instant Pot Chicken Soup! This soup is made with fresh ingredients, a whole chicken and requires less than an hour of cook time! Make sure to read through the post for tips on using frozen chicken, best practices and more!| Gluten Free + Paleo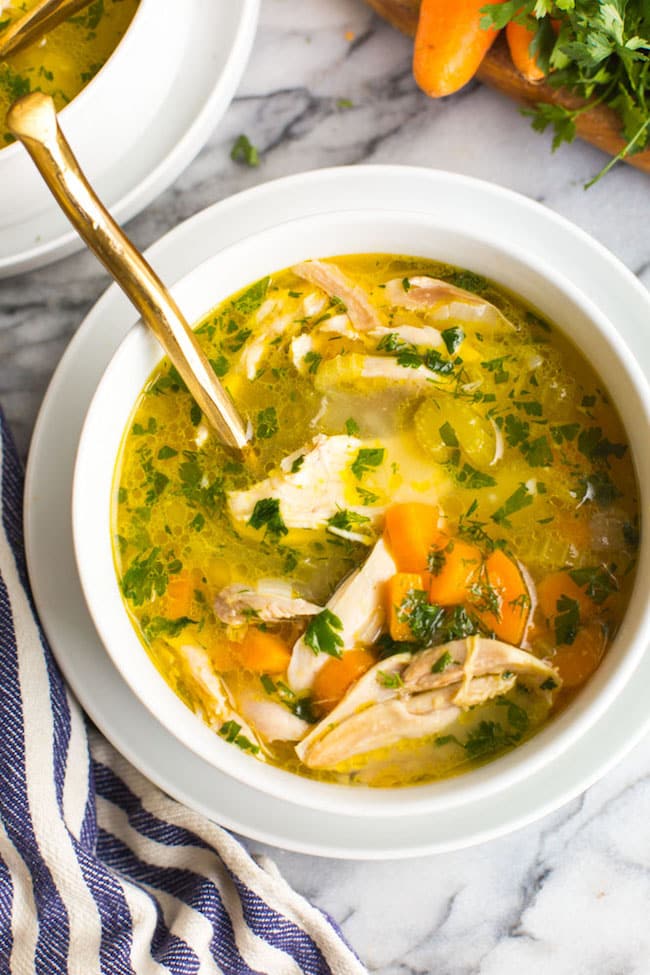 ✔ Simple
✔Wholesome
✔Nourishing
✔Comforting
There's already so much to love about the humble and iconic chicken soup, but there's even more to love in this modernised instant pot chicken soup. With minimal prep, basic ingredients and little hands on time needed you'll be cozy up with a bowl of soup in no time!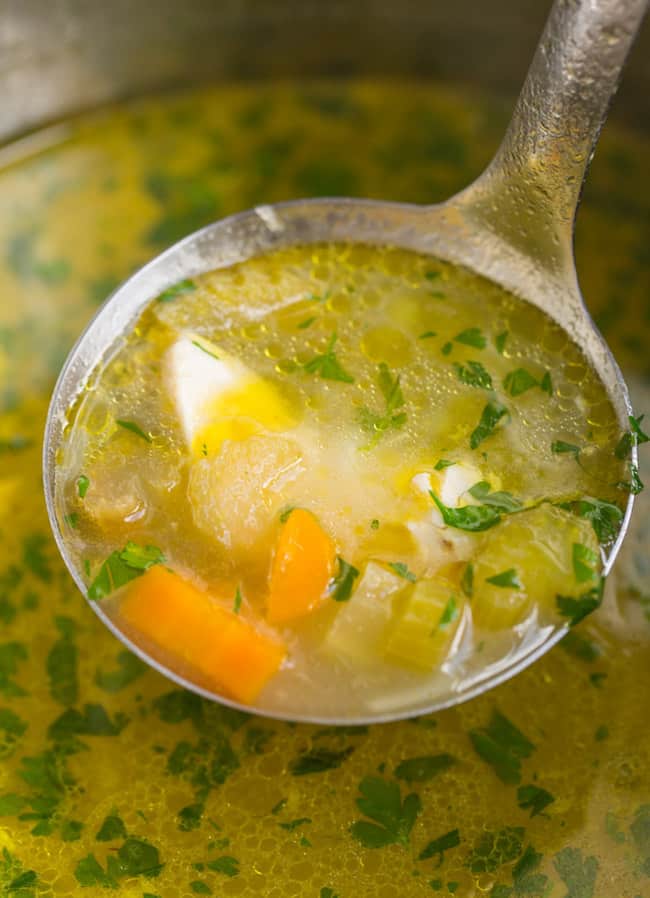 How to Make this Instant Pot Chicken Soup
Altogether this soup is super easy to make without too much hands on action required. Since it's all made in the instant pot it's going to take only a fraction of the time it would normally take you to get juicy, fall-off-the-bone chicken.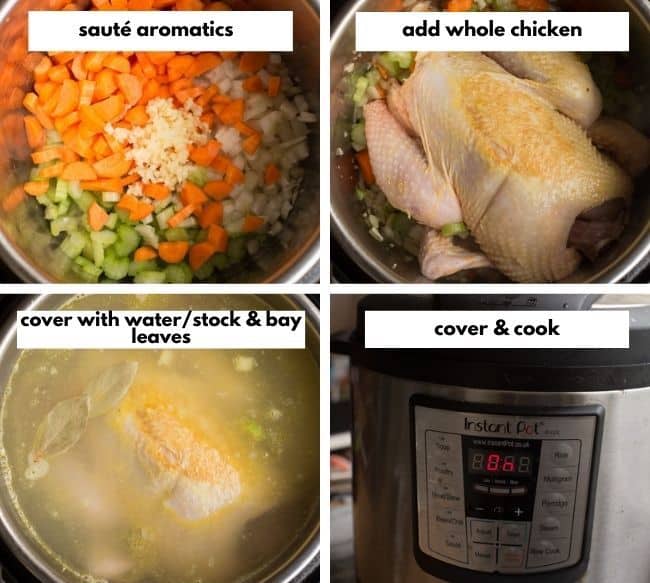 The steps are simple & can be broken down as follows:
Cook the aromatics on the sauté function.
Add your chicken to the bottom of the pot then cover with stock and water. Set the pressure release valve to the sealing position.
Cook on high pressure for about 20 minutes, then let the pot depressurise for at least 15 minutes. Use the natural release option before opening the pot.
Remove chicken & shred into bite-size pieces.
Add chicken back the pot along with your additional soup flavourings (lemon juice, herbs & spices)
Enjoy!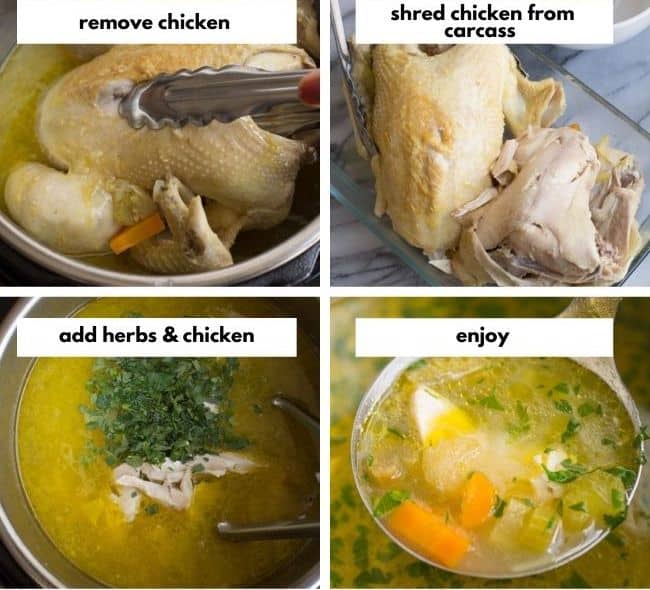 Questions, Tips & Substitutions
Do I Have To Use Whole Chicken? Can I Use Thighs Or Breast?
Using a whole chicken is good because you end up with a variety of white meat and dark meat. That being said you can absolutely use any type of chicken meat for this soup. I recommend using a combination of white and dark meat for best results.
If your chicken is too large to easily fit in the pot you can cut it up into smaller pieces. Watch this video below from Serious Eats if you need a little help out how to break apart your chicken.
Can I Use Boneless Or Skinless Chicken?
Yes. However, please keep in mind that chicken soup and bone broth in general made with boneless/skinless meat won't have the same collagen-infused silky, richness as you would normally get from using bone-in and skin-on chicken.
In addition to the enhanced texture and flavour of this soup, collagen also has a variety of health benefits – it's good for your skin, hair and general well-being.
Can I Use Frozen Chicken?
Yes – cook time will vary depending on the type and size of your chicken. These amounts are all based on 2 pounds worth of chicken cooked in a 6 quart instant pot.
Whole chicken – 40 minutes
Bone-in/skin-on chicken thighs or drumsticks – 25 -30 minutes (25 minutes for smaller pieces and 30 minutes for large pieces)
Boneless and/or skinless chicken thighs – 20 Minutes
Skinless Chicken breasts (or skin on)- 15 Minutes
Make sure that your chicken pieces are frozen in individual pieces – you don't want any thighs or breasts frozen together or they won't cook properly.
Should I skim the soup?
Common knowledge when it comes to chicken soup is that you should skim the surface as it cooks to remove any 'impurities'. Obviously this isn't possible when from an instant pot chicken soup, but is it really that necessary? When it comes to instant pot chicken soups – no. Unless you open up your instant pot to find loads of gray-ish looking scum floating on top (very unlikely) there's no need to skim off any top layer of soup. I have personally made quite a few instant pot chicken soups and I can't say that I've ever noticed any visible scum in my soup. If you do, go for it and skim at the end otherwise don't worry about it!
Should I sear the chicken skin before cooking?
Searing is an optional step that will add to the overall flavour and richness of this soup. Much like you would sear a piece of meat before cooking it in the slow cooker, browning the outside skin of your chicken will caramelise the surface slightly make for a richer soup.
Keep in mind that you only want to sear the chicken if it's skin-on.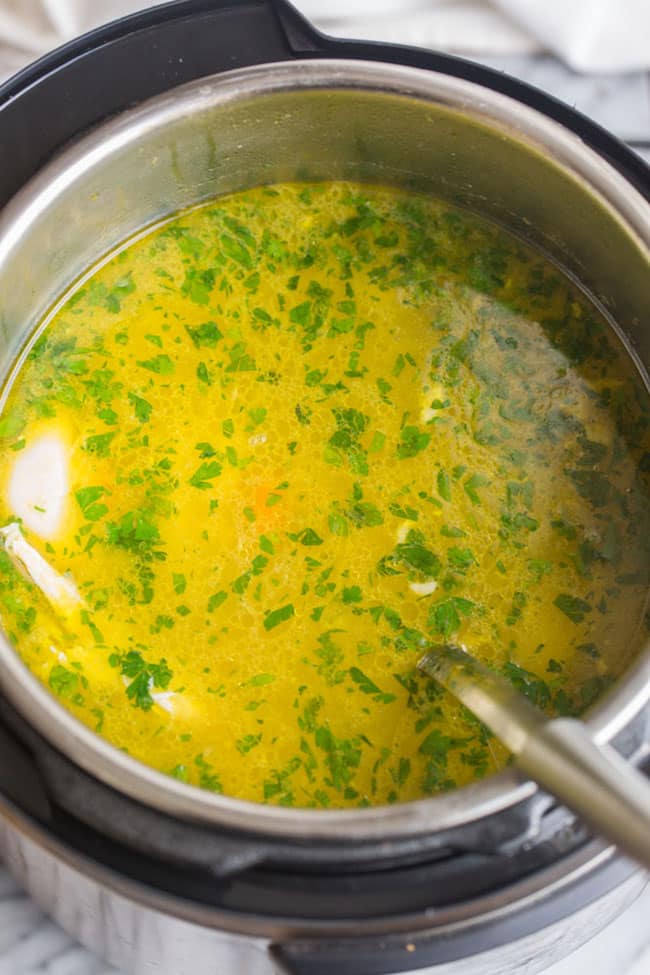 Serving Suggestions
This soup is great served with a side of crusty gluten free bread (I have an egg free version of that bread if you need it!).
You can also serve this instant pot chicken soup with a side of crackers. They're great for dipping and crumbling over the top. These plain gluten free crackers would make a great side and can easily be made vegan with the use of dairy free/vegan butter. If you don't need to avoid dairy then you might enjoy these cheesy gluten free crackers.
For paleo friendly sides you might prefer these sweet potato crackers or my herby paleo biscuits made with coconut flour (our go-to side for this comforting soup).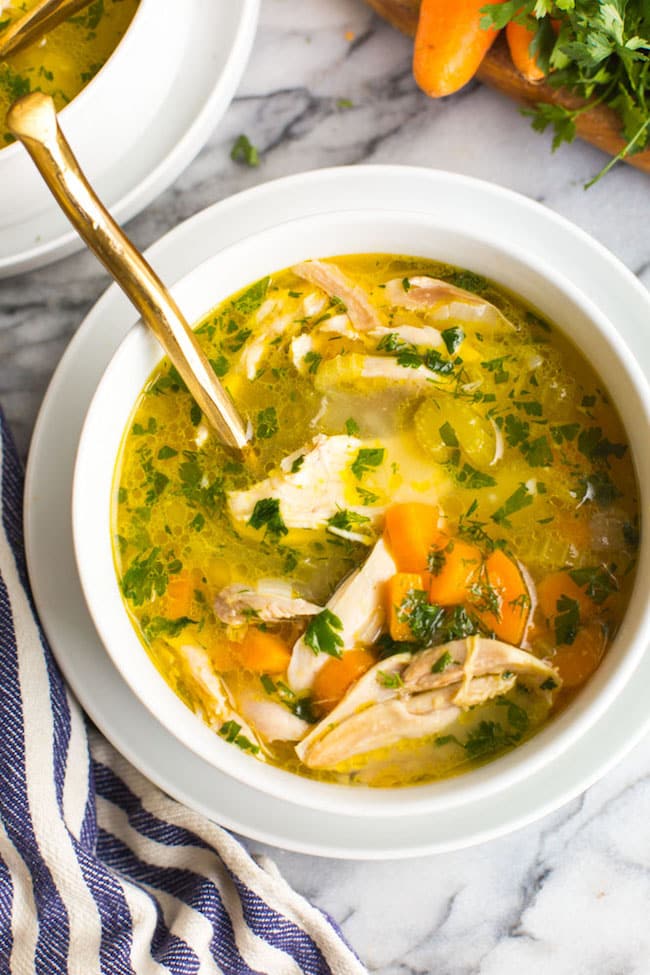 Recipe
From Scratch Instant Pot Chicken Soup
Yield:
6 servings
Prep Time:
15 minutes
Cook Time:
25 minutes
Additional Time:
30 minutes
Total Time:
1 hour
10 minutes
Make the most out of your pressure cooker by making this from scratch Instant Pot Chicken Soup! This soup is made with fresh ingredients, a whole chicken and requires less than an hour of cook time! Make sure to read through the post for tips on using frozen chicken, best practices and more!| Gluten Free + Paleo
Ingredients
1 whole chicken (2-3 pounds) or about 2-3 pounds of thighs, drumsticks and breasts
2 tablespoons (30 ml) olive oil
1 large white, yellow or brown onion - diced
5 large garlic cloves, minced
3 large carrots, diced
3 large stalks celery, diced
4 cups (1 quart or 950 ml) chicken stock
4 cups (1 quart or 950 ml) water (or use more stock)
2 bay leaves
2 tablespoons (30 ml) lemon juice
1 small handful fresh parsley, chopped (can add to or substitute the parsley with fresh thyme, rosemary, basil and/or dill)
Freshly ground black pepper and salt to taste
Instructions
Add a couple of tablespoons olive oil to the Instant Pot and press the "Sauté" button.

OPTIONAL STEP: After the oil heats up, add the chicken, breast side down and let cook 2-3 minutes to sear the chicken skin. Remove the chicken from the pot and set aside as you prep the soup. Add a little more oil to the pot after searing if it's looking dry.

When the oil is simmering add the chopped onion, garlic, carrots and celery. Cook for about 4-5 minutes.

Add the chicken breast side up to the pot (whole chicken or pieces) and cover with chicken stock, water and add the bay leaves.

Press the "Keep Warm/Cancel" button to stop the sauté function. Secure the lid and make sure the steam valve is set to closed. Press 'Manual' or 'Pressure Cook' and set the timer to 20 minutes.

After the time is up the Instant Pot will automatically switch to 'keep warm'. Let it keep warm for at least 15 minutes before releasing the steam valve.

Once the steam has been fully released after opening the steam valve, remove the lid of the instant pot. Use a pair of tongs or slotted spoon to remove the chicken from the pot.

Transfer to a plate or bowl to shred. The chicken will likely come apart as you remove it from the pot so be careful and move it slowly so that the hot soup doesn't splash on you. (Note: The chicken will be very hot so leave it until cool enough to comfortably handle, or avoid using your hands and use forks or tongs to shred the chicken.)

Remove the chicken from the skin and bones and discard the remaining carcass and cartilage. Shred the chicken meat into bite sized pieces.
Add the shredded chicken back to the pot along with the lemon juice and fresh herbs. Give everything a good stir then taste and season with more salt, pepper and lemon juice as needed. How much salt you add at the end will depend on how salty your stock was.
Serve warm and enjoy. Leftovers will keep in the fridge up to 5 days. Once completely cooled you can freeze the leftovers for up to 3 months.
Notes
This recipe should be made in a 6-quart Instant Pot or larger.
If you're struggling to fit a whole chicken in the pot easily I recommend cutting the chicken in half (along the side of the backbone). Check the post for an embedded video on how to break down a whole chicken.
Throw a kitchen towel over the steam valve when you're ready to let it vent to prevent loud sputtering and spraying of steam as it releases.
After the soup cools a gelatinous looking film will form over the top. Just give your soup a little stir, reheat and it will be good as new.
Additional Time is an estimate of how much time it will take for the instant pot to come up to full pressure and depressurize before opening.
Nutrition Information
Yield:

6
Calories:

386
Total Fat:

23g
Saturated Fat:

6g
Carbohydrates:

13g
Fiber:

3g
Sugar:

5g
Protein:

31g
This website provides approximate nutrition information for convenience and as a courtesy only. Nutrition data is gathered primarily from the USDA Food Composition Database, whenever available, or otherwise other online calculators.
More Instant Pot Soups You Might Enjoy