Simple, satisfying and delicious! This Leek and Potato Soup comes together quickly and easily in one pot. The end result is a thick and creamy potato soup without no cream or dairy required!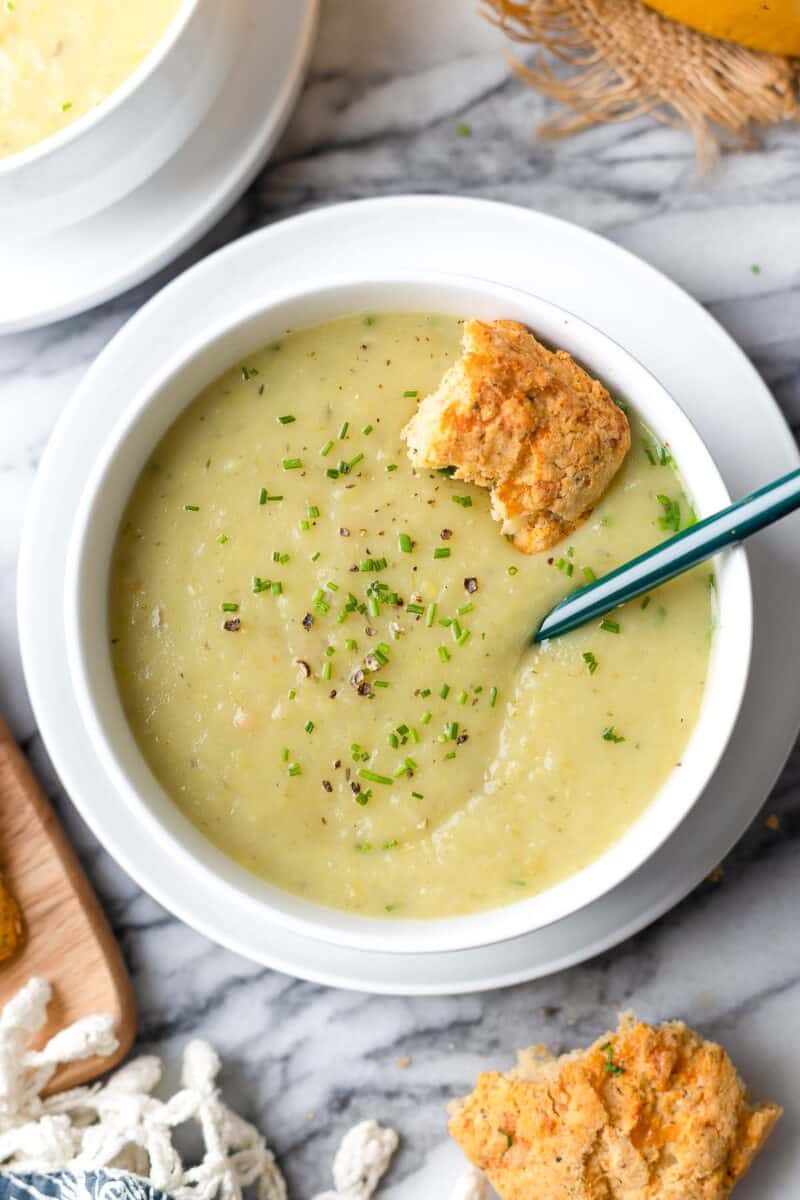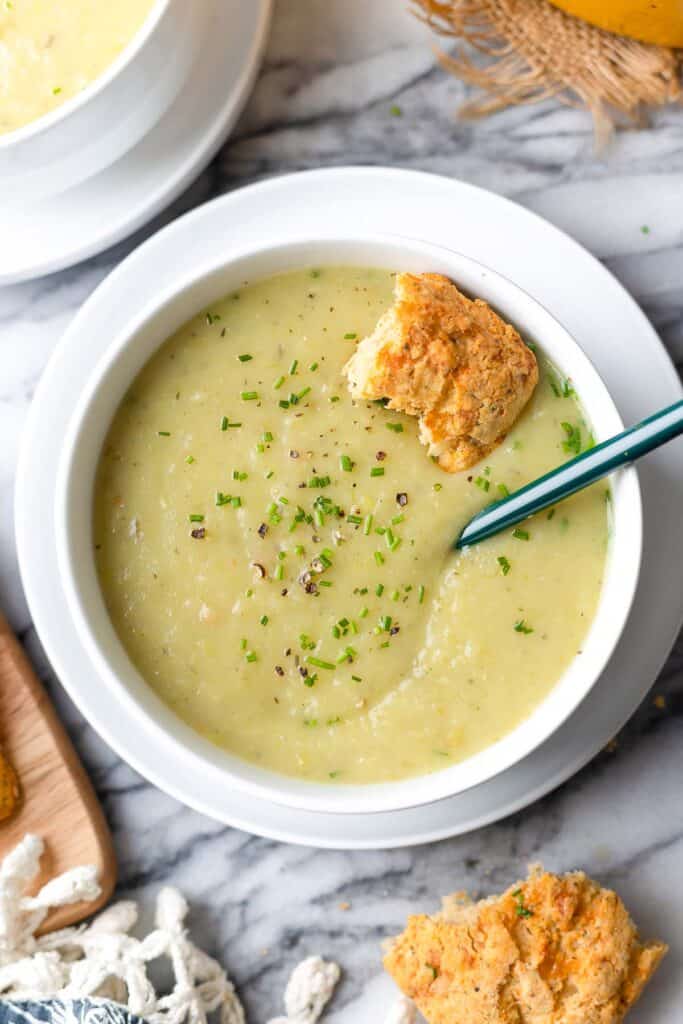 Everyone should have a good Leek and Potato Soup recipe to lean on in a moments notice.
It's everything you want out of your comfort food: easy, practical, delicious and nutritious! A worthy winter classic.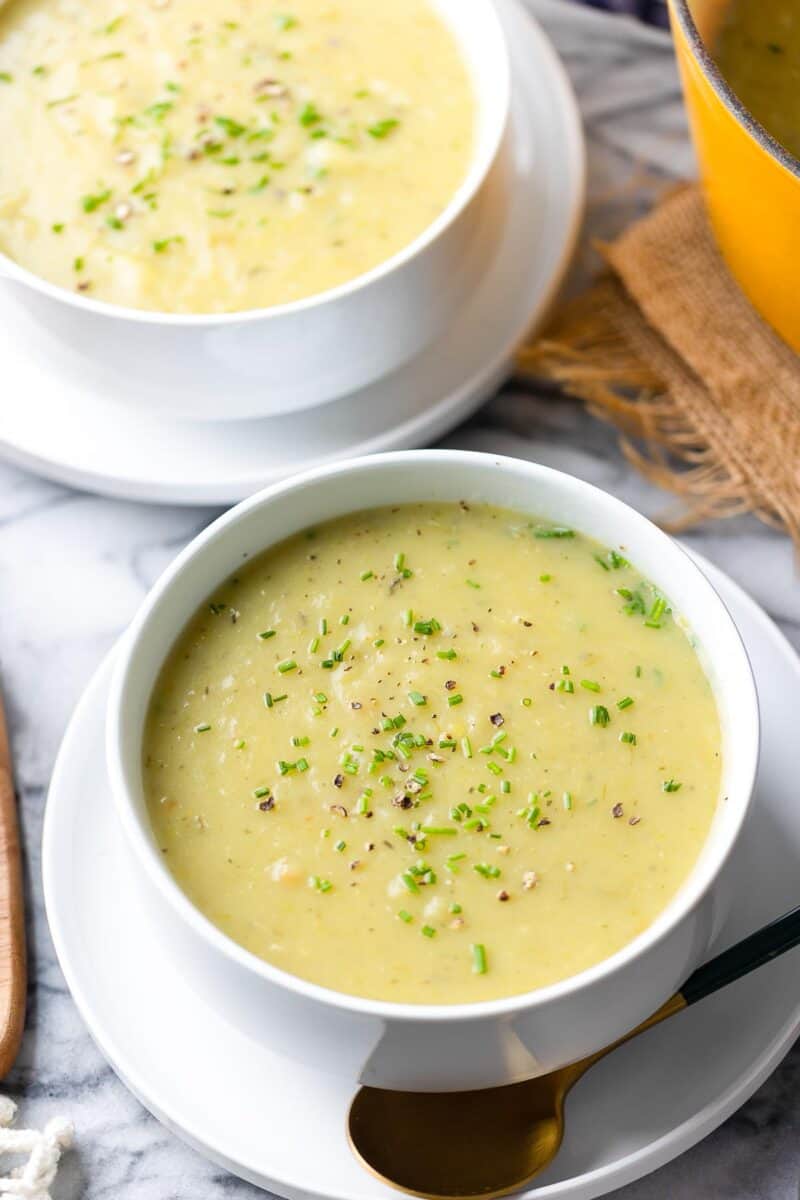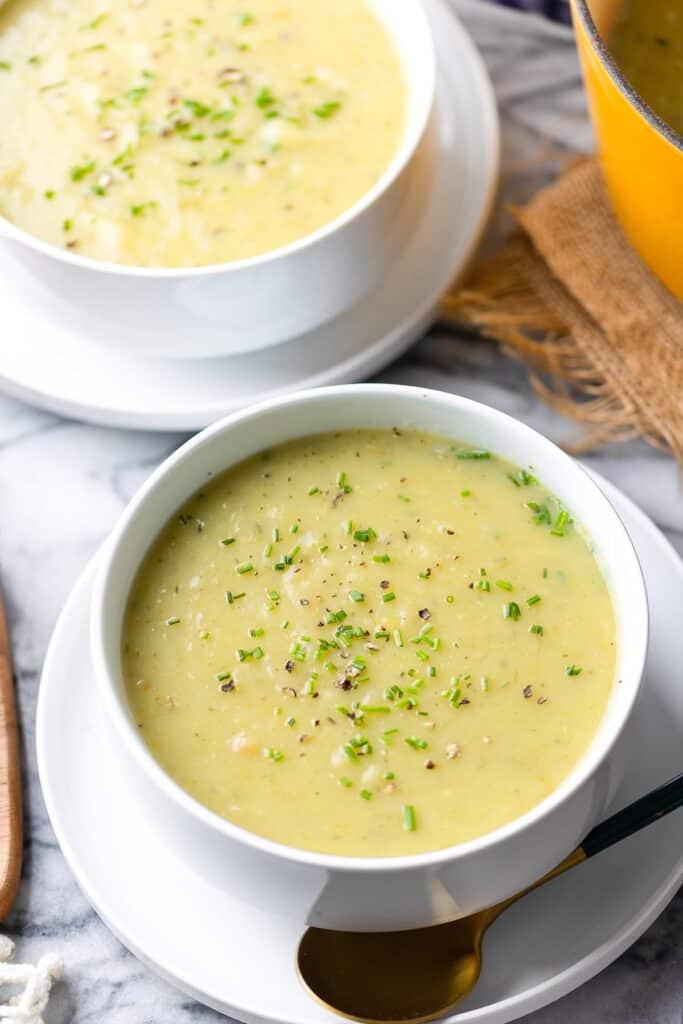 Vegan Leek and Potato Soup
Though this recipe does take inspiration from the classic Vichyssoise, this leek and potato soup is totally dairy free.
No heavy cream or milk required. You don't even need to swap out anything out for a dairy free alternative like almond of coconut milk.
The creamy texture comes almost entirely from the blended potatoes.
Steps
Altogether this soup is incredibly easy to make! It's prepped all in one pot with less than 10 basic ingredients.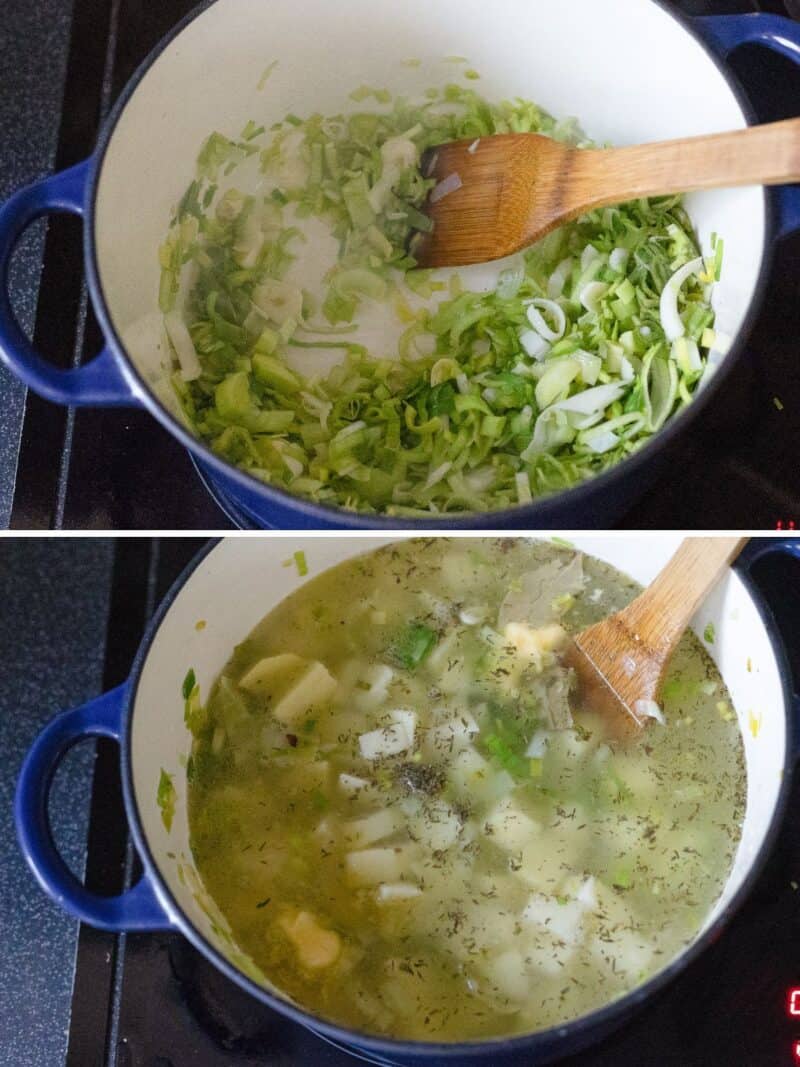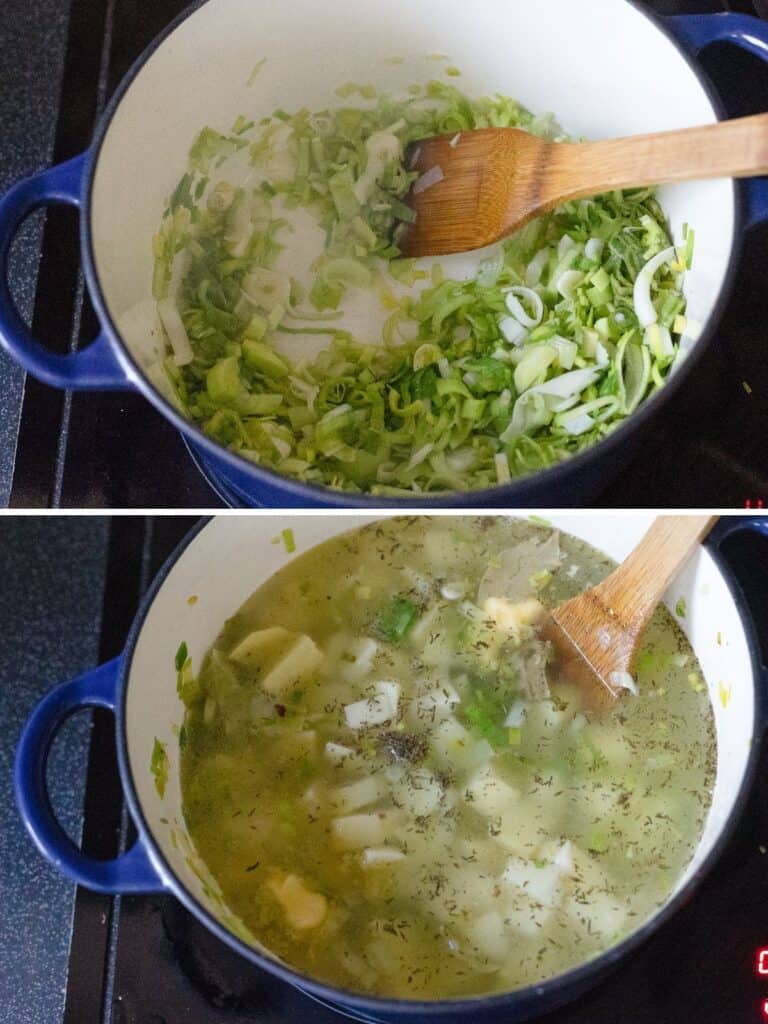 Wash and chop the leeks as needed. Use both the white and green parts of the leeks.

Tip: Leeks tend to hide away quite a bit of dirt in between its leaves, so make sure to wash your leeks well before cooking. I recommend you chop up the leaves, then place them in a colander to rinse out any hidden dirt and debris.

Sauté the leeks and garlic in oil to soften. Do this over a medium heat or medium-low heat a large soup pot. You want the leeks to soften, but not brown.
Add the potatoes, herbs, stock and bay leaves. Mix in the remaining ingredients (except added salt) and stir everything together.
Boil, then simmer until potatoes are tender. Heat up the pot until you get a boil, then reduce to maintain a simmer. Cover with a fitted lid and set a time for about 15 minutes. Simmer until the potatoes are soft and easily pierced with a fork.
Blend and season. Turn off the heat and use an immersion blender to puree the soup into your preferred texture. Make it totally smooth and creamy or leave a few potato pieces intact for a chunky soup. Once blended, taste and season with salt and pepper as needed.

Note: How much salt you need to add at this stage largely depends on the saltiness of your chosen stock.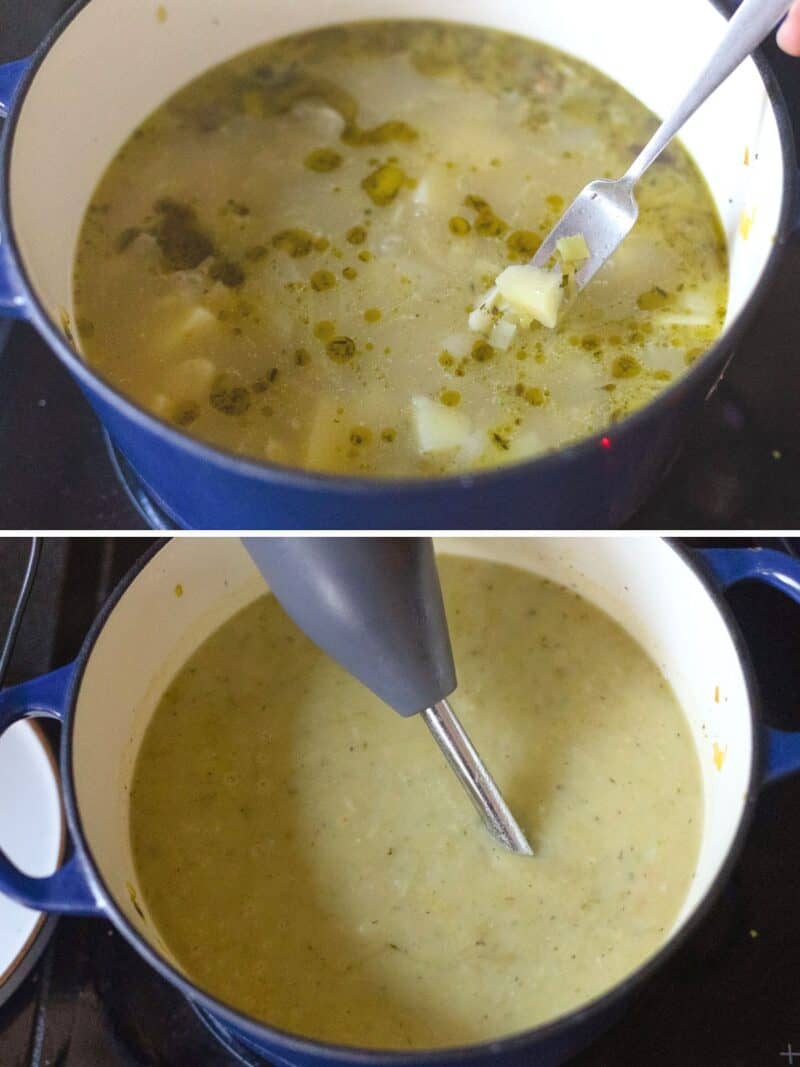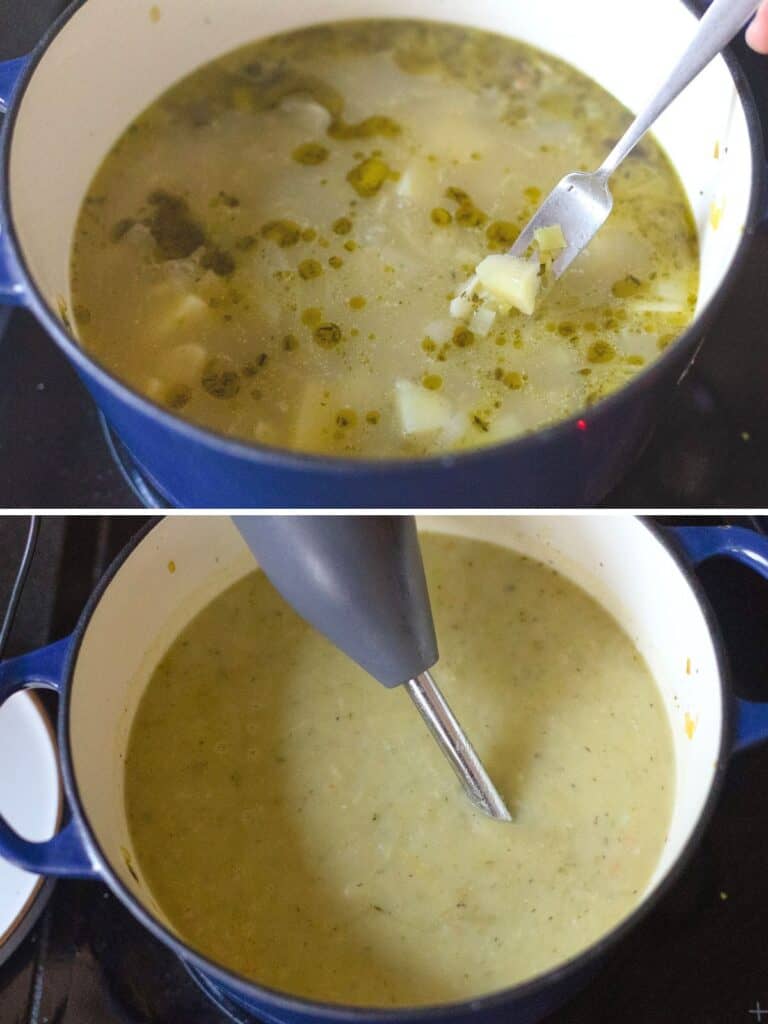 What type of potatoes to use?
When it comes to blended soups, all purpose/ starchy potatoes are your friend!
Examples: russet potatoes, yukon gold potatoes, baking potatoes, etc.
Unlike waxy potatoes they are high in starch and low in moisture. This means they soak in liquid and loose their shape easily which makes them ideal for blending up into a thick and creamy texture.
If you use a waxy variety (like red potatoes) your soup is more likely to result in a more chunky or gummy texture.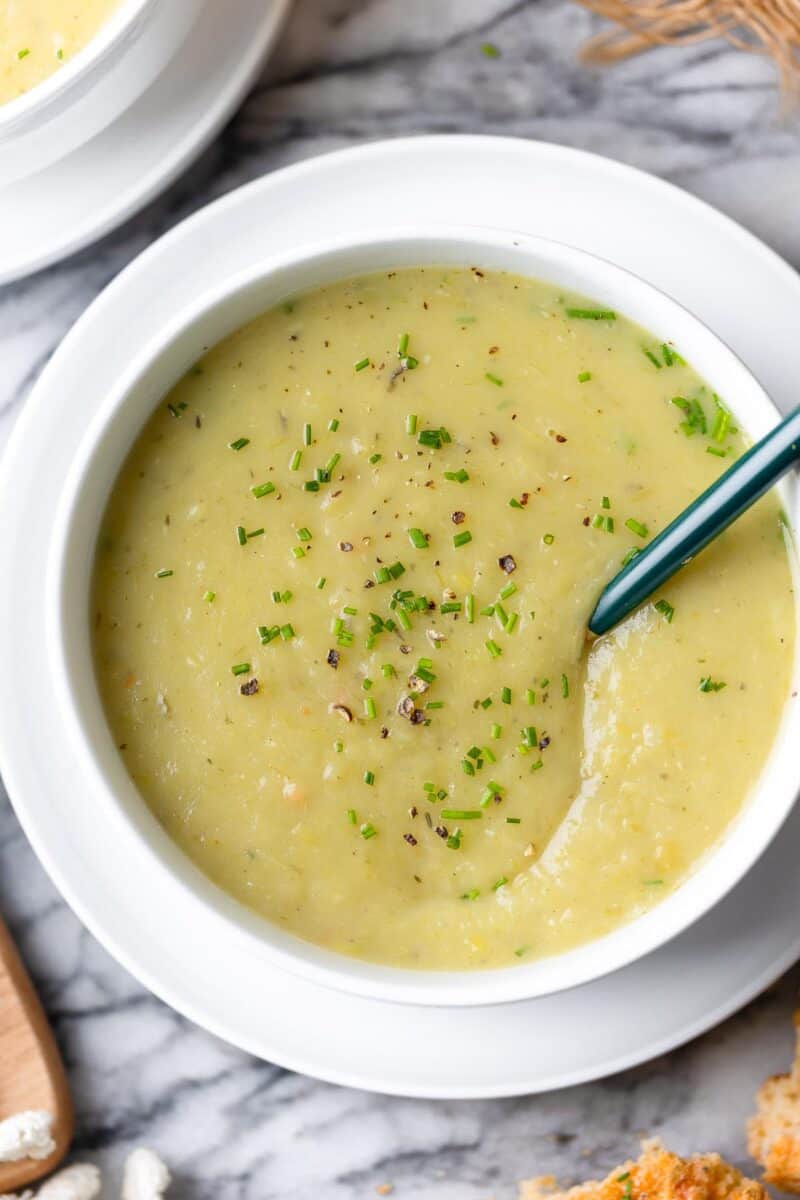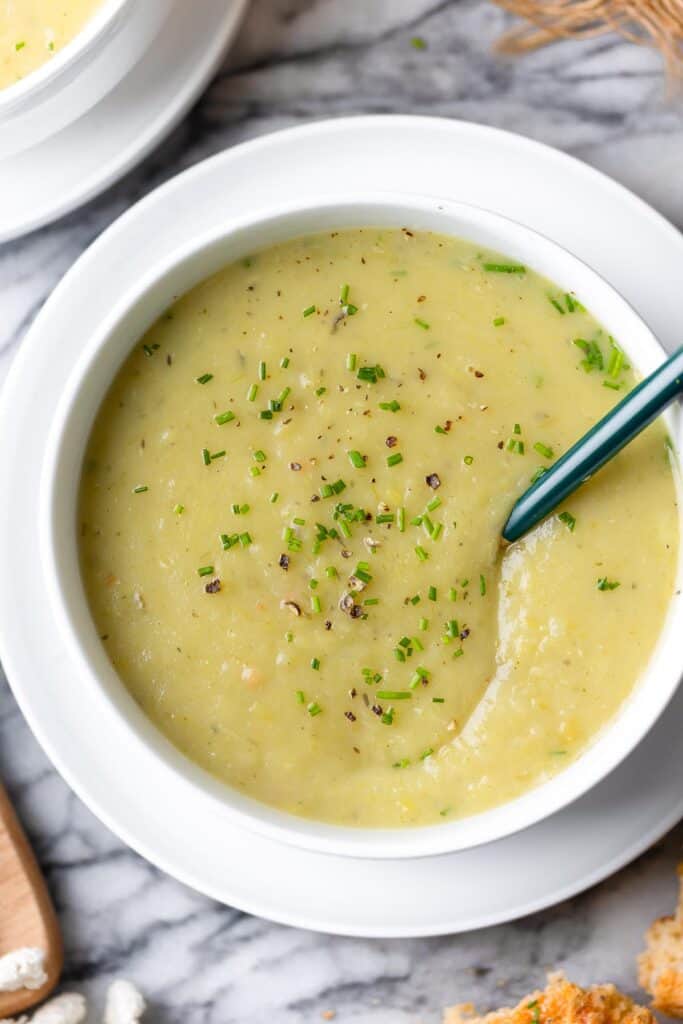 Can I make this without an immersion blender?
Yes!
You can blend this soup using a regular blender if you don't own a stick blender. There are just a couple key things to keep in mind if using a stand blender here:
Cool the soup slightly before blending.

Hot liquids over a fast motor is always cause for caution. I recommend waiting until the soup cools down a bit until it's cool enough to comfortably handler. You can always warm it back up again on the stove top if needed.

Blend in batches.

Don't fill the blender more than 2/3 of the way full to prevent it from overflowing from the top.

Secure the lid and open away from your face.

This is especially important if you don't cool the soup fully before blending. I can speak from experience when I say that you don't want to open a hot and steamy container straight into your face!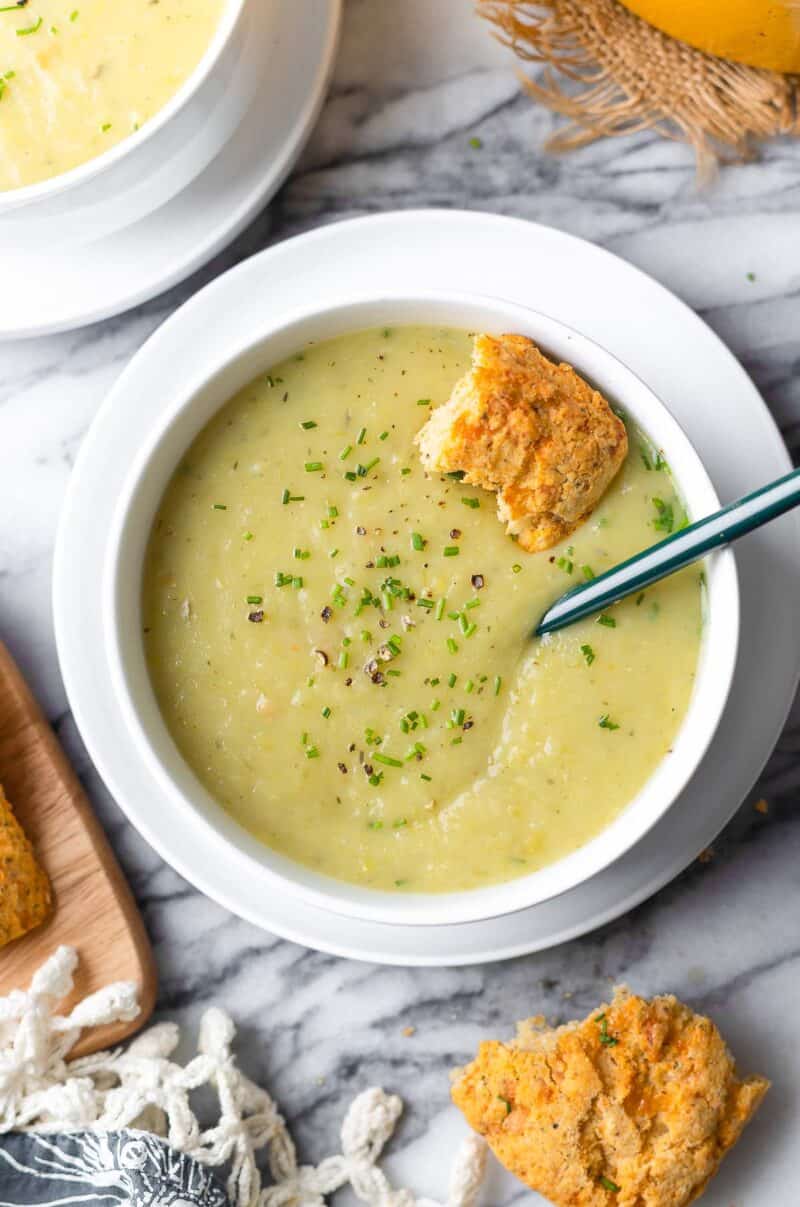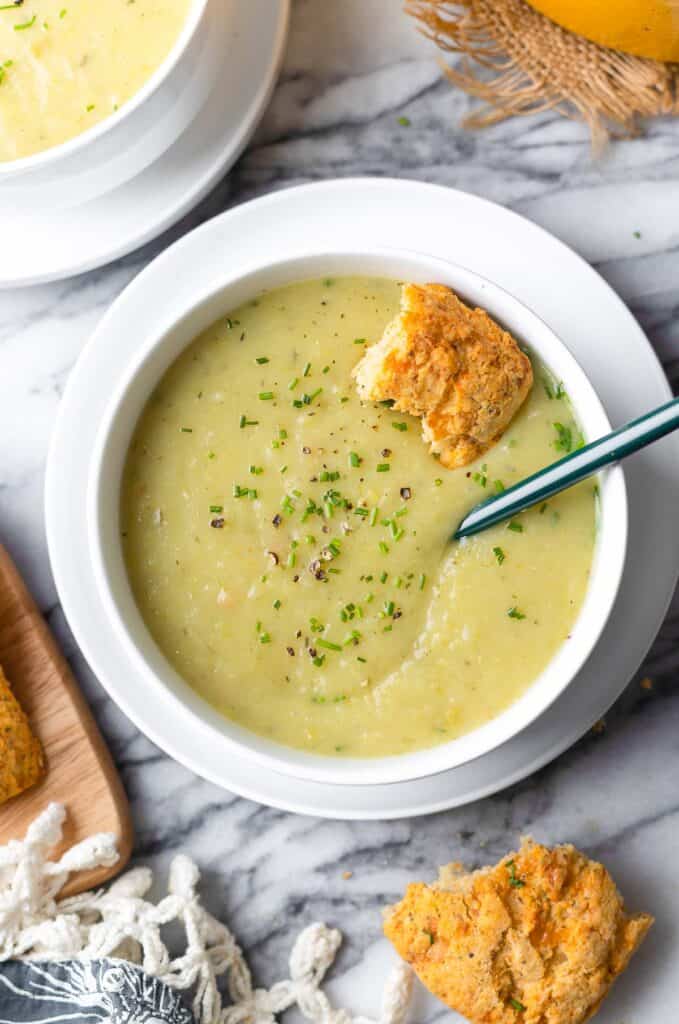 More Vegetable Soup Recipes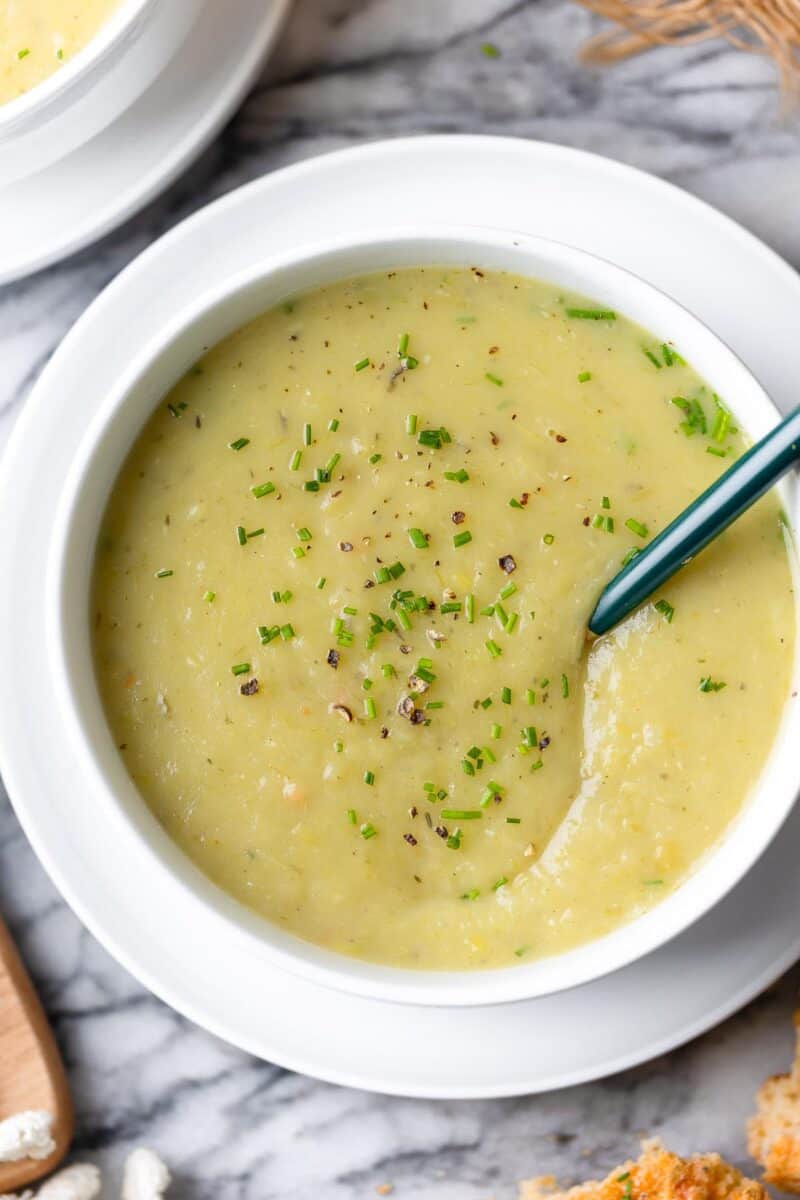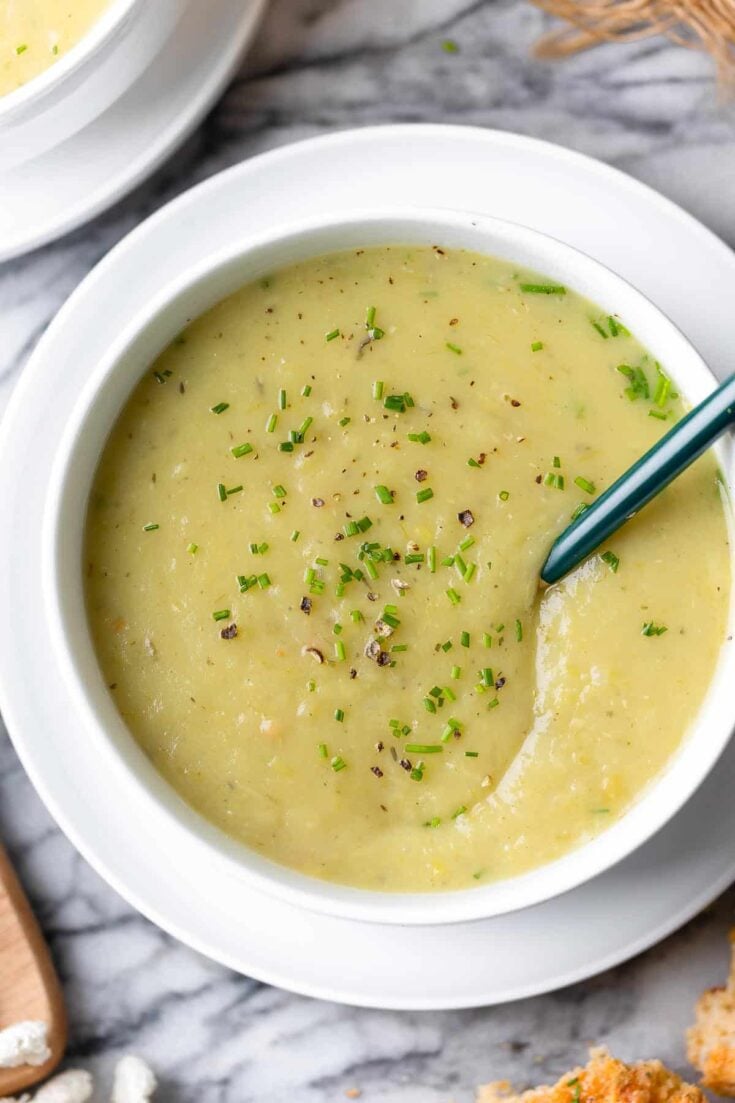 Recipe
Leek and Potato Soup (No Cream)
Yield:
4-6 servings
Prep Time:
10 minutes
Cook Time:
30 minutes
Total Time:
40 minutes
Simple, satisfying and delicious! This Leek and Potato Soup comes together quickly and easily in one pot.
Ingredients
2 tablespoons olive oil or avocado oil (30 ml)
2 large leeks
4 garlic cloves, sliced
2 pounds white potatoes, peeled and diced (about 1kg)
6 cups vegetable stock (1.4litres)
1 teaspoon dried thyme
2 bay leaves
1 teaspoon salt plus more to taste
black pepper to taste
Chopped fresh chives or parsley for serving
Instructions
Thinly slice the leeks then place in a colander and run under water to remove any dirt hidden between the leaves.
Warm the oil in a large pot over a medium-low heat. Add the sliced leeks and garlic cook about five minutes to soften the leaves.
Add the diced potatoes, stock, thyme and bay leaves to the pot. Mix everything together.
Bring to a boil over a high heat, then reduce heat down to simmer. Cover and let simmer for 20 minutes, or until potatoes are very soft. Fish out the bay leaves from the pot and discard.
Use an immersion blender to puree the soup until it becomes creamy. Alternatively, you can transfer the soup to a regular blender or food processor if you don't own an immersion blender.
Taste and season as needed and serve.
Store leftover soup in an airtight container in the fridge for about 5 days.
Notes
Feel free to use butter (or vegan butter) in place of olive oil and chicken stock instead of vegetable stock if you don't need this soup to be vegan or vegetarian.
A Note on Blending: If you blend this in a blender or food processor - blend the soup in batches only filling the blender halfway full at most. You must be careful not to overfill the blender or the heat and pressure force the lid off. Also make sure to open the lid away from your face so the steam doesn't hit you.
Freeze: Cool soup completely then store in a freezer-safe, airtight container or bag. Leave room in the bag/container for the soup to expand as it freezes. Let defrost over night in the fridge then reheat fully before serving. If the soup separates after thawing, re-blend to mix it back up.
This website provides approximate nutrition information for convenience and as a courtesy only. Nutrition data is gathered primarily from the USDA Food Composition Database, whenever available, or otherwise other online calculators.