Simple, satisfying and hearty! This Curried Tomato Lentil Soup comes together in one large pot, with wholesome ingredients in little time. A simple combination of sautéd veggies, warming Indian spices, lentils and tomatoes create a rich, nutritious soup that's as comforting as it is filling! | Gluten Free + Vegan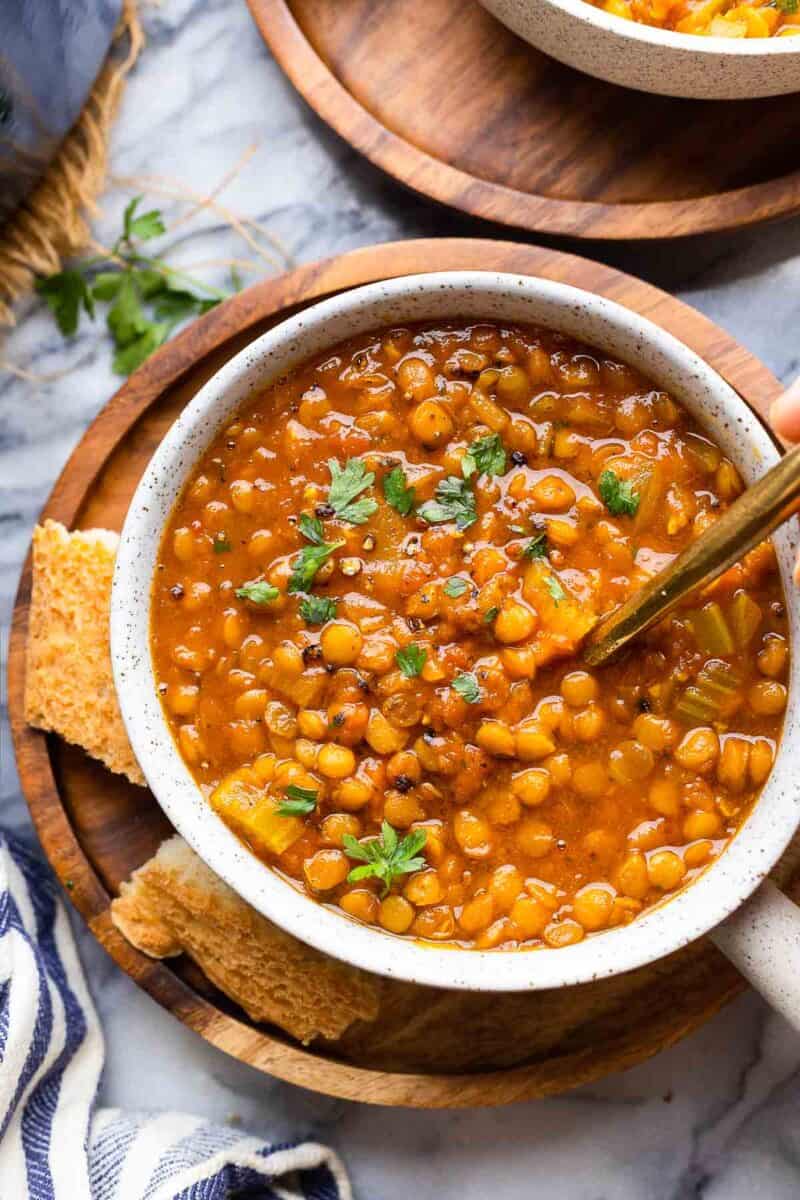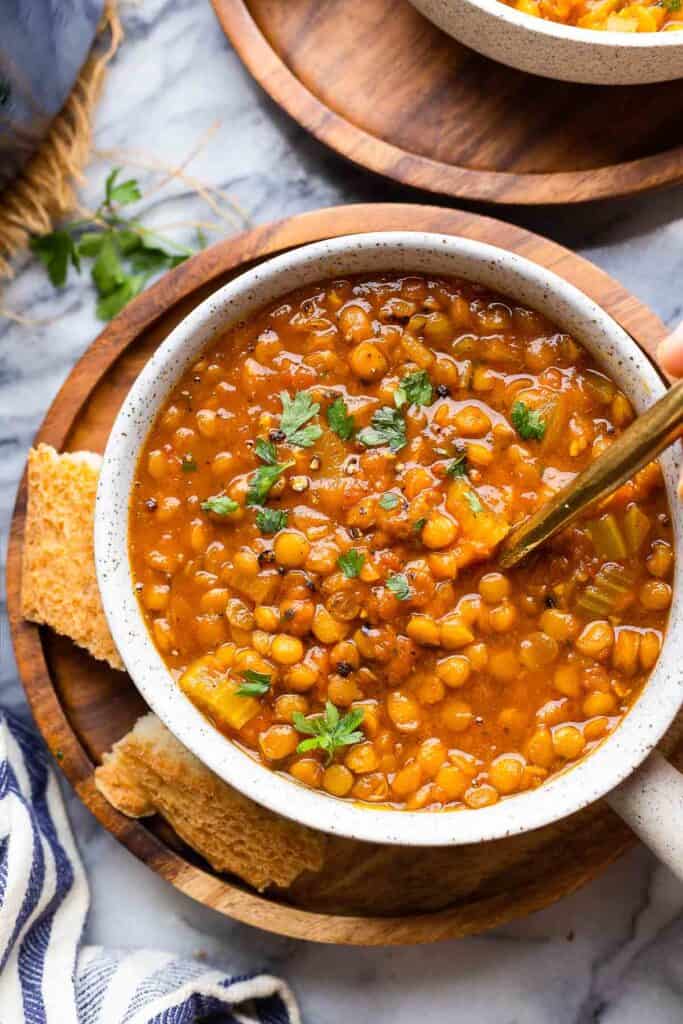 What's Special about this Tomato Lentil Soup?
Good question!
Budget Friendly. This lentil soup is kind to your wallet as it's made with mostly pantry ingredients (depending on your home spice selection) that are easy to find in grocery store.
Hearty and Wholesome. Fresh veggies, warming spices and protein packed lentils stewed together in a delicious tomatoey broth come together to create a hearty soup that's a satisfying as it is nourishing.
Easy to Make. Prep and clean up is kept to a minimum as the soup comes together in one large soup pot on the stove top with simple ingredients.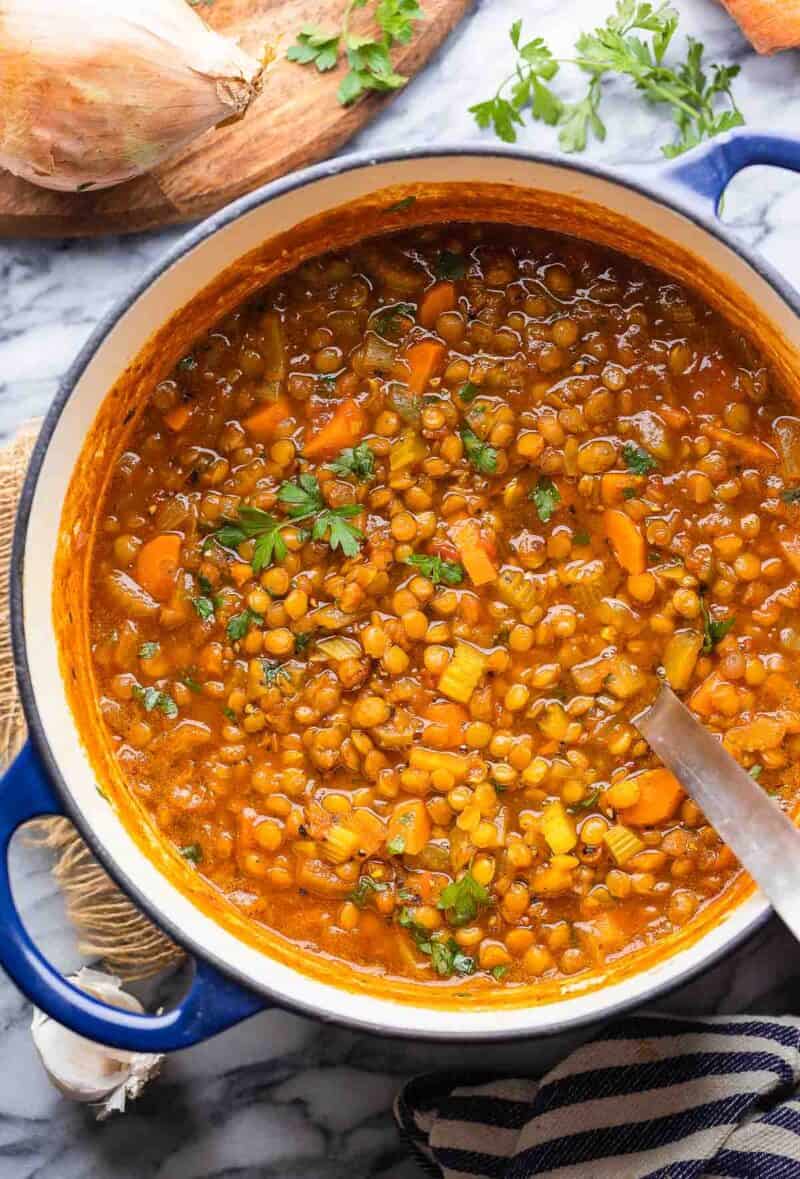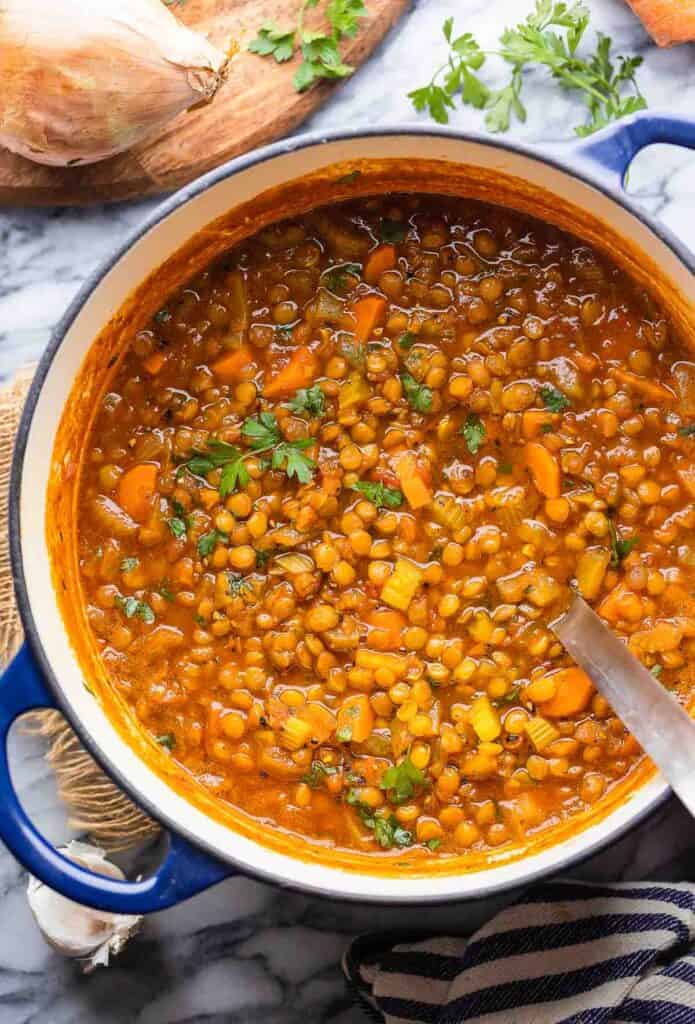 What's Inside – Key Ingredients
Veggies – Chopped onion, carrot, celery and a few cloves of garlic. I used yellow onion here, but you can use any type you like.
Spices – Cumin, curry powder, turmeric, thyme, pepper and a good pinch of salt.

Curry powder comes in many different flavors and forms. It's essentially a spice mix meant to add warmth and depth to a dish. I used a medium spiced Madras curry powder, but feel free to use a different curry powder if you prefer.

Lentils – Green lentils have a slightly peppery flavor which works well amongst the other flavors of this soup. They are an excellent source of plant-based protein.
Tomato – Tomato comes in two forms in this recipe: tomato paste and canned tomatoes (crushed or diced). The tomato paste provides a more concentrated, rich tomato flavor while the diced tomatoes add both sweetness and acidity to the broth. If you can find them, use fire-roasted tomatoes for a little extra oomph.
Vegetable Broth – A couple cups of water, stock and a squeeze of lemon juice. Feel free to use your favorite stock here (chicken stock works too if you don't need this to be vegan!).
Herbs – Fresh herbs are optional but go along way in perking up the finished soup. I topped my soup off with a good handful of fresh parsley. Cilantro and thyme work well too!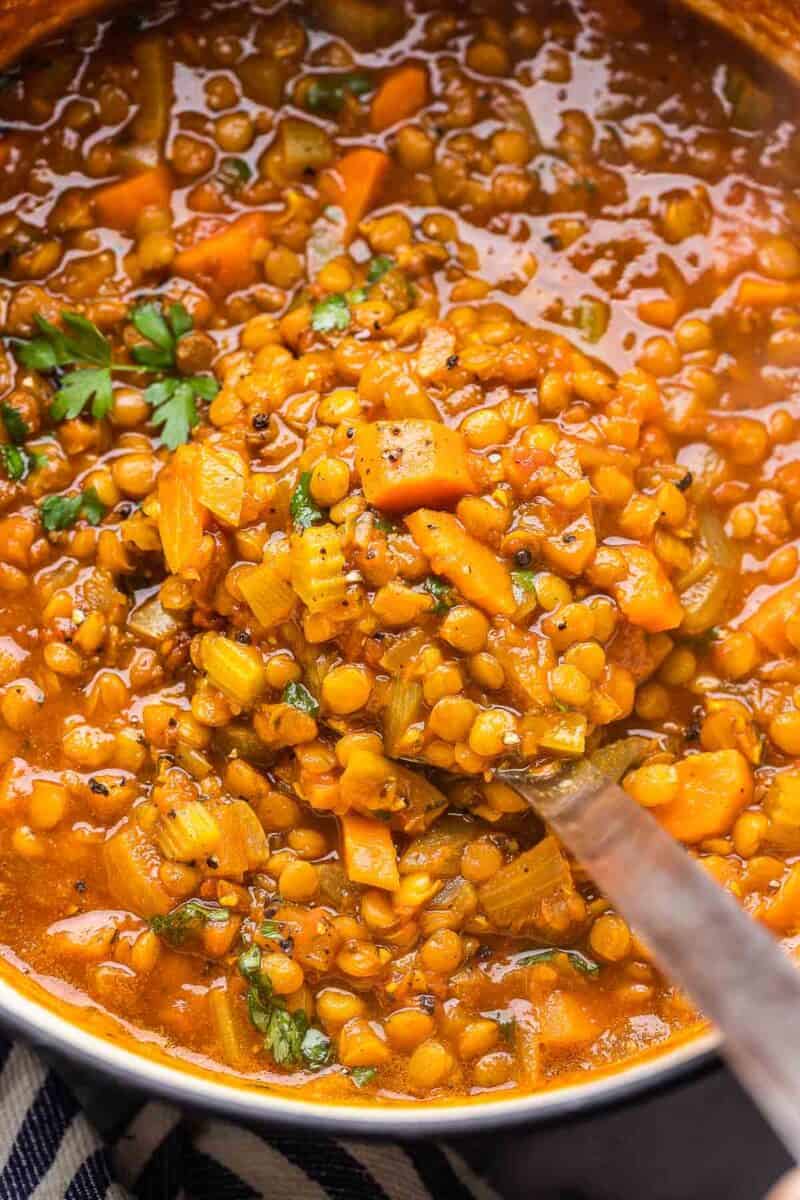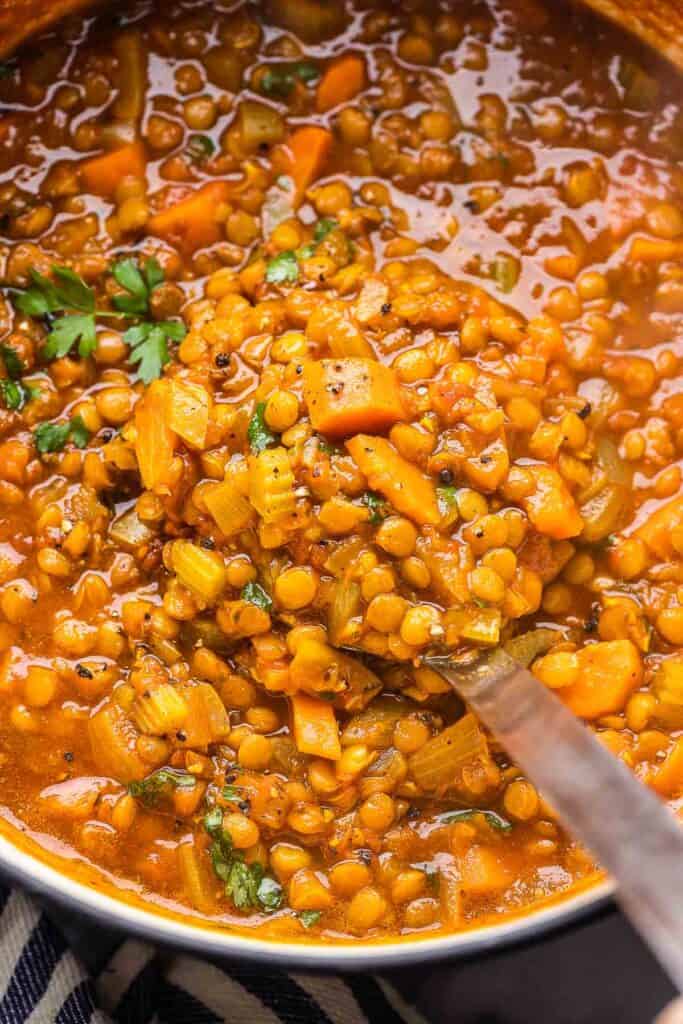 Steps
Altogether this tomato lentil soup comes together without too much fuss or effort required.
In a large pot, warm the oil over a medium-low heat then add the onion, celery and carrot. Sauté about 5-7 minutes to soften and sweat the veggies.
Add the garlic, tomato paste and spices and sauté another couple of minutes. The tomato paste should darken into a rich, deep brown color. Stir frequently to keep the garlic from burning.
Add the lentils and stir well into the spiced vegetable mixture.
Stir in the crushed tomatoes, water and stock. Turn the heat up to reach a boil. Let boil a minute or so, then reduce to maintain a gentle simmer for about 25-30 minutes until the soup is a nice thickness and the lentils are tender and plump.
Stir in the lemon juice, taste and season as you see fit and enjoy!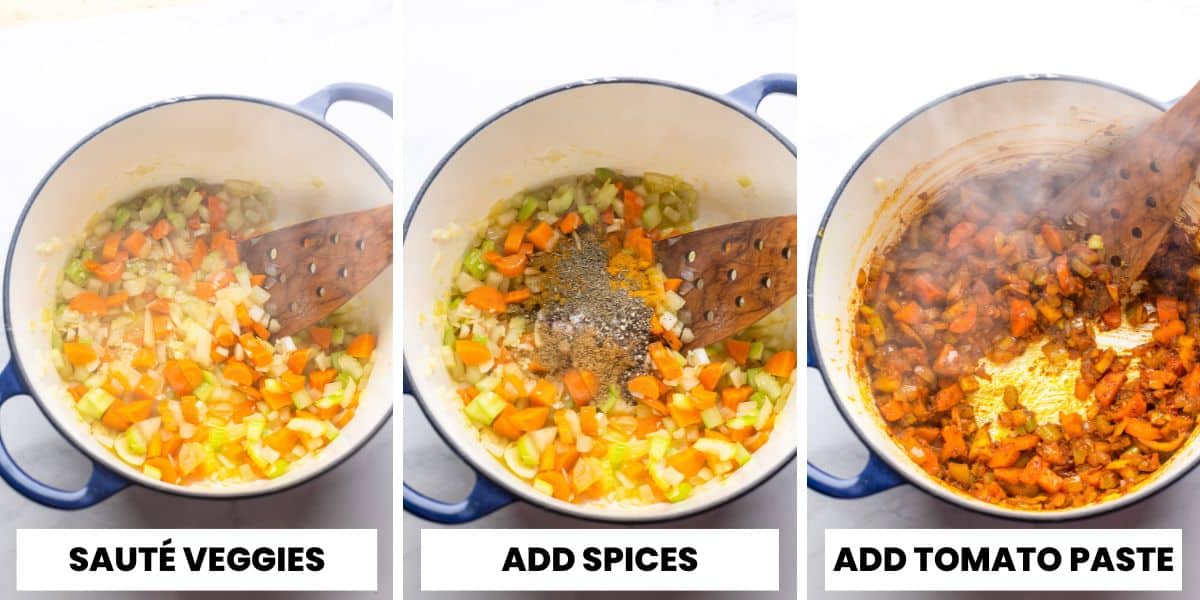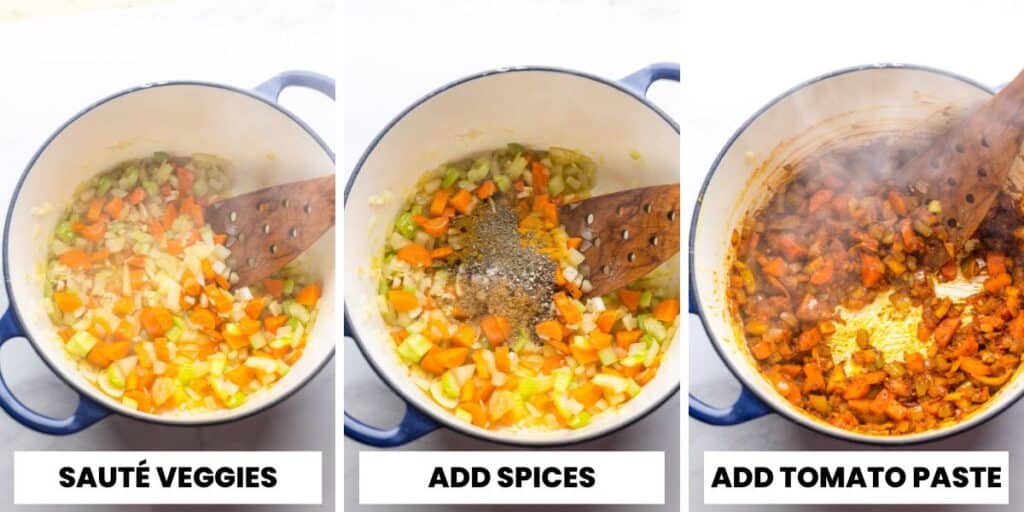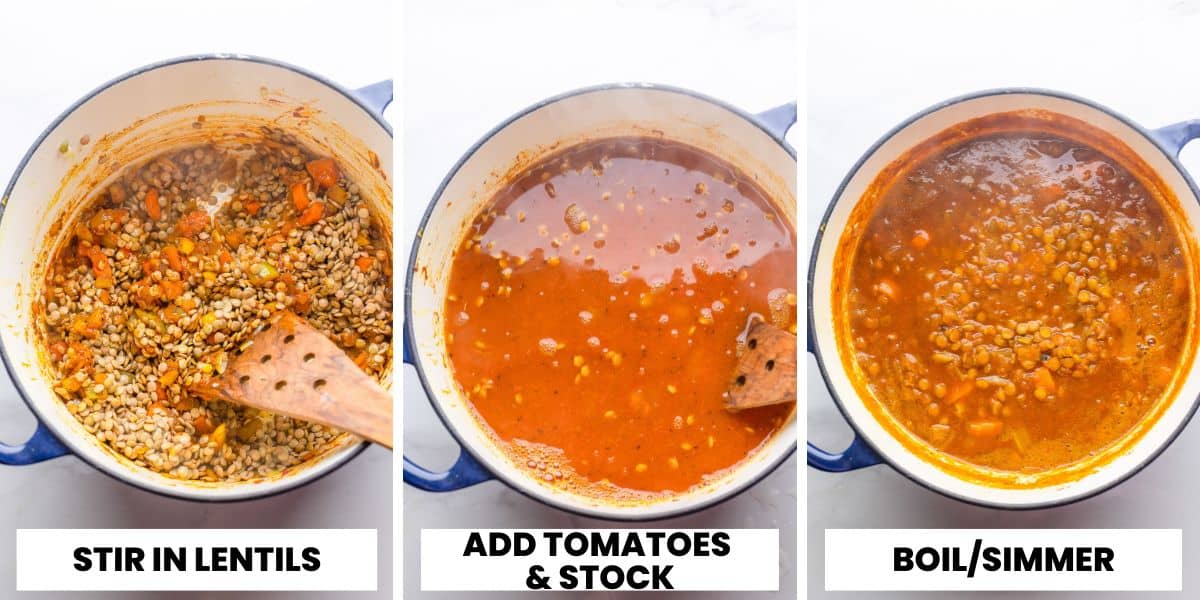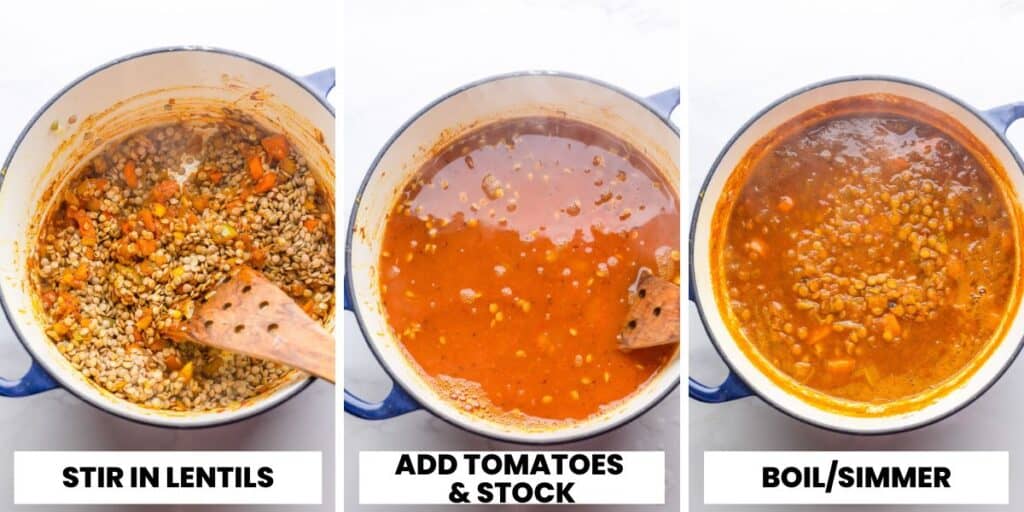 Substitutions and Additions
Lentils >> Different types of lentils cook at different lengths of time. Keep this in mind if you swap out the green lentils for another type. Brown lentils will cook in a similar length of time (about 30 minutes) and keep their shape well when stewed making them an easy swap. Red lentils (and yellow lentils) are another great option but they are much softer and cook faster. Red lentils will breakdown and dissolve more to create a thicker, creamier soup (take a peek at my Arabic Lentil Soup to see the different).
Veggies >> Feel free to pack in even more vegetables: diced sweet potato, white potato, red bell pepper, chili pepper and even zucchini all work well here! Add chopped greens like spinach or kale in the final few minutes of cooking.
Spices >> Play around with some of the dried spices. Use garam masala in place of the curry powder. Add smoked paprika, coriander, ground ginger, chili flakes, etc.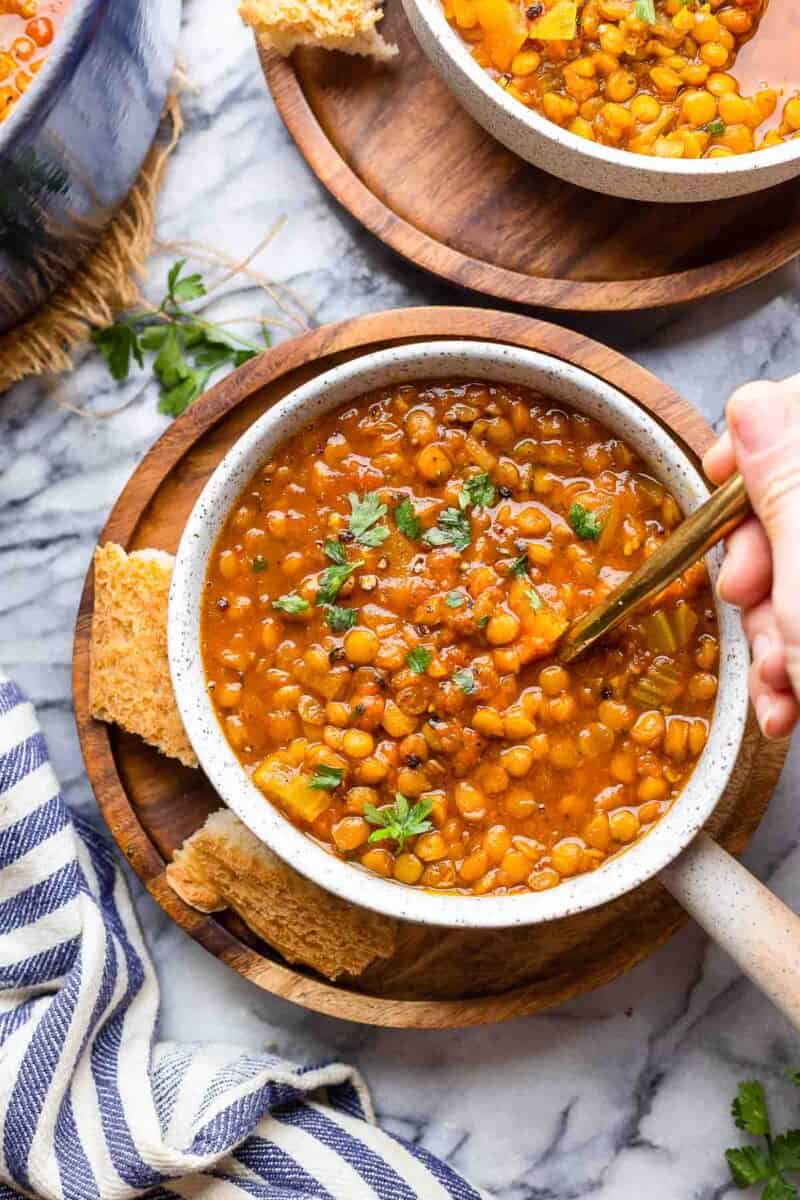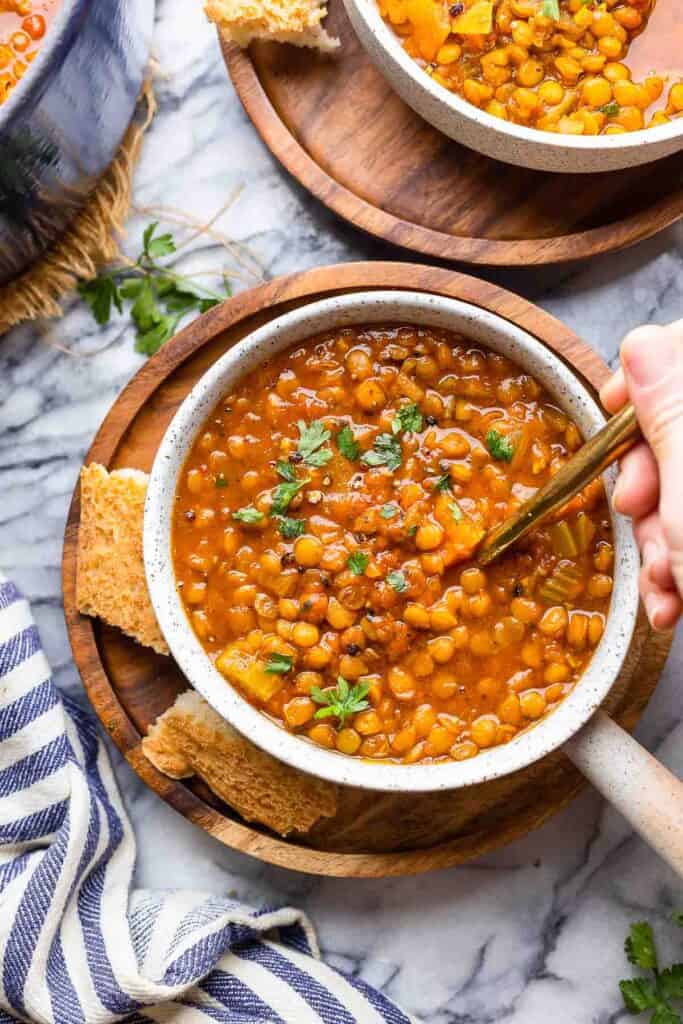 Freeze for Later
If you find yourself left with a big pot of soup, pack it up in an airtight container then store leftovers in the fridge.
The soup should keep well at least five days making it a great meal-prep recipe to keep on hand.
To keep it longer, freeze what's left and keep for up to three months! Allow the soup to cool completely, then transfer to a freezer-safe container or bag. Save space with a freezer bag by freezing the soup flat on a baking sheet until solid. Remember not to fill your freezer bag/container all the way full as the soup will expand as it freezes.
Thaw/Reheat
Keep in mind that lentils will likely soften and break down more after defrosting. The taste won't change much but the texture will.
Allow the soup to defrost in the fridge over night. Once defrosted, return to the stove and bring to a boil before serving. Add a bit more water or stock to the pot if needed and enjoy!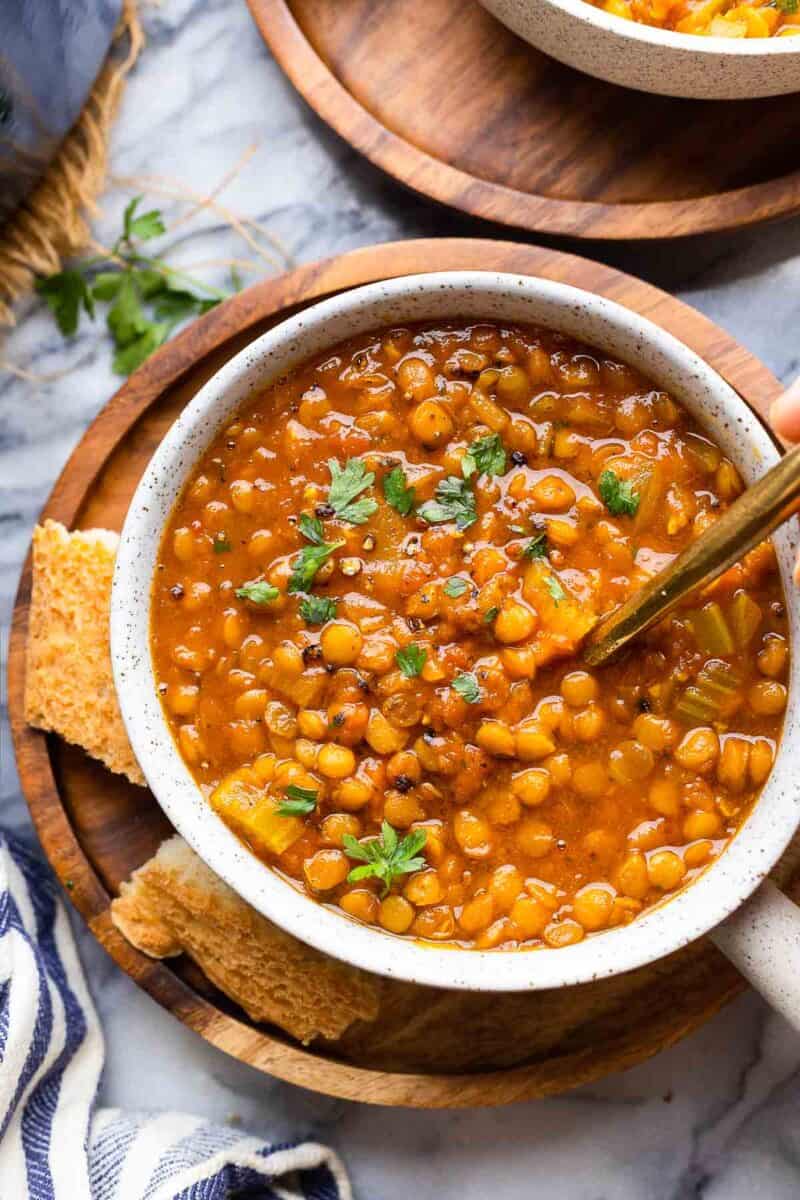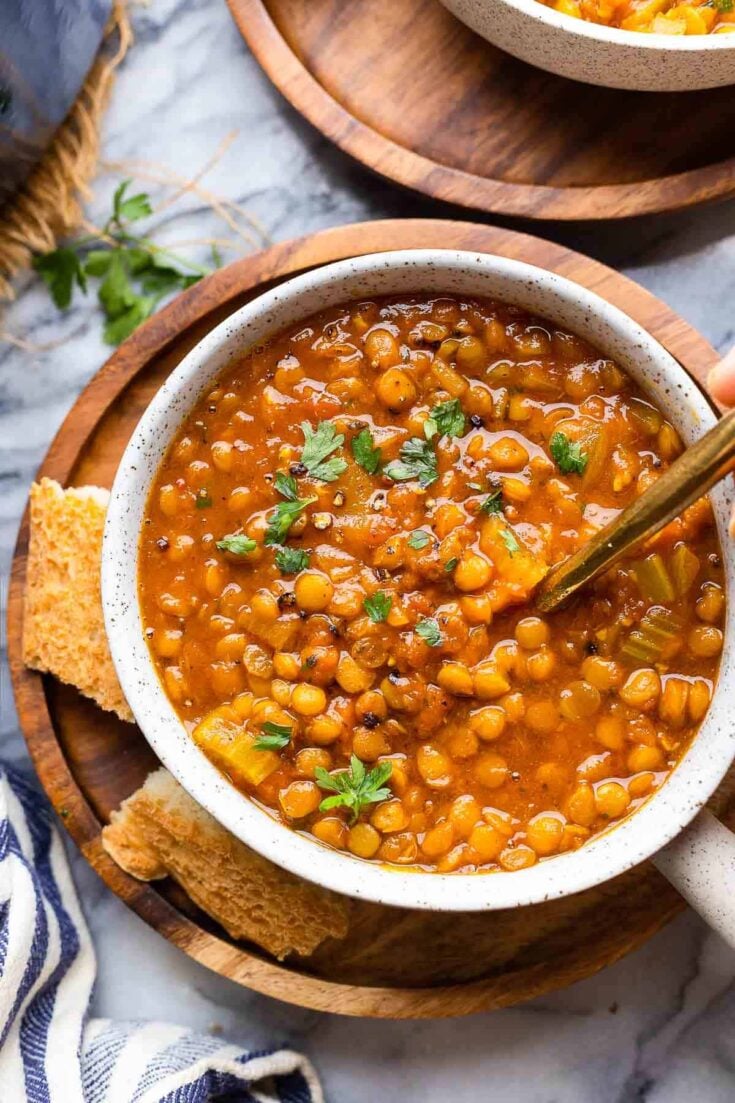 Recipe
Curried Tomato Lentil Soup
Prep Time:
15 minutes
Cook Time:
50 minutes
Total Time:
1 hour
5 minutes
This combination of sautéd veggies, warming Indian spices, lentils and tomatoes creates a rich, nutritious soup that's as comforting as it is filling!
Ingredients
3 tablespoons olive oil (45 ml)
1 large onion chopped
2 large carrots chopped
2 celery stalks chopped
4 garlic cloves minced
3 tablespoons tomato paste (48 g)
2 teaspoons cumin
1 teaspoon curry powder
1/2 teaspoon dried thyme
1/2 teaspoon ground black pepper
1/2 teaspoon ground turmeric
1/2 teaspoon salt plus more to taste
1 ½ cup dried green lentils washed (290g)
1 15 oz/ 400g can chopped tomatoes
4 cups vegetable stock (960ml)
2 cups water (480 ml)
2 tablespoons lemon juice (30 ml)
Small handful chopped herbs like parsley, cilantro or thyme for serving
Instructions
Heat a large, heavy-bottomed pot over a medium heat. Add the oil to the hot pot. Add the chopped onion, celery and carrots to the hot oil. Sauté for 5-7 minute.
Add the garlic, tomato paste, cumin, curry powder, thyme, turmeric, black pepper and salt. Sauté another 2-3 minute, stirring often.
Add the washed lentils. Stir into the vegetable and spice mixture until well mixed.
Add the canned tomatoes, stock and water. Stir everything together.
Bring to a boil. Let boil about a minute, then lower the temperature to maintain a gentle simmer for about 25-30 minutes. The lentils should be plump and the soup thickened. Stir in the lemon juice. Taste and season with additional salt, pepper and lemon juice as you see fit. Turn off the heat.
Garnish with fresh herbs if desired and serve.
Notes
Store leftovers in an airtight container in the fridge up to 5 days or in the freezer up to 3 months.
You do not need to soak the lentils for this recipe.
You can use canned lentils if needed. It will alter the end taste and texture, but it's totally doable! Decrease the amount of water to 1 cup and add the lentils to the pot about 15 minutes before the end.
This website provides approximate nutrition information for convenience and as a courtesy only. Nutrition data is gathered primarily from the USDA Food Composition Database, whenever available, or otherwise other online calculators.