This Arabic Lentil Soup (also known as Middle Eastern Lentil or Lebanese Lentil Soup) is a minimalist foodies' dream! It's naturally gluten free and vegan, comes together easily in one big pot and is made with simple ingredients that pack in a flavourful punch! Enjoy as is – thick and slightly chunky or blend up into your desired consistency as you see fit. You can't go wrong either way!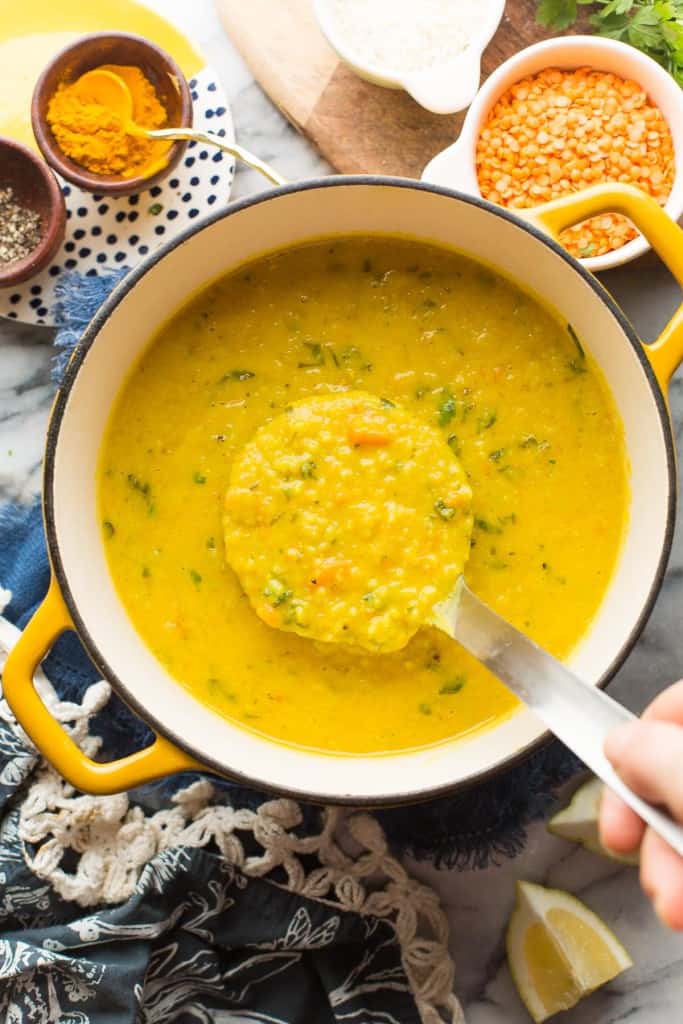 Popular all over the world, but especially known and enjoyed as a popular soup in Middle Easter cuisines – there are so many reasons to love this Arabic lentil soup! It's:
✔️Healthy and wholesome – It's made with nutrient dense veggies, warm spices and lentils that offer up a few humble health benefits.
✔️Made with budget friendly pantry staples – Dried lentils and rice bulk out this soup while also adding in a good amount of protein to satiate your hunger.
✔️Easy to cook in one large pot – Keep the clean up to a minimum as this soup comes together in one pot.
What's Inside?
Made with not much more than a handful of ingredients, this soup is proof that cheap and easy can also make for healthy and delicious.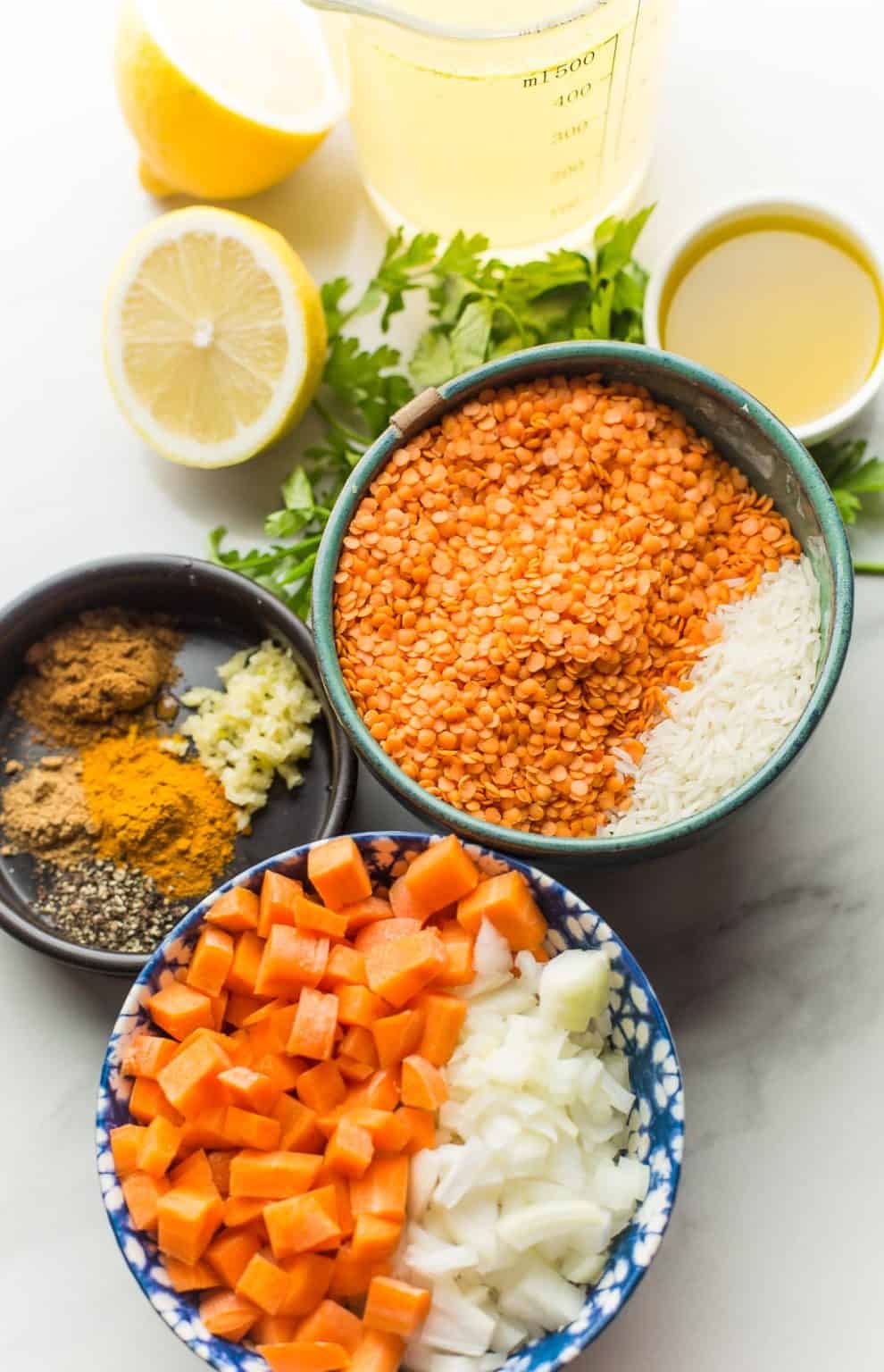 Veggies: one large onion, a medium carrot and few cloves of garlic. The onion and garlic are non negotiable here, but you can play around with adding more veggies and/or omitting the carrot.
Spices: ground cumin, ground ginger, black pepper and a bit of turmeric. Dried/ground spices make this soup quick and easy, but you can use fresh ginger and turmeric for a bit more punch.
Red lentils & rice: Split lentils are ideal because they cook quickly without their outer seed coat. Short grain rice is also usually recommend because they add a good amount of starch, but I've made this just fine with long grain rice.
Vegetable stock or chicken stock: Use vegetable stock to maintain a vegan lentil soup. Crumble up a few vegetable or chicken bouillon cubes, mix with hot water and you're all set.
Lemon and parsley: A good amount of fresh parsley and lemon juice really makes this soup zing. Mix in to the soup itself, but I also recommend saving a few lemon wedges and chopped parsley to serve at the end as well.
How to Make Arabic Lentil Soup
This steps here are very simple and straight forward. All you need is one big cooking pot, a wooden spoon for mixing. If desired, you might also need an immersion blender or regular blender to puree the soup into a more velvety texture at the end.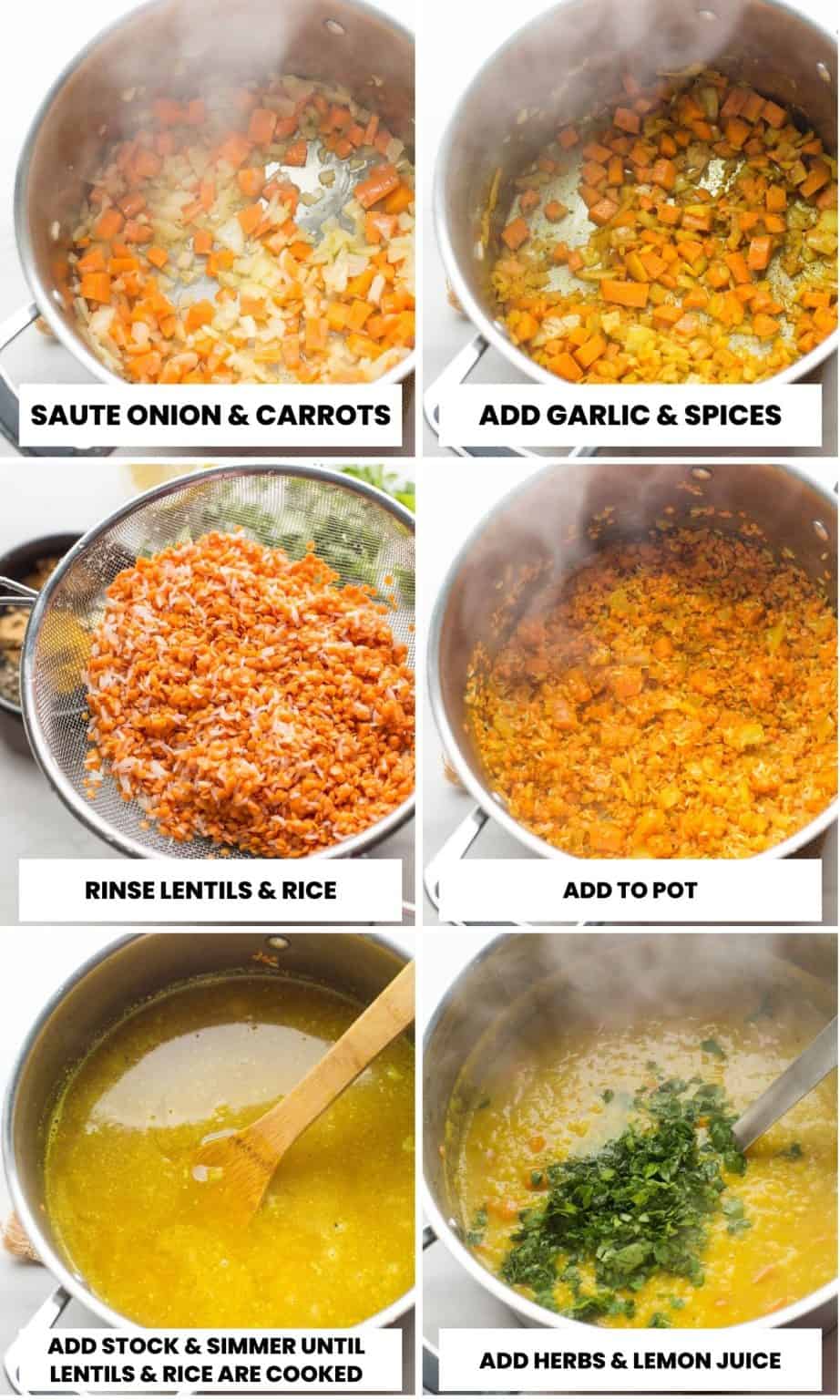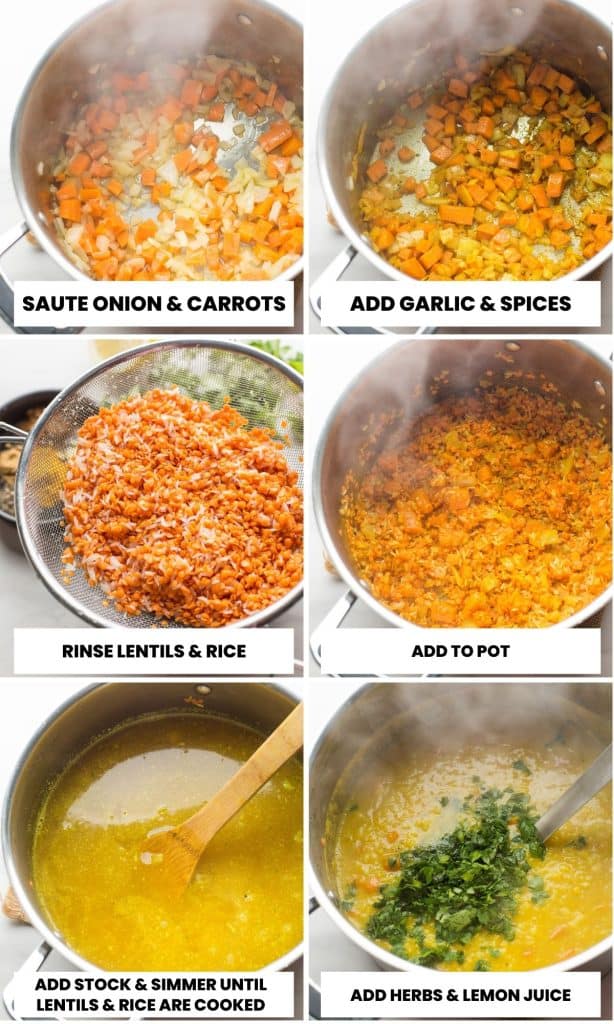 Sauté onion and carrot. Sauté about 7-10 minutes in a bit of olive oil to soften the veg. Don't add the garlic yet or it will burn too quickly.
Add the garlic and spices. Mix in the ground spices and garlic and cook another couple of minutes until fragrant.
Rinse the lentils and rice then add to pot. Rinsing the rice and lentils is recommended to remove excess starch, but it is an optional step if you can't be bothered.
Stir in stock (or water). Add the stock (or water) and bring the pot to a gentle simmer. Let cook about 30 minutes or so until the lentils and rice have soft and mushy.
Add lemon juice and parsley. Taste and season your soup as needed. Don't be afraid to add in plenty of lemon juice as it really makes this dish shine.
Blend (if desired) and enjoy! I personally enjoy this soup with a bit of texture in tact, but if you're after a creamy lentil soup – go for it!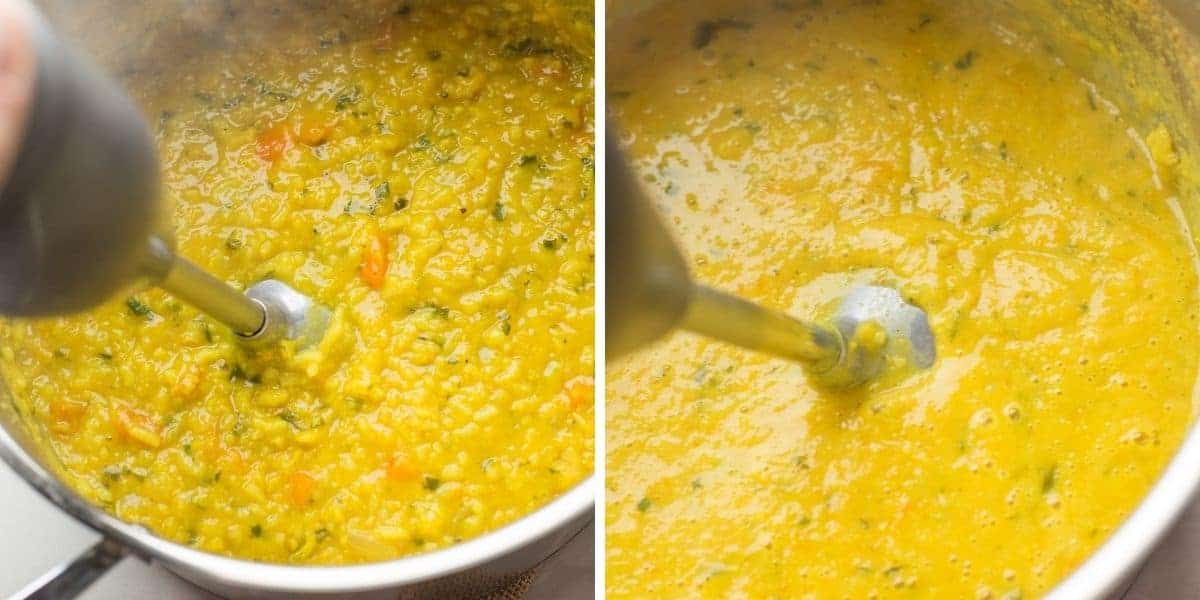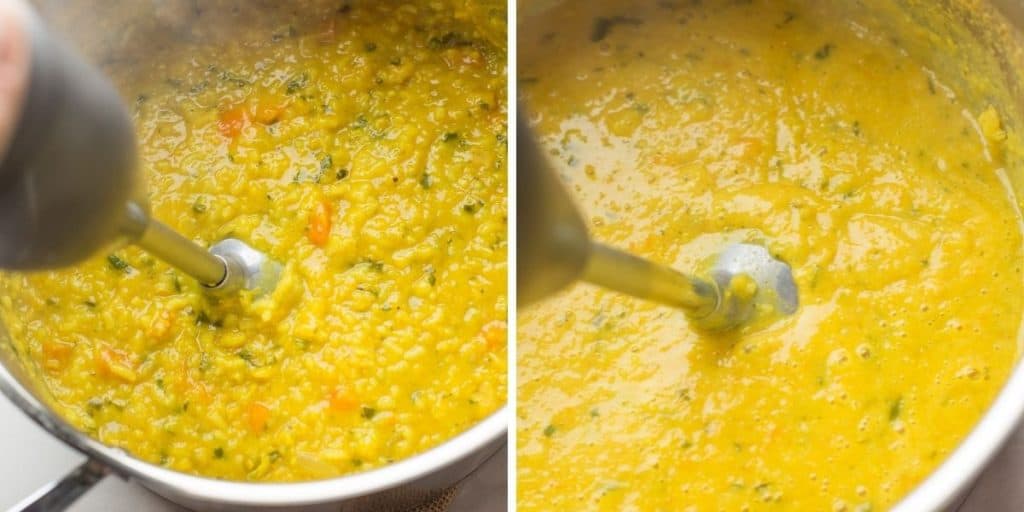 Blending Options:
Once the rice and lentils have softened up enough, it's time to blend. You can approach this stage in a few different ways.
Right in the pot: You can blend the soup up in the pot with a hand blender. This is by far the easiest method.
In a blender: If you don't have an immersion blender – no worries! You can still blend up the soup in batches using a traditional blender or food processor. A couple of important tips things to keep in mind:

Open the lid away from your face and body. The soup will be hot and steamy and you don't want that steam coming towards you.
Don't overfill the blender. Only fill up the blender about 1/4-1/3 of the way full to avoid any pressure build up in the blender.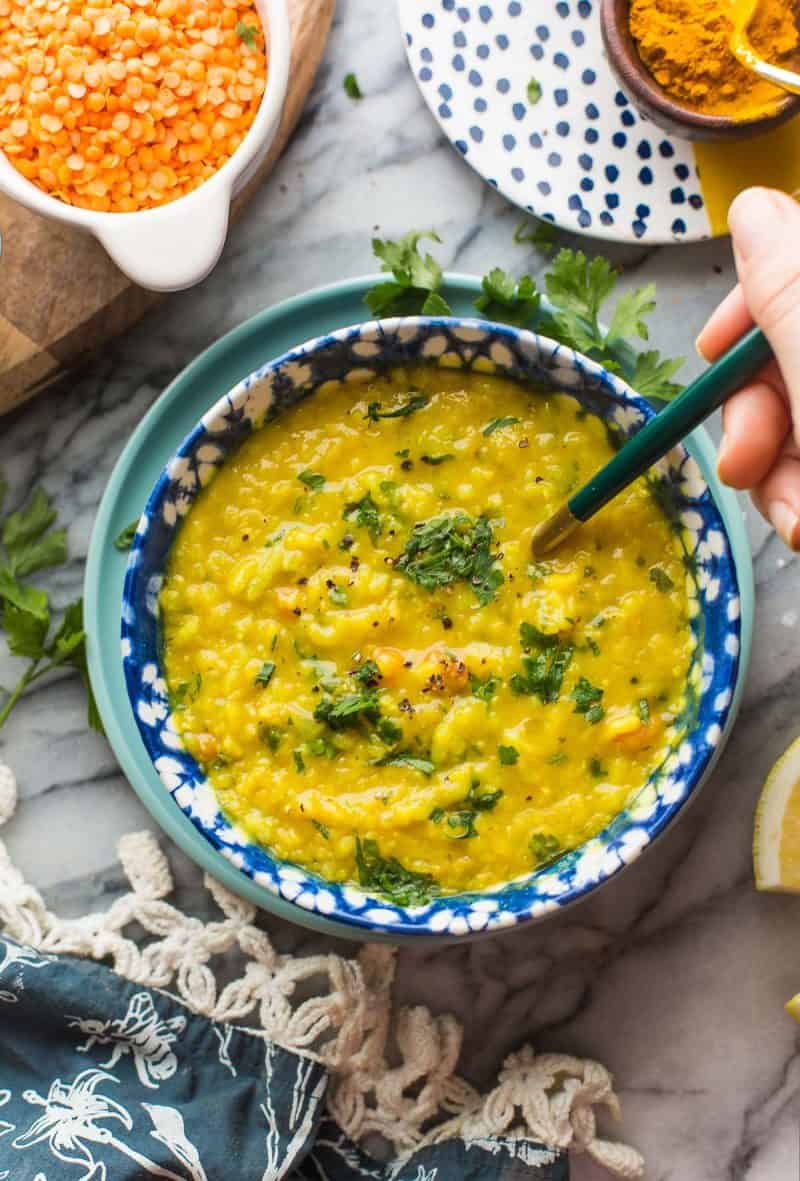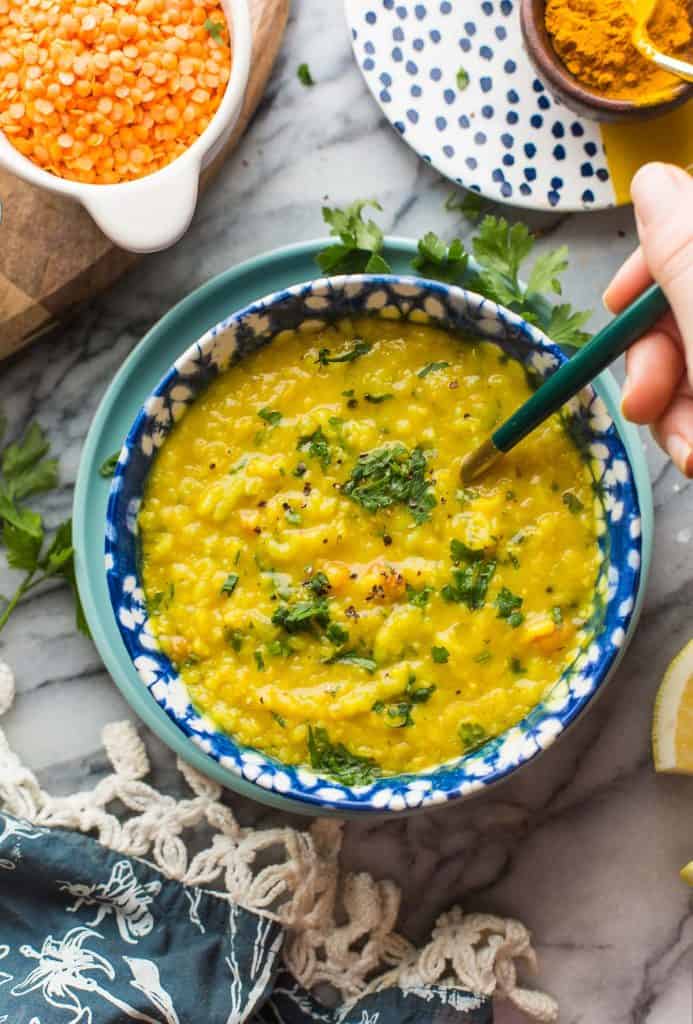 Middle Eastern Lentil Soup FAQ's
What type of lentils should I use?
Red lentils and yellow lentils are best for soup because they cook quickly and soften easily essentially dissolving into the soup.
Green lentils and brown lentils on the other hand don't breakdown as easily which is not ideal if you want a creamier texture.
Can I used canned lentils?
Sure! If for whatever reason you would prefer to use canned lentils here instead of dried that is totally doable! You'll need about 2 cans of lentils (drain and rinse). Simple add in place of dried lentils and cook the same.
Can I make this in the instant pot?
Yes! Follow the first two steps sautéing in the instant pot. Add the lentils, rice and stock, seal the pot and cook on high pressure for 15 minutes. When you can, open the pot and stir in the lemon and parsley. Blend if desired or enjoy as is.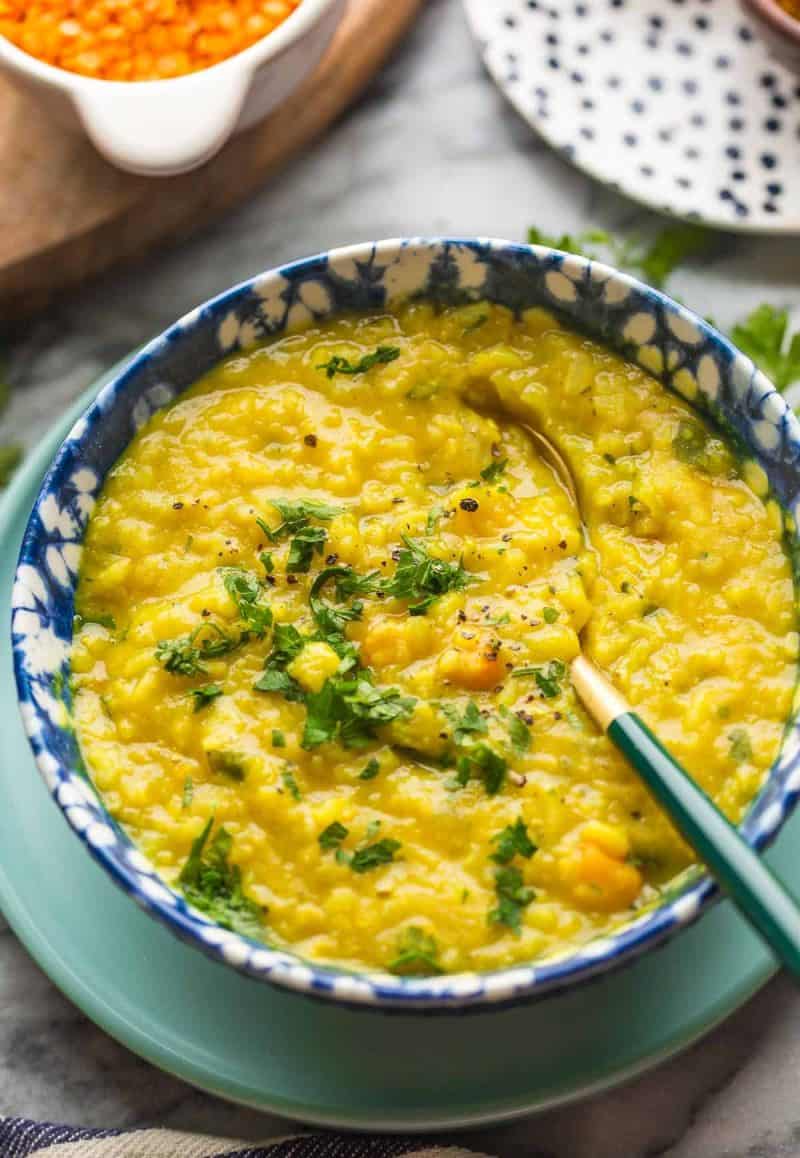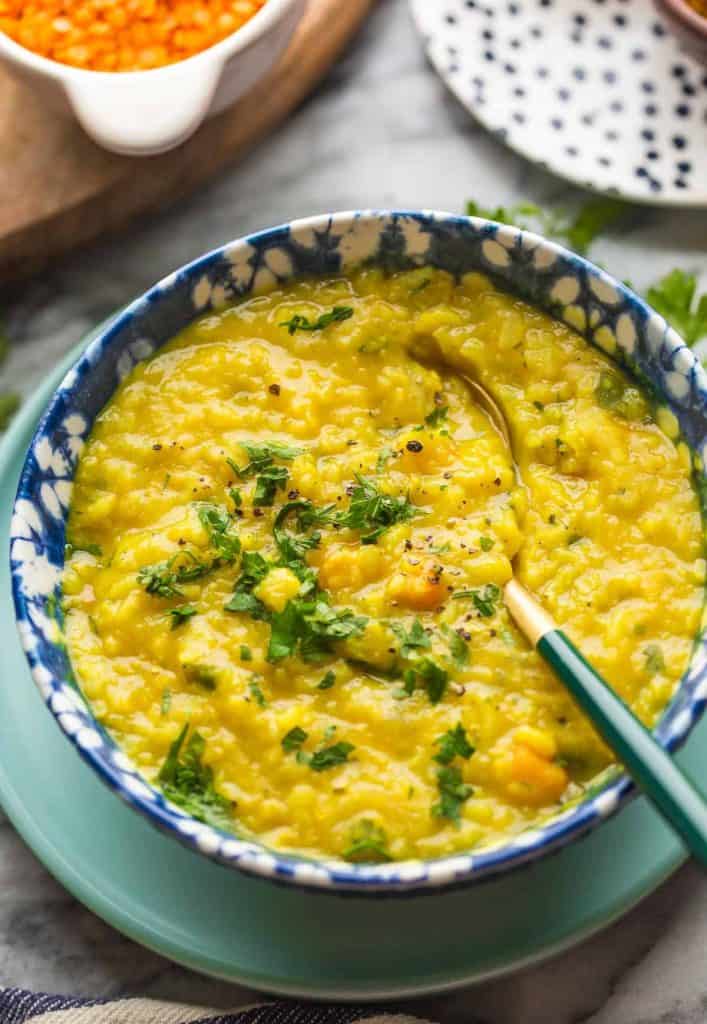 More Healthy Soup Recipes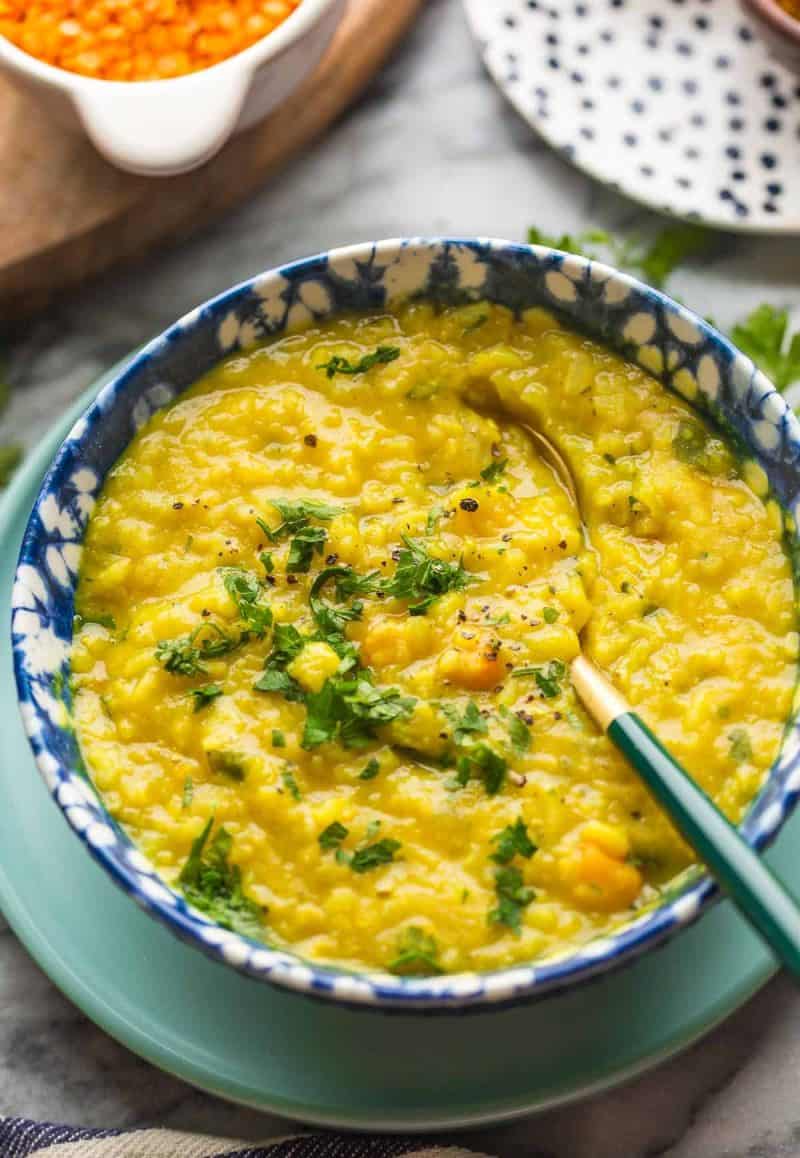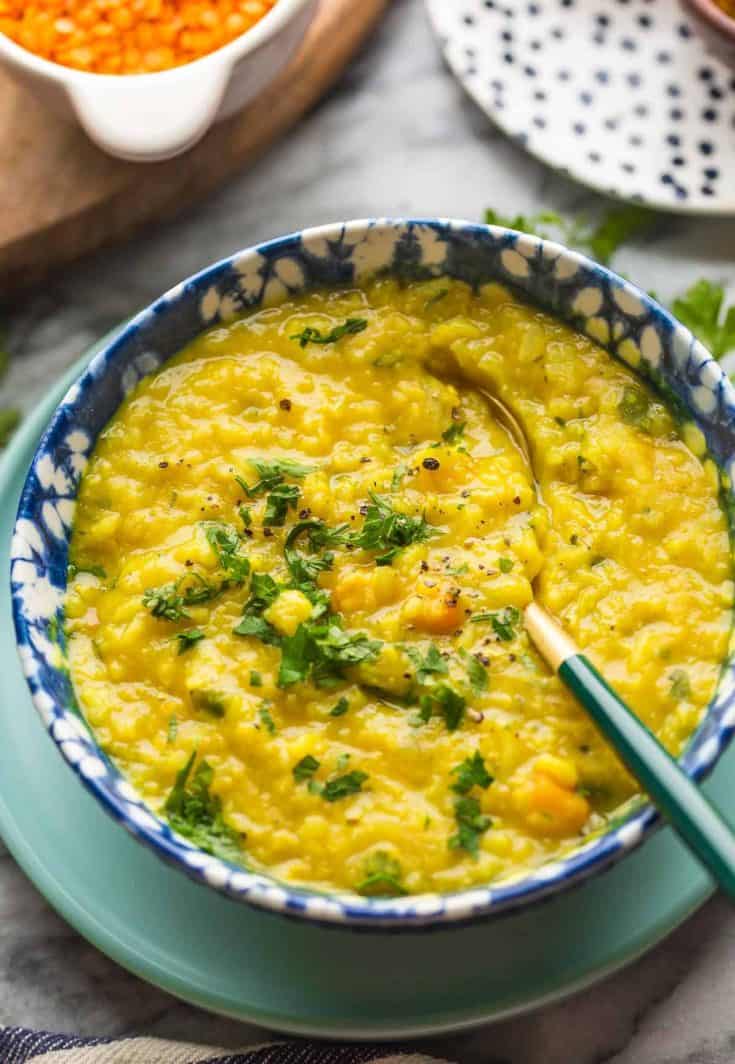 Recipe
Arabic Lentil Soup
Yield:
4-6 servings
Prep Time:
10 minutes
Cook Time:
40 minutes
Total Time:
50 minutes
Naturally gluten free and vegan, comes together easily in one big pot and is made with simple ingredients that pack in a flavourful punch! Enjoy as is - thick and slightly chunky or blend up into your desired consistency as you see fit. You can't go wrong either way!
Ingredients
2 tablespoon | 30 ml olive oil
1 large onion, chopped
2 medium carrots, diced
2 cloves of garlic, finely chopped
1 1/2 cups | 300 g split red lentils
1/2 cup | 100 g uncooked white rice (long grain or short grain rice)
8 cups | 1.9 litres vegetable stock or chicken stock
1 teaspoon ground turmeric
3/4 teaspoon ground ginger
1 1/2 teaspoon ground cumin
Large handful of chopped flat-leaf parsley
1/4 cup | 60 ml fresh lemon juice
Instructions
Warm the olive oil in a large, heavy-bottomed pot over a medium heat. When the oil is hot, add the chopped onion and carrots. Sauté for 5-7 minute.
Stir in the garlic, turmeric, ginger and cumin. Cook, stirring often to keep the garlic from burning, another 2 minutes.
Add the lentils, rice and stock. Mix well to combine. Cook about 30-35 minutes until the lentils are soft.
Stir in parsley and lemon juice. Turn off the heat and move the pot off of the heat source.
Use an immersion blender to process until you reach your desired consistency. Tip: You can also transfer the soup to a traditional blender if needed. Just make sure to only blend the soup and in batches making sure not to overfill the blender open the lid of the blender carefully and away from your face as it will likely be steamy.
Alternatively, you can enjoy this as a chunky soup without blending if you prefer.
Taste and season as you see fit (more salt, lemon juice, etc). Don't be afraid to add more lemon juice as it really makes this soup pop! Serve and enjoy.
Notes
You can add 2 cans of red lentils (drained and rinsed) instead of dried lentils.
Red and yellow lentils are best for soup because they cook quickly and break down easily.
You can add water instead of stock but you will need to season your soup more heavily with salt at the end.
This website provides approximate nutrition information for convenience and as a courtesy only. Nutrition data is gathered primarily from the USDA Food Composition Database, whenever available, or otherwise other online calculators.