Creamy Coconut Lime Chicken Breasts – a one pan, Whole 30 approved dish made with only a handful of ingredients. Dairy Free + Paleo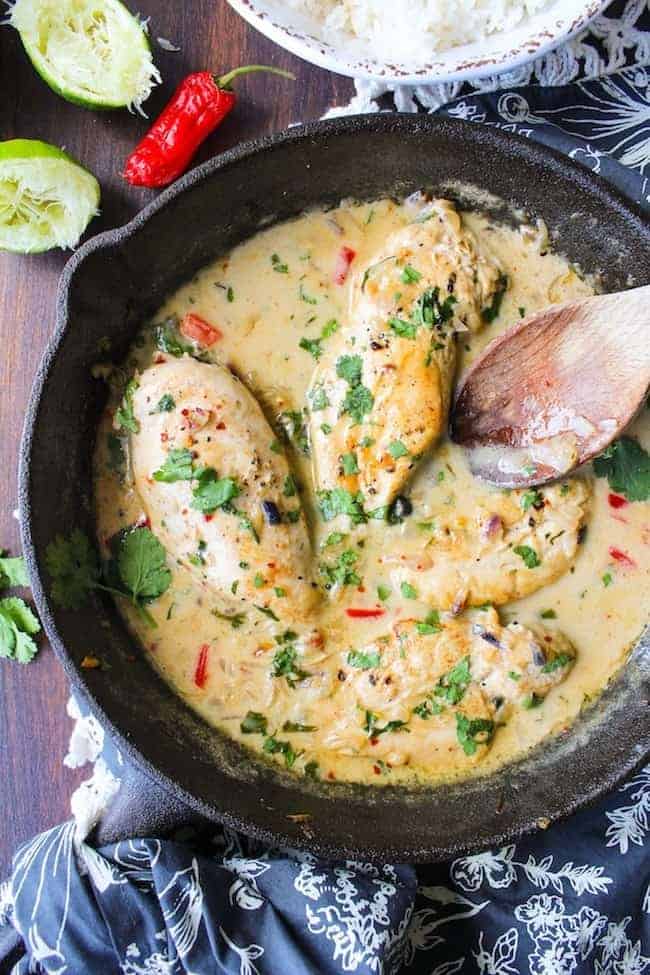 Updated with Instant Pot instructions
This coconut lime chicken is for everyone out there who gets unbelievably bored eating plain old chicken day in and day out but can't be bothered with making anything too fancy for dinner.
Oh hey, that's me!
I've said it before and (to be honest I can be a broken record at times) I'll say it again: while I've never been the biggest fan of chicken Mike can't get enough of it. He's all about the white meat while I couldn't care less. So naturally that means I have to constantly try to come up with new ways to dress it up and make it something really worth eating.
That being said I'm still happily noshing away on this honey mustard chicken salad – bacon, avocado, mustard….just load me up. While I could wax on about how much I love that salad today it's all about this coconut lime chicken, and I promise it's just as good!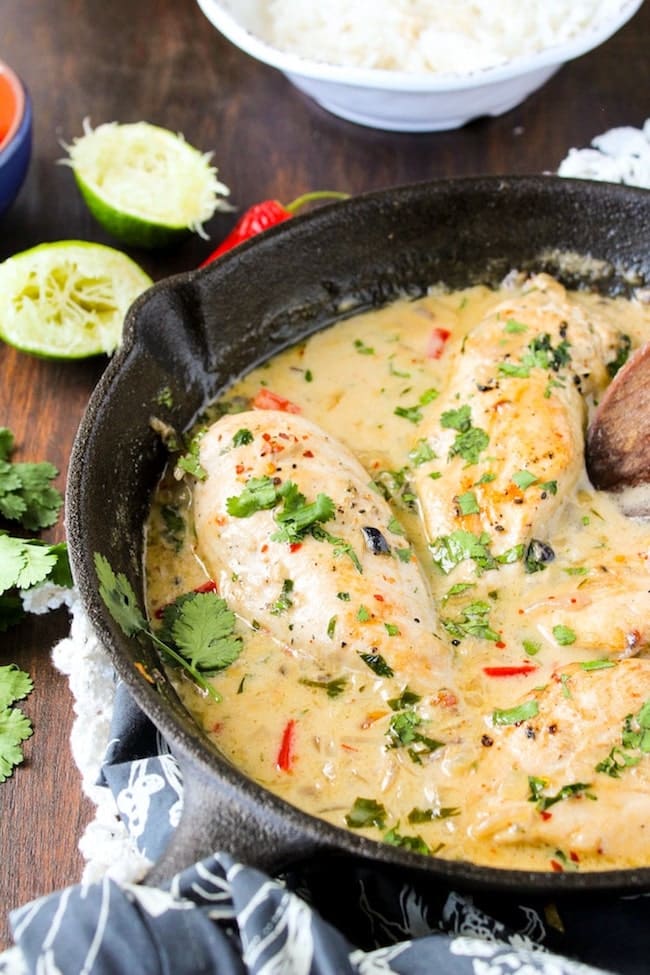 Coconut Lime Chicken
Some nights I like to go down to the kitchen, take inventory of everything edible and make something based on what we have in – Chopped style. And then some nights after a long day of work I have no more brain cells left for thinking about anything food related. On those nights, I take to Pinterest.
The inspiration from this recipe came from one I found on Pinterest from Sally's Baking Addiction: Skillet Chicken with Creamy Cilantro Lime Chicken.
I made it dinner one night after a quick "chicken breast recipes" search. I saw the original recipe and knew it was right up our ally. Plus the "one skillet" bit sold me because I'm all about not washing dishes.
I've since made this recipe again and again, with a few tweaks here and there to make it dairy free version. I've also added a little extra chili peppers for some added punch. Feel free to leave those out if spice isn't your thing. Serve this chicken over a bowl or rice/cauliflower rice to soak up all of that coconut lime sauce. It's fantastic.
How did people decide on what to make for dinner before Pinterest?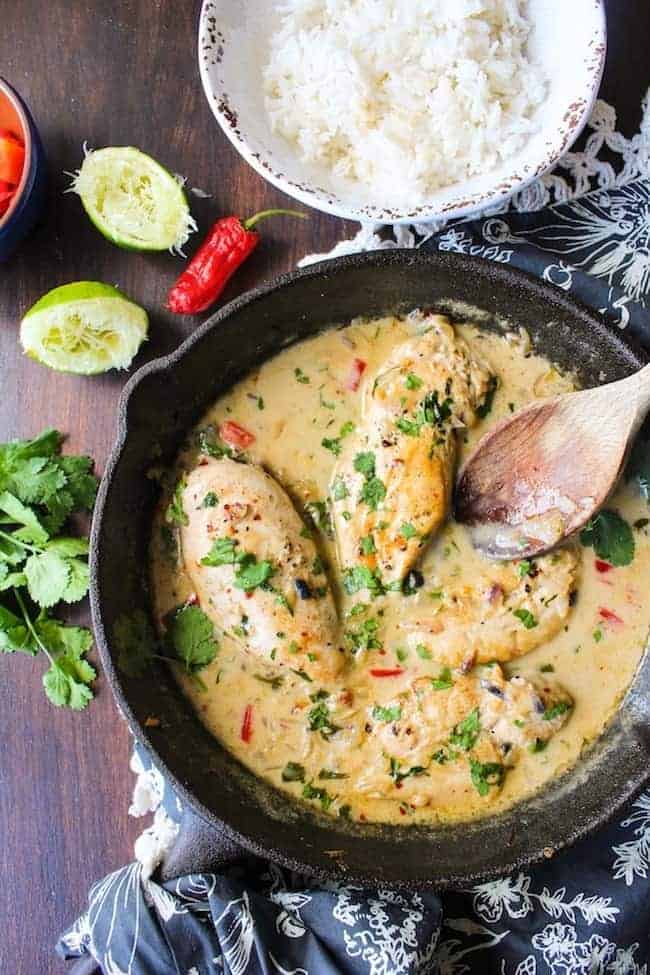 FACEBOOK | INSTAGRAM | PINTEREST  
Don't forget to #asaucykitchen on instagram if you try this coconut lime chicken! We love seeing what you make!  You can also post your pictures to my facebook page!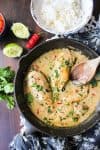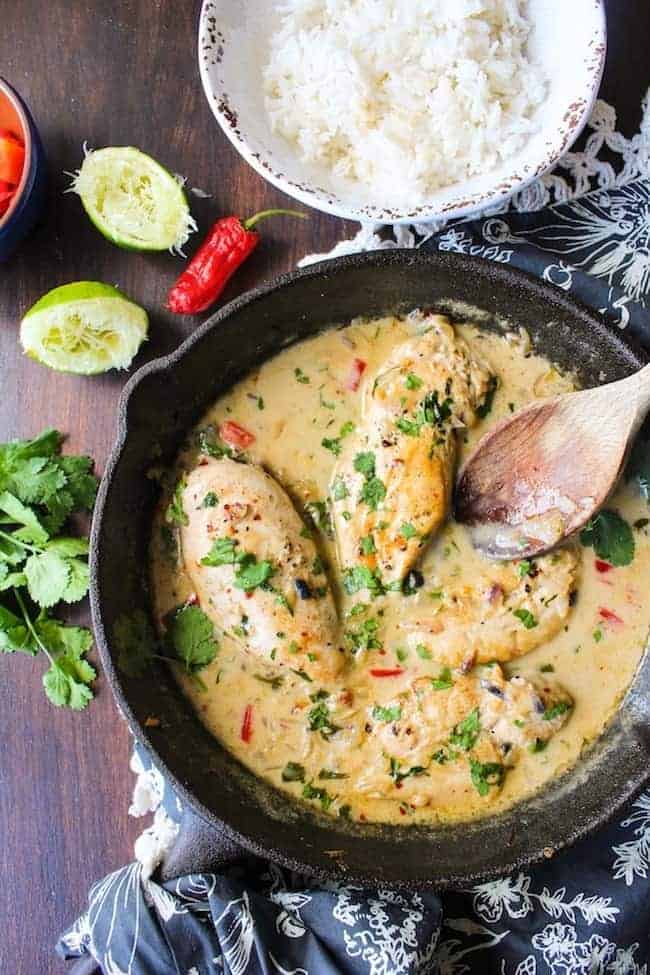 Coconut Lime Chicken
Creamy Coconut Lime Chicken Breasts - a one pan, Whole 30 approved dish made with only a handful of ingredients. Dairy Free + Paleo + Gluten Free
Ingredients
4

skinless

boneless chicken breasts, about 1 1/2 pounds

1/4

teaspoon

sea salt

1/4

teaspoon

black pepper

1

tablespoon

coconut oil

1/2

cup

red onion

it came out to 1/2 onion for me, chopped

1

whole

red chili

chopped optional

1

cup

organic chicken stock*

2

tablespoons

lime juice

about 1 large lime

1

tablespoon

chopped cilantro

1/2

teaspoon

red chili flakes

1/2

cup

full fat coconut milk from a can or coconut cream

pinch turmeric powder (optional for colour)

1

tablespoon

arrow root starch for paleo/whole 30 or corn starch mixed into 1 tablespoons water optional
Instructions
Place the chicken breasts between two pieces of plastic cling wrap and pound them down to make them even in thickness. This will help the chicken cook evenly and make for more tender chicken. Sprinkle each side of the chicken with salt and pepper.

Melt the coconut oil in a large skillet over a medium high heat on the stove. Add the chicken breasts and cook each side for 5-7 minutes or until browned on each side. Remove the chicken from a skillet and set aside on a plate. The chicken doesn't need to be fully cooked yet because you'll be returning it to the heat shortly.

Add the chopped onion to the same skillet and sauté for a few minutes to soften. Add the chili pepper if you're using it. Sauté another couple of minutes. Add the chicken stock, lime juice, cilantro and chili flakes. Bring the mixture to a boil and then reduce down to a simmer. Let simmer for about 5 minutes to let reduce down. Add the coconut milk and the turmeric and bring to simmer again for another 5 minutes. Add the starch and water at this time if you're using it. You may need to raise the heat slightly higher to bring this to a boil to activate the starch. Once the sauce thickens reduce it back down to a simmer.

Add the chicken back to the skillet, cover and let cook for another 5-10 minutes or until the chicken is cooked all the way through.

Serve with rice or cauliflower rice with the sauce spooned over the top.

Add an extra sprinkling of cilantro & chillies and enjoy!
Instant Pot Instructions
Press the sauté button on the instant pot and wait for it to heat up. Add the coconut oil. When the oil is simmering add the red onions and pepper. Cook for about 3 minutes to soften.

Add the chicken stock, lime juice, red pepper flakes, coconut milk and turmeric. Taste the sauce and season with salt and pepper. Stir and let simmer for a minute or so. Add the chicken breasts.

Secure the lid on the instant pot and make sure the dial on top is set to 'sealing'. Cook on high pressure for 8 minutes. (Press 'Manual' or 'Pressure Cook' to set the timer.) After the time is up the Instant Pot will automatically switch the keep warm. Let it keep warm for 10 depressurising on it's own before releasing the steam valve.

After removing the lid carefully remove the chicken breasts from the soup and transfer to a cutting board or a plate. Cut the chicken up into small pieces.


With the lid off and the chicken out press the 'Sauté' button again. Bring the sauce to a boil and add your starchy water to thicken. Once it begins to thicken turn off the heat and add the chicken back to the pot along with the chopped cilantro. Taste the sauce again to season with addition salt/pepper/ lime juice if need and enjoy!
Recipe Video
Recipe Notes
If you need this recipe to strict Whole 30 make sure to check the labels on your chicken stock for hidden sugars.
---
Notes about thickening:
A few people have had issues with the sauce thickening - this could come down to what type of coconut milk you used. Not all coconut milks are the same and some come out thicker/thinner than others. Aim to use a thicker, full fat coconut milk from a can. You can use just coconut cream as well if you have it on hand. If your sauce doesn't thicken the way you want it to you can add the starch and water mixture to do the trick for you.
---
Recipe expectations:
While the sauce should reduce down and get thicker as your simmer it, it's not supposed to be really thick like gravy so keep that in mind as you cook.
---
This chicken is admittedly not the prettiest looking dish as some of you have comment. Add a pinch of turmeric powder to the sauce to give it a nice golden colour but keep in mind it will change the flavour. 
Nutrition Facts
Coconut Lime Chicken
Amount Per Serving
Calories 317
Calories from Fat 144
% Daily Value*
Total Fat 16g 25%
Cholesterol 161mg 54%
Sodium 323mg 13%
Potassium 571mg 16%
Total Carbohydrates 6g 2%
Protein 34g 68%
* Percent Daily Values are based on a 2000 calorie diet.
This post contains affiliate links.  I only post links for products I personally use and believe in. If you make a purchase on Amazon after clicking one of my links, I receive a small commission and the price you pay is not affected.  Thank you!
She brains and reluctant dishwasher for A Saucy Kitchen