15 minute stir fry Chicken with Ginger and Spring Onion – a Chinese takeout favourite made easy!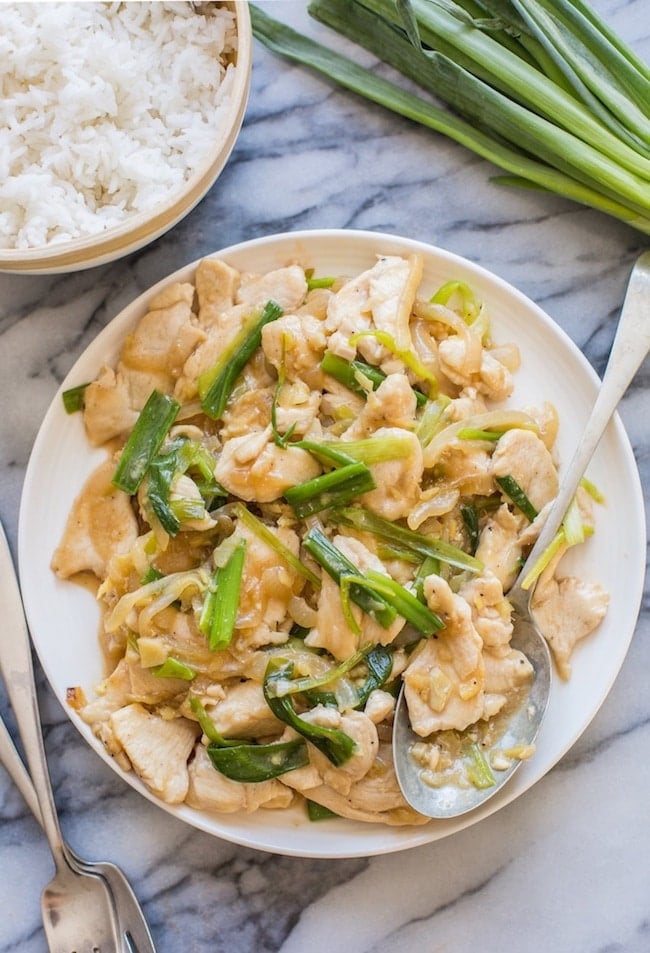 Chicken with Ginger and Spring Onion
Out of the nearly 800 recipes shared here on A Saucy Kitchen, this Chicken with Ginger and Spring Onion is easily one of favourite recipes and most frequently repeated dinners in my house.
Credit and praise goes to Khoan Vong and his youtube video showing how to make his popular Chinese restaurant + takeout recipes at home.
Having tried a few of his recipes (including another favorite King Prawn Cashew Nuts) we have yet to be disappointed.
His whole channel is a really cool behind-the-scenes peak into running a Chinese take away. Definitely worth a browse if you love Chinese cuisine!
The recipe shared here is based off the one Khoan Vong makes in the video above.
I've adapted a few things to make it easier to follow along in a home kitchen as opposed to a professional kitchen with the extra-hot temperatures and speedy cooking methods.
it's all in the prep
✔️Simple ✔️ speedy ✔️satisfying
Even without the open flame and extreme heat, this dish cooks fast. The key to ensuring the cooking process of this chicken dish is a breeze? Mise en place – the preparation!
Even the chicken cooks so fast you might not have time to prepare things as you cook. Before turning up the heat make sure you gather and prepare your ingredients.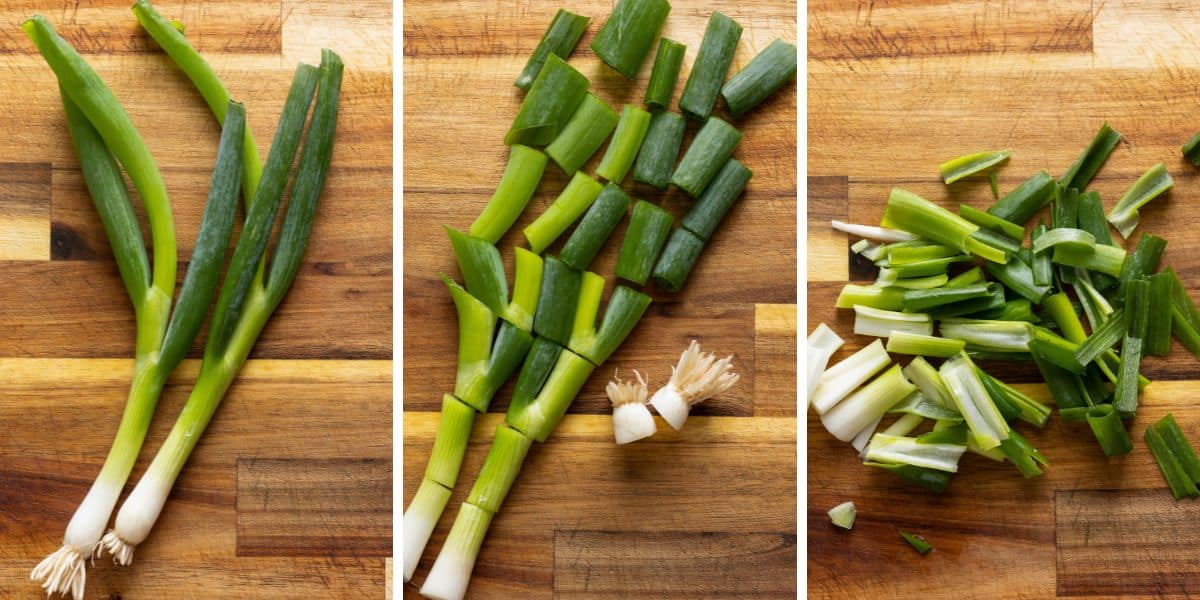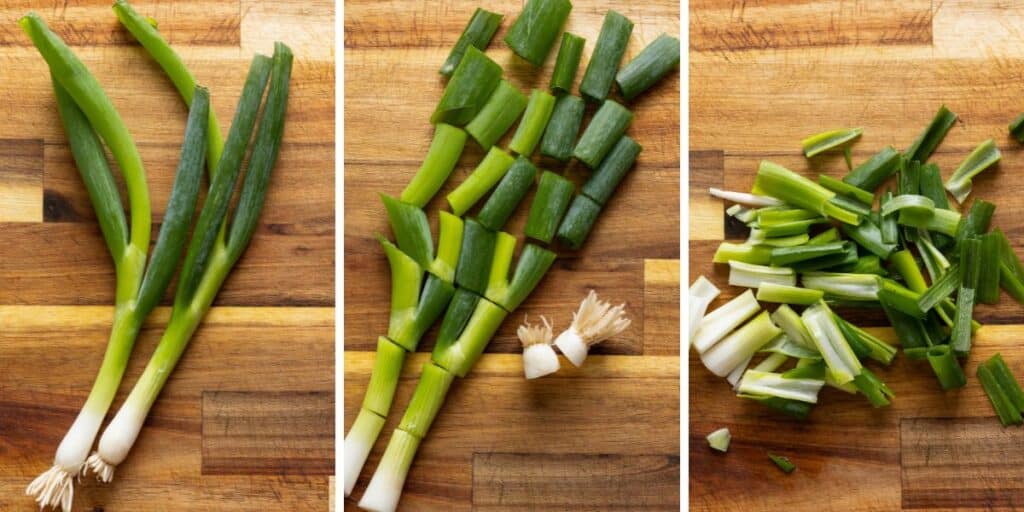 combine sauce ingredients
prepare vegetables for stir frying
cut chicken into very thin slices
In no time at all, you'll be well on your way to enjoying your very own take-out style spring onion chicken stir fry!
Stir Fry Ingredients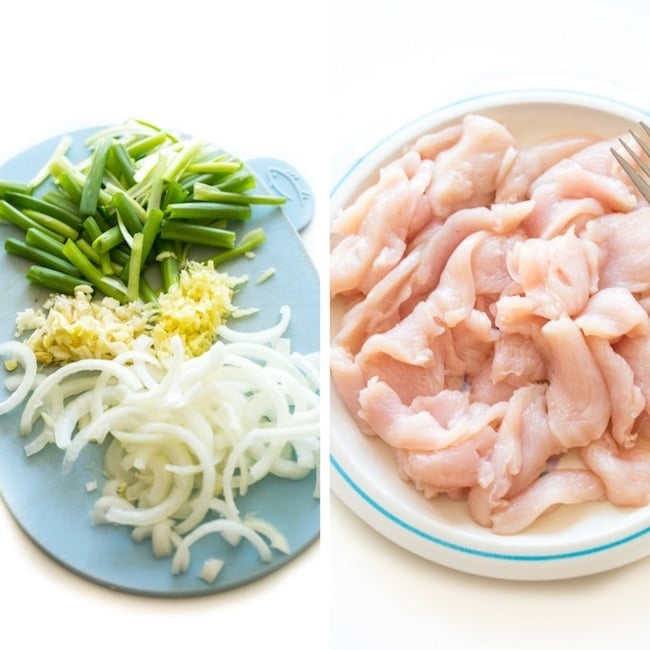 Garlic & Ginger – Finely chop or mince.
Onion – Cut into thin slices.
Spring Onion (Green Onions) – Use both the firm white stems and the leafy green part of the onion. Cut into 1-1 1/2 inch long slices.
Chicken – Slice your chicken into pieces so thin you're wondering if it might be too thin. Thin chicken = tender chicken.
Sauce Ingredients
Gluten Free Oyster Sauce – It's sweet and salty. Oyster sauce provides the umami in this recipe.

The most specialised ingredient needed for this dish. If you can't find gluten free oyster sauce in chain stores near you, try an Asian grocery store or amazon.

Salt + Pepper +Sugar – A little of each goes a long way in enhancing the overall flavor.
Water + Starch – Needed to make a cornstarch slurry for a thicker, silkier sauce.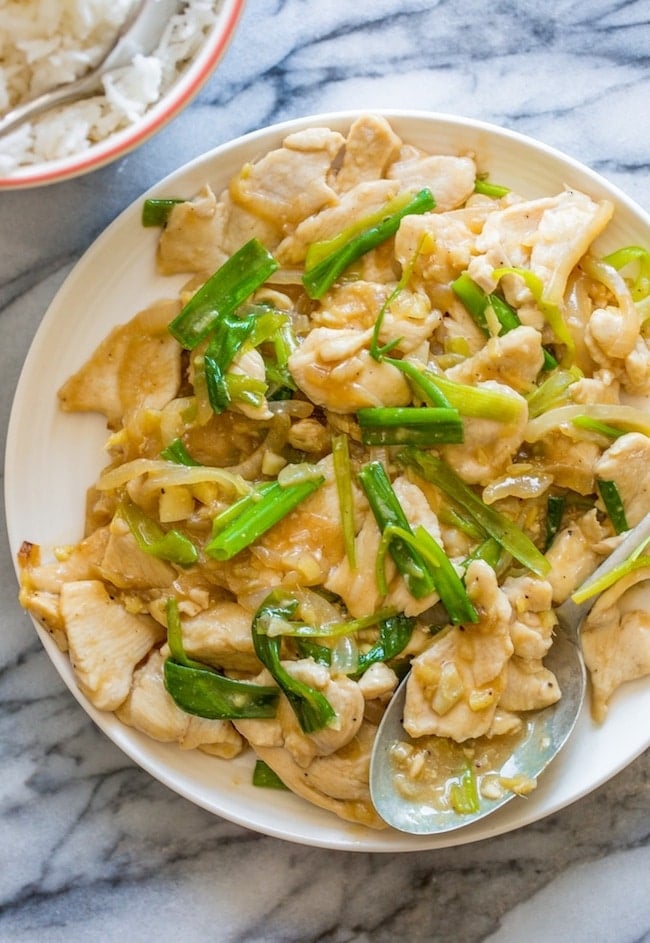 Enjoy!
Let me know if you try this Chicken with Ginger and Spring Onion recipe! Leave a comment and review with your thoughts. I always appreciate the feedback and serving suggestions that you come up with!
When you're all set serve your ginger chicken stir fry over rice or noodles. If you're looking for a healthier meal option this goes well over a bed of cauliflower fried rice.
Enjoy!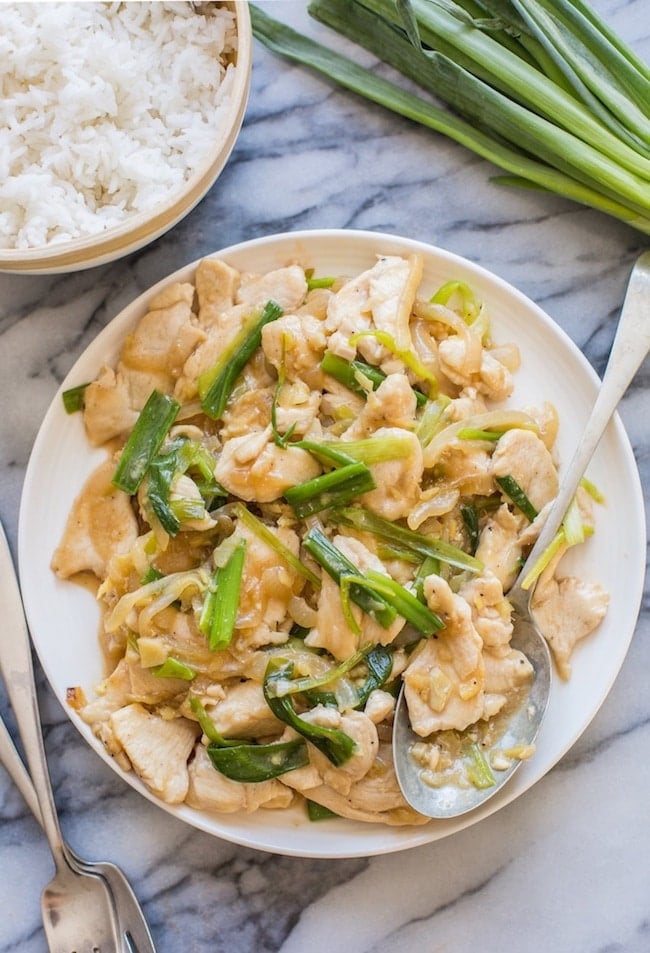 Recipe
Chicken with Ginger and Spring Onion
Yield:
2 servings
Prep Time:
15 minutes
Cook Time:
15 minutes
Total Time:
30 minutes
15 minute stir fry Garlic Ginger and Spring Onion Chicken - a Chinese takeout favourite made easy! 
Ingredients
Sauce
1 tablespoon gluten free oyster sauce
1/2 teaspoon salt & black pepper, each
1/2 teaspoon sugar
1/3 cup water (80ml)
1 tablespoon corn starch or potato starch
Chicken & Veg
1 tablespoon cooking oil (15ml)
6 oz boneless, skinless chicken breast, sliced very thin
1/2 onion, sliced (white, brown or yellow)
2 cloves garlic, finely chopped
1 tablespoon fresh ginger, finely chopped
2 spring onions, remove root ends then cut into thin strips about 1 inch long pieces
Instructions
Sauce: In a small bowl combine the oyster sauce, salt, pepper, sugar, water and starch. Whisk to combine. Set aside.
Warm oil in a wok or frying pan on a high heat. Add the sliced chicken pieces to the hot oil and cook quickly for a minute or two until it's no longer pink. Transfer the chicken to a small plate and set aside.
Add the sliced onions to the same wok/pan. Add a little more oil if needed and sauté 2-3 minutes on a medium high heat to soften the onion. Add the ginger and the garlic and cook another minute.
Add the chicken back to the wok along with the spring onions. Stir fry a minute to finish cooking the chicken.
Add the combined sauce to the wok. Cook until the sauce turns into a thicker, saucy consistency.
Remove from the heat. Transfer to a serving plate and serve over rice or noodles.
Notes
Canola oil and vegetable oil are good neutral flavored oil options. Peanut oil and sesame oil are useful if you'd like to add a slight nutty flavor.
Use the whole spring onion - both green part and white part
Nutrition Information
Yield:

2
Calories:

203
Saturated Fat:

1g
Cholesterol:

54mg
Sodium:

933mg
Carbohydrates:

10g
Sugar:

2g
Protein:

18g
This website provides approximate nutrition information for convenience and as a courtesy only. Nutrition data is gathered primarily from the USDA Food Composition Database, whenever available, or otherwise other online calculators.
Shop this Post
As an Amazon Associate and member of other affiliate programs, I earn from qualifying purchases.
Gluten Free Stir Fries Recipes
Hungry for more tasty stir fries? Check out some of my favourites below: