Lighten up your favourite takeout side with this Cauliflower Egg Fried Rice! Riced cauliflower makes for a more nutritionally dense, filling and healthy alternative to regular fried rice that you can feel good about eating! Once all your veggies are prepped this dish comes together fairly quickly and easily all in one pan in about 15-20 minutes. Enjoy this as a side to some of your other Chinese-inspired takeout favourites or enjoy a big bowl all on it's own for a super filling and satisfying dish! | Gluten Free + Low Carb + Vegetarian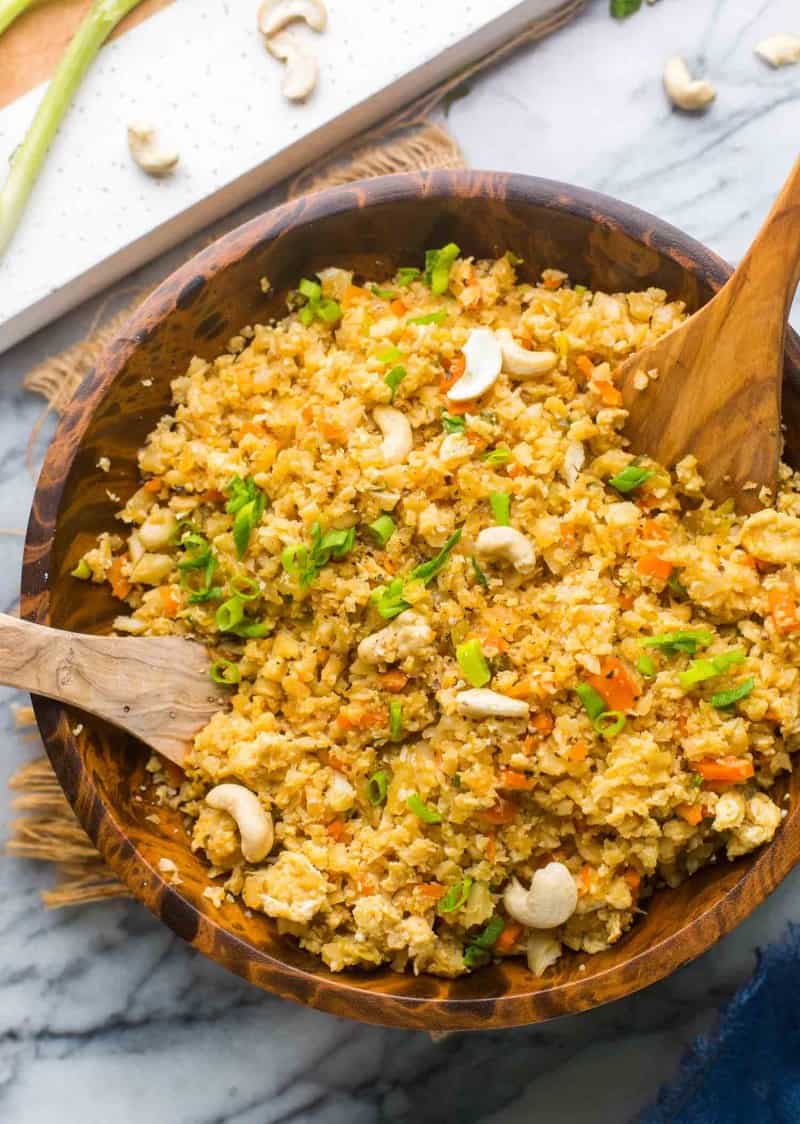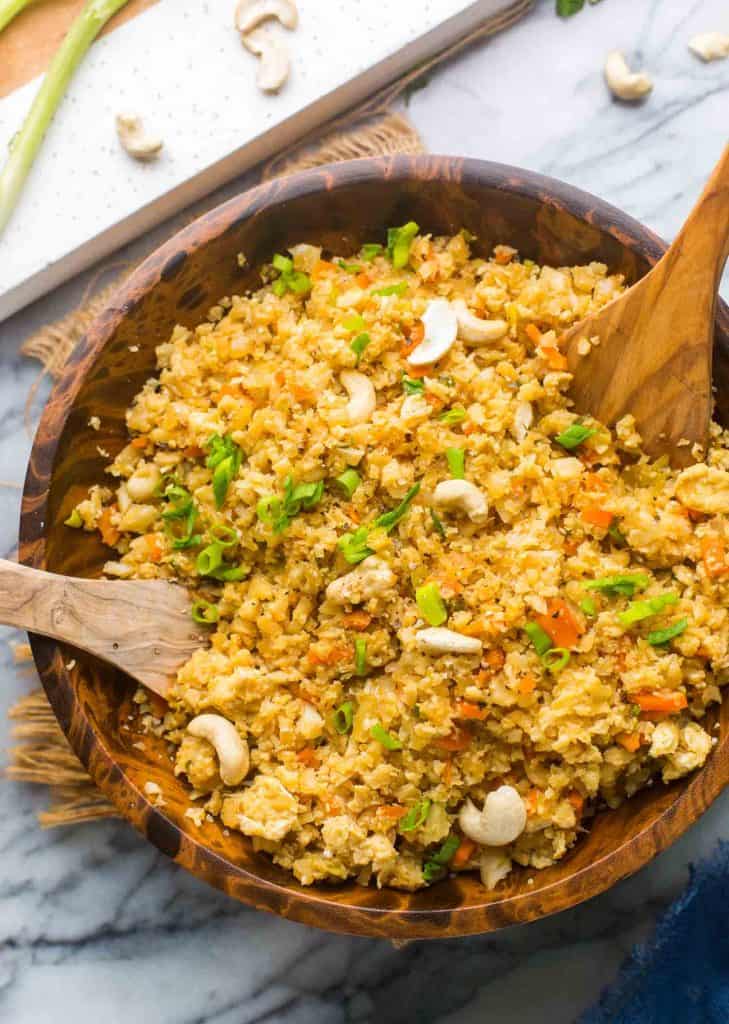 Veggie Prep
I recommend taking the time to properly prepare your veggies and add-ins before you even turn on the stove. Once you get the ball rolling and start adding things to the pan this dish comes together fairly quickly. So rice your cauliflower, dice your aromatics and then get going!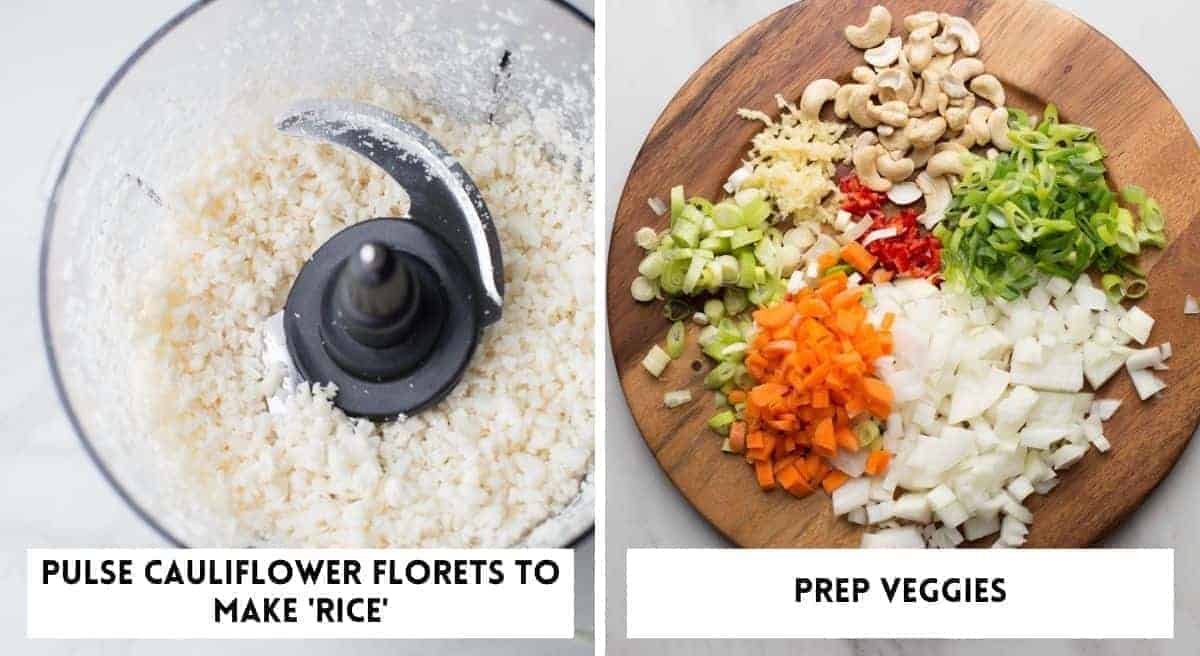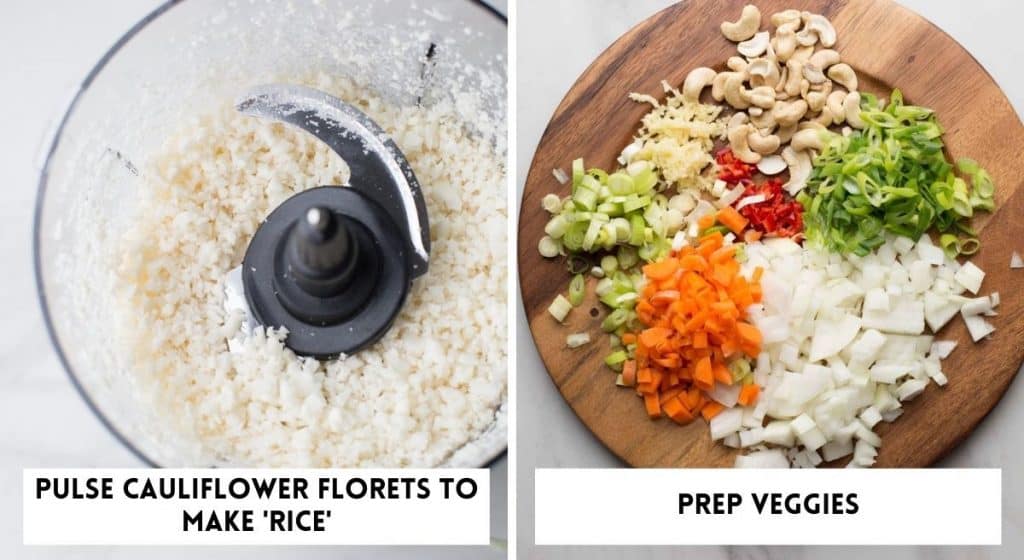 How to Make Cauliflower Rice With a Food Processor
Without a doubt, the fastest and easiest way to make riced cauliflower is with a food processor (<<affiliate link FYI).
It takes about two minutes to cut your cauliflower up into into smallish chunks and drop them through the graters with the processor on. If you don't have the grating blade you can also make this by pulsing it up with the standard S-blade.
How to Make Cauliflower Rice Without a Food Processor
If you don't have a food processor – no problem! For years I've been making my own cauliflower rice with nothing more than a cheese grater. It's definitely a bit of a pain and takes longer but is still worth it in the end. You still have a couple of options here:
In a blender: Chop up the cauli florets into little bite sized pieces and pulse them in a standard blender. The caveat here is that you usually need to make this in batches to evenly blitz up the cauliflower.
With a box grater: Instead of cutting up your cauliflower head into small pieces, chop it up in half or into quarters and grate it using the larger holes on your standard box grater. It takes a little more care but really isn't too difficult.
Friendly reminder that there's no shame in buying pre-riced cauliflower! Many grocery stores now offer pre-riced fresh and frozen cauliflower that you can buy and use with ease. This option is especially great for anyone who might have bad joints in their hands and wrists.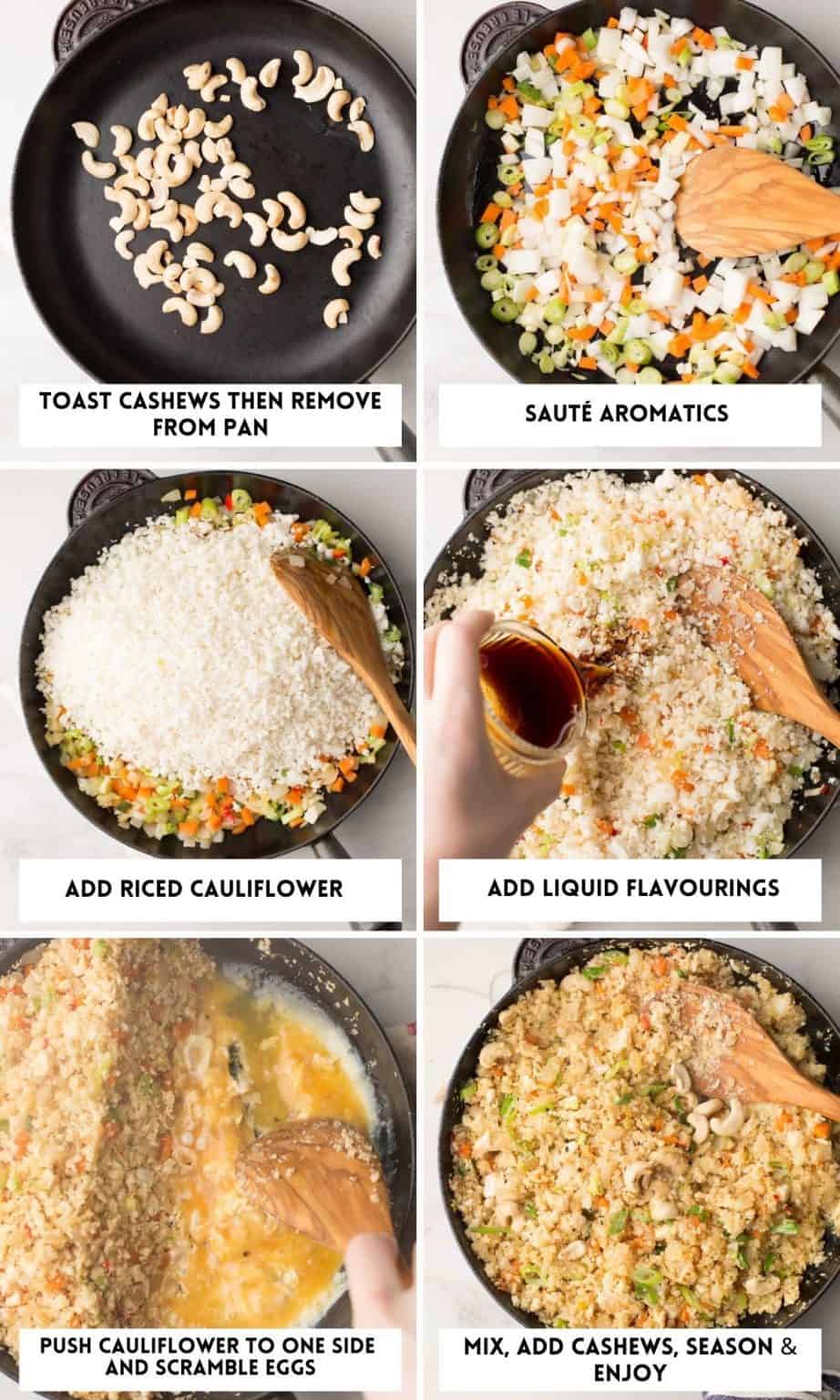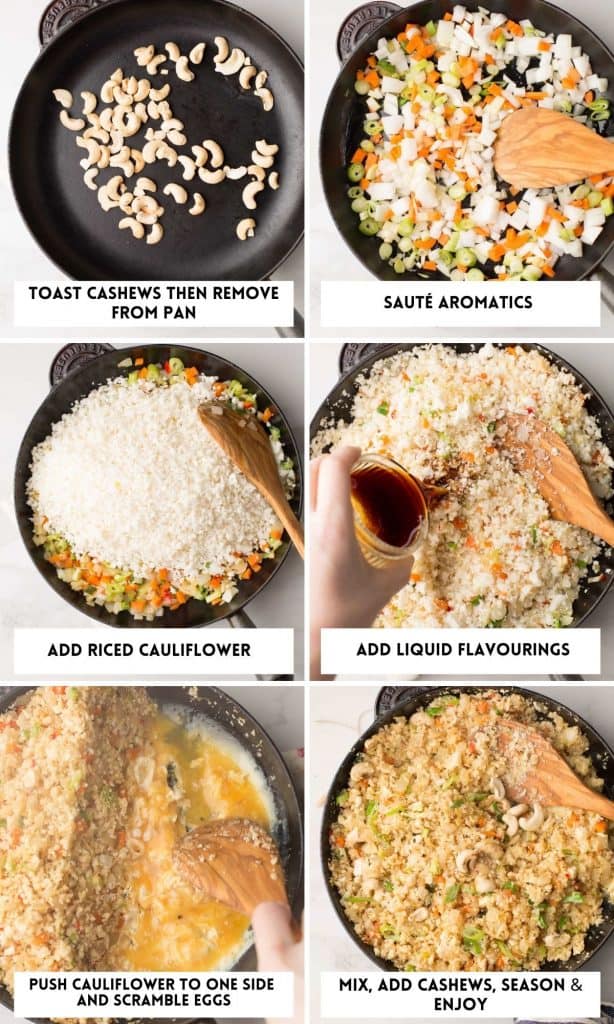 Tips, Questions and Things to Keep in Mind
Make it HOT.

After you've added the cauliflower make sure you're working with a hot pan. A high high and a hot pan with help dry out excess moisture from the cauliflower so it's not too mushy in the end.

Use a large pan with a wide bottom (not a wok).

While woks are great for cooking traditional fried rice, it's not ideal here. You want to use a big pan with a lot of surface area on the bottom. The more contact with a hot surface that the cauliflower has to heat up and dry out – the better.

Can I use frozen cauliflower rice?

Yes! You can use pre riced frozen cauliflower to make this. Since frozen veggies are cold and hold on to extra water you will need to increase the overall cook time. Your hot pan will lower in temp once the cauliflower is added so it will need to heat back up. You'll also need to cook longer to cook out the excess moisture.

Can I make this vegan?

Yes! A couple things to change here:

Omit the egg.
Make sure to use a vegan friendly oyster sauce. If you can't find vegan oyster sauce in store you can always make your own at home.

Can I make this paleo or whole30 friendly?

Yes! Again you'll need a few tweaks:

Use a paleo or whole30 compliant oyster sauce like this one: Paleo Vegetarian Oyster Sauce from I Heart Umami
Use coconut aminos instead of soy sauce – you'll need to increase the amount of salt to make up for the lack of soy.
Don't add sugar for whole30 options.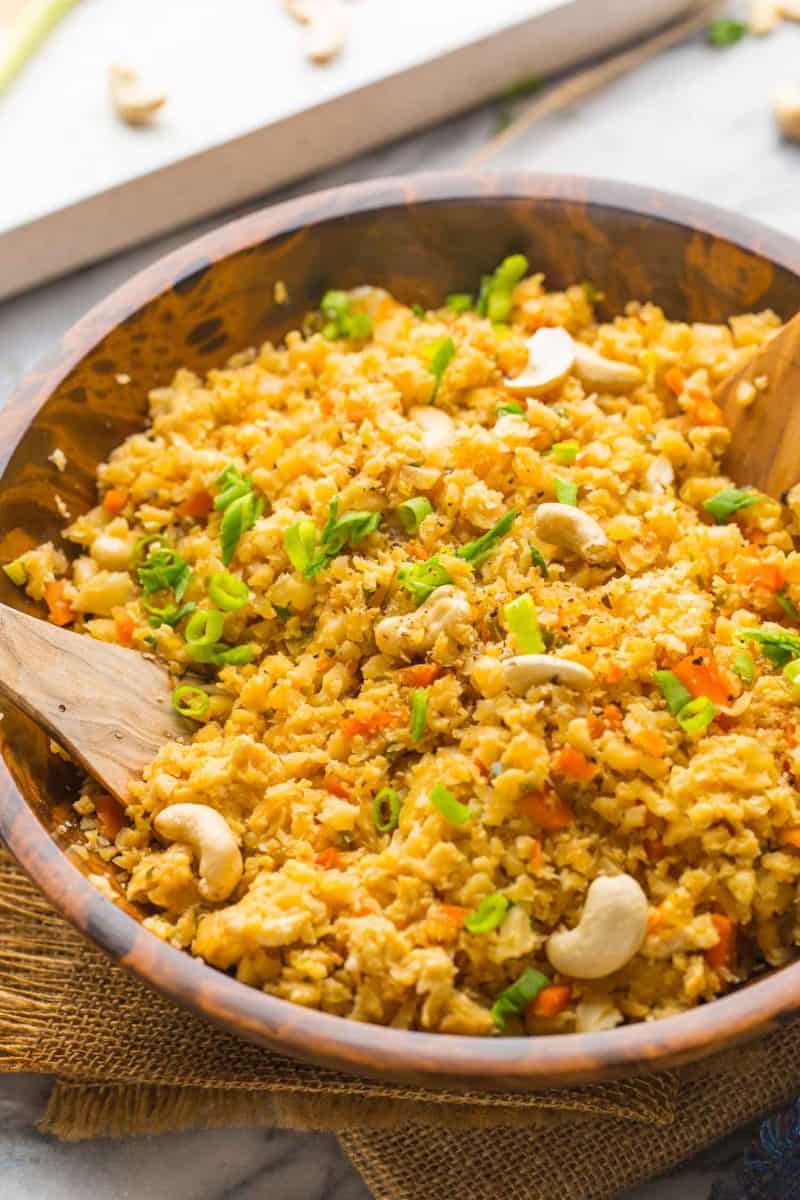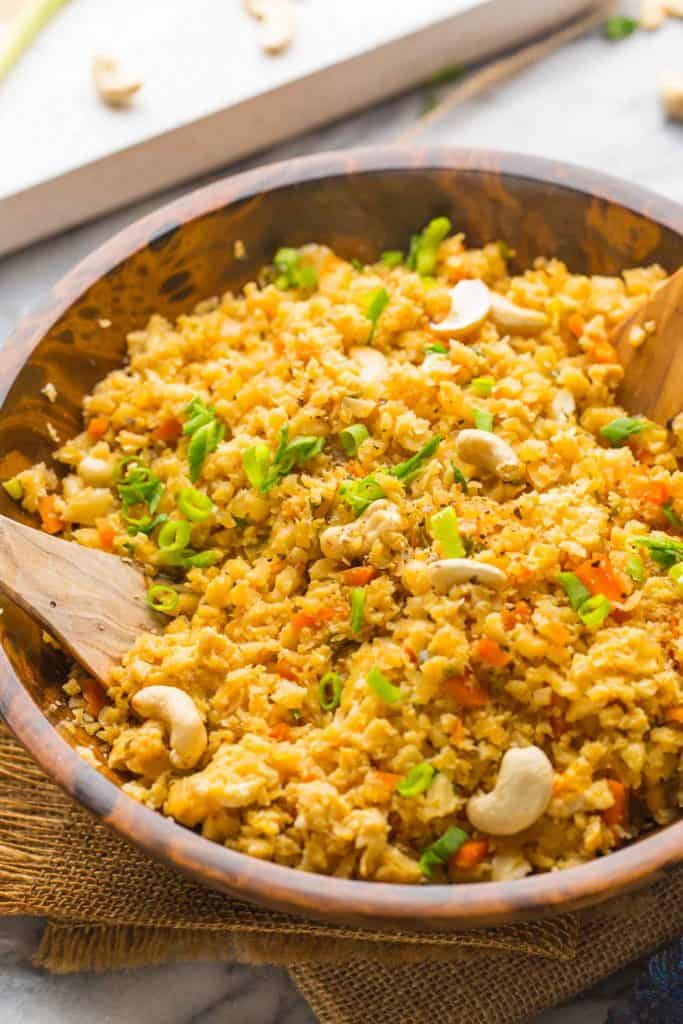 Serving Suggestions:
While I do think this cauliflower egg fried rice is filling enough to eat on its own (can't hurt to throw an extra fried egg on top) here are a few Chinese inspired takeout options that would go great with this: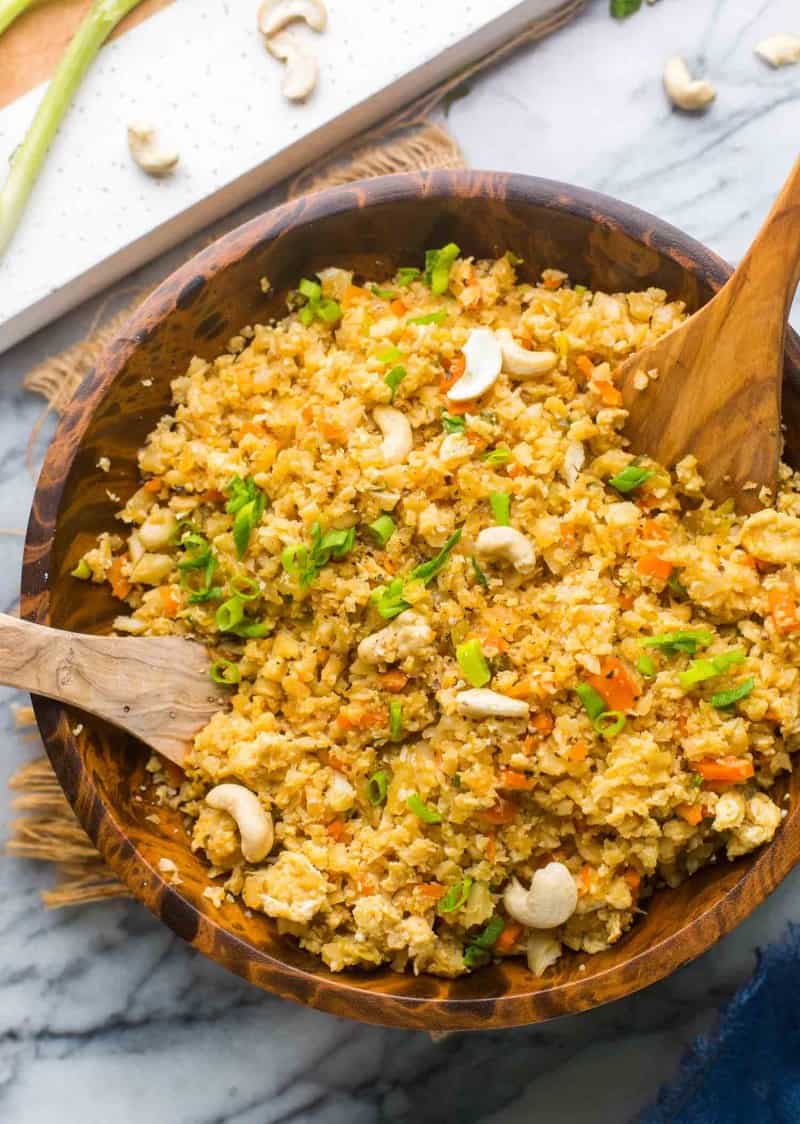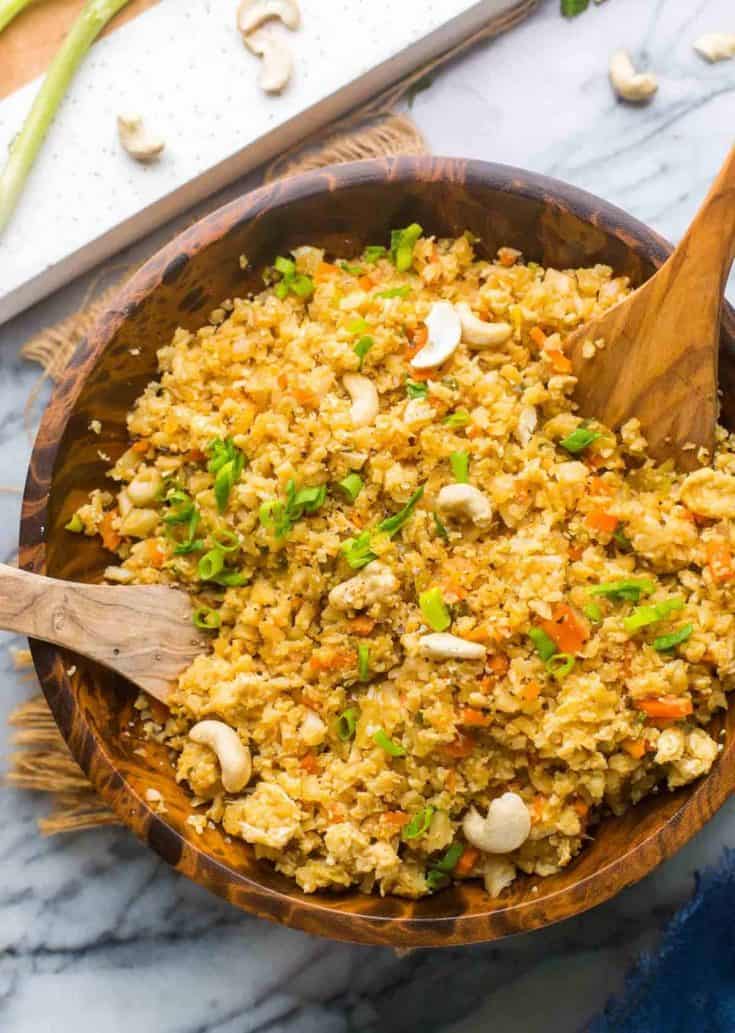 Recipe
Cauliflower Egg Fried Rice
Yield:
about 6 cups
Prep Time:
10 minutes
Cook Time:
20 minutes
Total Time:
30 minutes
Lighten up your favourite takeout side with this Cauliflower Egg Fried Rice! Riced cauliflower makes for a more nutritionally dense, filling and healthy alternative to regular fried rice that you can feel good about eating! Once all your veggies are prepped this dish comes together fairly quickly and easily all in one pan in about 15-20 minutes.
Ingredients
Sauce
1 tablespoon |15 ml toasted sesame oil
1 teaspoon | 5 ml rice vinegar
1 tablespoon |15 ml oyster sauce
1/4 cup | 60 ml gluten free soy sauce or tamari (use coconut aminos for paleo/soy free option but add more salt later)
1 teaspoon sugar (coconut sugar, caster sugar, or honey all work)
"Rice
1/4 cup | 35 g cashews
1 tablespoon |15 ml sesame oil + more as needed
1/2 cup white onion, diced
1 small or medium carrot, diced
1 red chili deseeded and diced - choose a chili pepper based on your preferred level of spiciness (optional)
4 green onions, diced - separate white bottoms from green tops
2 teaspoons garlic, minced
1 large cauliflower head hard stems removed and chopped into bite sized pieces
2 eggs, whisked together
Instructions
In a cup or bowl combine the 1 tablespoon sesame oil, rice vinegar, oyster sauce, soy sauce and sugar. Set aside.
Add the cashews to a large, dry skillet over a medium heat and cook 2-3 minutes to toast. Stir occasionally to keep from burning. Remove cashews from the pan and set aside.
Add the sesame oil to the pan. When the oil is hot add the onion, carrot, chili, white parts of the spring onions and garlic. Cook over a medium heat for 5-7 minutes until the onion begins to turn translucent. Make sure to stir every so often to keep the garlic from burning. If your pan ever starts to look too dry, add a tablespoon of water.
Turn the heat up high and add the cauliflower. Stir into the veggies. Once mixed in, pour the sauce over the 'rice' and mix well. The high heat will draw out excess moisture in the cauliflower so it doesn't get too mushy. Cook about 5 minutes.
With a wooden spoon, push the cauliflower mixture to once side of the pan. Add a little more sesame oil to the empty side and pour the whisked eggs into the empty space. Scramble the eggs on the side of the pan. Once the eggs are nearly fully cooked, mix in with the cauliflower rice.
Stir the toasted cashews into the rice, taste and season with salt, pepper or more soy sauce as needed.
Notes
Make it Vegan

Make it Paleo/Whole30 friendly
Use a paleo or whole30 compliant oyster sauce like this one: Paleo Vegetarian Oyster Sauce from I Heart Umami
Use coconut aminos instead of soy sauce - you'll need to increase the amount of salt to make up for the lack of soy.
Don't add sugar for whole30 options.
Nutrition Information
Yield:

4
Serving Size:
about 1 1/2 cups
Calories:

250
Total Fat:

14g
Saturated Fat:

3g
Trans Fat:

4g
Unsaturated Fat:

9g
Cholesterol:

93mg
Sodium:

1854mg
Carbohydrates:

21g
Net Carbohydrates:

15g
Fiber:

6g
Sugar:

7g
Protein:

12g
This website provides approximate nutrition information for convenience and as a courtesy only. Nutrition data is gathered primarily from the USDA Food Composition Database, whenever available, or otherwise other online calculators.