Need more low maintenance meals for busy weeknights? This One Pot Ground Turkey Pasta recipe has your name written all over it! Prepped in one pot, in about 30 minutes, with basic ingredients & delicious flavors.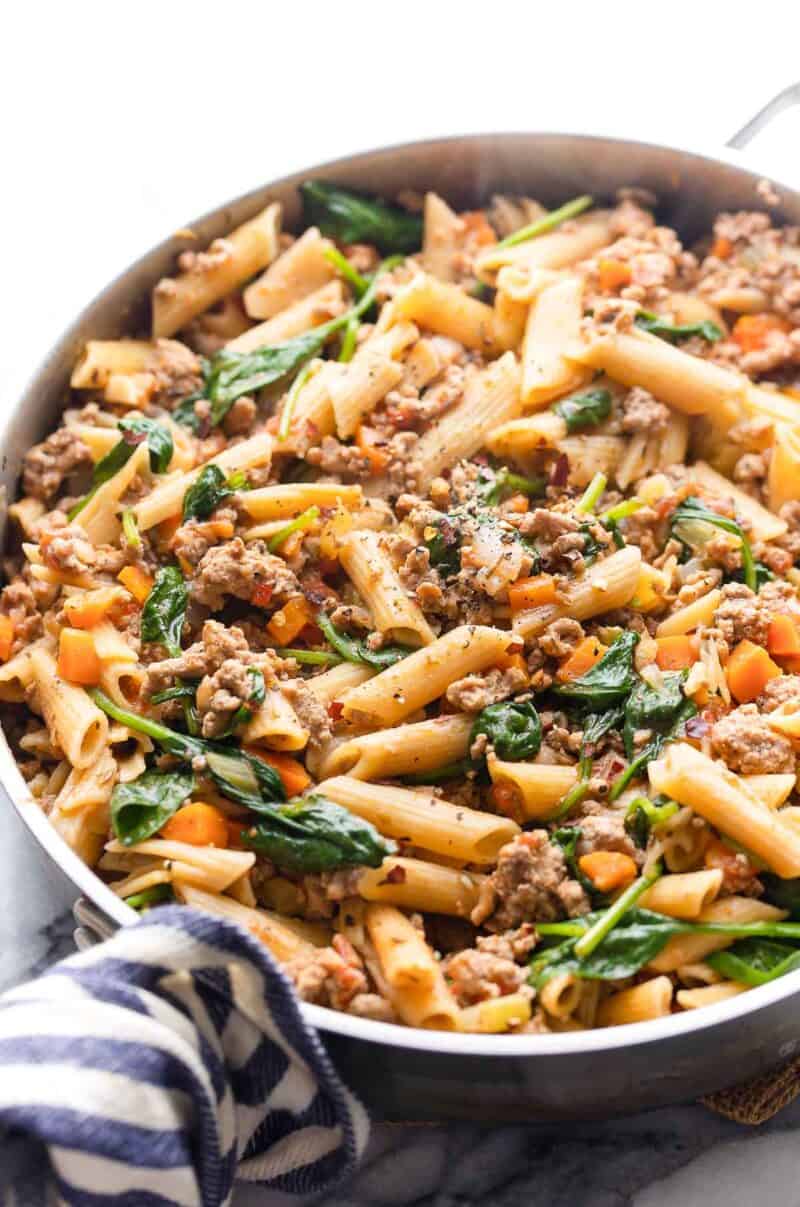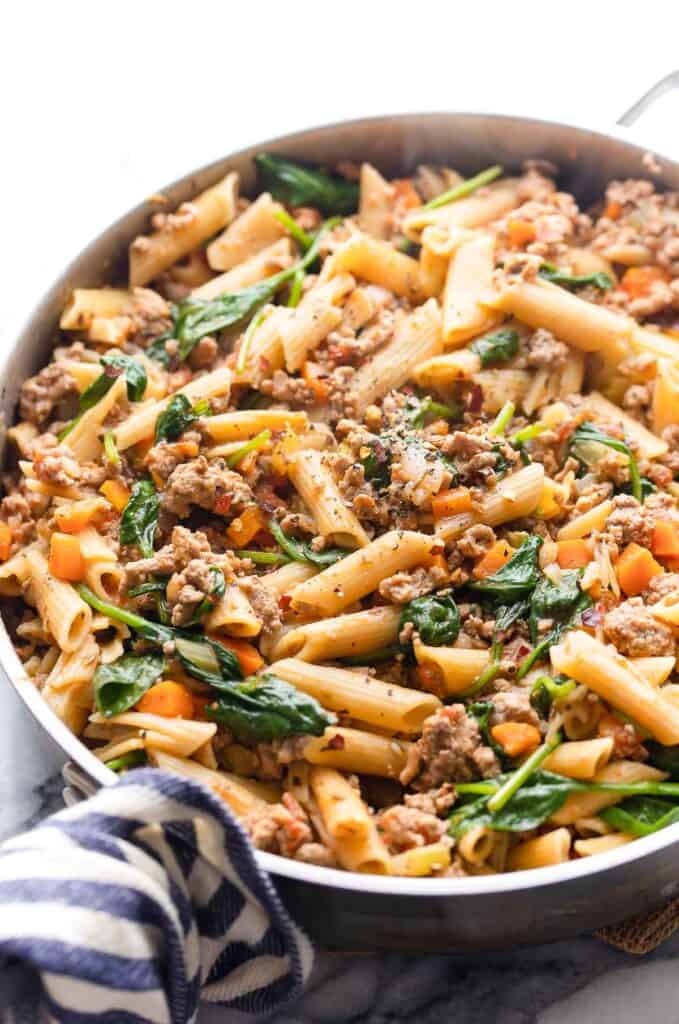 This ground turkey pasta has all of the hallmarks of go-to meal you'll want to revisit time and time again. It's:
✔️Made with mainly pantry essential ingredients.
✔️ Requires only one pan – no need to dirty extra pots and colanders here.
✔️Cook time is 30 minutes or less.
✔️A delicious meal as written but is versatile and works as a template recipe you can play around with.
Not to mention – it's gluten and dairy free! That being said you can absolutely use whatever pasta you'd like here, gluten free or otherwise. As for the dairy, this is also open to user preference, but I'll dive in to more of that below!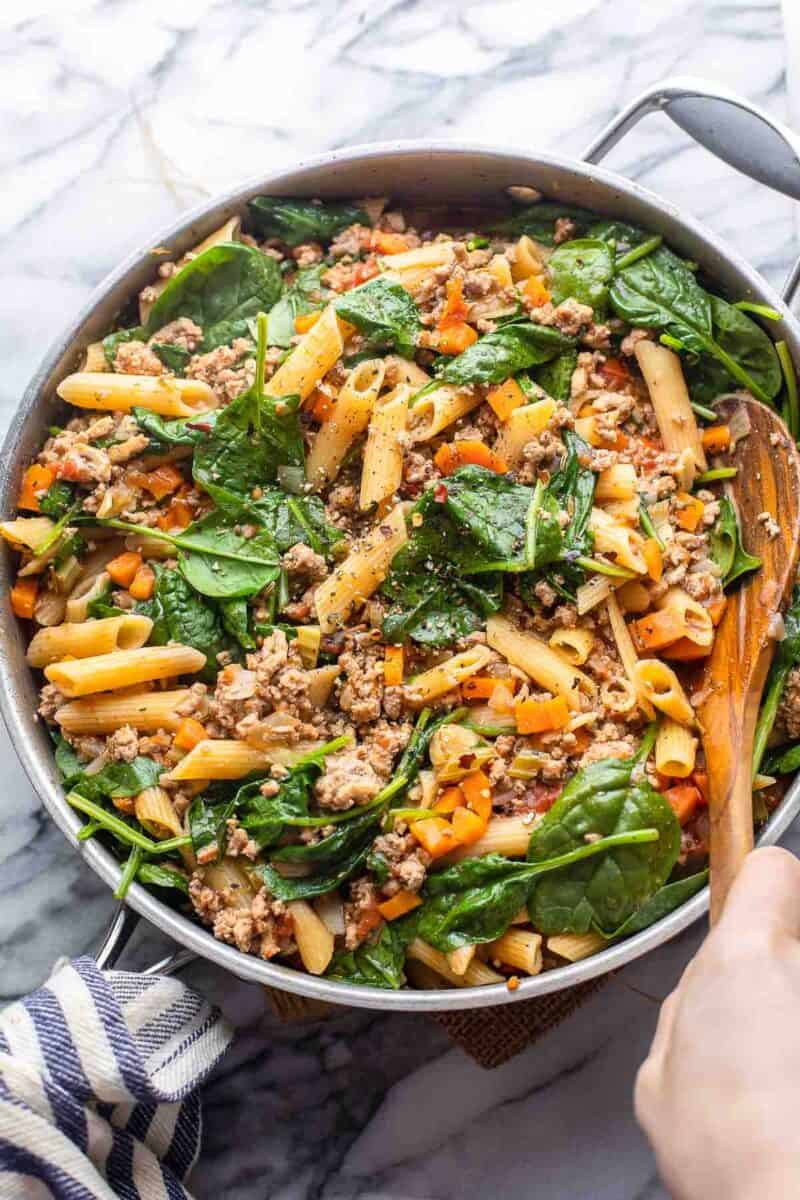 One Pot Ground Turkey Pasta Breakdown
All-in-all this recipe is simple and straightforward as it's made in only one pot or pan.
The Base Flavors
Start out by browning the meat and spices in a hot pan.
The turkey type and fat content are up to you. Use a lean ground turkey or one with a higher fat content – whichever you prefer will do!
Instead of using a few different dried spices I decided to use an Italian seasoning blend to cut down on extra ingredients. If you don't have a premixed Italian seasoning mix you can always add a mix of dried herbs like oregano, parsley, basil, rosemary and thyme.
Cook for about 5 minutes or so on a medium high heat until almost no pink remains, then add the aromatics: onion, celery, carrot and garlic. Cook another 5-7 minutes until the veggies soften just a bit.
Tip
Make sure to dice the carrot and celery into small pieces so that they fully cook in time with the pasta. If you leave the pieces too large that might remain hard while everything has is soft.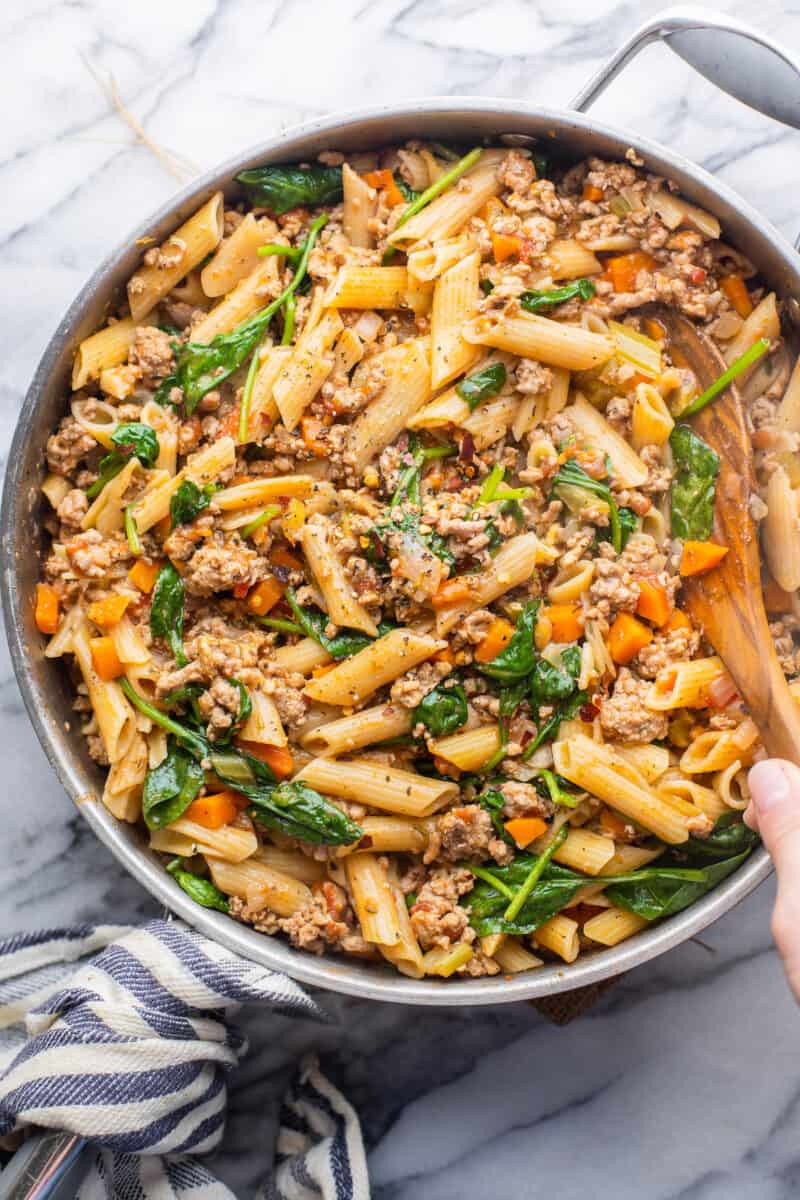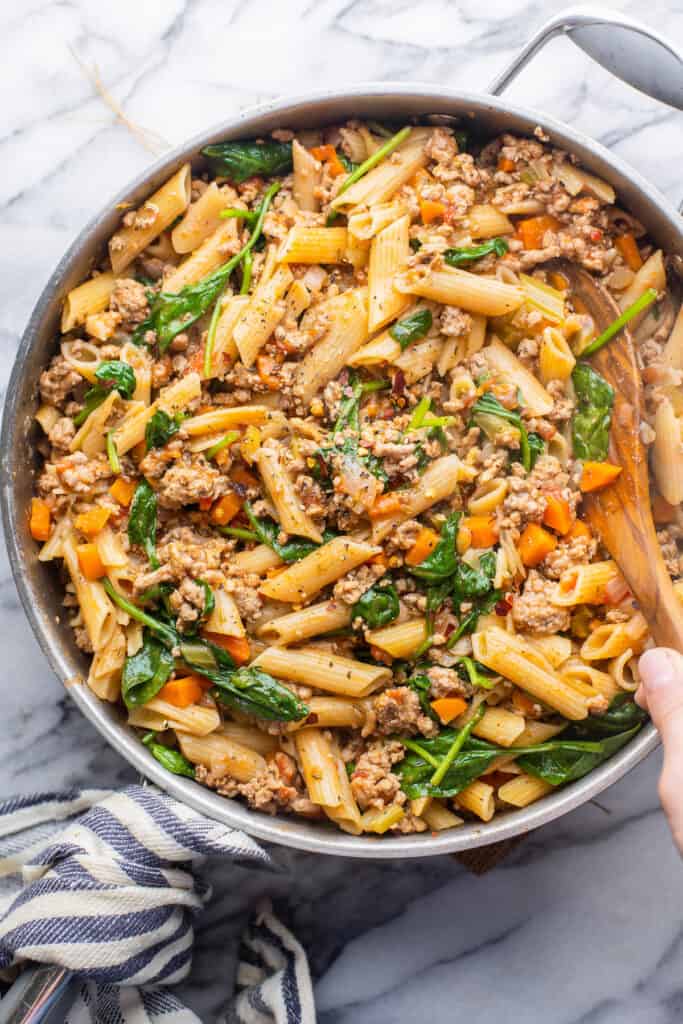 Next, add the balsamic vinegar and gluten free soy sauce.
A small amount of balsamic vinegar adds sweet, smokey, complex flavor that adds depth without added sugar.
Soy sauce may seem like a weird choice, but it's my go-to method of amping up the umami-flavor in a given recipe. Since turkey is generally a lean protein it contains less fat than meats like beef or pork. Fat = flavor. Since we're working with less fat, I like to add a bit of that richness back into my dishes through soy sauce or tamari.

That being said – this is an optional ingredient. Feel free to leave it out if you're looking for a soy free option!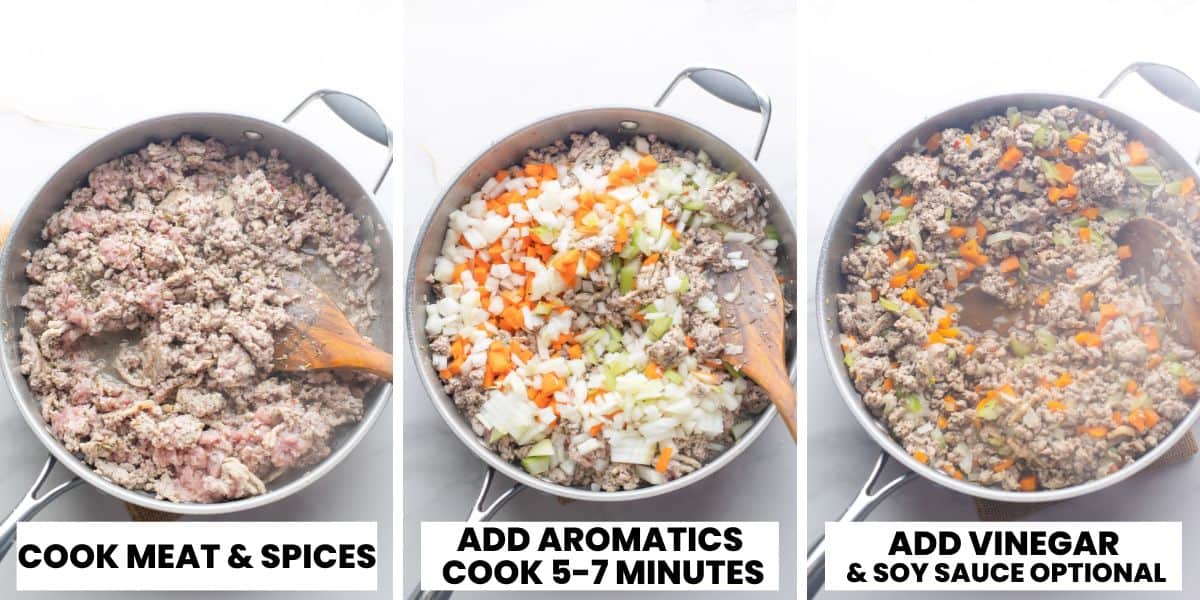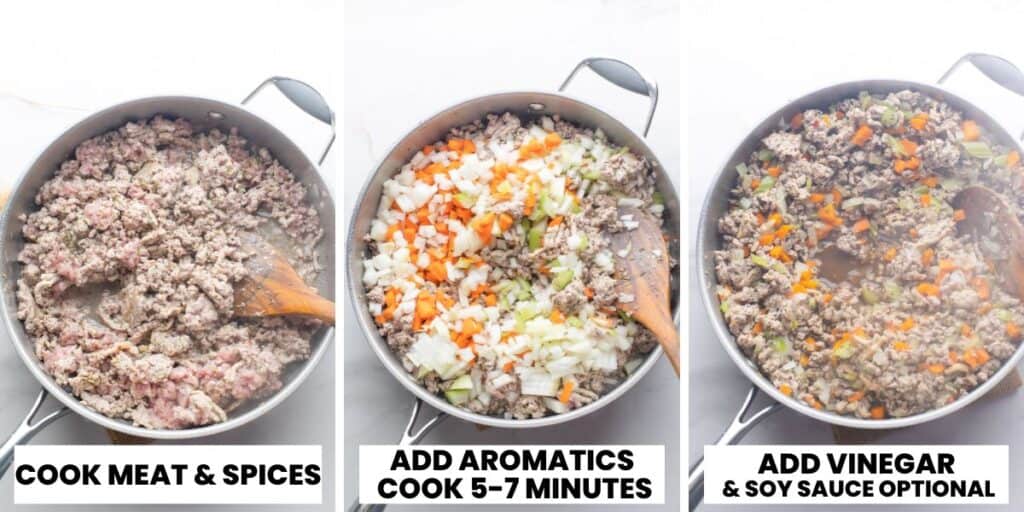 Cook Pasta
After laying the foundation for most of our flavors, it's time to mix in the pasta. Stir it in well, then follow up with the diced tomatoes and stock.
Smooth the top of the pot out so that the pasta is almost fully submerged in liquid. Bring to a boil, then reduce to a medium heat to maintain a gentle simmer. Cover with a fitted lid and let cook for about 8-10 minutes.
Make sure to check the package instructions on your pasta for recommended cook times. You may find you need a little more or less time to get fully al dente pasta.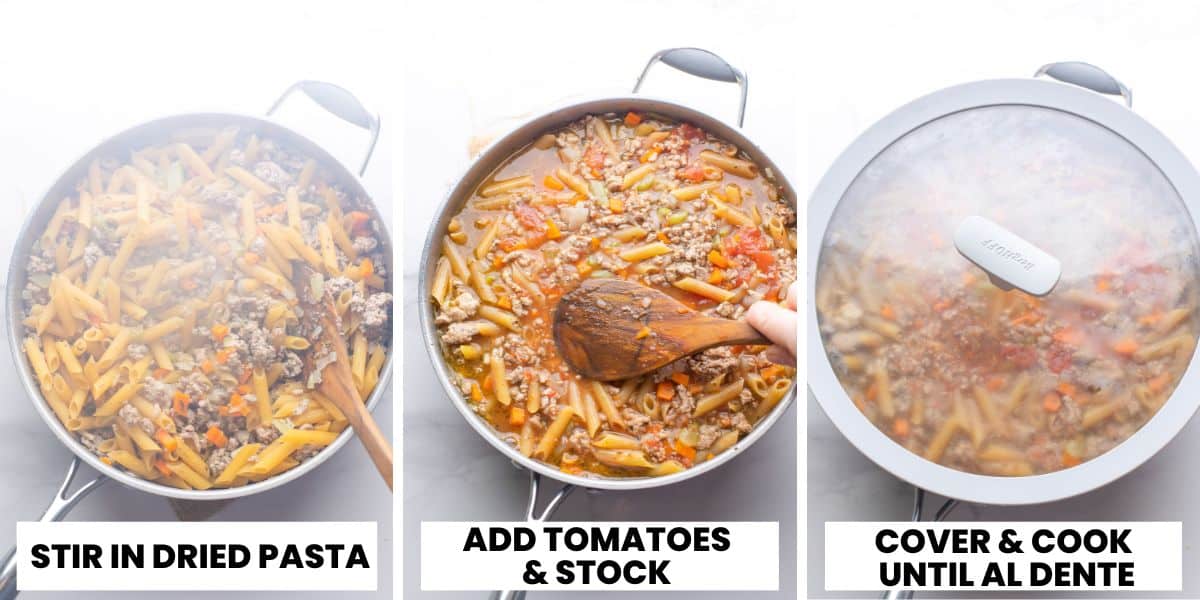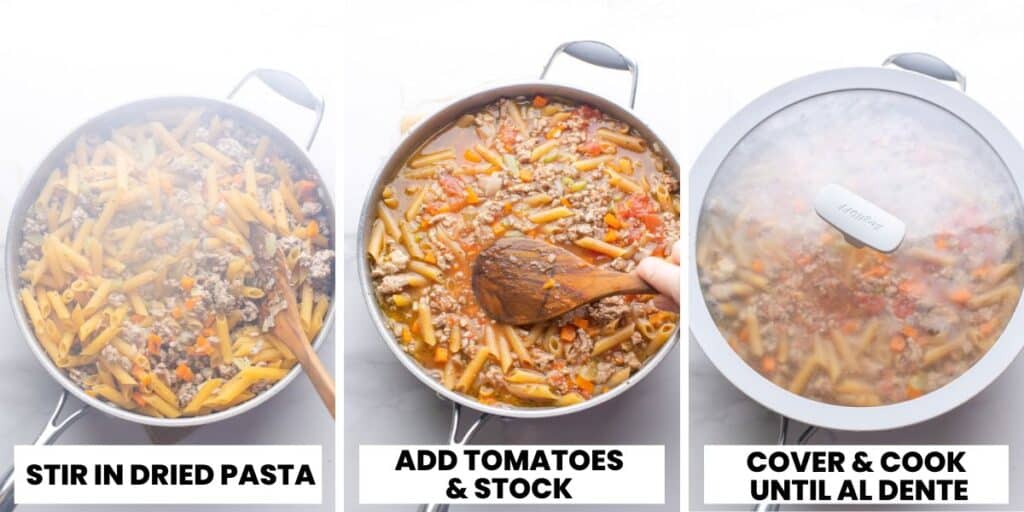 Finishing Touches
Finally, remove the lid and check the pasta. If it still feels a bit hard, lower the heat but keep the lid on. Within a couple of minutes, the pasta should be tender.
Stir in the nutritional yeast (or parmesan) then add the spinach to the pan. Cover with the lid once more and move the pan off the heat. Leave for a minute or so until the spinach wilts, then mix it into the pasta sauce.
Top with a sprinkling of red chili flakes and fresh basil if you'd like and that's it!
What is Nutritional Yeast?
Nutritional Yeast is essentially a baking yeast that has undergone a heating and drying process to render it inactive. It often comes in a yellow, flaky-form though you can also get it powdered. It adds a savory, cheesy, nutty flavor to whatever it's added to and it typically comes fortified with vitamins and minerals that are difficult to get in a plant based food.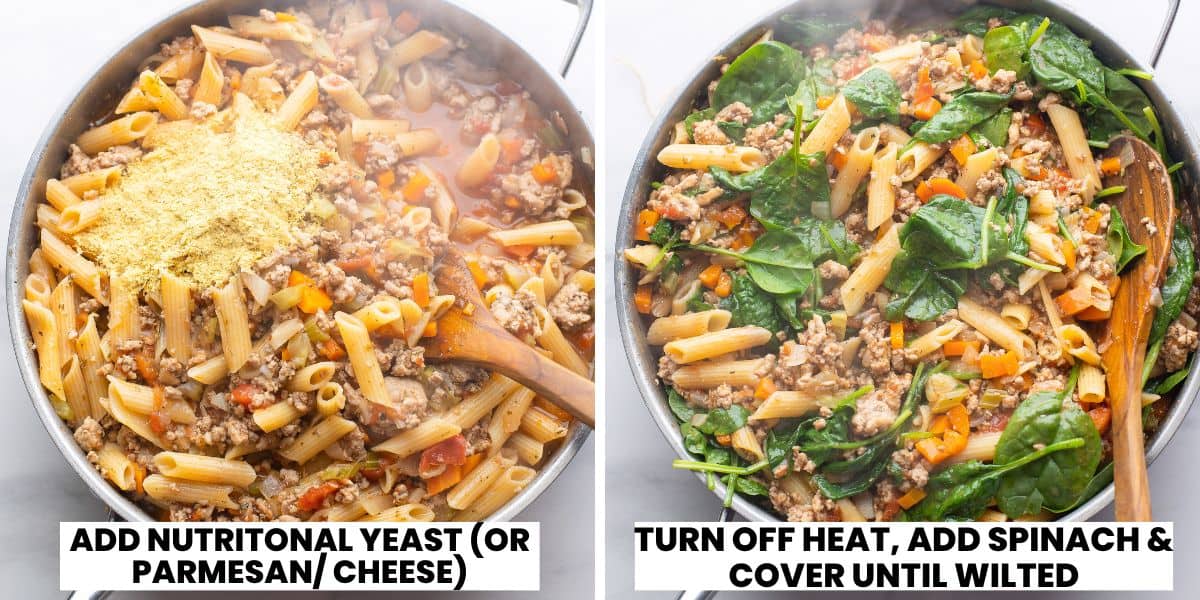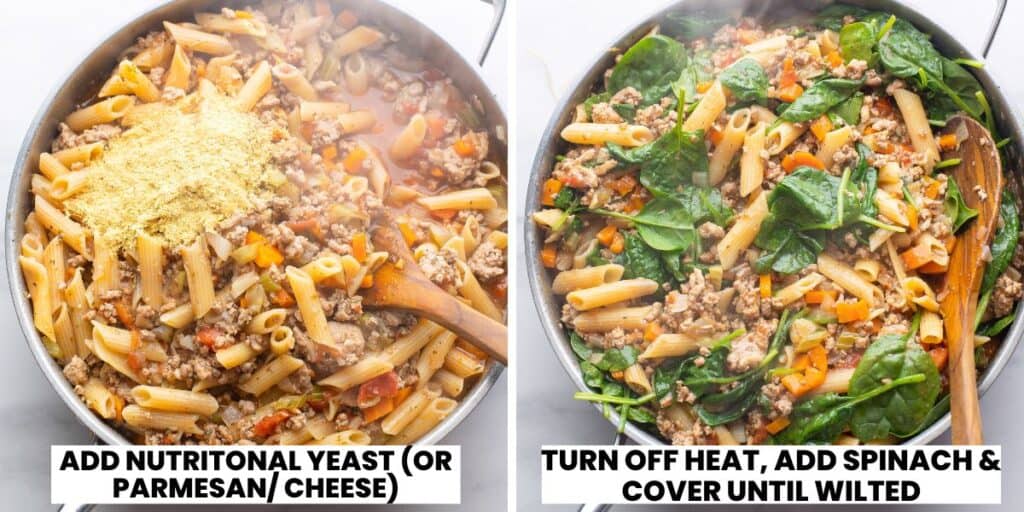 Spruce It Up with Additions and/Substitutions
Add red wine: Simmer the meat and veggies in 1/2 cup red wine (like cabernet or merlot) before you add the pasta to end up with an extra rich, complex meat sauce.
Swap up the protein: No turkey – no problem! Ground chicken, pork or beef are all good choices. You can also use sausage in place of the ground meat. Just remove the sausage casing before cooking and you're good to go.
Intensify the tomato flavor: Instead of regular chopped tomatoes, use a can of fire-roasted tomatoes instead. In addition (or instead of) you can sauté a bit of tomato paste while frying the veggies. Cooking the tomato paste before adding in the liquids will allow the paste to caramelize which ultimately deepens the flavor.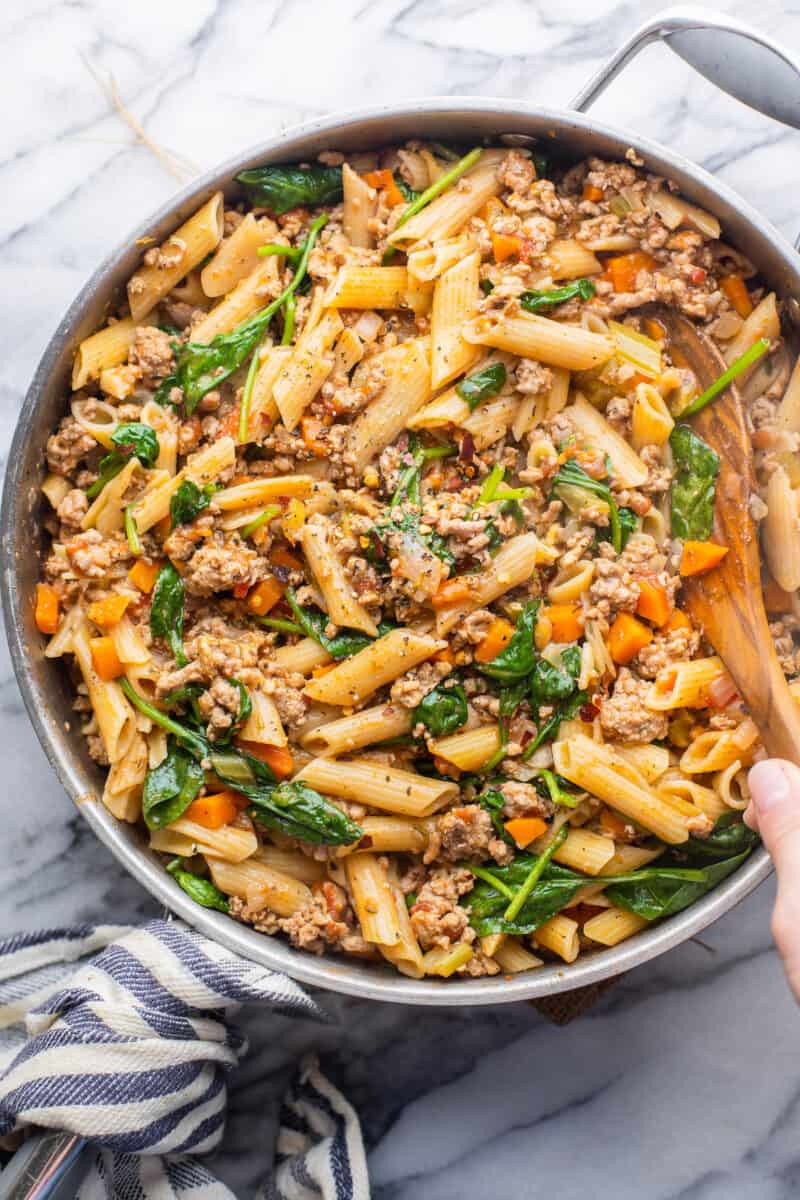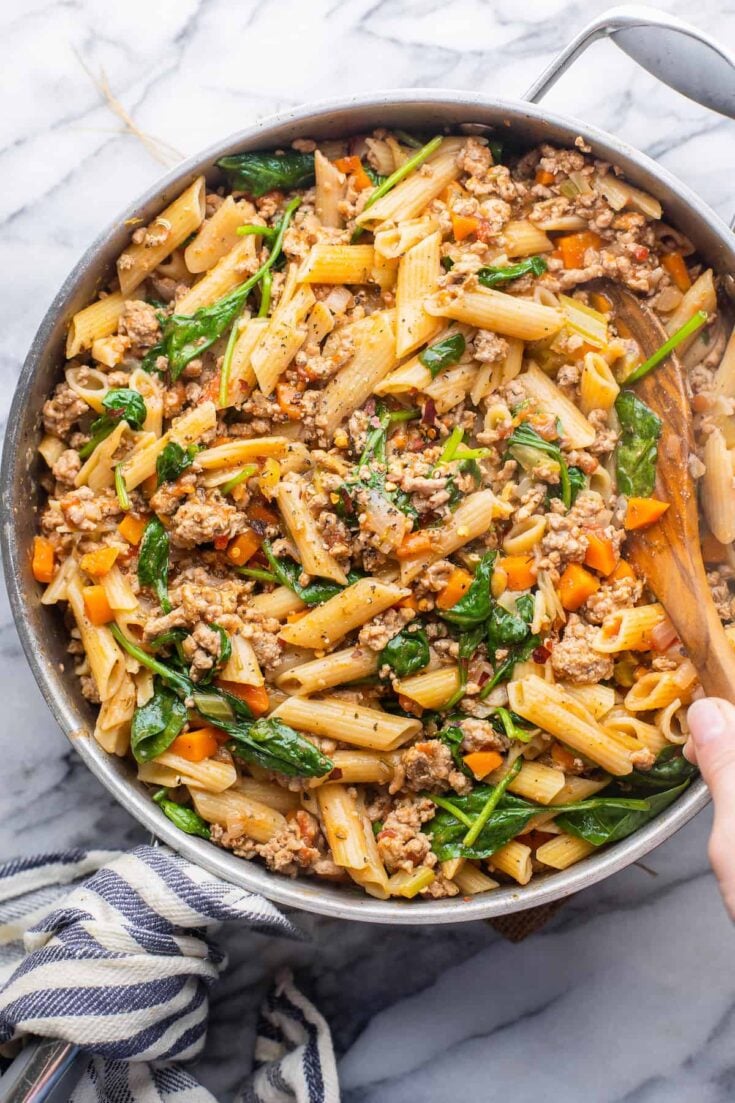 Recipe
One Pot Ground Turkey Pasta
Yield:
6
Prep Time:
10 minutes
Cook Time:
30 minutes
Total Time:
30 minutes
One pot, 30 minutes, simple ingredients!
Ingredients
1 tablespoon extra virgin olive oil (15 ml)
750 g (1.6 lbs) ground turkey (7% fat)
1 tablespoon Italian herb seasoning
1/2 teaspoon ground black pepper
1 onion, diced
2 large celery stalks, diced
1 large carrot, diced
3 cloves garlic, minced
1 tablespoon balsamic vinegar (15 ml)
1 tablespoon gluten free soy sauce or tamari (15 ml)
10 oz dried gluten free penne
2 1/2 cups chicken or beef stock (600 ml)
1 can diced tomatoes (15oz | 400g)
2 cups spinach (60 g)
Red chili flakes and fresh herbs for topping, optional
Instructions
Warm a large skillet over a medium-high heat. Add 1 tablespoon of cooking oil. When the oil is simmering, add the turkey, Italian spice blend and black pepper. Break the turkey apart and cook for about 5 minutes or until almost no pink remains.
Add the onion, carrot, celery and garlic to the pan. Cook another 5 minutes or so until the meat is fully browned and the veggie have softened. Add vinegar (and soy sauce/tamari if using) and cook an additional 1 minute.
Stir in the penne followed by the tomatoes and stock. Use the back of a spoon to smooth the turkey mixture down into an even layer so that the pasta is almost entirely covered in liquid.
Reduce to a medium or medium-low heat until you reach a gentle simmer. Cover with a fitted lit and cook for about 7-8 minutes.
Remove the lid and stir in the nutritional yeast (or parmesan). Turn off the heat, add the spinach to the pan and cover with the lid once more for a minute or so to wilt the spinach. Once wilted, mix the spinach in fully. Taste and season with salt as you see fit then serve.
Let cool and store leftovers in an airtight container up to 5 days.
Notes
Additions and Substitutions
Fire-roasted tomatoes in place of the regular chopped/crushed tomatoes
Add a tablespoon of tomato paste in addition to the balsamic vinegar. Sauté over a high-high for 2-3 minutes for a richer tomato-flavor.
Swap out the turkey for another protein like ground beef, pork or chicken. You can also use sausage with the casing removed.
Omit the vinegar (and soy if using) and add 1/2 cup (120ml) red wine (like cabernet or merlot) instead. Cook the meat and veggies in red wine over a medium-high heat until the wine has almost fully evaporated before adding the pasta.
Make it cheesy: add chopped or grated mozzarella or a few spoons of ricotta to the pan when adding the spinach.
Use a low sodium stock or broth if you want to have a little more control over the salt content.
Nutrition Information
Yield:

6
Serving Size:
about 1 heaping cup
Calories:

433
Total Fat:

13g
Saturated Fat:

3g
Trans Fat:

6g
Unsaturated Fat:

3g
Cholesterol:

86mg
Sodium:

523mg
Carbohydrates:

46g
Fiber:

3g
Sugar:

5g
Protein:

32g
This website provides approximate nutrition information for convenience and as a courtesy only. Nutrition data is gathered primarily from the USDA Food Composition Database, whenever available, or otherwise other online calculators.
More Gluten Free Pasta Dishes