Quick, 30 minute Pork Ragu with gluten free penne – packed full of veggies and spices!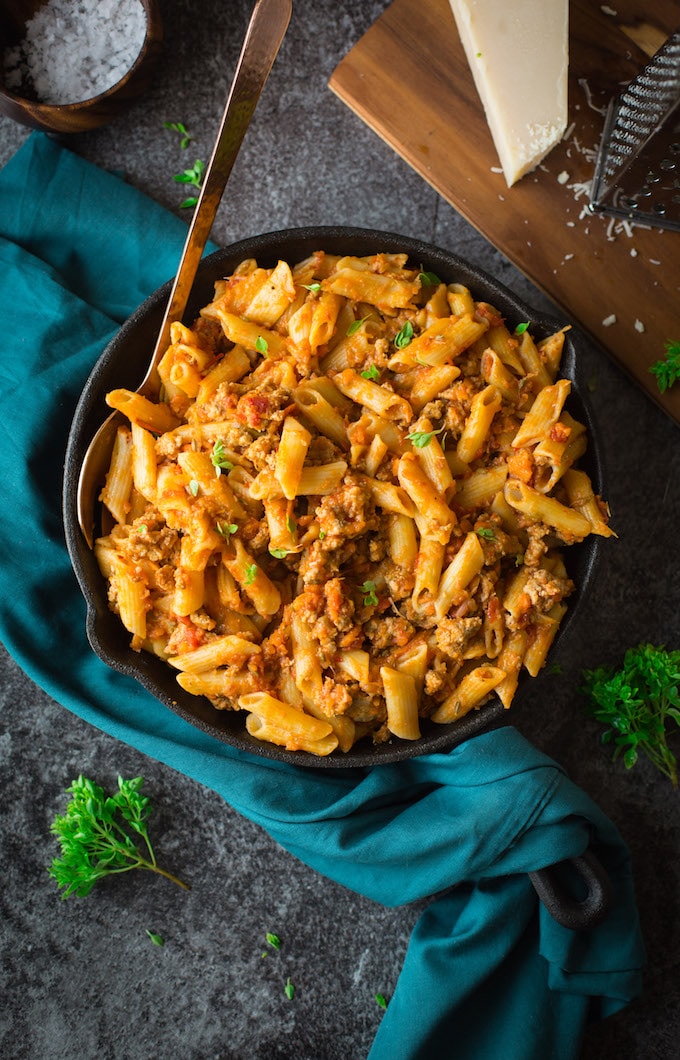 A few weeks back Mike & I went on a bit of a Jamie Oliver binge…and when I say 'a bit of' I mean that we blasted through his 30-Minute Meals and his 15-Minute Meals in about a week. So 'binge' really would be the perfect word here to describe our experience because we most definitely found ourselves stuffed full on more than one occasion. #WorthIt
Since we don't have any truly gluten free restaurants available to us where we live, date nights usually consist of nights in making a cozy meal together. Usually it's something extra carb-y and indulgent. While I'd love to be the type of person who can eat pizzas & nachos every week I know I'd never be able to fit comfortably in my clothes if I did. At any rate I like keeping certain foods…special.
As far as cozy, comforting and indulgent date night meals go this Pork Ragu really hits the spot.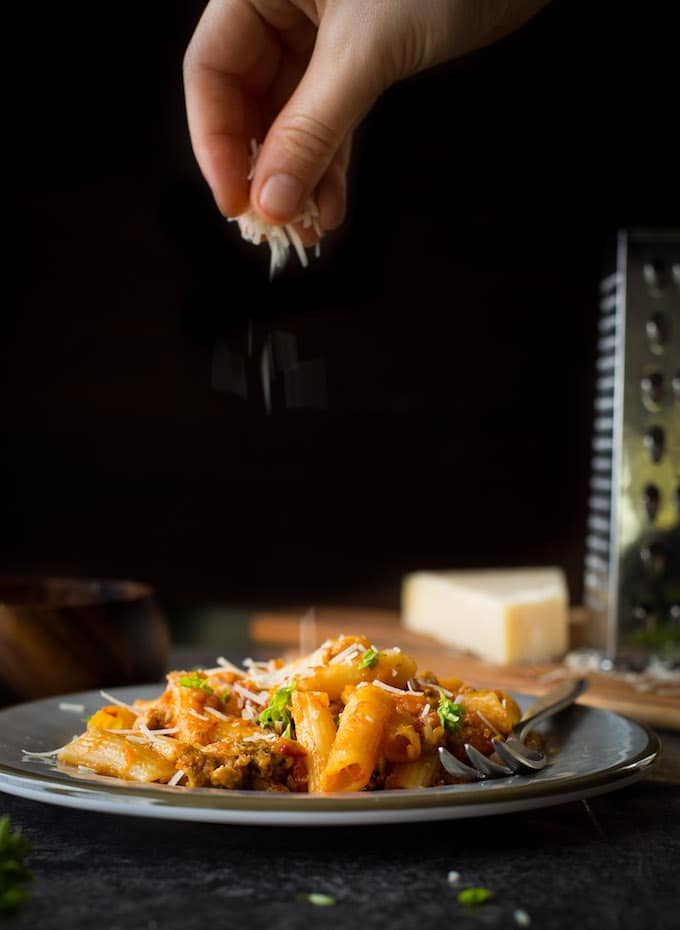 How to Make: Quick Pork Ragu with Penne
First things first: time to put your 30 minute meals head on!….That what Jamie says at the beginning of e v e r y episode so it just felt necessary here. Now that that's done – onward!
The base of this ragu starts off by blitzing together your vegetable base made up of: carrots, spring onions, celery, and chili pepper. You'll need to blitz together your vegetable medley in a food processor or blender until you get a greenish/brown paste. Fry up that paste in a skillet and wait for your kitchen to start smelling like an Italian grandmothers' kitchen: Heaven.
In a separate bowl start mixing together your meat mixture of pork mince, salt, fennel & oregano. Mix well and then toss it all in your skillet with your sautéed veggie paste and brown the meat.
At this point you should get started on prepping your pasta. Always remember to salt your pasta water well – as the saying goes your pasta water should taste like sea water.
Finally, return to your ragu and add the remaining ingredients: vinegar, garlic, tomatoes, water and pepper. Let simmer and reduce on a medium-low heat for about 10 minutes. When the pasta is cooked add it to the pork ragu and toss well to coat. Sprinkle over with some fresh basil and parmesan cheese if you like and eat up!
Unlike more traditional ragu recipes that call for lots of stewing and simmering on the stove this one cooks up in about 30 minutes. While I opted to use plain ol' pork mince for this you could always go the Jamie Oliver route and use pork sausage with the casing removed.
This goes well with a nice, light salad on the side – something simple and fresh.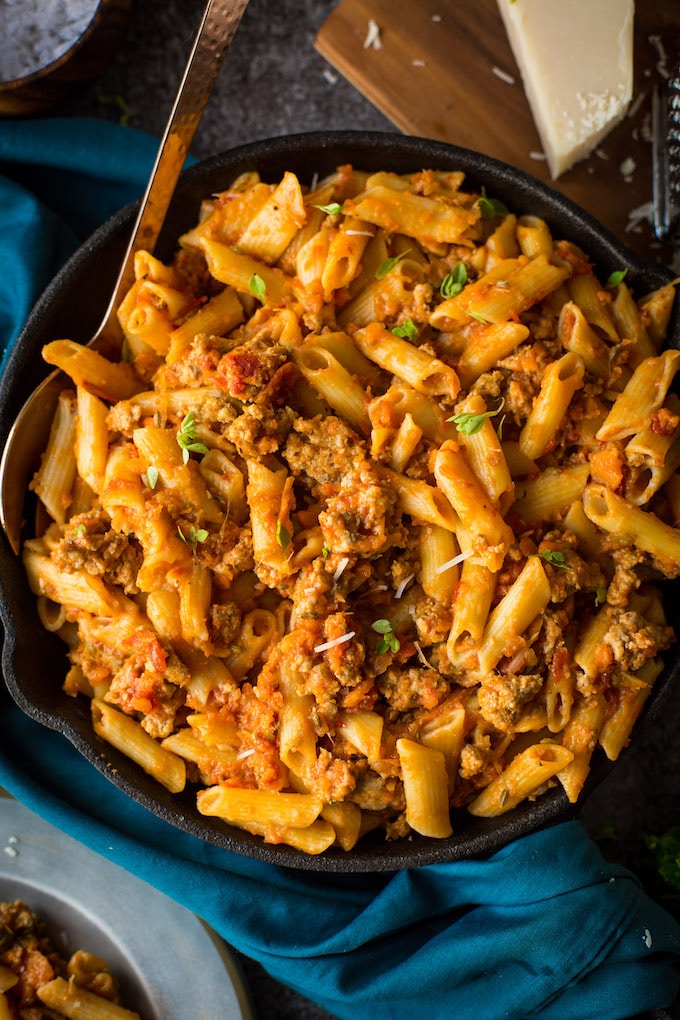 FACEBOOK | INSTAGRAM | PINTEREST
Don't forget to #asaucykitchen on instagram if you try this Pork Ragu with Penne! We love seeing what you make! You can also post your pictures to my facebook page!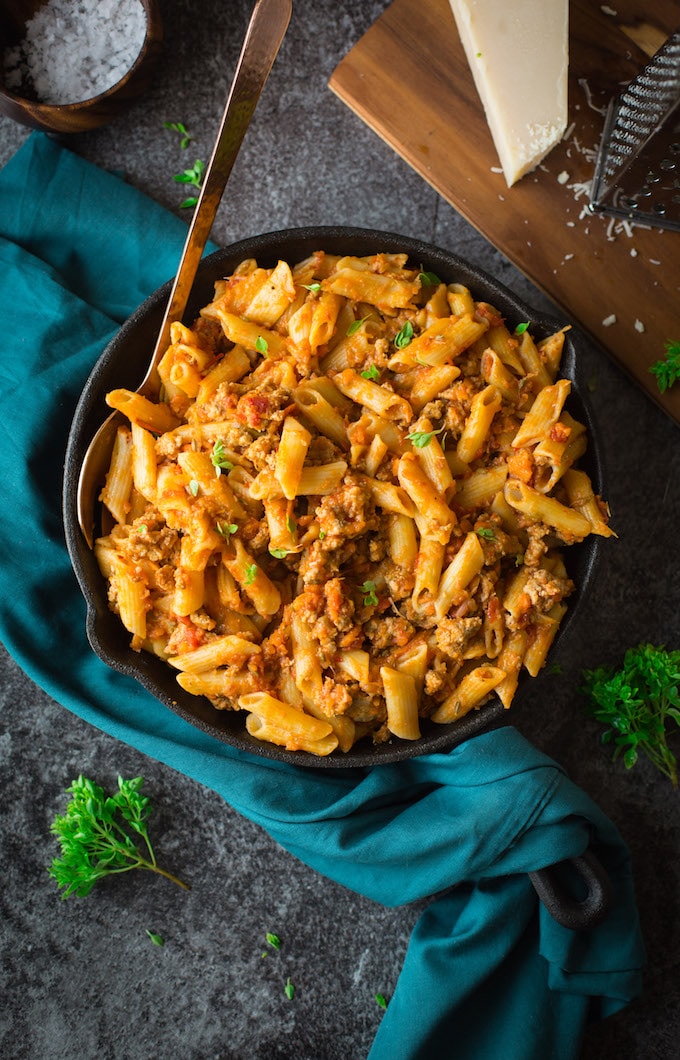 Recipe
Pork Ragu with Penne
Yield:
8 servings
Prep Time:
5 minutes
Cook Time:
25 minutes
Total Time:
30 minutes
Quick 30 minute Pork Ragu with gluten free penne - packed full of veggies and spices!  
Ingredients
3 large spring onions, roughly chopped
2 large carrots, roughly chopped
3 large celery sticks, roughly chopped
1/2 red chilli, deseeded
2 tablespoons olive oil (30 ml)
1 pound ground pork (pork mince)
1 tablespoon fennel seed
1 teaspoon salt + more to salt the pasta water
1 tablespoon dried oregano
1 pound dried gluten free penne
3 medium cloves garlic, finely chopped
1 tablespoon balsamic vinegar (!5 ml)
1 can chopped tomatoes (15 oz | 425g)
1 cup water (240 ml)
1/2 teaspoon ground black pepper
Instructions
Roughly chop spring onions, carrots and celery sticks. Add to a high powered blender or food processor along with the deseeded chili. Blitz it until it becomes a chunky paste. If you're using a food processor, don't worry about pre-chopping.
Heat the olive oil in a large skillet/frying pan. When the oil is hot, add the chunky vegetable paste. Cook 2-3 minutes until fragrant.
In a mixing bowl: add the pork, 1 teaspoon salt, fennel and oregano. Mix until thoroughly combined.
Add the pork mixture to the frying pan with the vegetable paste and brown the meat on a medium heat, about 5 minutes.
Fill large pot of water 2/3 of the way full and add 1 tablespoon sea salt. Bring the water to a boil and then carefully add in the pasta. Cook the pasta in boiling water until al dente - springy & chewy & not mushy. It should take about 10 minutes. Make sure to stir often. Gluten free pasta likes to clump so you really need to keep it moving to prevent it from sticking together.
While the pasta is cooking return to your ragu. Add in the vinegar, garlic, black pepper, chopped tomatoes + 1 cup of water and let simmer for 10 minutes on a medium-low heat.
Nutrition Information
Yield:

8
Serving Size:
g
Calories:

429
Saturated Fat:

5g
Cholesterol:

40mg
Sodium:

456mg
Carbohydrates:

50g
Fiber:

4g
Sugar:

5g
Protein:

18g
This website provides approximate nutrition information for convenience and as a courtesy only. Nutrition data is gathered primarily from the USDA Food Composition Database, whenever available, or otherwise other online calculators.