A simple gluten free pizza crust recipe topped with mozzarella cheese, chorizo sausage and fresh herbs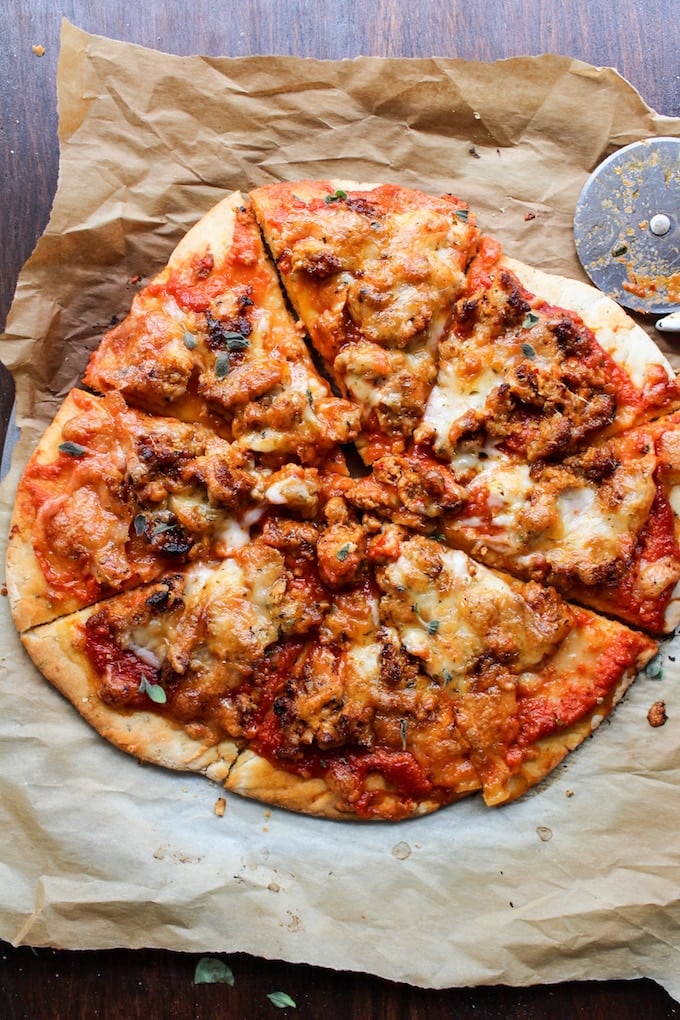 I've been sitting on this recipe for quite awhile now which is pretty rude of me considering decent gluten free pizza crust recipes can be hard to find. Sorry about that! Let me make that up to your with a slice of pizza.
Here's the rundown:
crumbled up spicy chorizo sausage
blankets of melted mozzarella
lots of fresh herbs
a super simple gluten free pizza crust
You in?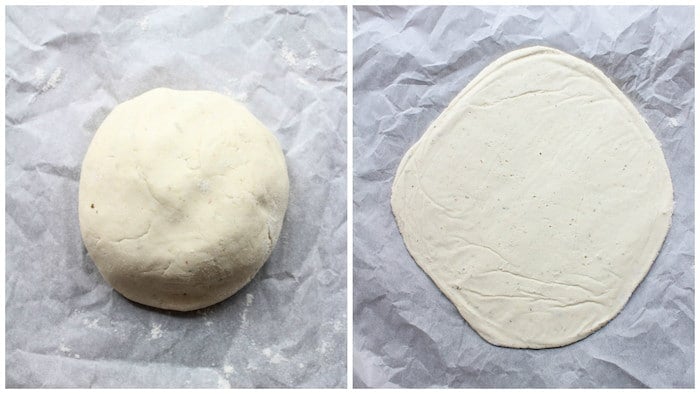 Really though. This pizza. Is the best.
My 11th grade English teach would kick me right now if she saw my obnoxious overuse of fragmented sentences. (Sorry Ms. Taylor!)
As I just mentioned 20 seconds ago, I've been holding on to this recipe for some time now. I found the recipe for the crust from a Gluten Free Heaven magazine last Spring and have been making it since. After playing around with the original recipe a bit I eventually landed on this one. It's a keeper.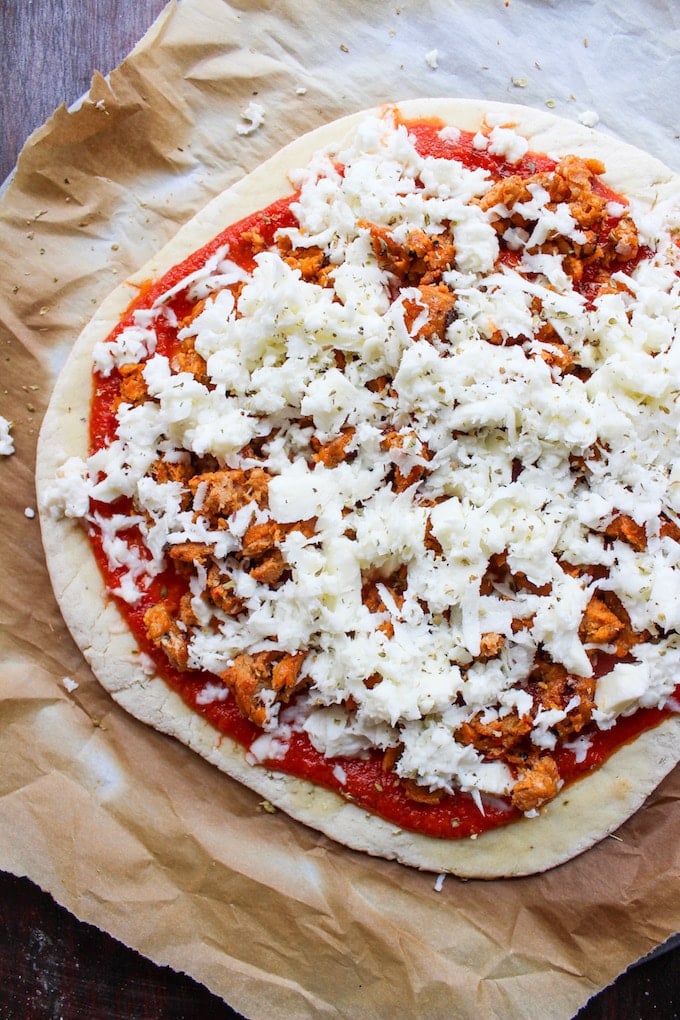 Gluten Free Pizza Crust
The make up for this crust is very minimal: basically it's just water, yeast, and flour. Once you get the yeast to activate the dough comes together in a matter of minutes. There's no major kneading or waiting for the dough to rise. Just mix, roll, and bake. Easy.
While the toppings for this particular pizza is neither dairy free nor meat free, the dough is. Depending on your mood or dietary restrictions you can play around with the toppings to fit the pizza craving at hand. Take this dough as blank canvas waiting to become your very own pizza masterpiece.
*kisses finger tips and throws them into the air* Bellisimo!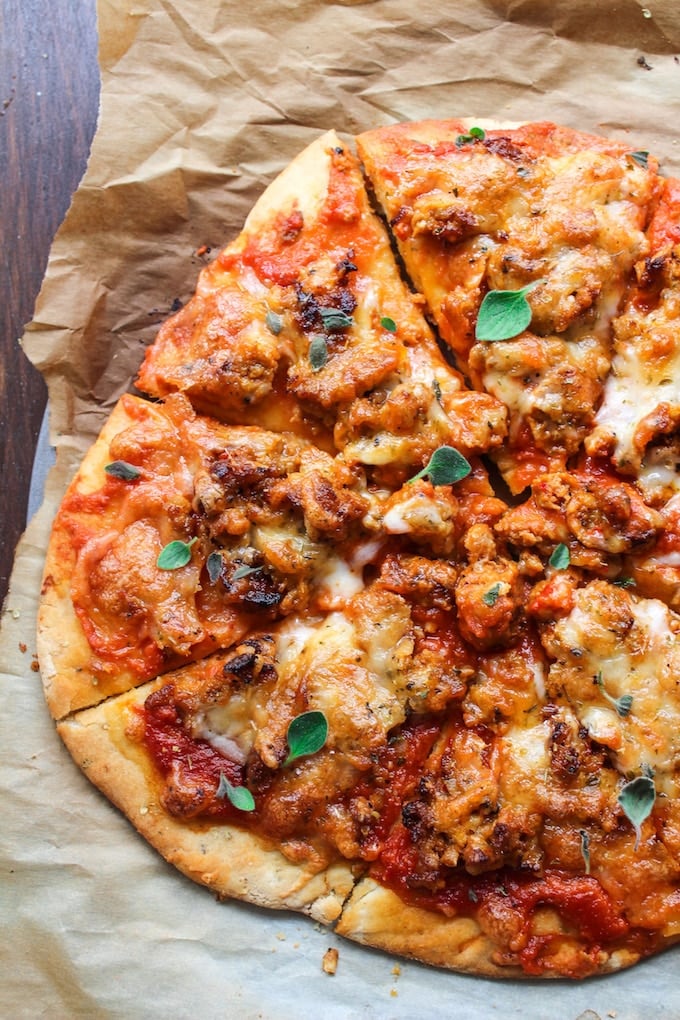 While I do love obnoxiously fancy toppings on pizza….*ahem figs*….I'm thankful to have a husband who's able to reign me in from the crazy train from the crazy train every now and again. It's good to have someone to remind me to be a real person with real life pizza toppings. Meat. Cheese. Sauce. Done.
Don't get me wrong – I fully intend to throw every assortment of fruit, cheese, and root vegetables on pizzas to come. I'll find a way to really trash it up because I am a food blogger and we have really delicious ways of ruining pizza. And I mean really delicious.
In the mean time I'll start here with a classic – cheese and sausage pizza. I use chorizo sausage here, but feel free to use whatever type of sausage (or no sausage) you'd like. I've included a recipe for the pizza sauce I used, but again feel free to use jarred pizza sauce if you want to make things even more uncomplicated.
Pizza…even gluten free pizza, should be anything but complicated.
FACEBOOK | INSTAGRAM | PINTEREST  
Don't forget to #asaucykitchen on instagram if you try this gluten free pizza. We love to see what you make with it!  You can also post your pictures to my facebook page!
Yield: 8 slices
Gluten Free Pizza with Chorizo Sausage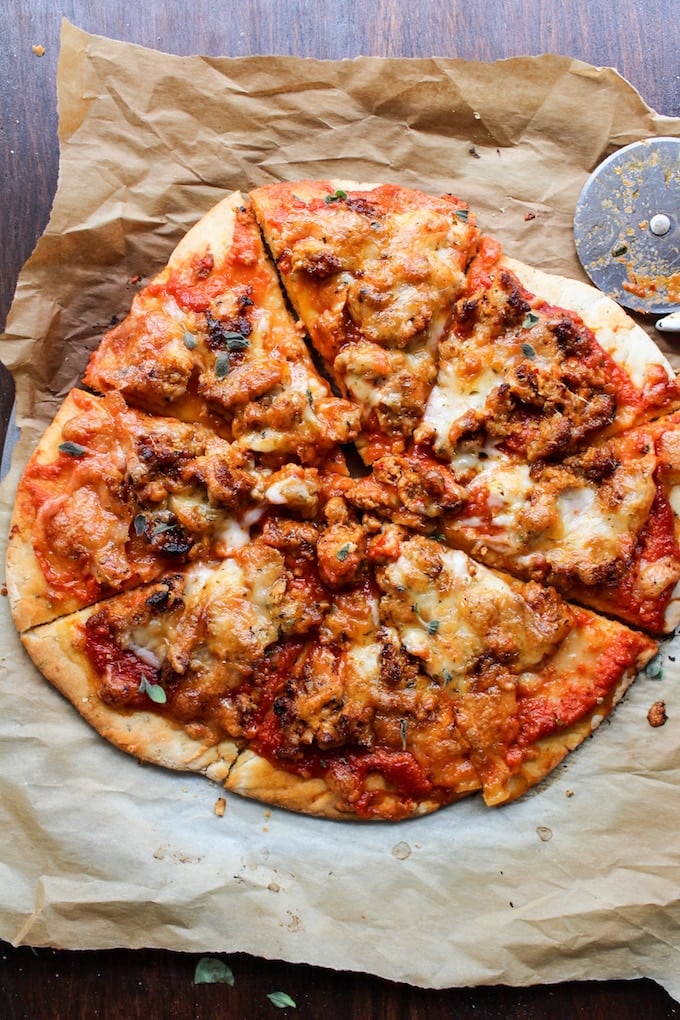 A simple gluten free pizza crust recipe topped with mozzarella cheese, chorizo sausage and fresh herbs
Total Time
1 hour
5 minutes
Ingredients
Pizza Crust
1 1/4 cup + 2 tablespoons warm water, 110°F or 43°C
2 tablespoons sugar, divided
1 tablespoon fast action yeast
3 cups gluten free flour blend | 420 grams plus more for rolling
1 teaspoon psyllium husk or xanthan gum, skip if your GF blend already has xanthan
1 teaspoon sea salt
3 teaspoon baking powder
3 tablespoons extra virgin olive oil, divided
Sauce
1 tablespoon olive oil
2 garlic cloves, pressed or finely minced
1/4 teaspoon red pepper flakes
14 ounce can crushed tomatoes
teaspoon oregano
1 teaspoon sugar
1 bay leaves
1/2 teaspoon balsamic vinegar
salt & pepper to taste
Toppings
2 chorizo sausages, removed from casing and sautéed until cooked through
2-3 tablespoons fresh basil and/or oregano chopped
1 1/2 cup grated mozzarella
Instructions
Pizza Crust
Preheat the oven to 350°F | 180°C
In a small bowl add the warm water and 1 tablespoon of sugar. Stir gently to dissolve the water. Sprinkle the yeast over the top of the water and then stir it in. Set the bowl to the side for 5 minutes to let the yeast activate while you mix together the dry ingredients. When the yeast has activated it should foam up a bit.
In a large mixing bowl, mix together the flour, psyllium husk or xanthan gum, sea salt, baking powder and remaining 1 tablespoon of sugar. Whisk well to combine.
Once the yeast has activated and the dry ingredients are mixed together, slowly pour in the yeast water and 2 tablespoons of olive oil. Mix until a dough starts to form. Lightly flour your hands and a sheet of parchment paper to roll the dough on and form the dough into a ball. If the dough if far too sticky, add a little more flour a spoonful at a time until it's easier to shape and handle. Just be careful not to add too much to dry out the crust.
Roll the dough out to about 1/4 inch thick. Once it's rolled out fully, brush the entirety of the dough with the remaining 1 tablespoon olive oil. This will help with the browning and keep the dough from drying out to much. Transfer the dough to a baking sheet and pre bake for about 20- 25 minutes. Remove from the oven as your prep the rest of the ingredients.
Sauce Prep
Warm a medium saucepan with with the oil and heat over medium heat. Add the garlic and red pepper flakes and stir for one minute until the garlic becomes fragrant.
Reduce heat to a medium low. Add the remaining ingredients to the pan and allow to simmer for about 20 minutes. Stir occasionally to keep the bottom from burning.
Remove the sauce from the heat, and take out the bay leaf before serving.
Assembling the pizza
When you're ready to assemble your pizza, spread the sauce over your cooked base. Scatter the chorizo over the top along with the fresh herbs. Sprinkle the cheese over the top of and then return the pizza to the oven to bake for another 20 minutes or until the cheese is golden and bubbling.
Remove the pizza from the heat and let cool briefly before serving.
Notes
optional add ins for the crust: 1 tablespoon dried oregano, mixed herbs, and/or garlic powder This recipe makes for 1 very large pizza, or two medium sized ones. If you make this sauce you'll probably end up with extra left over, but you can freeze it for future pizzas.
Nutrition Information:
Yield:
8
Serving Size:
slices
Amount Per Serving:
Calories:

344
Saturated Fat:

5g
Cholesterol:

28mg
Sodium:

541mg
Carbohydrates:

38g
Fiber:

5g
Sugar:

5g
Protein:

12g