Thai Meatball and Egg Drop Soup: Thai flavours mixed into a traditional egg drop broth for a comforting and filling soup. Paleo + Whole 30 + Low Carb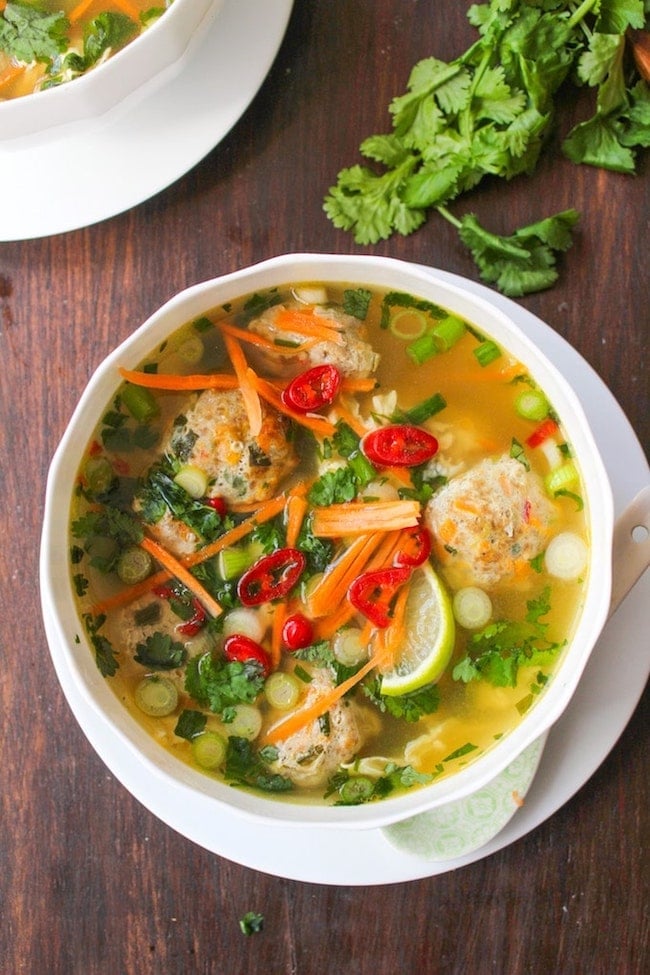 I could eat soup everyday. Without question. Winter, Spring, Summer, or Fall. (Resisting the urge to sing the rest of the Gilmore Girls theme song.)
As far as comfort foods go, soup wins it for me every time. No matter what the occasion, there is never a time when sitting down with a big bowl of soup wouldn't make me feel instantly better.
Growing up in my family, sick days meant soup days from the nearest Chinese restaurant. Usually it was wonton or egg drop – whatever the special may have been at the time – and always finished off with a generous helping of fried rice. If that's not enough to make you feel better then I don't know what would.
So last week when Mike came down with a nasty virus, soup was my first instinct.
My usual go to these days when one of us is sick is egg drop soup. It's a simple enough soup that even Mike can put together whenever I'm feeling under the weather. That may not sound like much of a feat, but standing upright long enough to finish a dish is a big deal for anyone with POTS.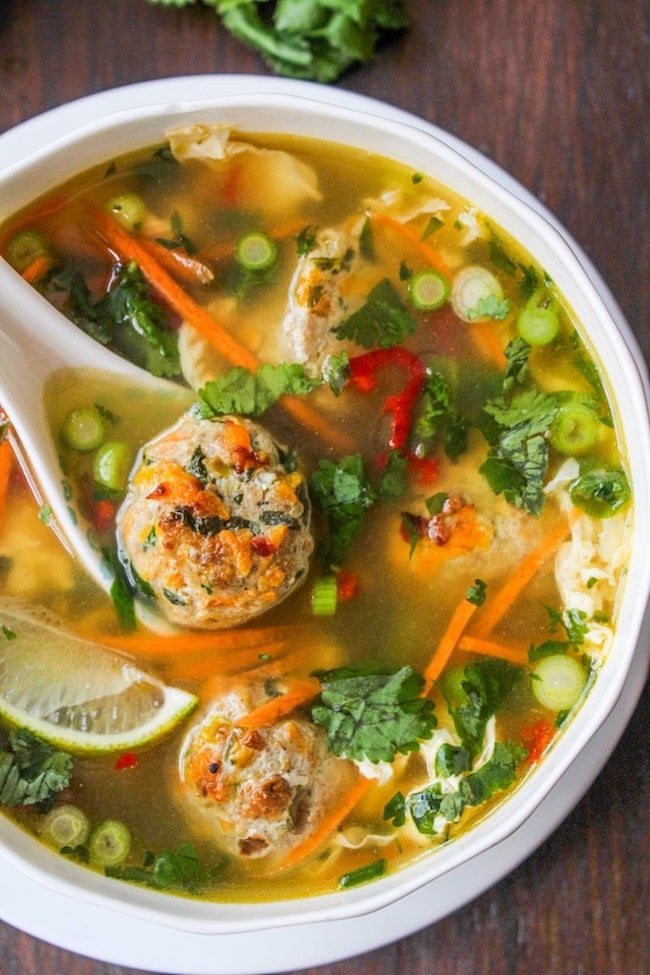 If there is one problem with egg drop soup it's that it's more of a starter/appetizer to a larger meal. While I'm quite content having a light dinner of what is essentially broth every now and then, Mike of course is a man which means he's never full. Growing up with four brothers I'm very aware of the fact that boys have what feels like bottomless pits for stomaches. If there's no meat involved in a meal then it's merely a snack and snacks to don't satiate you they just pass the time until your next meal. By the way your next meal is never soon enough.
Going back to this soup, it was Mike who had the stroke of genius to add the meatballs to our usual egg drop. Earlier in the day I had been filming a video to go along with these Thai meatballs. Since posting it last year, it's hands down the most popular recipe on my blog. I wanted to go back and add a video to go along with the recipe to enhance the post & get in a little more practice with the video making. The meatballs were just sitting on the counter begging to be added to a meatball and egg drop soup. Perfect for adding to soup. Perfect for bulking out a meal enough to feed and satisfy my bottomless pit of a husband.
Thai Meatball and Egg Drop Soup
The base of the soup is similar to that of your average egg drop: broth, spring onions, a touch of ginger, eggs. Since we're adding Thai inspired meatballs to this version I spruced up the broth with more typical Thai flavors: chilis, fish sauce, a squeeze of lime juice, and heaps more cilantro and spring onions. If there is one food rule in our house it's to alway add another handful of both cilantro and spring onions to whatever you're eating.
While the meatballs are baking, take that time to prep your soup. Slice the carrots into matchsticks, chop up the cilantro, deseed the chilies, and wash your spring onions. Get it all ready to add to your broth when the time comes. After the meatballs finish baking (about 25 minutes or so) begin making the soup. This part should take about 10 minutes tops. After you add the eggs to the soup you can finally add the meatballs. Taste your soup. Add a little more salt/pepper/ whatever you'd like and then serve.
This meatball and egg drop soup was good the first day, I went straight back the store the next morning to get more turkey to make it again. It's nice to have a little something to look forward to on sick days. The whole sick part's no good, but at least the food is nice.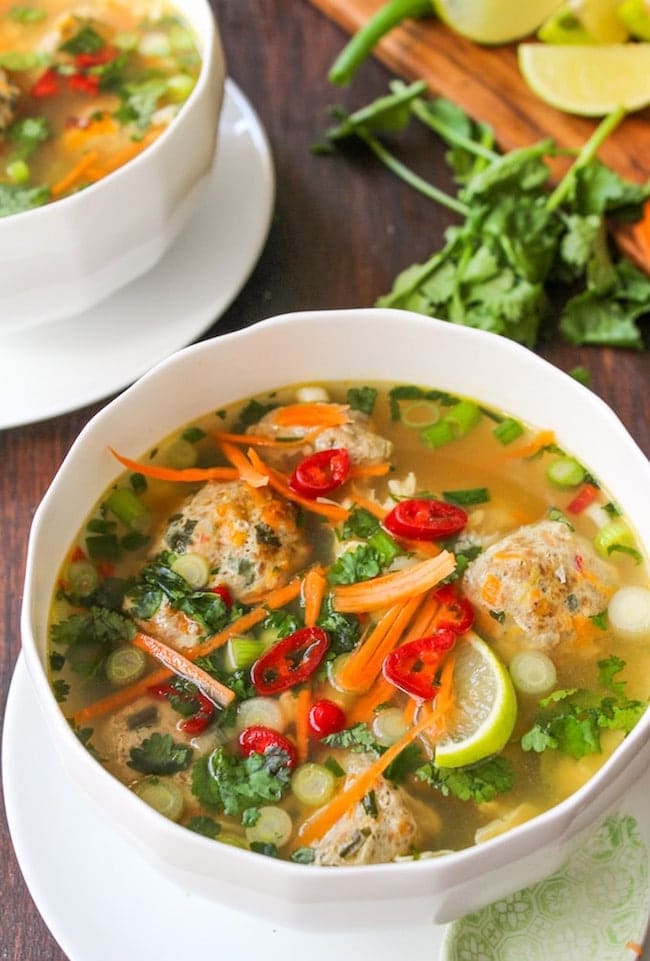 FACEBOOK | INSTAGRAM | PINTEREST  
Don't forget to #asaucykitchen on instagram if you try this Thai Meatball and Egg Drop Soup. We love to see what you make with it!  You can also post your pictures to my facebook page!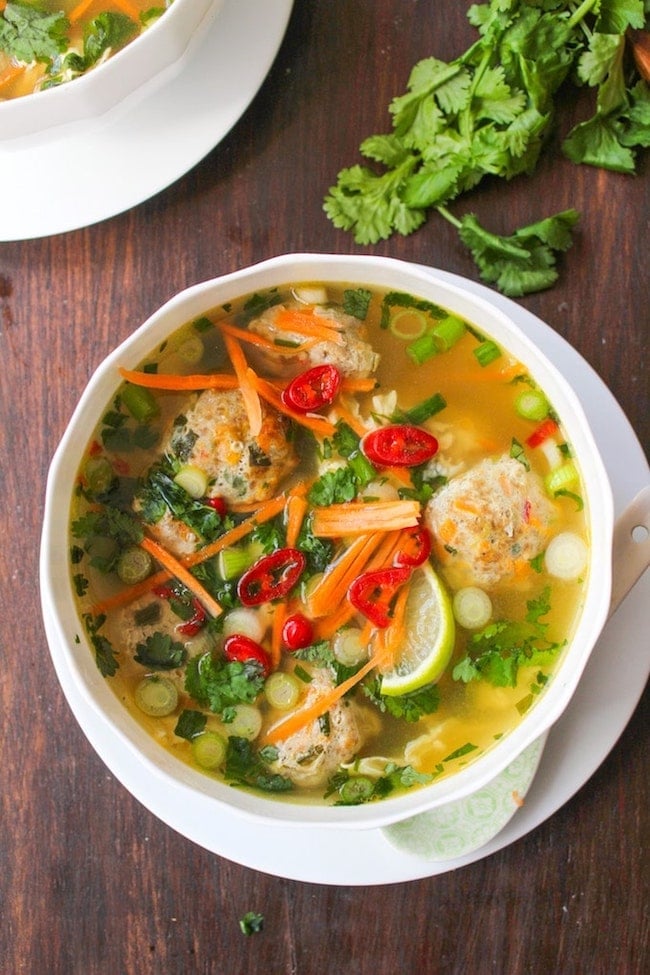 Recipe
Thai Meatball and Egg Drop Soup
Yield:
4 servings
Prep Time:
15 minutes
Cook Time:
30 minutes
Total Time:
45 minutes
Thai Meatball and Egg Drop Soup: Thai flavors mixed into a traditional egg drop broth for a comforting and filling soup. Paleo + Whole 30 + Low Carb
Ingredients
Meatballs
1 lb ground turkey or chicken
1 large shredded carrot, about 1/2 cup (squeeze out excess moisture from shredded carrots)
2 tablespoons fresh cilantro chopped
1 red chili chopped* see note on chilies
1/4 cup green onion, green parts only for Low FODMAP, chopped + more for garnishing
2 tablespoons fresh grated ginger, (make sure to squeeze out any extra moisture out of the carrots before adding to your meatball mixture)
2 tablespoons Coconut Aminos or 1 -2 tablespoons gluten free soy sauce* see note
1/4 teaspoon salt *see note
1/2 teaspoon pepper
1 egg
dash red pepper flakes optional
Soup
1 tablespoon sesame oil, or coconut oil
1 tablespoon minced ginger
2 red chilies deseeded and chopped
4 cups organic chicken stock
1 1/2 cups water
2 tablespoons Coconut Aminos, or gluten free soy sauce
1 teaspoon fish sauce
1 tablespoon lime juice
3 large eggs whisked
1/2 cup spring onions chopped, 1 large bunch, use only the green parts for low fodmap
1 large carrot cut into matchsticks
2 tablespoons freshly chopped cilantro
salt & pepper to taste
Instructions
Meatball Prep
Preheat oven to 400°F/200°C
In a bowl combine all of your meatball ingredients. Mix well and form into balls. If the mixture is a bit wet and sticks, wet your hand with a little water and then roll the balls.
Place balls on lined baking sheet and bake for 20-25 minutes.
Once cooked remove from the heat and set aside until your'e ready to add them to the soup
Soup Prep
In a large pot, warm the sesame oil on a medium heat. Add the minced ginger and chopped chilis to the oil and gently sauté for 1-2 minutes.
Add the stock, water, coconut aminos, fish sauce, and lime juice to the pot and turn up the heat to medium high.
While the broth is heating up, whisk your eggs. Once the broth begins to boil, slowly drizzle the eggs into the soup. Use a fork to stir the eggs to create ribbons and prevent clumping.
Reduce the heat and then add the spring onions, carrot, and cilantro and let the soup cook an extra minute. Carefully drop the meatballs into the broth. Taste the soup and season with salt and pepper to your own preference.
Top with more spring onions, cilantro, and/or chili if you'd like and serve.
Notes
soy sauce/tamari is much saltier than coconut aminos - you may want to wait until the end to add salt or reduce the amount if you use soy
---
Feel free to use different types of chilies here based on your preference for spice. We use red anaheim chilies which tend to be more on the mild side. If you like things with more spice you can also use red or green jalapeños - red will be spicier than green. 
Nutrition Information
Yield:

4
Serving Size:
g
Calories:

291
Saturated Fat:

2g
Cholesterol:

226mg
Sodium:

798mg
Carbohydrates:

10g
Sugar:

1g
Protein:

37g
This website provides approximate nutrition information for convenience and as a courtesy only. Nutrition data is gathered primarily from the USDA Food Composition Database, whenever available, or otherwise other online calculators.