Hearty and healthy sausage and kale soup that comes together in less than 30 minutes for easy weeknight dinners.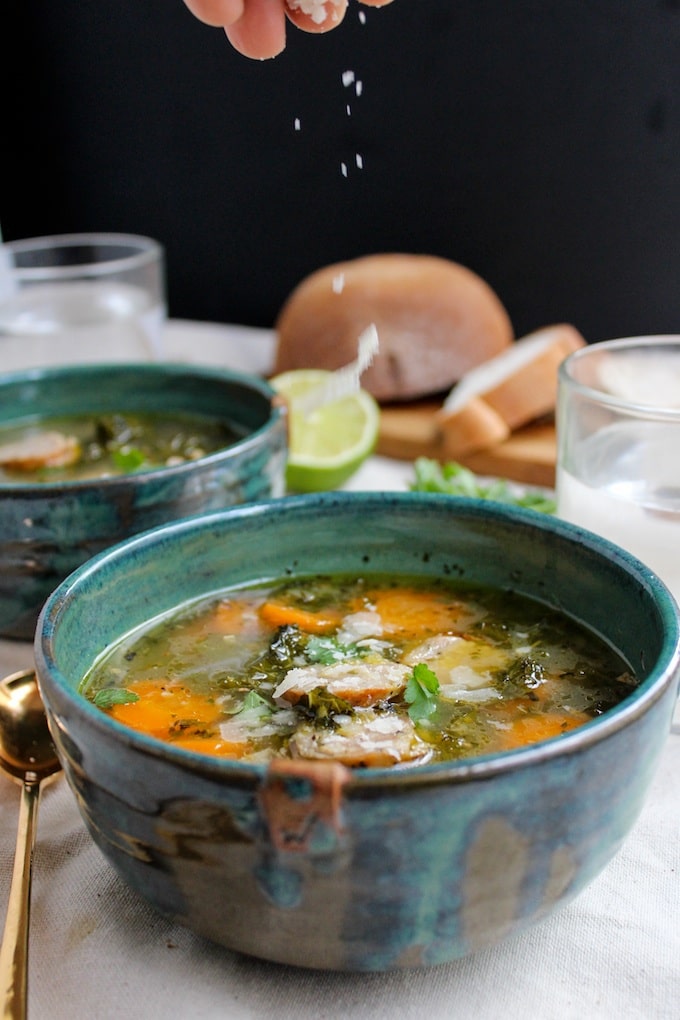 I'll admit: I was probably a little premature this year with whipping out the oversized sweaters and fluffy slippers. Sure, we've had a fair few cold mornings, but after a few hours I usually have to admit defeat and change into a something a little cooler until nightfall. Well, I think it's finally safe to say that the cooler weather is here to stay and I for one am thrilled. As much as I miss the Arizona heat, I can't get over how beautiful this time of year is. Deep reds and yellows mixed with fading green leaves in a muted morning fog – I can't think of anything more ethereal than that. I also can't get over how comforting it is to be sitting next a big window on a rainy day wrapped up in a comfy sweater with a warm bowl of soup. Even after a full year living in England I still find so much joy in those little pleasures.
As far as simple pleasures go this sausage and kale soup fall right into that category. Simple ingredients. Simple methods. Simple soup. Hearty flavors. Enjoy with a fresh loaf of French bread or crumble up a few crackers over the top of the soup and that, my friend, is heaven.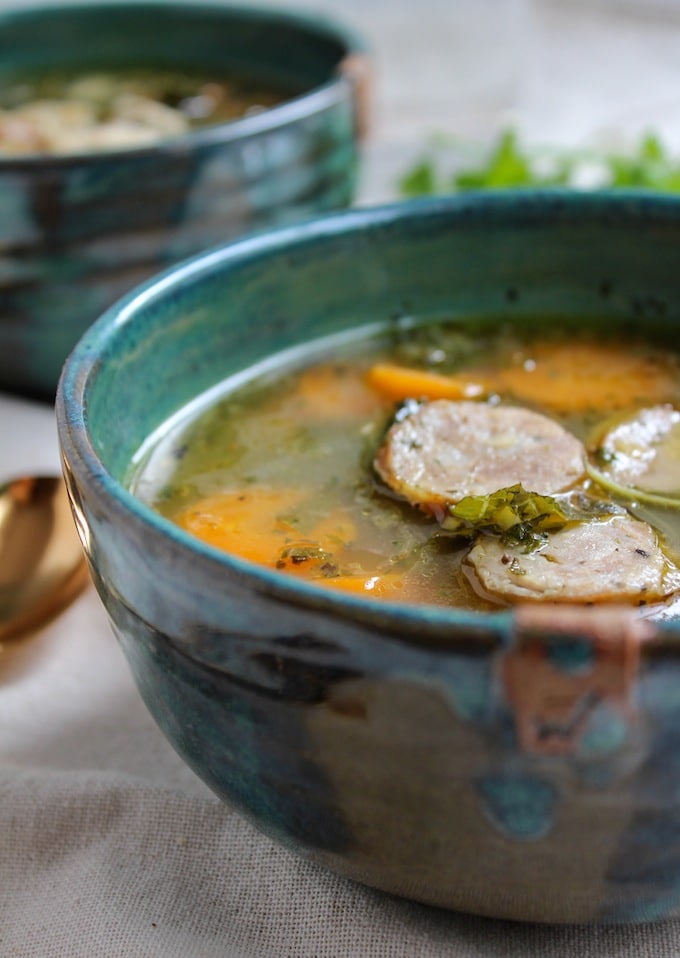 I think one of my favorite things about soup is how easy it is to throw together. Half the time I have a particular flavor in mind, run with that, and then scour the fridge for whatever neglected bits and pieces that need using before their time has passed. An onion here, half a bag of nearly wilting kale there. In the end I'm not only being economical, but I'm giving the fridge a much needed cleaning. Oh, and ya know, there's soup involved. We're all winners here.
I actually got the idea for this soup from a similar  recipe from Bev Cooks, Sausage Meatball Soup with white beans and kale. I made a few tweaks here and there based on what I had in the fridge, but for the most part I'd say that skeleton of this soup is the same – chicken stock, pork, kale, and my favorite addition – lime juice.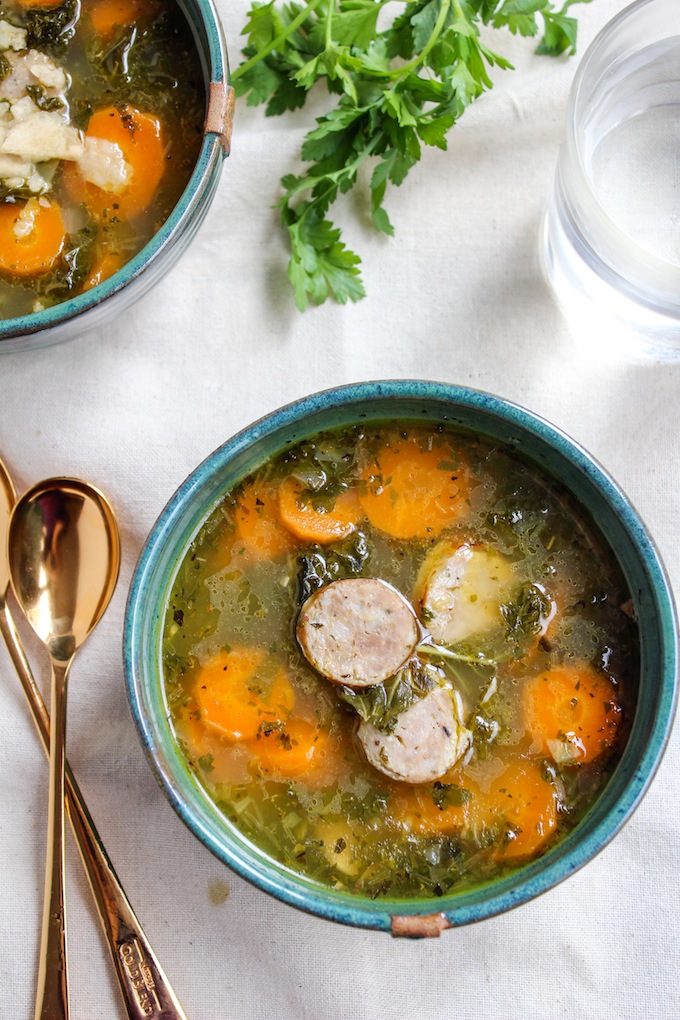 Yield: 4 servings
Sausage and Kale Soup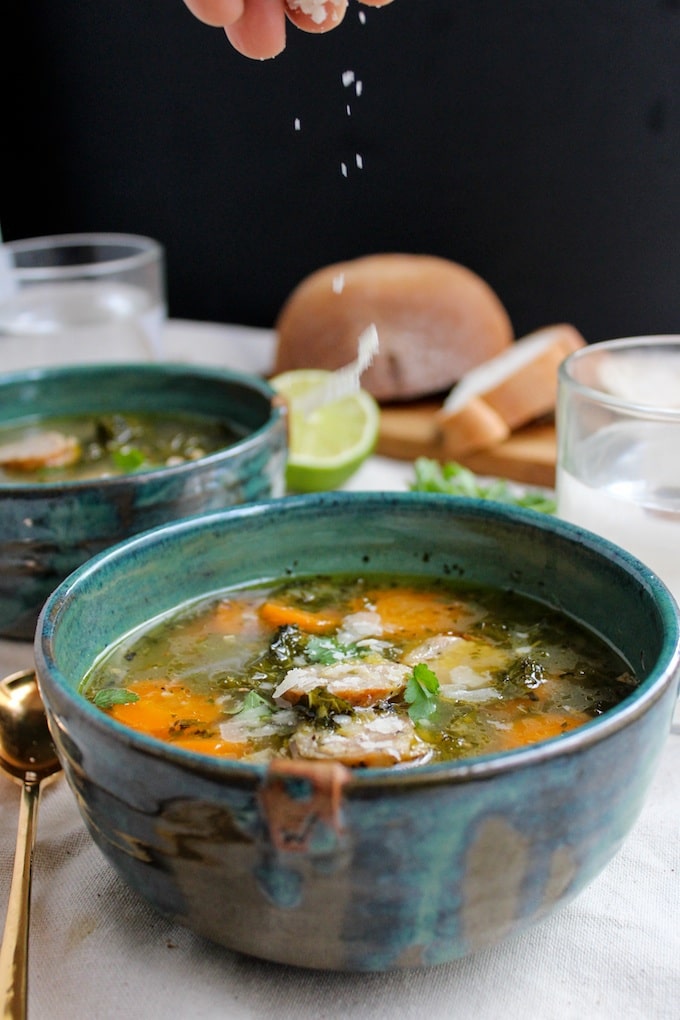 Hearty and healthy sausage and kale soup that comes together in less than 30 minutes for easy weeknight dinners.

Prep Time 10 minutes

Cook Time 20 minutes

Total Time 30 minutes
Ingredients
1 tablespoon extra virgin olive oil
4 sausage links cut into 1/4 inch slices
1/2 white onion, , chopped fine
2 small garlic cloves, , minced
1/2 tablespoon minced ginger
2 large carrots peeled and cut into 1/4 inch slices
4 cups (1 liter) chicken stock
1/2 teaspoon dried oregano
1 small handful fresh parsley chopped
3 cups chopped kale with the ribs removed
juice from 1/2 a lime
salt and pepper to taste
Instructions
Heat the olive oil in a large pot over medium heat and add your sausage slices. Toss them around until cooked and slightly brown.
Add the chopped onion, minced garlic cloves, carrot slices, and minced ginger and saute until fragrant and soft for about 2 minutes. Make sure to stir everything around to prevent the garlic and onion from overcooking.
Pour the chicken stock into your pot with the sauteed veggies and add the dried oregano. Bring the soup to a boil and then reduce down to a simmer. Toss in the chopped kale and parsley and simmer for about 5 minutes. Squeeze the lime juice over the soup, season with salt and pepper to taste and you're done. Crumble a couple of crackers and parmesan cheese if you like and serve.
Notes
This can be easily made suitable for AIP by using AIP approved sausage in place of regular sausage links.
Nutrition Information:
Yield:
4
Serving Size:
g
Amount Per Serving:Calories: 326 Saturated Fat: 6g Cholesterol: 48mg Sodium: 548mg Carbohydrates: 13g Fiber: 1g Sugar: 2g Protein: 17g
Song of the Day: Two Weeks//Grizzly Bear