Thick, hearty and delicious comfort in a bowl! Using precooked or leftover ham – this dairy free Ham and Potato Soup is easy to make and comes together in no time all in one big pot. | Gluten Free + Dairy Free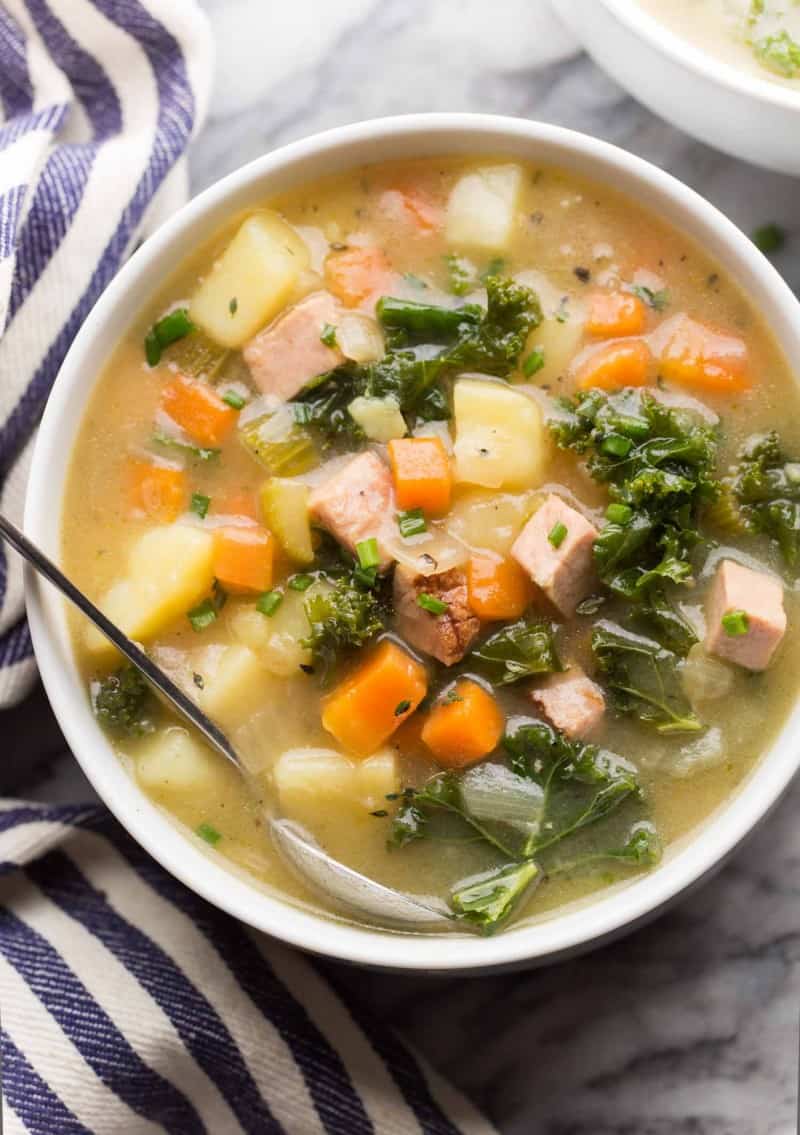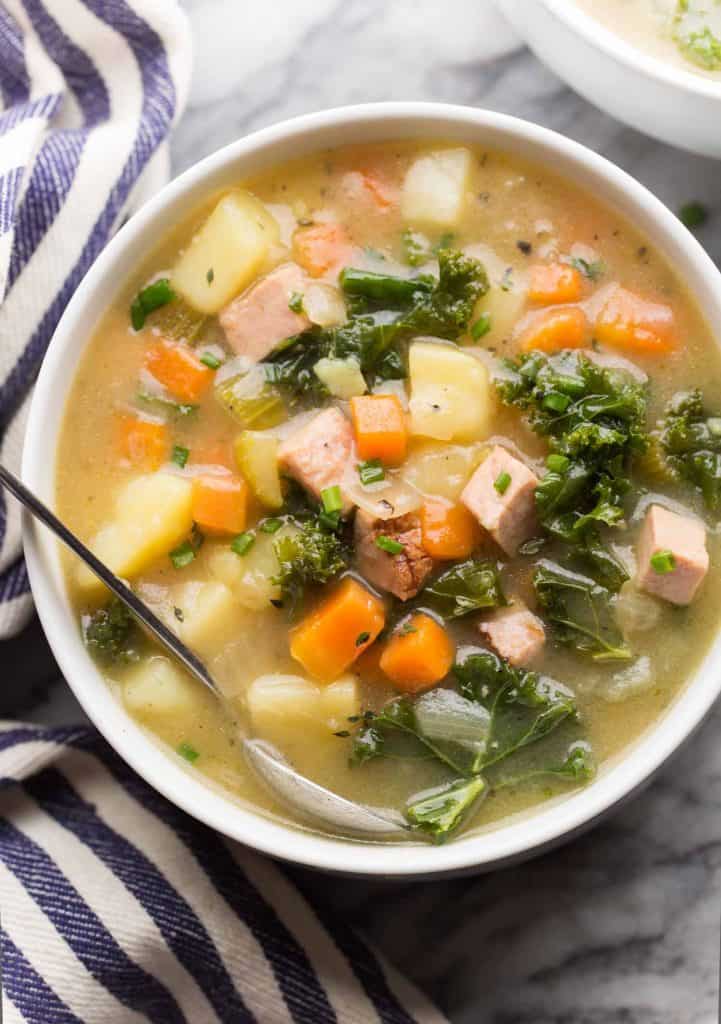 Dairy Free Ham and Potato Soup
Sauté aromatics:
Cook the onion, carrot and celery in olive oil for about 8-10 minutes over a medium-low heat until soft and fragrant. The idea is to cook the veggies gentle so that they sweeten (and not caramelise) to create the first layer or flavour for your soup.
Add the ham & thyme:
Stir in the cubed ham (or bacon) and thyme. Go ahead and add the thyme stalks who – as the soup cooks the thyme leaves will naturally fall off the stems and you'll be able to easily pick them out later. Add the ham and thyme at this stages gives them time to release their natural fats & oils – natural fats & oils = flavour.
Stir in the flour:
In order to create a thick and luscious soup that is also dairy free, you need to add flour. As you mix in the flour at this stage your soup mixture might start to look a big gritty – don't worry, as you add stock later the flour will break up and become a more silky texture.
Add potatoes:
Stir in the potatoes and mix well.
Add stock, boil then simmer:
You can use chicken, beef or even vegetable stock. Use homemade, stock straight from a carton, or bouillon cubes mixed with water. Whatever you have – go for it.
Bring your soup to a boil and then reduce down to maintain a gentle simmer. Let cook for at least 15-20 minutes or until the potatoes are soft and tender. Make sure to stir the pot every now and then to keep things from burning to the bottom. Between the flour and the potatoes you should notice the soup getting more thick and starchy.
Add kale, taste and season:
Add the kale in the final few minutes of cooking so that the hardy leaves have time to soften. Make sure to remove the thyme stalks. Finally, taste and season your soup as needed. Add salt and black pepper along with whatever fresh herbs you like. Finely chopped chives and parsley go well with the flavours.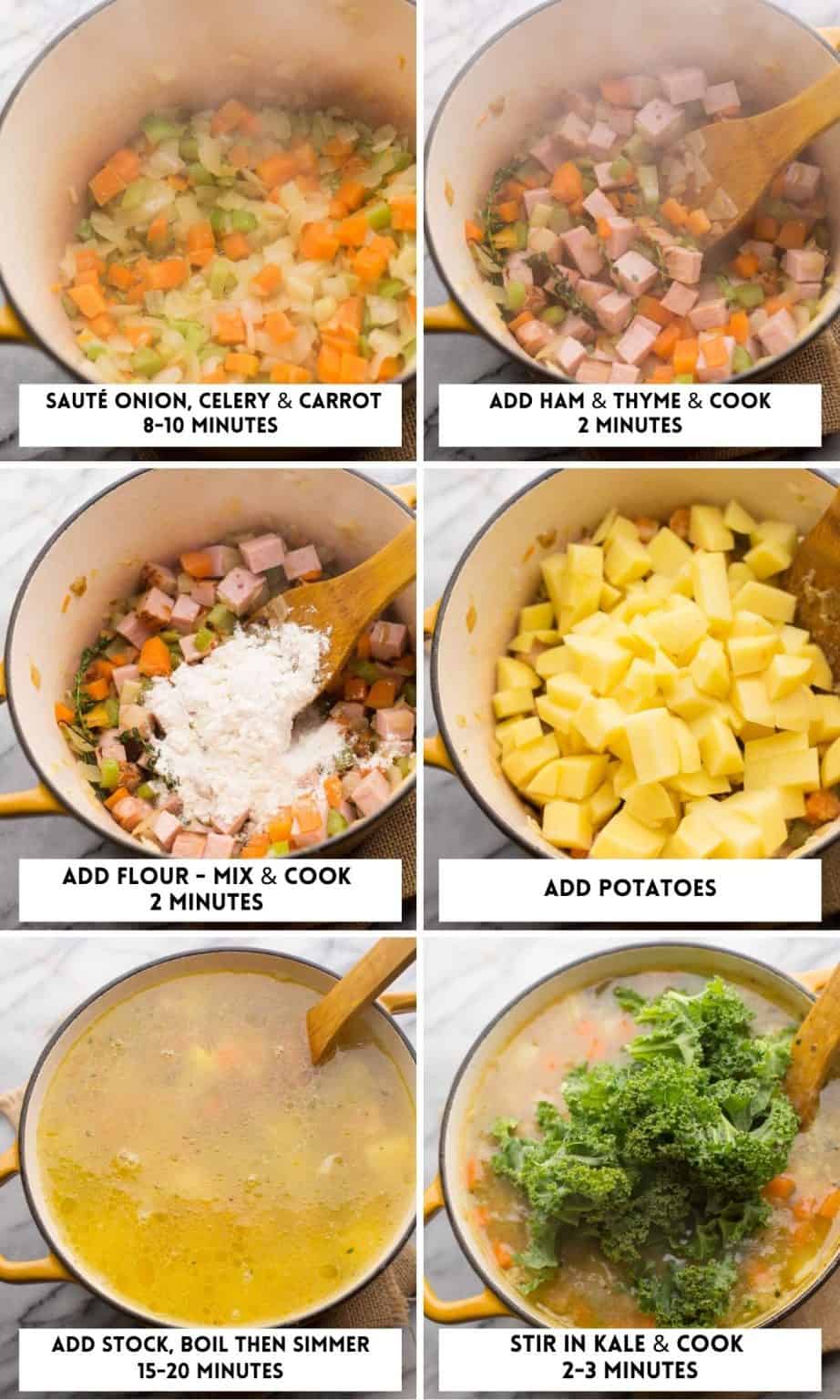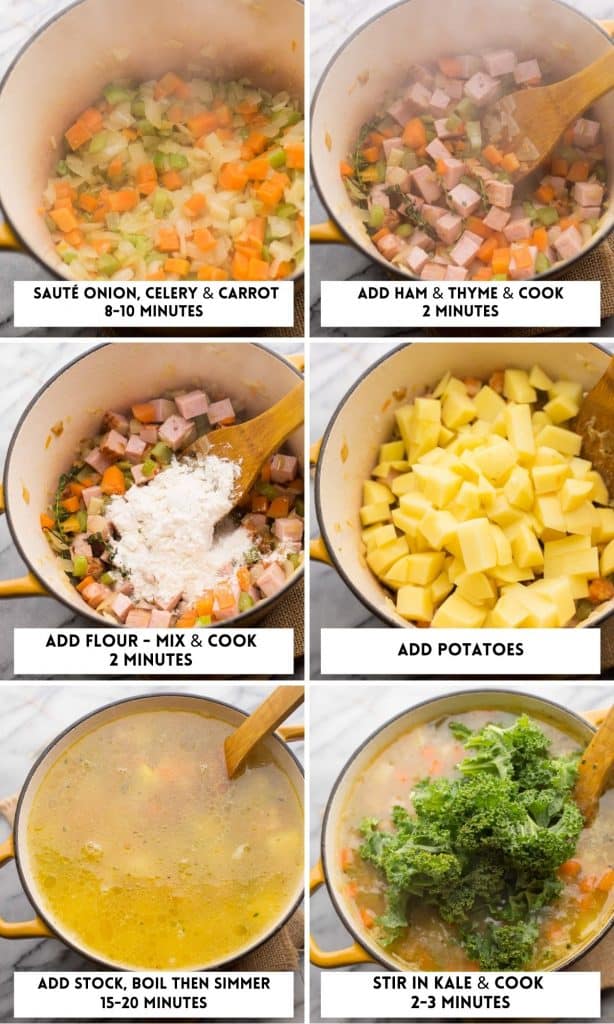 Additions
Corn

Add a cup or two of canned (drained & rinsed) or even frozen corn to your soup to bulk it out even more and to add a touch of sweetness.

Peas

Peas are also a great way to add a gentle sweetness to the soup. Add a cup or two to the pot when you add the potatoes.

More Herbs

Add fresh chives, parsley or rosemary. Rosemary can be added when you add the thyme towards to beginning of the cook. Chives and parsley should be added towards the end so that they don't lose their flavour too soon.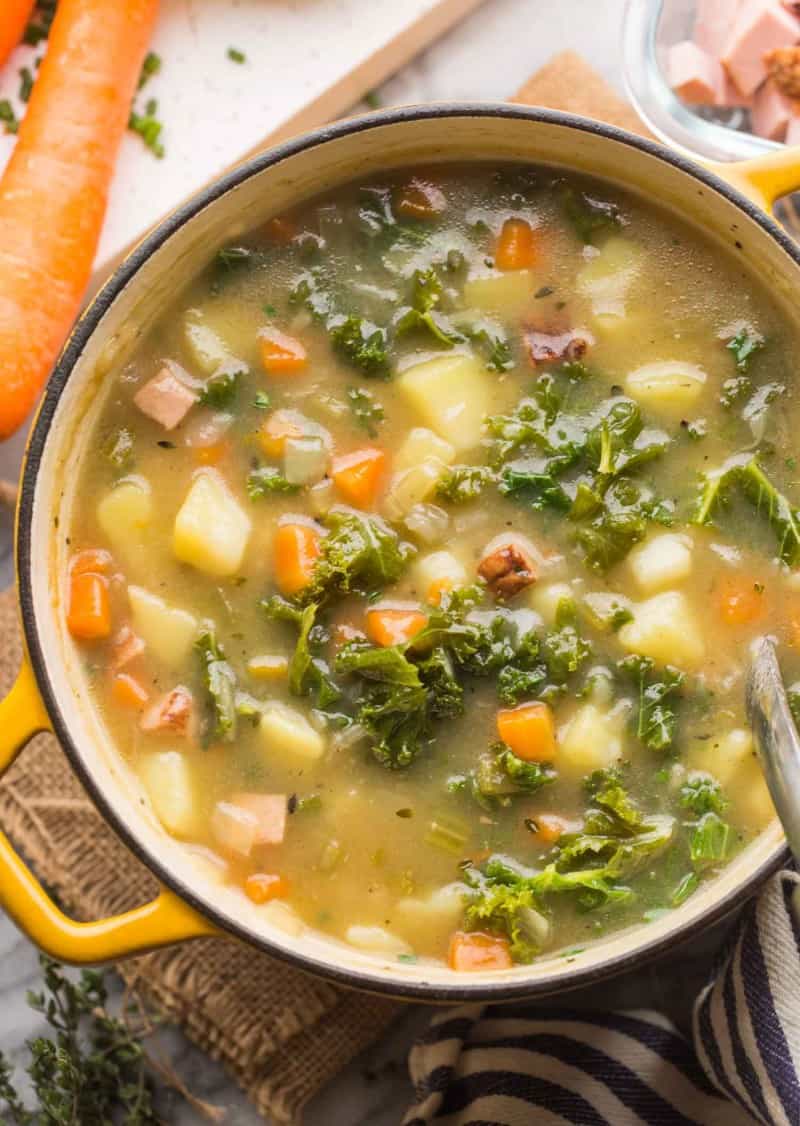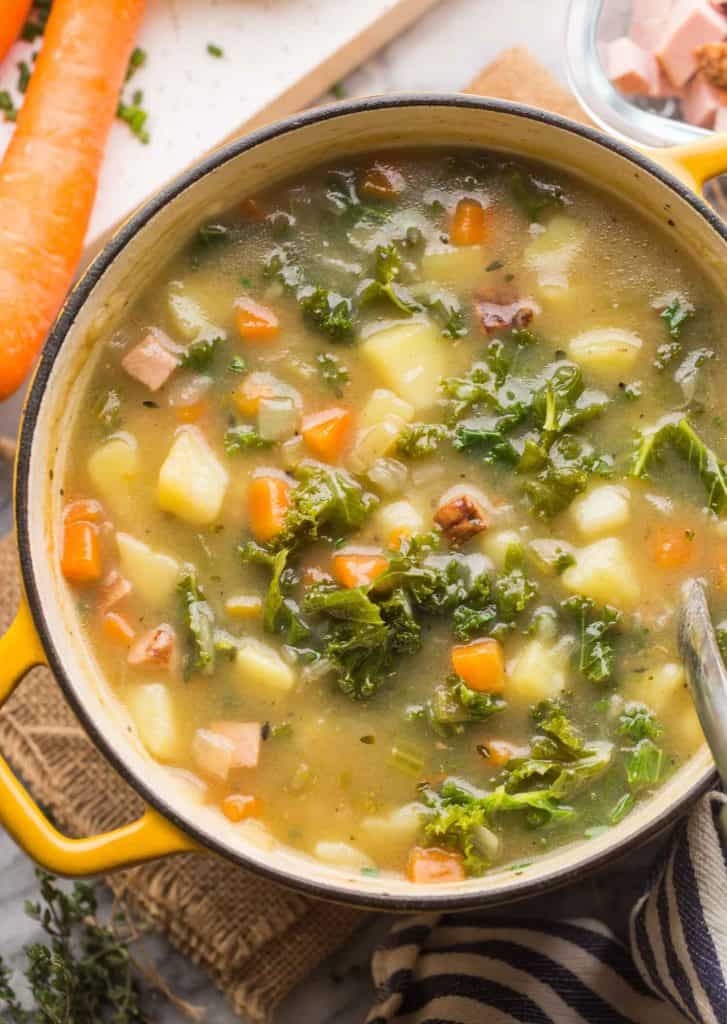 Substitutions
Cooked Ham >> Bacon

If you don't have cooked, cubes ham you can make this soup using bacon instead. Use bacon lardons or dice your bacon rashes into bite sized pieces. Cook your bacon first. Once it's cooked and crispy, remove the bacon from your pot and set aside to cook onions, celery and carrots. Add the bacon back to the pot when you would normally add the ham.

Onion >> Leek

An easy swap and a great alternative when it's in season: simply use a whole large, thinly sliced leek in place of the onion. Leeks will provide a more mild and delicate onion-like flavour.

Fresh Thyme >> Dried Thyme

Instead of fresh thyme stalks simply replace it with 1 teaspoon dried thyme.

Olive Oil >> Butter

This recipe is designed to be a dairy free ham and potato soup, but if you don't need it to be dairy free you can use butter instead of oil oil to sauté your veggies. You can also use a combination of oil and butter (two tablespoons of each). Using a combo will help keep the butter from burning too quickly and makes for a lovely flavour.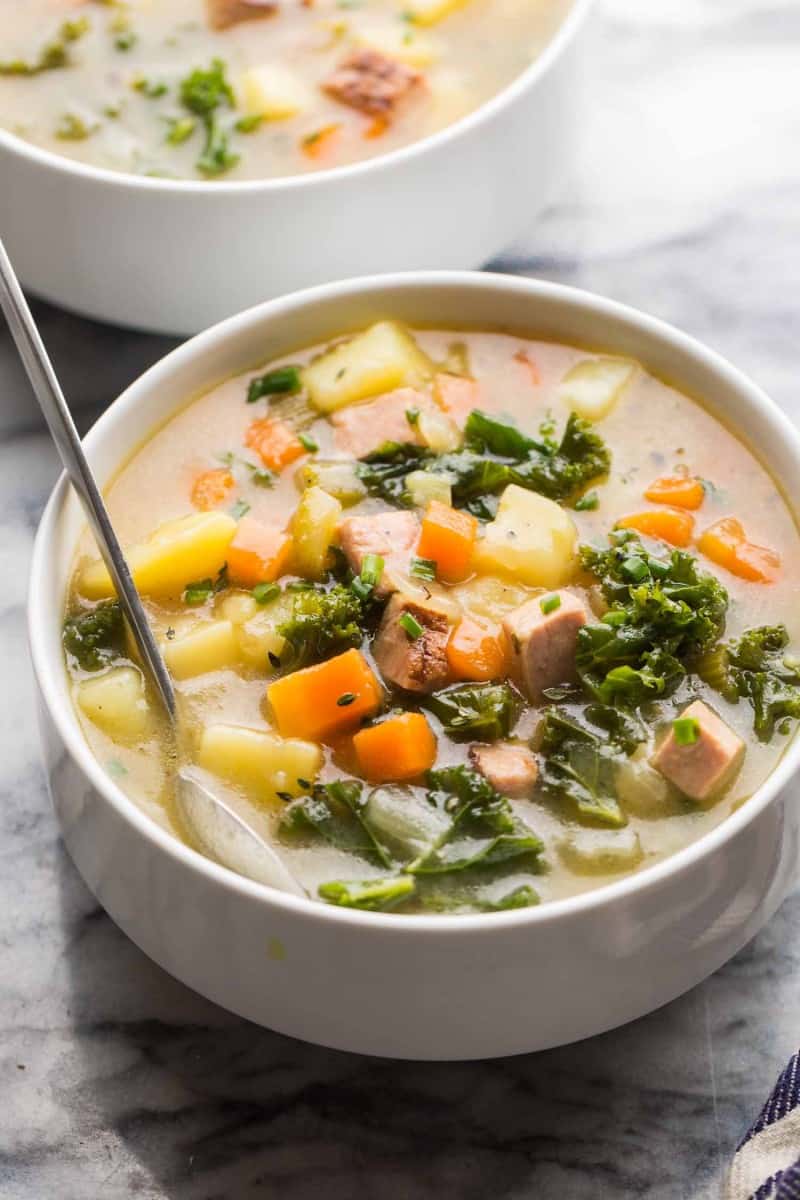 FACEBOOK | INSTAGRAM | PINTEREST
Don't forget to #asaucykitchen on instagram if you try this Dairy Free Ham and Potato Soup! I love seeing what you make! You can also post your pictures to my facebook page!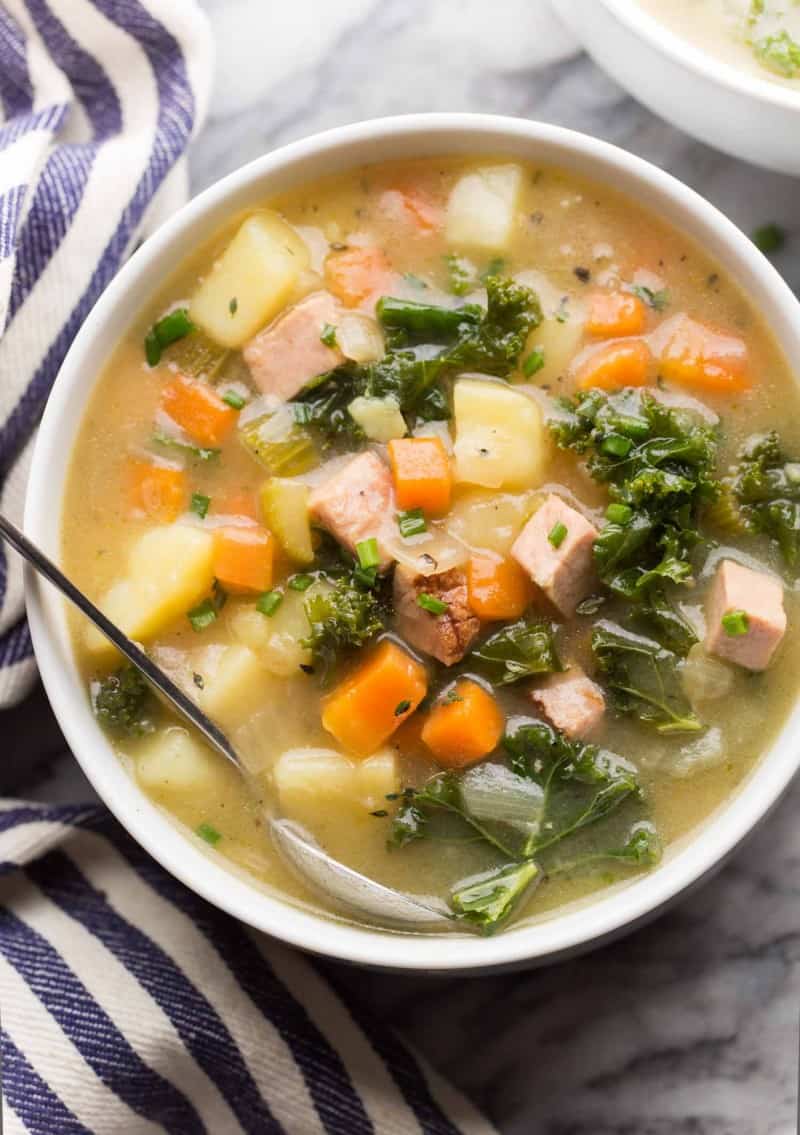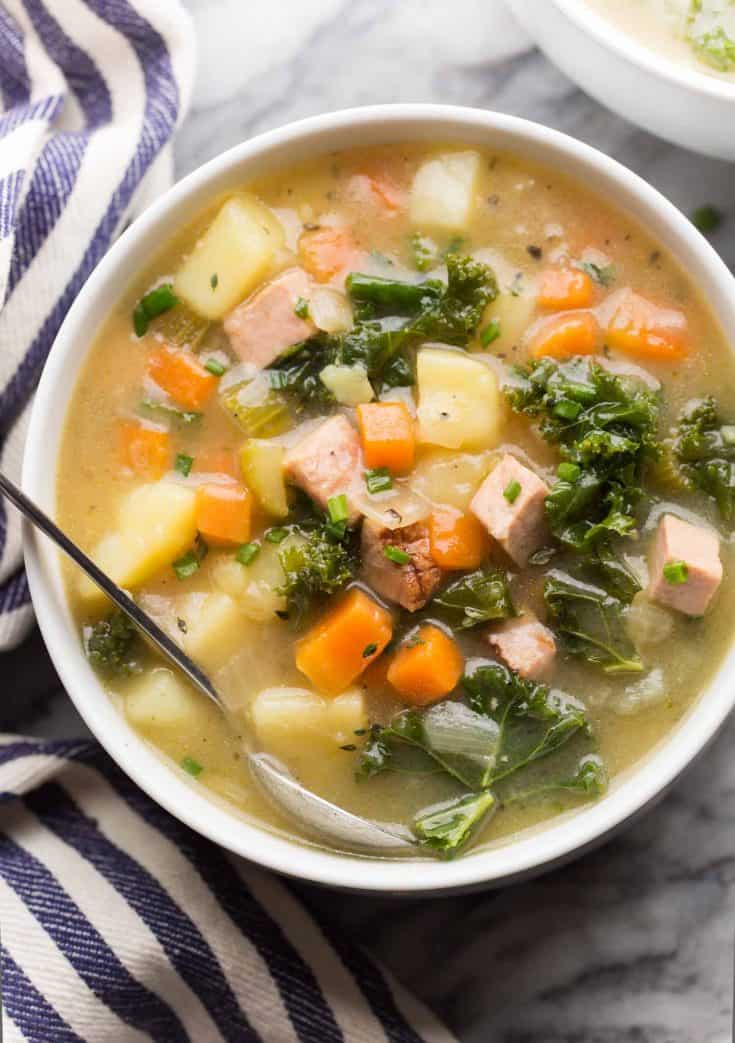 Recipe
Dairy Free Ham and Potato Soup
Yield:
6 servings
Prep Time:
15 minutes
Cook Time:
40 minutes
Total Time:
55 minutes
Thick, hearty and delicious comfort in a bowl! This dairy free Ham and Potato Soup is easy to make and comes together in no time all in one big pot. | Gluten Free + Dairy Free
Ingredients
1/4 cup | 60 ml olive oil
1 large white onion, diced
1 large celery stalk, diced
1 large carrot, diced
6 stalks fresh thyme
1 1/2 cups | 200 g cooked ham, diced
5 tablespoons | 45 g gluten free all purpose flour
1 1/2 pounds russet potatoes, diced into 1/2 inch cubes
5 cups | 1.2 litres chicken stock
2 dried leaves or 1 fresh leaf
2 cups kale, stalks removed and cut into bite sized pieces
1/2 - 1 teaspoon salt (amount of salt needed will vary depending on your choice of stock)
1/2 teaspoon freshly ground black pepper
Instructions
Warm the olive oil in a large soup pot over a medium heat. Add the onion, celery and carrot and pinch of salt. Cook 8-10 minutes until onion is translucent and soft.
Add the thyme stalks and ham and cook 2 minutes. Stir in the flour and cook another 2 minutes.
Stir in the potatoes. Add the chicken stock and bay leaves and mix everything together. Raise the temperature to bring the soup up to a boil the reduce the heat down to maintain a gentle simmer. Let the soup simmer at least 15 minutes until the potatoes are fork tender.
Stir in the kale and cook another few minutes until the leaves have wilted and softened.
Add 1/2 teaspoon salt and black pepper. Taste your season and season with more salt as needed. Take this time to pick out the bay leaves and any thyme stalks floating around. The thyme leaves should have naturally fallen off by this point.
Serve hot and enjoy. Once completely cooled, keep leftovers stored in the fridge for 3-4 days.
Notes
What type of stock to use?
You can use chicken, beef or even vegetable stock. Use homemade, stock straight from a carton, or bouillon cubes mixed with water. Whatever you have - go for it.

How to use bacon instead of ham:
Use bacon lardons or bacon rashers. If using rashers, chop it up into bite-sized pieces. Cook your bacon first and then remove from the pot and set aside. Add the bacon the same time you would add the ham.

Instead of fresh thyme:
Use 1 teaspoon dried thyme instead of fresh thyme stalks.

Omit the kale:
The kale is just an added ingredient to pack in more veggies. Feel free to leave it out of your soup if you prefer.
Nutrition Information
Yield:

6
Serving Size:
1.5 cups
Calories:

380
Total Fat:

17g
Saturated Fat:

4g
Cholesterol:

53mg
Carbohydrates:

36g
Fiber:

3g
Sugar:

6g
Protein:

21g
This website provides approximate nutrition information for convenience and as a courtesy only. Nutrition data is gathered primarily from the USDA Food Composition Database, whenever available, or otherwise other online calculators.
More Dairy Free Soups You Might Love