20 minute anti inflammatory ginger and spring onion egg drop soup with zucchini noodles – the perfect soup to warm you up from the inside out.
I've made this ginger and spring onion egg drop soup at least three times this week alone and I swear it tastes better every time. #Can'tStopWon'tStop
As much as I miss the bright summer days and the feeling of the sun warming my skin, I am so excited that it's finally soup weather. The time for jumbo sweaters and slippers is upon us, and even though my Arizona bones crave the heat, I really do love this time of year. There's just something especially comforting about sitting down with a big bowl and soup to warm you up from the inside out. Not only that, but I love how easy it is to make a healthy, wholesome pot of soup that's as filling as it is nourishing.
Speaking of nourishing – Mike had a second gastroscopy done this week. The first one was done over two years ago when he was officially diagnosed with Coeliac Disease. I won't go into too much detail because, ya know, this is a food blog I don't want to gross anyone out (even though I personally think it's massively interesting). Needless to say, two years ago his small intestine was all kinds of messed up from years of basically poisoning himself without realizing. However, his second test showed that his small intestine is actually looking pretty healthy – which shows that all this effort put into eating a healthy gluten free and mostly grain free diet is actually working. Hip hip! I'm not sure Mike is used to anyone describing any part of him as being 'healthy' so he's enjoying the novelty of bragging about having a healthy small intestine. Now I think we can focus a little more attention on dealing with his PoTS.
Unfortunately, there are a few things that can't be reversed through diet alone, like Mike's thumb which became fused when he was 16 from the rheumatoid arthritis that came as a result of undiagnosed Coeliac Disease. Thankfully since he switched to a gluten free diet the pain has almost completely disappeared aside from the occasional flare up.  It's in those times that ginger becomes not just a staple in our diets, but a necessity. Ginger is known for having amazing anti inflammatory benefits that is proven to be effective in reduce joint and muscle pain as well as being great for your immune system as a whole.
It's also really freakin' delicious in food which is all the more reason to love this soup.
This is my absolute favorite soup to make because it takes no more than 20 minutes to make, it's super healthy, and it's total comfort food. As you can probably tell from the ginger this isn't your average egg drop soup. I also added some zoodles to bulk it out and also because I really love zoodles. There's also a few red chili flakes sprinkled in to give you a different kind of heat.
So hooray for healthy intestines and healing bodies that can actually absorb nutrients in foods now! There have been many times in the past two years where it felt like we weren't really seeing much progress, or at least enough progress. That being said, I never underestimate how much healthier Mike has grown in the past year alone despite all the times when it feels as if things aren't improving. We just have to remember that this journey is a process just like everything else. There are rises and falls, but nonetheless things are moving forward all the time.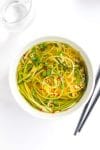 Ginger and Spring Onion Egg Drop Soup
20 Minute, anti inflammatory ginger and spring onion egg drop soup with zucchini noodles - the perfect soup to warm you up from the inside out.
Cuisine:
American Chinese
Ingredients
4

cups

(1 quart or 946 ml) organic chicken stock

1 1/2

(375 ml) cups water

2

tablespoons

coconut aminos

(or gluten free soy sauce)

1

tablespoon

minced ginger

1/4

teaspoon

red chili flakes

1

teaspoon

fish sauce*

2

eggs whisked

1/2

cup

(1 bunch) spring onions chopped (use only the green parts for low fodmap)

2

large zucchini's julienned

salt & pepper to taste
Instructions
Add the stock, water, coconut aminos, ginger, red chili flakes, and fish sauce to large sauce pan and heat on a medium high heat.

While the broth is heating whisk your eggs. Once the broth begins to boil, drizzle the eggs into the soup and stir with a fork to create ribbons from the eggs and prevent clumping.

Reduce the heat and then add the spring onions and zucchini noodles and let the soup cook an extra minute or so to soften the zoodles. Use this time to season with salt and pepper. Garnish with a sprinkle of spring onions and additional chili flakes and enjoy!
Recipe Notes
*I've tried this many times with and without fish sauce. I think fish sauces adds a really nice punch, but is completely optional if it's not an ingredient you keep stocked in your pantry
Nutrition Facts
Ginger and Spring Onion Egg Drop Soup
Amount Per Serving (1 serving)
Calories 99
Calories from Fat 27
% Daily Value*
Total Fat 3g 5%
Cholesterol 81mg 27%
Sodium 401mg 17%
Potassium 523mg 15%
Total Carbohydrates 8g 3%
Protein 9g 18%
* Percent Daily Values are based on a 2000 calorie diet.
She brains and reluctant dishwasher for A Saucy Kitchen