Make your own 'healthified' Chinese inspired takeout dish at home with this Paleo Cashew Chicken! Tender, juicy chicken pieces are lightly coated in a sweet and sticky date-sweetened sauce then cooked with red bell peppers, spring onions and toasted cashew nuts. Make sure to check the recipe notes on how to make this dish low FODMAP friendly with a few easy tweaks! | Gluten Free + Whole30 + Low FODMAP friendly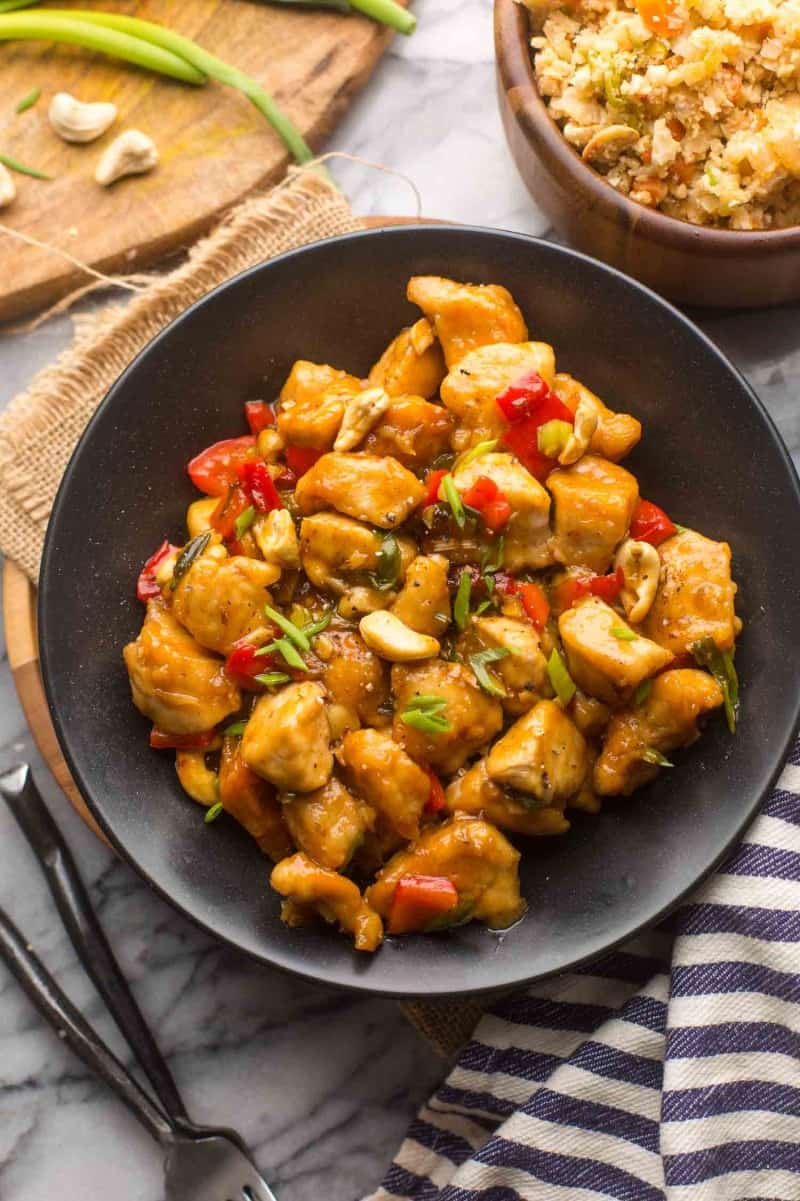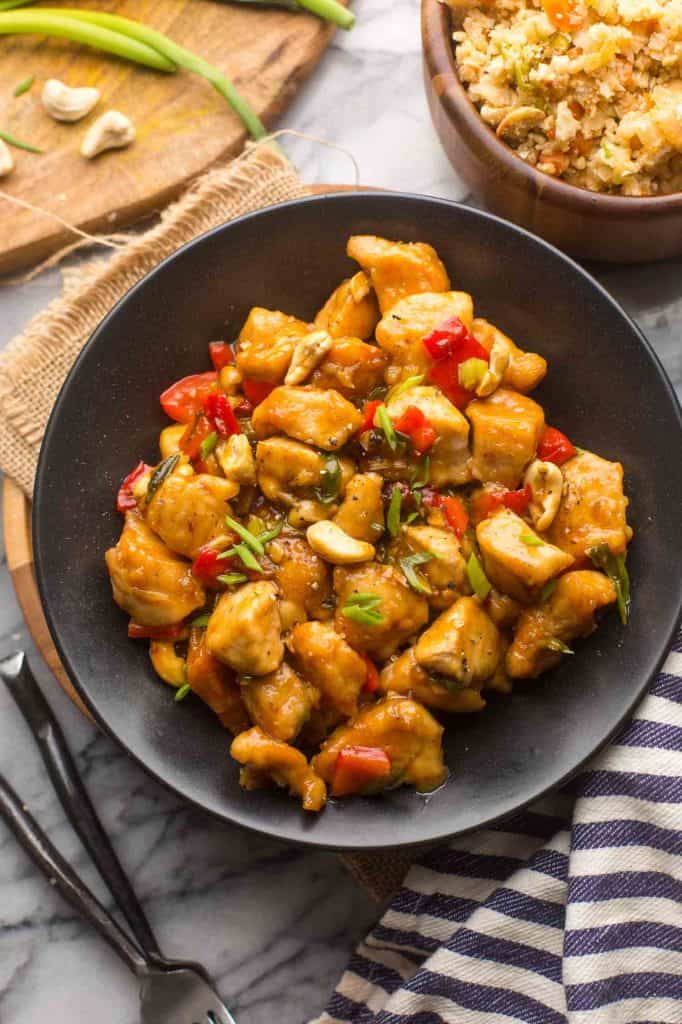 Originally posted 22 June 2015 – Updated with improved photos, recipe and instructions 4 January 2021
Today I'm dusting off an old reader favourite with this paleo cashew chicken. While the original recipe has been fairly popular over the years, it's been awhile since I last made this dish. I just wanted to take the time to re vist and update some of the pics and methods in the original post for a better, easier and more streamlined recipe.
What's changed?
The sauce is prepped first so that it's ready to be quickly added to the chicken when the time comes.
There are less pots & pans required – everything cooks in one pan, just at a different times.
I've add more notes, tips and substitutions to the recipe.
My original recipe was supposed to be low FODMAP but as I was new to FODMAP cooking at the time I didn't realise that cashews were high FODMAP. That being said, you can easily make this FODMAP friendly with a few tweaks (like using peanuts instead of cashews) and the recipe more clearly reflects those necessary adaptations.
Now – on to the food!
How to Make this Paleo Cashew Chicken
Prepare the sauce – add all of the ingredients needs for the sauce to a blender and process until smooth. Once blended, set aside until closer to the end.
Coat and cook the chicken – Lightly coat your chicken pieces in starch, then fry in coconut or avocado oil until a golden crust forms. Try not to move your chicken pieces too much as they cook so a decent crust has the chance to form. After all the chicken has cooked, remove everything from the pan and set aside. Wipe down the pan to remove any burnt on bits of chicken and starch.
Sauté the aromatics – Add a little more oil to the pan along with your pepper, ginger, garlic and spring onions and cook 2-3 minutes until the peppers begin to soften.
Add the sauce & bring it all together – Bring the sauce up to a boil then simmer a few minutes before adding the chicken and cashew nuts to the pan. Mix and cook until everything is well coated in a sticky sauce and that's it. Taste and season as needed then serve.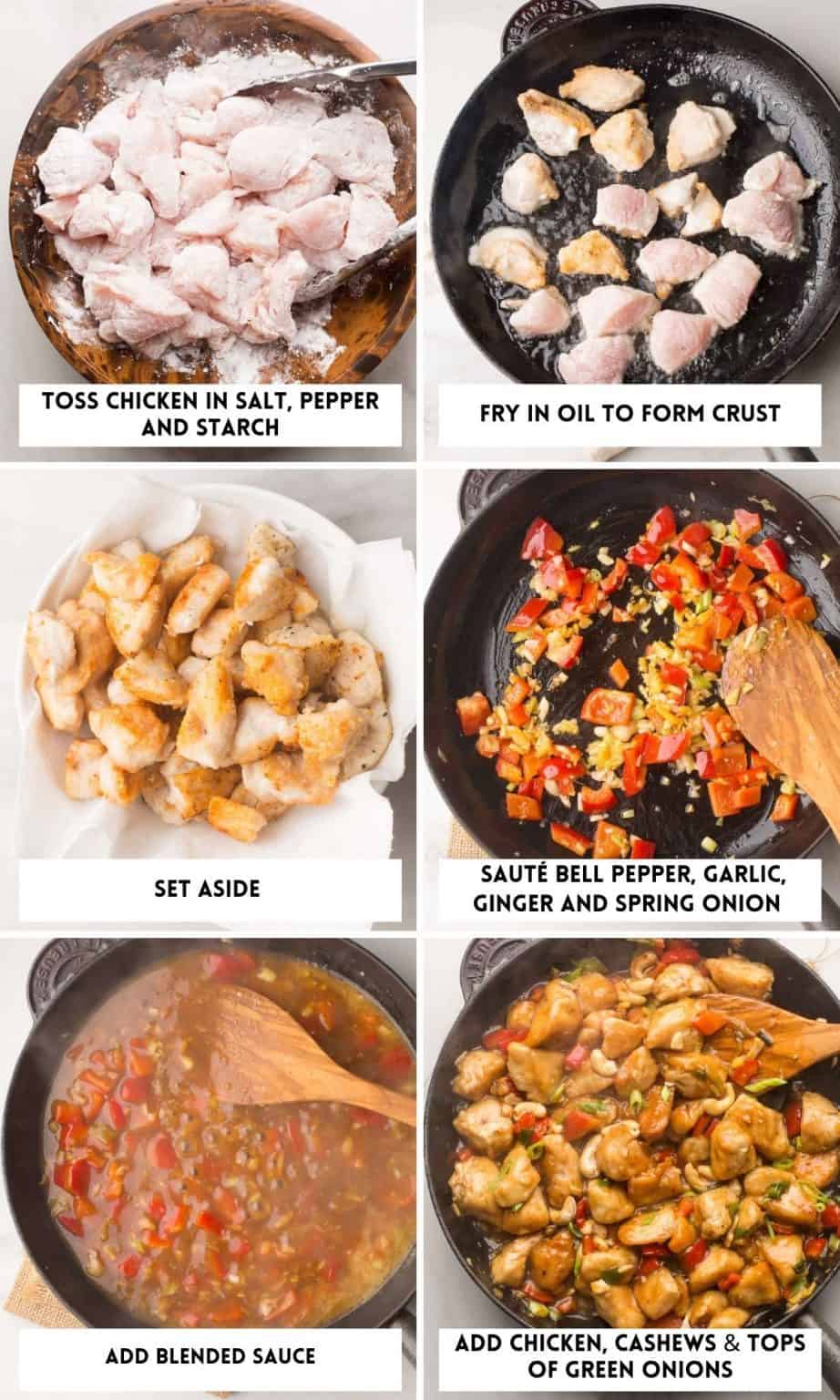 How to Make this FODMAP friendly
Cashews >>> Peanuts – Not exactly a cashew chicken dish, but still delicious and low fodmap.
Garlic >>> Garlic Infused Oil – Many grocery stores now sell garlic infused olive oil. If high FODMAP foods are an issue for you, garlic infused oil is a great way to get hints of garlic flavour without actually eating garlic. You can also make your own garlic infused oil at home if you're up to the job: FODMAP Everyday has a great recipe if you're up to the job.

Just make sure you buy oil that has no visible garlic bits left in as that is not low FODMAP.

Use only he green parts of the spring onion – the white and lighter green stalks on spring onions are high FODMAP, but the leafy greens are considered safe.
Use a low FODMAP chicken stock – Chicken stock is typically made with onion and garlic which must be avoided for those following low fodmap diets. Make sure to either buy or make your own low fodmap chicken stock.
A note about the date – dates are not considered low fodmap but since this recipe only requires one date for four servings it should be safe for a low fodmap diet. However – if dates are particularly triggering you can swap the date for 1 tablespoon sugar or maple syrup.
Other substitutions
Coconut aminos >>> gluten free soy sauce/tamari – not paleo but a quick and easy swap! Soy sauce is much saltier so keep in mind that you will likely not need to add additional salt later.
Arrowroot starch >> cornstarch (also known as corn flour in the UK) – again, not paleo, but an easy swap if that's all you have in.
One date >> One tablespoon other sweetener – if you don't have dates on hand you can swap the date with 1 tablespoon sugar, honey or maple syrup instead. The date keeps this dish whole30 compliant though so keep that in mind if you're following a strict whole30 diet.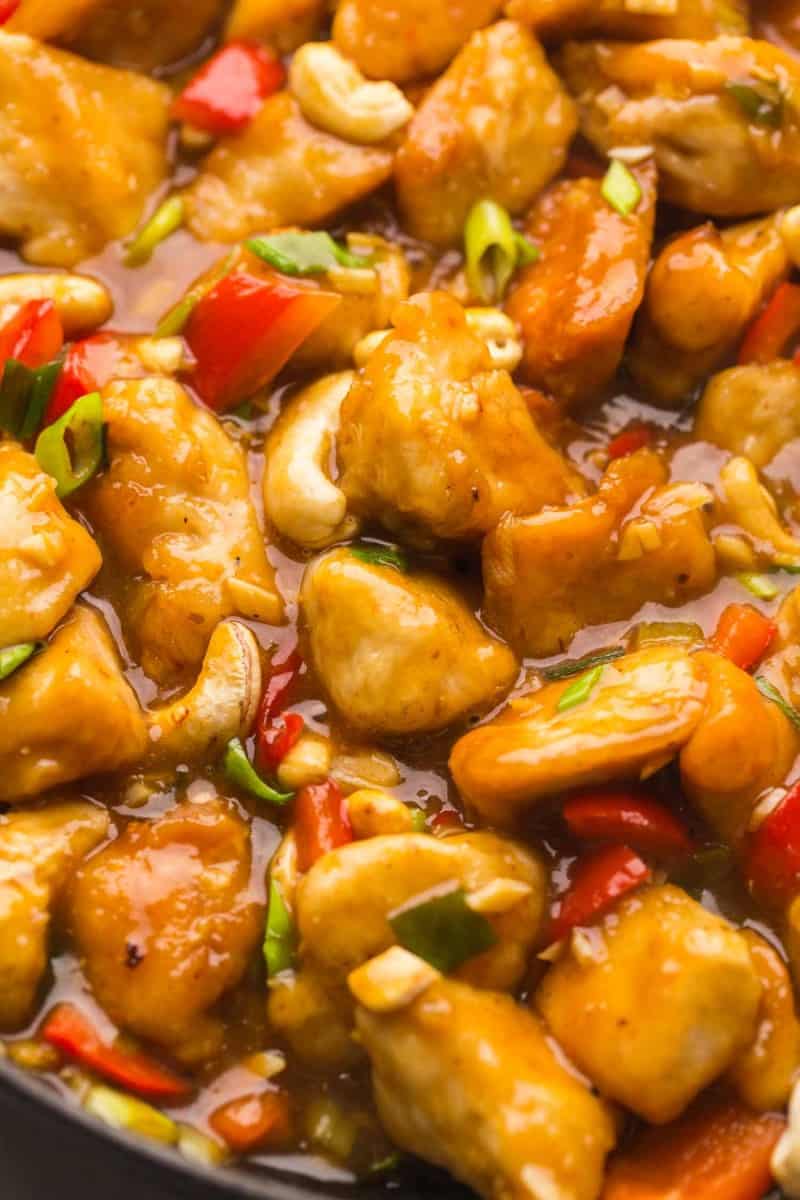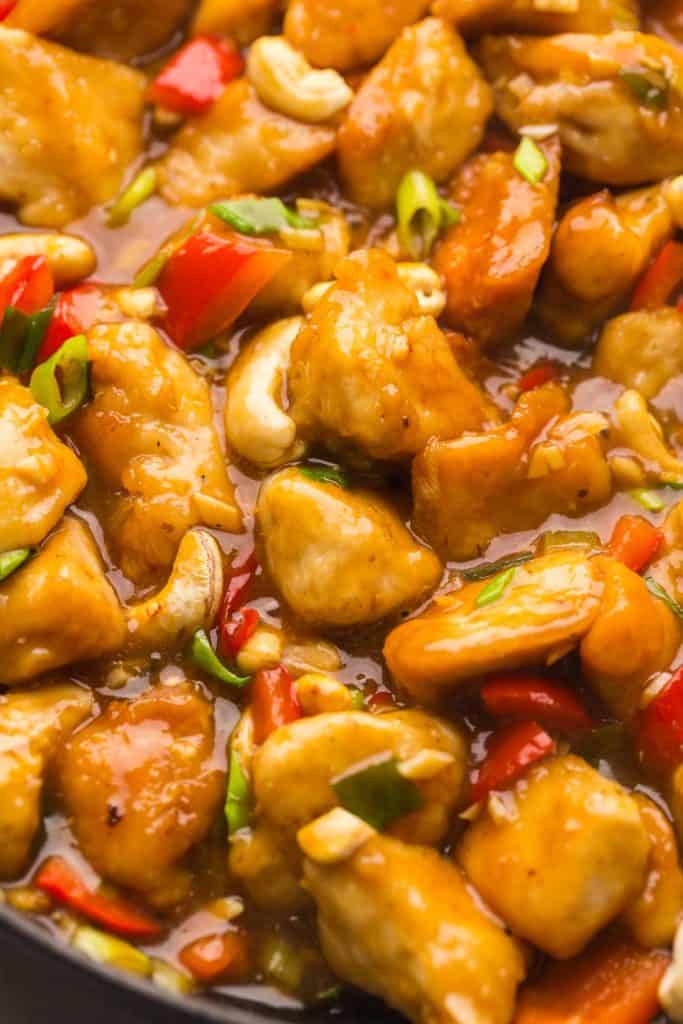 Enjoy!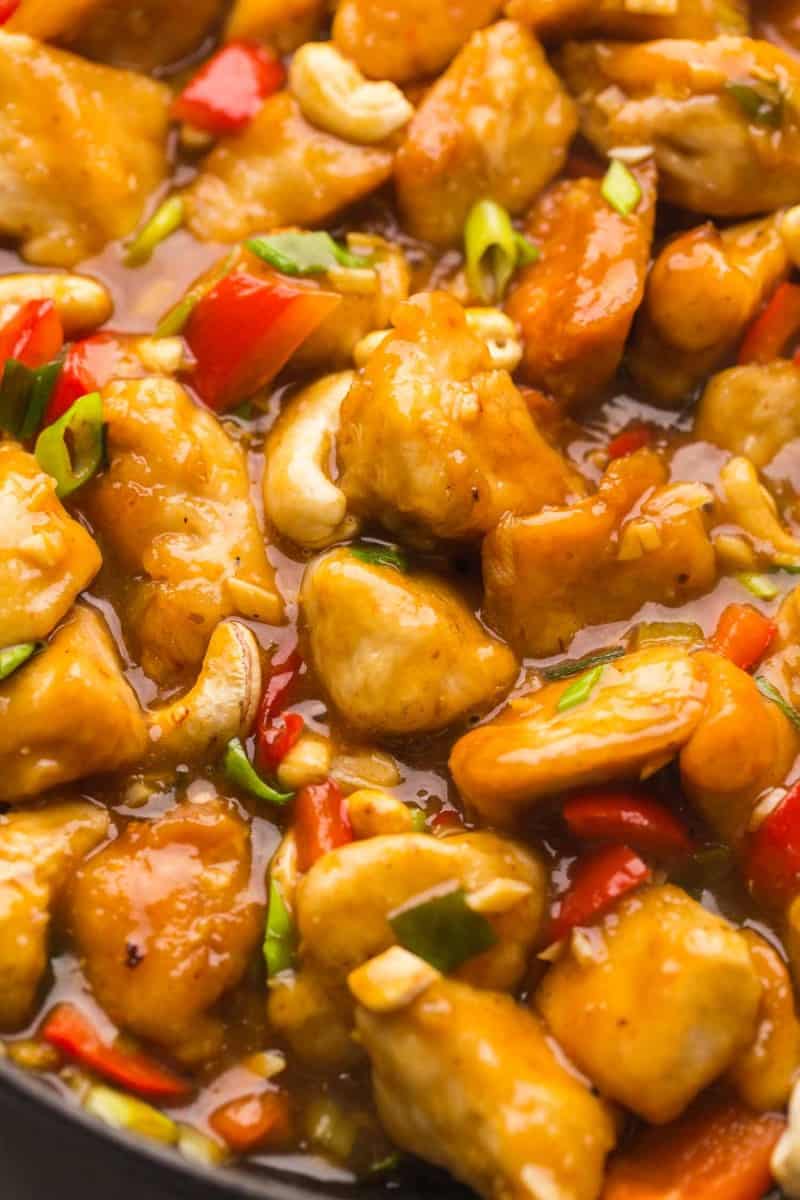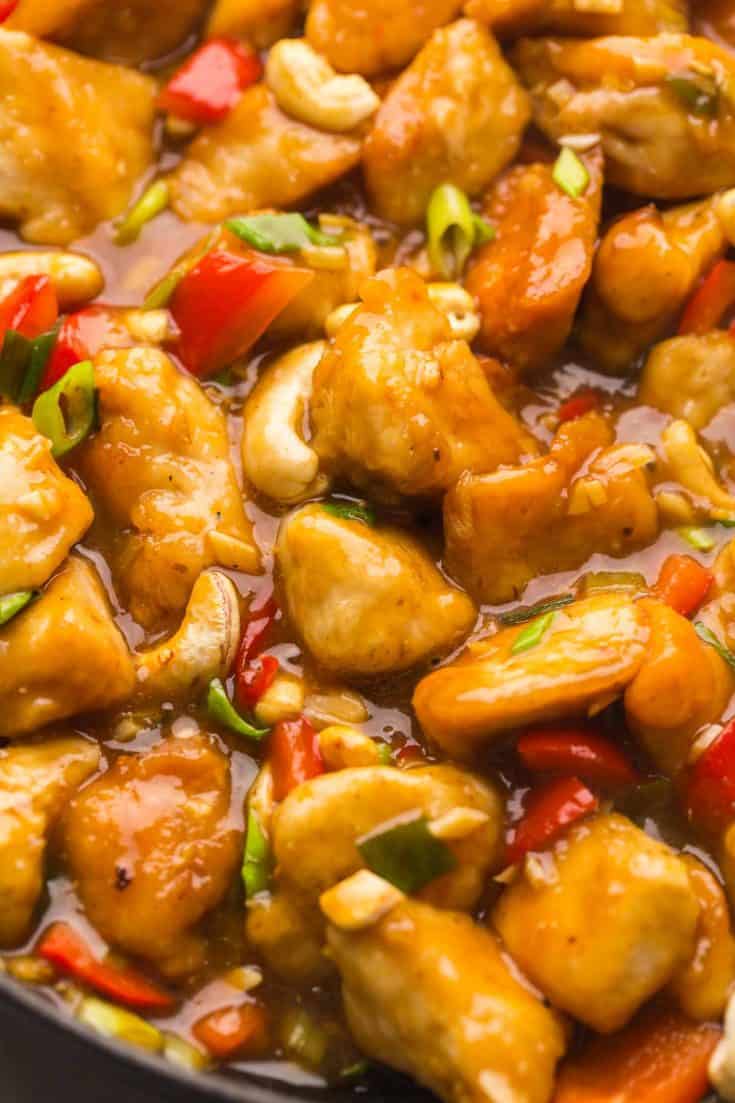 Recipe
Whole30 Cashew Chicken
Yield:
4 -5 servings
Prep Time:
15 minutes
Cook Time:
20 minutes
Total Time:
35 minutes
Make your own 'healthified' Chinese inspired takeout dish at home with this Paleo Cashew Chicken! Tender, juicy chicken pieces are lightly coated in a sweet and sticky date-sweetened sauce then cooked with red bell peppers, spring onions and toasted cashew nuts. Make sure to check the recipe notes on how to make this dish low FODMAP friendly with a few easy tweaks! | Gluten Free + Whole30 + Low FODMAP friendly
Ingredients
Sauce
1/2 cup | 120 ml chicken broth
1/4 cup | 60 ml coconut aminos
1 tablespoon | 15 ml apple cider vinegar
1 tablespoons | 15 ml avocado oil (can sub with sesame oil or olive oil)
1 date medjool date, seed removed
1/2 teaspoon red pepper flakes optional
Chicken
1/2 cup | 75 grams cashews
1.5 pounds | 680 g boneless, skinless chicken breasts cut into 1" pieces
1/4 cup | 30 grams arrowroot or tapioca starch
1/2 teaspoon salt
1/4 teaspoon pepper
coconut oil or avocado for frying
1 red bell pepper deseeded and diced
4 spring onions, diced
1 1/2 tablespoons minced ginger or about 1" from a fresh knob
2 cloves garlic, minced
Instructions
Sauce
Combine all of the ingredients needed for the sauce in a blender and process until smooth. Set aside.
Chicken

Place the chicken pieces in a shallow bowl or plate and toss with starch coating all sides.
In a large non stick pan or skillet over a medium heat, toast your cashews for 2-3 minutes until they're lightly browned and smell nice and toasty. Once toasted remove from pan and set aside.
Add a tablespoon or two of coconut oil to a non stick skillet. When the oil is hot add the chicken. Fry over medium heat, a couple of minutes on each side until the coating begins to crisp. Continue to sauté over medium heat until chicken is browned and cooked through. Try not to crowd the pan with too many chicken pieces at a time or a proper crust won't form.
Once all the chicken pieces are cooked briefly remove them from the pan. Pour out the remaining oil and wipe down with a paper towel to remove any burnt bit and leftover starch.
Lower heat and add the bell pepper, spring onions, garlic and ginger. Sauté and cook 3-4 minutes, stirring often to keep things from burning.
Add the chicken back to the pan along with the blended up sauce. Turn the heat up high and bring everything to a simmer on medium low heat for an additional 2-3 minutes until the chicken is coated in a sticky sauce. Taste and season with more salt as needed. Add the cashews.
Serve warm over a bed of rice or cauliflower rice and enjoy.
Notes
For a thicker sauce: whisk together 2 teaspoons starch with 2 tablespoons water and then mix in with the sauce before adding the chicken. After a minute or two of cooking you should notice the sauce thicken and become more glossy.
You can use gluten free soy sauce or tamari in place of coconut aminos (not paleo)
You can use corn starch in place of arrow root or tapioca starch (not paleo)
MAKE THIS LOW FODMAP:
Make sure to use a low fodmap chicken stock.
Instead of adding garlic, use garlic infused olive oil
Use only the green parts of the spring onions
Use peanuts instead of cashews (not paleo)
Technically dates are considered high FODMAP, but considering there is only one date for 3-5 servings, one date shouldn't be too much of an issue. If you do want to omit the date however, sub in 2-3 tablespoons of coconut sugar
Nutrition Information
Yield:

4
Serving Size:
8 ounces
Calories:

469
Total Fat:

23g
Saturated Fat:

9g
Cholesterol:

107mg
Sodium:

769mg
Carbohydrates:

22g
Fiber:

1g
Sugar:

4g
Protein:

51g
This website provides approximate nutrition information for convenience and as a courtesy only. Nutrition data is gathered primarily from the USDA Food Composition Database, whenever available, or otherwise other online calculators.
More Chicken Recipes you Might Enjoy