*Update 25/2/16 One of readers has pointed out to me that cashews aren't actually Low FODMAP – oops! I posted this recipe back when I was still new to eating low FODMAP and I think I must have mixed up cashews with other low FODMAP nuts. That being said if you still want to try out this dish I've made it before with peanuts (I just double checked they are okay) and I promise it's still just as good! Just keep in mind that with peanuts this is no longer paleo/Whole30.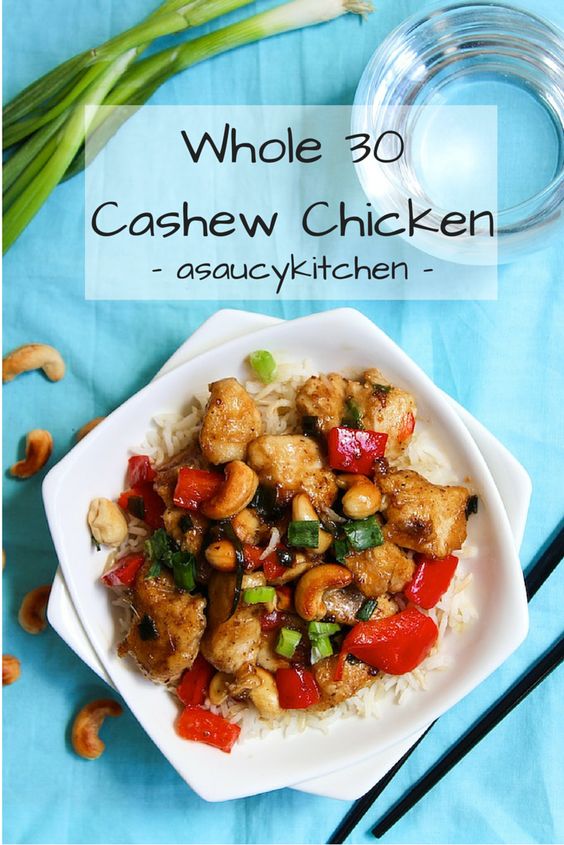 We love Chinese food in our house. We usually maintain a pretty clean diet for the most part, but when it comes to Chinese food all bets are off. One time during one of my visits to Sheffield before I moved here I went out to dinner with Mike and his family at their favorite Chinese restaurant. Mike stuffed himself with so much food and made himself so uncomfortably full that he wouldn't shut up about it all night. Self control becomes nonexistent in the presence of delicious food.
Naturally, I wanted to be able to replicate some of our favorite dishes at home and save us the time and money spent on going out. It really wasn't surprising to see just how much sugar goes into most dishes. Obviously you can't have sweet and sour without using something to make it sweet, but I guess things are a lot easier to ignore when you don't have an actual recipe in front of you with 1 cup sugar listed front and center. Sugar aside, soy's another problem for me – having just a little bit is enough to make me crash.
And what is Chinese food without soy sauce? At least, what is American Chinese food without soy sauce? Thank goodness I found out about coconut aminos. If you've never heard of it before, it tastes almost identical to soy sauce but it is made from the sap of coconut trees. It's low on the glycemic index, it has low sodium, is naturally gluten free, and it has an impressive variety of amino acids, minerals and vitamins. It's not exactly cheap so I only use it sparingly, however if you're intolerant to soy it can be a lifesaver. Soy is after all one of the top food allergens.
Whether or not you care about eating Paleo, grain free, or whatever you will definitely love this Whole 30 and Low FODMAP Paleo cashew chicken. Like most stir fry's, this recipe is straight forward and easy enough to make for a quick weeknight dinner. No grain, no sugar, no soy, no worries. Like I said earlier, when it comes to delicious food all forms of self restrain disappear. So if you're anything like Mike and you end up eating almost the whole lot, it won't be the end of the world.
Like most things in life though, this is best shared!
FACEBOOK | INSTAGRAM | PINTEREST
Don't forget to #asaucykitchen on instagram if you try this Paleo Cashew Chicken! I'd love to see what you make with it! You can also post your pictures to my facebook page!
Yield: 4 -5 servings
Guilt Free Cashew Chicken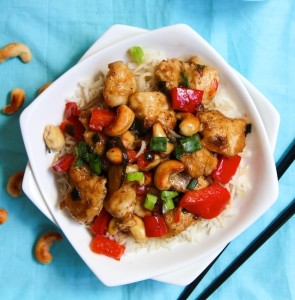 Easy, Whole 30 approved cashew chicken perfect to spice up any weeknight.

Prep Time 15 minutes

Cook Time 20 minutes

Total Time 35 minutes
Ingredients
1/2 cup (75 grams) cashews or peanuts for low FODMAP but keep in mind that using peanuts will mean this is no longer paleo/Whole30
4 Boneless, , skinless chicken breasts cut into 1" peices, about 1 pound or 500 grams
1/4 cup (30 grams) tapioca starch
1/2 teaspoon salt
1/4 teaspoon pepper
oil for frying
1 red pepper cut into cubes
4 spring onions, (for Low FODMAP use only the green parts)
1/2 cup (120 ml) chicken broth
1/4 cup (60 ml) coconiut aminos or gluten free soy sauce
2 tablespoons (30 ml) apple cider vinegar
2 tablespoons (30 ml) garlic infused olive oil*
1 1/2 tablespoons minced ginger or about 1" from a fresh knob
1 date chopped fine and seed removed**
1 tablespoon arrowroot flour mixed with 2 tablespoons water optional - can use cornstarch instead if you need
1/2 teaspoon red pepper flakes optional
Instructions
Toast your cashew on the stove top by spreading them out on a skillet on medium heat. Stir constantly to prevent from burning. Continue for about 5 minutes until the cashews brown and emit a nutty aroma. Remove from heat and set aside until later.
Place tapioca flour, salt, and pepper in a small bowl and toss the cut up pieces of chicken to coat lightly. On a medium heat in a large cast iron/skillet heat your oil for frying and add the chicken and brown each side. Lower heat and add the diced red pepper and the spring onions, stirring occasionally.
While the chicken cooks, add the chicken broth, coconut aminos, vinegar, oil, minced ginger, chopped date, and red pepper flakes to a blender and blend until smooth. You can skip the blending if you feel like you did a good enough job mincing the ginger and date, but I found the blender to be necessary for a smooth sauce.
Transfer the sauce to a sauce pan and bring to a simmer on medium-low heat. Whisk in the arrowroot starch + water mixture and allow the sauce to thicken. Season with additional salt and pepper if needed. After the sauce thicken, pour it over the chicken, add the cashews, and bring everything to a simmer on medium low heat for an additional 2-3 minutes.
Serve over a bed of rice or cauliflower rice and enjoy.
Notes
You can sub the garlic infused olive oil for 1 clove garlic if you don't need to make it low FODMAP

*Technically dates are considered high FODMAP, but considering there is only one date for 3-5 servings, one date shouldn't be too much of an issue. If you do want to omit the date however, sub in 2-3 tablespoons of coconut sugar
Nutrition Information:
Yield:
4
Serving Size:
g
Amount Per Serving: Calories: 438Saturated Fat: 8gCholesterol: 80mgSodium: 792mgCarbohydrates: 23gFiber: 1gSugar: 6gProtein: 30g

Leave me a comment letting me know what you think and feel free to leave a rating down below!
This post contains affiliate links. I only post links for products I personally use and believe in. If you make a purchase on Amazon after clicking one of my links, I receive a small commission. Don't worry-the price you pay is not affected. Thank you!