Make room on your table for this hearty and healthy, one pot Moroccan Chicken Stew! It's made with fragrant spices, tender chicken thighs, aromatic veggies and chopped dates. | Gluten Free + Dairy Free + Grain Free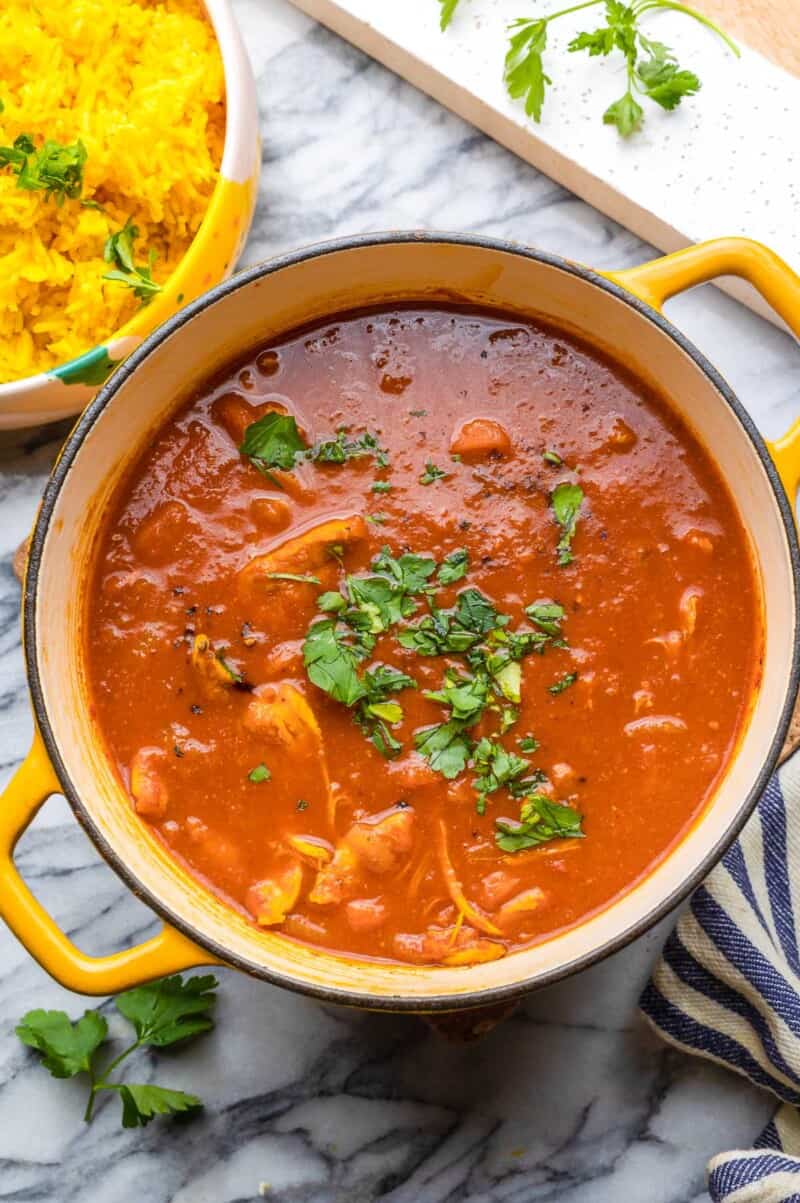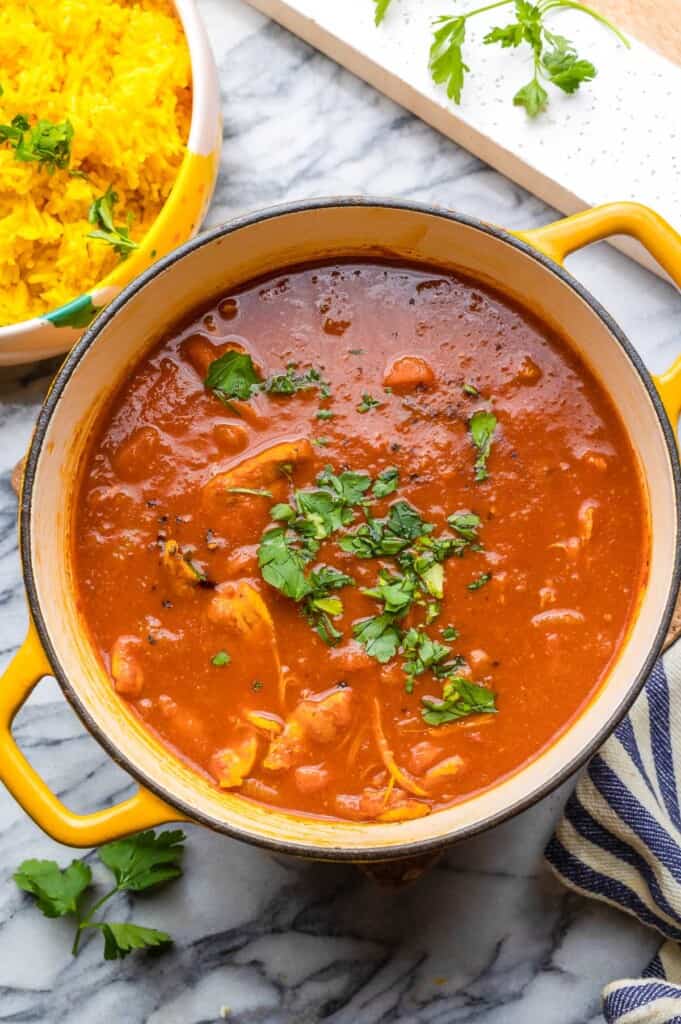 Originally shared this recipe on March 13, 2017 – updated April 5, 2023 with improved photos, recipe, tips and ingredient explanations.
What's New?
Don't worry! If you've made this recipe before I haven't changed much.
I mostly just cleaned up the recipe card and added new pictures to give this recipe a face lift.
Spices: This new recipe has 1 teaspoon paprika which is why you may notice the color of the stew is more red than orange/brown. I also decreased the cinnamon from 2 teaspoons to 1 1/2 teaspoons
Ingredient Measurements: I added weight measurements for those who prefer using kitchen scales.
Pictures: I've added step-by-step photos to go along with new recipe images.
Less Dates: Decreased the amount of dates from 10 to 6 based on reader feedback (10 was too many for most).
Chicken Thighs: Swapped the chicken breast for boneless thighs instead. It makes for more succulent chicken!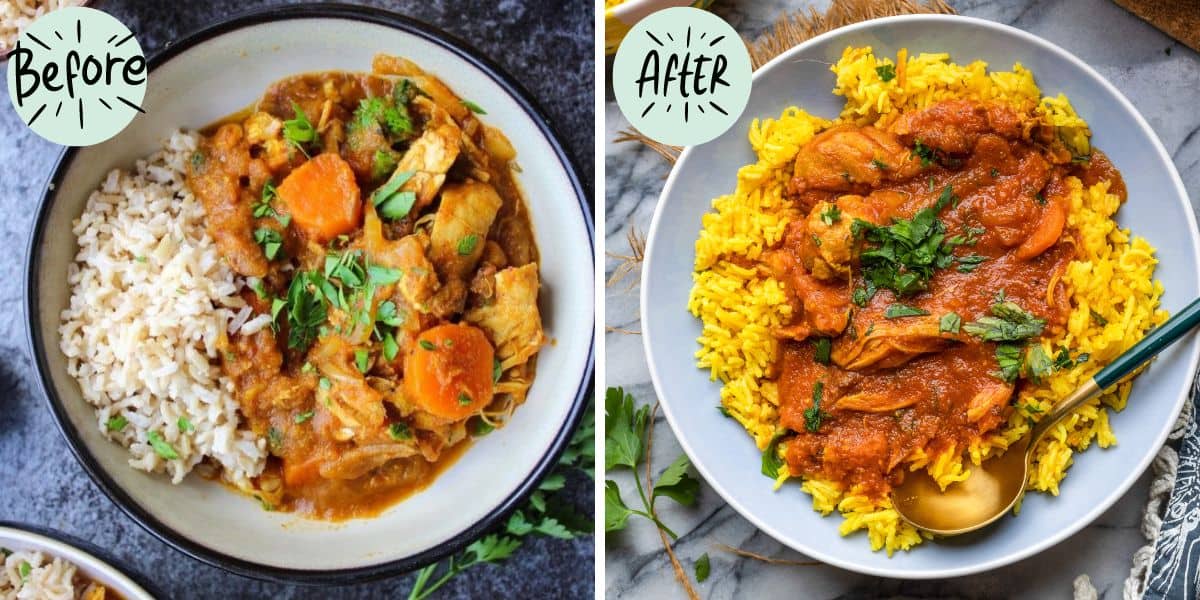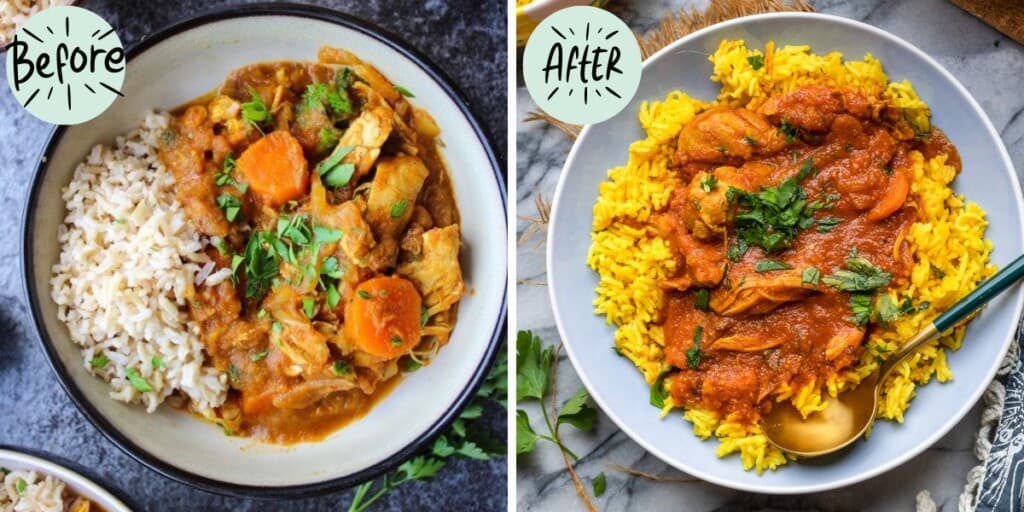 Moroccan Chicken Stew Ingredients
Simple ingredients made up of mostly pantry staples transform into rich and complex flavors in this Moroccan inspired chicken stew!
Chicken: Boneless chicken thighs are ideal, but you can use breasts instead.
Vegetables: Onions (one to sauté and one to blend), carrots, garlic, ginger and canned tomatoes.
Spices: A simple combination of spices including turmeric, paprika, cumin coriander and cinnamon
Broth: Chicken stock or vegetable stock
Seasoning: Brown sugar, red wine vinegar, salt and pepper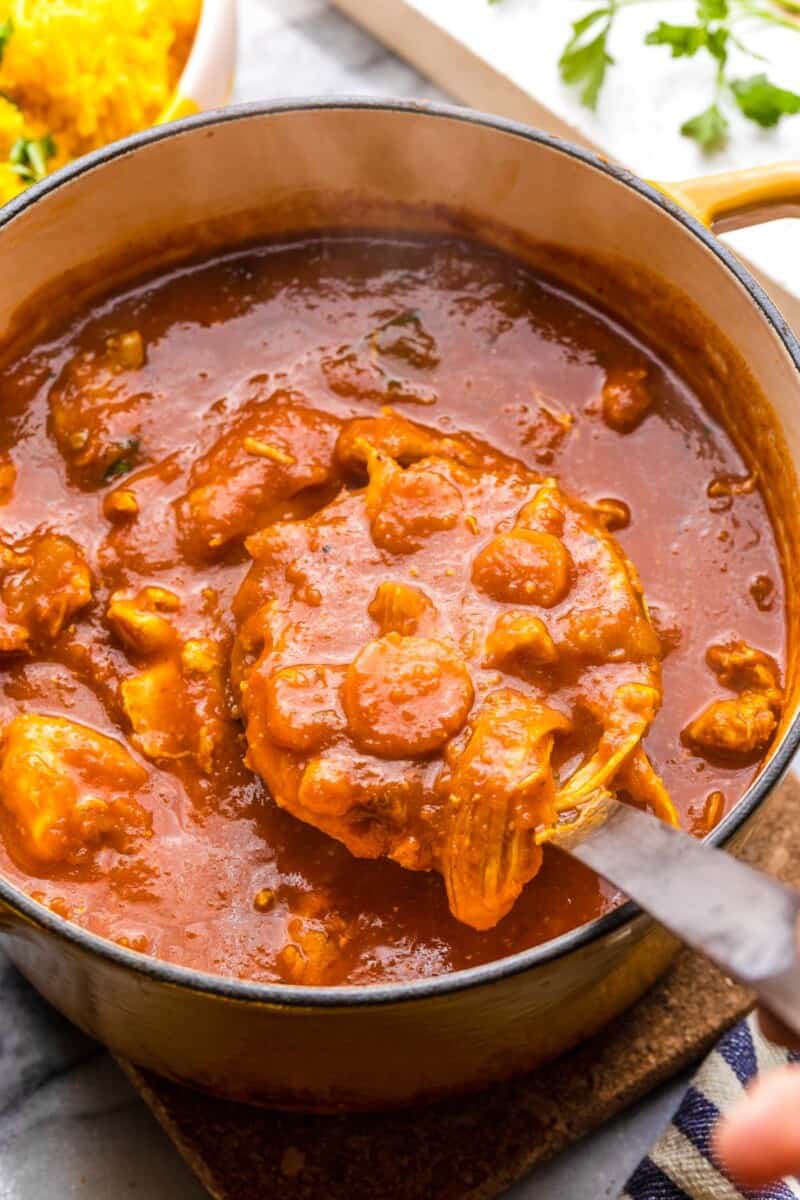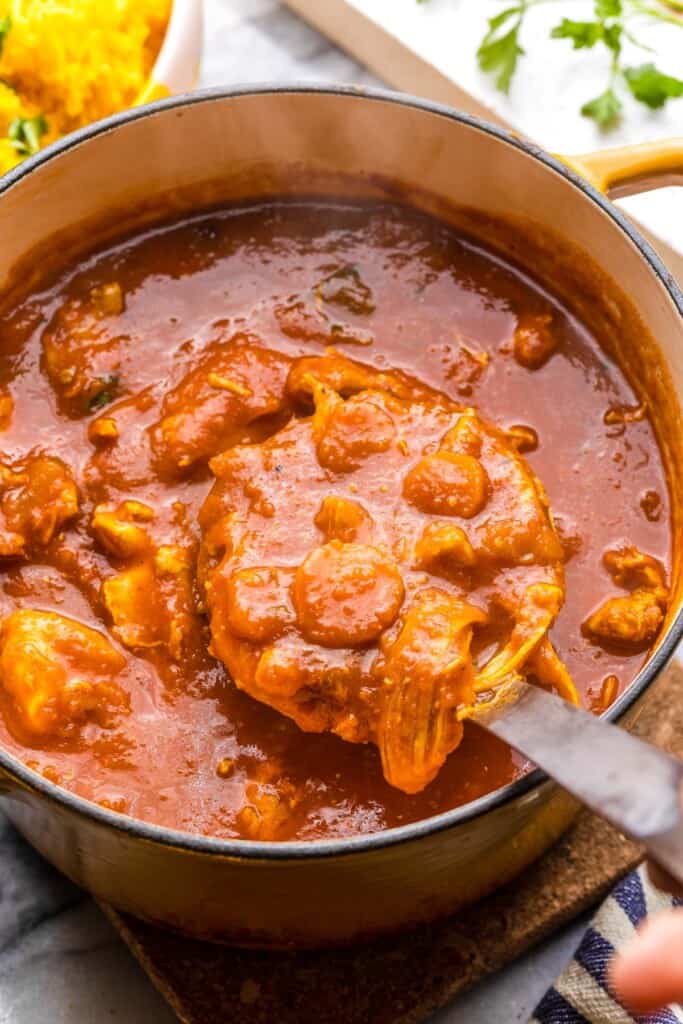 Moroccan Chicken Stew Steps
Though you will need to pull out your blender briefly, the stew itself cooks all in one pot in under an hour. It's protein packed, full of veggies and absolutely bursting with bold flavors! All-in-all, this is an easy recipe that makes for a fantastic weeknight stew.
Blend Tomato Sauce
Add one roughly chopped onion (remember to save the other onion to sauté later!), garlic, ginger and a couple cans of tomatoes to a large blender or food processor and blend until smoother. Once blended, set aside until later.
Why blend the sauce ingredients?
Great question! It's to speed up the cooking process. Otherwise you'd ideally need more time to stew on the stove top to really break things down as needed.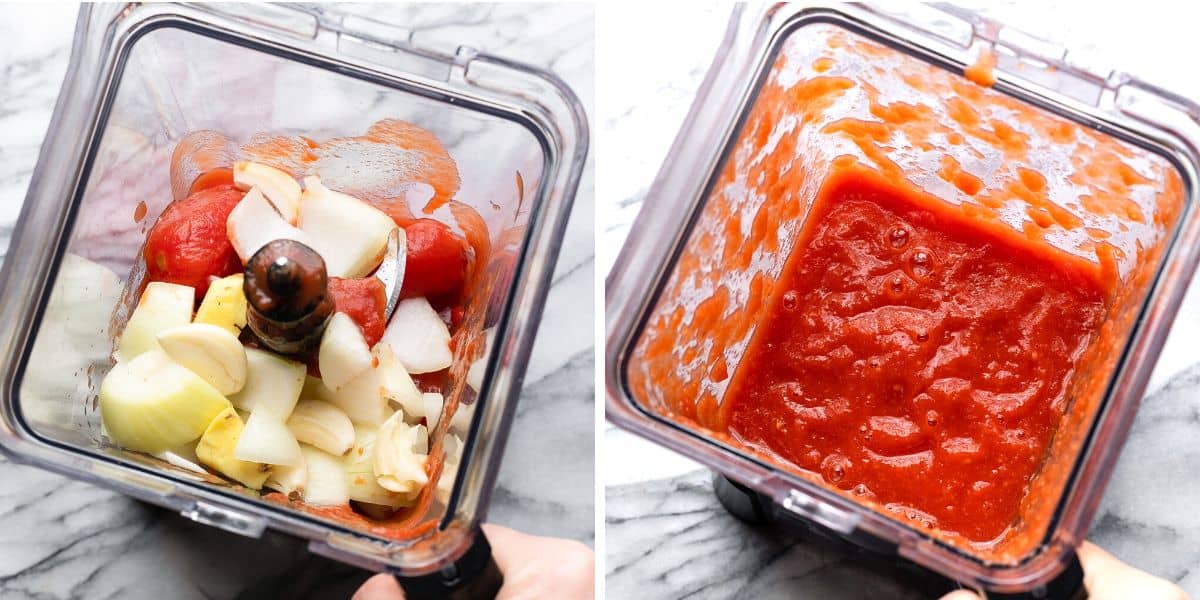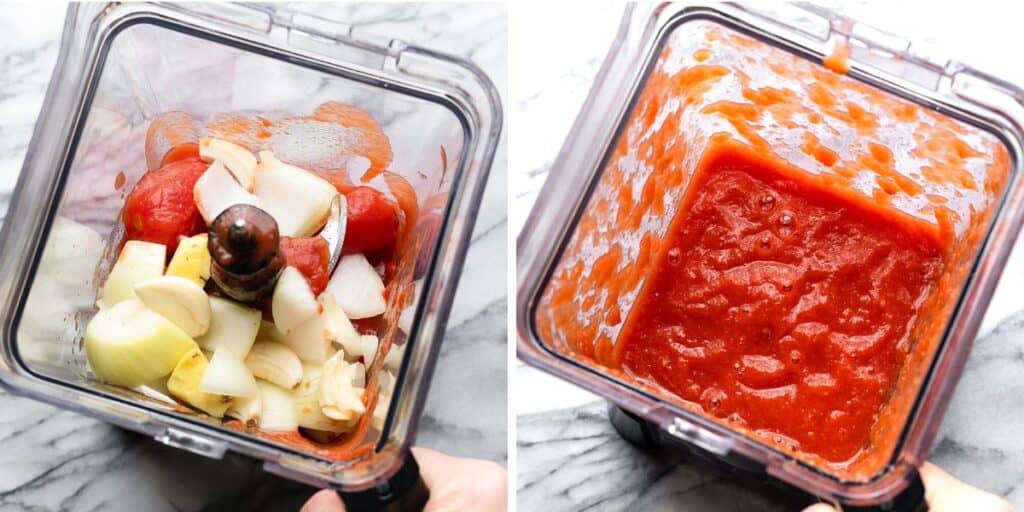 Brown Chicken then Sauté Veggies
Brown the chicken thighs in a large pot for 2-3 minutes on each side. The chicken doesn't need to be fully cooked through, just cooked on the outside. Then remove from the pot and set aside.
In the same pot (deglaze if needed), add the remaining tablespoon of olive oil along with the sliced onion and gently fry about 5 minutes.
Add the sliced carrot and continue to cook another 5 minutes or so until the onion is soft and translucent.
Add the dry spice blend: turmeric, cumin, cinnamon, paprika and coriander. Coat the onion and carrots in spice and fry about 1 minute.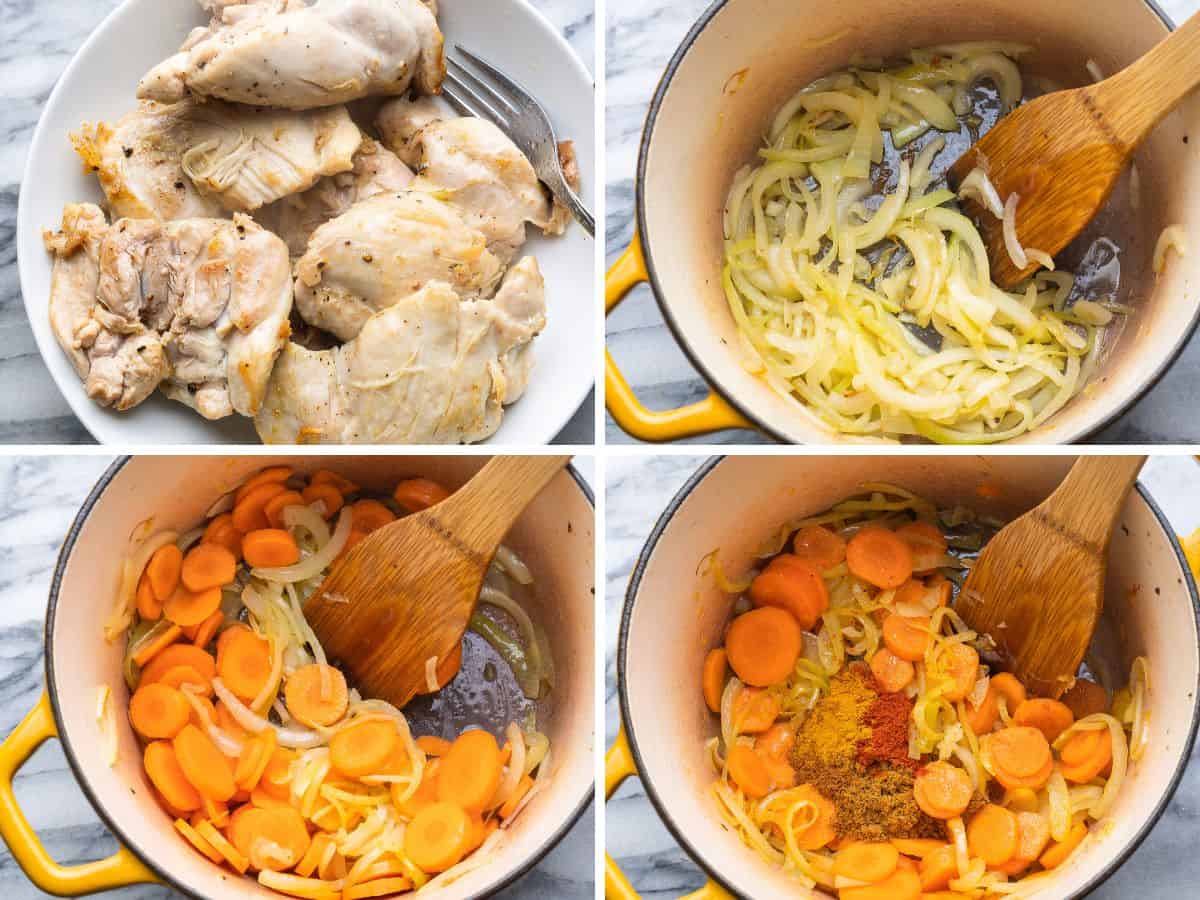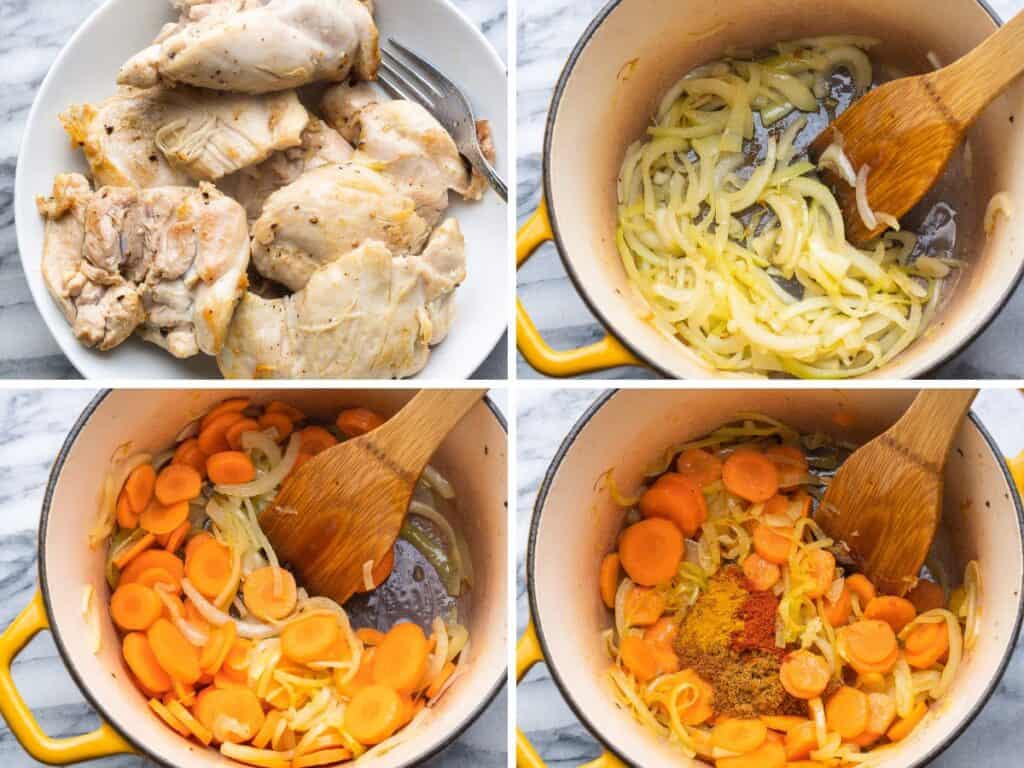 Add the Liquids & Simmer
Next, add the blended tomato sauce from earlier. Bring the pot to a gentle simmer and cook about 3-4 minutes.
Then add the remaining ingredients: chicken stock, sugar and red wine vinegar (except dates). Mix well and bring the pot to a boil. Once boiling, adjust the temperature as needed (about a medium high heat) to maintain a simmer.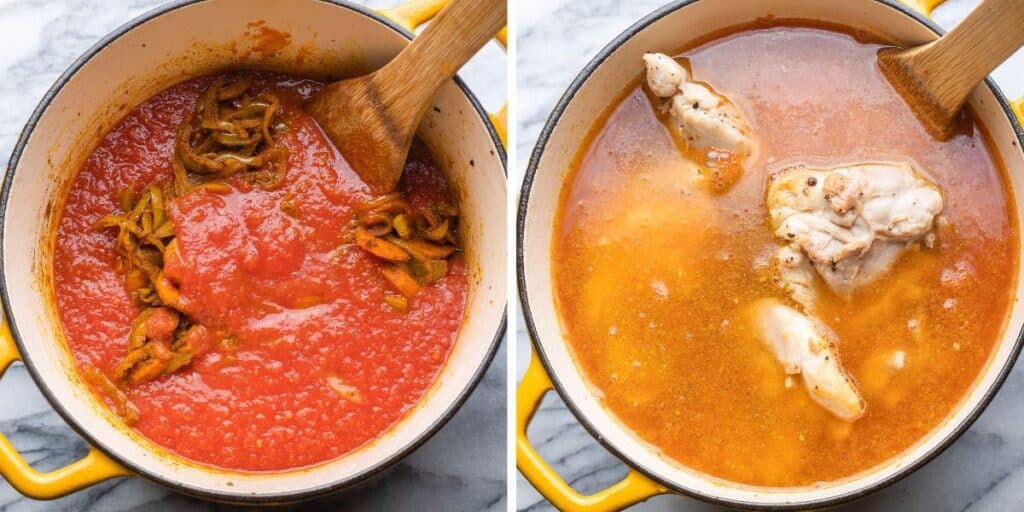 Simmer, Shred, Stir in Dates
Simmer the stew for about 30 minutes. You should notice the liquids have thickened and reduced into a thick, rich broth.
Remove the chicken and transfer to a plate or cutting board. Use a couple of forks to shred the chicken. It should come apart quite easily at this point.
Return the shredded chicken to the pot along with the chopped dates.
Taste the stew and season with addition salt and pepper and spices as needed. Top with fresh cilantro or parsley if desired and serve!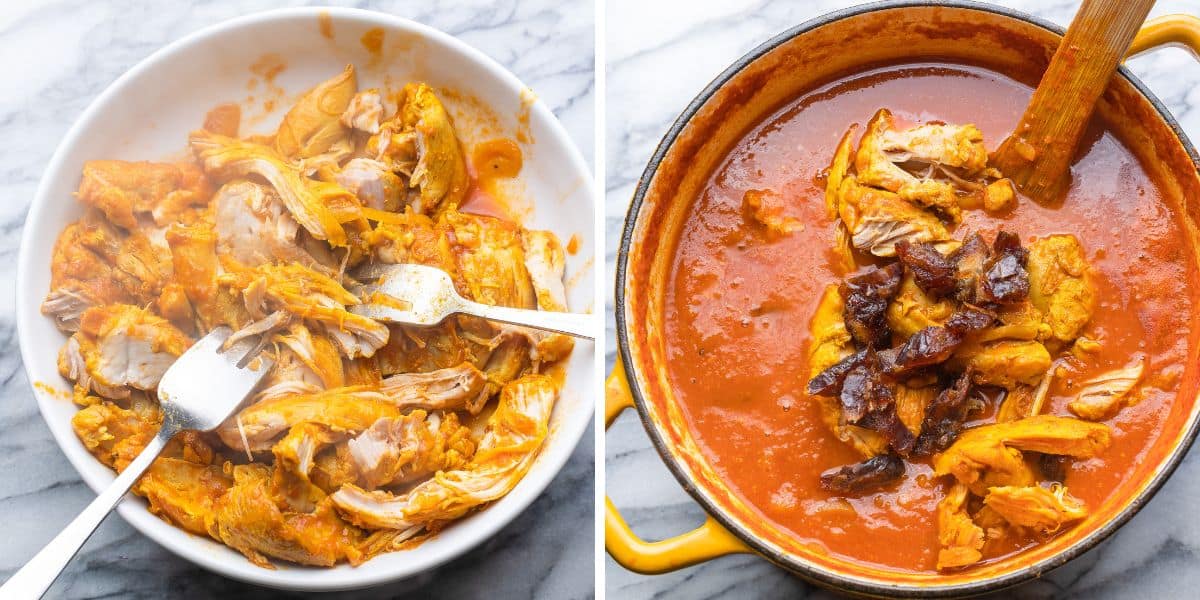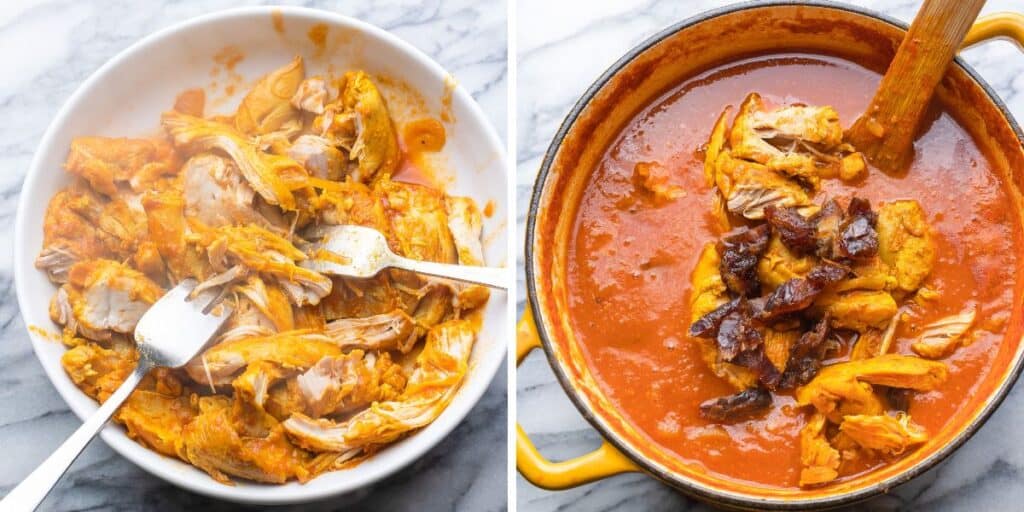 Substitutions and Additions
Dried apricots: Instead of dates, try apricots for a less sweet, more tart flavor.
Beef broth: Use instead of chicken broth.
Lemon juice: Use this instead of red wine vinegar.
Chickpeas (garbanzo beans): Chickpeas are a common ingredient in Moroccan cuisine and are usually find in more traditional recipes. They're also a great way to add more protein and fiber.
Olives: Green olives are another popular ingredient found in Moroccan food. They'll add a lovely, salty flavor to balance out some of the sweet and earthy flavors.
Cayenne pepper: As is, this is not a spicy stew. If you'd like to add a bit of heat, add some cayenne with the other dried spices.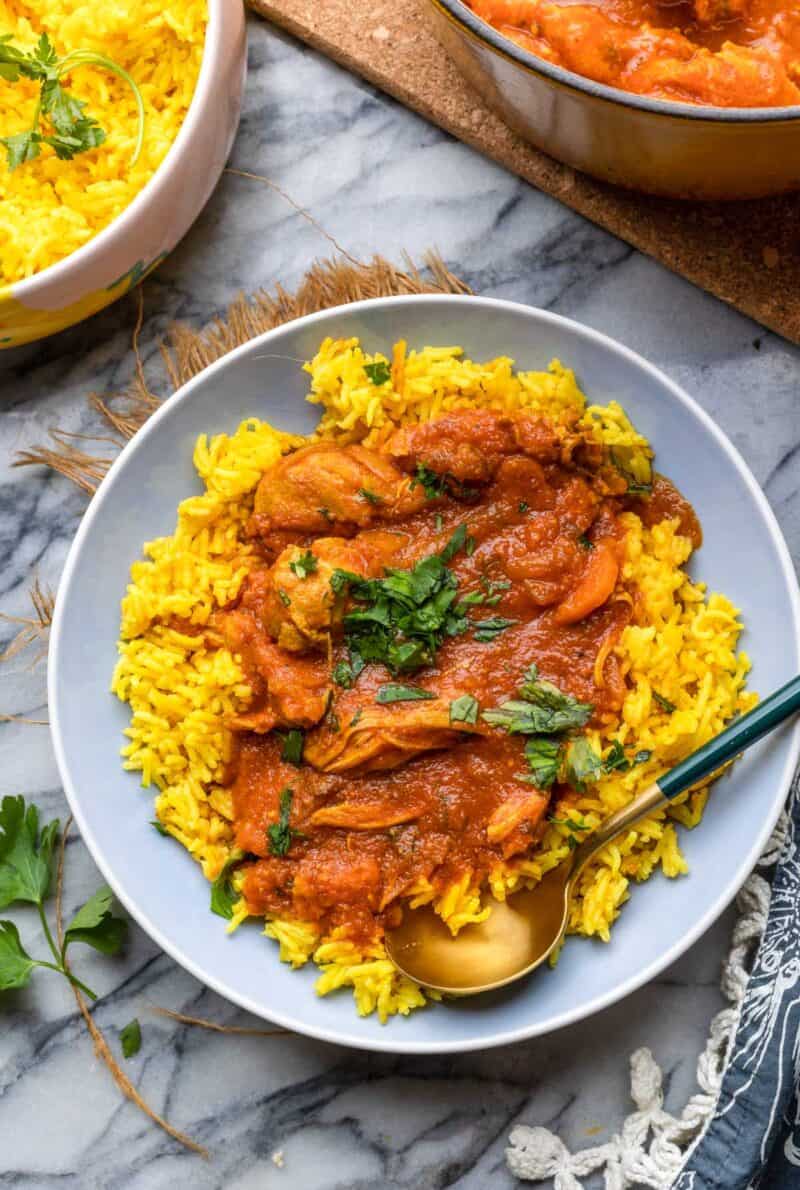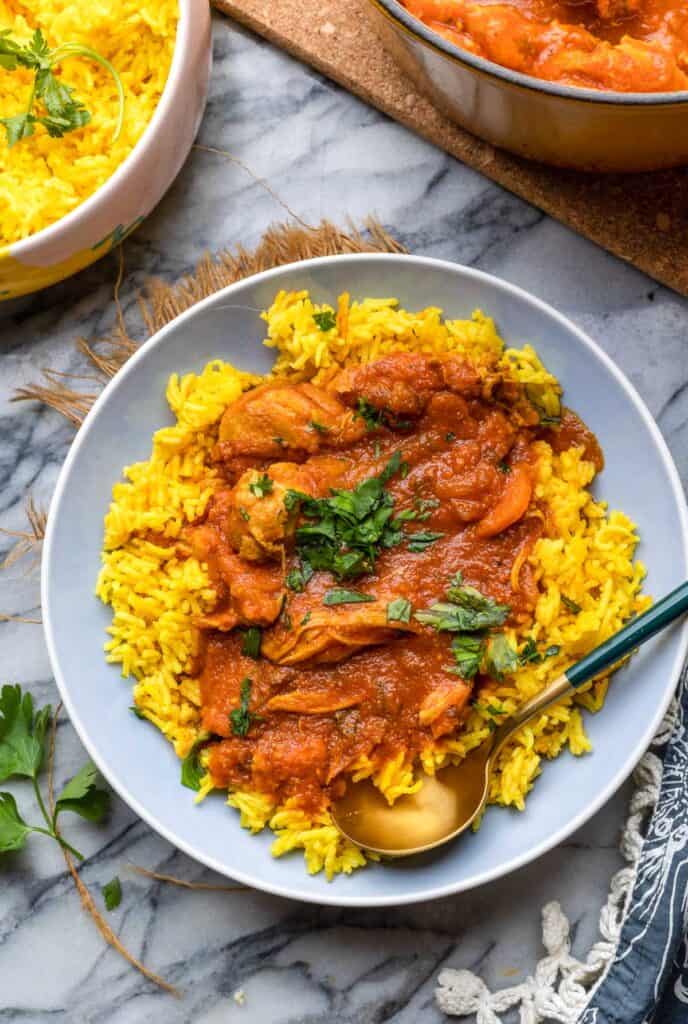 Frequently Asked Questions
Can I use chicken breasts instead?
Yes! The original recipe actually used chicken breast instead of thighs. I find thighs to be better in stews like this because the meat stays tender and juicy longer, but you can absolutely use chicken breasts instead.
Can I make this in a slow cooker?
I haven't tried this myself in a slow cooker, but I have had quite a few people tag me in instagram with their crock pot versions.
No need to brown the chicken or the veggies first.
Cook on low for 8 hours or high for about 4 hours.
While you don't need to brown the chicken or sauté the onion, I do recommend you do this in a large skillet before adding it to the crock pot. It will just taste better!
Can I make this in the instant pot?
Again, I haven't done this in the instant pot myself yet, but I have had readers make this successfully with the following steps:
Sauté onions in oil.
Add dry spices.
Add the tomato/onion mixture, the broth, then the chicken (cut in pieces), the carrots, salt and pepper.
Cook at high pressure for 7 minutes.
Leave for 10min, then switch pressure to natural release.
Stir in the dates. Taste, season and enjoy!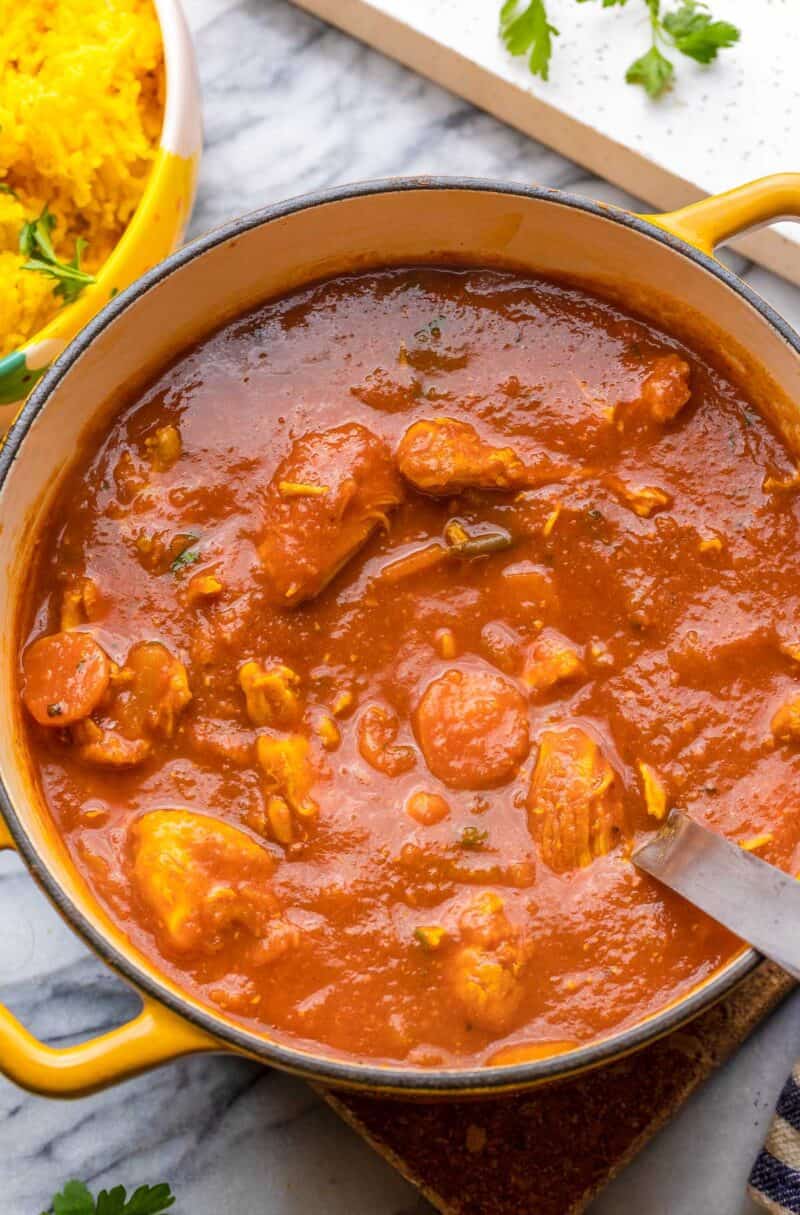 Serving Suggestions
Stews like this are great served over a bed of rice to help soak up all the soupy sauce and flavor. Cut down on carb and incorporate more veg by serving over cauliflower rice.
This is also great with some sort of pitta or flatbread. This Sweet Shallot Chickpea Salad makes for a great side to freshen things up!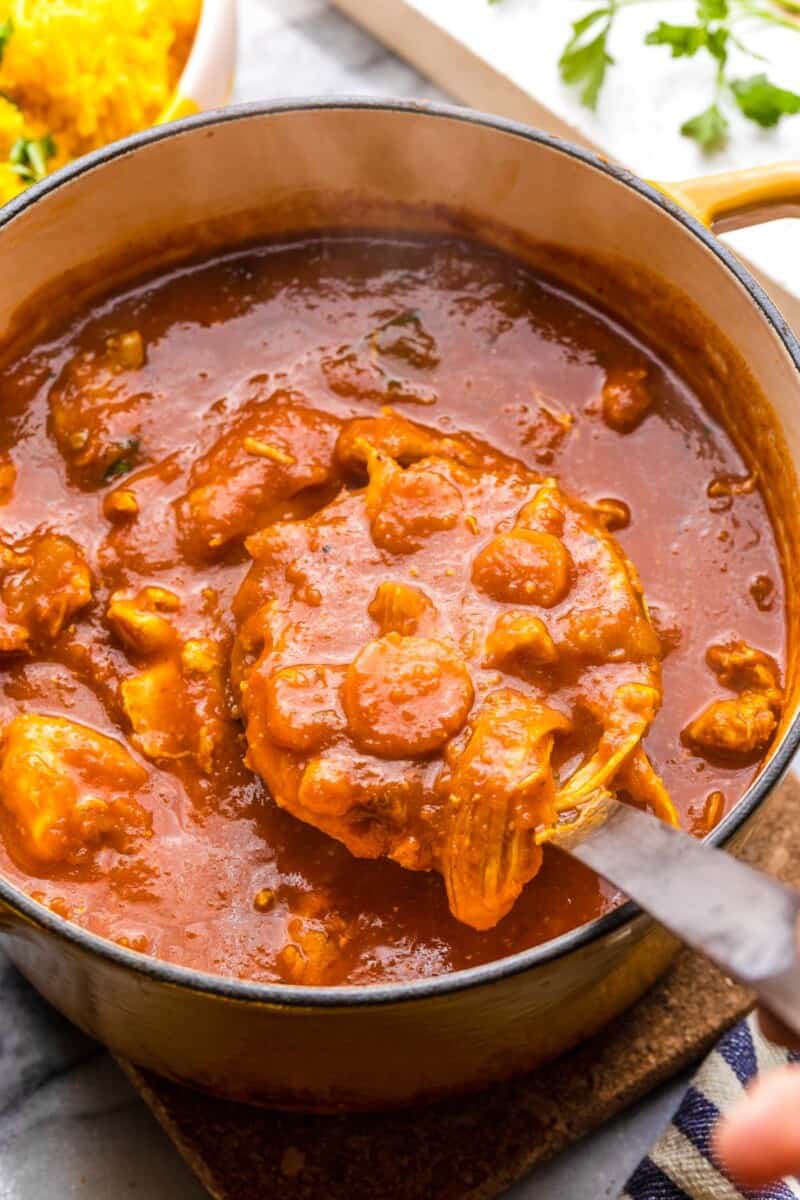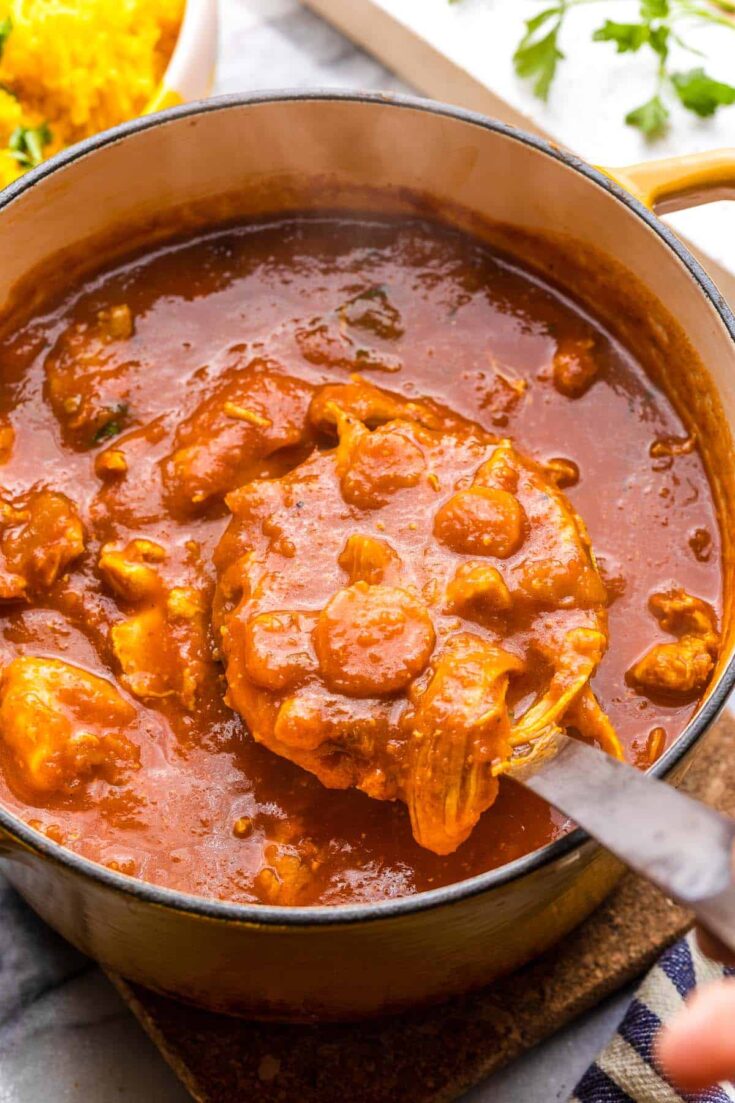 Recipe
Moroccan Chicken Stew
Yield:
6 servings
Prep Time:
15 minutes
Cook Time:
50 minutes
Total Time:
1 hour
5 minutes
Made with warm and earthy spices, tender chicken thighs, aromatic veggies and chopped dates. | Gluten Free + Dairy Free + Grain Free
Ingredients
2 yellow or white onions, (1 roughly chopped and 1 sliced)
2 (14 oz [400 g]) or 1 (28 oz [800g]) crushed tomatoes, fire-roasted tomatoes are preferable
1 inch fresh ginger (about 1 tablespoon), chopped
4 large cloves garlic
6-8 boneless, skinless chicken thighs
salt & black pepper to season thighs
2 tablespoons extra-virgin olive oil
2 large carrots, peeled and diced
1 tablespoon ground cumin
1 1/2 teaspoon ground cinnamon
1 teaspoon paprika
1 teaspoon ground coriander
1 teaspoon ground turmeric
2 1/2 cups chicken stock (600 ml)
2 tablespoons light brown sugar or 1 tablespoon honey
1 tablespoon red wine vinegar (15 ml)
8 medjool dates, seeds removed and chopped into small pieces
fresh parsley, optional for serving
Instructions
In a blender: Add the roughly chopped onion, canned tomatoes, ginger and garlic. Blend on high until smooth. Set aside.
Warm a large, heavy bottom pot over a medium-high heat. Add 1 tablespoon oil to the pan. Heat until hot and shimmery.
Season chicken thighs with salt and pepper on both sides. Add the seasoned chicken to the hot pan. Cook about 3-4 minutes on each side to sear the outsides of the chicken until golden brown. Remove the chicken from the pan and set aside for later.
Warm the remaining 1 tablespoon of olive oil to the pan. Add the sliced onions. Gently fry for about 5 then add the sliced carrots. Cook another 5 minutes until the onions are soft and translucent.
Add the ground spices: turmeric, cumin, coriander and cinnamon. Gently fry onions and carrot in spices 1 minute over a low heat.
Pour the blended onion and tomato mixture into the pan. Bring to a simmer and cook about 3-5 minutes.
Add the seared chicken back to the pot. Stir in the chicken stock, vinegar and sugar. Bring to a simmer then cover the pot with a fitted lid. Let cook at least 30 minutes. Every so often, stir the pot.
Remove the chicken and transfer to plate or cutting board. Use a couple of forks to shred then stir the shredded chicken back into the pot along with the chopped dates.
Top with fresh parsley to fresh up if desired. Taste and season with salt as needed and serve.
Notes
Leftovers
Cool leftovers are store in an airtight container.
Refrigerate up to 4 days.
Freeze up to 3 months in freeze safe bags or containers. Leave about 1/4-1/2 inch space at the top of the container to leave room for expansion as it freezes.
Nutrition Information
Yield:

6
Serving Size:
310 g (1.25 cups)
Calories:

445
Total Fat:

22g
Saturated Fat:

6g
Trans Fat:

0g
Unsaturated Fat:

15g
Carbohydrates:

39g
Fiber:

4g
Sugar:

26g
Protein:

24g
This website provides approximate nutrition information for convenience and as a courtesy only. Nutrition data is gathered primarily from the USDA Food Composition Database, whenever available, or otherwise other online calculators.
More Delicious Soups & Stews You Might Also Like