Rich, hearty and warming Spanish Chicken and Chorizo – crispy Spanish chorizo, sautéed onions and peppers + juicy chicken thighs braised in red wine on the stove top and then finished off in the oven and sprinkled with thyme | gluten free + dairy free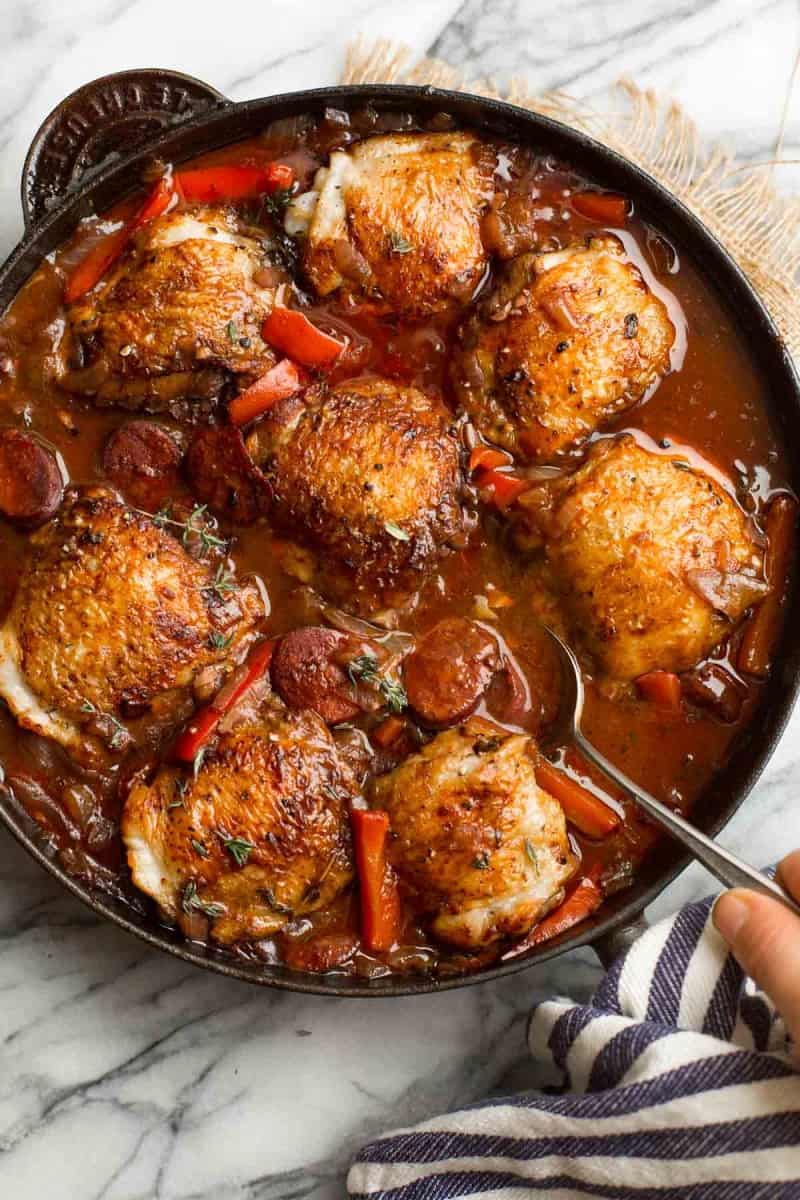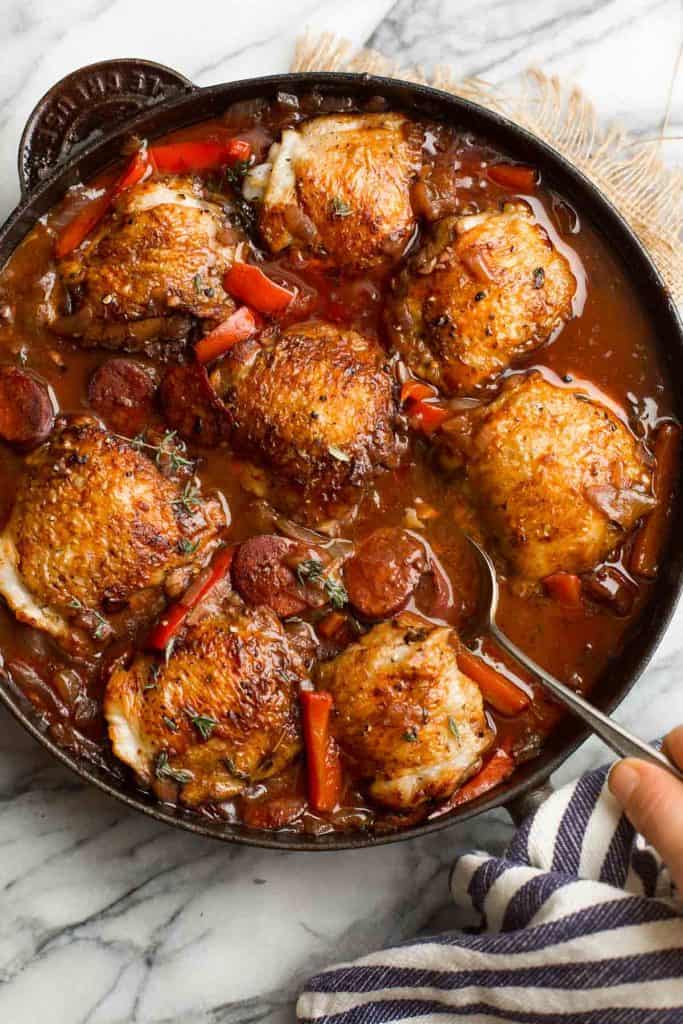 About this Spanish Chicken and Chorizo
Bold flavors and fairly simple ingredients come together to make this rich and filling Spanish Chicken and Chorizo – a delicious meal the whole family will love!
Altogether there's really not too much that goes into this dish. Red wine and Spanish chorizo are likely the most uncommon ingredients here, but they're usually not too hard to find in most major grocery stores.
Recipe Notes
A few things to keep in mind before you begin:
Spanish Chorizo vs Mexican Chorizo:
Look for Spanish Chorizo sausage and not Mexican Chorizo sausage. What's the difference?
Spanish chorizo is seasoned with garlic and pimentón (smoked Spanish paprika).
Mexican chorizo is seasoned with vinegar and chili peppers making it more spicy.
Spanish chorizo is also already cured meaning it's safe to eat without extra cooking.
Mexican chorizo most often needs to be cooked like regular sausage first.
What type of red wine to use?
Rioja is a wine region in Spain where many high quality Spanish wines come from and it makes an excellent wine for this dish.
However, feel free to use another type of Spanish red wine or a non Spanish red wine if you prefer – I won't tell! Just keep in mind that different wines will make for slightly different tasting dishes so make sure to choose a wine you enjoy.
What if I don't have an oven safe skillet?
For minimal clean up, you ideally want to make it all in one single pot by choosing an oven-safe pan.
If you don't have a single pot suitable for going in the oven you can still make this – no worries! You'll just need to dirty up an extra dish.
Cook everything in a large pan over the stove top as needed, then transfer everything to a large casserole dish to finish off in the oven. Easy!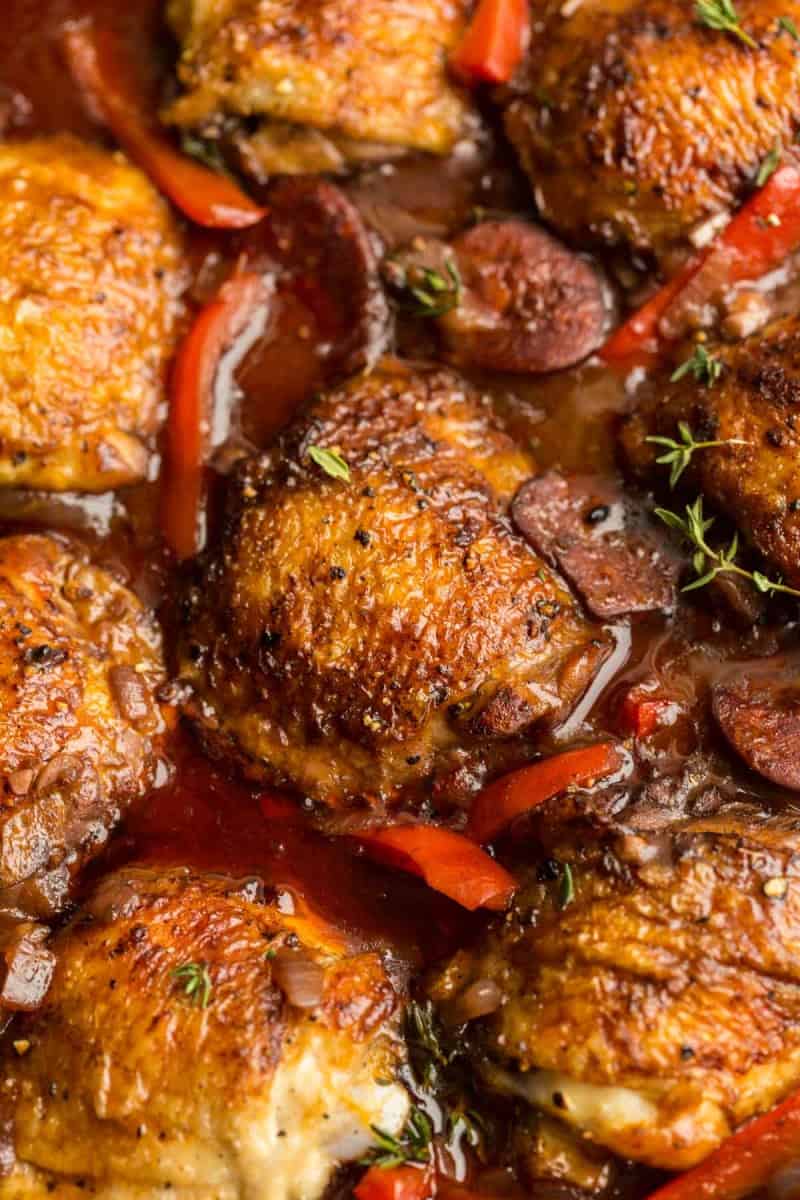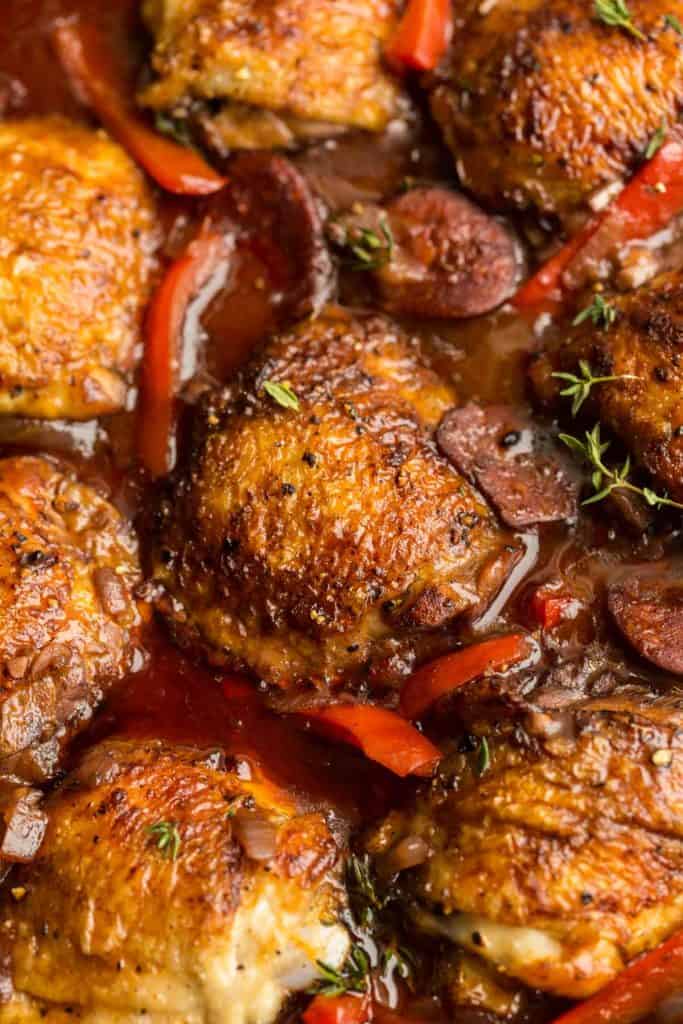 Serving Suggestions
This one pot Spanish Chicken and Chorizo skillet is perfect for cozy winter, weeknight dinner!
For a complete meal, serve over plain white rice, mashed potatoes, roasted vegetables, or with a chunk homemade gluten free bread.
Enjoy!
Let me know if you try this Spanish Chicken and Chorizo recipe! Leave a comment and review with your thoughts. I always appreciate the feedback and serving suggestions that you come up with!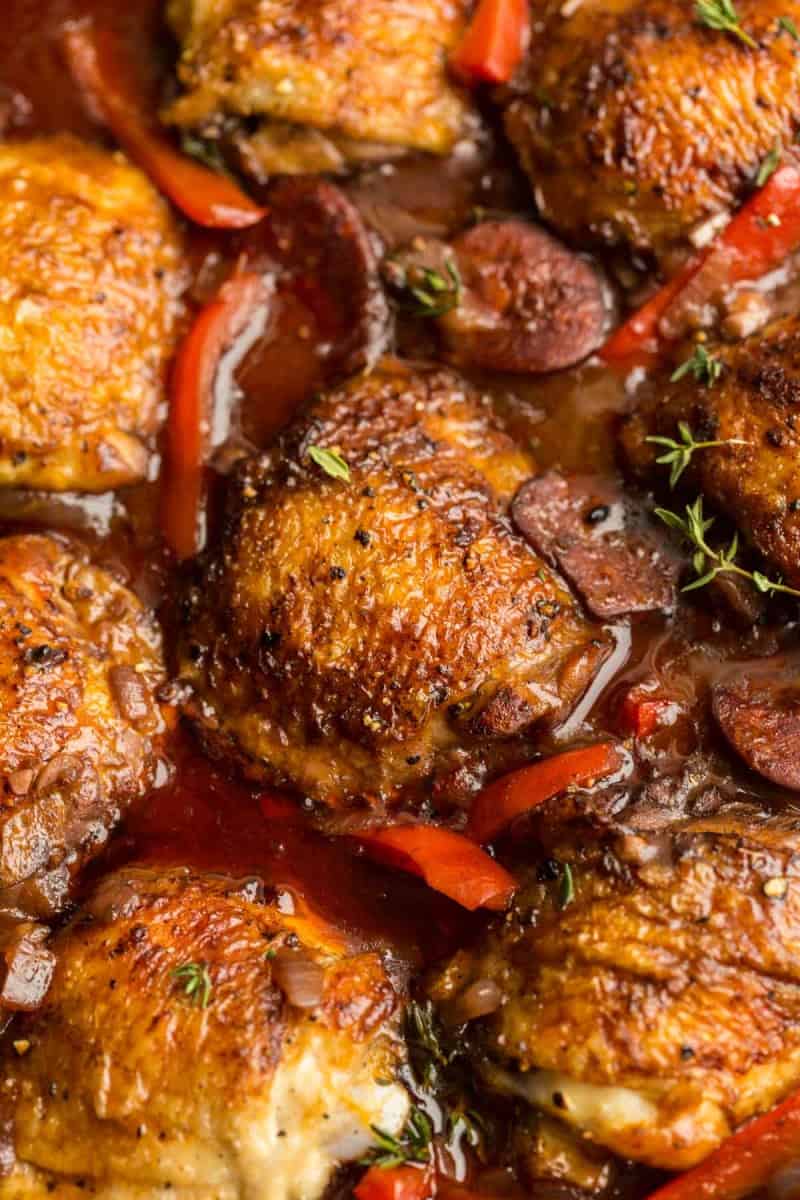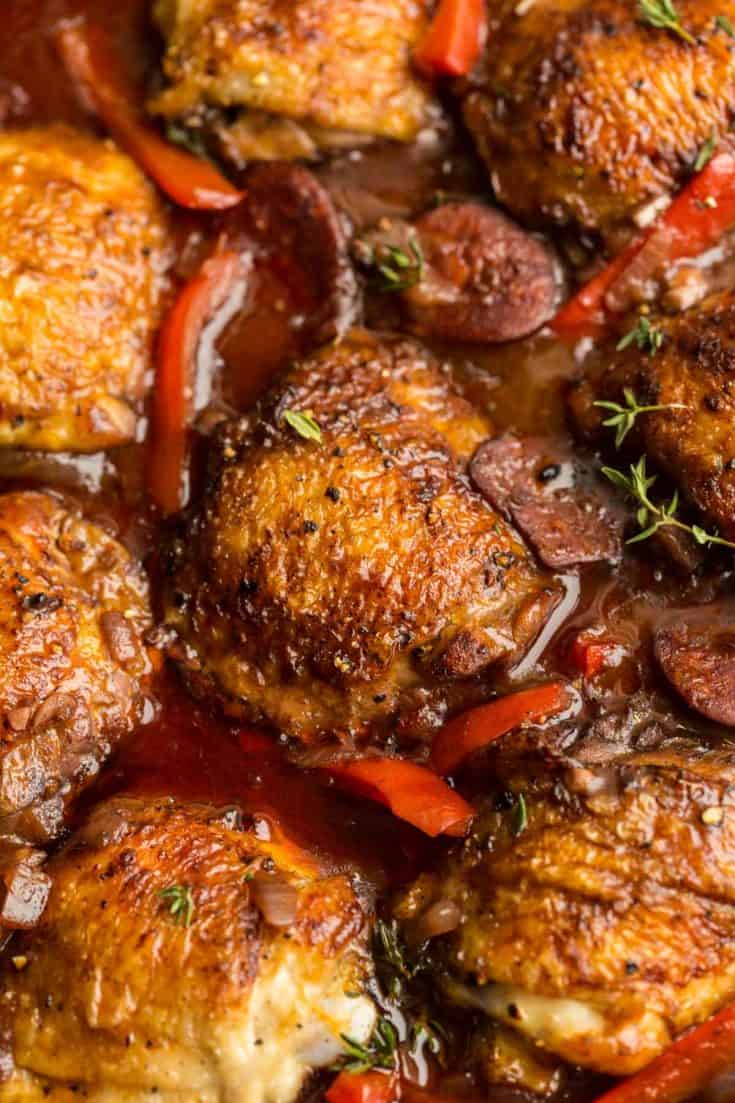 Recipe
Spanish Chicken and Chorizo
Yield:
4 servings
Prep Time:
20 minutes
Cook Time:
1 hour
Total Time:
1 hour
20 minutes
Crispy Spanish chorizo, sautéed onions and peppers and juicy chicken thighs braised in red wine and then finished off in the oven and sprinkled with thyme | gluten free + dairy free
Ingredients
1 tablespoon olive oil (15ml)
225 g chorizo, sliced
1 large white, yellow or brown onion, diced
2 red bell peppers, deseeded and sliced
1 tablespoon tomato paste
3 garlic cloves minced (about 1 tablespoon)
1 teaspoon paprika
8 bone-in and skin-on chicken thighs
1 1/4 cup rioja or another Spanish red wine of your choosing (300ml)
1 1/4 cup chicken stock (300 ml)
1 bay leaf
3 thyme sprigs or 1 teaspoon dried
Optional: Fresh parsley and/or red pepper flakes
Instructions
Preheat your oven to 400°F/200°C.
Add the oil to a large, oven-safe skillet/pan and warm over a medium heat. Add the sliced chorizo and cook 2 minutes, then transfer to another dish using a slotted spoon.
Add the onions and red peppers to the skillet/pan and cook for about 8 minutes stirring every so often. Stir in the tomato paste, garlic and paprika to the onion mixture and cook another 2 minutes, then transfer the onion mixture to the dish with the chorizo.
Season the chicken pieces with salt and pepper then add the chicken thighs to the skillet/pan, skin side down and cook 7-10 minutes to sear the skin. Once the skin has turned golden brown, flip over and cook another 7 minutes on the other side. Remove the chicken from the skillet/pan and set aside.
Pour the oil remaining in the pan out then return it to the heat. Add the red wine, chicken broth and bay leaf. Stir and scrape the bottom of the pan to remove any sticky bits.
Add the chorizo and onion mixture back to the pan along with the thyme, turn the heat up high and bring the mixture to a light boil then reduce the temperature to maintain a simmer. Let simmer 10 minutes to reduce the liquids.
Add the chicken back to the pan, skin-side up. Transfer to the oven and let cook uncovered for 25-30 minutes until the chicken has fully cooked through (internal temperature should be at least 165°F/74°C).
Remove from the oven, season with additional salt, black pepper and more thyme if needed and enjoy.
Notes
Make sure to look for cured Spanish chorizo and not Mexican sausage chorizo.
I used a rioja red wine in this dish, but feel free to use another type of red wine if you prefer. Pinot Noir is a great go-to red wine for cooking.
If you don't have an oven safe skillet, transfer everything to a large casserole dish just before transferring this dish to the oven to finish off.
Skinless Chicken Thighs: Sear chicken about 5 minutes each side to give it a bit of color.
Boneless Chicken Thighs: Reduce oven cook time to 20 minutes or until the boneless thighs are cooked through
This website provides approximate nutrition information for convenience and as a courtesy only. Nutrition data is gathered primarily from the USDA Food Composition Database, whenever available, or otherwise other online calculators.
More Spanish recipes to check out: