Sneak a little extra veg into your regular mashed potatoes with cauliflower! With less carbs and more fiber than your typical mash – this recipe makes for a healthy, delicious side dish the whole family will enjoy! Make sure to check the recipe notes for dairy free/ vegan options!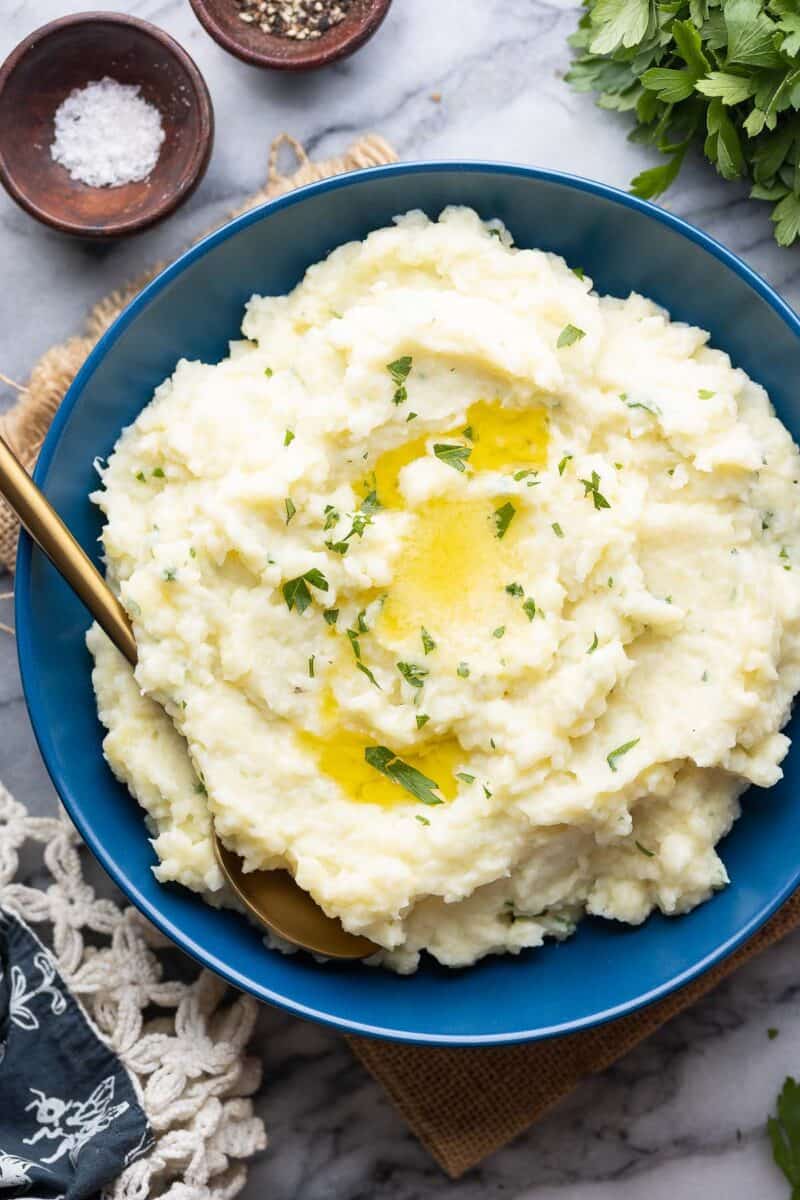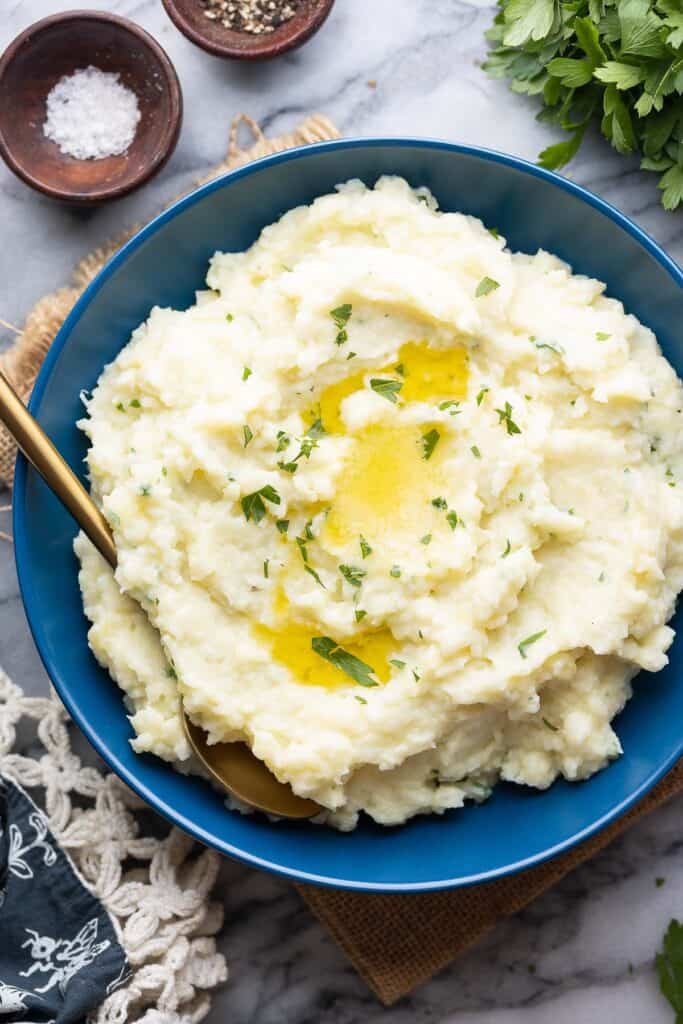 Shout out to all my fellow foodies who want to eat healthy but aren't willing to commit to any one diet in particular. These mashed potatoes with cauliflower are for you! It's the ultimate comfort food with a healthy twist.
Why choose between making regular mashed potatoes and cauliflower mash recipe when you can have both at the same time?!
What's to love Here?
Great question! The beauty of this recipe is that it's:
Just as easy to make as traditional mashed potatoes as the cauliflower florets boil right alongside the actual potatoes. Just add a few minutes of prep time to chop the florets and that's it!
More nutrient packed than your typical mashed potato recipe! A whole head of cauliflower adds fiber while yogurt adds protein.
Versatile and adaptable! I include tips on additions and substitutions to make this recipe even more fine tuned to your tastes.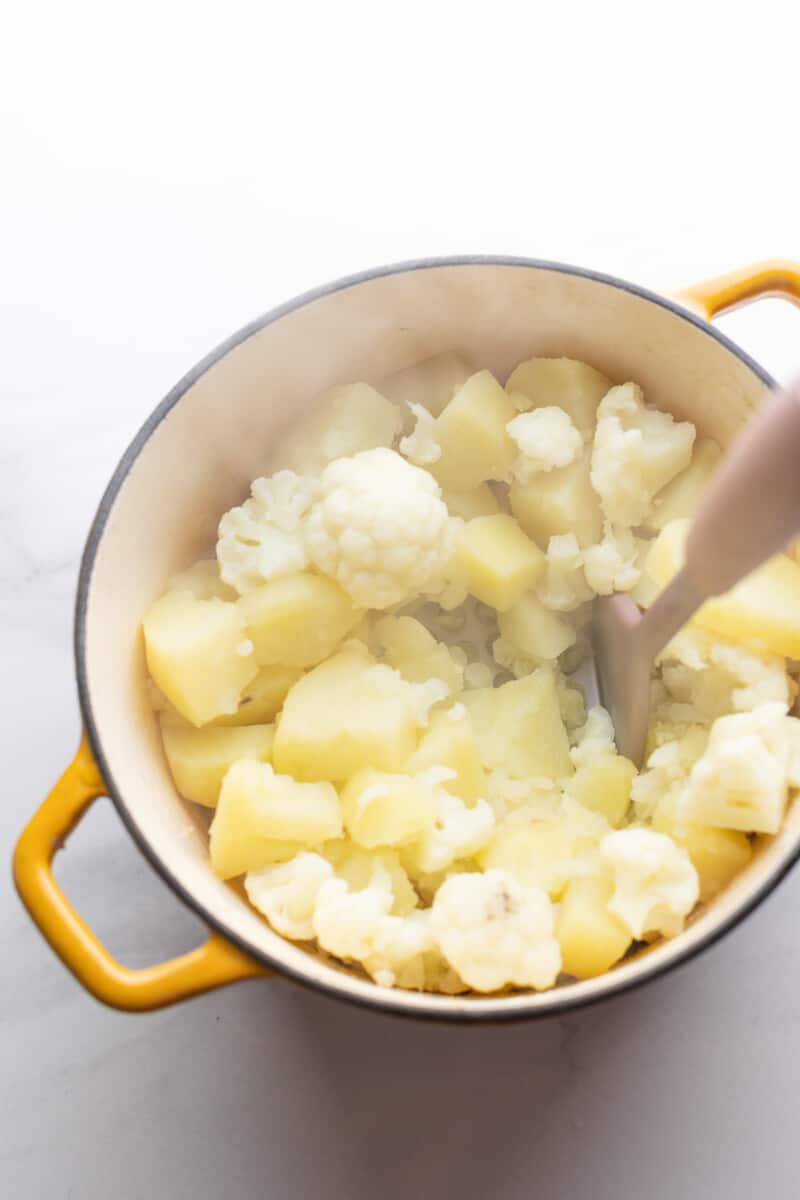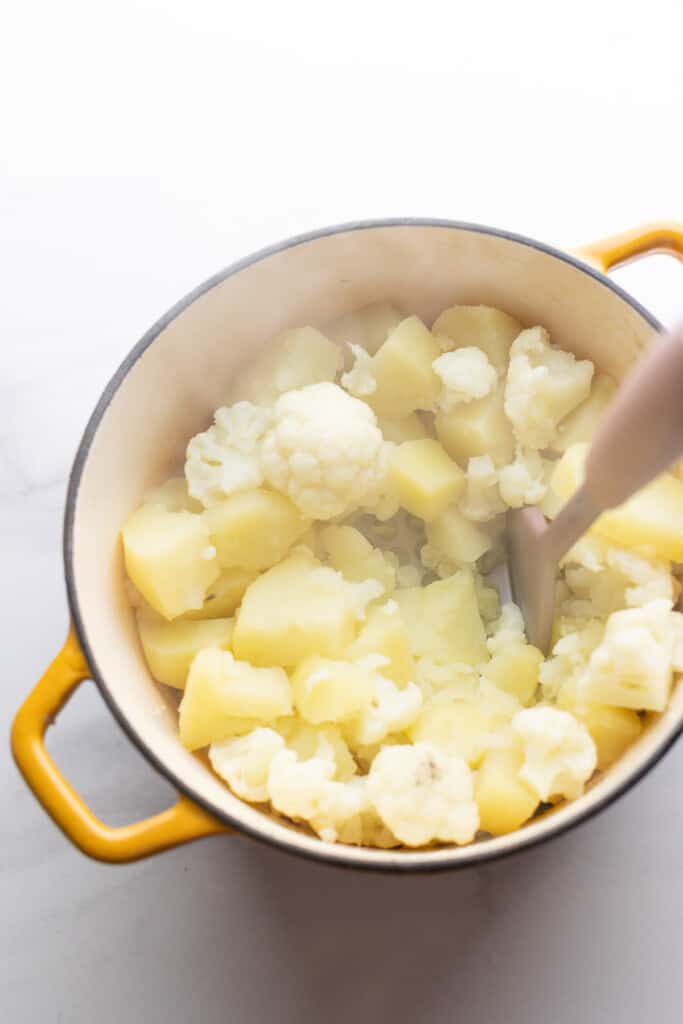 How to Make Mashed Potatoes with Cauliflower
Just like regular mash, these mashed potatoes with cauliflower are super easy to make. Summed up in a few simple steps:
Boil the potatoes and cauliflower. Dice the potatoes into large, even chunks (about 2 inches thick) and remove the florets from the stalk. Add them to a large pot of with salted water. Bring the pot to a boil, then cover and reduce to a simmer for about 15-20 minutes until the potatoes are soft.
Drain then mash. Once soft and tender, drain the water and the cooked cauliflower and potatoes to the pot along with two tablespoons of butter or oil. Begin mashing the potatoes and cauliflower with a potato masher. The heat from the freshly boiled veg will melt the butter or heat the oil as needed. Add the stock, yogurt and parsley and continue mashing into your desired consistency.
Taste and season. Add fresh chives, a sprig of rosemary, chopped green onions, parmesan cheese or whatever your preferred mashed potato additions might be.
Flavor Tip!
Instead of boiling the potatoes and cauliflower in salted water – boil in stock! Omit the added salt and cover with chicken broth (or vegetable broth) to infuse even more flavor into your mash.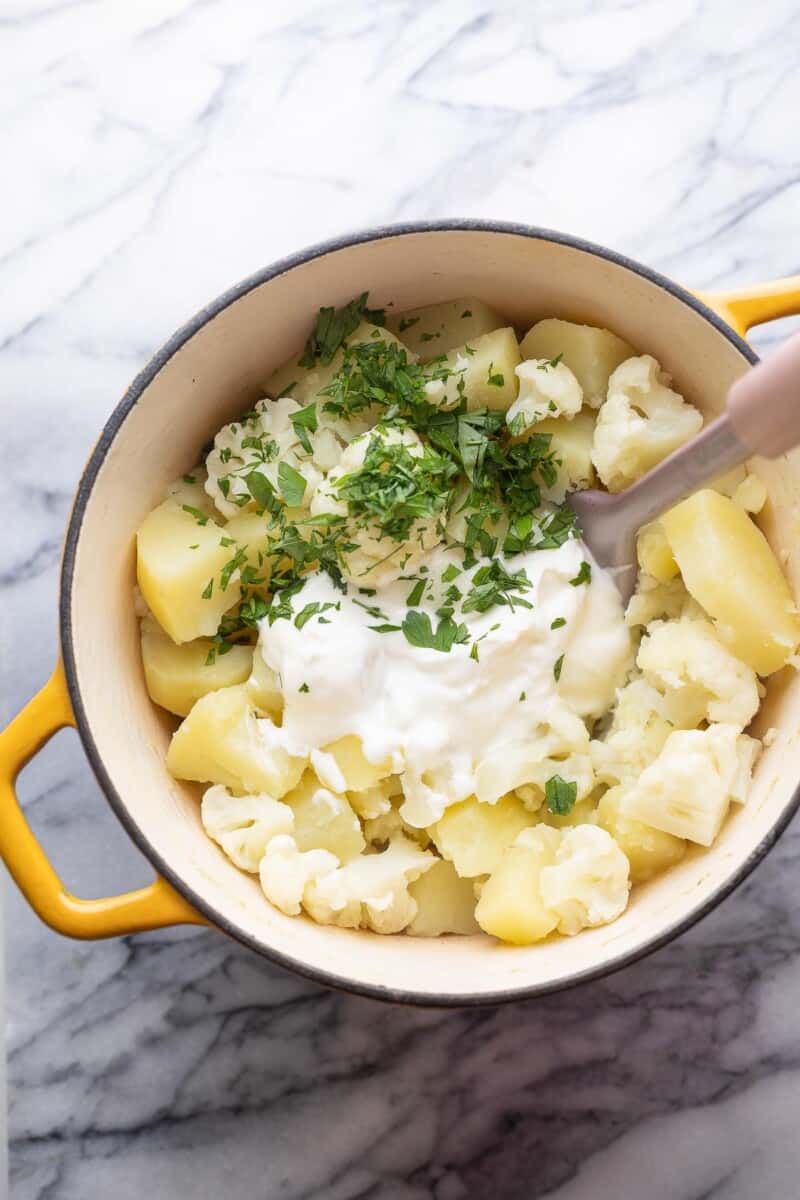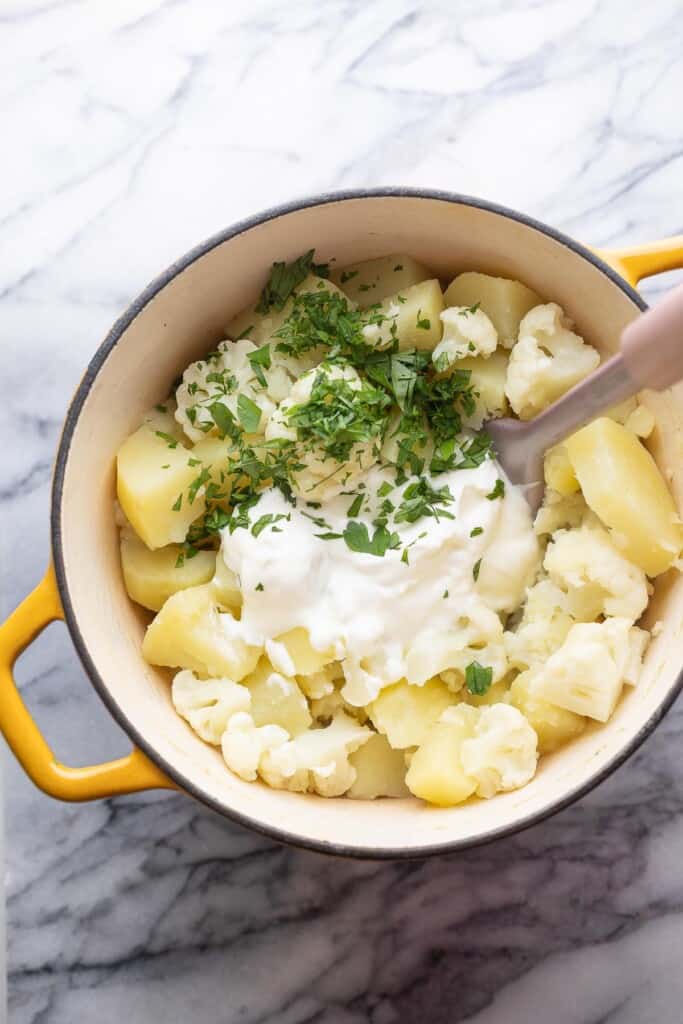 Why add yogurt?
Yogurt steps in for milk but provides an even thicker, creamier texture. I also find the strong tang from yogurt means that you don't need to use quite as much salt to flavor the final dish.
Instead of yogurt, you can get a similar result by adding cream cheese, heavy cream and/or sour cream. Dairy free/vegan milk substitutes also work here by the way!
Of course, you can absolutely use regular milk here instead if that's easier for you!
Best Potatoes for Mashed Potatoes
This really just depends on your personal preference, as some potato will create fluffy textures while others are more creamy.
High starch potatoes are a popular choice for mashed potatoes are they are great for soaking up flavor while delivering a fluffy texture. Look for Yukon Golds, Maris Piper, King Edward, and Russet Potatoes.
Best tools For Mashing
Potato mashers and potato ricers are both great options. Ricers will make for the fluffiest potatoes but they are the most work.
You can also use an electric hand mixer, immersion blender or even a stand mixer to whip your potatoes for a much smoother texture. Just make sure to mix on low and not too long (or they will get gummy).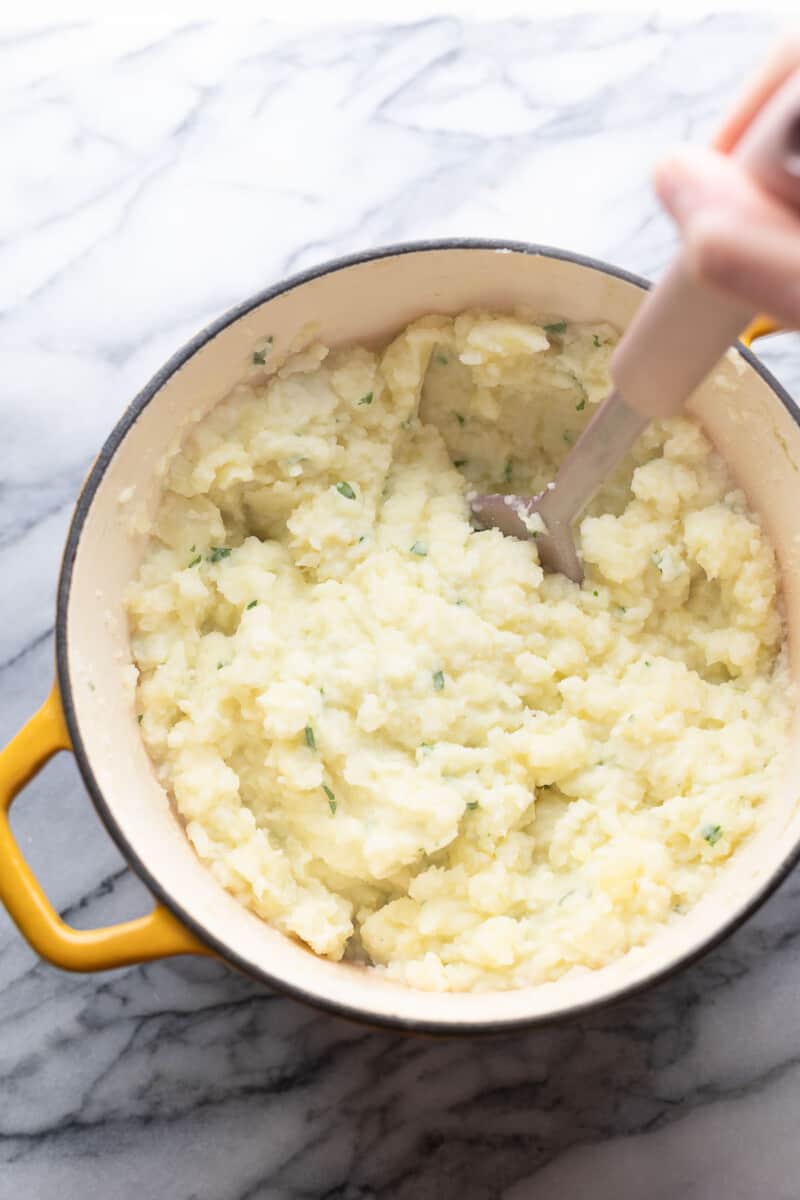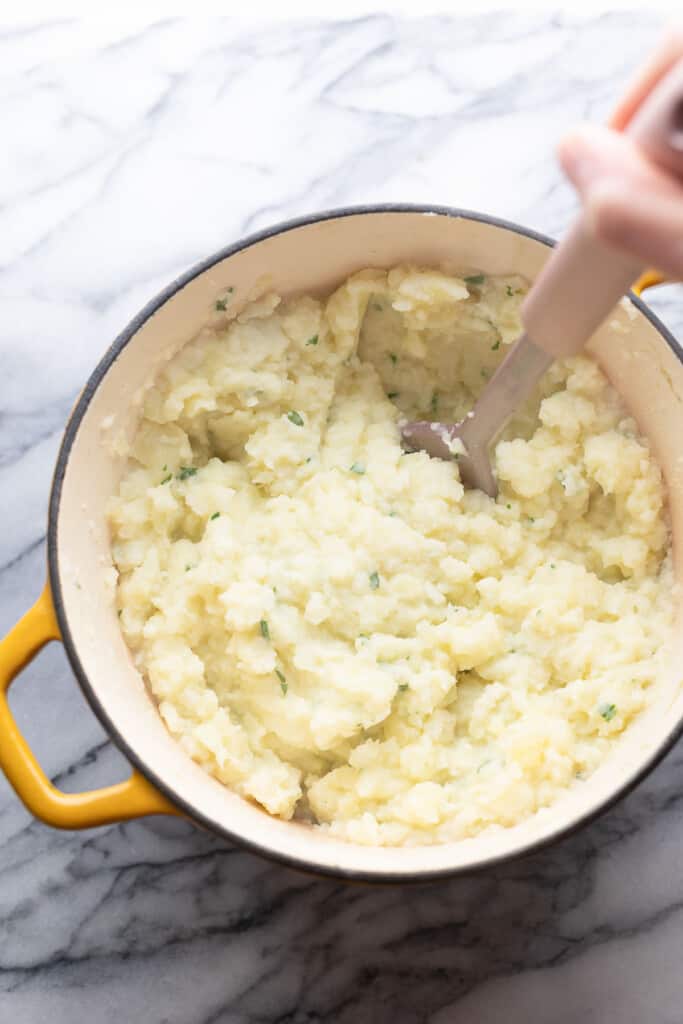 Can it freeze?
Yes! So long as you don't omit the butter or oil (vegan butter works too!) you should be able to freeze these mashed potatoes without problems thanks to the fat.
Make sure to cool to room temperature before storing in a freezer safe container. You can keep them in the freeze for 1-2 months. Any longer and the liquids begin to separate from the solids making it unlikely to fully/easily mix back together when thawed.
You can reheat thawed (leave it in the fridge overnight) or from frozen a few different ways:
On the stove top – Place in a large pot over a low heat. Warm and stir every so often as it thaws/heats. Once heated through, taste and add additional seasoning (like more salt or butter).
In the oven – Place in a covered dish and bake at 350°F (180°C) for 30 minutes or until heated through. Taste and season as needed. Smaller portions will need less time.
In the Microwave – Place in a covered, microwave safe dish and warm about 3-5 minutes (times will vary depending on your microwave and amount). Stir every so often to ensure it heats evenly. Taste and season once heated fully.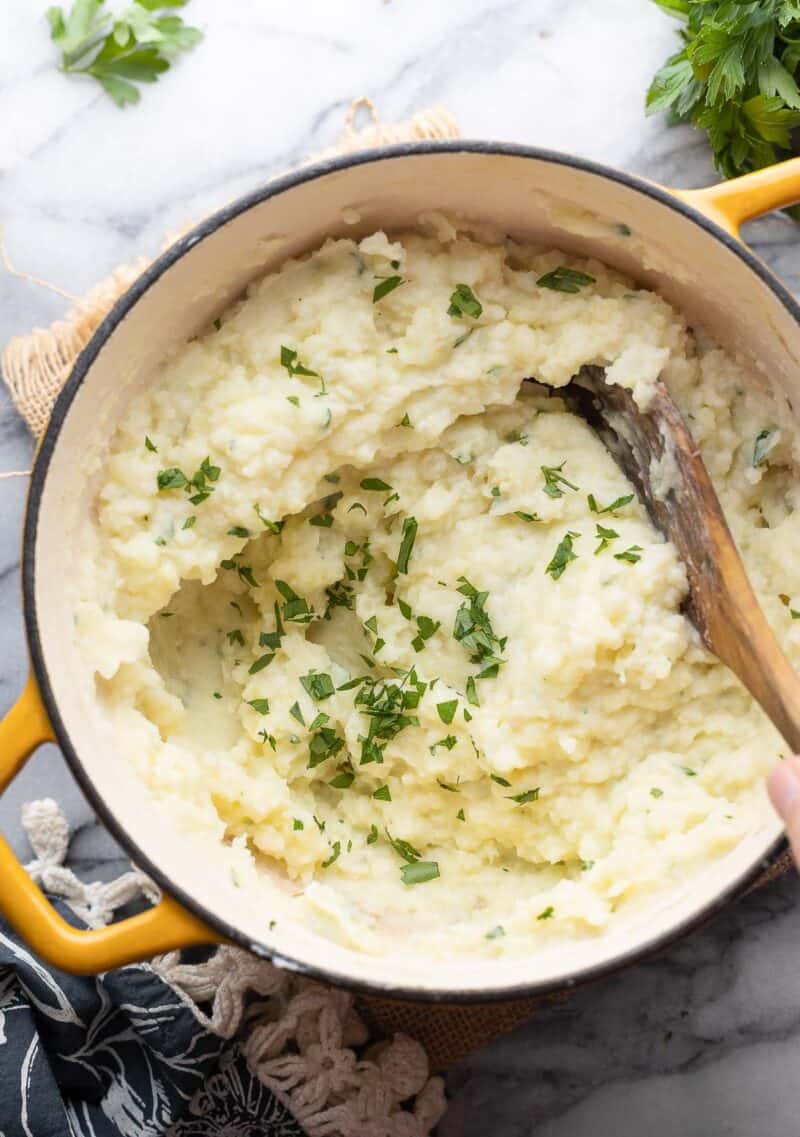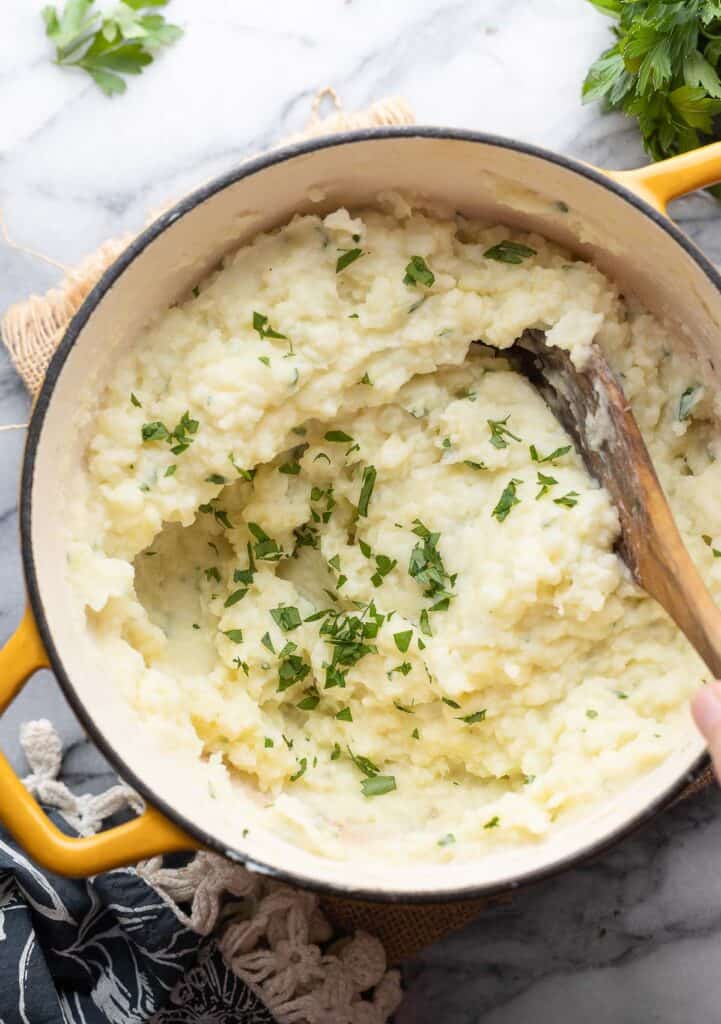 What's it Taste Like?
Ok, so how much of the cauliflower flavor do you actually get here? The answer here is that it really just depends.
Personally, I felt that the smell was stronger than the taste. This mostly tastes like your typical mashed potato recipe, with a little something extra going on.
The more you season and add to the mash, the more you hide the cauliflower. If you're not keen on the taste of cauliflower or you're trying to hide it from picky eaters, try adding grated cheese, garlic, chives and other herbs to mask the taste.
What's the texture like?
Again – this depend based on how you go about mashing your ingredients. Cauliflower takes a bit more effort to mash into a smooth texture. While it can be done with a potato masher, it might take awhile.
For a super silky texture, use a blender or food processor on a low speed. Just make sure not to blend too long/fast or else you'll end up with a gummy texture from the potatoes.
If you can be bothered, you can always pick out the florets and blend into a cauliflower puree in a food processor first then add to the potatoes.
That all being said, you might enjoy this more with a little bit of texture left behind from the florets – we certainly do!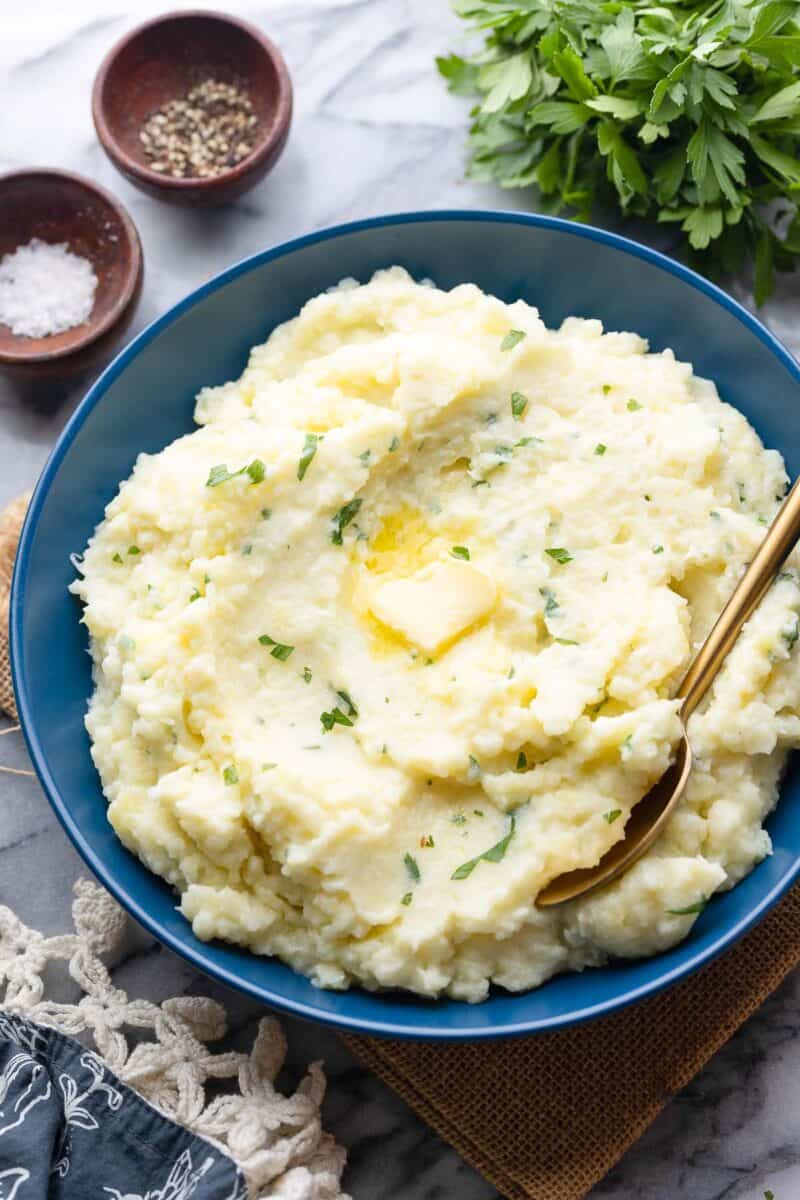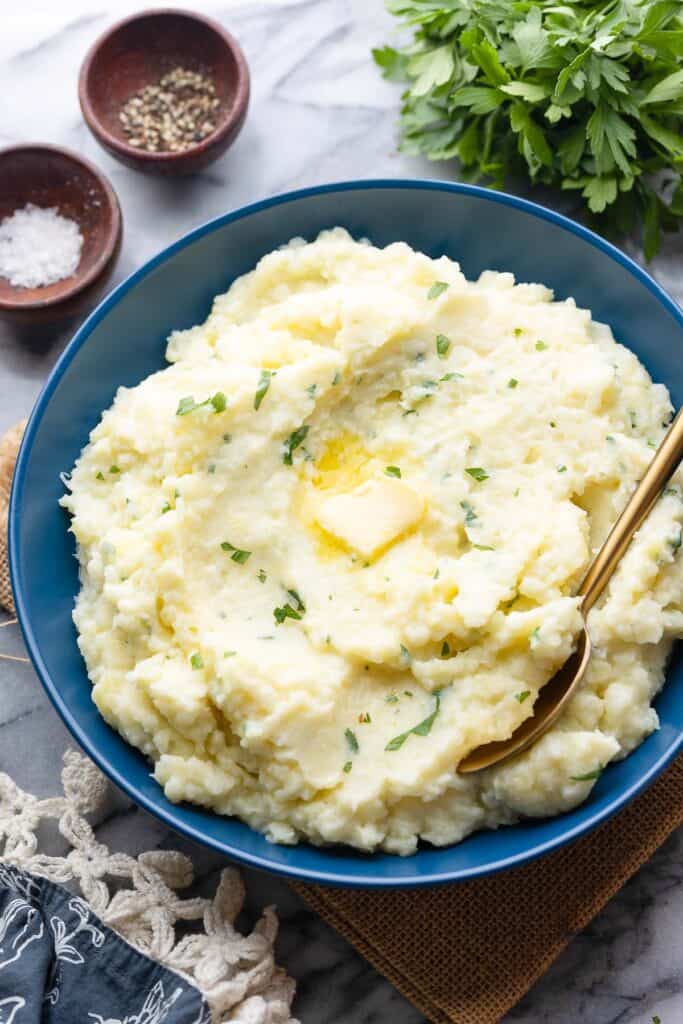 And there you have it: Simple, satisfying and delicious – mashed potatoes with cauliflower!
This is easy enough to make as a nutritious side for weeknight dinners yet tasty enough to serve for holiday meals.
By the way – If you find yourself with leftovers you might enjoy my leftover mashed potato biscuits!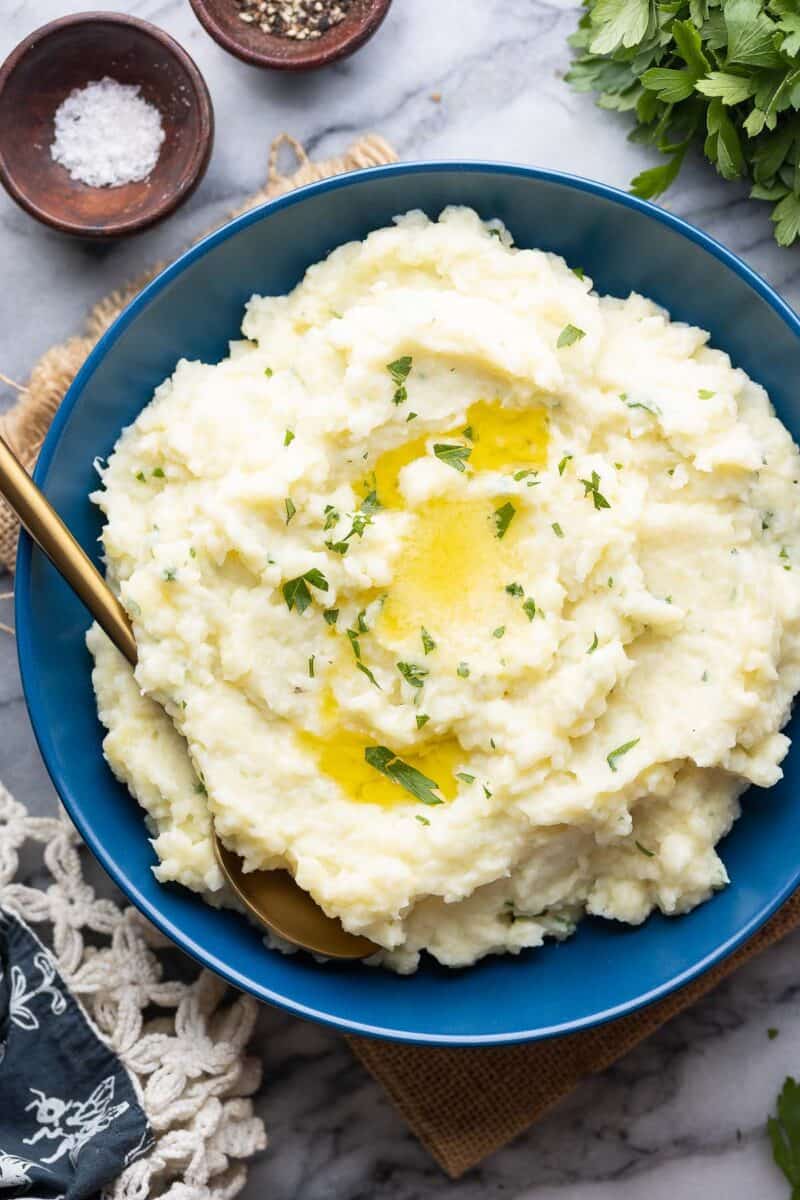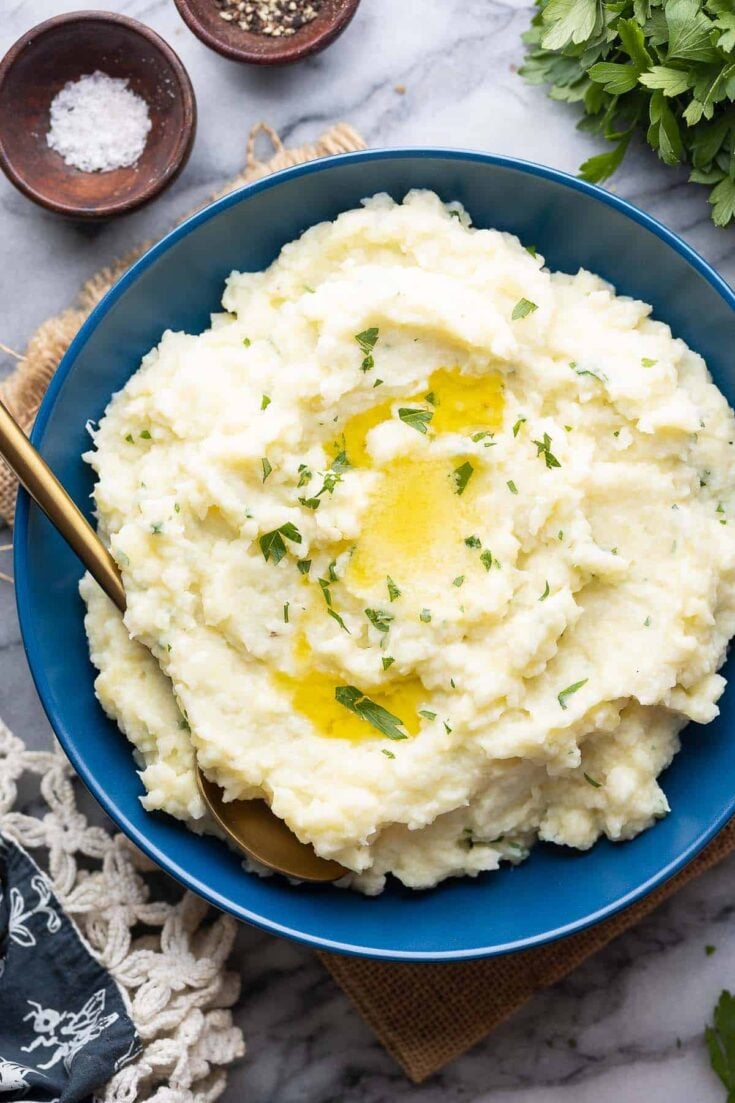 Recipe
Mashed Potatoes with Cauliflower
Yield:
about 8 cups
Prep Time:
20 minutes
Cook Time:
30 minutes
Total Time:
50 minutes
Sneak a little extra veg into your regular mashed potatoes with cauliflower!
Ingredients
2 pounds potatoes, chopped into large, even chunks (1kg)
1 head cauliflower, cut into florets (about 4 cups)
1 tablespoon salt, plus more to taste if needed
2 tablespoons butter or olive oil (30g)
1/4 cup chicken or vegetable stock (60 ml)
1/2 cup full fat unsweetened greek yogurt or plain yogurt (120g)
2 tablespoons freshly chopped parsely or other herbs of your choice (optional)
Instructions
Place the potato chunks and cauliflower florets in a large pot. Cover with water and stir in 1 tablespoon of salt.
Bring the pot to a boil over a high heat, then cover and reduce the temperature to maintain a rapid simmer. Let simmer about 15-20 minutes or until the potatoes and fork tender.
Remove from the heat and pour the potatoes and cauliflower into a large colander to drain the water then return to the pot.
Add butter/oil to the pot. Use a potato masher to start mixing and mashing everything together to melt the butter (or warm the oil).
Add the stock, yogurt and chopped parsley to the pot as you mash. Continue mashing until you reach your preferred mashed potato consistency. If your potatoes/cauliflower haven't broken down enough for your liking, add another 2-3 tablespoons stock or yogurt as you mash.
Stir in additional fresh herbs if desired until just mixed in. Taste and season with salt as you see fit. Drizzle a little bit of olive oil or melted butter over the top and serve warm.
Notes
Leftovers: Cool and store in an airtight container in the fridge up to 3 days. Keep in mind that the cauliflower taste/smell becomes more noticeable after the next day.
Freeze It: Cool completely then store in a freezer safe bag or container up to 2 months. Mash made with little to no fat (butter/oil/yogurt) will not freeze well.
Make it vegan/dairy free: Use vegetable stock, vegan butter (or olive oil) and vegan yogurt
A note on creating a smooth texture: Cauliflower takes more effort to mash into a totally smooth consistency than potatoes. For an extra smooth and silky texture consider using a food processor or blender on a low speed. Just be careful not to over blend as potatoes as they can get gummy when blended too fast/long. If you have the patience you can also blend the cauliflower until smooth, then add to the potatoes to mash by hand.
Nutrition Information
Yield:

8
Serving Size:
1 cup
Calories:

146
Total Fat:

4g
Saturated Fat:

2g
Unsaturated Fat:

1g
Cholesterol:

10mg
Carbohydrates:

24g
Fiber:

4g
Sugar:

3g
Protein:

5g
This website provides approximate nutrition information for convenience and as a courtesy only. Nutrition data is gathered primarily from the USDA Food Composition Database, whenever available, or otherwise other online calculators.
More Mashes (and smashes) You Might Like