Learn how to make creamy and delicious vegan mashed potatoes without milk or butter! In addition to the garlic and fresh chive seasoning, this recipe uses vegetable broth in-place of milk or cream which also works to infuse your mash with as much flavour as possible. Need to make it low fodmap? Ditch the fresh garlic and use a garlic infused olive oil instead!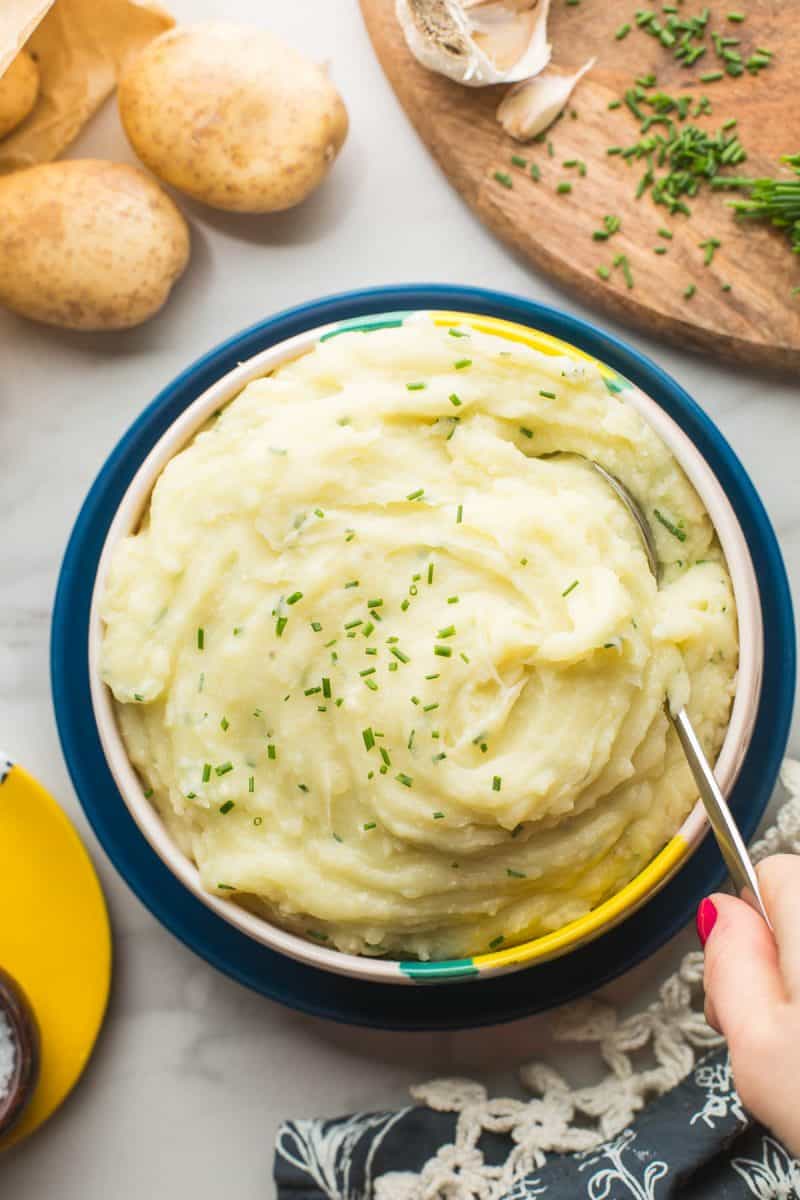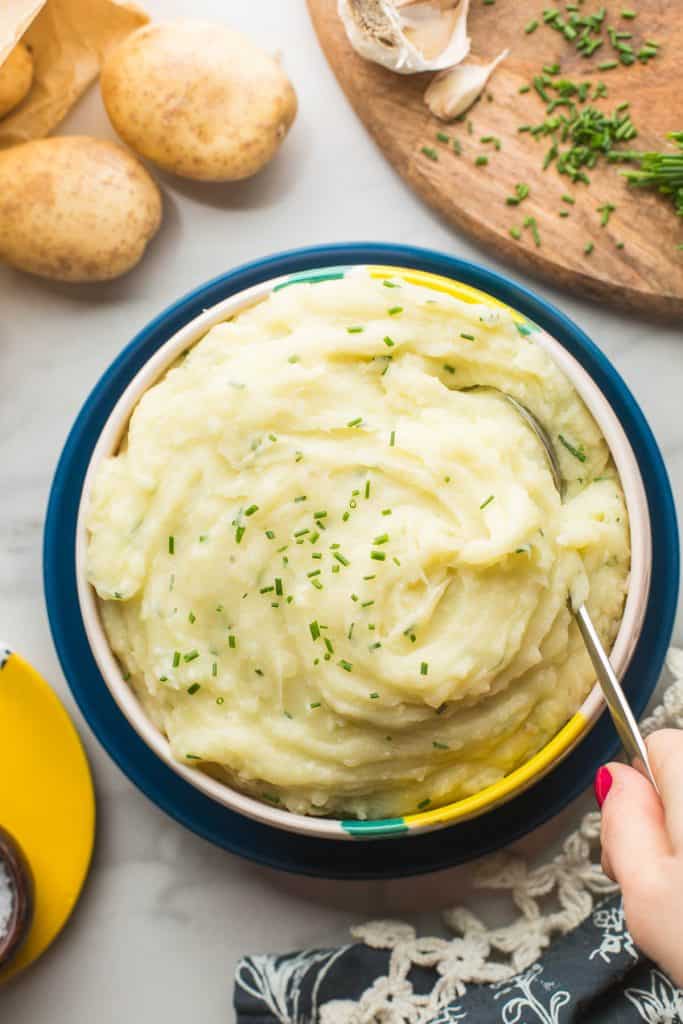 Mashed potatoes: hearty, comforting and simply downright delicious. Smother it in gravy and serve it as a simple side dish to your favorite roast dinners and holiday meals. Is there ever a bad time for mashed potatoes? I think not!
The problem with a good majority of mashed potato recipes out there is the fact they are almost certainly addled with heavy cream, butter and/or whole milk. While dairy products do help to create a rich and creamy texture, it's not an ingredient suitable for anyone following a vegan diet and people with lactose intolerance.
The solution? Vegetable broth and olive oil!
Olive oil replace butter though you can absolutely use a dairy free butter or a vegan buttery spread here if you'd prefer.
Vegetable broth (you can use chicken broth if you don't need vegan mashed potatoes) replace milk which helps to break the potatoes down into a fluffy texture while packing in a ton of extra flavor.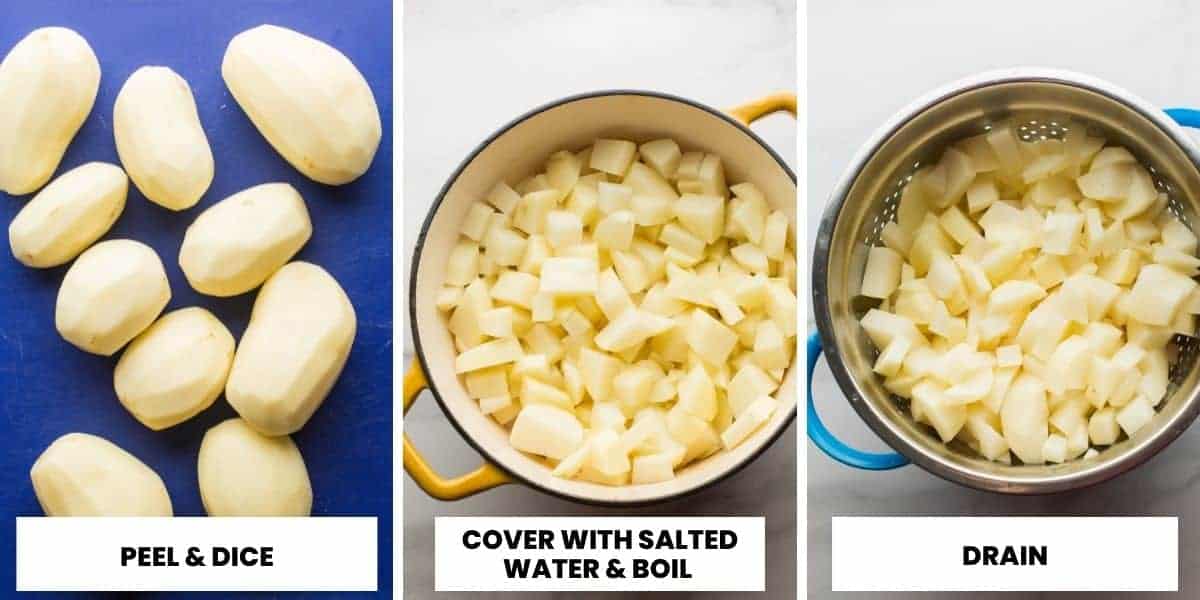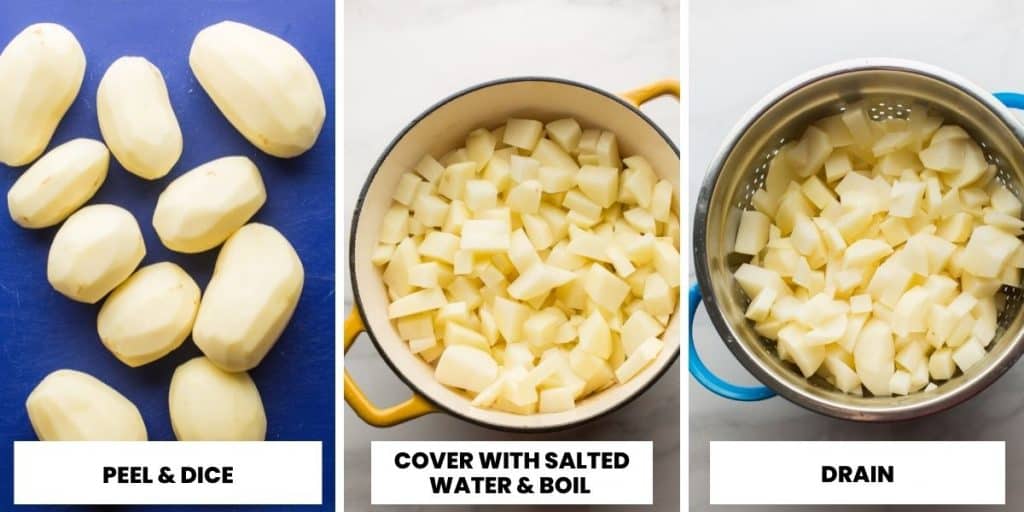 How to Make Vegan Mashed Potatoes without Milk
Peel (or wash) and chop:

Feel free to leave the skin on the potatoes if you like! You'll end up with less prep work and more fibre and minerals in your finished dish. Just make sure to wash the skins well to remove any excess dirt.
Chop the potatoes in equal sized pieces (so they cook at an even rate).

Boil in salted water:

Start with cool water. Place the potatoes in a large pot and cover with cold water. If you add the potatoes to boiled water the outsides will cook before the insides meaning they will cook unevenly.
Don't forget to salt the water! Potatoes (much like pasta) are best when cooked in salted water as it helps to amplify the flavor of the potatoes.

Drain and dry:

Once tender, drain the cooking water by pouring the potatoes into a large colander. Set aside and let the potatoes steam/air dry while you work on the next step.

Sauté garlic in oil (or vegan butter):

In the same pot, add the olive oil (or butter substitute) and warm over a medium low heat. Add the minced garlic cloves and sauté a few minutes until fragrant.

Return (dried) potatoes to pot & mash:

Add the potatoes back to the pot and mash until you reach your desired potato texture. I like to add nutritional yeast to my potatoes while mashing to mix it in well, but this is an optional ingredient.

Season and enjoy:

Add in the chives or other fresh herbs of your choice, taste and season as you see fit.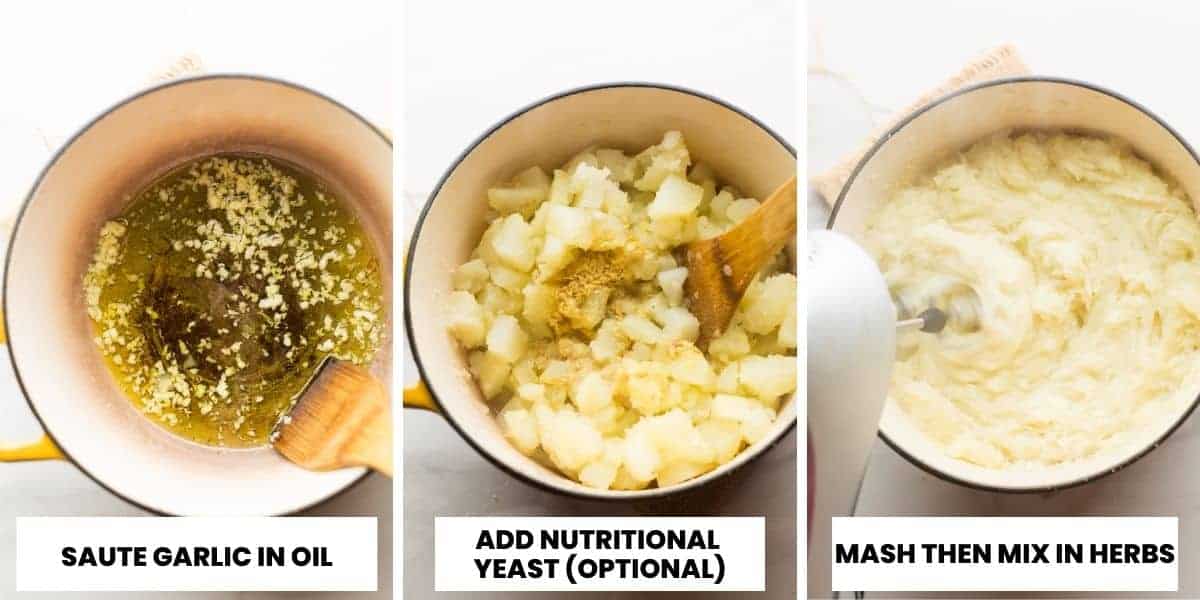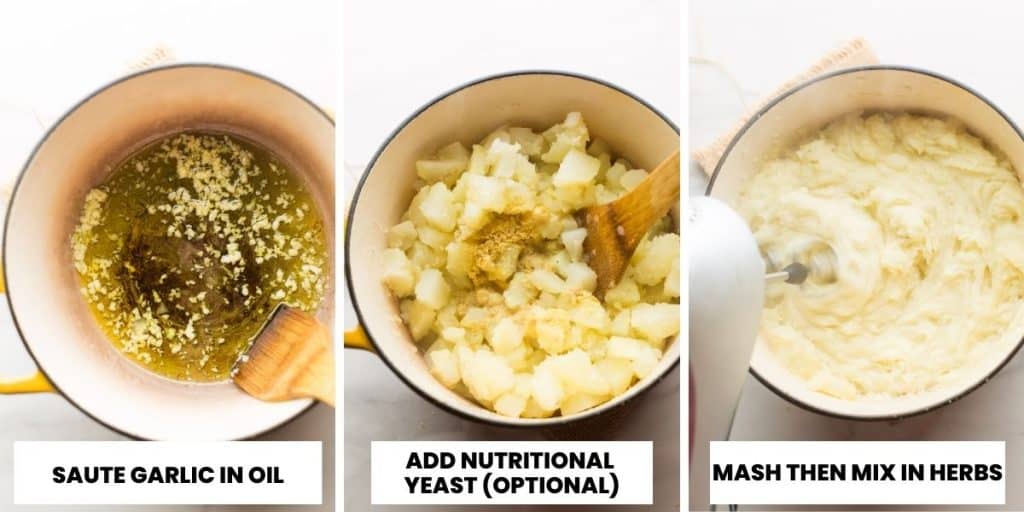 FAQ's
What are the best potatoes for mashing?
There are main three types of potatoes: starchy potatoes, waxy potatoes and potatoes that are both starchy and waxy (all purpose). High starch potatoes will make for a soft and fluffy mash that soaks up the most amount of flavour but you can also use an all purpose potato variety. You can also use a mixture of both starchy and all purpose potatoes to achieve a creamy, rich texture for your vegan mashed potatoes.
A few different types of potatoes to look for:
Russest Potatoes
Yukon Golds
Maris Piper
King Edward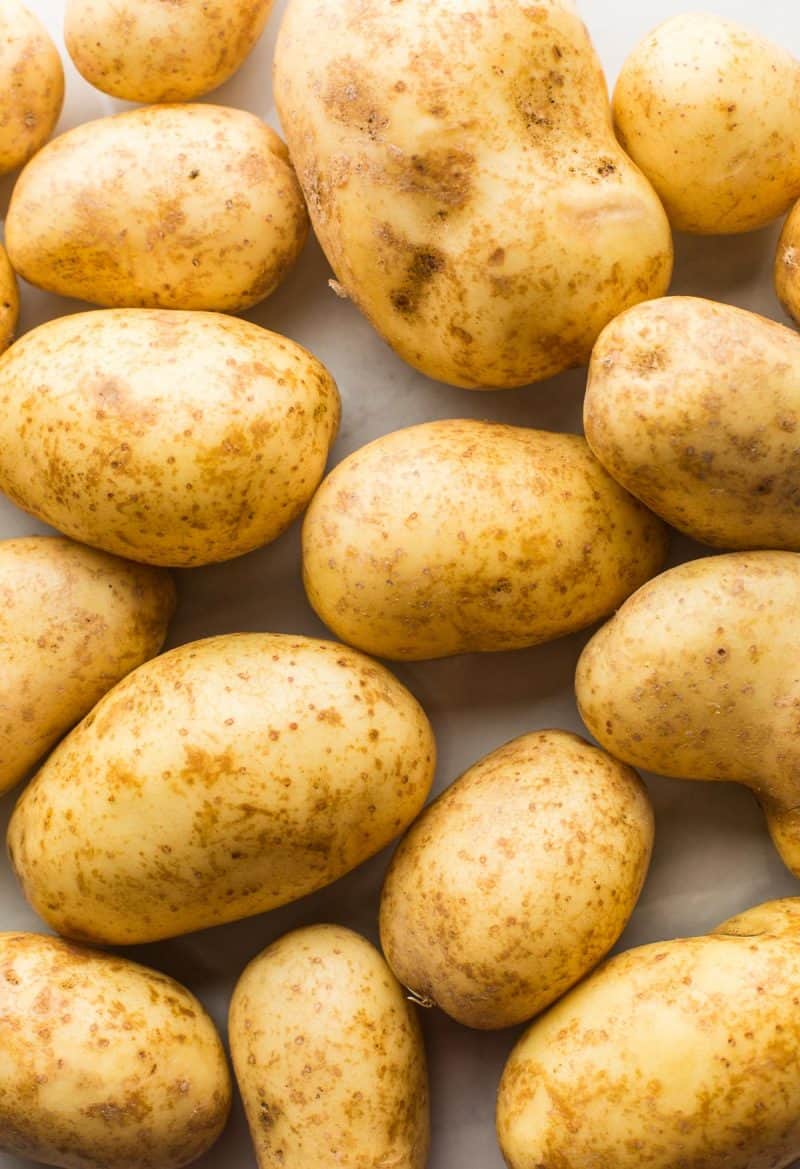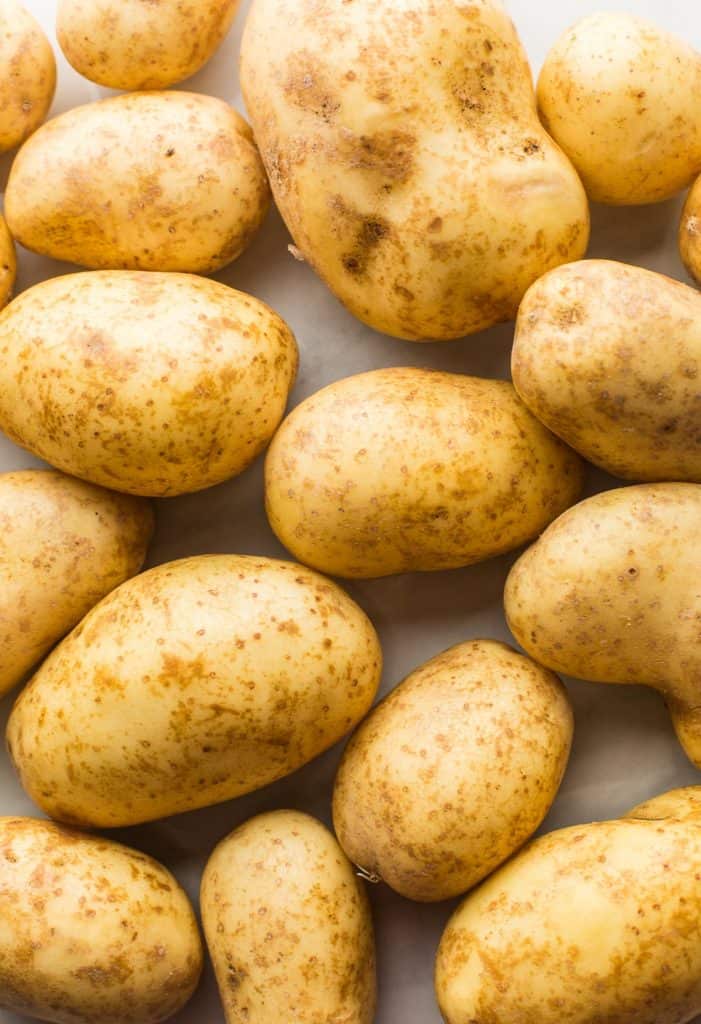 What type of potatoes should not be used for mashed?
When it comes to mashed potatoes, you ideally want to avoid waxy potatoes. Waxy potatoes (like red bliss, fingerlings and new potatoes) are best enjoyed roasted or mixed into soups and curries. Unlike starchy potatoes that fall apart, waxy potatoes hold on to their shape which means that don't mash up easily.
Best tools for mashing? A potato masher or potato ricer are both great options for mashing. Ricers will make for the fluffiest potatoes but they are the most work.
You can also use a hand held electric mixer or stand mixer to whip your potatoes. Just make sure to mix on low and not too long (or they will get gummy).
Can I use dairy-free milk or another non-dairy milk substitute in place of the stock?
Yes, but you might be compromising a bit too much on flavor here. The problem with using almond milk, soy milk, coconut milk, etc is they will likely flavor the potatoes too much in a way that isn't really compatible with traditional mashed potatoes. This is also why I do not recommend using coconut oil in place of butter or olive oil here. You can use avocado oil if you like.
If you would like to use a non dairy milk in this recipe, I recommend you check out my guide on dairy free milks so you can find the best milk substitute for you and your taste buds.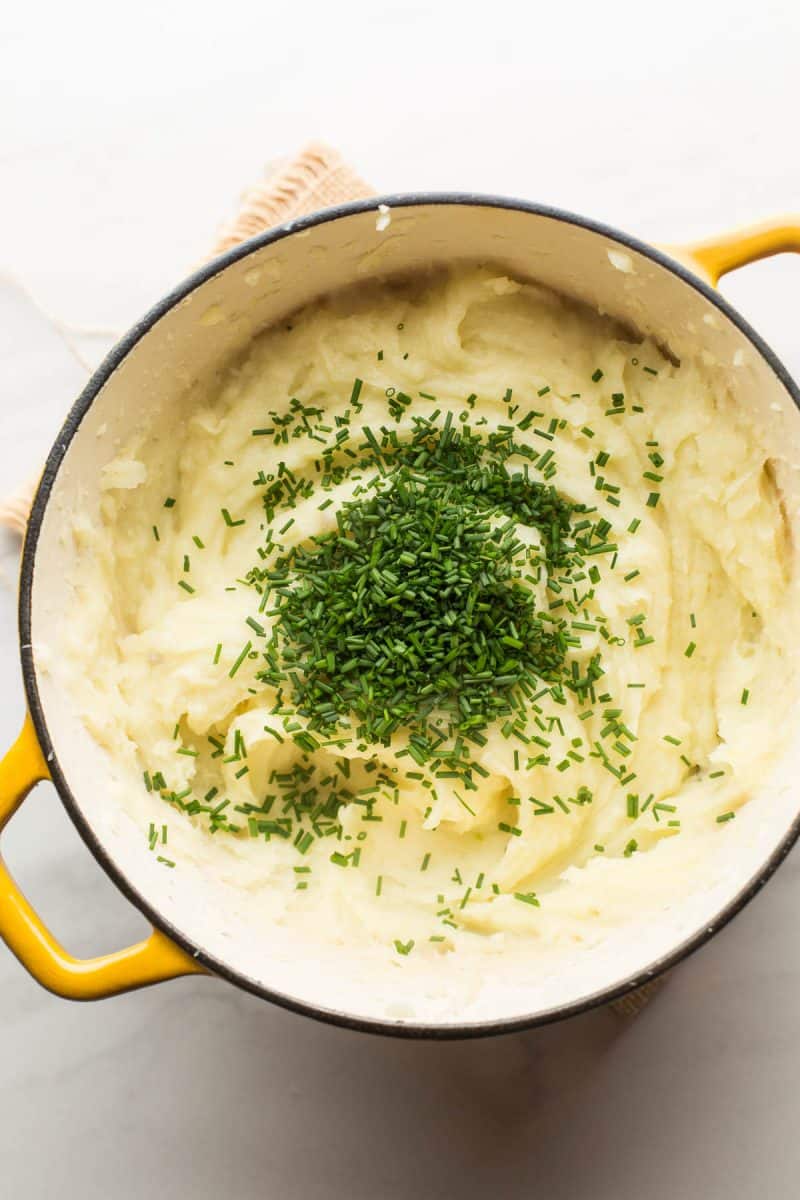 Tips & Substitutions
Make it low fodmap: This is a simple enough fix! You have two options: leave out the garlic altogether or use a garlic infused olive oil. If using a garlic olive oil, make sure to use an oil that is infused with garlic without any garlic bits left in the oil.
Make sure to dry the boiled potatoes before mashing: If your potatoes aren't fully dry that means they're still holding on to excess water. Excess watery means you'll up with watery mash. This will dilute the overall flavor and make your vegan mashed potatoes less creamy.
Cut the potatoes into large chunks: If you look at my pictures above, you will see that I cut my potatoes into loads of small chunks. The smaller they are cut, the faster the cook. However, in writing this recipe and post I learned that it's best to cut your potatoes into large chunks before boiling. Large chunks will absorb less water which will make for a creamier mash. Lesson learned!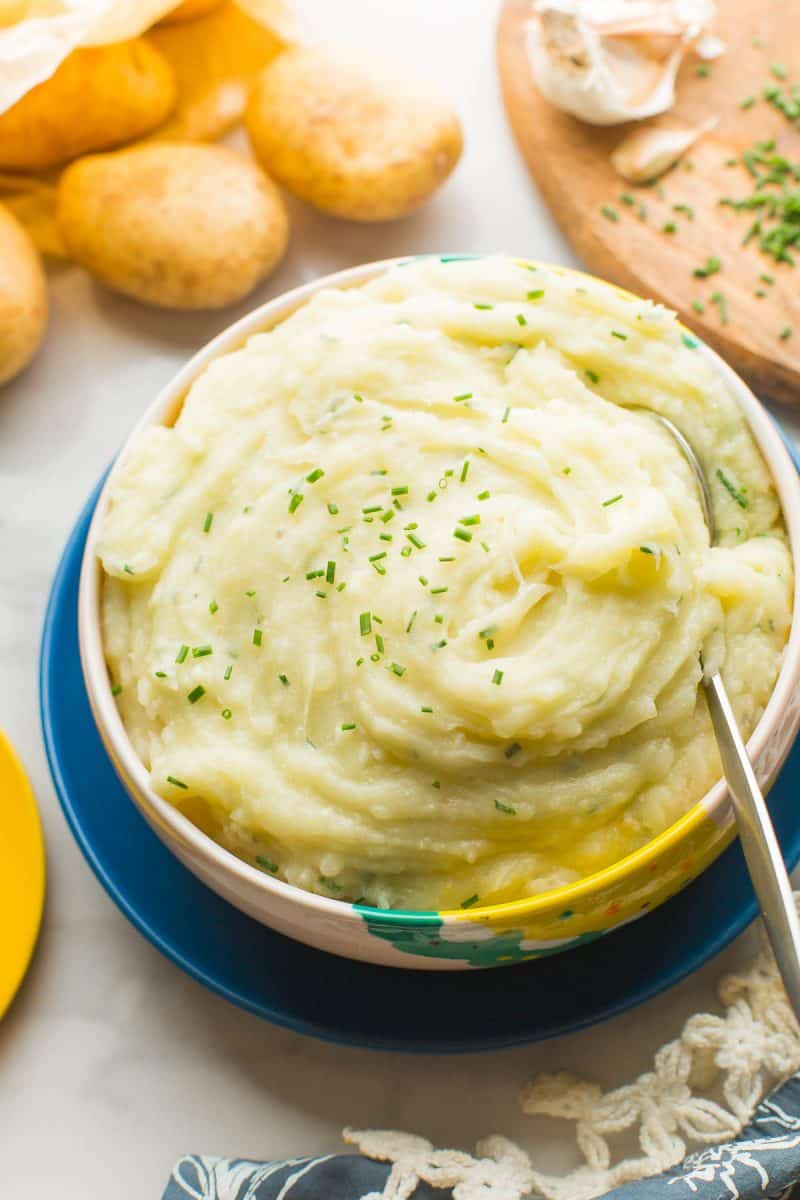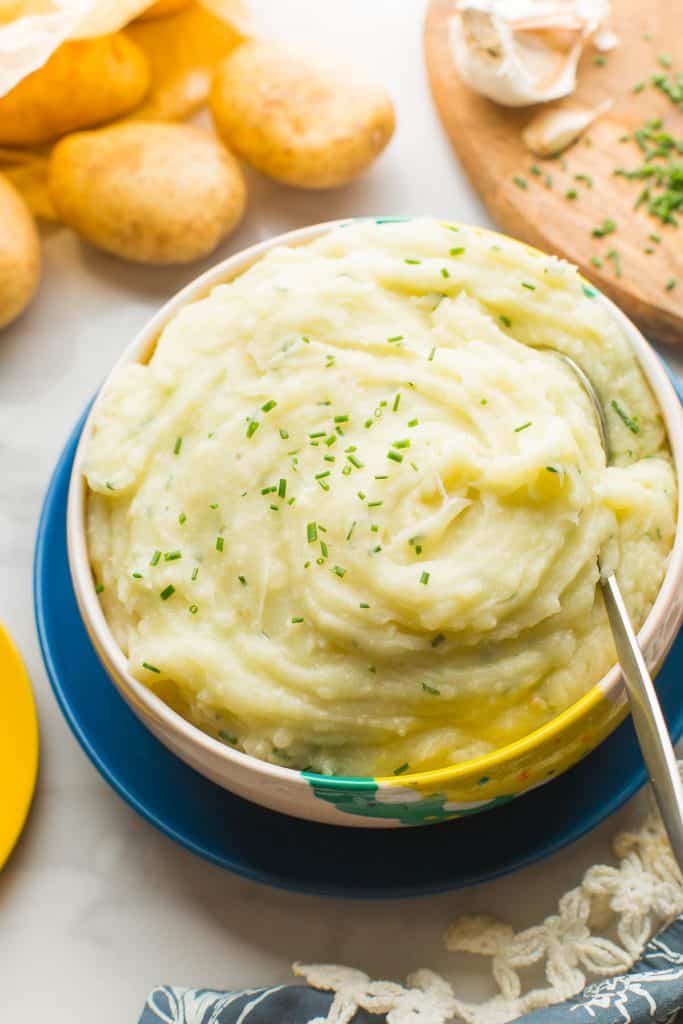 And there you have it – the best dairy-free mashed potatoes!
If you like this recipe you might also want to check out my mashed potatoes with cauliflower as well! It's a great way to enjoy your favorite comfort food with a sneaky veggie addition!
More Dairy Free Sides You Might Enjoy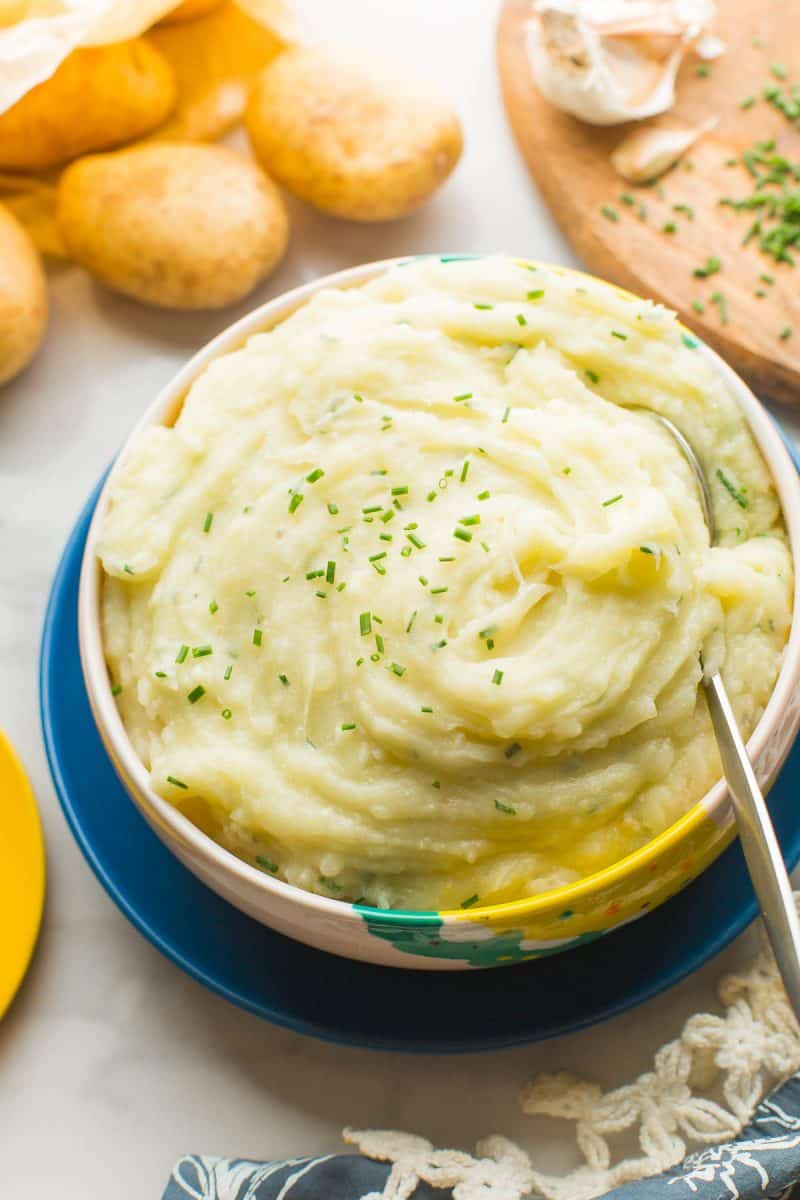 Recipe
Dairy Free Mashed Potatoes without Milk
Yield:
6 servings
Prep Time:
20 minutes
Cook Time:
20 minutes
Total Time:
40 minutes
Learn how to make creamy and delicious vegan mashed potatoes without milk or butter - only a few simple ingredients needed!
Ingredients
2 1/2 pounds | 1.1 kg potatoes, chopped into large, even chunks
2 teaspoon salt, plus more to taste if needed
1/4 cup | 60 ml olive oil
1 tablespoon | about 3 cloves garlic, minced
3 tablespoons |12 g nutritional yeast (optional)
1/2 cup | 120 ml vegetable stock
1/4 cup | 12 g fresh chives, finely chopped
Instructions
Add the potatoes to a large pot. Cover with cool water and stir in 2 teaspoons salt.
Bring the pot to a boil, then reduce the temperature to maintain a rapid simmer. Let simmer about 15 minutes or until the potatoes are fork tender.
Transfer the potatoes to a colander to drain away the cooking water. Shake the colander to rid the potatoes of excess water. Set the potatoes aside to let them air dry as you work on the next step.
Return the pot the stove top. Add the olive oil and warm over a medium-low heat. Once the oil is hot add the garlic and cook 2-3 minutes.
Add the potatoes back to the pot with the garlic and oil. Begin mixing and mashing the potatoes making sure to evenly mix in the garlic. Add the nutritional yeast (if using).
Add 1/4 cup of vegetable stock to the potatoes as you mash. Once it's fully mixed in, add the remaining 1/4 cup stock. Continue mashing until you reach your preferred mashed potato consistency. If your potatoes haven't broken down enough for your liking, add another 2-3 tablespoons stock as you mash.
Add the fresh chives and stir until just mixed. Taste and season with more salt if needed. Serve warm and enjoy.
Notes
Best Potatoes for mashing: look for floury/ high starch potatoes or all purpose potatoes. Avoid waxy potatoes.
Make it low FODMAP: Leave out the garlic or use a garlic infused olive oil.
You can use vegan butter or avocado in place of the olive oil.
You can leave your potatoes with the peel on if desired. Just make sure to wash away and excess dirt before boiling.
If you use an electric mixer to mash the potatoes - mix on a low speed and stop as soon as the potatoes are creamy. If you over mix them they will go gummy. Still tasty, but it may not be the most optimal texture.
This website provides approximate nutrition information for convenience and as a courtesy only. Nutrition data is gathered primarily from the USDA Food Composition Database, whenever available, or otherwise other online calculators.
PS – If you find yourself with leftovers that need using up – I recommend you check out these leftover mashed potato biscuits ASAP! They can easily be made vegan!