Make the most of pumpkin season with this homemade pumpkin butter recipe! It tastes like pumpkin pie without all the extra calories and fuss. Pumpkin puree, seasonal spice, sweetener and apple juice come together in one big pot to make this easy and delicious seasonal spread! | Gluten Free + Vegan + Paleo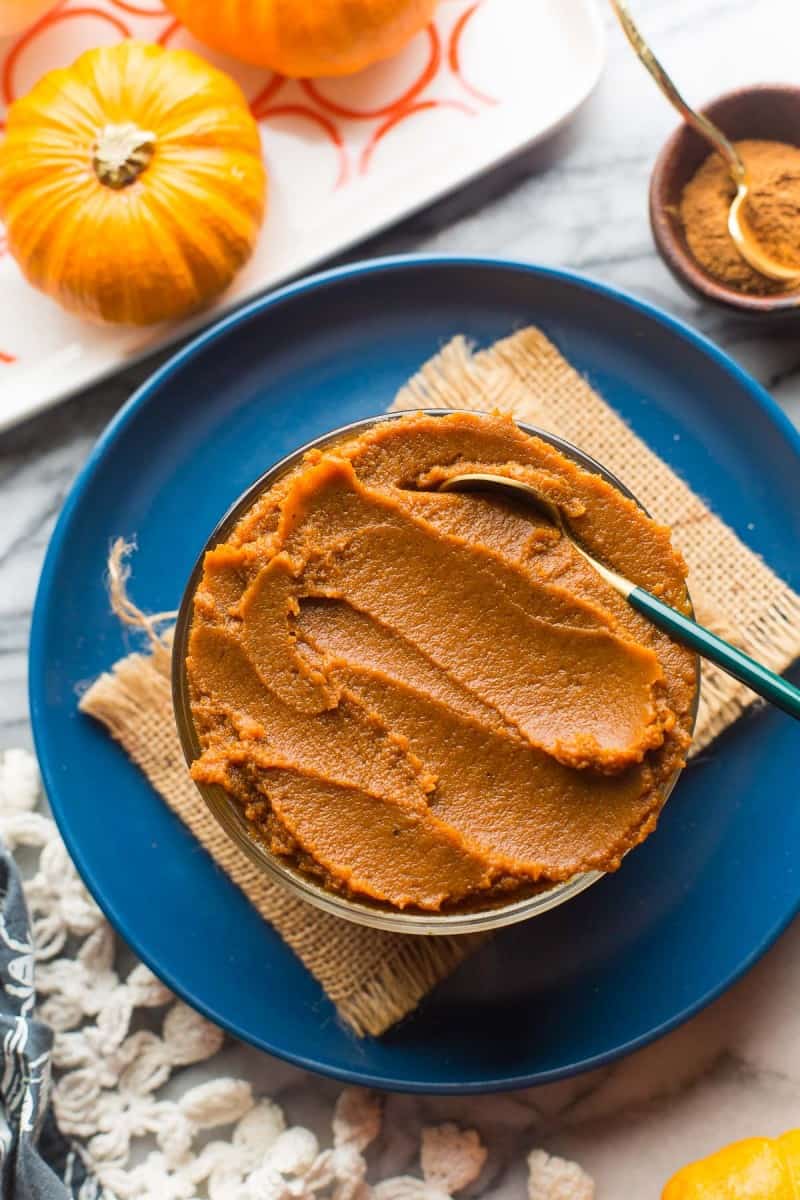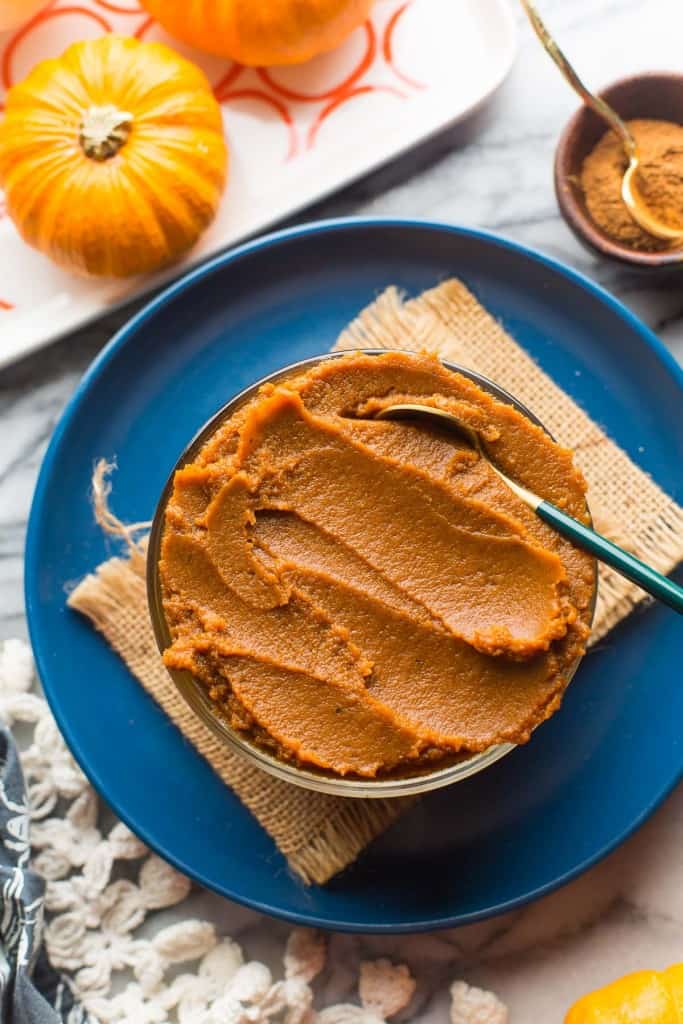 What is Pumpkin Butter?
Pumpkin butter is a type of fruit butter. It's essentially a pumpkin spread made from pumpkin flesh that's been sweetened, spiced and cooked into a thick and creamy spread. It's not too different from the pumpkin pie filling that you can buy in a can. Taste-wise, it's a like a spreadable form of pumpkin pie. Despite the name there isn't actually any butter or dairy in the recipe (like peanut butter or apple butter).
How do you use it?
Pumpkin butter is something that you can really get creative with when it comes to how you'd like to use it! A few ideas to get you started: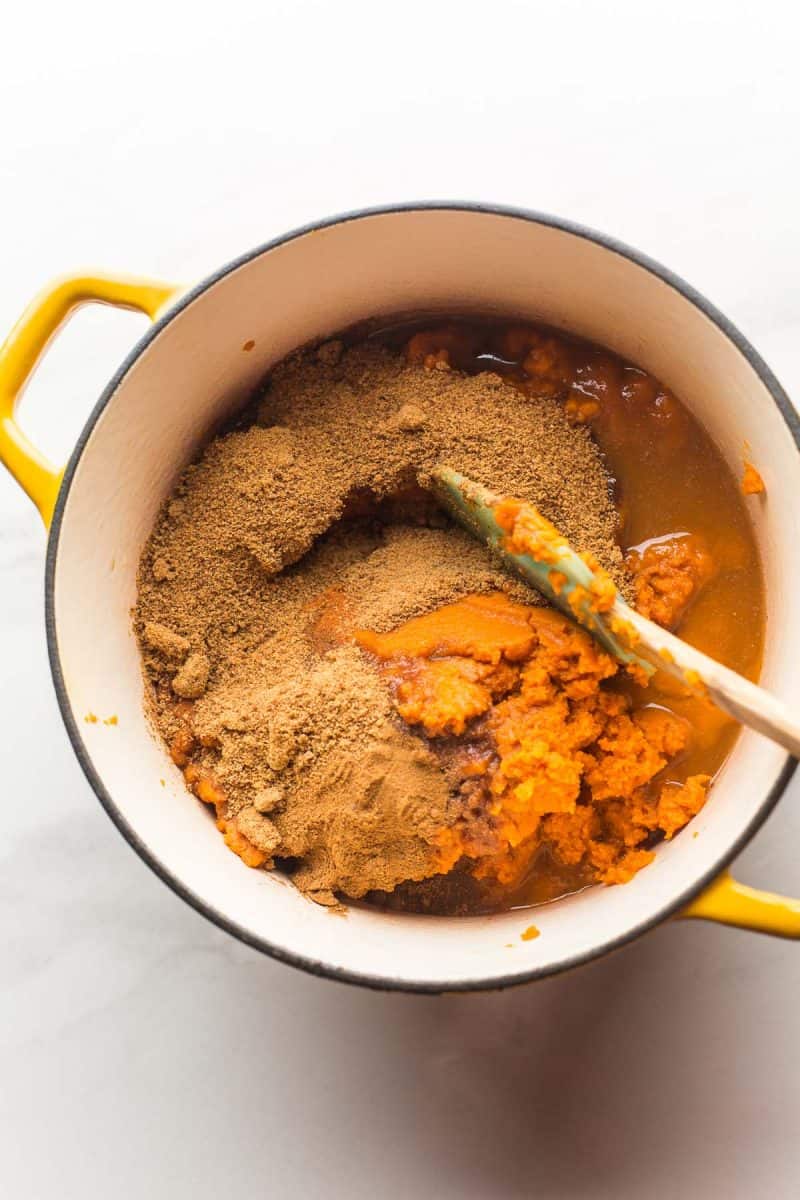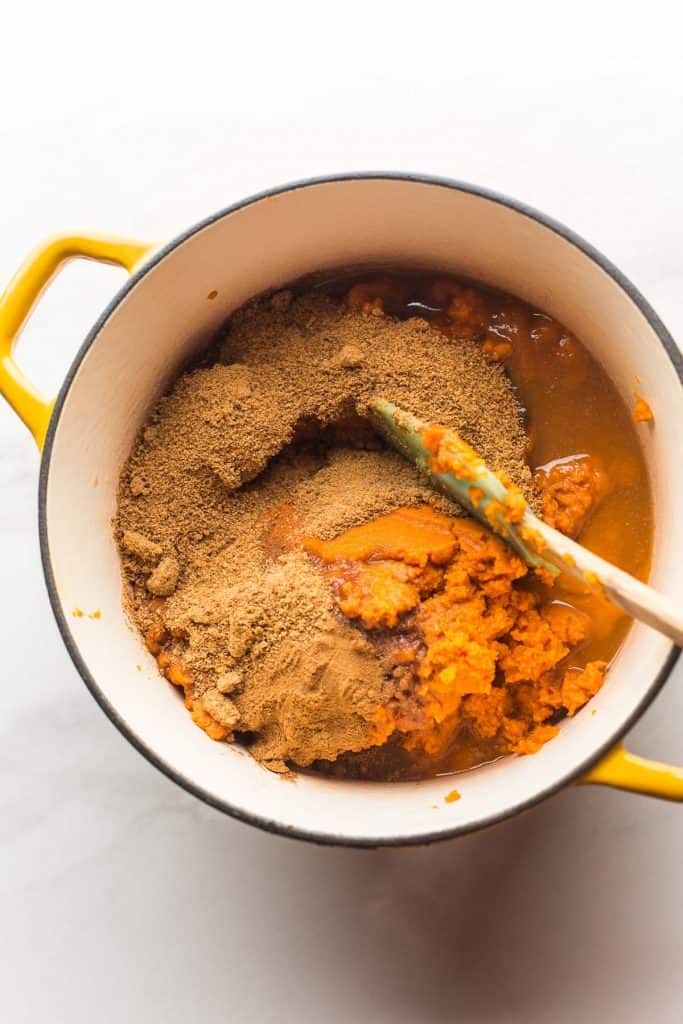 How to Make Pumpkin Butter From Scratch
Making your own pumpkin butter from scratch is a very simple and straight forward cooking process. All you need a in large saucepan, a wooden spoon for mixing and a few seasonal ingredients commonly used this time of year.
To make, combine pumpkin butter ingredients in a large pot and mix to combine. Set the mixture over a medium-high heat on the stove top and bring to a boil. Once you've got a low boil going, reduce the temperature down to a low heat to simmer. From here, simply simmer and stir occasionally for about 30-40 minutes until the liquids have reduced and you end up with a thick, slightly darkened mixture. The longer you cook, the richer the flavor.
Ingredients Needed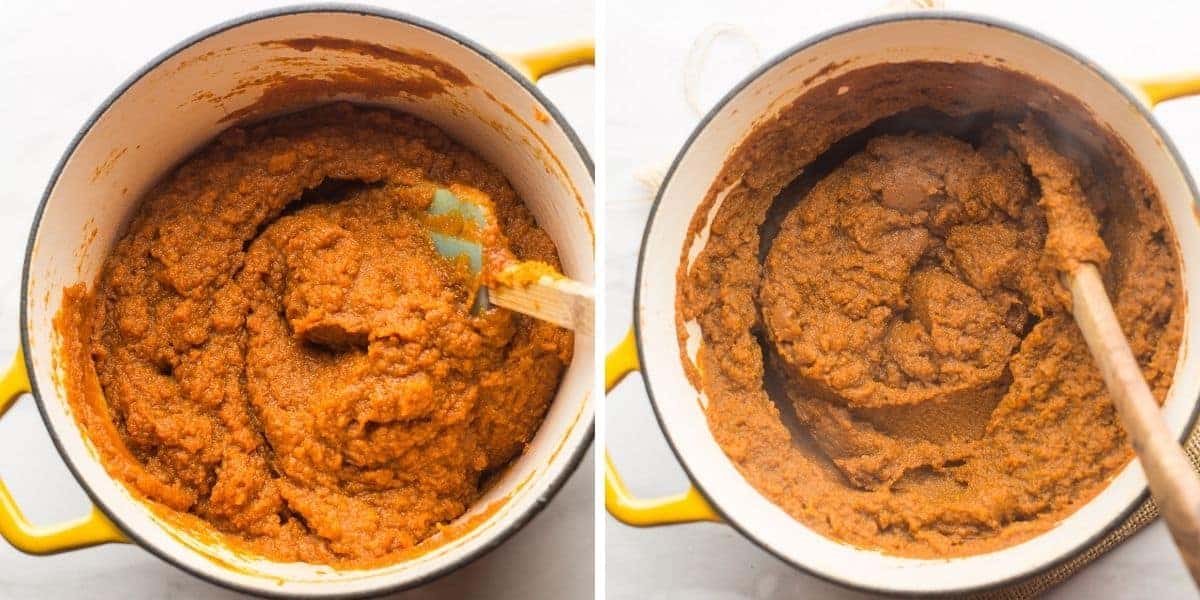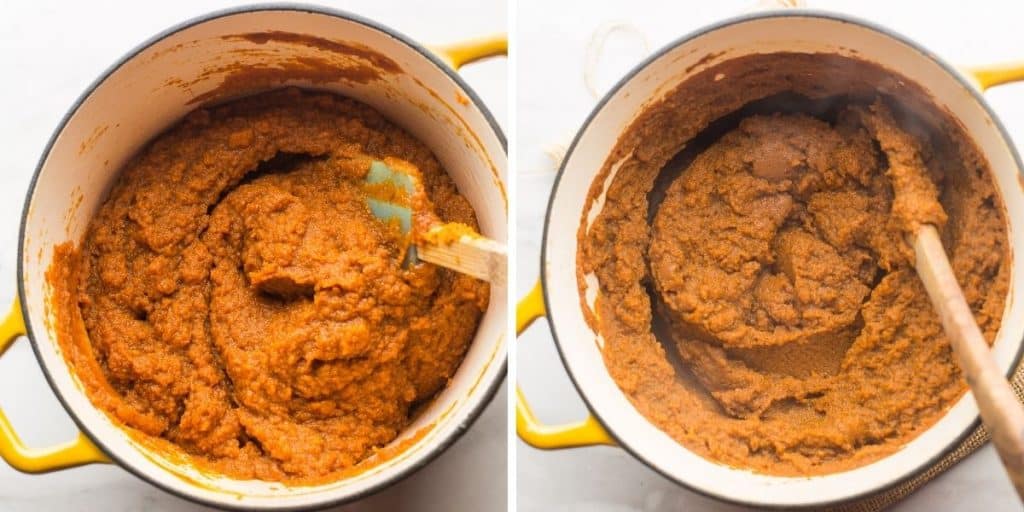 Pumpkin Butter: Canned pumpkin puree is without a doubt the easiest way to make this recipe. If you'd like to make this completely from scratch you can go full on DIY by making your own pumpkin puree. Remember that homemade pumpkin puree often has a higher water content so you may need to decrease the amount of water or juice that you add to your mixture,
Sweetener: You have a bit of flexibility here when it comes to what type of sugar/ sweetener you use, but do keep in mind that your choice will alter the taste slightly depending on what you use.

I used maple and coconut sugar, but light brown sugar is an excellent choice to use as well. Dark brown sugars have more molasses than light brown which will make the pumpkin butter sweeter.
You can use honey instead of maple, but honey has a much stronger break through flavor so make sure that you like the taste of honey.

Many pumpkin butter recipes use a combination of two types of sweeteners – usually a liquid sweetener like maple and granulated sugar like brown sugar. Using a combination of sweeteners helps add dimension and balance. For ease, you can use one type of sweetener only.

Spices: Use pumpkin pie spice mix if you have a jar handy and ready to go. If not – I'll include individual spice that you can add instead. All you need are a handful of seasonal warm spices and you'll be good to go!
Liquids: Again, you have a few options here. Apple juice, apple cider (non alcoholic) or water are all commonly used to make pumpkin butter. I have a recipe for instant pot apple cider coming up next week so keep an eye out for that if you're interested!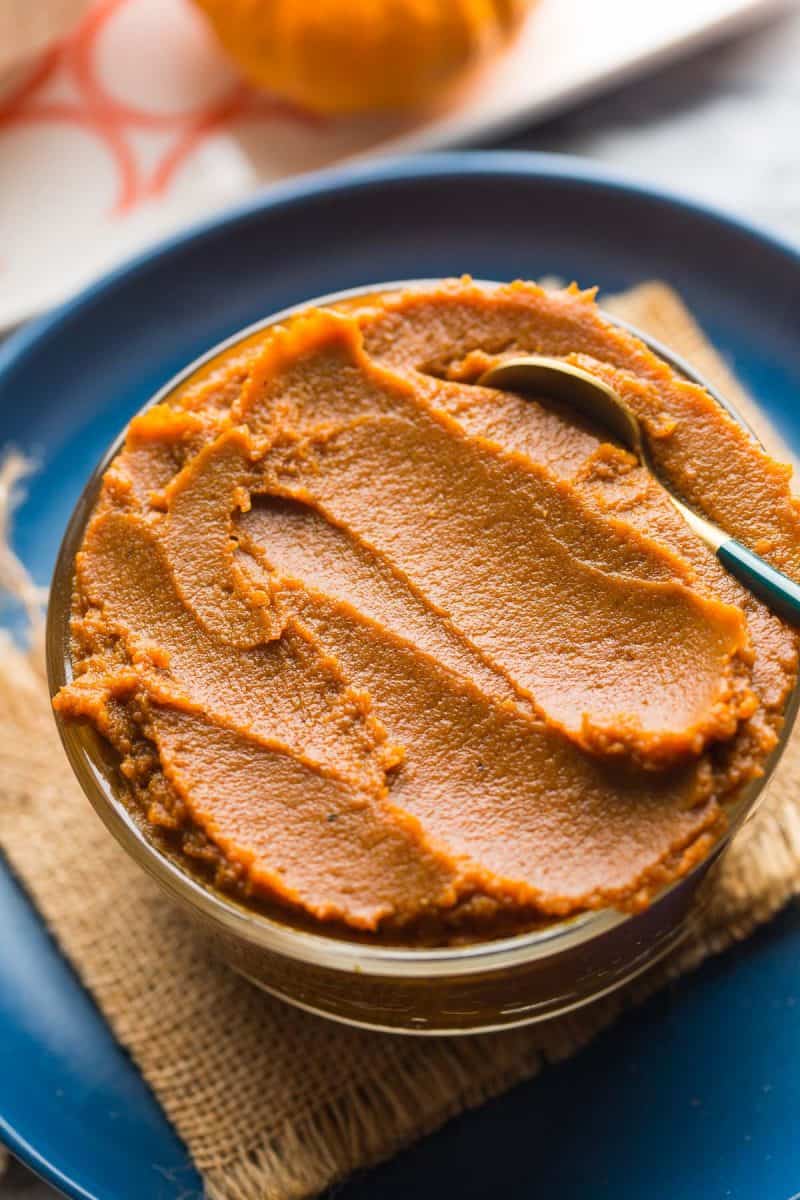 Pumpkin Butter FAQ's
Can I make this in the Instant Pot of Slow Cooker?
Instant Pot: Yes. Mix ingredients together in the pot then cover and cook on high pressure for 4 minutes. Switch to a quick release, then switch on the sauté function. Sauté the pumpkin butter mixture about 5-10 minutes to reduce the liquids.
Slow cooker: Yes. Mix ingredients in slow cooker and cook on high 4 hours. Stir the pot occasionally to keep the bottom from scorching. In the final 30 minutes of cooking, prop lid open with a wooden spoon to give the liquids a chance to reduce/evaporate.
Can this freeze?
Yes! Pumpkin butter freezes well – store in a freezer-safe bag or container and keep up to 6 months.
Tip: Freeze pumpkin butter in individual portions by using ice cube tray. Freeze the ice cube tray for a few hours until the pumpkin cubes have solidified then pop out the cubes and transfer to a freezer bag until ready to use.
Can You Can Pumpkin Butter?
No. In general, pumpkin does not make for an ideal canning candidate. Since I have precisely zero canning knowledge, I'll leave the explanation to the experts:
"…pumpkin and all other winter squash are a low-acid vegetables, meaning that without careful treatment, they could potentially be a friendly environment in which botulism spores might grow into their toxic adult state." – Canning 101: Why Pumpkin Butter Can't Be Canned
How do I Store Pumpkin Butter?
Easy! Let cool to room temperature transfer to an airtight container and keep in the fridge for up to 2 weeks.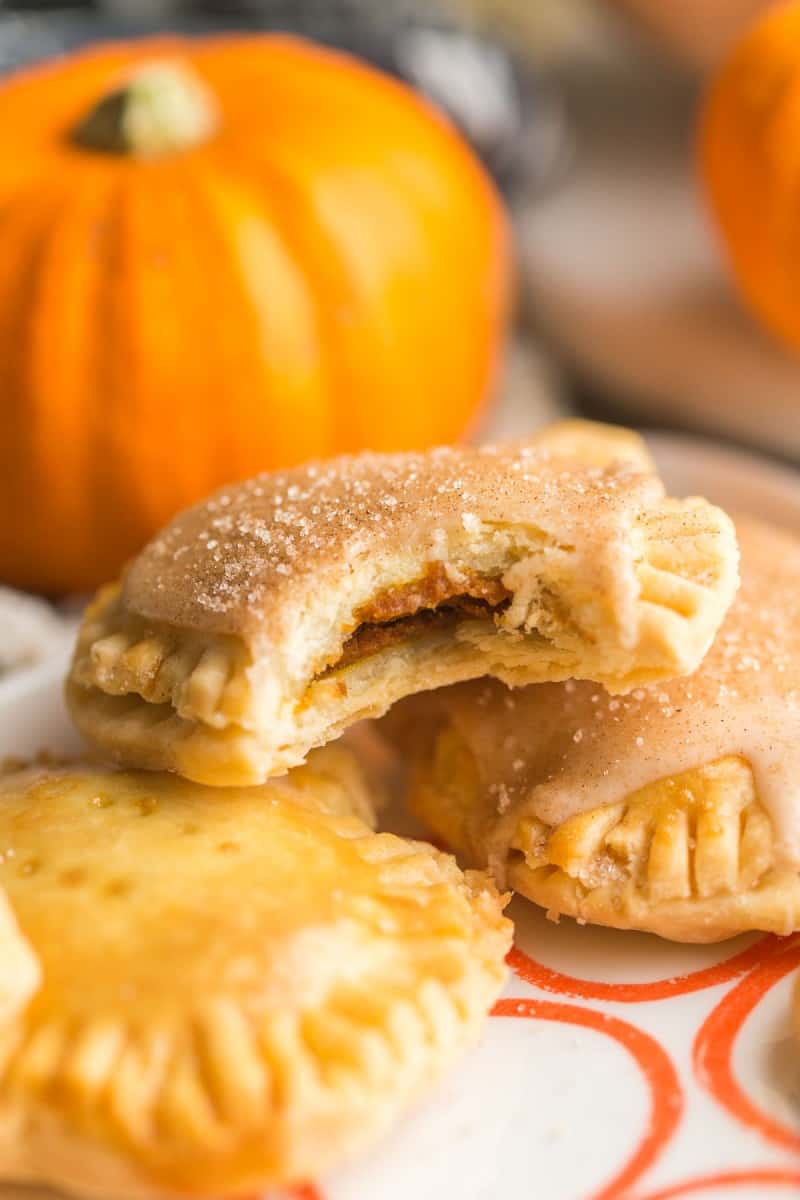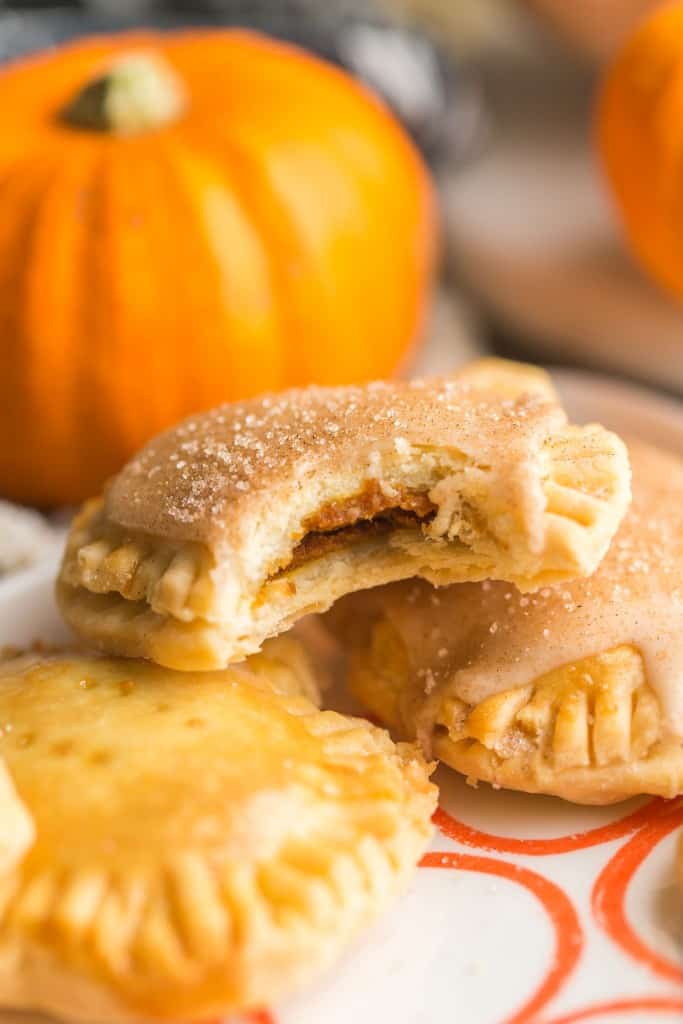 And that's it: simple, delicious, easy pumpkin butter with minimal prep! Share with all the pumpkin lovers in your life and enjoy!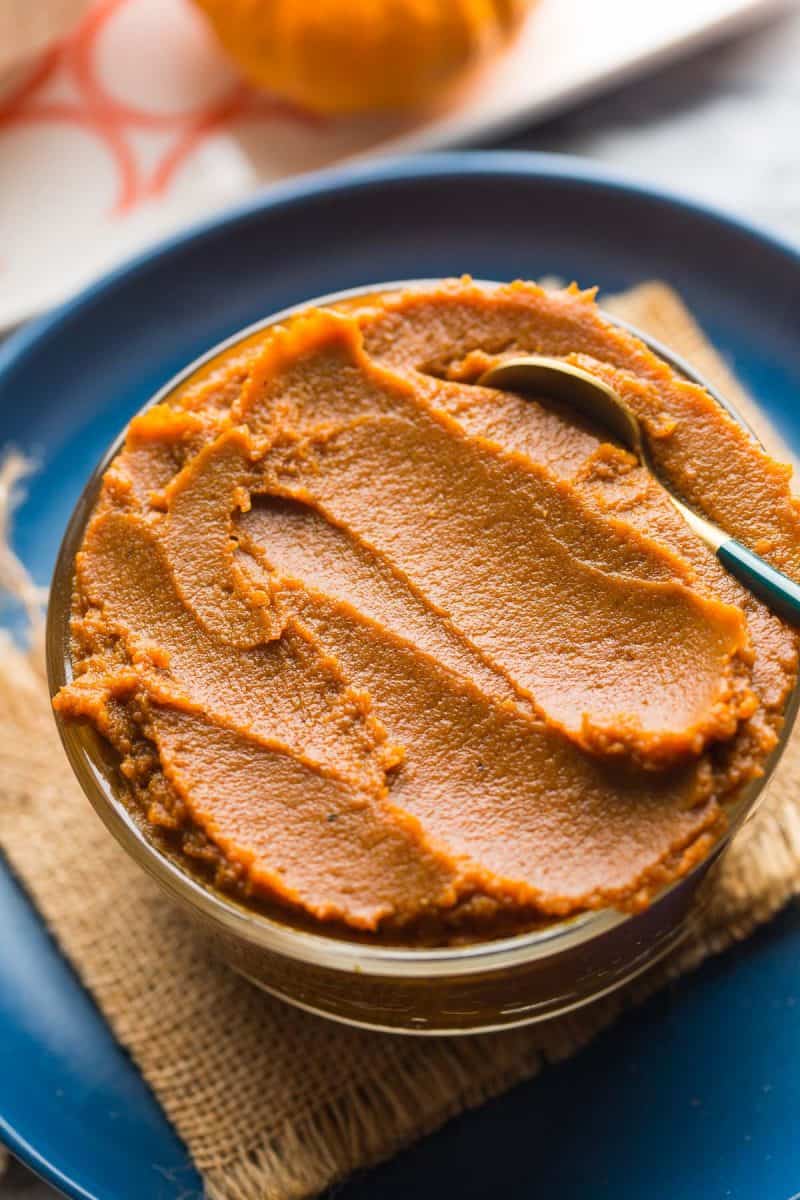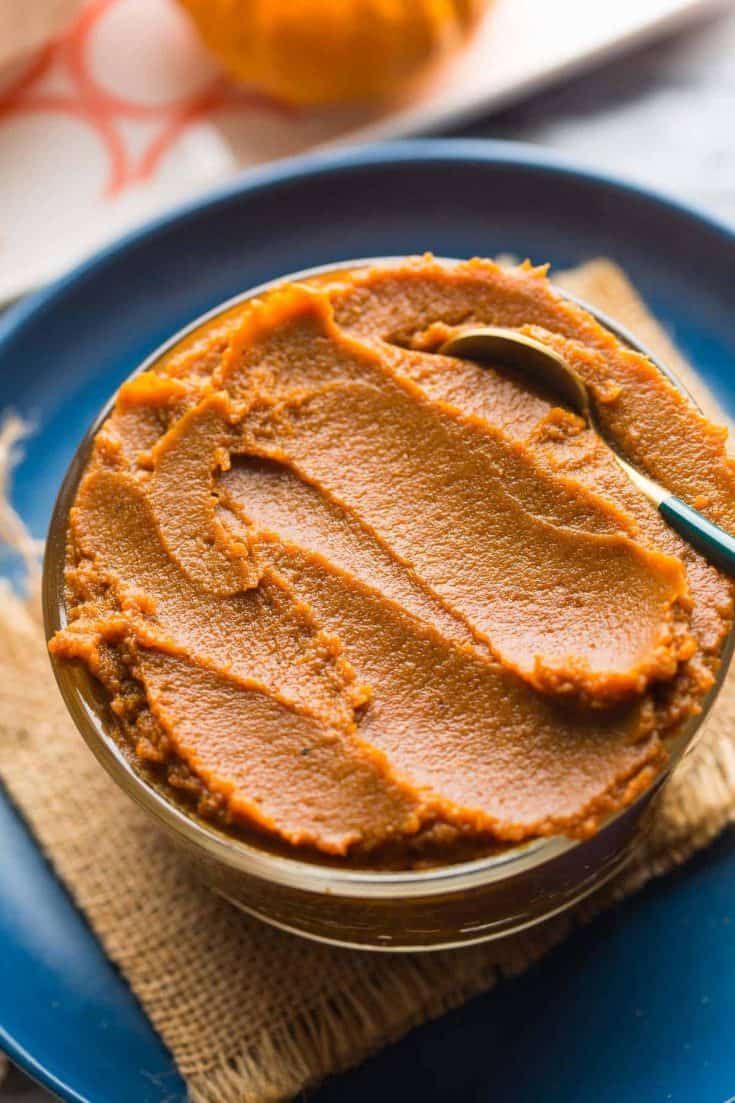 Yield:
about 3/4 cup
Prep Time:
5 minutes
Cook Time:
40 minutes
Total Time:
45 minutes
Make the most of pumpkin season with this homemade pumpkin butter recipe! It tastes like pumpkin pie without all the extra calories and fuss.
Ingredients
2 (15 oz) cans | 3 3/4 cup pumpkin puree
1/2 cup | 158 g pure maple syrup
1/2 cup | 120 g coconut sugar
2/3 cup | 160 ml apple cider, apple juice or water
1 tablespoon | 15 ml lemon juice
2 teaspoons | 10 ml vanilla extract
2 teaspoons pumpkin pie spice
1 teaspoon ground cinnamon
Instructions
Combined pumpkin butter ingredients in a large sauce pot.
Bring to a boil over a medium-low heat. Once boiled, reduce the temperature down to a low heat.
Let cook for 35-40 minutes. Every few minutes come back to stir the pot to keep things from burning. When finished, the pumpkin butter should be thicker, darker in colour and shiny.
Taste and season with more sweetener to suit your preferences if needed.
Let cool to room temperature before storing. Pack up in an airtight container and store in the fridge for up to 2 weeks or freezer for up to 6 months.
Notes
Make sure to use cans of pumpkin puree - not pumpkin pie filling.
You can use homemade pumpkin puree but you will likely need to use less juice or water. I recommend you start with 1/3 cup apple juice, cider or water. If you pumpkin mixture looks too thick, add an extra 2-3 tablespoons to thin it out.
Use a heavy-bottomed sauce pot to make this to reduce the chance of burning on the bottom as the butter cooks.
Quick Pumpkin Pie Spice Mix
1 teaspoon ground cinnamon
1/2 teaspoon ground ginger
1/4 teaspoon ground nutmeg
1/4 teaspoon ground allspice

Nutrition Information
Yield:

16
Serving Size:
2 tablespoons
Calories:

81
Total Fat:

0g
Saturated Fat:

0g
Carbohydrates:

20g
Fiber:

1g
Sugar:

17g
Protein:

1g
This website provides approximate nutrition information for convenience and as a courtesy only. Nutrition data is gathered primarily from the USDA Food Composition Database, whenever available, or otherwise other online calculators.