Forget the coffee shop – make your very own Dairy Free Pumpkin Spice Latte at home in minutes! Made with real pumpkin, sweeteners of your choice and your favourite dairy free milk substitute! This lightened up version is made with simple ingredients and makes for a much healthier, lower calorie drink than you'd pay for in store. | Gluten Free + Vegan + Low FODMAP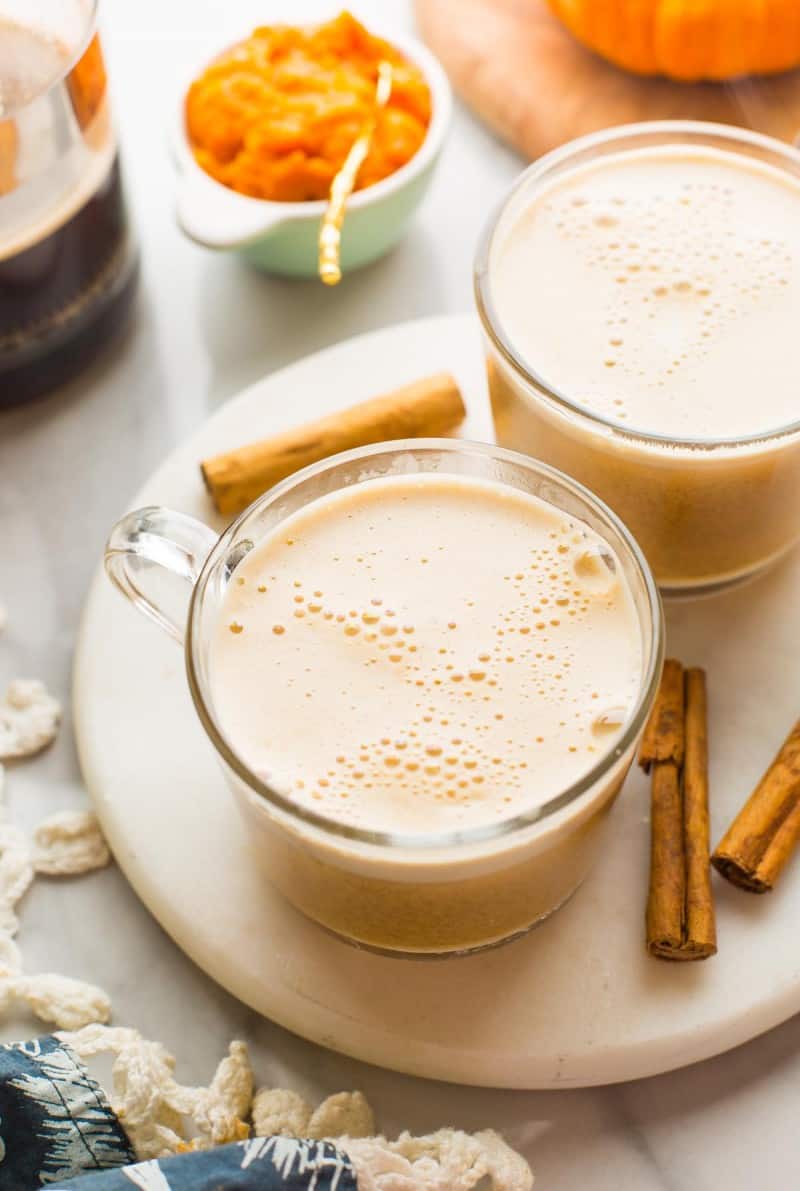 Please don't hate me for being so early, but in honor of the first official day of fall, I thought I'd share my version of a dairy free pumpkin spice latte.
Once upon a time I worked a Starbucks through one hectic holiday season, which was long enough to see just how crazy people go for those red holiday cups. Really….ya'll go bat$hit. I know the PSL has been back for weeks now at Starbucks, and white girls everywhere are rejoicing at the return of their beloved beverage.
With that said, excuse me this one time as I jump onto the bandwagon and recreate a dairy free version of the infamous drink using actual pumpkin that my amazing sister-in-law sourced for me – thanks, Kathryn! Who knew finding pumpkin puree here in the UK would be so difficult? I've also included how to turn it into a more grown up version – a pumpkin spiked latte. Ah, yesss.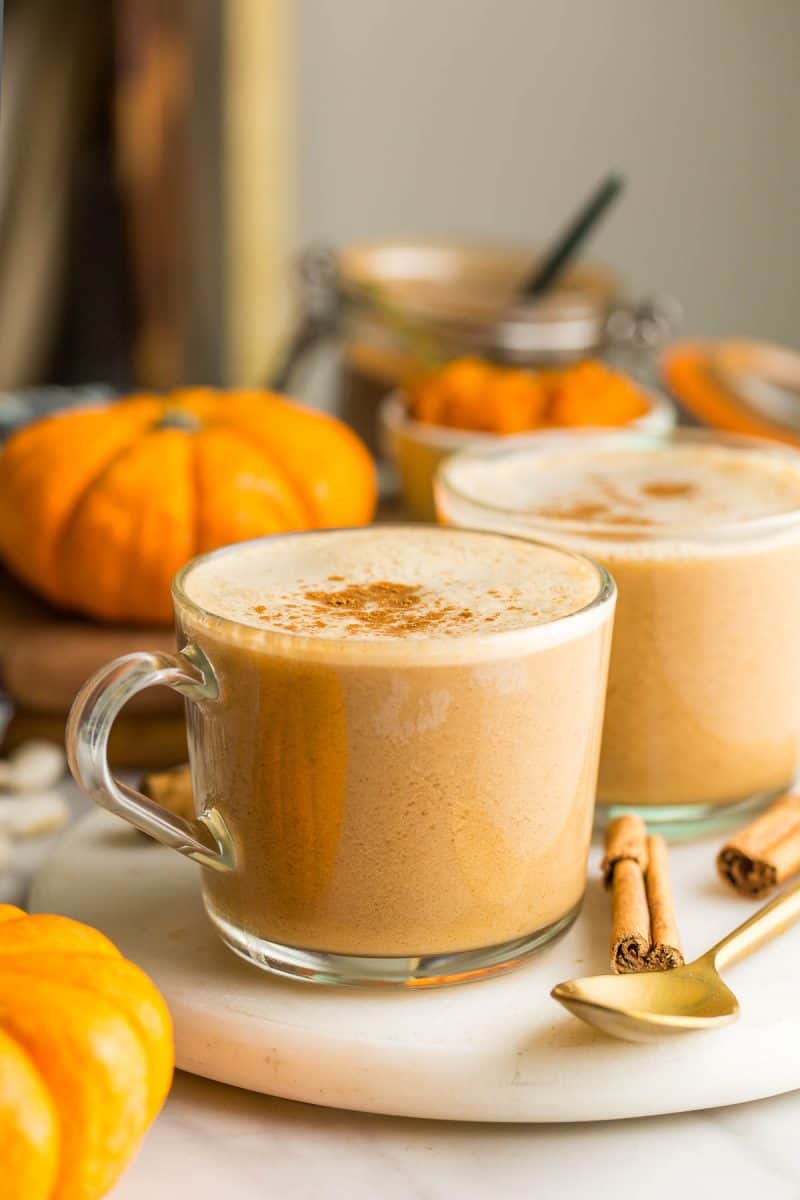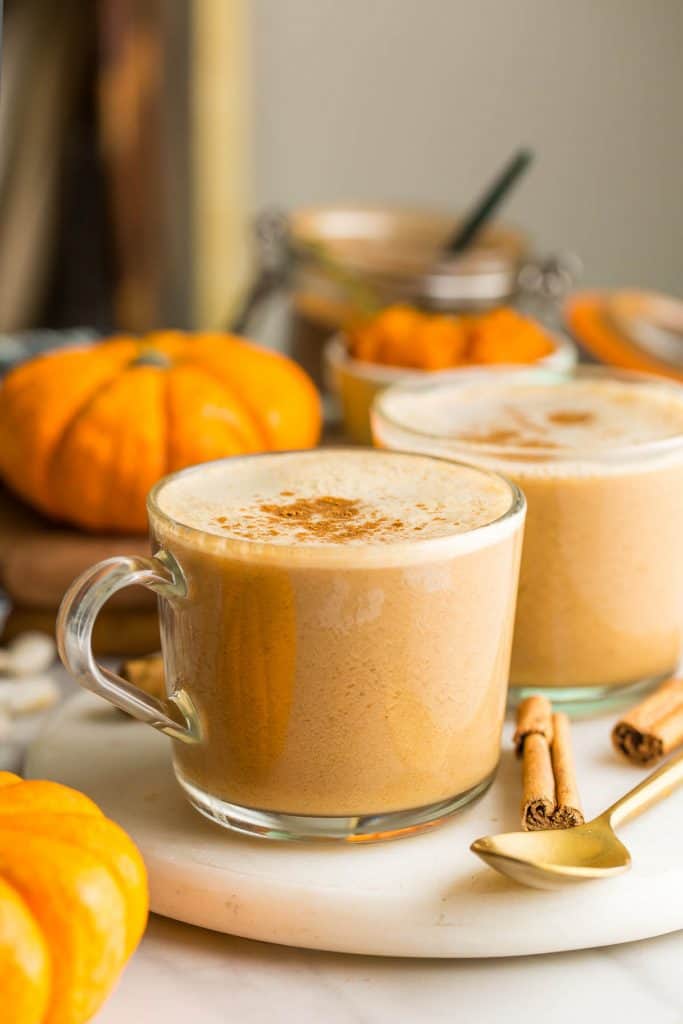 A couple days ago, I was surprised to hear from Mike about a post going around Tumblr warning Vegans and lactose intolerant folk alike that the PSL syrup contains milk products. I did a bit of digging and found out that anything made with the syrups mentioned below contain milk products and should be avoided by anyone who can't have dairy.
white mocha (regular mocha is ok)
pumpkin spice
caramel brûlée
any light frappuccino
Bummer.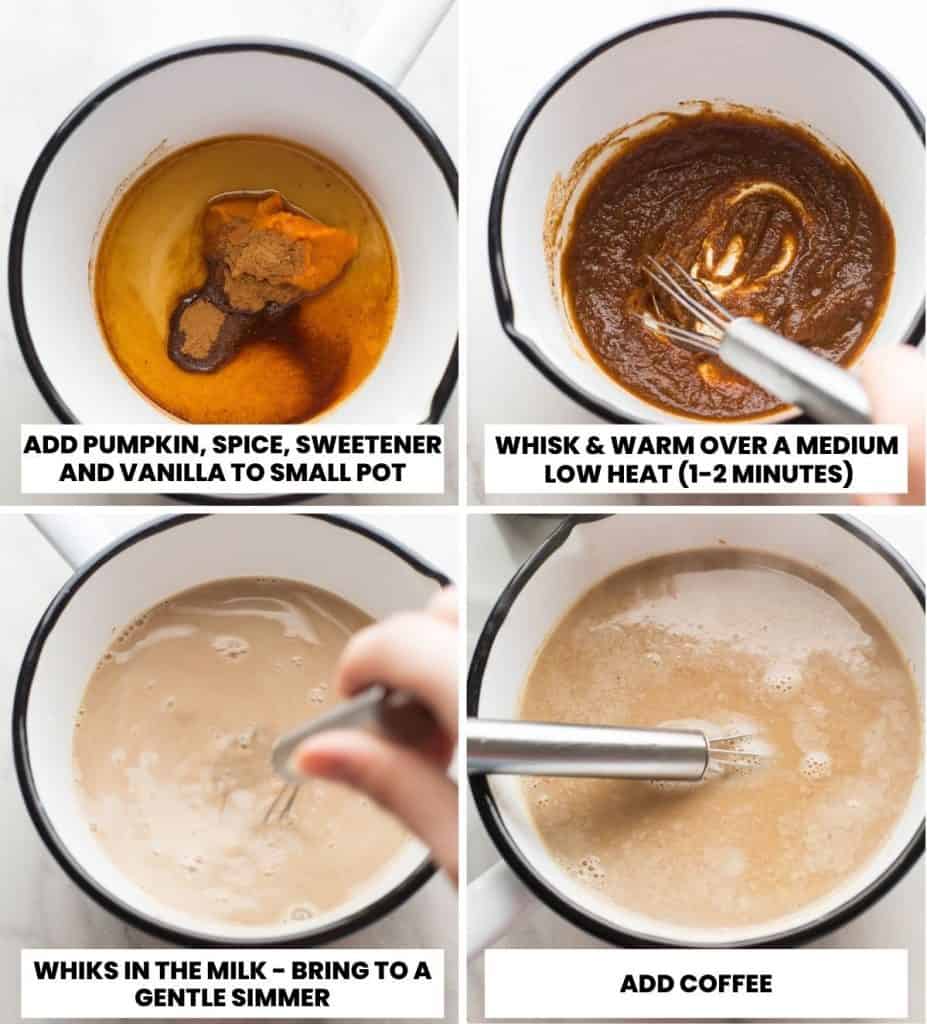 Technically, this isn't a latte because lattes are made with espresso and steamed milk – basically they are milkier cappuccinos with less foam. Because I don't own an espresso machine and I know most people don't, I use freshly brewed strong coffee and coconut milk warmed in a sauce pan with the pumpkin spice. Instead of using a steamer as they do for the original PSL, use your blender to recreate that coffee shop foam.
This recipe only requires 2 tablespoons of pumpkin puree, so cover the pumpkin and save in the fridge for up to three days, or even better, measure out two tablespoons at a time and freeze for future use. I've also got a one bowl pumpkin bread recipe + pumpkin cookies coming up soon to use the left over pumpkin, so no worries about waste.
In addition to using pumpkin spice flavors, I found this article from the Kitchn about homemade PSL's which suggests using freshly ground pepper. Yes, pepper. I know it sounds strange to use pepper in a sweet drink, but you don't really want to skip that ingredient. It really helps to cut down on the sweetness and adds a different kind of spice to this dairy free pumpkin spice latte. #JustDoIt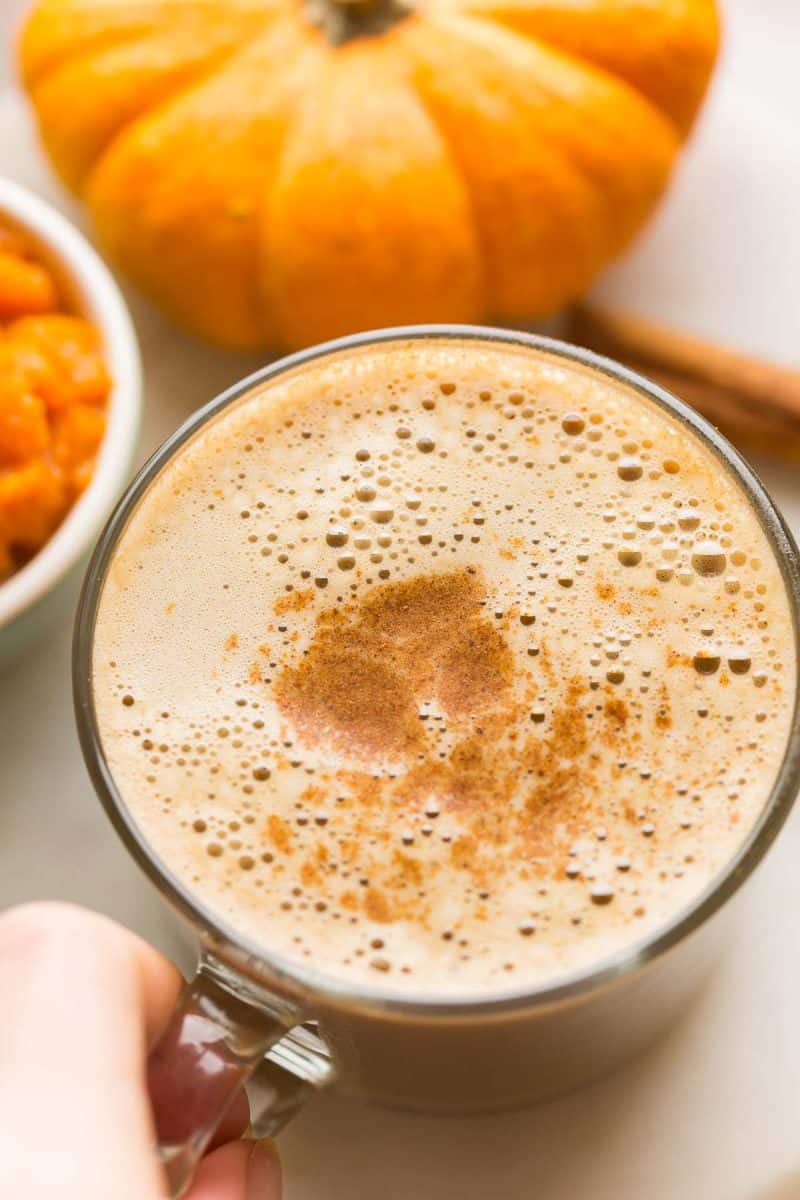 If you want to take this drink to an entirely new level, substitute the vanilla extract for dark rum. I've heard whisky is a good option too, but depending on who you ask whisky may not be suitable for Coeliac's. By the way, if the amount of vanilla extract seems like a lot for the amount this makes, that's because it is. However it is necessary for mimicking that syrup that goes in the Starbucks original.
So yay for hot drinks on cold days that warm your hands that also happen to smell amazing. Still friends?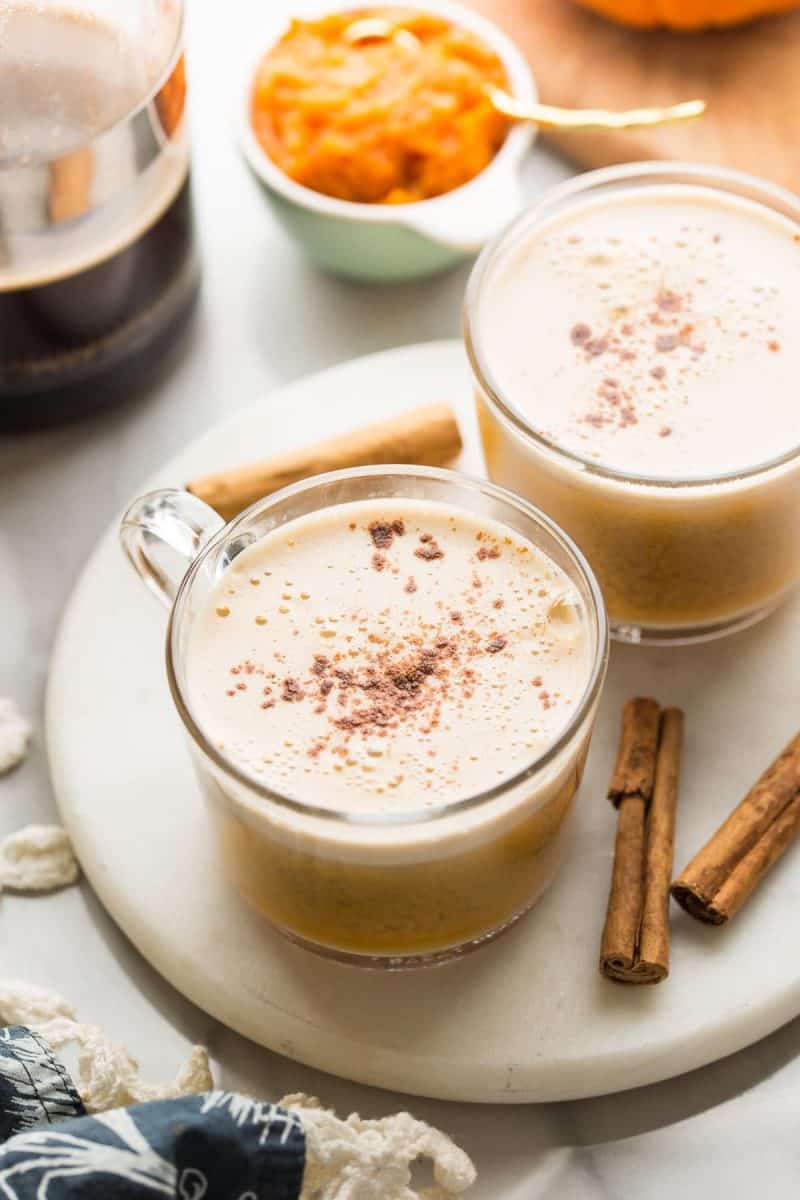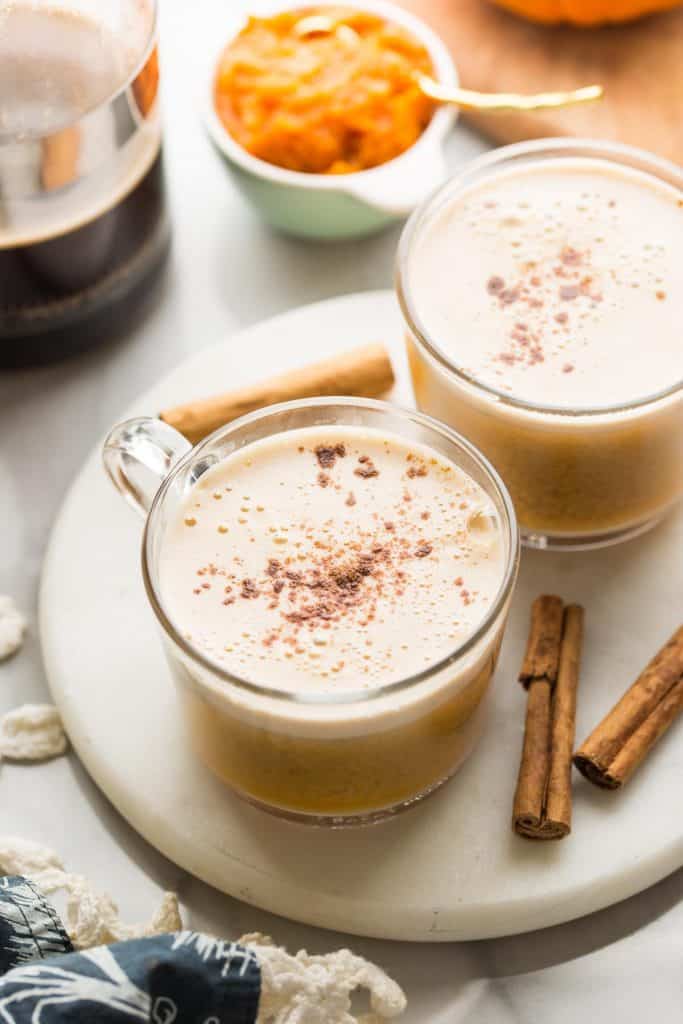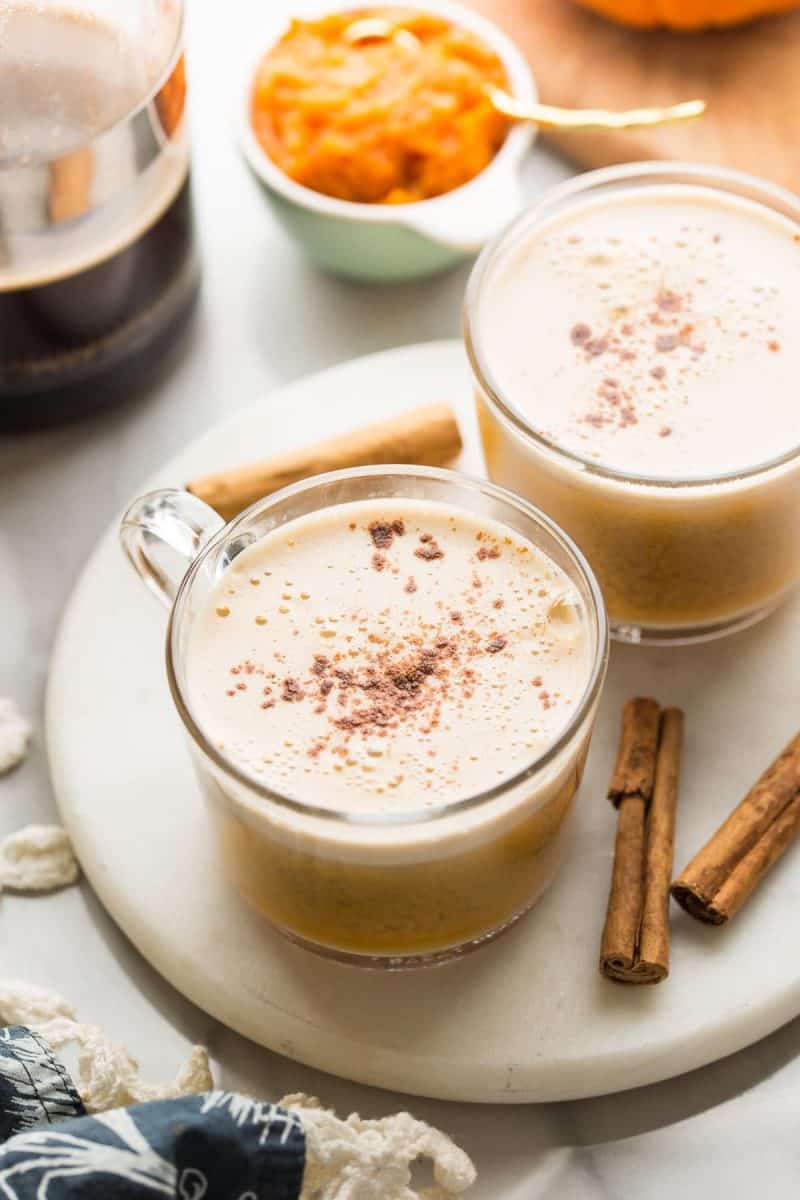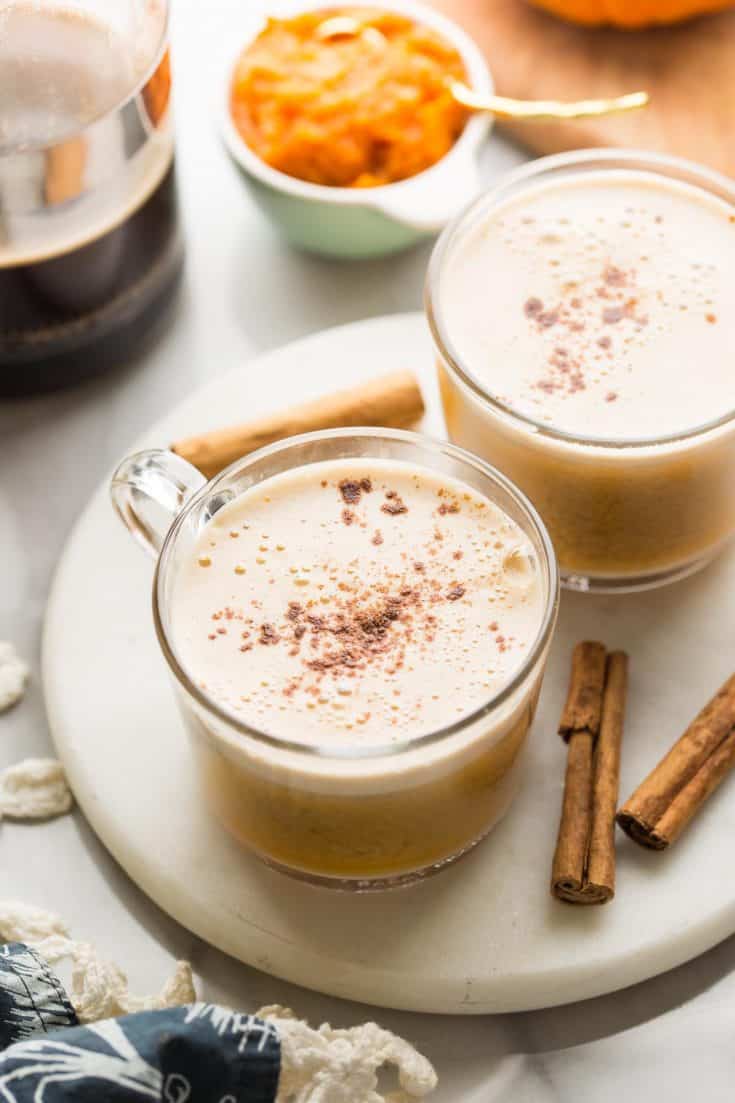 Recipe
Dairy Free Pumpkin Spice Latte
Yield:
2 servings
Prep Time:
5 minutes
Cook Time:
5 minutes
Total Time:
10 minutes
Forget the coffee shop - make your very own Dairy Free Pumpkin Spice Latte at home in minutes! Made with real pumpkin and milk of choice!
Ingredients
2 tablespoons pureed pumpkin
1 tablespoon vanilla extract
1-2 tablespoons maple syrup (honey for non vegan option) or brown sugar
1 cup | 240 ml dairy free milk of your choice
1 cup | 120 ml strong coffee or espresso
Instructions
Begin making coffee as you normally would.
In a small sauce pot: add the pumpkin puree, vanilla, sweetener and pumpkin spice mix. Whisk to combined and warm over a medium low heat 1-2 minutes.
Add the milk and continue stirring until combined. Bring the milk mixture to a gentle simmer. Add the coffee when it's ready. Turn off the heat.
Optional: Add the milk mixture to a large blender and blend for about 30 seconds or until it begins to get a bit frothy. Make sure not to fill the blender more than 3/4 of the way full and open the lid away from your face.
Divide the drink between two mugs. Top with a pinch of cinnamon or pumpkin pie spice and a dollop of (dairy free) whipped cream if desired and enjoy.
Notes
Make it with a boozy twist - add 1 tablespoon rum, Kahlúa or dairy free Bailey's in place of the 1 tablespoon vanilla extract.
Quick pumpkin spice mix: 1/2 teaspoon cinnamon, 1/4 teaspoon ginger, pinch of allspice, pinch of nutmeg
Nutrition Information
Yield:

2
Serving Size:
g
Calories:

311
Saturated Fat:

21g
Sodium:

17mg
Carbohydrates:

22g
Sugar:

18g
Protein:

2g
This website provides approximate nutrition information for convenience and as a courtesy only. Nutrition data is gathered primarily from the USDA Food Composition Database, whenever available, or otherwise other online calculators.