Blackberry & Apple Paleo Dutch Baby – a fast and easy oven pancake made with fresh fruit for the perfect fuss free breakfast. |Grain free and dairy free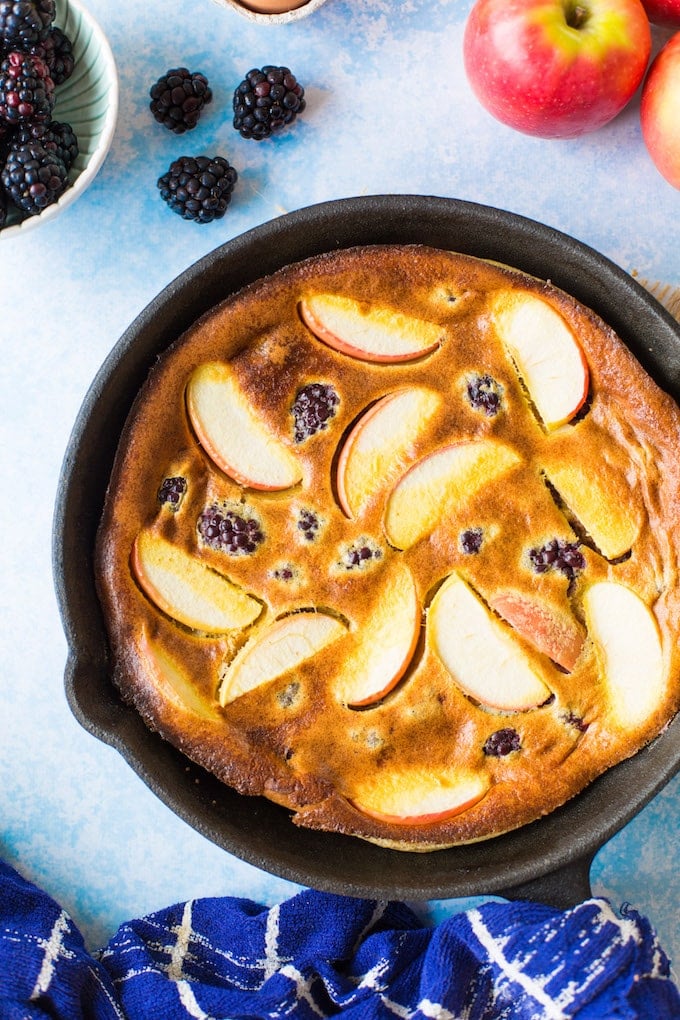 photos updated June 14th, 2107
Spiders. How do you feel about them?
If I wasn't so creeped out by them I'd feel bad that they get such a bad wrap. I understand that they have their place in the world (or so I'm told) and I know they're probably more freaked out by us than we are of them, but I wouldn't be the least bit upset if I went through life never seeing another spider again.  I mean, c'mon. Eight legs are a bit excessive, don't you think? I probably shouldn't admit that Mike and I regularly call for my mother-in-law to capture any rogue spiders to release into the wild aka a healthy 20 feet from the house. But there ya go.
So this morning as I was preparing the blackberries that I had just picked from the garden, I nearly jumped out of my skin when I saw a giant, man-eating spider emerge from the bramble. I may or may not be embellishing on the man-eating part. I was half expecting it considering their were webs basically covering the bushes, but I'm not going to lie – it scared the sh** out of me. I suppose that is the price you pay for home grown, pesticide free food. Creepy crawlies considered, that's a price I am willing to pay.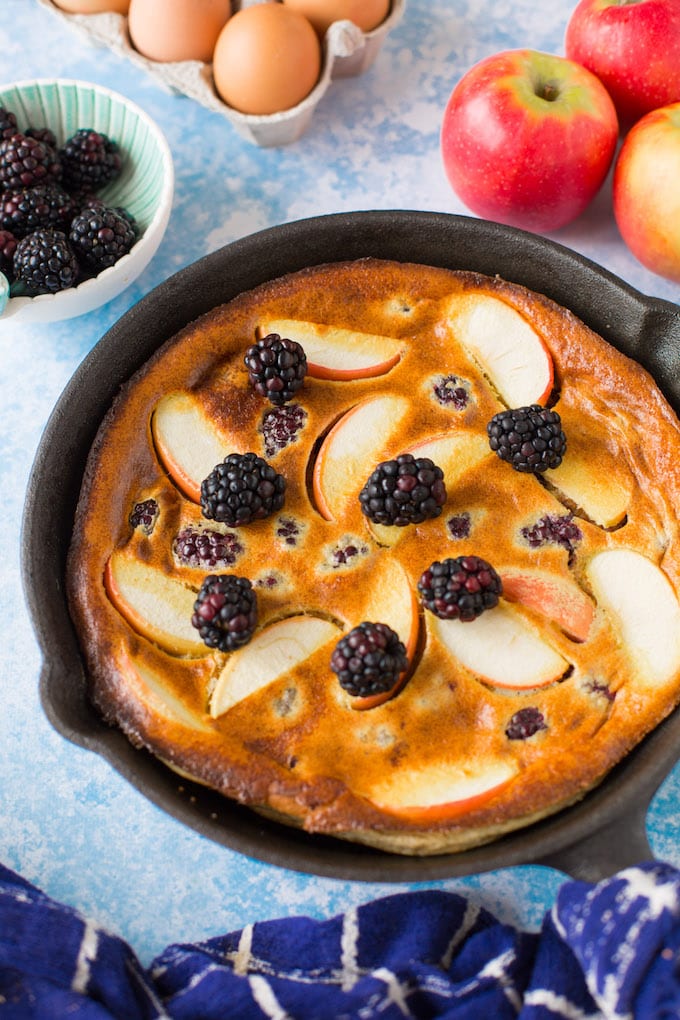 Not only did the blackberries come from our garden, but so did the apple. Since the weather is starting to cool down a considerable amount effecting the blackberries and the apple tree is now in full bloom, the apple/blackberry combination was a no brainer. This blackberry & apple paleo dutch baby feels like the perfect early fall breakfast.
I like dutch baby's because they're typically not too sweet and not too heavy. Earlier this year as I was trying to figure out how to make a traditional English gluten free toad in the hole for Mike, I realised that toad in the holes are basically savoury versions of dutch baby's plus sausage. Since making that recipe I played around a bit more until I was able to make a grain free version which I can't believe I never actually posted.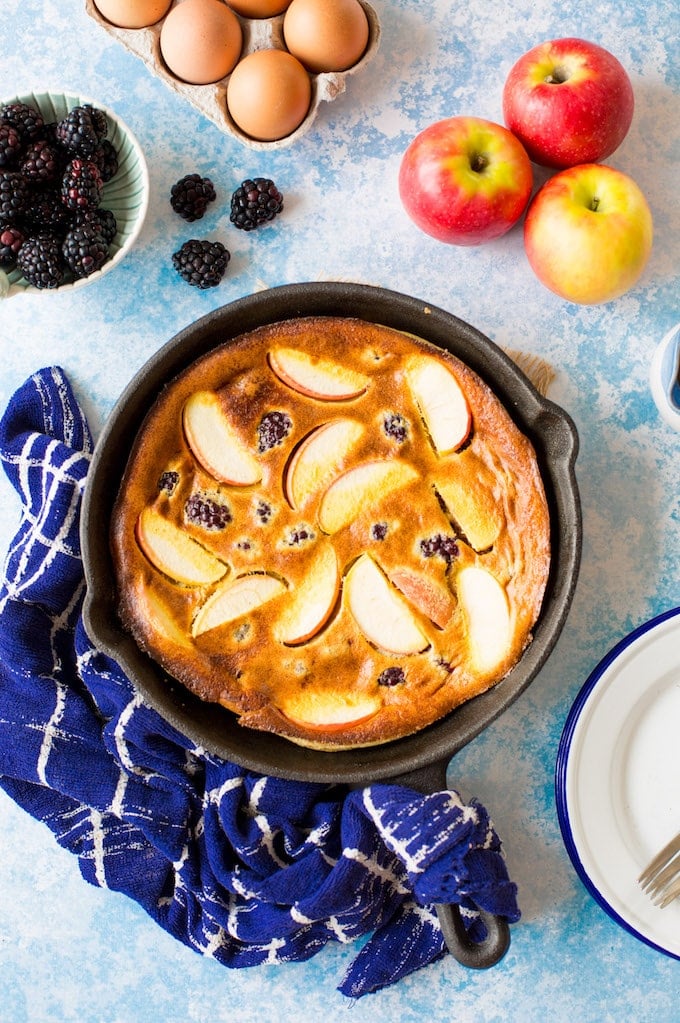 I also really like how simple this recipe is – it's great for those last minute I-don't-know-what-to-cook meals that always comes out tasting and looking like a lot more effort went into it. A slice of this and a cup of coffee is the perfect way to enjoy a lazy morning with the family.
Sorry for talking about spiders so much in this post – can we still be friends?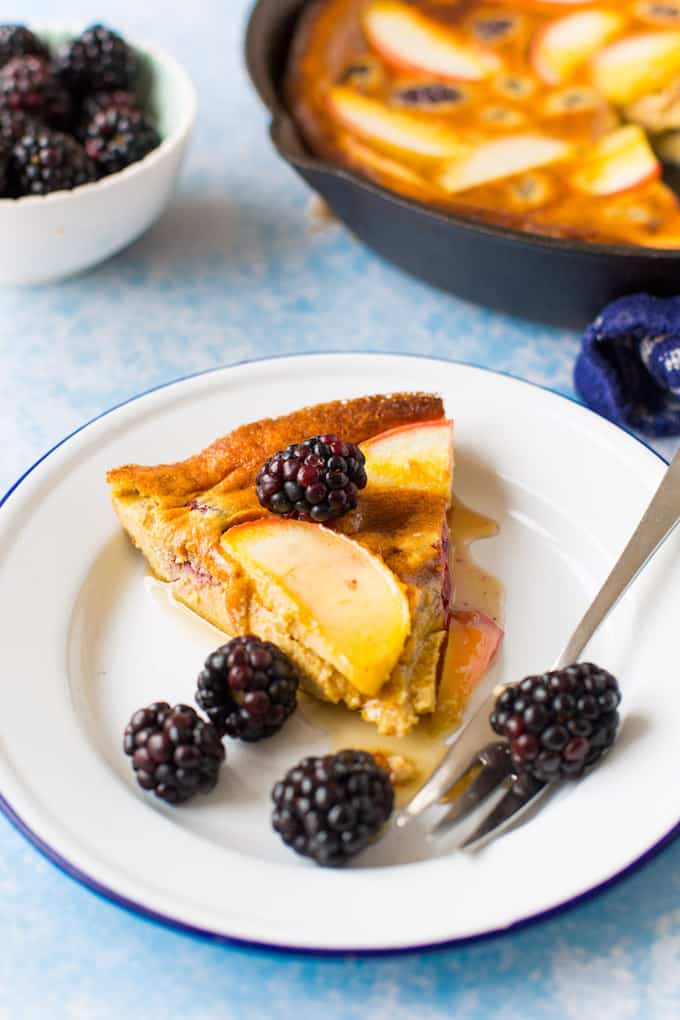 FACEBOOK | INSTAGRAM | PINTEREST  
Don't forget to #asaucykitchen on instagram if you try this Blackberry & Apple Paleo Dutch Baby We love seeing what you make!  You can also post your pictures to my facebook page!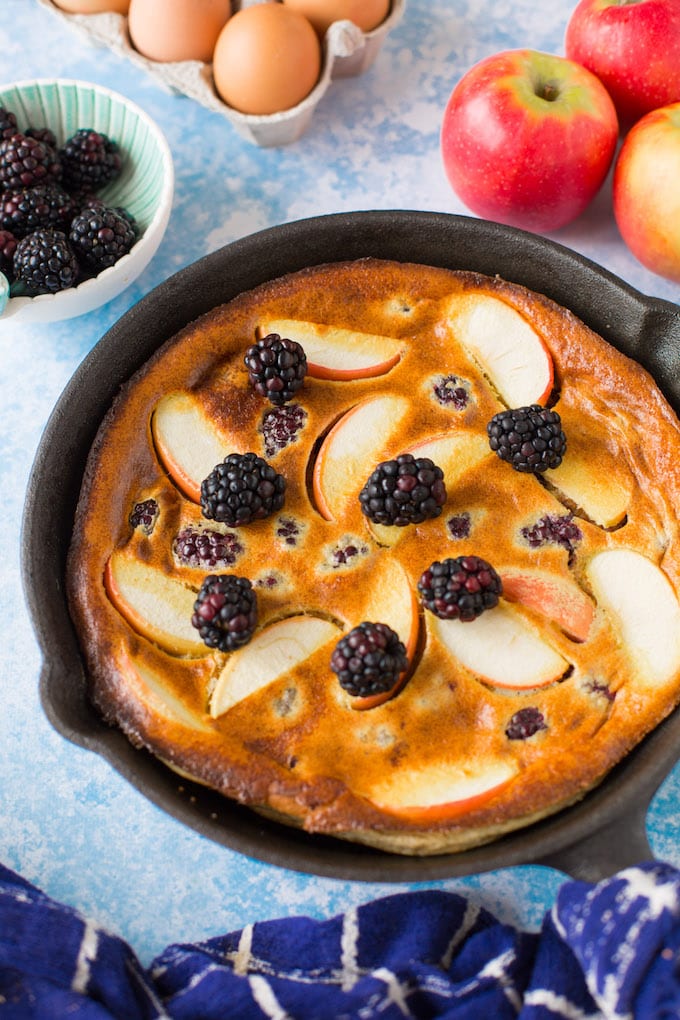 Recipe
Blackberry & Apple Paleo Dutch Baby Pancake
Yield:
8 slices
Prep Time:
10 minutes
Cook Time:
20 minutes
Total Time:
30 minutes
Blackberry & Apple Paleo Dutch Baby – a fast and easy puffed oven pancake made with fresh fruit for the perfect fuss free breakfast.
Grain free and dairy free
Ingredients
4 eggs
3/4 cup (190 ml) coconut milk*
2 teaspoons vanilla extract
1 tablespoon coconut sugar
3/4 cup (72 grams) almond flour
2 tablespoons (15 grams) tapioca flour
1 teaspoon cinnamon
1/2 cup blackberries
1 apple washed and sliced
2 tablespoons coconut oil for greasing
Instructions
Heat your oven to 450°F/230°C with your cast iron skillet (at least 9 inches in diameter) or baking dish inside. You want the skillet to be HOT when you pour the patter into it.
While the oven is heating, mix your eggs, milk, vanilla, sugar, almond flour, tapioca flour, and cinnamon in a medium sized bowl. Whisk well - you can do this easily in the blender if you don't mind cleaning up one extra thing.
Take the skillet out of the oven and add your oil to the skillet. It should be hot enough to melt the coconut oil quickly if it's solid. Swirl the oil around the skillet to coat the bottom and the sides, and then slowly pour the batter over the oil - careful not splash any hot oil on yourself.
After your batter is in the skillet, scatter the apple slices and blackberries over the top and the bake in the oven for 15-20 minutes. If your oven has hot spots, remember to turn about half way through to cook evenly.
Remove from the heat and allow it to cool for a few minutes before serving. Sprinkled with a bit of powdered sugar if you like, additional fruit, or tiny bit of honey and enjoy!
Notes
* you can substitute that for any milk
Nutrition Information
Yield:

8
Serving Size:
slice
Calories:

193
Saturated Fat:

8g
Cholesterol:

81mg
Sodium:

37mg
Carbohydrates:

10g
Fiber:

2g
Sugar:

4g
Protein:

5g
This website provides approximate nutrition information for convenience and as a courtesy only. Nutrition data is gathered primarily from the USDA Food Composition Database, whenever available, or otherwise other online calculators.