Healthy Pumpkin & Gingerbread Crumb Muffins with an optional maple icing glaze | Gluten Free + Vegan + Refined Sugar Free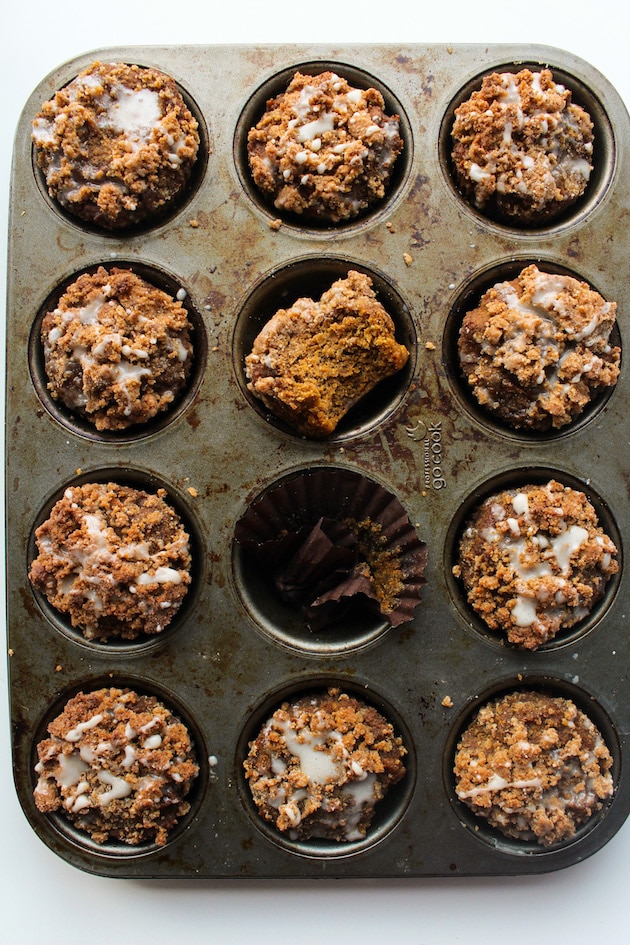 Happy (almost) Christmas!
Time to make some muffins! Gingerbread muffins. Gingerbread CRUMB muffins. With pumpkin! And a quick maple icing glaze of course because calories don't count during the Christmas season. I mean, I don't count them any other time of year, but they especially don't count at Christmas. Can I get an amen?!
I had no plans for sharing these gingerbread muffins here until a few days ago. We had some company over and I made these on a whim to share with everyone. I wasn't going to post them here, but after one bite of his muffin Mike was insisting that I need to. I didn't need telling twice because I would have taken any excuse to make these again….and again.
Crumb toppings give me life!
About this recipe: Pumpkin & Gingerbread Crumb Muffins
Not only are these muffins gluten free, but they're vegan and mostly refined sugar free too. If you skip the final glaze they're completely refined sugar free. That all being said, these are open for a few adaptions if that's what you need. I used aquafaba in these muffins, but I have made them with eggs and there's no detectable difference. I also used coconut sugar as my sweetener, but if you don't have any on hand feel free to swap that out for brown/white sugar or a combination of the two.
However you make these I hope you love them as much as we do! They're
Perfectly sweetened
Easy to make
Seasonally festive
& Crumbly in all the right places
Enjoy!
FACEBOOK | INSTAGRAM | PINTEREST
Don't forget to #asaucykitchen on instagram if you make these pumpkin & gingerbread crumb muffins! I love seeing what you make! You can also post your pictures to our facebook page!
Yield: 12 muffins
Healthy Pumpkin & Gingerbread Crumb Muffins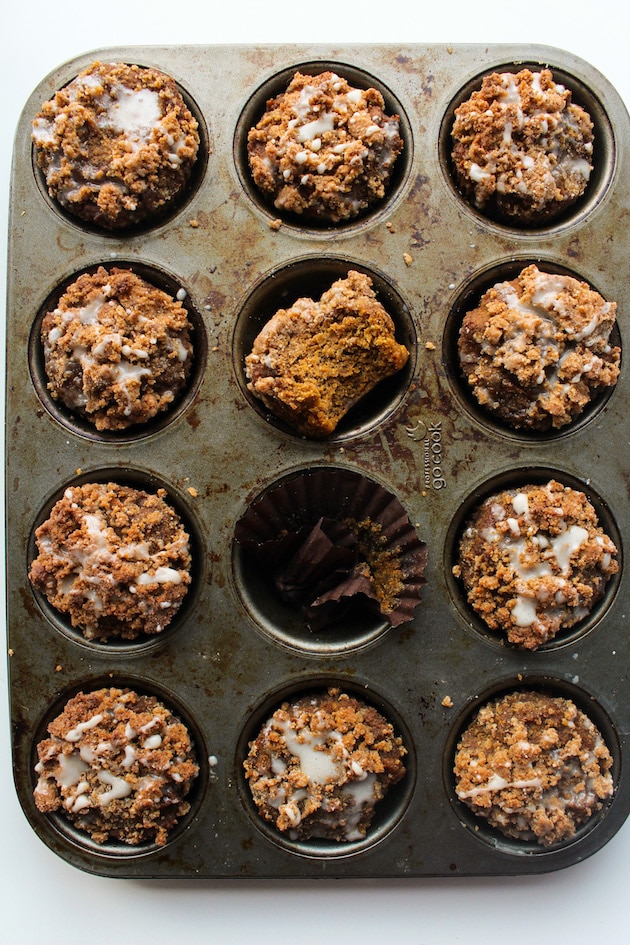 Healthy Pumpkin & Gingerbread Crumb Muffins with an optional maple icing glaze | Gluten Free + Vegan + Refined Sugar Free
Ingredients
1 and 1/2 cups plus 1 tablespoons | 225 grams gluten free flour blend
2 teaspoons baking powder
1 1/4 teaspoons ground ginger
1 1/2 teaspoons ground cinnamon
1/2 teaspoon ground cloves
1/2 teaspoon salt
1/2 cup | 105 grams coconut oil, melted
3/4 cup | 150 grams coconut sugar*
2 tablespoons blackstrap molasses
1 and 1/2 cups pumpkin puree
7 tablespoons aquafaba *, liquid found in cans of chickpeas/white beans
1/4 cup |60ml dairy free milk
Crumb Topping
3/4 cup |94gluten free all-purpose flour
1/2 cup | 200 grams coconut sugar
1 teaspoon cinnamon
6 tablespoons | 84 grams coconut oil, melted
Maple Icing, optional
1/2 cup | 63 grams confectioners' sugar
1 tablespoons | 15 ml pure maple syrup
1 tablespoons | 15ml)dairy free milk
Instructions
Preheat oven to 425°F /220°Grease or line a 12 count muffin tin. Set aside.
Muffins
In a large bowl, whisk the flour, baking powder, cinnamon, gingerbread spice, and salt together until combined. Set aside. In a medium bowl, whisk the oil, sugar, molasses, pumpkin puree, aquafaba and milk together until combined. Pour the wet ingredients into the dry ingredients, then mix everything together until combined . Spoon the batter into liners, filling them almost full.
Crumb topping
Whisk the flour, sugar, and cinnamon together until combined. Stir in the coconut oil until crumbs form. Spoon crumbs evenly on top of the batter and gently press them down into the batter.
Bake for 5 minutes at 425°F/220°Without removing the muffins from the oven, reduce the temperature to 350°F /180°Bake for an additional 16-17 minutes or until a toothpick inserted in the center comes out clean.
Allow the muffins to cool for 10 minutes in the muffin pan as you make the icing.
Icing
Whisk all of the icing ingredients together until combined and smooth. Once the muffins are cooled drizzle the icing and serve.
Notes
*You can sub white and/or brown sugar for the coconut sugar and you can also sub 2 eggs in place of the aquafaba
Nutrition Information:
Yield:
12
Amount Per Serving:
Calories:

311
Saturated Fat:

13g
Sodium:

140mg
Carbohydrates:

41g
Fiber:

2g
Sugar:

20g
Protein:

2g