Easy to make homemade gluten free flour blend – perfect for baking cookies, muffins, cakes, and more.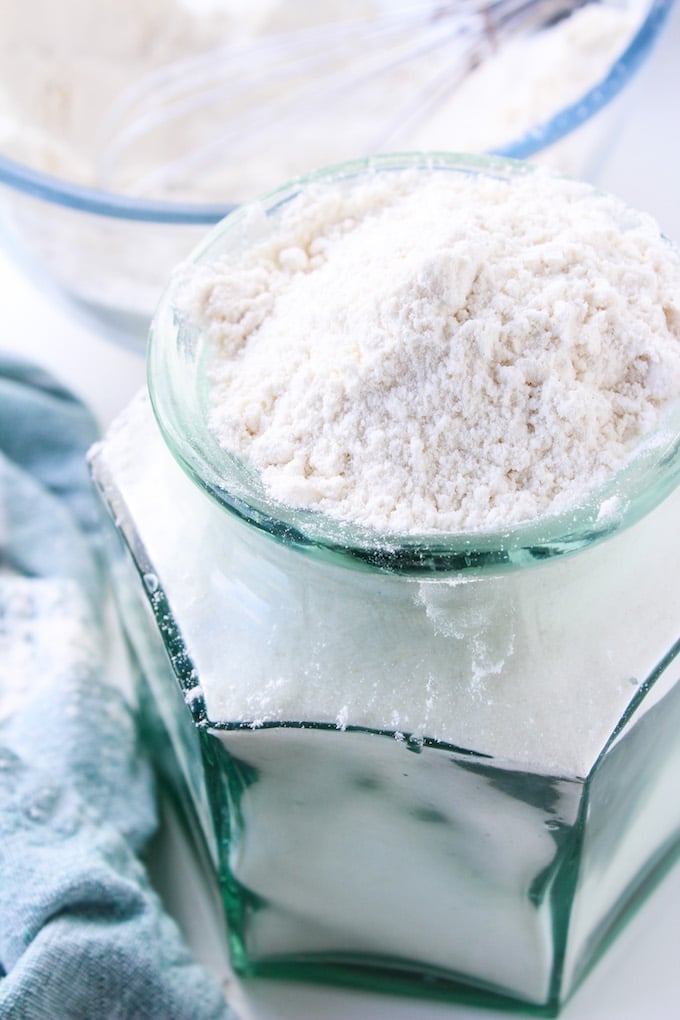 I distinctly remember one particular conversation I had with a friend of mine several years ago. Her dad was going through a few health issues and needed to get tested for a number of things – one of them to rule out Coeliac Disease. Our conversation went a little something like this….
Me: Wait. What's Coeliac Disease again?
My friend: I think it's when you're allergic to gluten – like in bread and pasta.
Me: Oh wow, that would be horrible. I could never do that. I'd miss pizza and bread too much. I'd be so skinny though.
Man, I can be such an idiot.
I also used to say that dating people you meet online is weird and I would never do it because there's no way you could really get to know a person without being in their actual presence. Ha!
So naturally, here I am. Years later I'm married and living in a new country with the love of my life, a man I met online. The first time we met in person was after 10 months of getting to know each other via Skype chats and Facetime calls. By the time he was finally able to make the journey from England to Arizona, being together felt like the most natural thing in the world.
And it's because of this man that I now have this gluten free food blog, dedicated to spreading awareness about Coeliac Disease and proving that a life without gluten is every bit as tasty as one without is….just without as many dining out options.
Life has a funny way of putting me in my place.
Also, eating gluten free definitely does not make you skinny.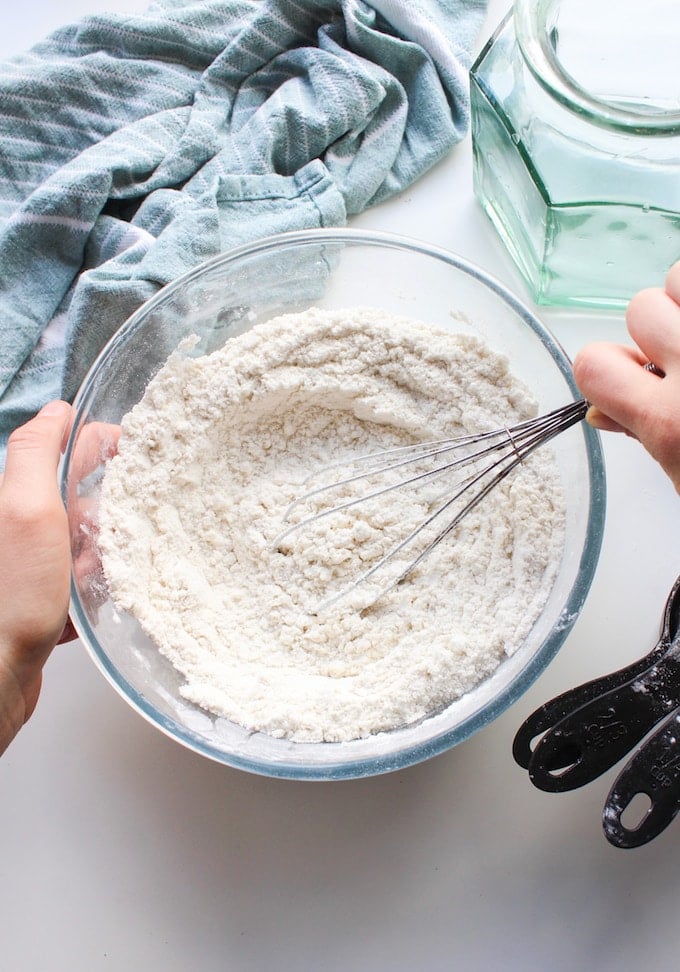 Gluten Free Baking
I think when most people learn that they or a loved one have to give up gluten, it comes as a huge loss – and with reason. Here's this thing called gluten and it's everywhere. It's more than likely a key ingredient in some of your favorite foods: bread, pizza, pasta, cookies, bagels….It's almost literally in e v e r y t h i n g that isn't a fruit or vegetable. Hell, it's even used a filler in a lot of meat products. Giving up gluten for the average person means radically changing not only your diet, but your lifestyle. In summary: it sucks.
As someone who has loved baking for as long as I can remember, learning to bake gluten free has been….a process. It's been a long, expensive, frustrating, but ultimately rewarding process.
If there is one thing to keep in mind with gluten free baking is that you need to have patience let go of your expectations. There are so many rules of baking that no long apply once you throw gluten out of the window and new rules to come and take their place.
For example, there's no need to worry about mixing gluten free bread dough because there's no gluten to over work. In fact, beating your cake batter for an additional 2-3 minutes is probably even a good idea because it adds air to the batter which allows for better rising.
Gluten Free Flour Blend
For this particular recipe I strongly recommend you do yourself a favor and invest in a kitchen scale. Because this blend will be used as an all purpose 1:1 substitute for gluten containing all purpose flour, it's important that your measurements are accurate to begin with. If you still want to measure out the flour using cups then make sure to pack the flour into each cup and level off the top. When I measured and weighed my flours this way I was able to get within 5 grams each time.
Things to keep in mind about this gluten free flour blend
Make sure that you use potato starch and not potato flour. Potato starch will provide you with light, fluffy baked goods. The latter will break your teeth. However, tapioca starch and tapioca flour are actually the same thing so either label is fine for that one.
Make sure to check and double check that the flours you're buying are free from cross contamination. Few things are more frustrating than when you buy flours for a gluten free flour blend only to realize that they are processed in a facility that handles wheat.
Finally, make sure that you take your time to blend all the flours together properly. Spend a couple of minutes whisking everything together, shake the flours around in a jar, and/or put everything in a food processor/ blender and go to town.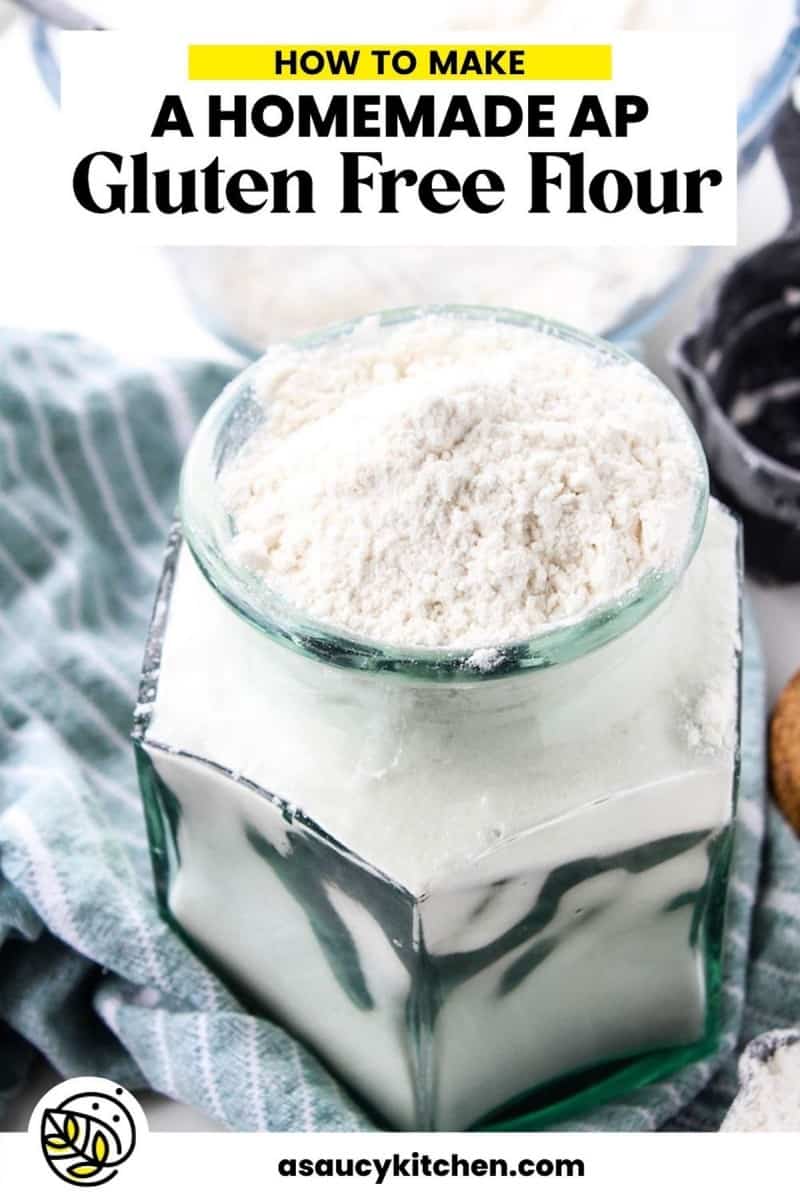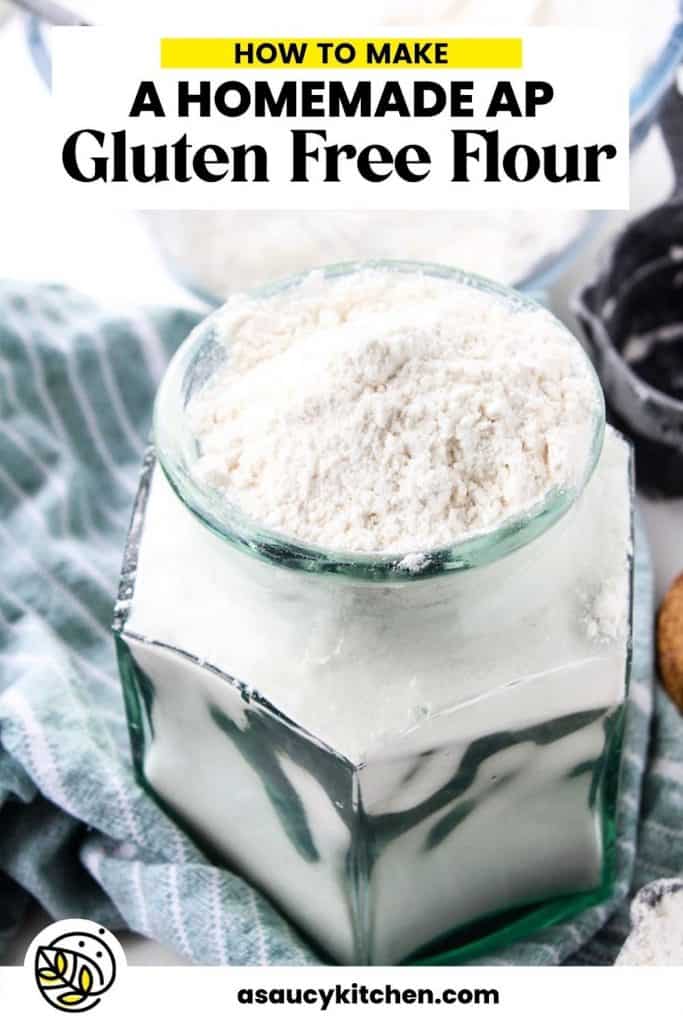 Recipe
Homemade Gluten Free Flour Blend
Yield:
3 cups
Prep Time:
5 minutes
Total Time:
5 minutes
Easy to make homemade gluten free flour blend - perfect for baking cookies, muffins, cakes, and more
Ingredients
1 1/4 cups White Rice Flour 180 grams
3/4 cups Brown Rice Flour |120 grams
2/3 cup Potato Starch | 112 grams
1/3 cup Tapioca Starch | 42 grams
Instructions
Add all your flours to a bowl and whisk together. Take the time to fully blend everything together evenly. You can also toss your flours to a blender/food processor to blend.
Store in an airtight jar/container.
Notes
Adapted from Land O Lakes Makes about 3 cups, can easily be multiplied
Nutrition Information
Yield:

3
Serving Size:
cup
Calories:

514
Carbohydrates:

118g
Fiber:

2g
Protein:

7g
This website provides approximate nutrition information for convenience and as a courtesy only. Nutrition data is gathered primarily from the USDA Food Composition Database, whenever available, or otherwise other online calculators.