Cranberry Orange Gluten Free Biscotti – gently sweetened and lightly spiced oat flour biscotti dipped in melted white chocolate and topped with chopped cranberries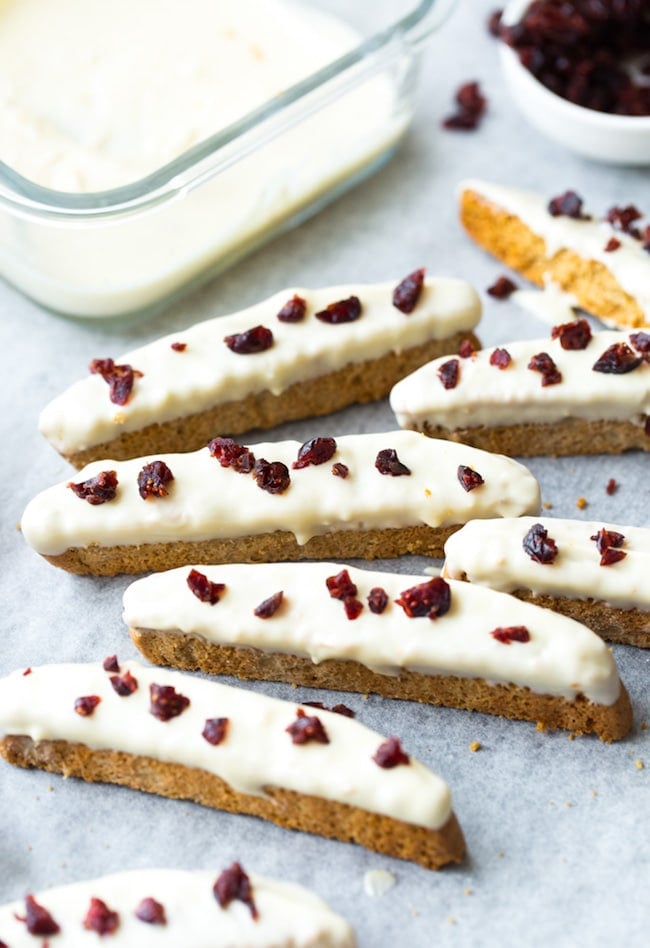 Recipe updated with new pictures and more detailed instructions November 30, 2018
Have I ever told you that I used to work at Starbucks? It was only for a hot minute – thank GOODNESS.
A few years back  I picked up a second job working at Starbucks to save a little extra cash. For 5 months I got up almost everyday at 3:30AM to be ready for my shift. I'd work about 5-6 hours there before clocking out and heading to my actual full time job. I get tired just thinking about that time.
I learned a lot about people working there – some good, some bad, and some totally useless but mildly interesting. One thing I learned is that people go absolutely mental over their cranberry bliss bars – cranberry bliss bars and red holiday cups actually.
We had to wait until the day after Thanksgiving to start selling them and they disappeared just about as quickly as we put them out.
With that in mind I really wanted to make a knock off version but then my cranberry bliss bars kept evolving until they became cranberry bliss biscotti. *swoon*
Let's get to it!
How to Make: Gluten Free Biscotti
Biscotti means 'twice baked' and it's exactly as it sounds here. The signature log shape and the double baking (which makes for an extra crispy cookie) makes it perfect for dipping into cups of coffee.
Despite needing to be baked twice for the classic cookie crunch that makes biscotti unique – it's fairly easy to make once you break it down.
Make the dough: mixing, chilling and forming the shape
Bake: bake once, slice and the bake again
Finish: cool and then dip into melted white chocolate & topping with cranberries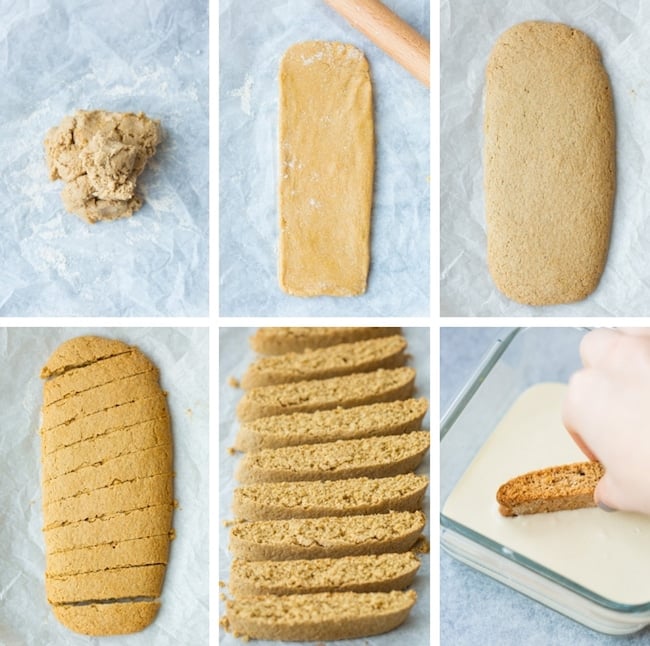 Additional Tips & Questions:
Can I make this egg free?
I've tried this recipe a couple of times using flax eggs to see how it would come out for my egg free friends. This recipe really works best with real eggs if you can use them, but you can sub with flax eggs if you need to. Just be aware that the dough won't spread quite as much while baking and the top of the biscotti log will have a few cracks in them. I also found the slicing bit to be really difficult because the dough was more crumbly, but after the second bake it was exactly as it should be and no longer falling apart.
What about the oat flour?
I go into more detail in this post here but oat flour is often processed alongside gluten containing grains. If you need to make this gluten free for yourself or for your gluten free friends please make sure to use certified gluten free oat flour.
If you don't have any oat flour on hand you can make it yourself by grinding up rolled/quick oats in a high powered blender.
Can I make this dairy free?
Yes! Just make sure to use dairy free white chocolate.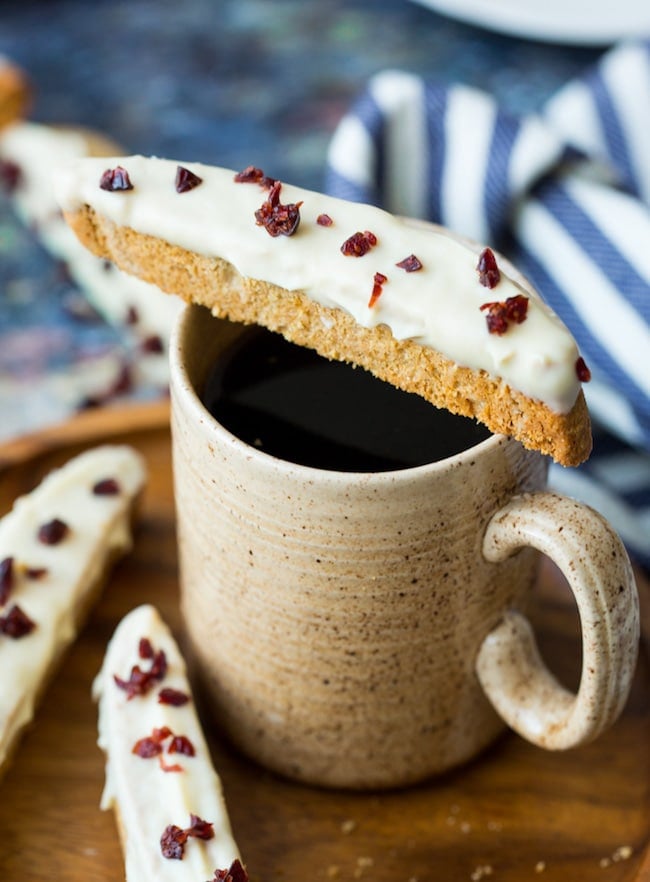 Enjoy!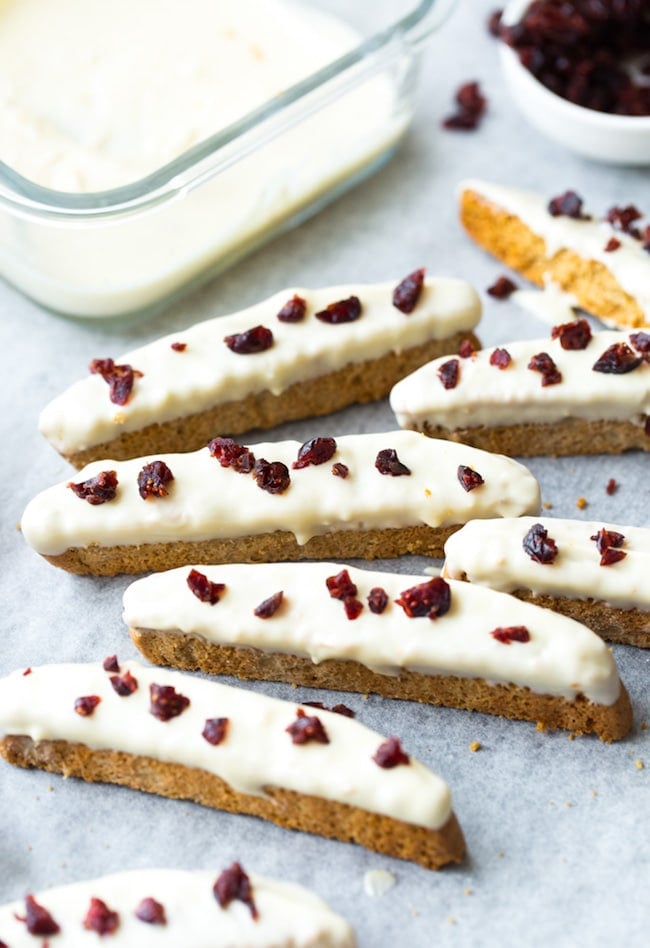 Recipe
Cranberry Orange Gluten Free Biscotti
Yield:
12 slices
Prep Time:
30 minutes
Cook Time:
30 minutes
Total Time:
1 hour
Cranberry Orange Gluten Free Biscotti - gently sweetened and lightly spiced oat flour biscotti dipped in melted white chocolate and topped with chopped cranberries | Gluten Free + Dairy Free
Ingredients
1 1/4 cup | 124 grams certified gluten free oat flour
1 teaspoon baking powder
1 teaspoon ginger powder
1-2 teaspoons fresh orange zest, about 1 large orange
1/4 cup | 53 grams packed light brown sugar or sub with coconut sugar
3 tablespoons | 40 grams soft coconut oil
1 teaspoon vanilla extract
1 egg, room temperature
3 tablespoons dried cranberries, chopped
1/3 cup white chocolate, melted
Instructions
In a large mixing bowl whisk together the oat flour, baking powder, ginger and orange zest. Set aside.
In a medium sized mixing bowl use an electric mixer to beat together the sugar and coconut oil. Scrape down the sides as need. Add the vanilla extract and egg until creamy and full combined.
Add the egg mixture the oat flour mixture and mix together until combined and a dough forms. Once fully mixed cover the dough with plastic wrap and refrigerate for at least 20 minutes so that the dough becomes less sticky and easier to handle.
Preheat the oven to 325°F/160°C while the dough is chilling.
After refrigerating, roll the dough out on a lightly floured sheet of baking parchment and form a 12 inch by 3 inch log that's about 1/2 inch thick.
Transfer the baking parchment with the dough log to a baking sheet and bake in the oven for 20-25 minutes or until the edges start to turn a light golden brown. Remove the log from the oven and let cool for at least 10 minutes on the baking sheet.
Once cool enough to handle, use a serrated to slice the log into 1 inch slices. Lay the biscotti cut side up and return to the oven for another 12-14 minutes.
Remove from the oven and let cool. Dip one long side of the biscotti in white chocolate. Lay out on a large sheet of baking paper, chocolate side up. Sprinkle the chopped cranberries over the chocolate and let dry.
Store in an airtight container and enjoy!
Notes
Egg Free Version: I've tried this a couple of times use a flax egg with varied results. There were more cracks in the top of the biscotti and it didn't spread quite as much. It also requires more patience when cutting the biscotti into slices as it was prone to breaking. After the second bake the cookie was no longer crumbly and tasted just as good.
Dairy Free Version: Use a dairy free white chocolate
Nutrition Information
Yield:

12
Serving Size:
1 cookie
Calories:

270
Total Fat:

16g
Saturated Fat:

10g
Trans Fat:

0g
Unsaturated Fat:

4g
Cholesterol:

30mg
Sodium:

187mg
Carbohydrates:

24g
Fiber:

1g
Sugar:

11g
Protein:

7g
This website provides approximate nutrition information for convenience and as a courtesy only. Nutrition data is gathered primarily from the USDA Food Composition Database, whenever available, or otherwise other online calculators.