A step by step guide for learning how to make flax eggs for egg-free and vegan baking! All you need is about 15 minutes and two ingredients!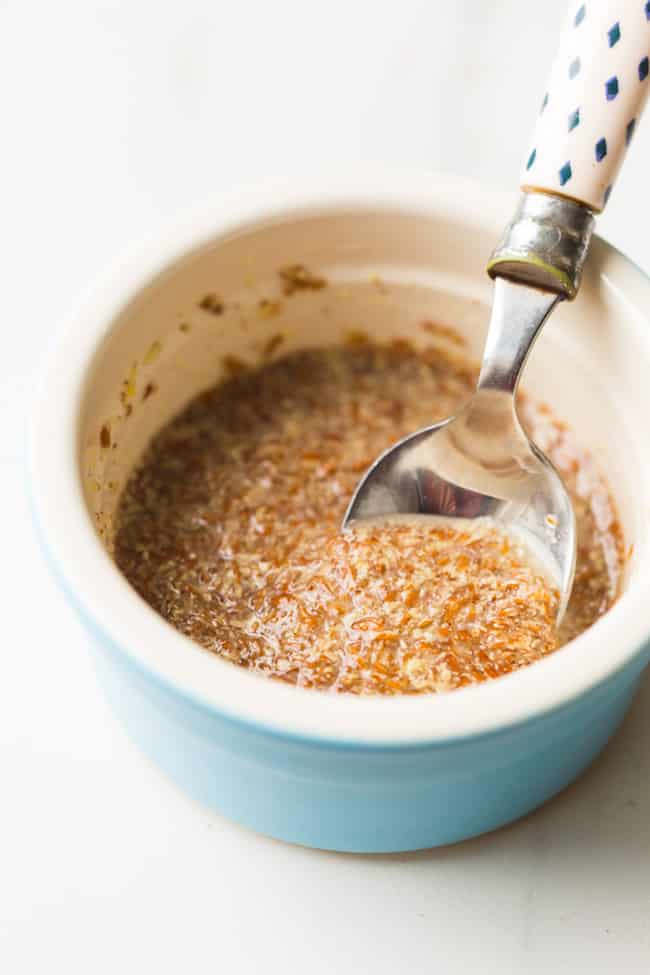 How to make a flax egg
1 tablespoon ground flax seed + 2 tablespoons water
That's it! Just mix those two together in a small cup or bowl and then set aside for about 15 minutes or so. As the mixture sits it will begin to gel up into a gloopy texture. Hot or warm water will gel up quicker, but I'm usually lazy and just use cold or room temperature water.
I've seen a lot of recipes for flax eggs that use 2 1/2 – 3 tablespoons water. I personally find that my 'egg' ends up a bit too watery when I use anything over 2 tablespoons. As you get more comfortable with egg free/vegan baking you can play around and see what feels good for you.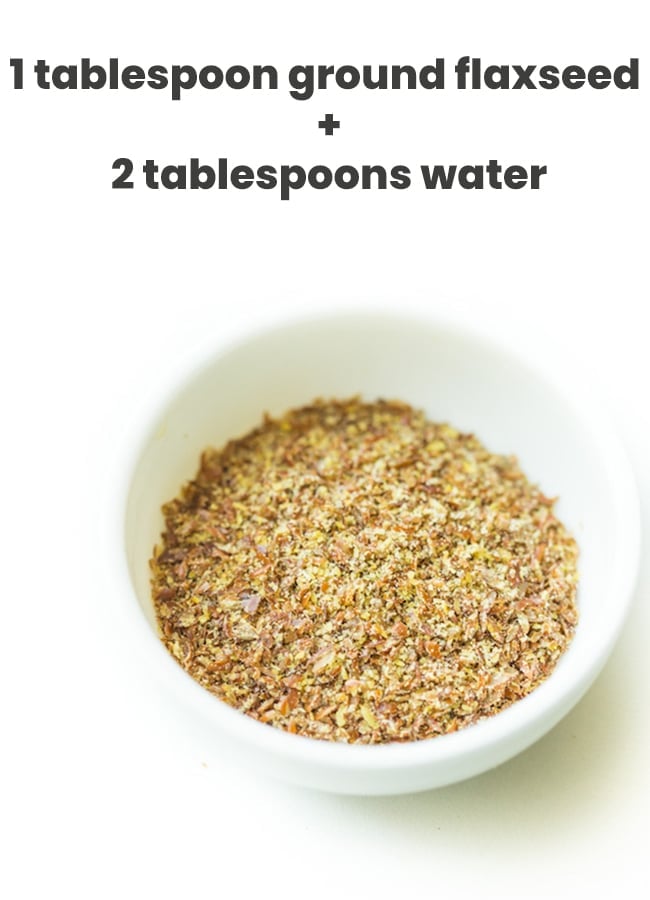 What kind of flax do I need?
Make sure you use ground or milled flaxseed so that the flax will congeal and thicken. If you only have whole flaxseed on hand you can grind it up in a coffee grinder or mortar and pestle.
You can use golden or brown flax but keep in mind that brown flaxseed might darken your baked goods more than golden.
Fortunately you can often find pre-ground flax in store (I buy mine from Costco) which takes most the work out of it. I've found that freshly ground flax does tend the gel up easier and faster, but I can still get the job done with the pre ground stuff.
How do flax eggs work?
Flaxseed is naturally gelatinous which is why it swells up and congeals when mixed with water. Because they like to hold on to water they do add a bit of moisture to your recipes – though not too much so don't rely on your flax eggs for that.
They also help provide a little extra binding in your recipe but not until you let your food cool. For example: cookies made with flax eggs will break if you don't let them cool down all the way first. If you pick them up off a cookie sheet still warm you'll end up with a crumbly mess, but once they're cool you're good to go!
How to use flax eggs?
As a rule of thumb: You can use flax eggs in recipes that only require 1 or two eggs at most. Once you go beyond two eggs things get real weird real quick. So things like cookies, quick breads, bars and pancakes all tend to work well with flax eggs.
What do flax eggs taste like?
While I don't recommend tasting a flax egg on its own/uncooked they're pretty much tasteless in recipe. You might detect a slightly nutty kind of flavour but most people won't even know it's there!
Flax vs Chia Eggs
Instead of using ground flax seed you can also make chia eggs! The method is the same except you don't need to grind the chia seeds and I recommend using 3 tablespoons water.
Keep in mind that the chia seeds will likely be visible in your finished recipe so if you can about the look you might prefer using flax.
Do they always work as egg replacements?
Unfortunately not.
I also don't recommend using flax (or chia) eggs in pastries or airy recipes or recipes that rise (like meringue, soufflé and angel cake). Unlike regular chicken eggs – these won't give your baked goods any lift. Also – recipes that use mostly coconut flour are usually a no go for flax eggs.
And then sometimes you'll have a recipe that just doesn't do well with flax eggs. I've had mixed results using flax with brownies. Usually I need to tweak the recipe a little more to make it work.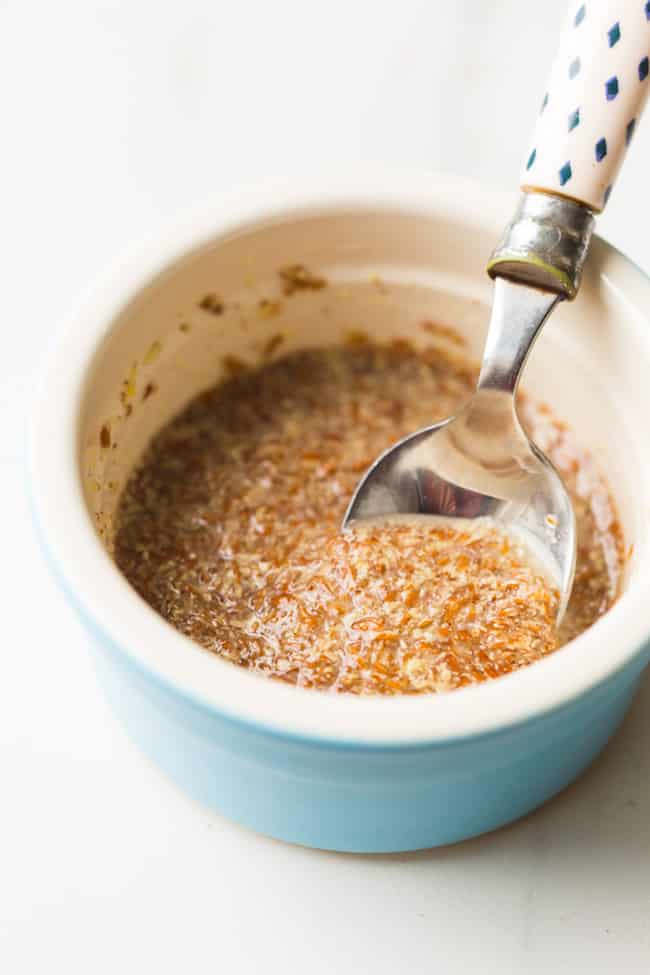 Yield:
1 Flax 'Egg'
Prep Time:
15 minutes
Total Time:
15 minutes
A step by step guide for learning how to make flax eggs for egg-free and vegan baking! All you need is about 15 minutes and two ingredients!
Ingredients
1 tablespoon ground flaxseed
2 tablespoons water
Instructions
Mix the 1 tablespoons ground flax with 2 1/2 tablespoons water. Stir and set aside about 10 minutes until the mixture thickens up and then you're ready to use it. Once ready, use it as you would a regular egg.
This website provides approximate nutrition information for convenience and as a courtesy only. Nutrition data is gathered primarily from the USDA Food Composition Database, whenever available, or otherwise other online calculators.