If you've ever thought to yourself: 'what the heck is xanthan gum and what even is that name?' then you've come to the right place, my friend! In this post I'll be clearing all of that up and hopefully giving you a deep insight into why this strange gum has become such a popular component in gluten-free cooking.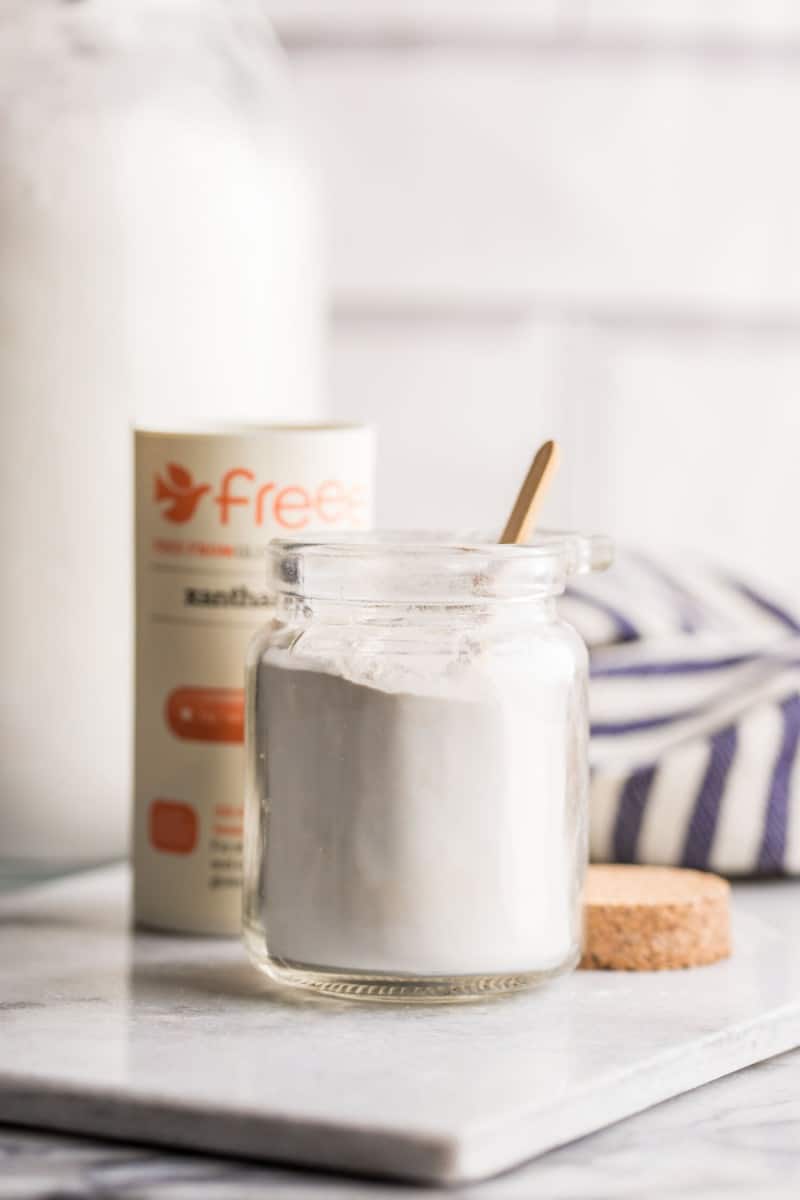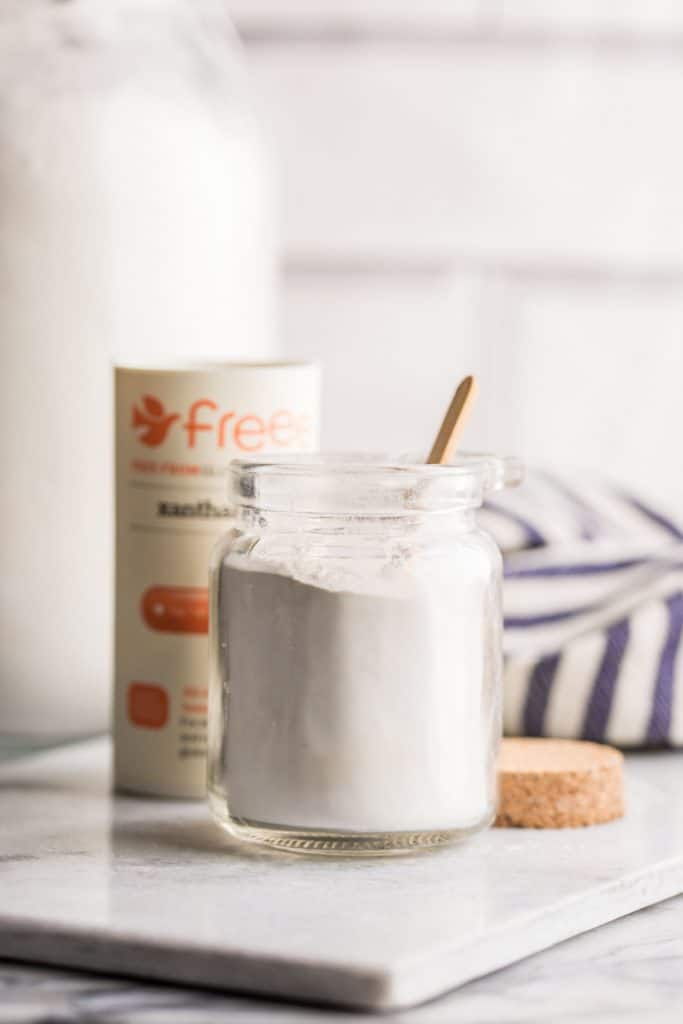 What is it even?
Xanthan Gum (pronounced: zan-than) is a food additive that's often used as a thickener and a binding agent. It's commonly found in salad dressings, sauces, and sometimes even in ice cream and toothpastes. Its purpose in these products can range from helping to prevent oil separation in dressings and frappuccinos to providing a smoother texture and mouthfeel in ice cream. Its versatility means you'll often find it somewhere in the ingredients list in store-bought items.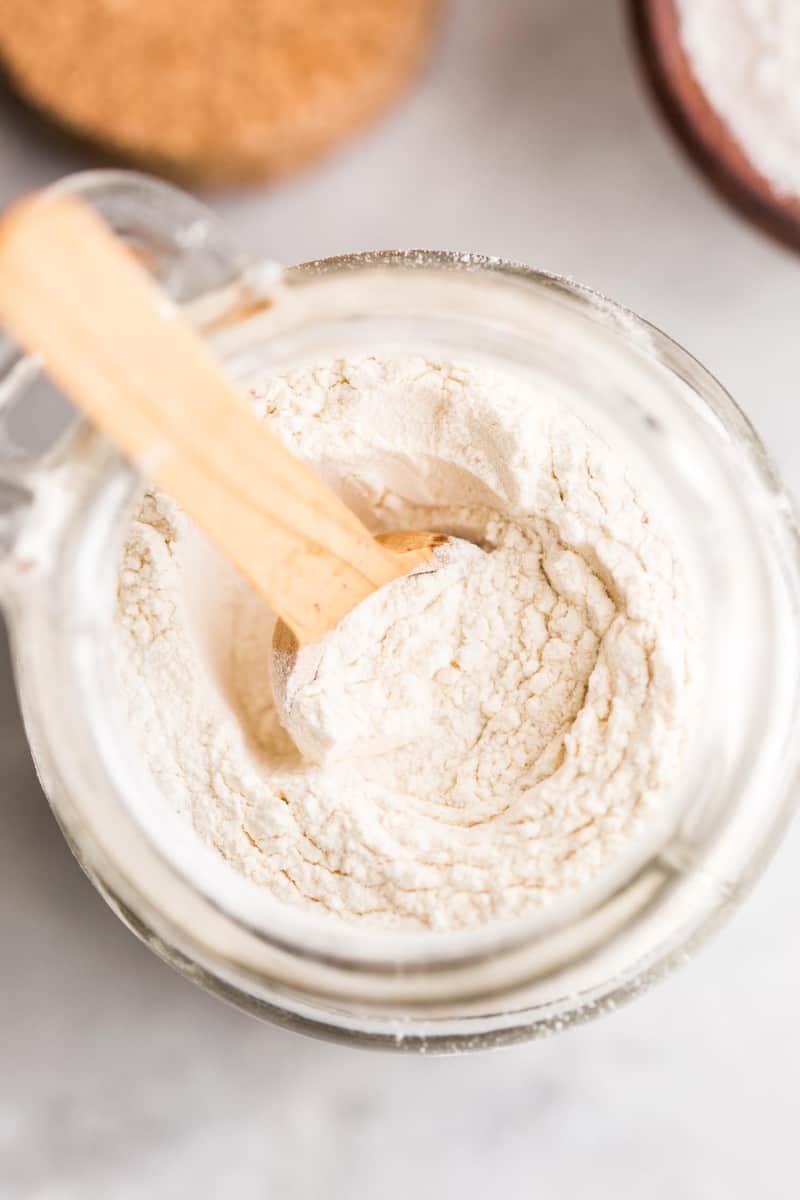 Why is it used in Gluten-Free baking?
Essentially, Xanthan Gum does two important things in gluten free baking:
It helps bind things together making for a better shape and texture.
It helps lock-in moisture so baked goods don't dry out.
In gluten-free baking, Xanthan Gum helps to provide some of the stickiness that's missing when you're omitting gluten from a recipe. Remember that gluten is glue-like. Gluten is an extremely elastic protein, so when you try to bake without it you can end up with a crumbly mess if you don't find a way to replace some of that elasticity.
This where Xanthan's binding properties come into play – it sticks to the flour and holds onto the moisture within the recipe so that when you take it out of the oven it's a moist, well formed bake rather than a kitchen nightmare!
A Visual Representation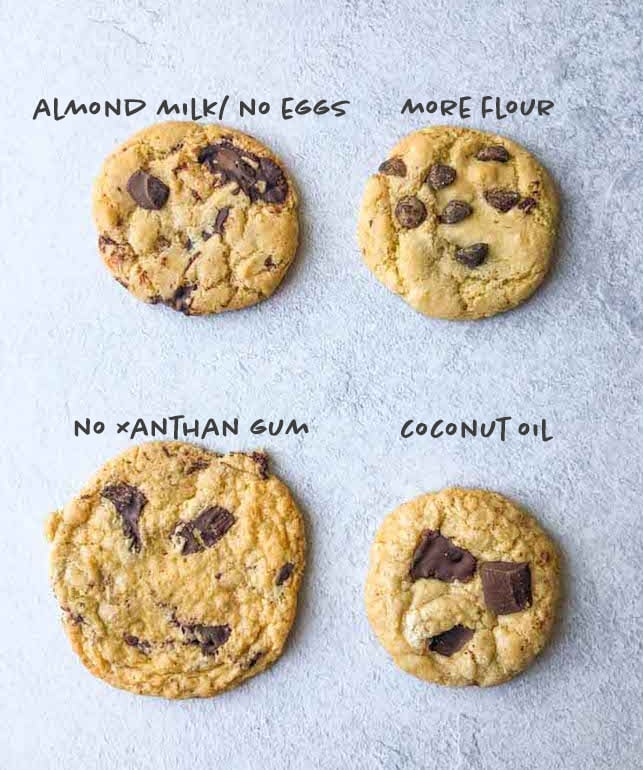 This picture of the sample cookies above is from my Gluten Free Chocolate Chip Cookie recipe. I wanted to show all of the ways in which your could make the cookies with substitutes and what you should expect the end result to look like.
Notice how the test cookie without xanthan gum spread more than the others. Because it didn't have the same binding powers without xanthan it made for a much thinner cookie that spread more. Because that recipe contains eggs (eggs are also good for binding) the cookie didn't crumble and fall apart, but it had a much weaker shape.
How much should you add?
If you add xanthan to a recipe that doesn't call for it you need to add about 1/4 teaspoon for every cup of flour. This is just a general rule of thumb though. Some recipes might work best with a little more or a little less.
If you add too much xanthan your dough or batter will because very sticky, elastic-y and somewhat hard to mix and spread.
Quick Tip
If you ever accidentally spill a bit of xanthan gum on your counter top or floor – whatever you do don't add water! Use a dry towel, broom or even a bench-knife to wipe up as much as you can before wetting the area. Adding water to the situation will make for a slippery mess that's an even bigger pain to tidy up.
What is Xanthan Gum sensitivity?
As great as Xanthan Gum is for its multitude of uses, some people do experience discomfort when they consume products that contain it. The most common sensitivities include stomach bloating, an upset stomach and general GI discomfort. If you've noticed that foods containing Xanthan have correlated to any of these uncomfortable side effects, it's best that we figure out some alternatives!
What should I do if I can't use Xanthan Gum?
Don't worry, we've got you covered! There's a number of alternatives that you can substitute for Xanthan Gum if necessary: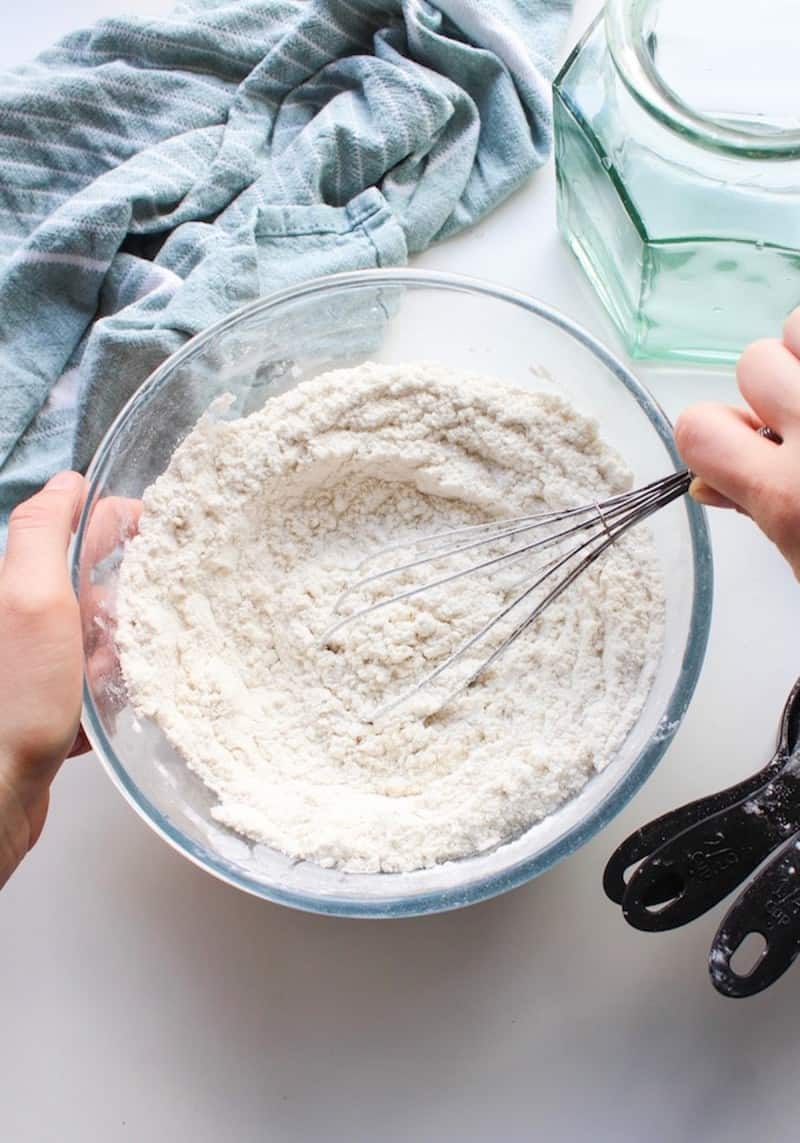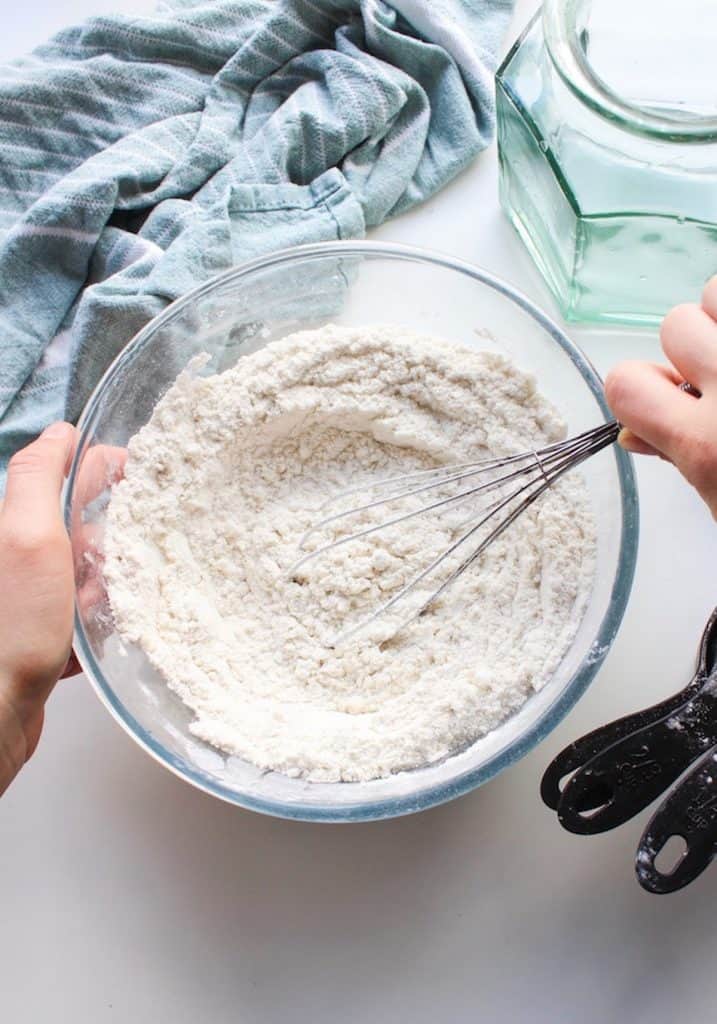 Chia/Flax Seeds
You may be wondering why I've included both of these seeds in the same category – the short answer is because they both work in a very similar way. For this substitute you're basically making a chia seed or a flax egg. Once you hydrate the seeds, they produce a gel-like substance which mimics the properties of Xanthan Gum. The only downside to this method is that you need extra water to hydrate the seeds which can lead to longer cook times.
Pros: It's an easy fix if you have everything on hand and it works fairly well.
Cons: It may make for a nuttier and slightly grittier baked good.
As a rule of thumb replacement: Use a 1:1 substitute of ground chia/ flax seed to 2 parts water.
What does that mean in English? If your recipe asks for 1 teaspoon xanthan gum use 1 teaspoon ground chia/flax seed mixed with 2 teaspoons water. Mix together and set aside for about 5-10 minutes until you end up with a thick, gel-like consistency and use that as your replacement.
Cornstarch
Cheap and cheerful, cornstarch can also provide similar thickening properties to Xanthan Gum. It can often be used as a 1:1 replacement for Xanthan, however it's worth noting that it has a much higher carbohydrate content – so if you're tracking your carbs, it's worth keeping that in mind.
Pros: It's affordable and you likely have some on hand already. This works best in liquids: gravies, stews and blended drinks.
Cons: My success rate with using cornstarch in baking as a substitute is pretty hit or miss. Every now and then it will work for certain baked goods, but it's not reliable enough for it to be a go-to replacement.
It can also make your baked goods more shiny in appearance. That's no necessarily a bad thing, but I do think it's important to keep in mind if you try making substitutes for recipes and can't figure out why your end product looks different.
As a rule of thumb replacement: It can often be used as a 1:1 replacement for Xanthan Gum. So 1 teaspoon xanthan would equal 1 teaspoon cornstarch.
Psyllium Husk
Psyllium Husk is one of the more popular substitutes – it's cultivated from from the husks of Plantago ovata seeds and provides a gel-like substance when it's introduced to water. This gel will help your bakes to bind and to maintain their moisture.
Pros: There are a number of health benefits associated with some consumption of psyllium husk. Psyllium is a prebiotic food meaning it helps lay the groundwork for probiotics (healthy gut bacteria) to thrive and grow in the gut biome. It's high fibre content is also associated with improved bowel functions and helps you feel satiated.
Cons: Some people don't respond well to psyllium husk and it can lead to bloating and stomach cramping.

I also personally don't care for the taste it adds to food. It's not a strong taste, and it's not necessarily a bad taste, but I find it to still be quite noticeable. Depending on the recipe you might not notice, but for this reason it's not my personal favourite xanthan substitute.
As a rule of thumb replacement, use two parts Psyllium Husk for 1 part Xanthan in recipes.
Can I just skip the xanthan?
This is a hard question because the answer is that it just depends. Some recipes can be made successfully without xanthan.
Certain recipes with an adequate amount of butter, oil and eggs (fat) still work well even without xanthan. Think muffins, certain types of cookies etc. The main difference is that they might crumble a little easier and they might be a bit dry.
If you're not an experienced gluten free baker I recommend just trying to look for recipes that don't ask for xanthan to save yourself the potential wasted ingredients. If you're still set on making a particular recipe without xanthan make sure to check out the suggested substitutes below.
Where to buy Xanthan Gum
Head to the gluten free section of your grocery store. Because it's somewhat of a specialised ingredient you'll likely need to stick to some of the large grocery chains to find it.
Many health food stores are also likely to stock xanthan. In the US you will almost certainly find it in WholeFoods and Sprouts. In the UK I've always been able to find it in Holland & Barret.
If all else fails – Amazon will almost certainly stock Xanthan Gum.
Sum it up
Xanthan Gum is a massively versatile additive that can turn what would otherwise be a pile of crumbs into something moist and delicious! For those of you with Coeliac disease, products like Xanthan Gum and its alternatives are a game changer! They give you the ability to recreate some of your favourite bakes from before diagnosis without having to compromise on the moisture and texture that gluten previously gave to these foods.
If you happen to be someone who can't use Xanthan Gum in your baked goods, all is not lost! There are plenty of good alternatives that can mimic the role it plays in gluten-free baking. While I do list certain ratios and rules of thumb for Xanthan Gum replacement, I'd always recommend leaving a comment on any particular recipe that you're planning on making and asking the recipe creator about which substitute would work best for that recipe.
Do you have a Xanthan Gum Substitute?
While it's a staple in my gluten free kitchen, I like to make sure that I always provide alternatives in case any one stumbling across my recipes can't tolerate it. If you have any tried and true methods of replacing xanthan in your baked goods – let me know in the comments below!