Seasonally spiced & lightly sweetened vegan chocolate chip pumpkin cookies. Soft, chewy, and ready in 30 minutes or less to satisfy any fall craving!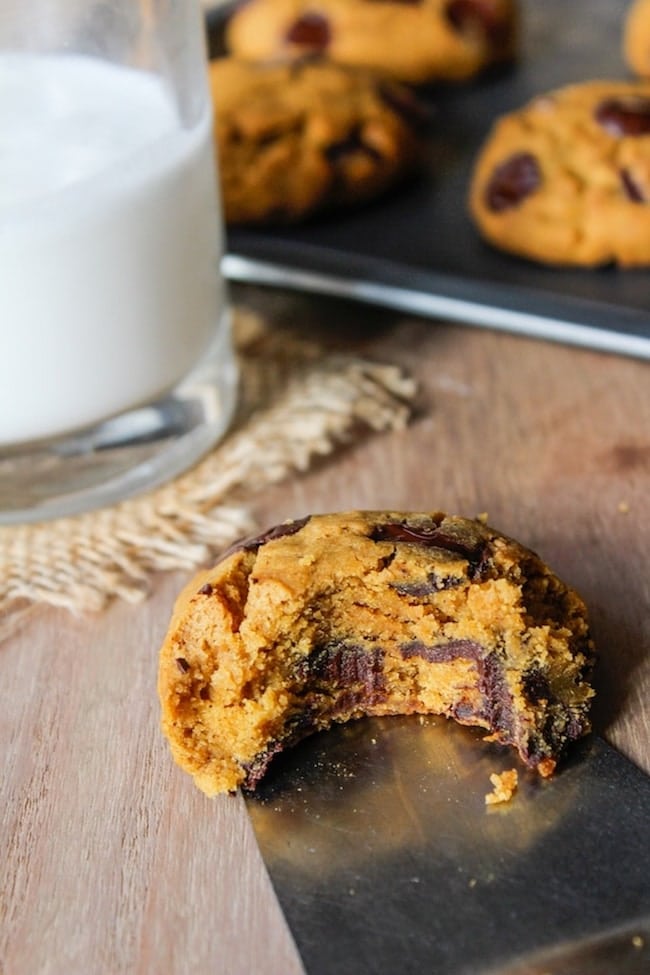 These cookies took a few batches to get right, but it was a worthwhile (and delicious) process in the end.
Originally I planned to make this recipe with oats because I just really love oatmeal cookies, but in the end I decided to do without. Though oats are considered safe for some Coeliac's, there are still quite a few people who have reactive issues even when they use certified gluten free oats. At any rate, the texture of this oat free version was immeasurably better in comparison. When I say these cookies melt-in-your-mouth I'm not exaggerating.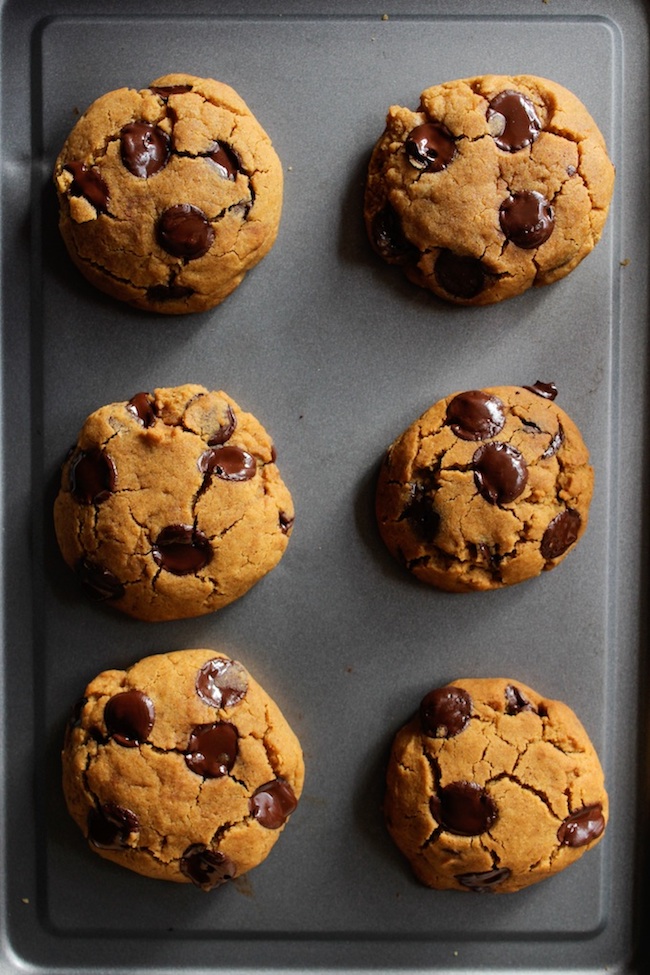 Vegan Chocolate Chip Pumpkin Cookies
In addition to being gluten free, these are also egg free. Since pumpkin puree adds so much moisture to baked goods, I decided to ditch the eggs altogether so that this didn't end up tasting too cake-y. The pumpkin puree replaces the eggs in these, like how banana can sometimes replace eggs in vegan baking. Because they don't have that extra binder you need to let these cool before handling too much, but once they set they hold up perfectly. Personally I think they taste better on the second day anyways once the flavors have all melded together.
Speaking of flavor, I also used coconut sugar in place a white/brown sugar which adds a slight caramel flavor to these cookies. What's more fall like than pumpkin, caramel, and baked goods? I understand that coconut sugar isn't necessarily the easiest ingredient to source though, so if you'd like you can swap the coconut sugar and use 1/4 cup white sugar + 1/4 cup brown sugar, or just go all out 1/2 cup brown sugar. If you use white sugar your cookies will have a slightly more crunchy texture.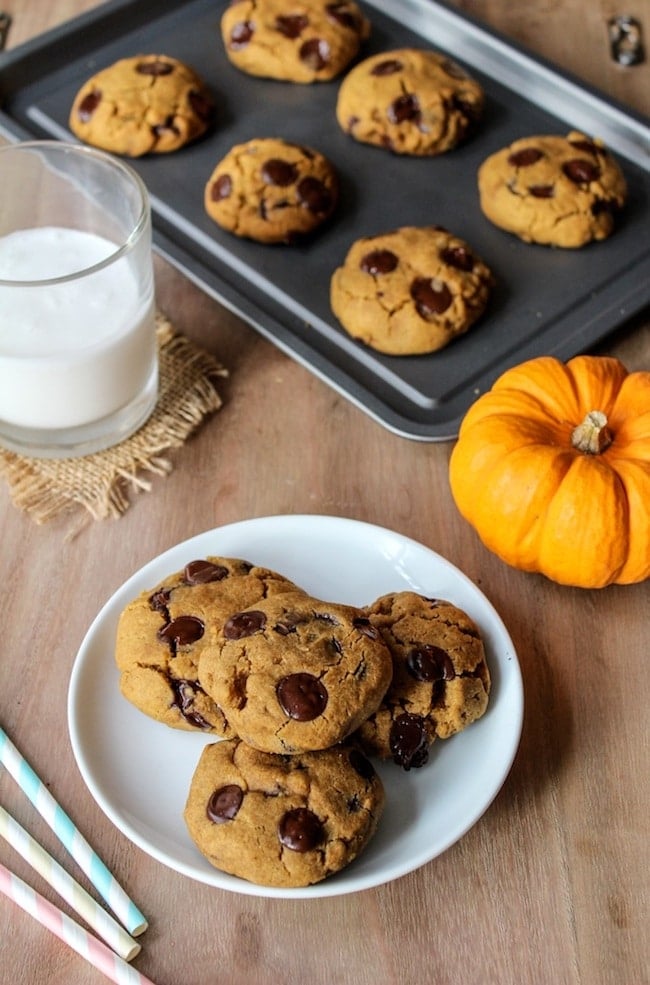 So here you go – another chocolate chip cookie recipe to add to the collection.
FACEBOOK | INSTAGRAM | PINTEREST
Don't forget to #asaucykitchen on instagram if you try these vegan chocolate chip pumpkin cookies! I'd love to see what you make with it! You can also post your pictures to my facebook page!
Yield: 15 cookies
Vegan Chocolate Chip Pumpkin Cookies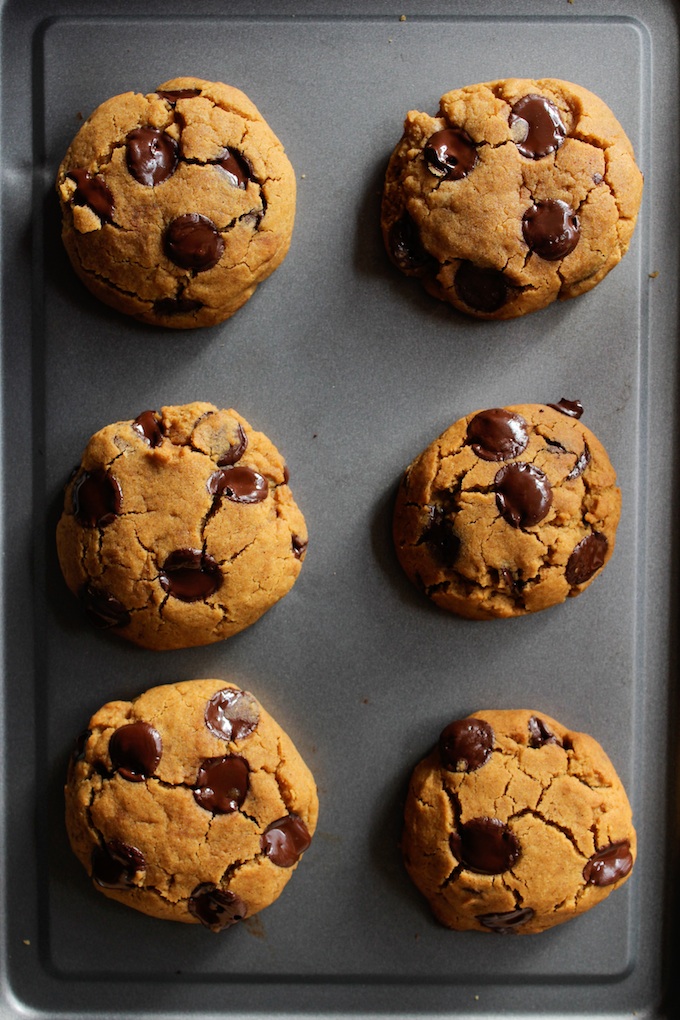 Melt-in-your-mouth, vegan chocolate chip pumpkin cookies. Soft, chewy, and ready in 30 minutes or less to satisfy any fall craving.
Ingredients
1/2 cup melted coconut oil
1/2 cup coconut sugar
6 tablespoons pumpkin puree
1 teaspoon vanilla extract
1 1/2 cup gluten free flour blend
1 teaspoon xanthan gum if your gf flour blend doesn't have it already
1/4 teaspoon salt
1/2 teaspoon baking soda
1/4 teaspoon baking powder
1 1/2 teaspoon cinnamon
1/4 teaspoon nutmeg
1/2 cup dairy free chocolate chips
Instructions
Heat your oven to 350°F/180°C. Line or lightly grease a large cookie sheet. Set aside.
In a large sized bowl mix together your coconut oil, coconut sugar, vanilla extract, and pumpkin puree until smooth. Set aside while you mix your flour.
In another bowl whisk together your flour, salt, baking soda, baking powder, cinnamon, and nutmeg. Add the flour mixture to your wet ingredients a little bit at a time until everything is combine. Fold in your chocolate chips. If your dough looks and feels a little oily at this stage then cover and refrigerate for at least 10 minutes.
Roll out the dough into little balls about the size of a tablespoon and place on your baking sheet. They won't spread out too much while baking so flatten them a bit after placing them down.
Bake for 8-10 minutes. Let the cookies sit on the baking tray for about 5 minutes before transferring them to a cooling rack. Since there is no egg in this recipe it needs to cool down a bit to set.
Nutrition Information:
Yield:
15
Serving Size:
cookie
Amount Per Serving:
Calories:

154
Saturated Fat:

7g
Sodium:

91mg
Carbohydrates:

17g
Fiber:

2g
Sugar:

6g
Protein:

1g