Settle in a with a thick, moist and tender slice of delicious gluten free pumpkin bread! This recipe is made with simple ingredients and prepared in little without and special equipment. The end result is a classic pumpkin bread that you wouldn't even know is gluten and dairy free! Check the recipe notes for tips on how to replace the eggs to make this gluten-free pumpkin loaf vegan friendly too!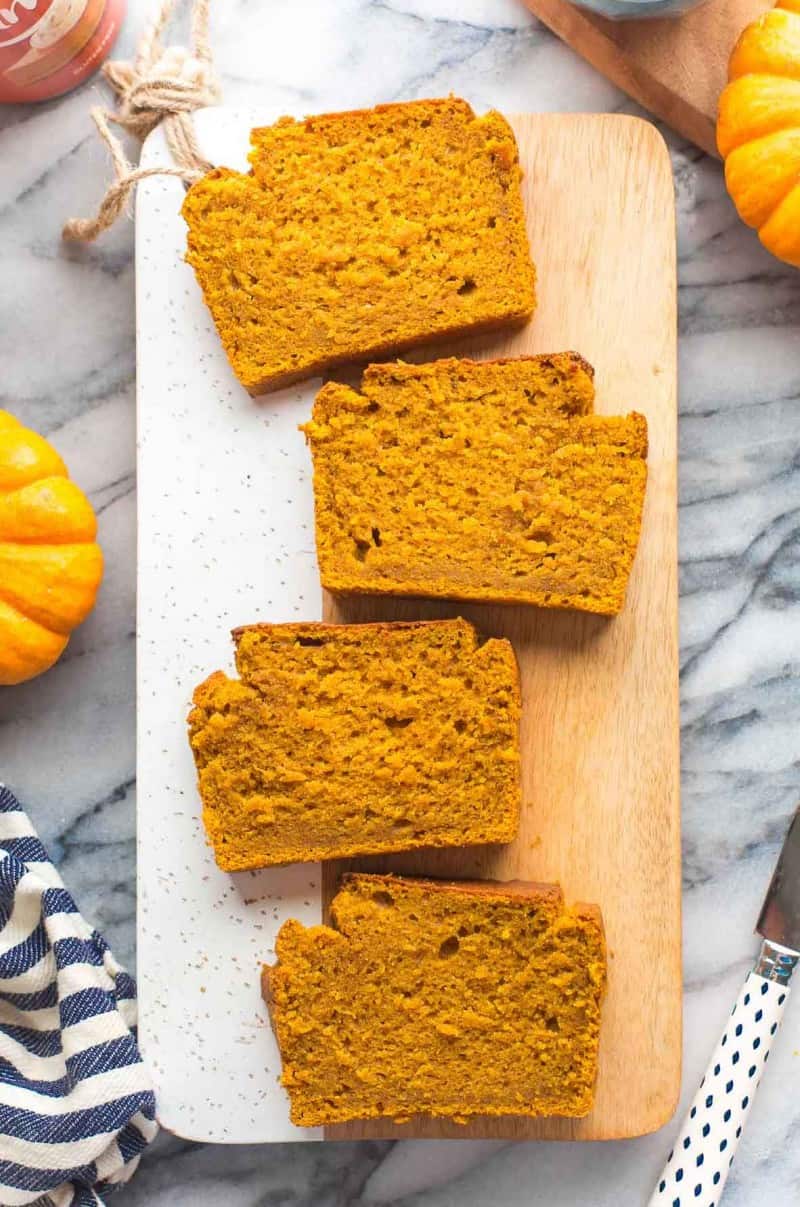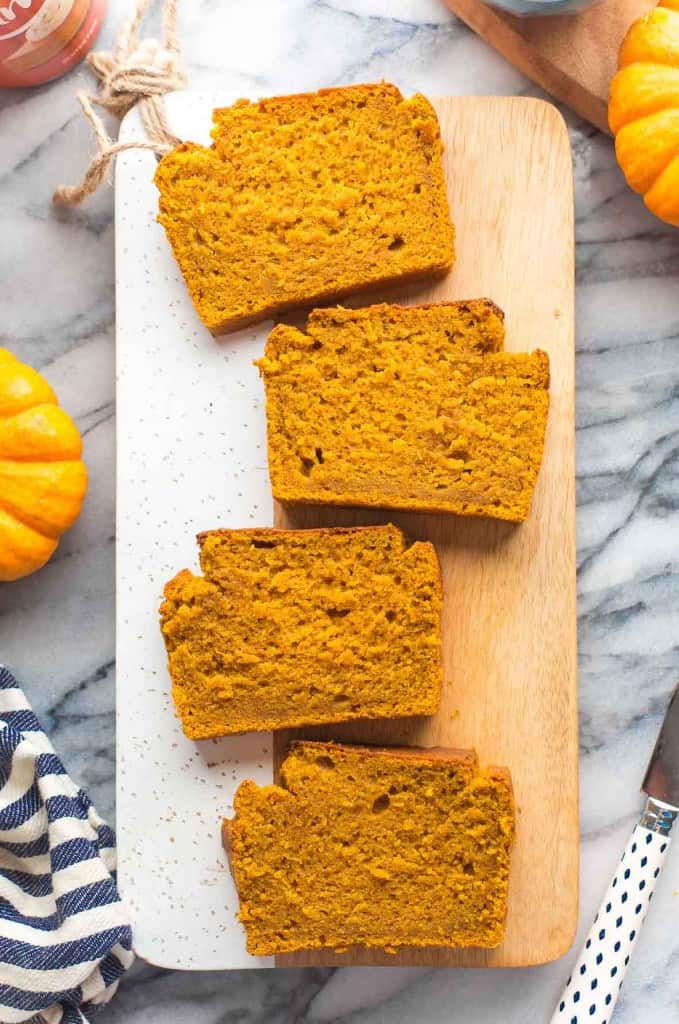 Pumpkin season! What a wonderful (and delicious) time of year. Pumpkin is such a versatile vegetable – I love how effortlessly it can be used in both sweet and savory recipes. You can:
And of course – it just won't be pumpkin season without making a hot, fresh loaf of gluten-free pumpkin bread.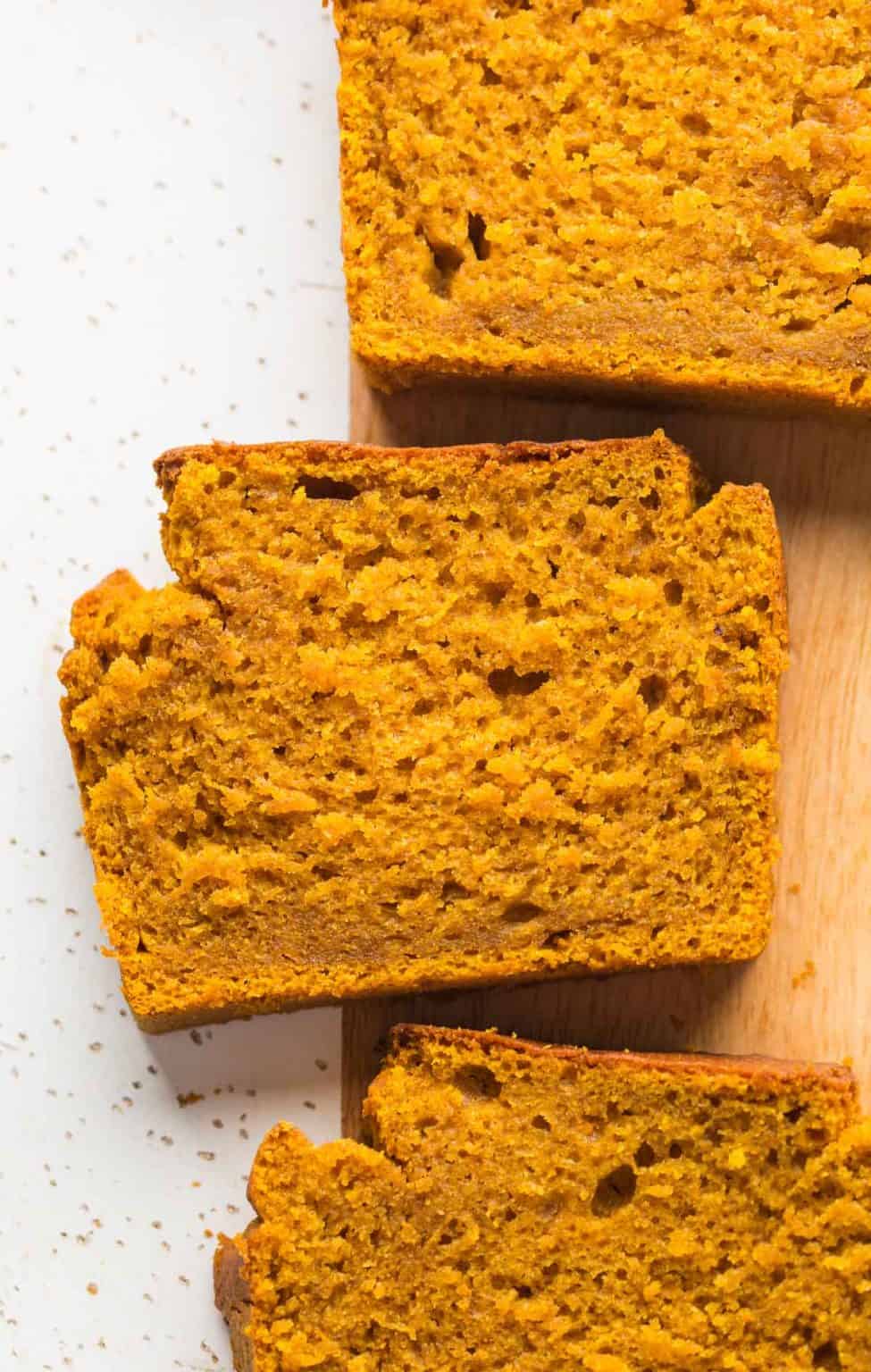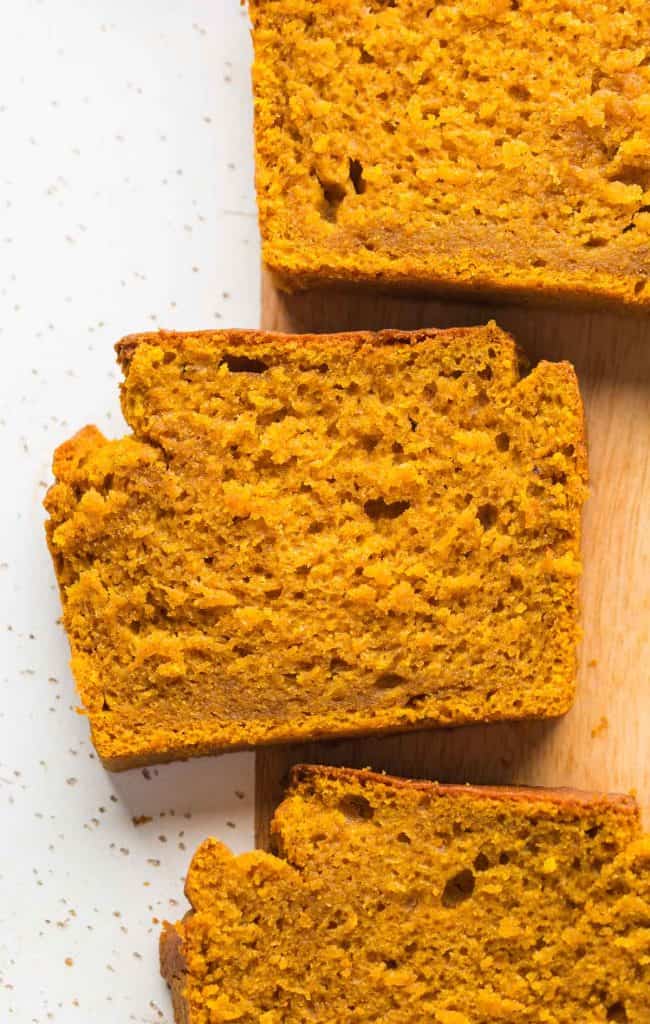 The Best Gluten-Free Pumpkin Bread
There's not much needed to make this recipe and very little equipment required. You'll need:
a whisk or wooden spoon to combine
a couple of bowls to mix: one large mixing bowl and one medium bowl (using two separate bowls will ensure everything gets properly mixed together)
metal loaf pan or loaf tin to bake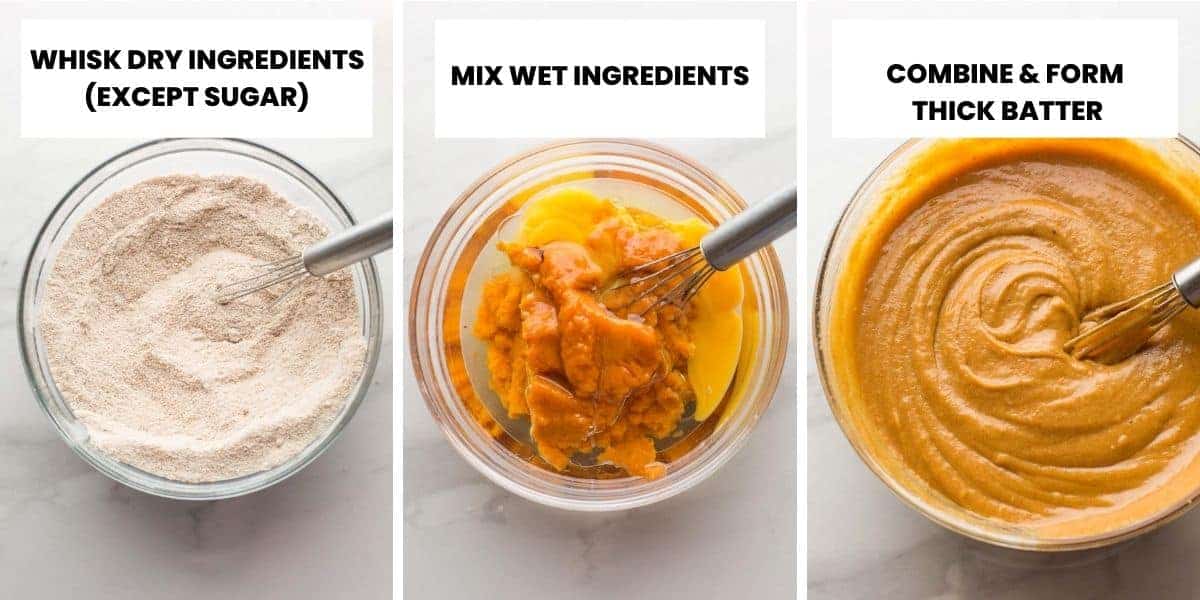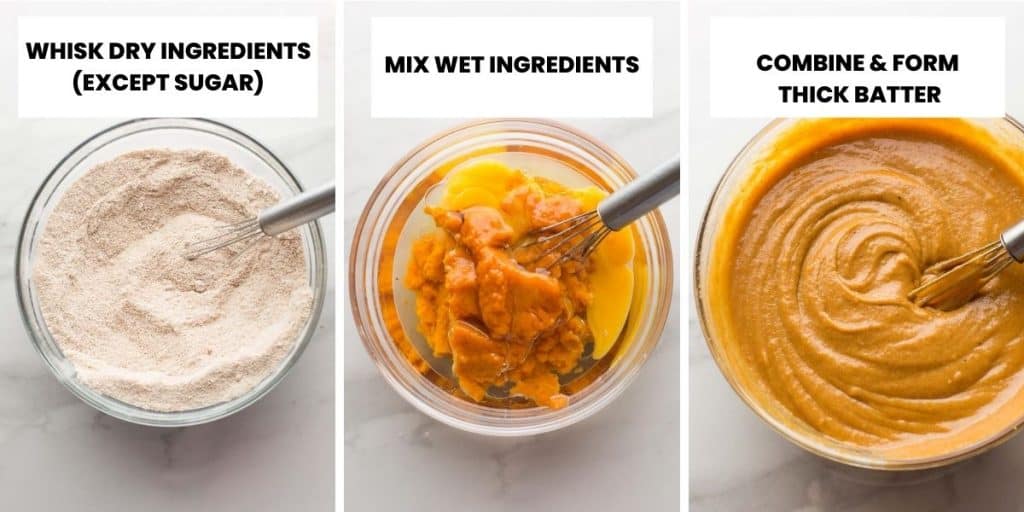 Steps
In the large bowl, add the dry ingredients: gluten-free flour blend, baking powder, salt, pumpkin pie mix, brown sugar and xanthan gum (if using). Whisk together until well combined.
Add the wet ingredients to the second, smaller bowl: large eggs, melted coconut oil, pumpkin purée and vanilla extract. Whisk together into a thick, smooth mixture.
Pour the wet ingredients into the flour mixture and mix into a thick, smooth batter.
Pour the batter in a prepared loaf tin (lined or greased). Place in the middle of the oven and bake for about 55-60 minutes. The top of the bread should have risen and turned gold/orange in colour. Check to see if it's cooked through by inserting a knife or tooth pick into the center of the loaf. If the knife/tooth pick comes out with wet batter – let cook another 5-10 minutes until done. A few moist crumbs left on the knife/pick is totally fine!
Let cool: let the bread cool in the pan for about 5-10 minutes. When it's cooled enough to handle, transfer the bread to fully cool on a wire rack so condensation doesn't form on the bottom of the loaf.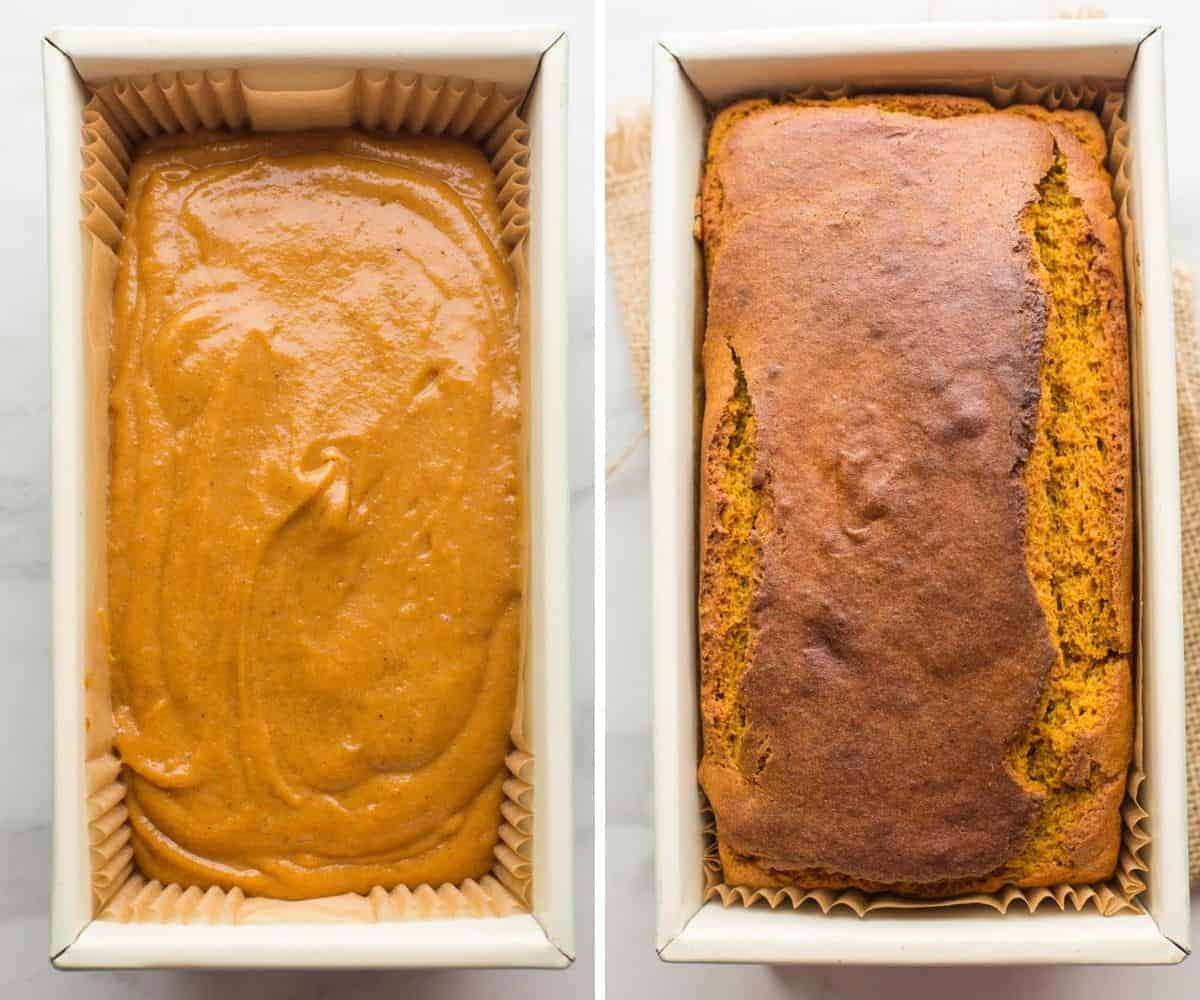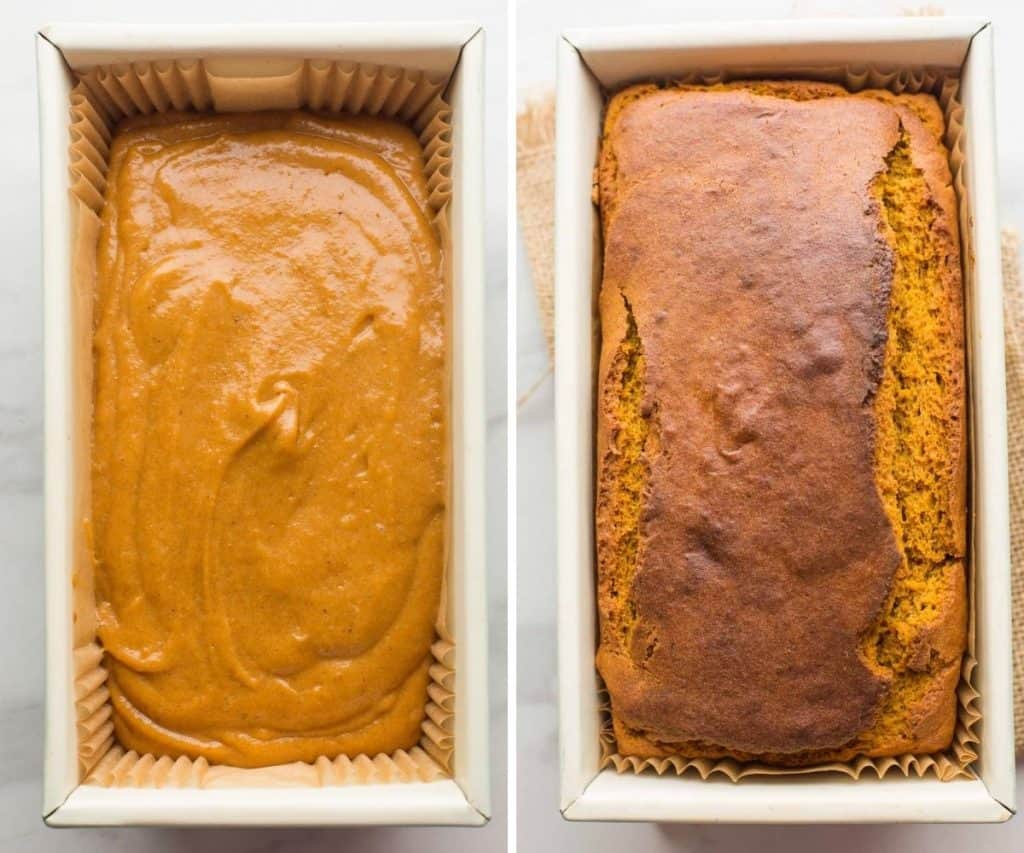 GF Pumpkin Bread FAQ's
Can I make this gluten free pumpkin bread vegan friendly?
I successfully tested this recipe using two flax eggs in place of the chicken eggs. The pumpkin bread won't rise as much without as much without eggs so I recommend adding an additional teaspoon of baking powder to give it a bit more lift. You will also end up with a slightly tighter crumb without eggs. That being said, the egg-free version was just as satisfying and delicious!
I haven't tried any other egg substitutes yet, but I think chia seed eggs would also work.
Do I have to add xanthan gum?
I highly recommend it for this recipe. When I tested this bread without xanthan it came out alright, but it didn't have as nice of a texture. The bread came out more dense and dried out more easily. Xanthan gum is an important ingredient in this recipe because it really helps create structural support and binding that you'd normally get from gluten.
If you're averse to xanthan gum I recommend checking out my post on xanthan gum and gluten free baking. You might be able to try one of the recommended substitutes like guar gum or potato starch that works for you.
What type of flour should I use?
Can I make this gluten free pumpkin bread with other gluten-free flours?
I don't recommend using anything other than a generic gluten free flour blend for this recipe as I have not tested it any other way.
For a gluten free pumpkin bread recipe with healthier, grain free ingredients try: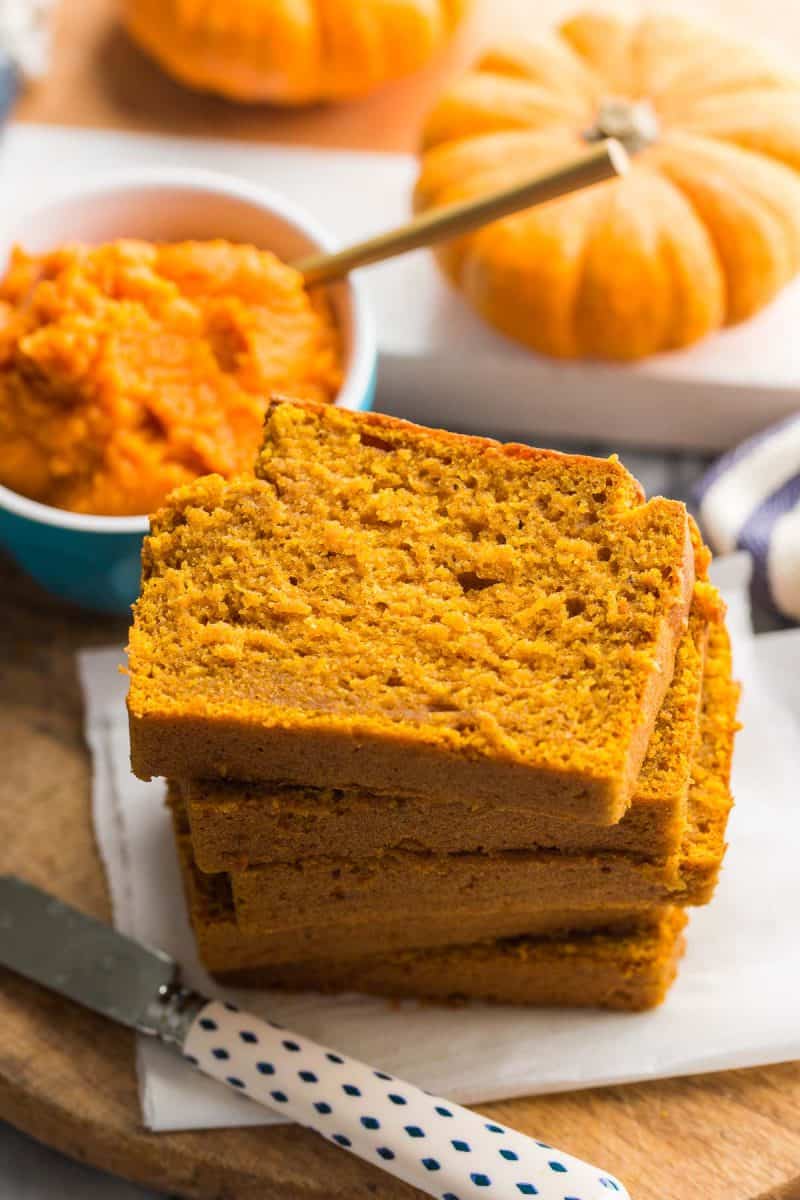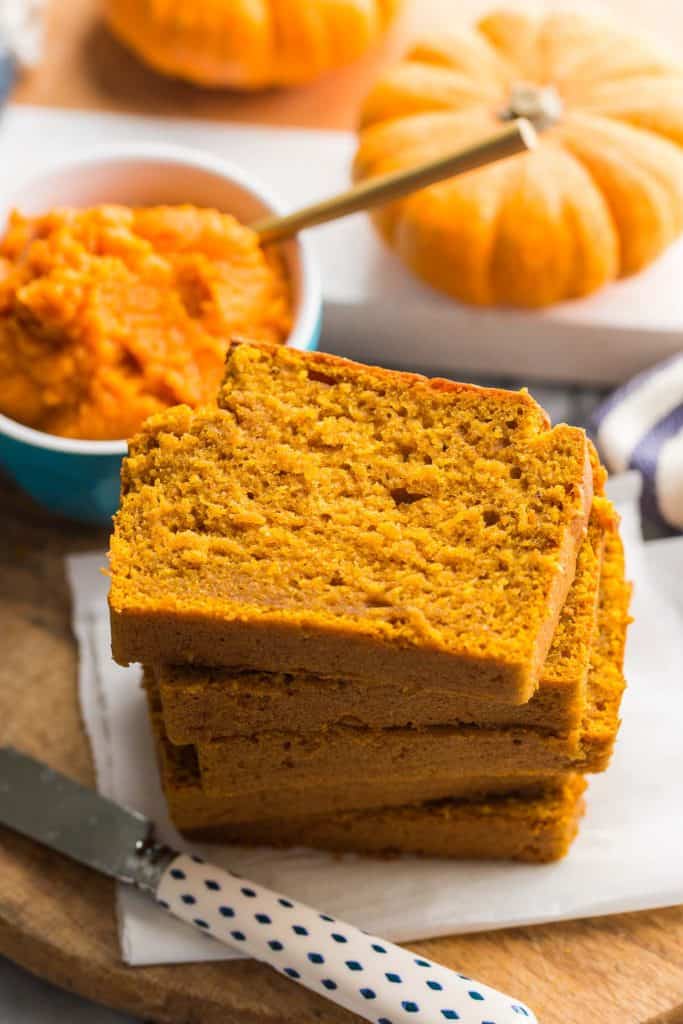 Substations and Additions
Use melted butter or vegetable oil instead of coconut oil. Oil will make your loaf more moist, but butter will add a great flavor to your bread.
Use pumpkin butter instead of pumpkin puree. Pumpkin butter will infuse a more intense spiced pumpkin flavour. Feel free to use pumpkin butter if you'd like!
Add nuts, seeds or chocolate. Add 1 cup of semisweet chocolate chips or chopped nuts (pecans, walnuts, etc) to the batter. You can also sprinkle chocolate, nuts or pepitas over the top of the bread before baking for added flair.
Use butternut squash puree or sweet potato puree in place of pumpkin. Swap out the pumpkin for equal amounts of squash or potato.
Use Pumpkin Butter: Swap out the pumpkin puree for an equal amount of pumpkin butter for a sweeter, richer, more seasoned pumpkin bread.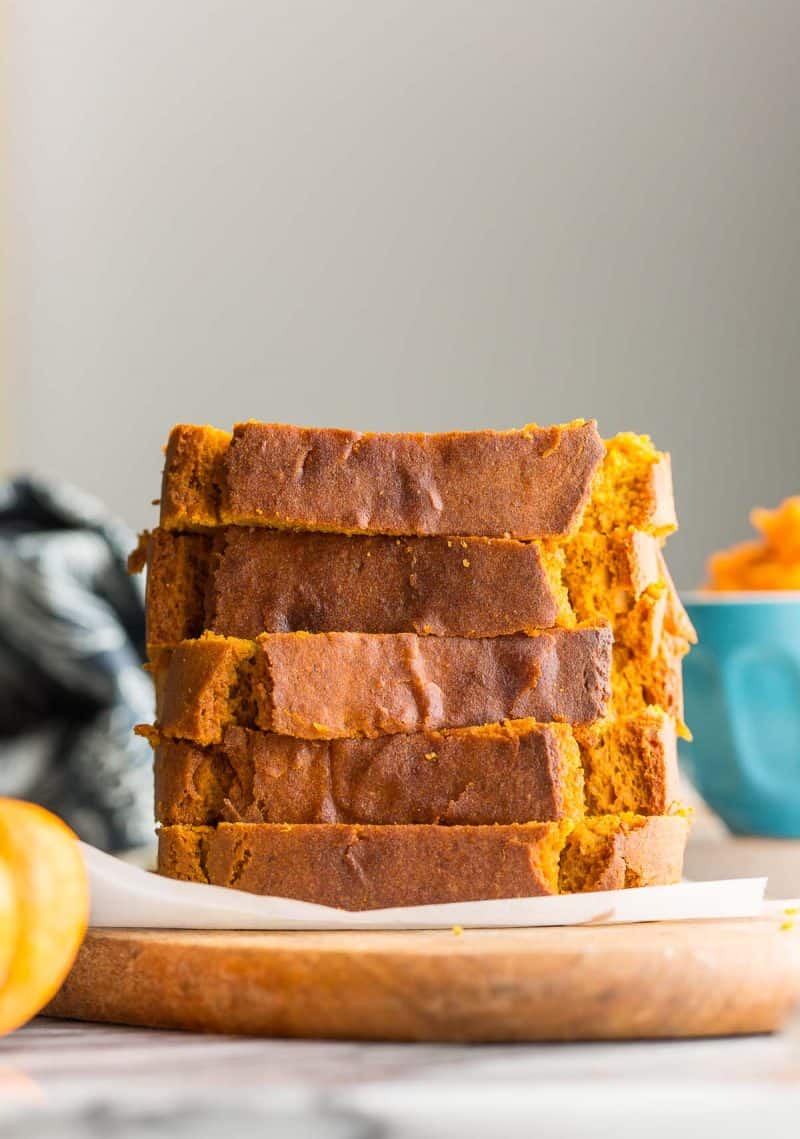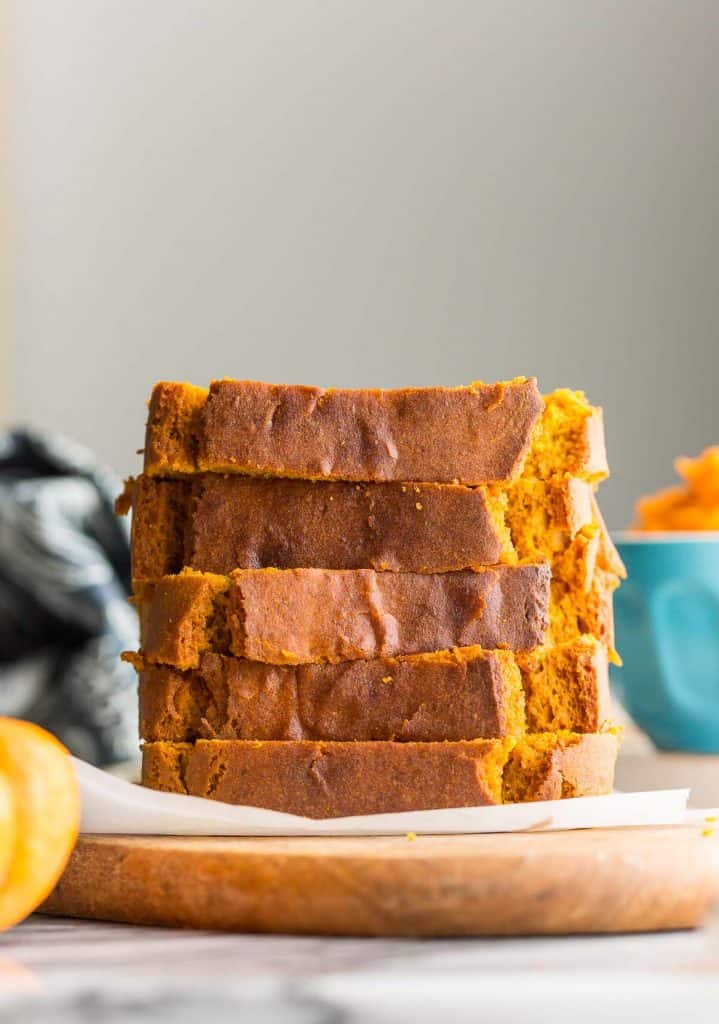 Happy Baking!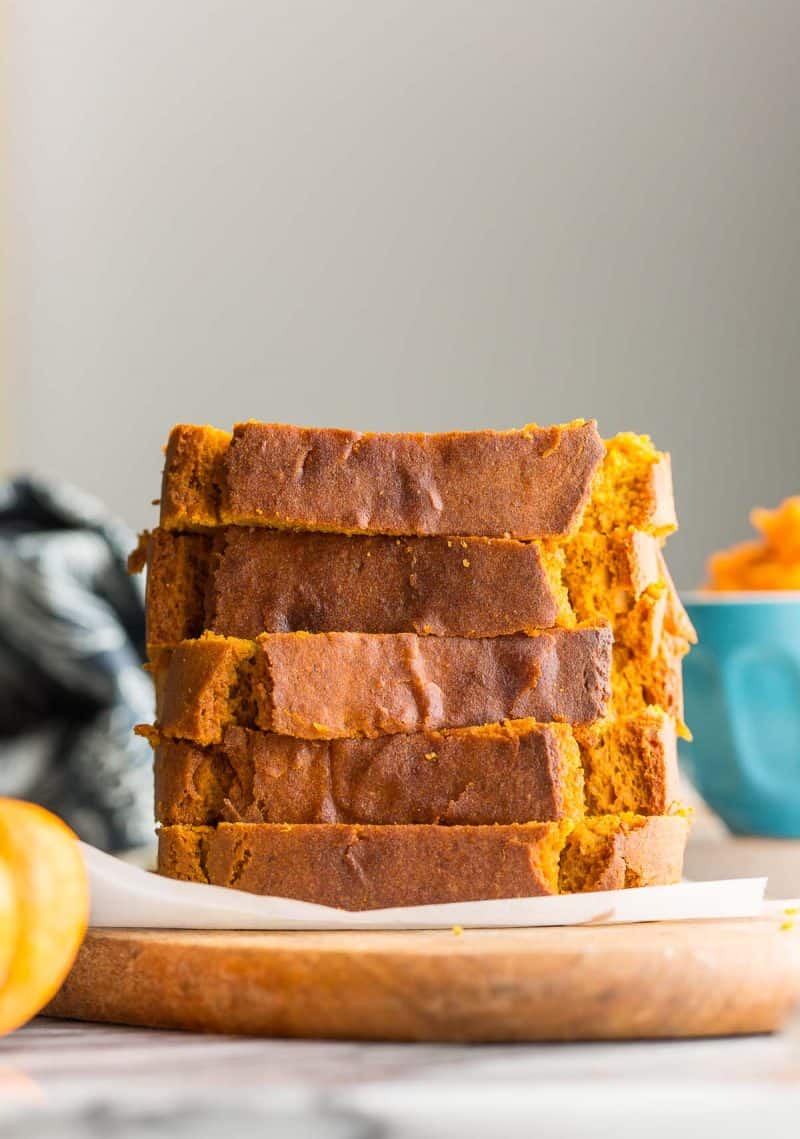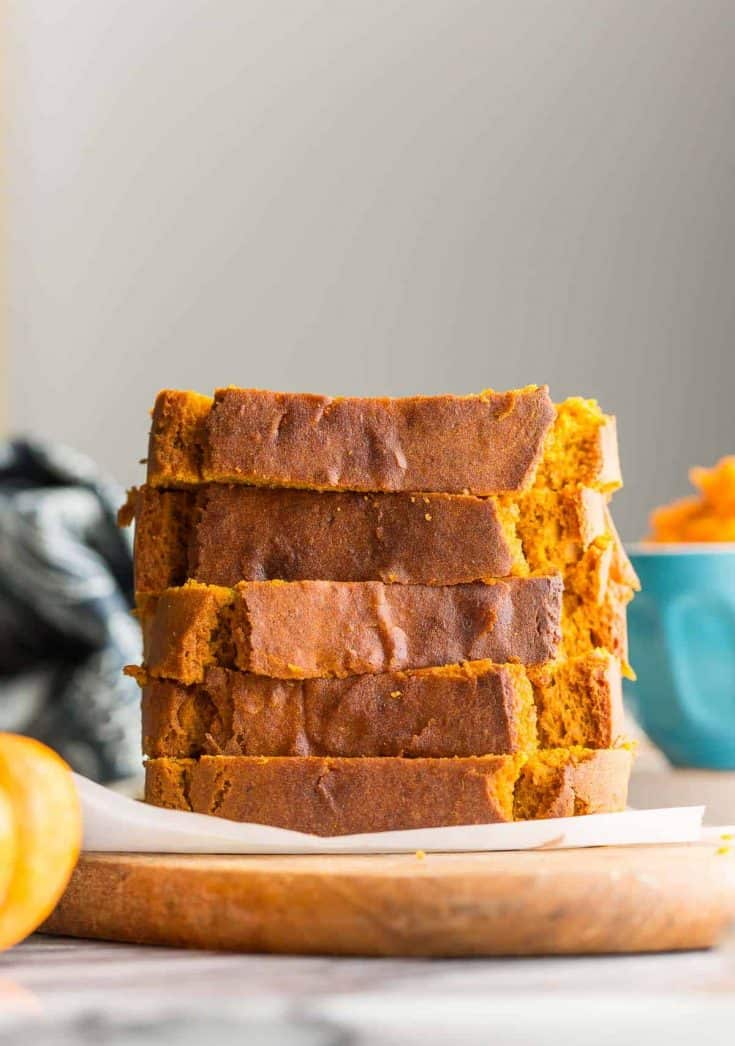 Recipe
Gluten Free Pumpkin Bread
Yield:
1 loaf
Prep Time:
10 minutes
Cook Time:
1 hour
Total Time:
1 hour
10 minutes
Settle in a with a thick, moist and tender slice of delicious gluten free pumpkin bread that also happens to be dairy free too!
Ingredients
1 1/2 cup | 210 g gluten free flour blend
1 cup | 210 g light brown sugar
1 teaspoon xanthan gum (only add if your flour blend doesn't contain a binding agent)
2 teaspoons baking powder
1 tablespoon pumpkin pie spice
1/2 teaspoon salt
1 1/2 cups | 340 g unsweetened pumpkin puree
1/2 cup | 104 g melted coconut oil
2 large eggs
1 teaspoon vanilla extract
Instructions
Preheat oven to 350°F/180°C. Grease or line a 9x5 inch loaf pan and set aside.
In a large mixing bowl whisk together the flour, sugar, spice, baking powder and salt until combined.
In another mixing bowl mix together the pumpkin, oil, vanilla and eggs.
Add the wet ingredients to the dry ingredients. Mix into a thick, lump-free batter.
Pour the batter into the prepared loaf pan and spread evenly over the top.
Place in the middle of the oven and bake for 55-60 minutes. Check if the bread is done by inserting a knife or tooth pick into the center of the bread - if it comes outs with a few moist crumbs it's done. If it comes out with wet batter - let it cook another 5-10 minute.
Let cool in the loaf pan 5-10 minutes then transfer to cool fully on a wire rack.
Enjoy!
Notes
Make it vegan: Use two flax eggs and add two extra tablespoon water. To make the flax eggs: mix together 2 tablespoons ground flax seed and 5 tablespoons water together in a small bowl or cup. Let sit about 10 minutes until the mixture thickens up.
If you don't have a premade pumpkin pie spice: add 2 teaspoons ground cinnamon, 1/2 teaspoon ground ginger and 1/2 teaspoon ground nutmeg.
You can use melted butter (vegan if needed) or vegetable oil in place of the coconut oil.
Store leftover bread in an airtight container or wrapped up in aluminium foil or plastic wrap at room temperature or the fridge for about 4-5 days.
This website provides approximate nutrition information for convenience and as a courtesy only. Nutrition data is gathered primarily from the USDA Food Composition Database, whenever available, or otherwise other online calculators.