Learn how to make your own homemade edible googly eyes – perfect for decorating cookies, cupcakes and more! Most store-bought candy eyes are unsuitable for vegans or people with egg allergies as they are made with gelatine or egg whites. They often have unclear 'gluten containing' labels which makes them a risky purchase for celiacs. These homemade google eyes are easy to make with only a few ingredients needed!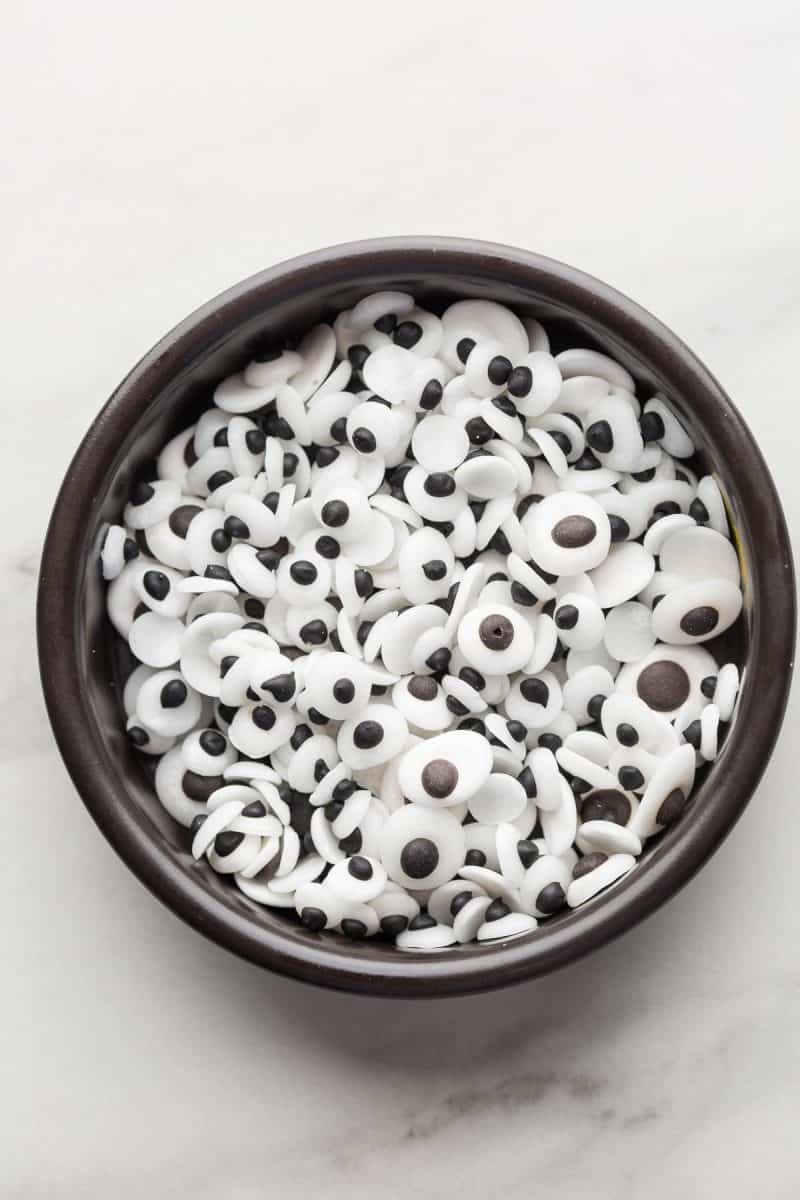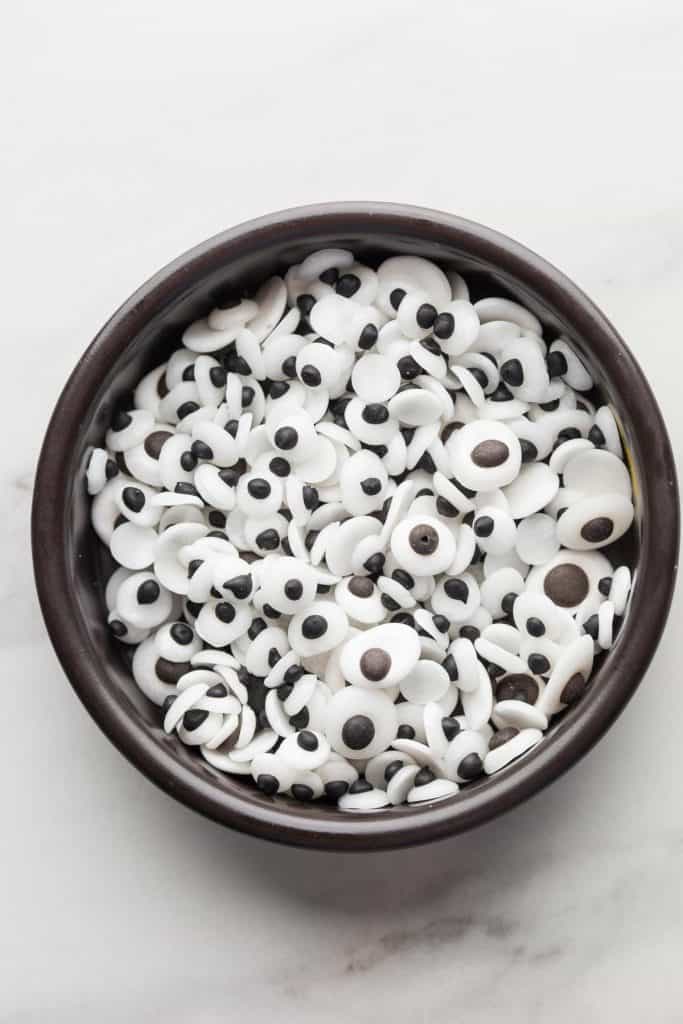 With Halloween creeping up once again, these homemade googly eyes are just the thing to add to your Fall to-do list! Use them to decorate cookies, cakes and chocolates for a fun and spooky twist.
Edible Googly Eyes Ingredients and Tools
Ingredients
Powder Sugar (Icing Sugar) – This makes up the bulk of the google eyes. If your sugar is lumpy, sift out the lumps before mixing to ensure you end up with a smooth icing.
Starch – Cornstarch (corn flour in the UK) is cheap and accessible. I've also made these with tapioca starch. Tapioca is a great option if you'd like a grain free option.
Water – Mix in small amounts of water at a time. More water will thin out the icing and less water will make it thicker. I find that less is better. If you make the icing too runny it will spread too much as the eyes set.
Vanilla or Almond Extract (optional) – These are simply optional flavours to make the eyes taste a little more interesting.
Black Cocoa Power or Black Food Colouring – This will make the pupils of your edible googly eyes. I made these with black cocoa powder. The dark pigment works perfect in the recipe to create pitch black pupils. Black food colour also works, though it can be more hit or miss depending on the quality of the colouring. Typically black food colouring gel works best.
What is black Cocoa Powder?
Black cocoa powder is a type of cocoa that has been processed with an alkaline solution to neutralise its acidity. It has a rich, smooth flavour and intensely charcoal black colour. Black cocoa powder is actually what's used to make oreos black.
Tools
Mixing bowls – You'll need a medium bowl and one small bowl to mix the two colours.
Piping bags or plastic sandwich bags – Piping bags are ideal if you have them. If not, plastic food storage bags will also do the trick! Just make sure that your storage bags have corners without folds or the icing won't pipe out as it should.
Parchment Paper – Use baking paper or a large silicon mat to pipe the eyes on to.
Large Baking Sheet – A baking sheet is ideal because it's a large flat surface that can be moved around as needed.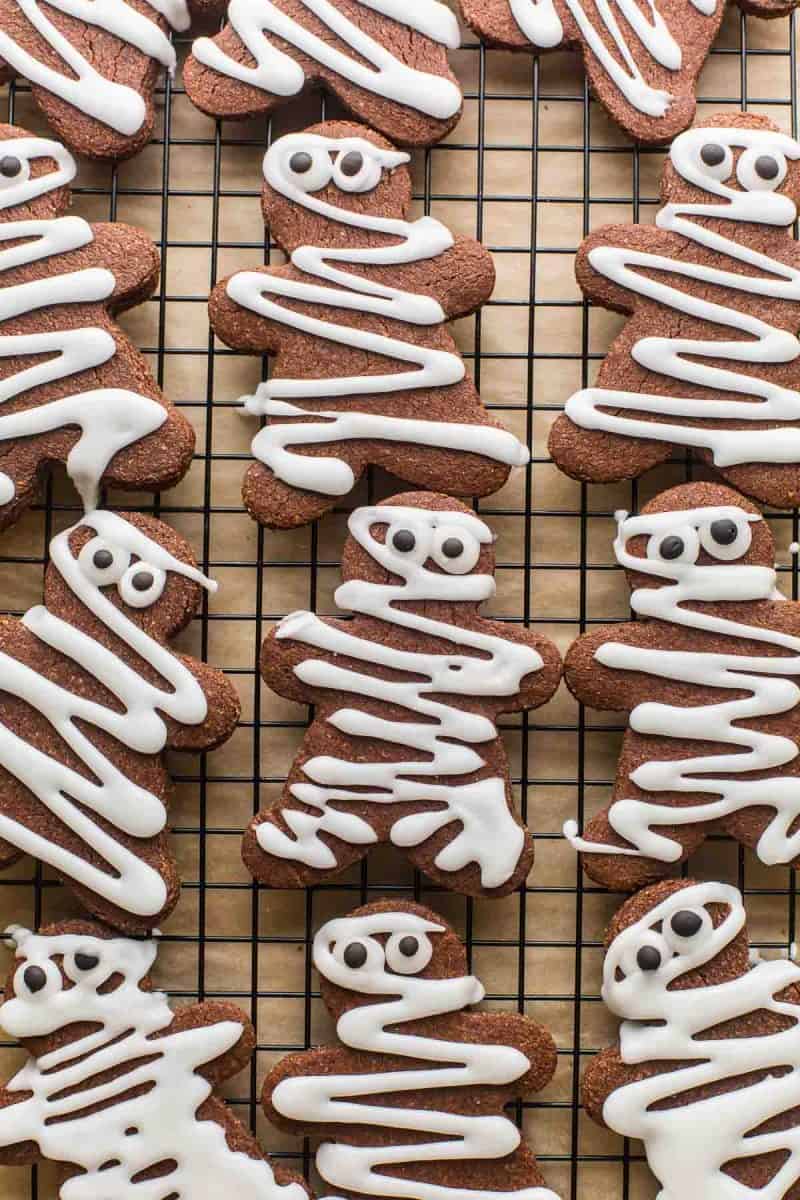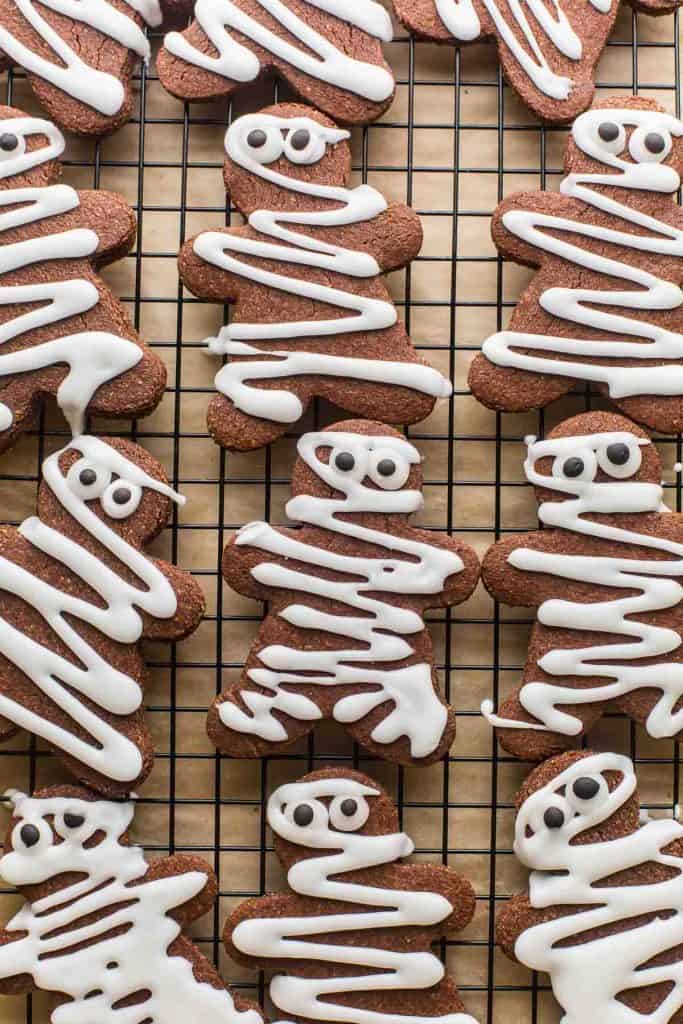 Steps
Start out by whisking together the sugar, starch, water and extracts (if using). Mix together into a smooth icing.
Portion out a couple of tablespoons worth of the icing mixture and add to a small mixing bowl. Add the cocoa powder or food colouring to the small bowl and combine to create the pupil colour.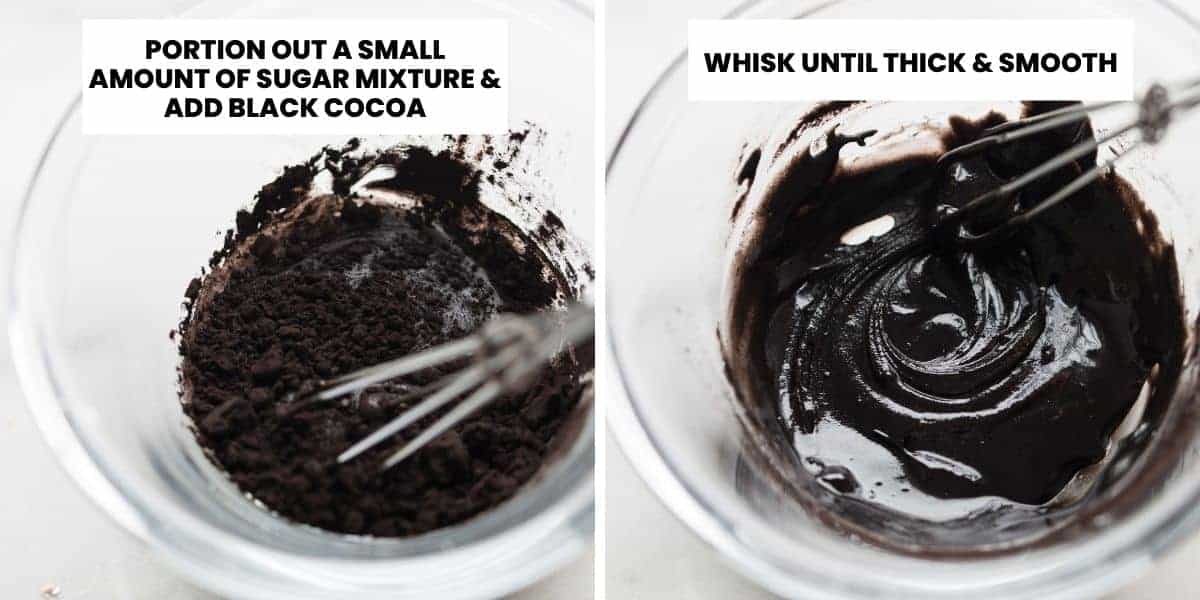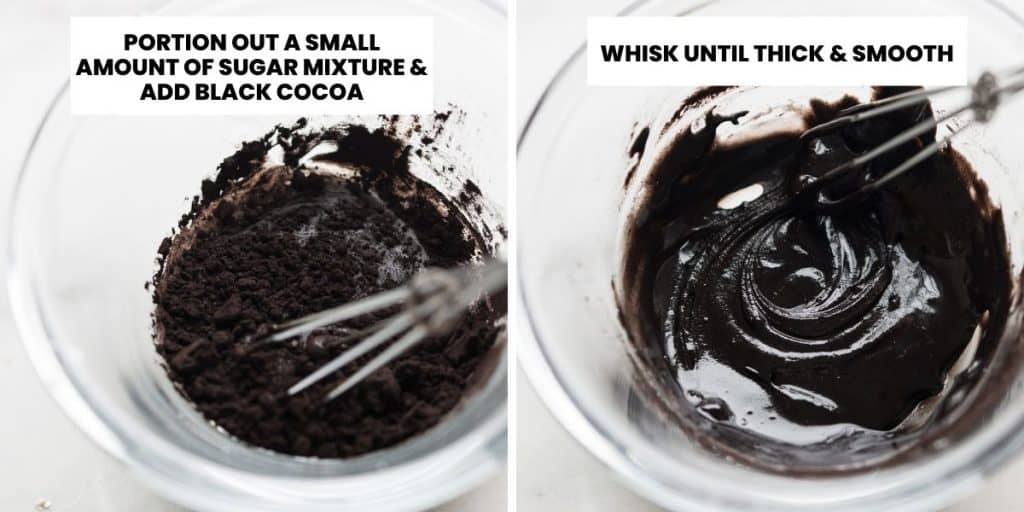 Once the two colours have been properly mixed – add them to two different piping/food storage bags for piping. Snip off the end of the white bags. The black bag should have a smaller piping hole since it's for the pupil.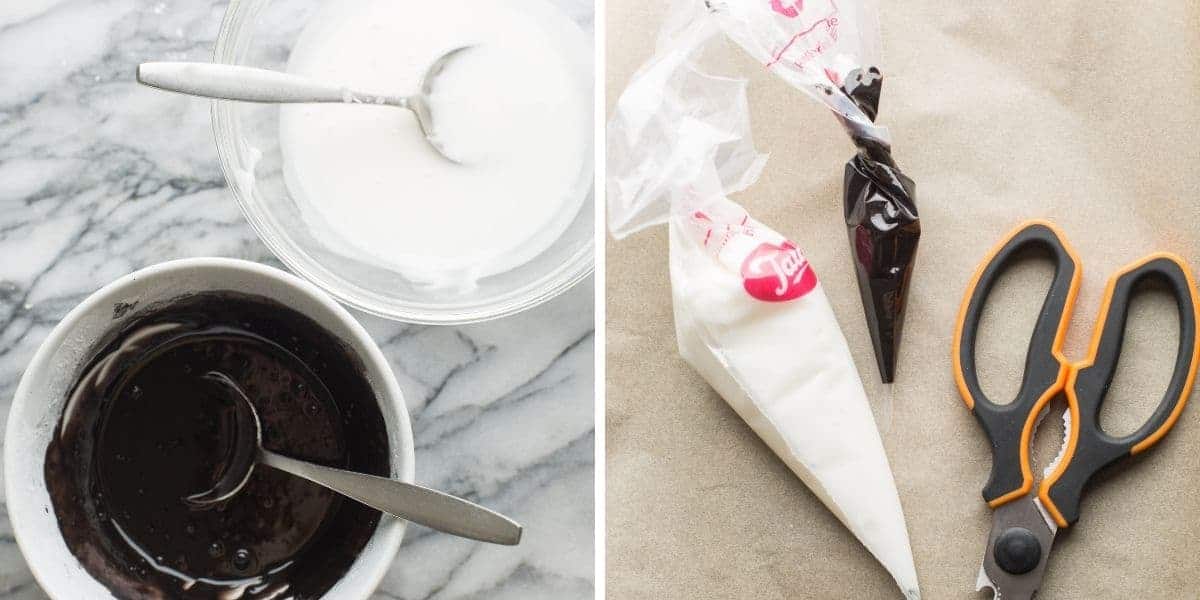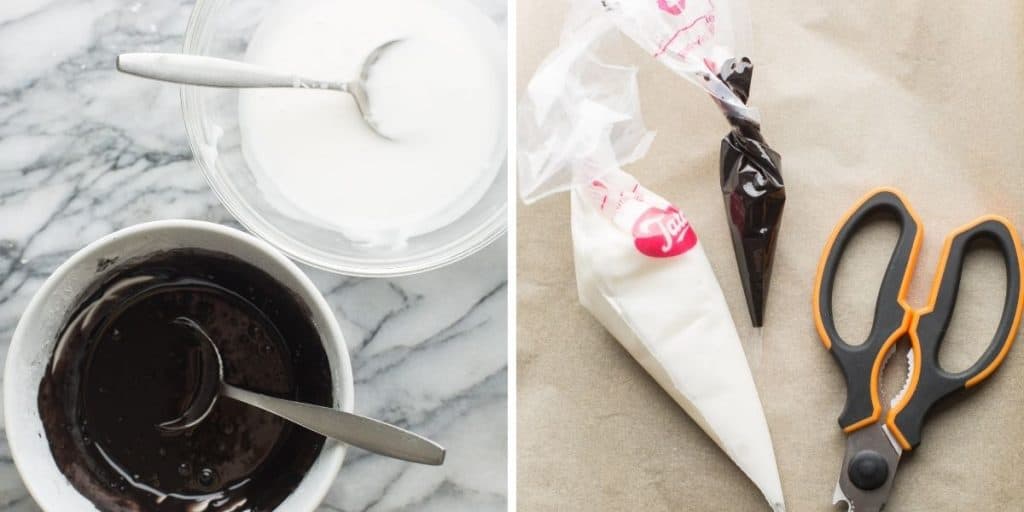 Piping the Googly Eyes
With the white bag: pipe out small dots onto a lined baking sheet. You should be able to fit quite a lot of eyes on to the sheet. Test out the icing by piping a few dots of white. They should only spread out a small amount. If you find the dots spread too much, squeeze the icing back into the mixing bowl and add a bit more sugar to thicken it up.
Pipe out the white dots until you fill the tray. Don't worry about making them all uniform – that's just part of the fun of googly eyes!
Begin piping the black colour on top of the white dots. These dots should be much smaller than the white. Continue until all of your whites have been filled.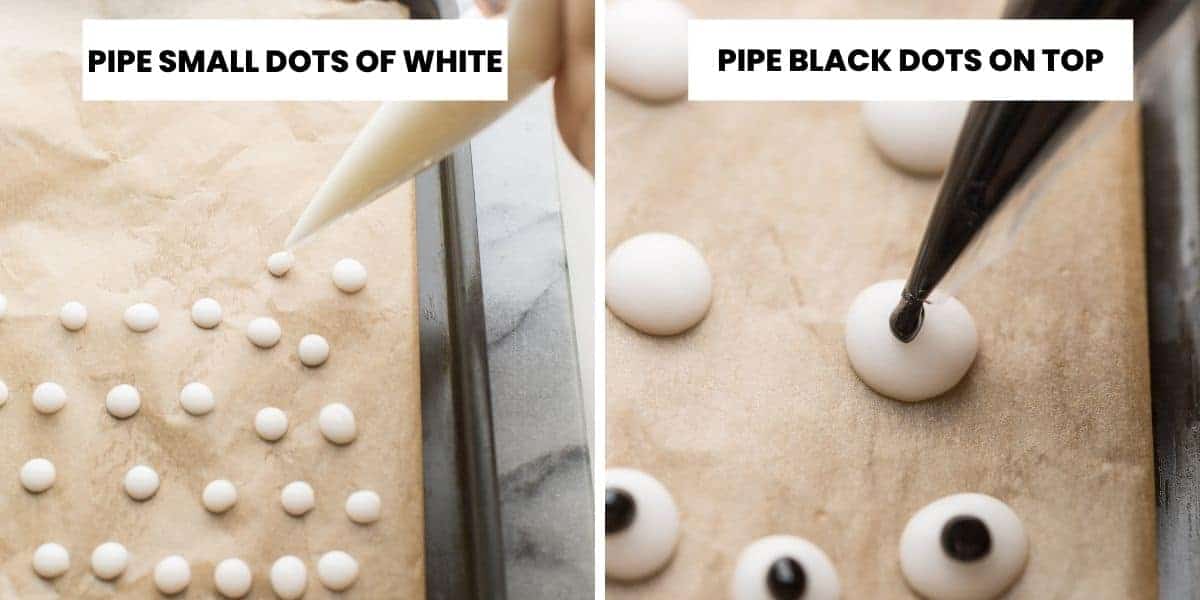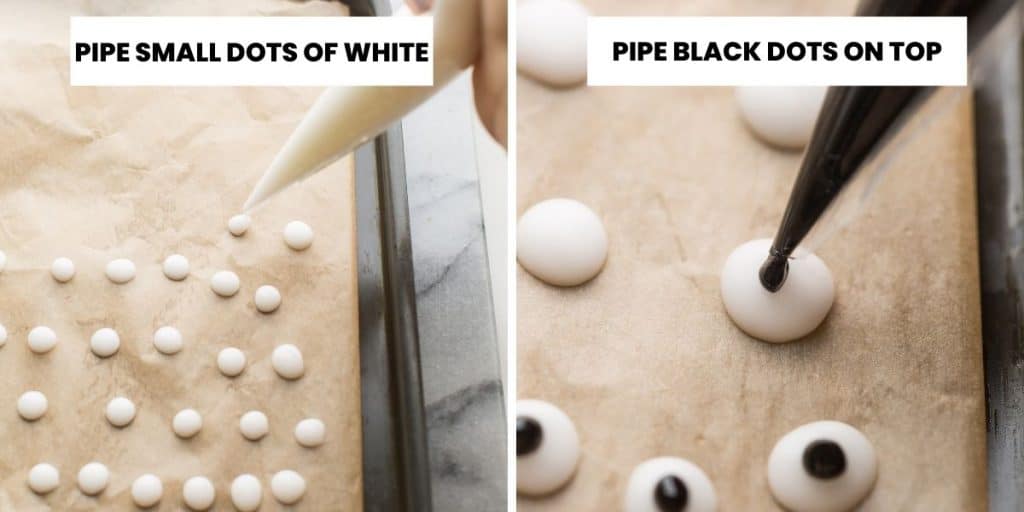 Once done – leave your googly eyes out to dry (about 24 hours). You can leave them in the fridge or at room temperature. The longer they are left out the harder they will get.
After they fully set, gently remove the eyes from the parchment paper and transfer to an airtight container or bag until you're ready to use them.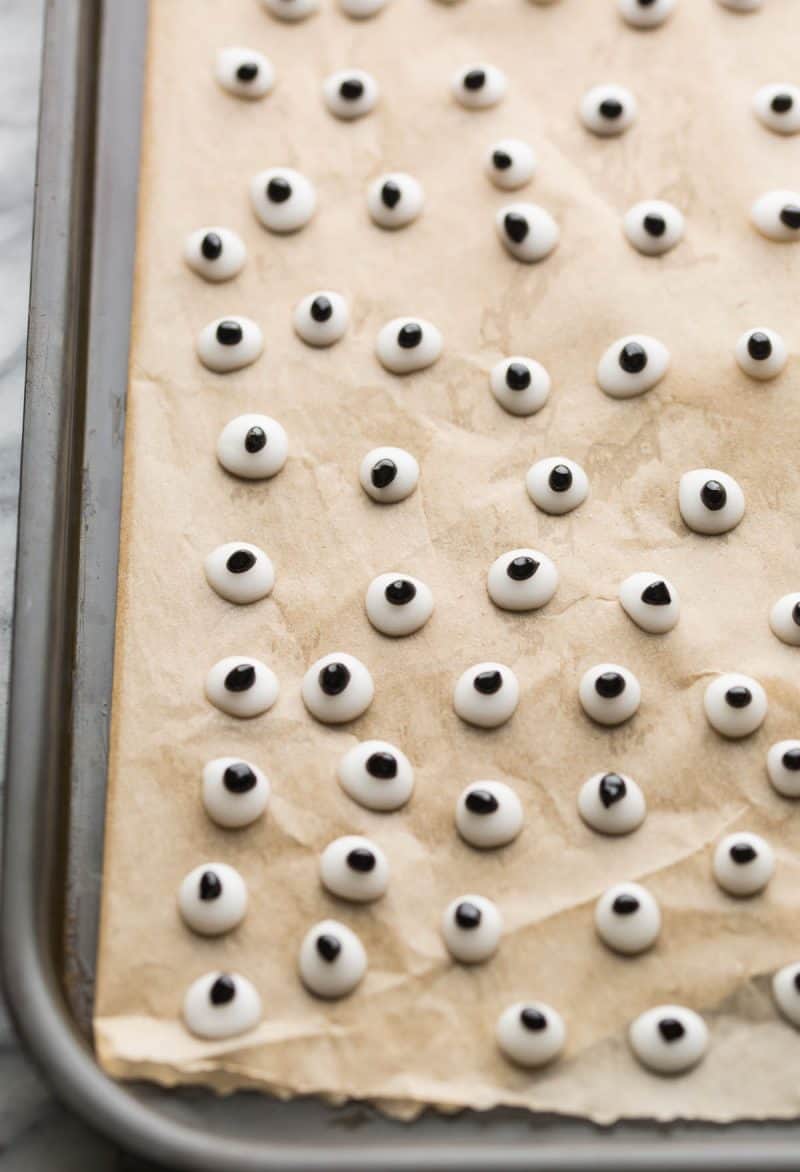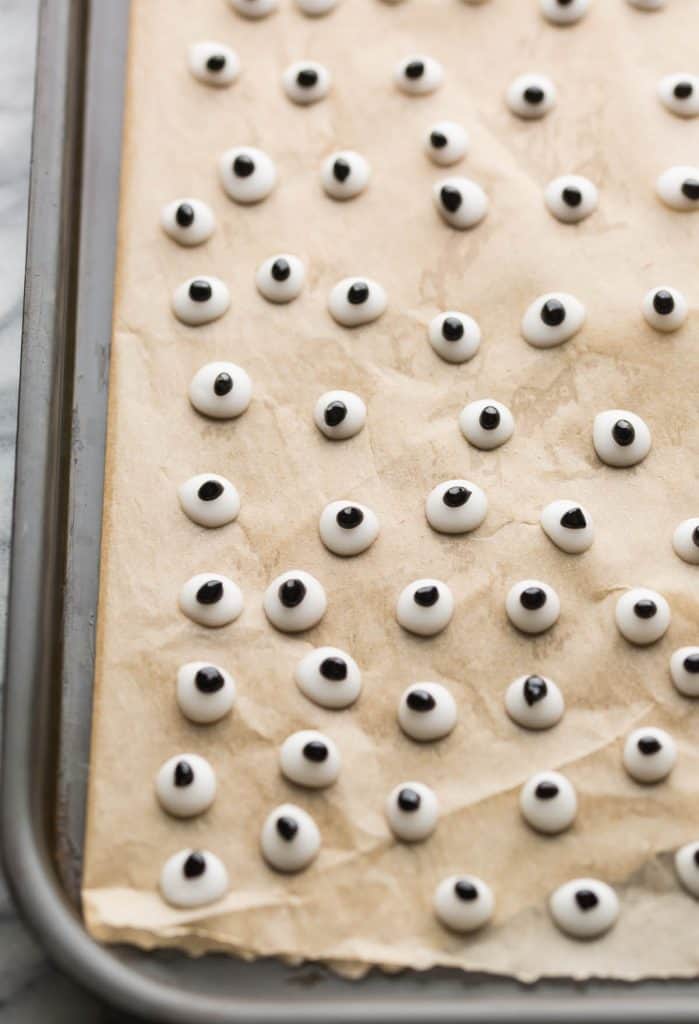 Transform your regular baked goods into fun, spooky Halloween-themed desserts by sticking on a few edible googly eyes (like these almond flour sugar cookies).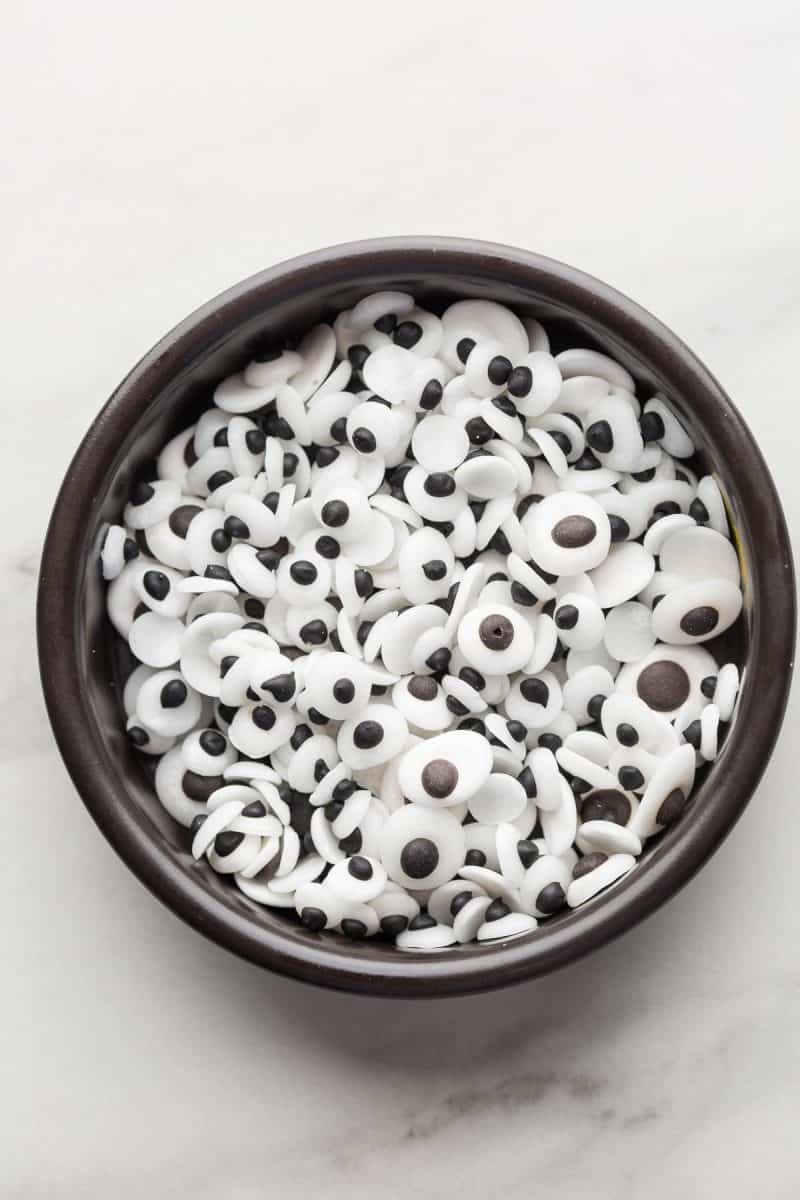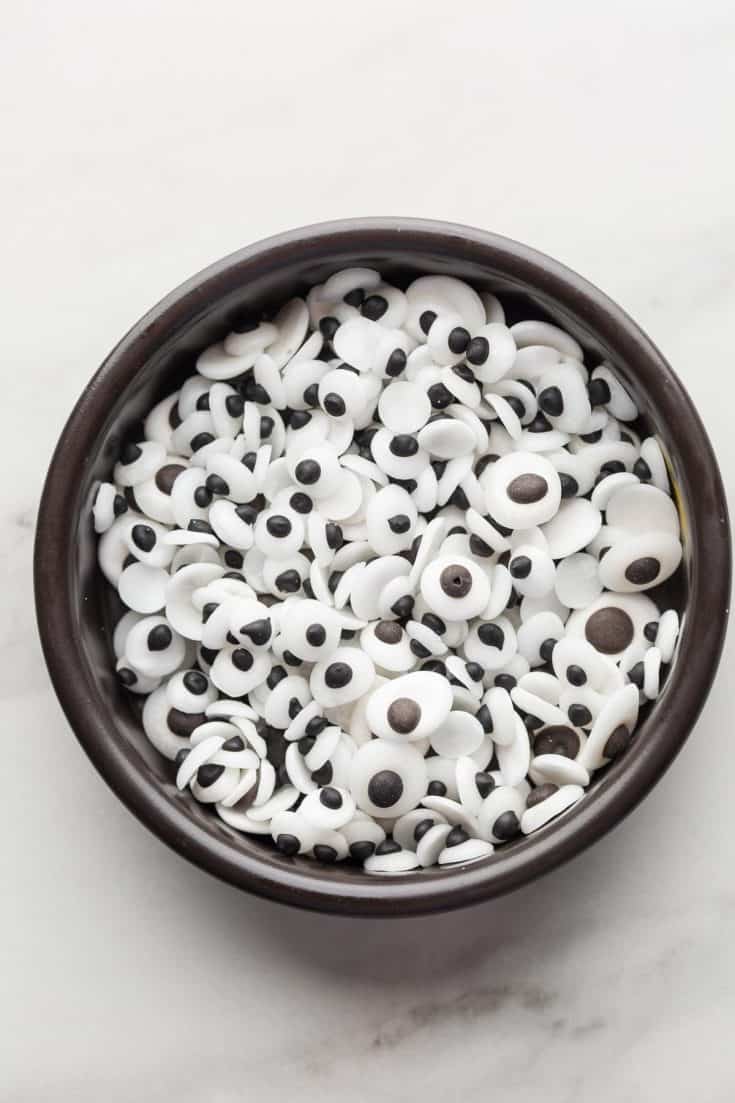 Recipe
DIY Edible Googly Eyes (Egg Free)
Yield:
100-2000 eyes
Prep Time:
20 minutes
Additional Time:
1 day
Total Time:
1 day
20 minutes
Learn how to make your own homemade edible googly eyes - perfect for decorating cookies, cupcakes and more!
Ingredients
1 cup | 125 g powdered sugar
1 tablespoon | 9 g corn starch (cornflour in the UK)
1 teaspoon vanilla extract or almond extract (optional)
2 tablespoons | 30 ml water
1 tablespoon | 7 black cocoa powder
Instructions
Line a couple of large baking sheets with parchment paper or silicon baking mats. Set aside.
In a a medium sized mixing bowl: combine the sugar, starch, extracts (if using) and water. Mix together into a smooth, lump-free icing.
Scoop out about 2-3 tablespoons worth of the icing and transfer to another small mixing bowl. Add the cocoa powder and mix until the cocoa powder have been completely mixed in. The consistency should be somewhere between an icing and a frosting. You need it to be thin enough to pipe out of a bag. If the black mixture is too thick/stiff, add 1 teaspoon of water to thin it out.
Transfer each mixture into two separate piping bags or plastic sandwich bags.
Snip off the corner of the white icing bag first and pipe out small dots onto the prepared baking sheets. The dots will spread slightly after piping, but not much. Make the white dots no larger than 3/4 cm wide. Feel free to pipe out different sizes - these do not need to be perfectly even.
Once you've pipe out as much of the white icing as needed, snip of the corner of the black icing bag. Pipe out small black dots on top of the white dots to form the pupils. Continue piping until each eye has been filled.
Leave the eyes somewhere to dry where they won't be in the way and let them air dry at least 24 hours until fully hard. Once set, you can carefully remove the eyes from the baking sheet and transfer to an airtight container or bag and store until needed. They will keep for months.
Though edible, these eyes are best enjoyed as decoration. Add to cookies, cakes, cupcakes and anywhere you might want/need edible candy eyes.
Notes
You can use tapioca starch or arrowroot starch for a grain free version.
Regular cocoa powder/cacao powder won't be dark enough to make black.
Black food colour gel can be used instead of black cocoa powder. Mix in small amounts of gel to form your black colour as needed.
This website provides approximate nutrition information for convenience and as a courtesy only. Nutrition data is gathered primarily from the USDA Food Composition Database, whenever available, or otherwise other online calculators.