Simple, classic and mouthwateringly delicious – this oven roasted root vegetables recipe makes for the perfect side dish this time of year! The prep is minimal and the cook time is as effortless as can be. Made with a colorful medley of root veggies and fresh herbs – simply add everything to a large roasting pan or rimmed baking sheet, sprinkle with a touch of salt and pepper then drizzle with olive oil. | Gluten Free + Vegan + Whole30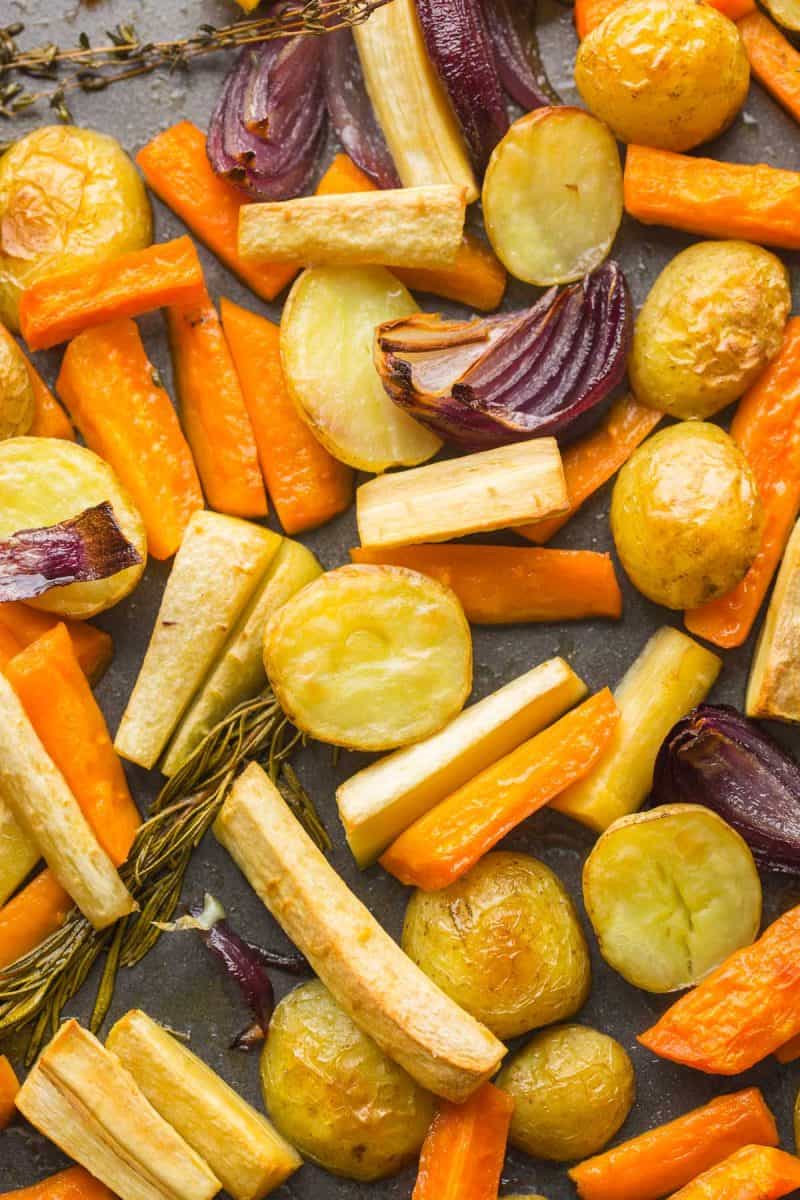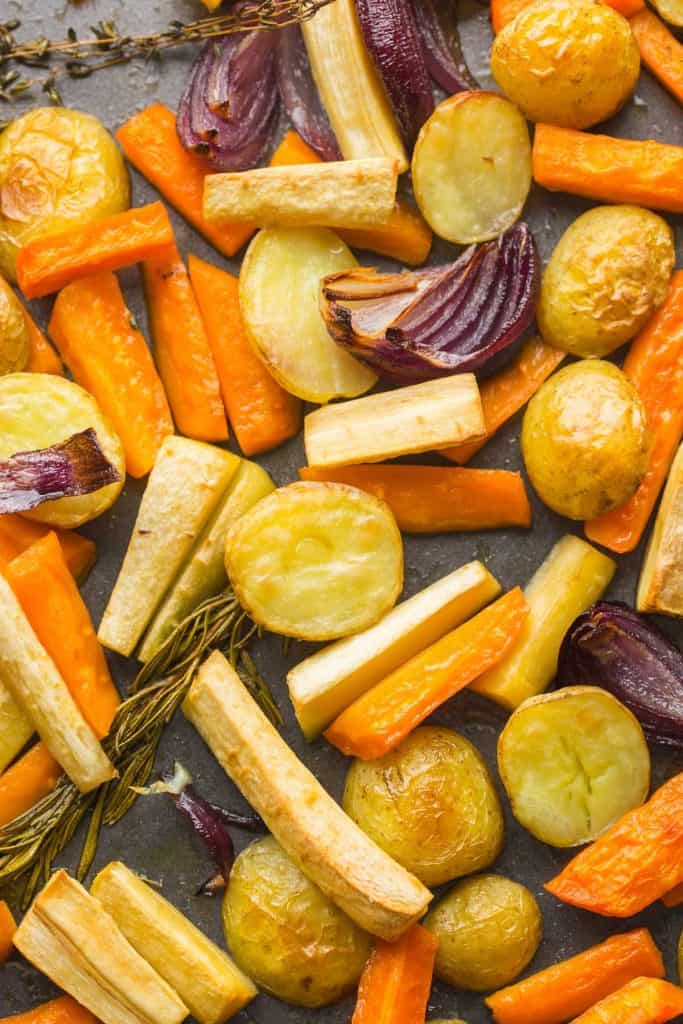 All you need is:
one or two large baking sheets
knife and cutting board
a heaping pile of your favorite root vegetables
a few sprigs of fresh herbs for good measure
the holy trinity of roasted goodness – sea salt, black pepper and olive oil
This recipe is low maintenance enough to make as a quick and healthy addition to a simple weeknight dinner and satisfying enough to have as a delicious side dish for special occasions this holiday season.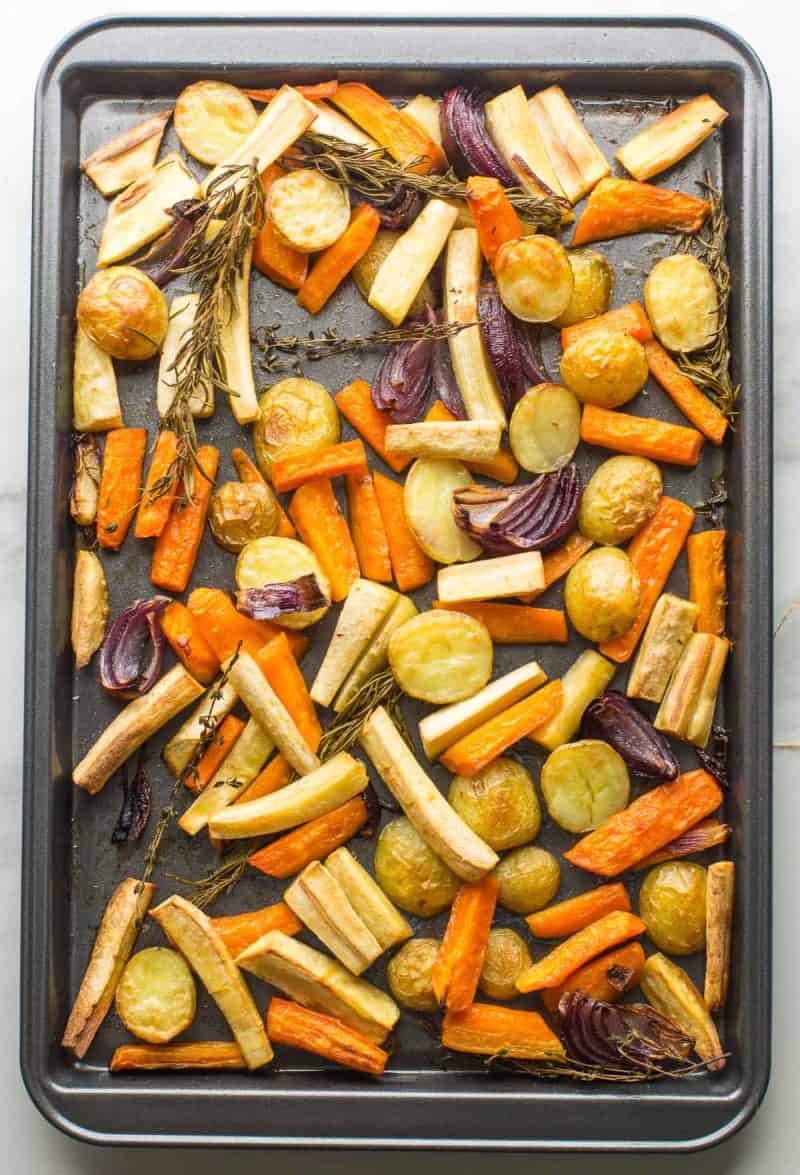 The Magic of Roasting Root Vegetables
Did you know that roasting veggies actually makes them taste better? That includes all vegetables – not just root veggies!
Compared to un roasted veggies, Roasted vegetables are more sweet and nutty with a much more intense earthy flavor. That's because the dry heat from the oven caramelise the natural sugars which mellows out potential bitterness. Bringing out the natural sweetness also unlocks 'new aromatic compounds' which ultimately makes for a more concentrated flavor.
In addition to the improved taste, roasted vegetables also benefit from the additional crisp edges and tender texture. Who wants boiled broccoli when you can have tender, crispy roasted broccoli with almost no work?!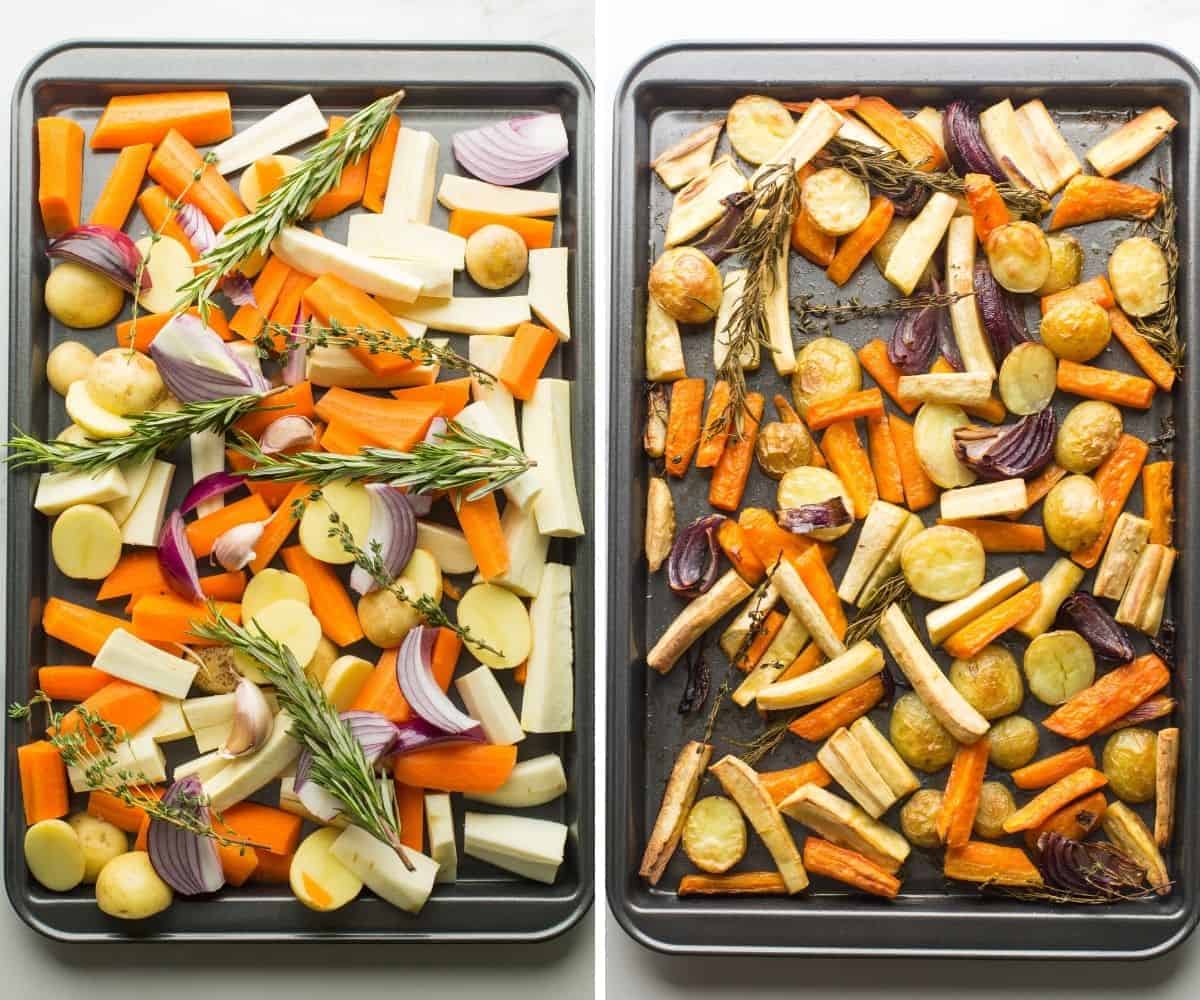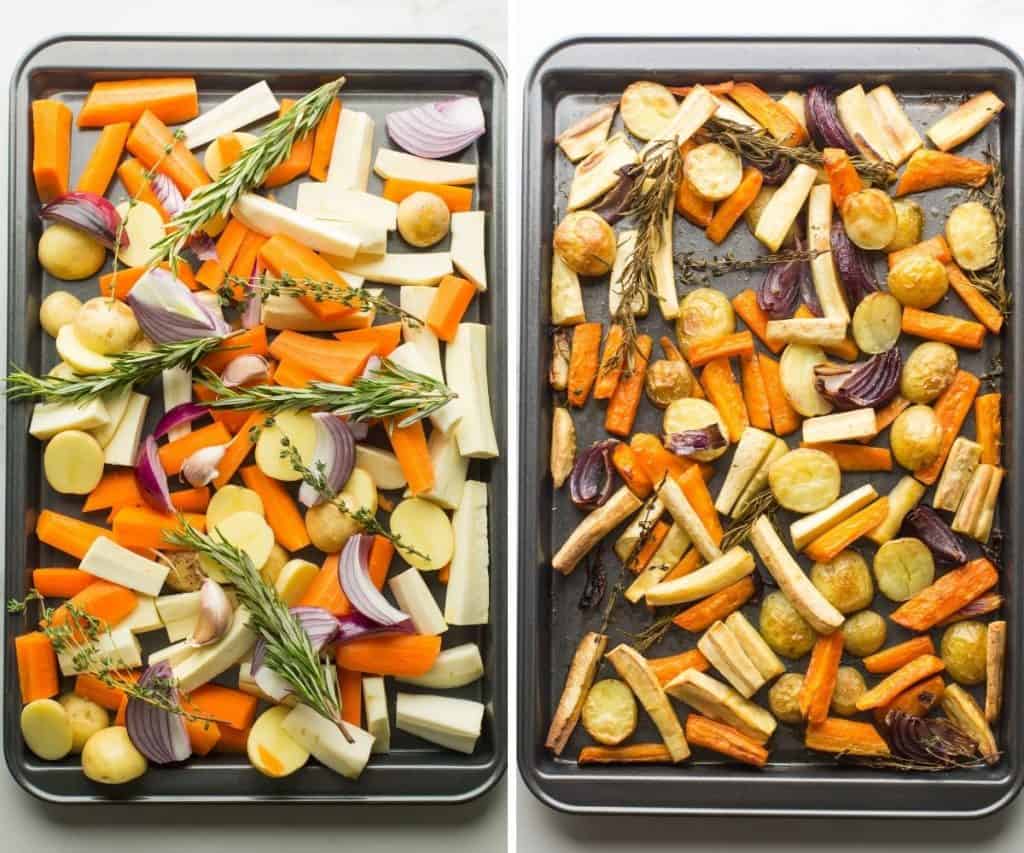 What Vegetables to Use?
Feel free to deviate from my chosen vegetables here. I used a combination of potatoes, carrots and parsnips because that's what I had in. Celeriac root (also known as celery root), sweet potatoes, butternut squash and beets (golden beets and red beets) would all be lovely here. Just get a good mix of root vegetables and you're all set.
In addition to the root veg, you'll also need a large red onion and few whole cloves of garlic.
Tips for Success
Don't overcrowd the pan – spread the vegetables out in a single layer. Use a very large roasting pan, baking dish or rimmed sheet pans. If needed, use a couple of pans to roast the vegetables. Overly crowded vegetables will steam in the oven which will make it difficult, if not impossible, for them to caramelise and crisp.
Heat your oven properly. Make sure your oven temperature is fully heated to temperature. An extra hot oven is necessary for crisping.
Stir the roasted vegetables halfway through the cooking time. Don't worry about fully flipping every last veggie over. Just stir the veg enough to mix everything up. This will ensure your vegetables get an even cook all around.
Try to cut the vegetables into even pieces. I'll admit – I'm not always overly precious about making everything equal in size, but it does help the vegetables to cook more evenly if cut in mostly uniform pieces. If you slice your carrots thin but then leave huge chunks of potato you might find the carrots burn before the potatoes get fork tender. Get everything to be roughly the same size and you should be fine.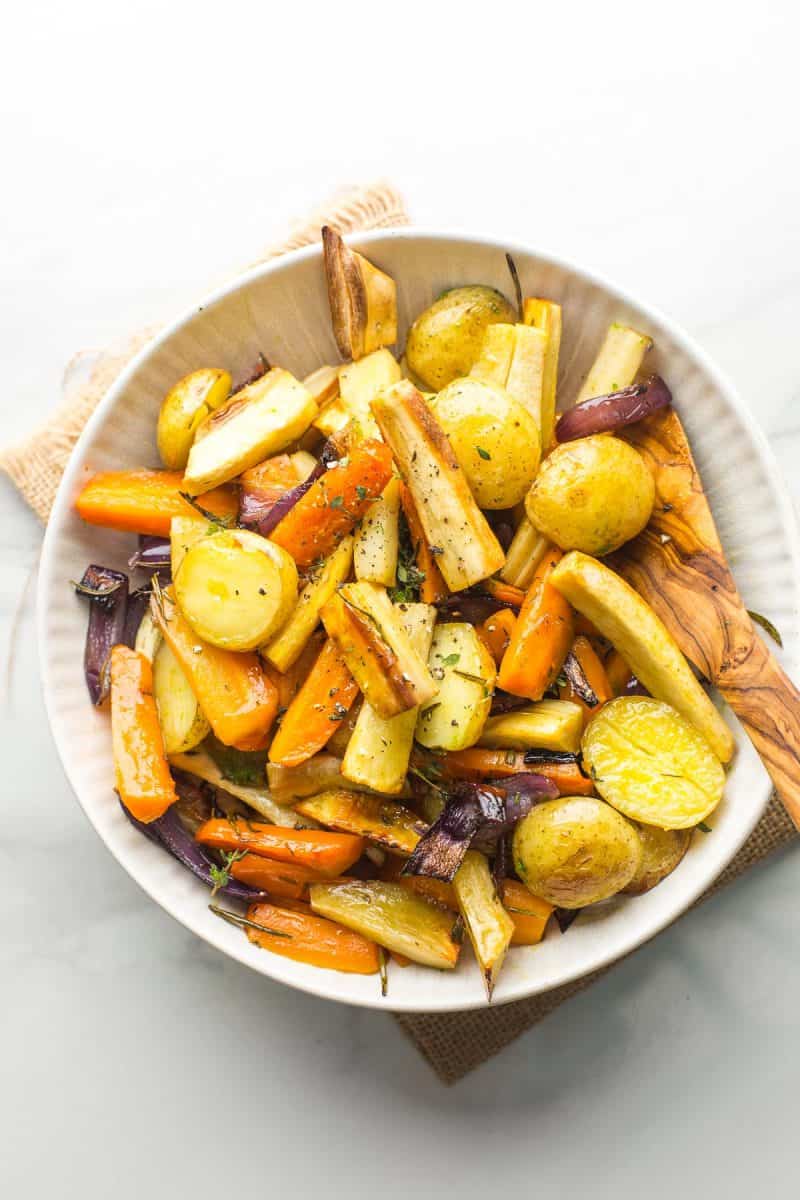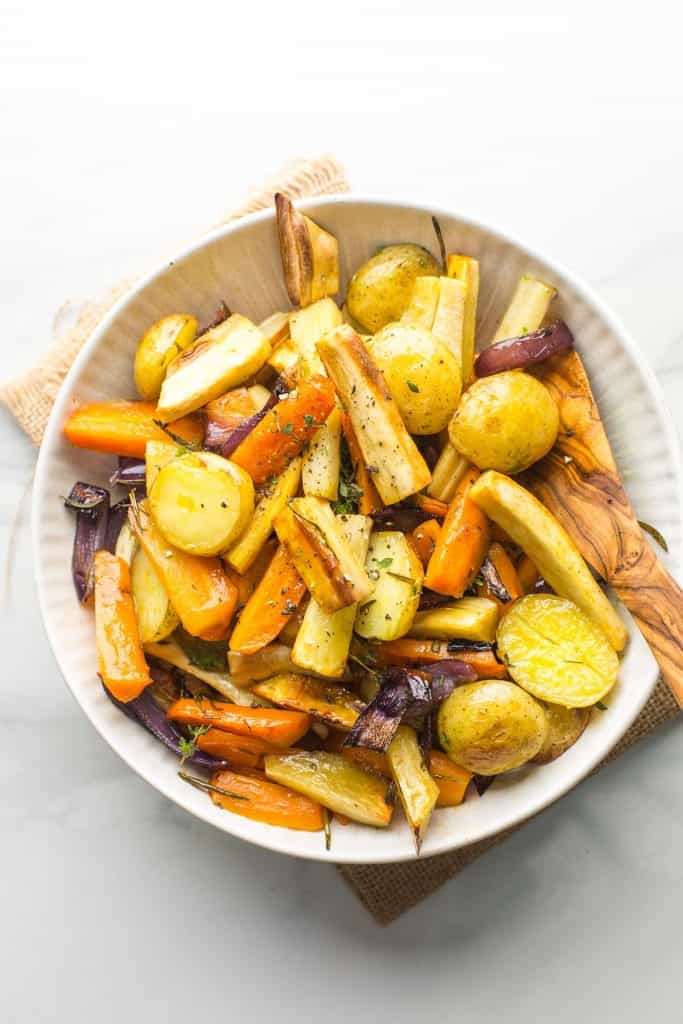 Possible Additions & Serving Suggestions
The beauty of this recipe is its simplicity. You don't need more than a bit of salt, pepper and oil to make this dish shine; however, a few additions can really spruce things up. Transform this humble side into an even more flavor packed dish worthy of your next holiday meal.
Cheese

Crumbled feta, sliced halloumi and grated parmesan are all great additions that can really take this dish to another level. Parmesan can be added to the vegetables before roasting. Feta and halloumi can be added at the halfway point after you have stirred the vegetables. Keep in mind that the feta will melt into the vegetables when stirred, hot out of the oven. If you want to keep the bits of feta intact, add crumbled feta right after you've removed the roasted root vegetables from the oven.

Nuts or Seeds

Add about 1/2 cup of nuts or seeds in the final 10 minutes of cooking. Pine nuts, pepitas, almonds and cashews would all work well here to add a bit of crunch.

Beans

Creamy white beans or garbanzo beans (chickpeas) can be added halfway through the cook time. This is a great way to add a bit more protein to this side.

Pesto

Serve the roasted root vegetables with a side of pesto to brighten everything up. My kale pesto in particular would go well with this recipe as would this sun dried tomato pesto.
More Roasted Healthy Recipes to Enjoy this Fall & Winter: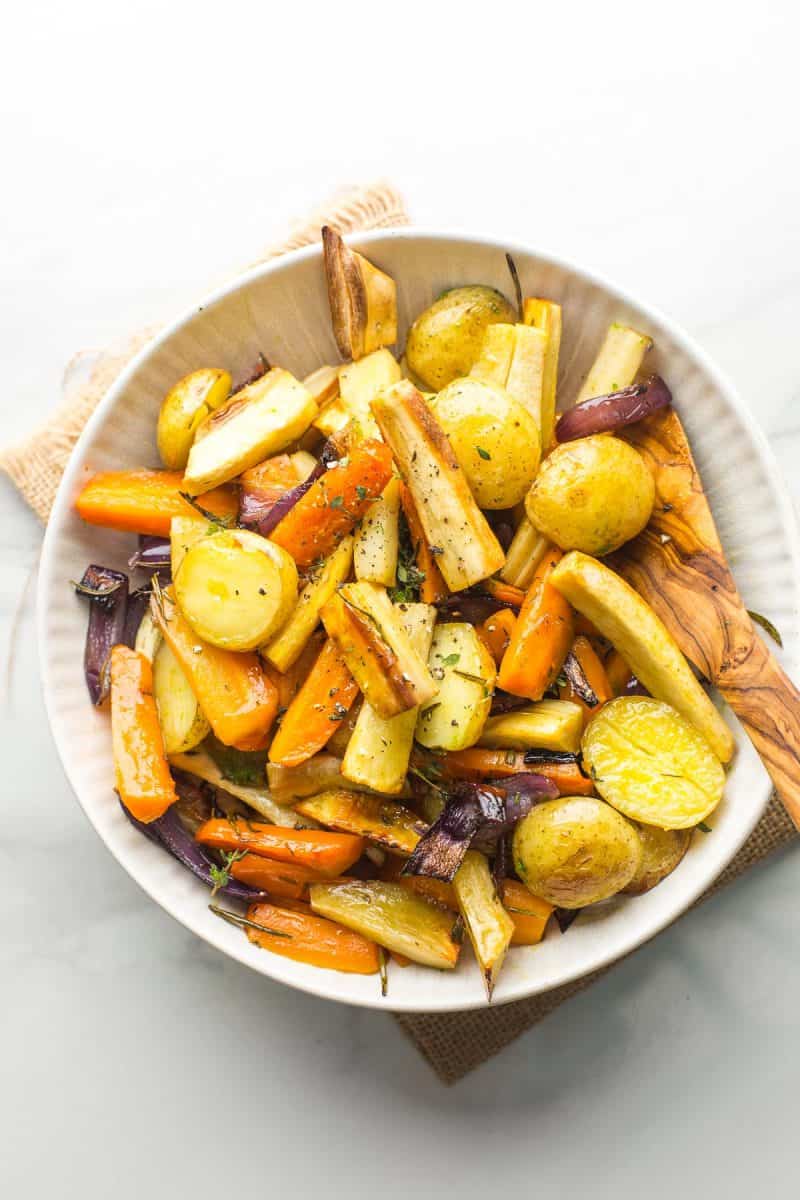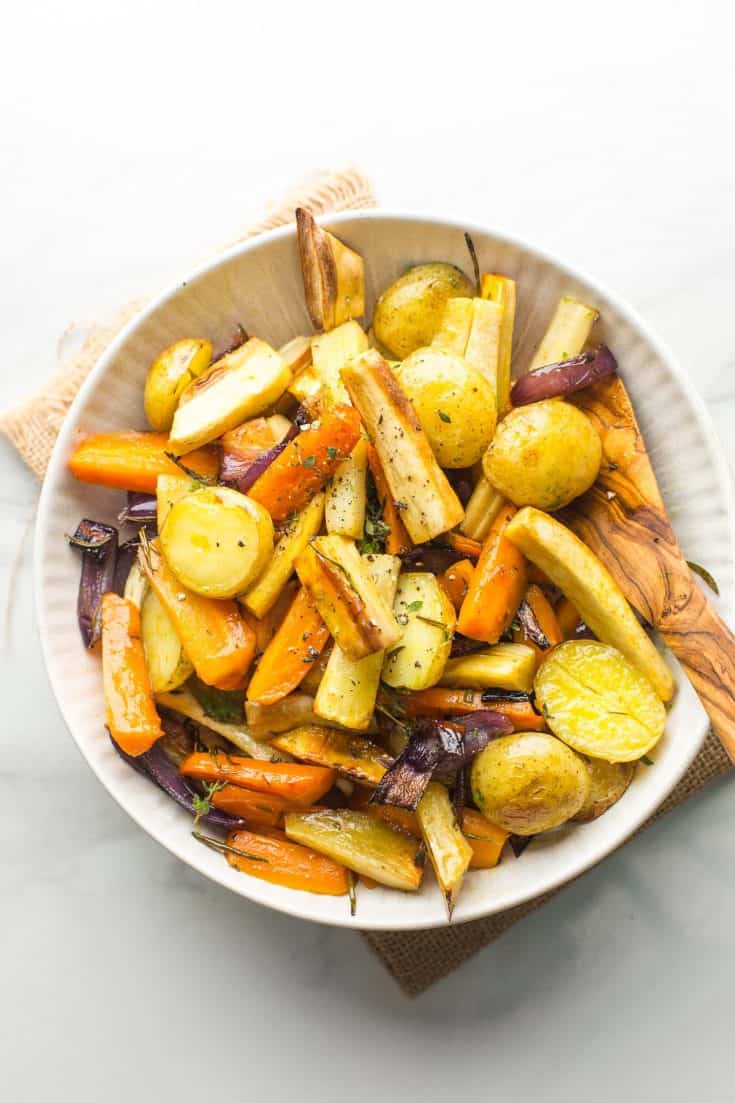 Recipe
Roasted Root Vegetables with Herb Dressing
Simple, classic and mouthwateringly delicious - this oven roasted root vegetables recipe makes for the perfect side dish this time of year!
Ingredients
1 lb | 450 g carrots (about 4 large carrots or 5 medium carrots)
1 lb | 450 g parsnips (about 4 medium parsnips)
1/2 pound | 225 g small potatoes
1 large red onion
1 tablespoon | about 3 large cloves garlic - leave whole with skin left on
5 springs fresh rosemary
5 sprigs fresh thyme
2 tablespoons | 30 ml olive oil
sea salt
freshly ground black pepper
Instructions
Arrange an oven rack so that you have one in the upper third of the oven. Preheat oven to 425°F/220°C. Prepare a large roasting pan or a large baking sheet. Use a couple of baking sheets if needed.
Prep the vegetables. Cut the carrots and parsnips into roughly equal sizes: 1/2 in thick slices, about 2-3 inches long. Cut the potatoes into halves or quarters. Slice the onion into 1/2 inch thick slices. Leave the
Add the prepared vegetables to a large roasting pan. Add 4 sprigs of fresh rosemary and thyme to the pan along with the garlic.
Drizzle oil over the top along with the salt. Use a spoon or your hands to toss everything together until well coated in oil. Spread the vegetables out in an even layer. If the pan is too crowded, use a second pan to roast.
Place in the oven and roast for about 35 minutes.
Chop up the remaining rosemary and thyme. Sprinkle the fresh herbs over the vegetables and stir. Place the vegetables back in the oven and roast another 15-20 minutes until golden and fork tender.
Taste and season with salt and pepper if needed. Serve warm.
Notes
Store leftovers in an airtight container and keep in the fridge up to a week. Reheat leftovers in the oven at 425°F/220°C for about 5 minutes or in an air fryer at 400°F/205°C for about 3-4 minutes.
Paleo/Whole30 Note: some people don't consider white potatoes to be paleo/whole30 friendly. Feel free to swap out the potatoes for sweet potatoes, or another root vegetable of your choice.
You can use any combination of root vegetables so long as they add up to about 2 1/2 pounds.
This website provides approximate nutrition information for convenience and as a courtesy only. Nutrition data is gathered primarily from the USDA Food Composition Database, whenever available, or otherwise other online calculators.