Tender roasted butternut squash slices with a simple parsley pesto and topped with pieces of walnut for added crunch! Gluten Free + Vegan + Whole30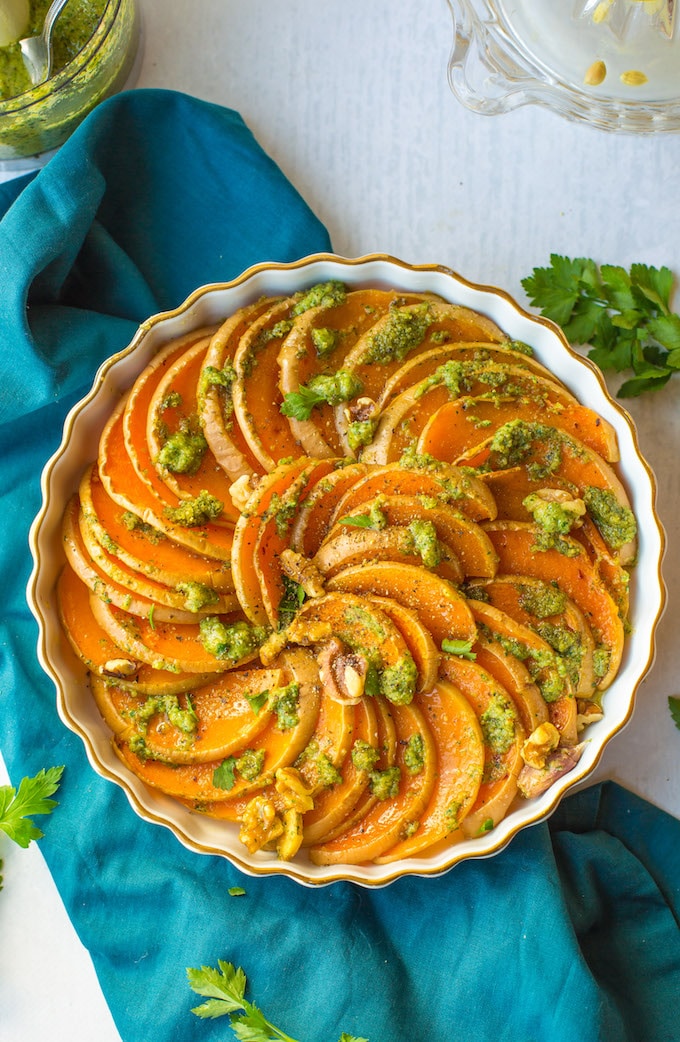 If you're looking for a simple, yet stunning dish to serve at your holiday table this year then look no further than these roasted butternut squash rounds!
They're covered in an insanely delicious, winter parsley pesto  because pesto is life. In case that's not enough they're also sprinkled with little bits of walnuts for good measure because we're all about that crunch factor.
To Peel or Not to Peel
Unlike a lot of roasted butternut squash dishes there's no need peel the skin here.  As long as you slice the squash into thin enough pieces it will cook and soften just fine and it's not a problem to eat. That being said I know some people aren't crazy about eating the peel so feel free to go ahead and peel if you feel more comfortable.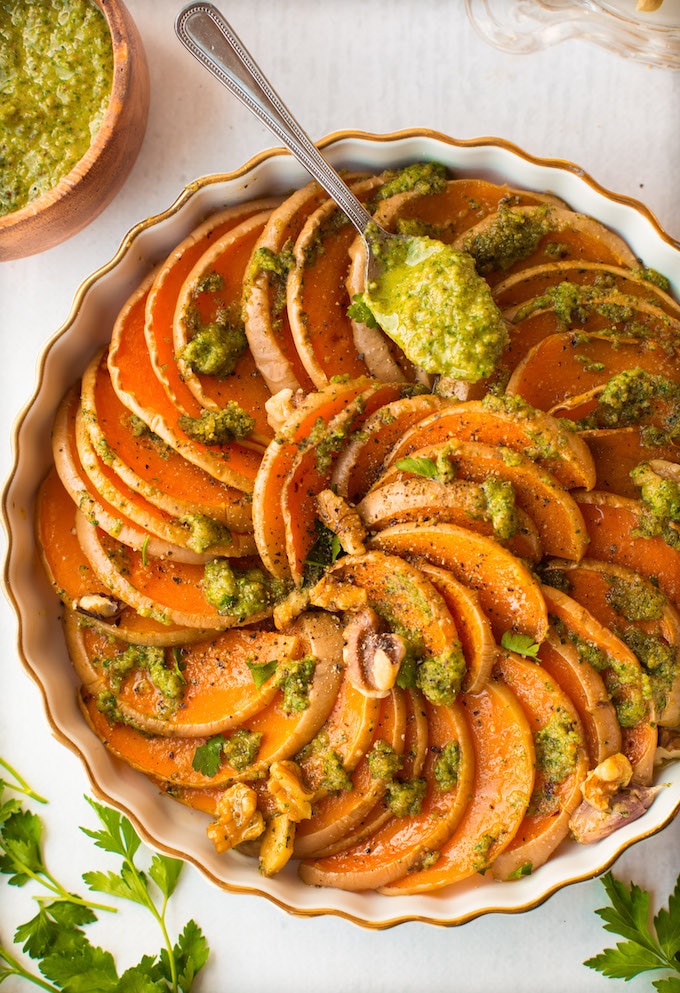 How to Make: Roasted Butternut Squash Slices  & Parsley Pesto
Altogether this is a pretty simple and straightforward dish. Though the total cook time runs about an hour the hands on prep time is really only about 10-15 minutes. Slicing up the squash will take the most amount of time but with a good, sharp knife it's an easy enough task. The pesto whizzes together in a couple of minutes before it's ready to go. The most difficult part there will be trying not to eat too much before it's time to spread it over the squash.
If you're planning on making this for your Thanksgiving/Christmas menu you can cut down on your prep time on the day of by cutting up the squash a day or two ahead of time and making the parsley up to a week in advance.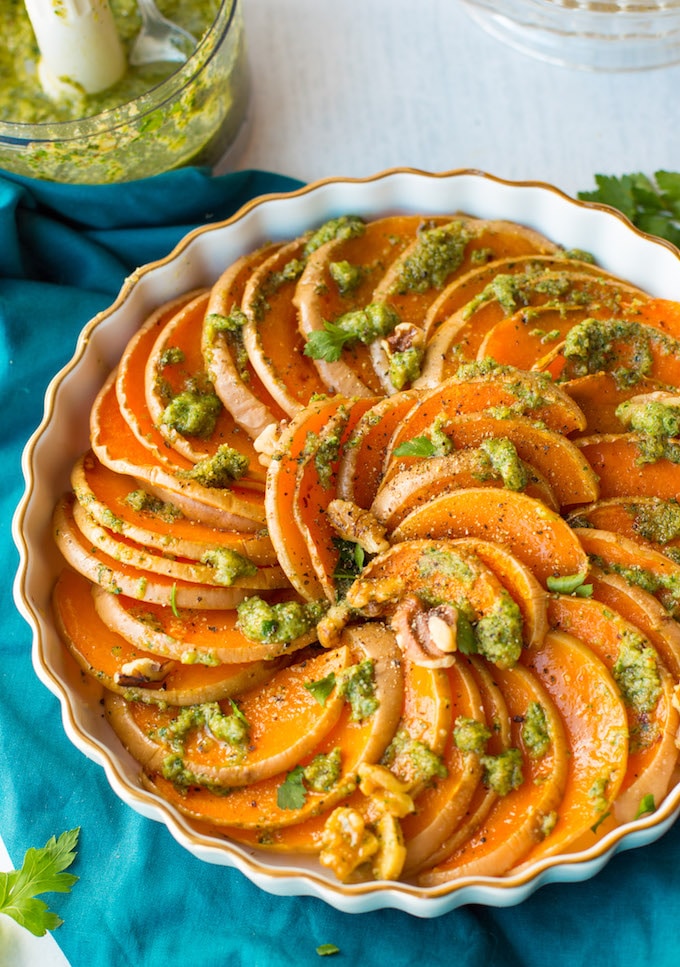 And there you have it – simple, stunning, and so very satisfying!
Enjoy!
FACEBOOK | INSTAGRAM | PINTEREST | 
Don't forget to tag @asaucykitchen if you try these Roasted Butternut Squash Slices! You can also post your pictures to my facebook page!
Yield: 10 servings
Roasted Butternut Squash with Walnuts & Parsley Pesto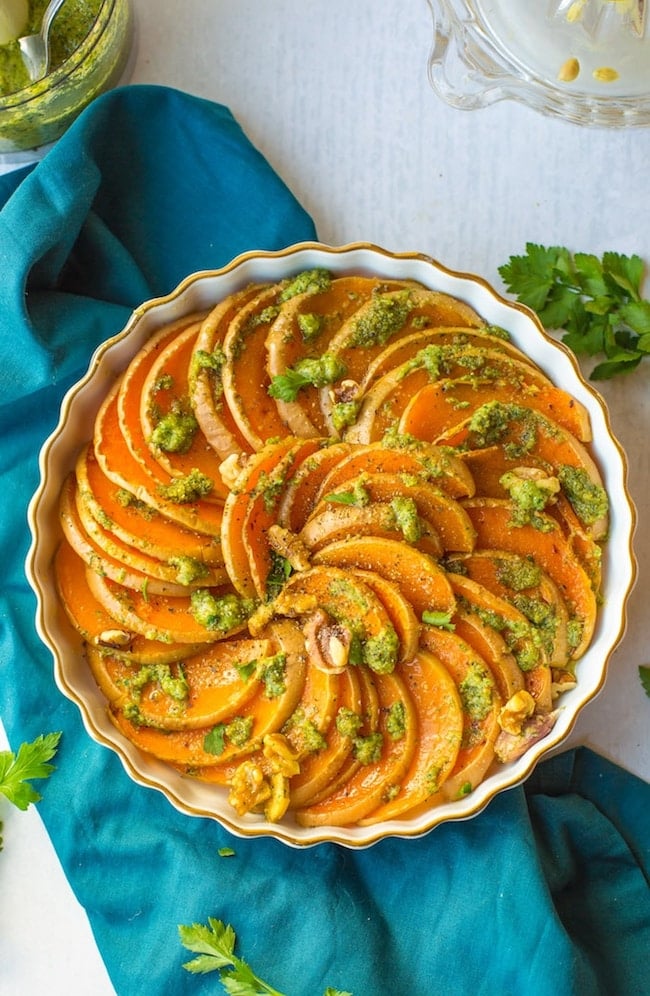 Tender roasted butternut squash slices with a simple parsley pesto and topped with pieces of walnut for added crunch! Gluten Free + Vegan + Whole30
Ingredients
1 medium/large butternut squash,
3 tablespoons olive oil, divided
1/2 teaspoon sea salt
1/4 teaspoon ground black pepper
1/4 cup walnuts, roughly chopped
Parsley Pesto
1 cup loosely packed fresh parsley, stalks + stems
1/2 cup walnuts
1 tablespoons nutritional yeast
1/3 cup olive oil
1/2 teaspoon sea salt
1 tablespoon lemon juice
2 large cloves garlic, minced
Instructions
Preheat oven to 400°F/205°C. Add 1 tablespoon olive oil to a 2 quart roasting dish/pie plate.
Place your squash on its side and use a good, sharp knife to cut off both of its ends. Then continue cutting the squash into thin slices, about 1/4 inch thick.
Arrange the butternut squash in your roasting dish and brush the remaining 2 tablespoons oil over the top and around the slices.
Sprinkle with salt and pepper and then roast in the oven for 30-35 minutes.
Take the squash out of the oven and sprinkle with chopped walnuts and half of your parsley pesto. Return to the oven and roast for another 15-20 minutes or until the squash is fork tender. If you cut your squash into thicker pieces you'll need to leave it in the oven for longer.
Serve immediately with the remaining pesto on the side and enjoy.
Parsley Pesto
Add all of your ingredients needed for the pesto to a food processor or blender and blitz until your reach your preferred pesto consistency. Add a little more olive oil if you like it more loose. Taste and season as needed.
Notes
I don't peel my squash in this recipe but feel free to peel away if you'd prefer. If you do choose to peel it you can also save the skins and add it to your next homemade stock. 
Make it low FODMAP - try this with a low FODMAP pesto
Any leftover pesto can be kept in the fridge for up to a week.
You can use parmesan in place of the nutritional yeast if you don't need this to be vegan/Whole30
Nutrition Information:
Yield:
10
Serving Size:
g
Amount Per Serving:
Calories:

197
Saturated Fat:

2g
Sodium:

239mg
Carbohydrates:

10g
Fiber:

2g
Sugar:

1g
Protein:

2g