Thick, rich and silky smooth, this Curried Butternut Squash Soup is the perfect way to take advantage of this seasonal vegetable! Made with less than 10 ingredients and prepared all in one pot, you'll be cozying up with this bowl of comfort in no time at all! | Gluten Free + Paleo + Vegan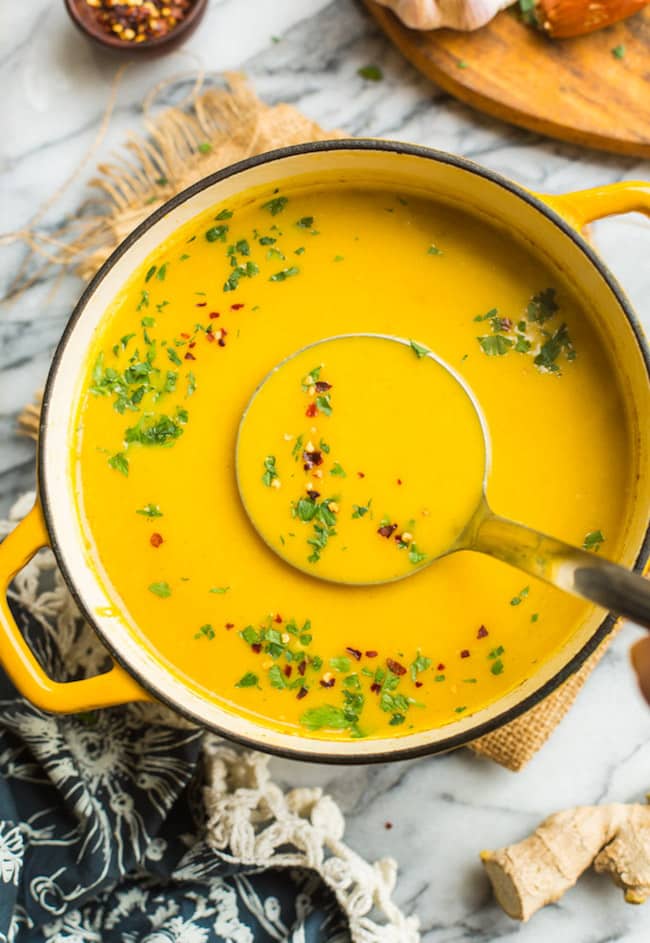 How to Make this Curried Butternut Squash Soup
The Base
Like any good soup, the foundation of this recipe is made up of mixture of aromatics: sautéed onions, garlic and ginger. Start out by cooking this simple mirepoix for about 5 minutes to unlock their full flavour potential.
Squash Prep & Curried Veggie Prep
Prepping the squash will be the most difficult thing about this recipe. It's not rocket science, but it does take a little muscle and some patience to get it done. Butternut squash is such a hardy vegetable – it can be a little uncooperative when it comes to peeling and dicing. If you need a little visual assistance on how to approach to prep you can follow along with this how-to video from Serious Eats. Bonus for people who enjoy ASMR cooking videos!
That being said, if you short on time, resources and will then I recommend buying pre chopped and peeled squash. You can usually find this in either the fresh produce section of your grocery store or in the freezer section. Keep in mind that using frozen squash will add some extra time to your overall cook as it will drastically lower the temperature of the cooking pot.
Once you've peeled, chopped and got everything ready to go, simply mix the squash and carrots in with the aromatics along with a generous helping of curry spice. From her you just need to mix everything together and simmer until tender.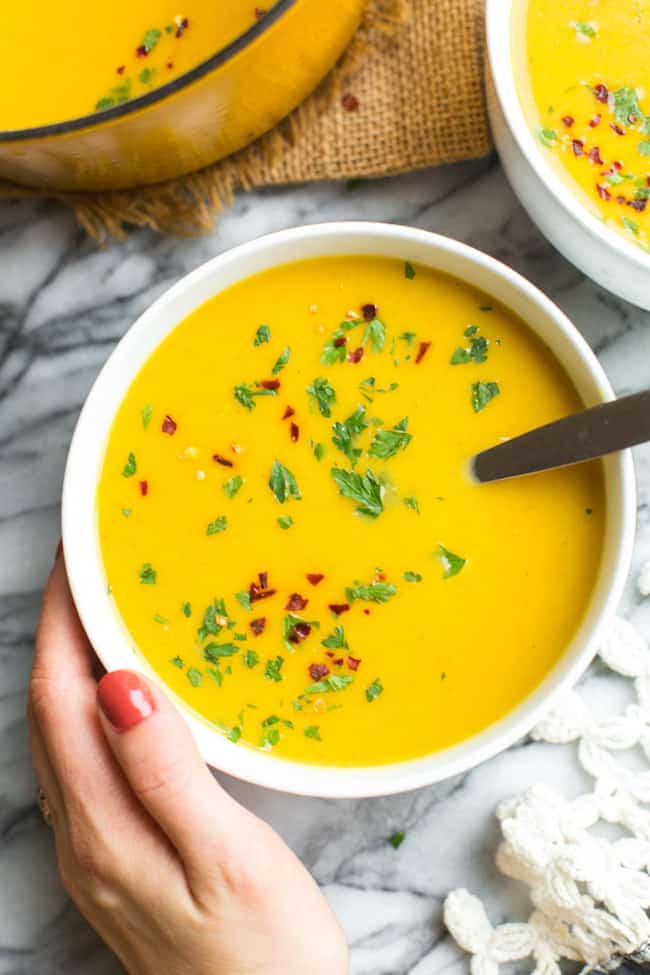 The Liquids
Finally, stir in the coconut milk and vegetable stock (chicken stock works too if you don't need this to be vegetarian/vegan friendly) and bring your pot to a gentle simmer and cook until the squash is soft and tender.
Blending Options
Once the veggies have softened and the flavours have had a moment to come together, it's time to blend. You can approach this stage in a few different ways.
Right in the pot: You can blend the soup up in the pot with an immersion blender. This is by far the easiest method.
In a blender: If you don't have an immersion blender, you can blend up the soup in batches using a blender or food processor. Just make sure to be careful when removing the blender lid and open away from your face and body. The soup will be hot and steamy and I can speak from experience when I say that you don't want that coming at you full force!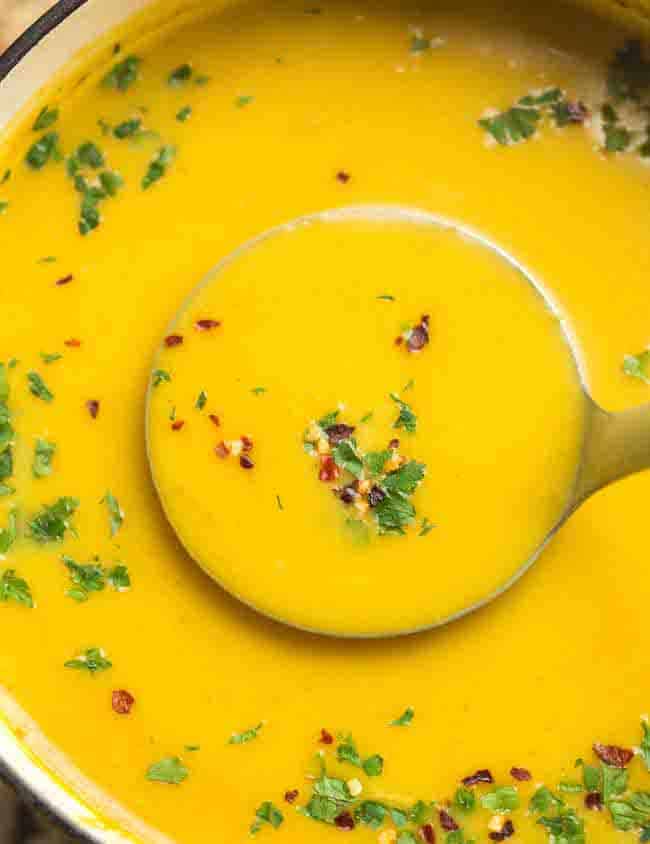 I hope you enjoy! Please let me know how it goes if you try it out!
FACEBOOK | INSTAGRAM | PINTEREST
Don't forget to #asaucykitchen on instagram if you try this Curried Butternut Squash Soup! I love seeing what you make! You can also post your pictures to my facebook page!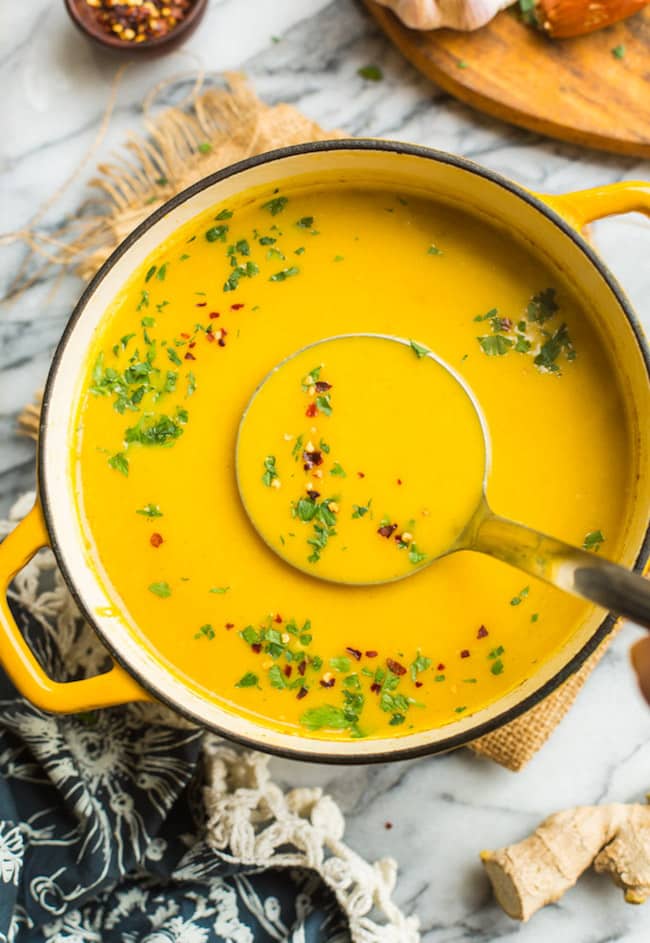 Recipe
Curried Butternut Squash Soup
Yield:
About 6 cups (4 servings)
Prep Time:
20 minutes
Cook Time:
40 minutes
Total Time:
1 hour
Thick, rich and silky smooth, this Curried Butternut Squash Soup is the perfect way to take advantage of this seasonal vegetable! Made with less than 10 ingredients and prepared all in one pot you'll be cozying up with this bowl of comfort in no time at all! | Gluten Free + Paleo + Vegan
Ingredients
1 tbsp coconut oil
1 yellow, brown or white onion, diced
2 tbsp (about 6 cloves) garlic, minced
1 tbsp fresh ginger, minced
2 pounds butternut squash, peeled and diced, seeds removed
2 medium or large carrots, peeled and roughly chopped
2 tablespoons curry powder
4 cups chicken or vegetable stock
1 14 oz can full fat coconut milk
Salt to taste
Fresh cilantro & red chili flakes for topping, optional
Instructions
Melt the coconut oil in a large pot over a medium heat. Add the onion, garlic, and ginger and cook, stirring occasionally about 8-10 minutes until the onions start to golden.
Add the butternut squash, carrots and curry powder, cook and stir another 3-5 minutes.
Cover the vegetables with stock and coconut milk. Bring the pot to a boil and then reduce down to a simmer. Let simmer about 15 minutes until the squash has softened then remove the pot from the heat.
Use an immersion blender to process until you reach your desired consistency. Tip: You can also transfer the soup to a traditional blender if needed. Just make sure to only blend the soup and in batches making sure not to overfill the blender open the lid of the blender carefully and away from your face as it will likely be steamy.
Taste and season with more salt and pepper as needed and serve.
This website provides approximate nutrition information for convenience and as a courtesy only. Nutrition data is gathered primarily from the USDA Food Composition Database, whenever available, or otherwise other online calculators.
More silky soups you might enjoy: