Cozy up with a bowl of this delicious and nutritious Leek and Sweet Potato Soup! It's simple, satisfying and made with seven basic ingredients. Enjoy as is or top it off with a sprinkling of sweet and spicy roasted pumpkin seeds for some added texture. | Gluten Free + Paleo + Vegan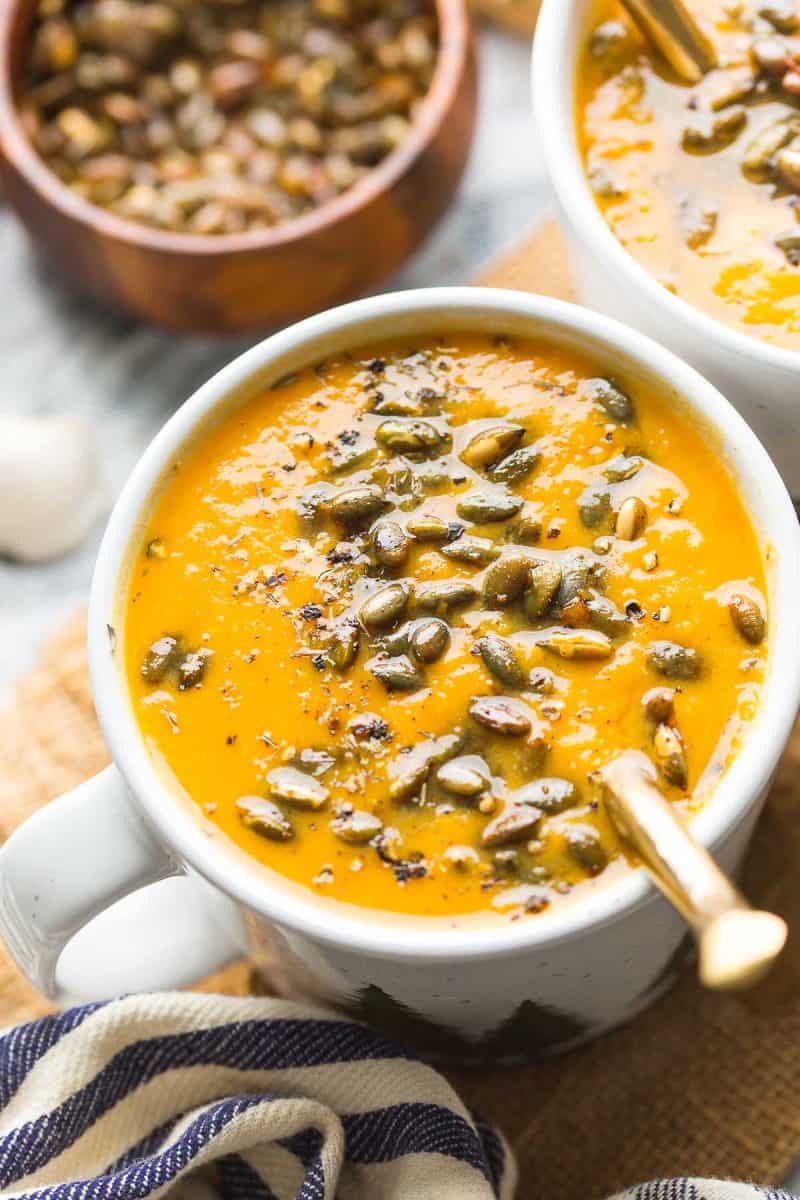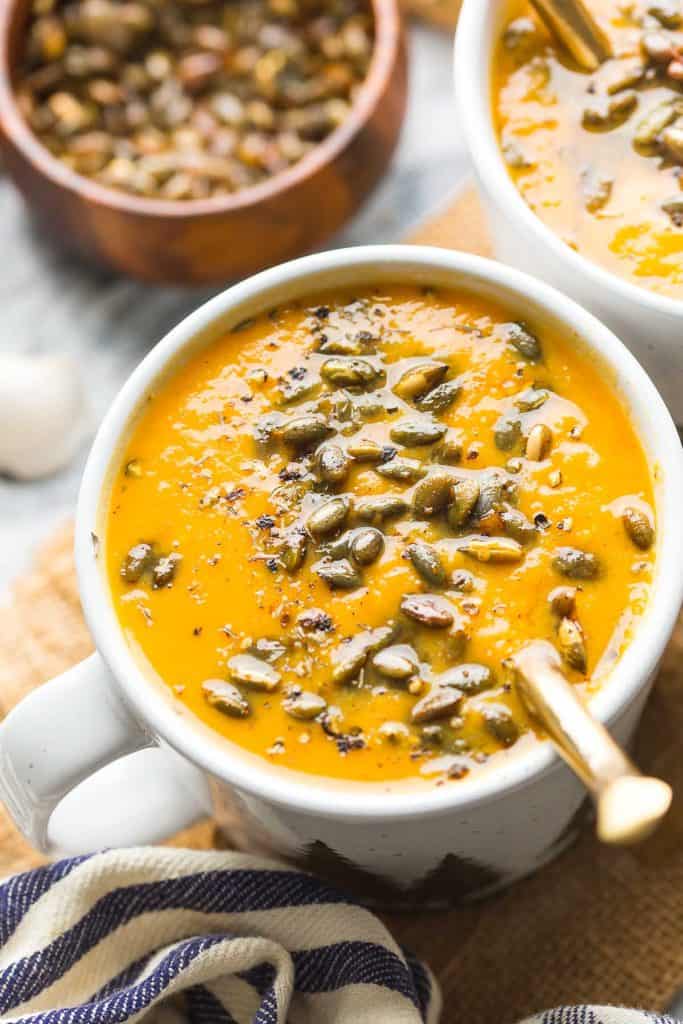 Inspired by the classic Vichyssoise (potato leek soup), this Leek and Sweet Potato Soup makes for a delicious, silky and warming winter treat!
What is Vichyssoise? It's a French inspired soup made from a pureed mixture of leeks, white potatoes, onions and cream. You can serve it hot or cold depending on the seasons.
What's special about this version?
It's:
✔️made with sweet potatoes making for a richer, sweeter overall flavor
✔️lightened up and vegan friendly with no added dairy needed
✔️topped off with maple-cayenne roasted pepitas for a little added flair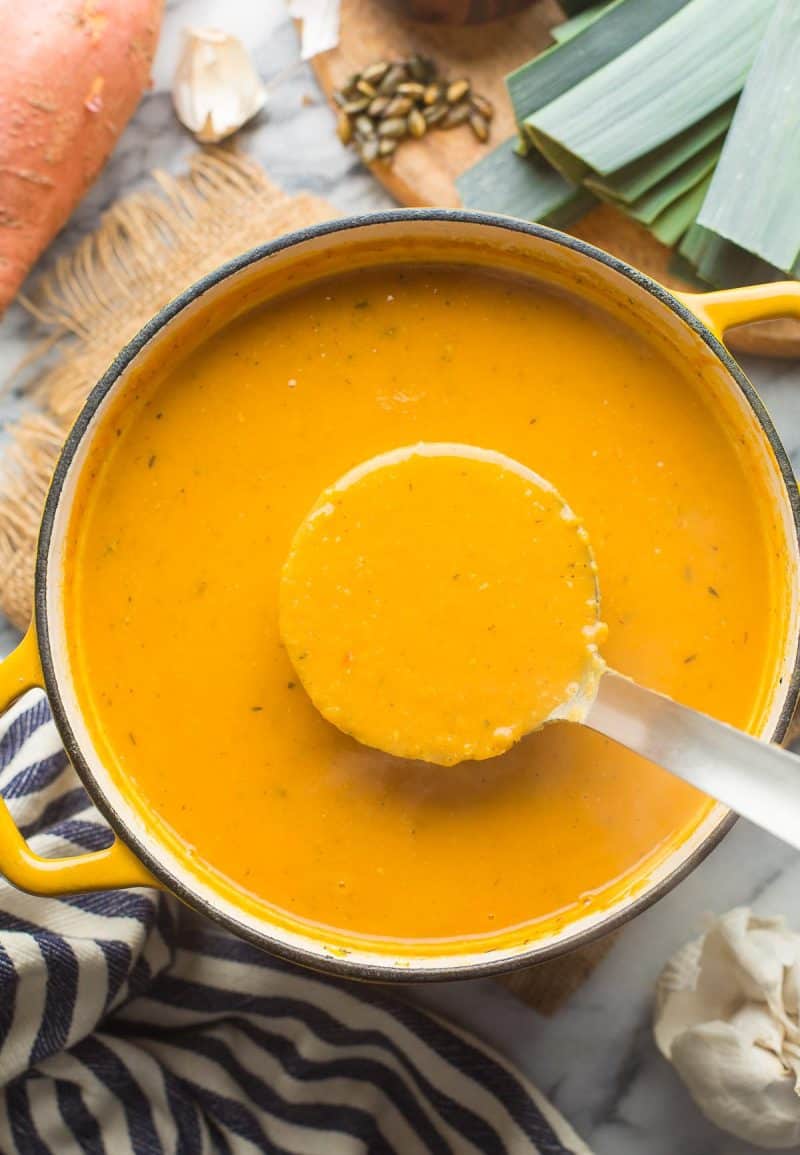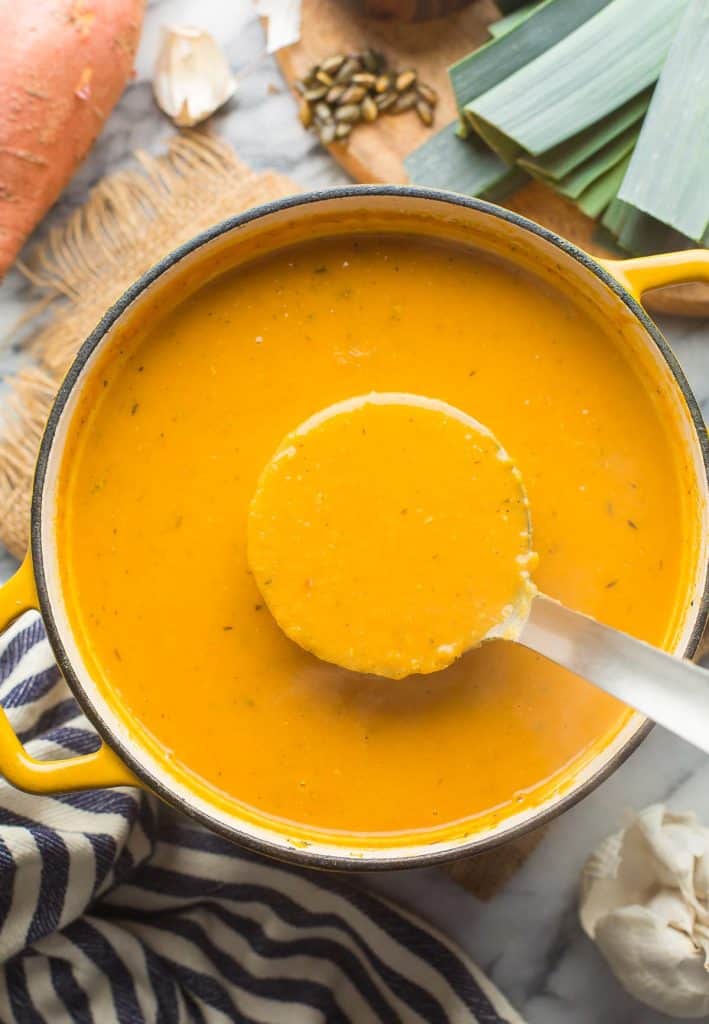 Quick Questions Before You Begin
What part of the leeks should I use?
Technically, the entire thing is edible (though you may want to give the bulb a pass). Everything from the thick white stem to the dark and leafy green top is both edible and delicious.
That being said, the further up the stalk you go towards the dark green leaves, the tough the leek becomes. If you want to use up the whole stalk you'll just need to increase the overall cook time to ensure the leaves get nice and soft.
I recommend for this recipe you cut off the top part of the leek (the dark green bit) and use the bottom root (the white stalk and the light green leaves).
What to do with the leek tops?
Save the tops to add the next time you make a chicken soup or vegetable stock to infuse it with more flavor.
You can also slice up the leaves and fry them in oil. Once they crispy up, add them to salads or stir fries. I personally enjoy adding fried leeks to homemade Chinese takeout style recipes like my Firecracker Chicken and Sweet and Sour Chicken.
Do I have to make the roasted pumpkin seed topping?
Nope! The pumpkin seeds add another layer of texture to a mostly creamy soup. The sweet and spicy combo also packs in a bit more flavor to make this soup shine. That being said you can absolutely skip the roasted seeds to cut down on extra steps.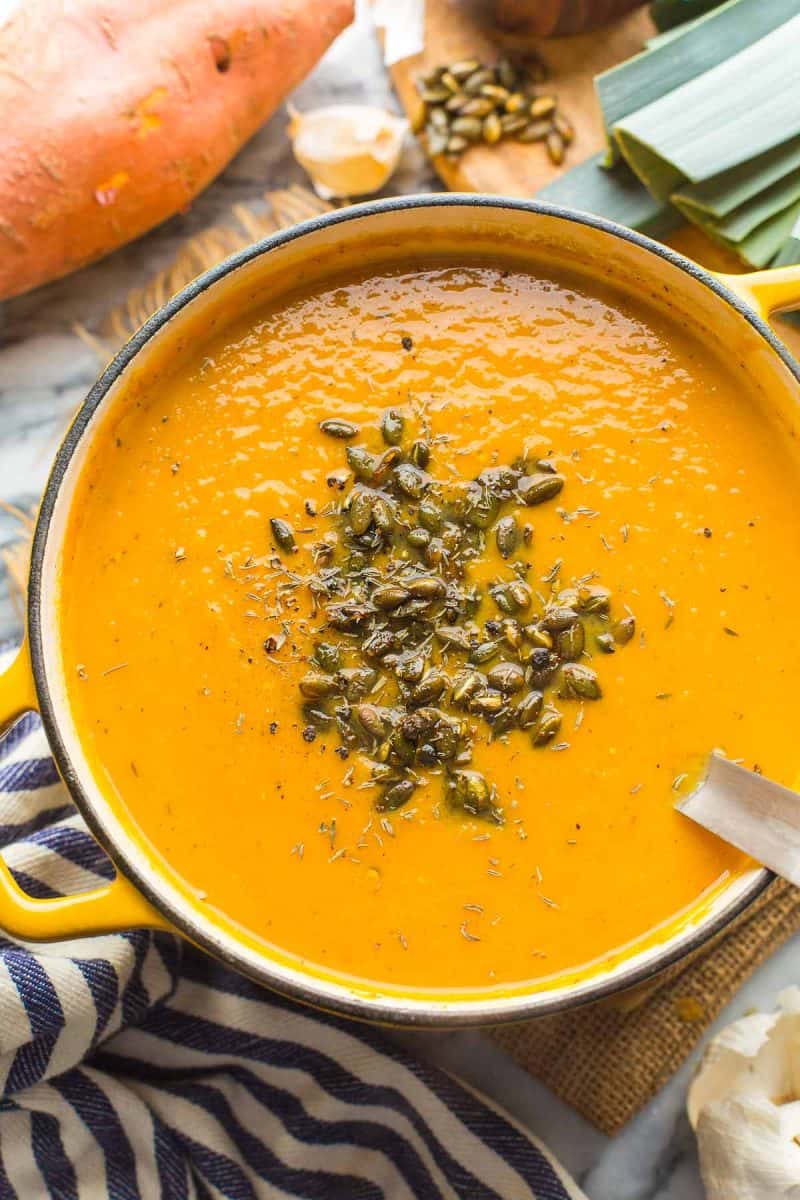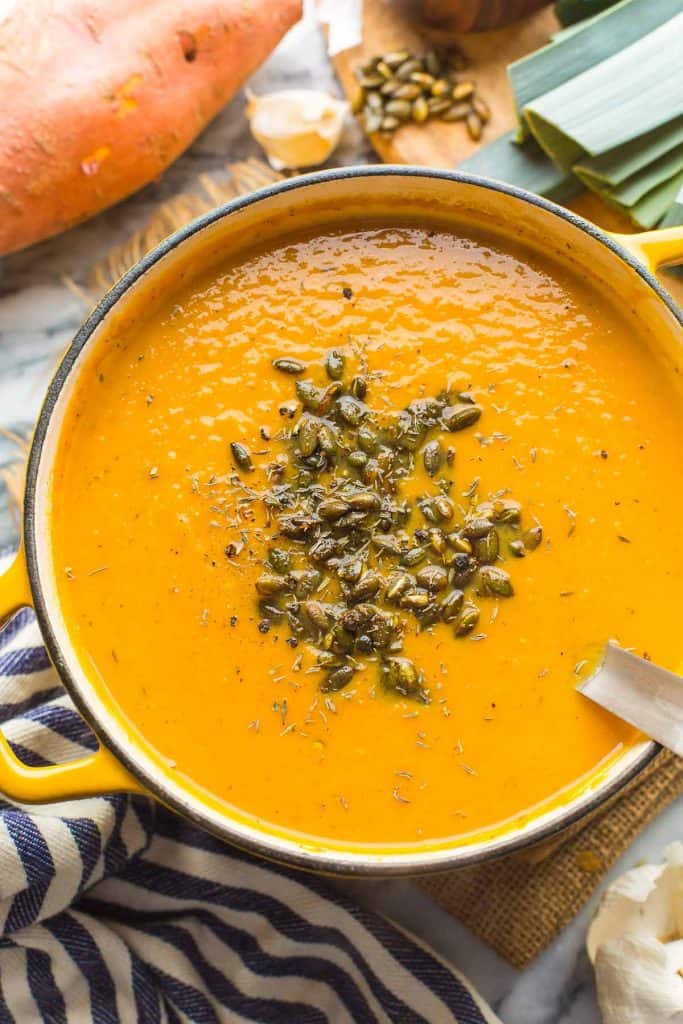 How to Make the Leek and Sweet Potato Soup
The soup itself is very simple and straight forward. Altogether you need only seven ingredients, but you can add a few more herbs and spices if you're up for playing around with the recipe. More on that below!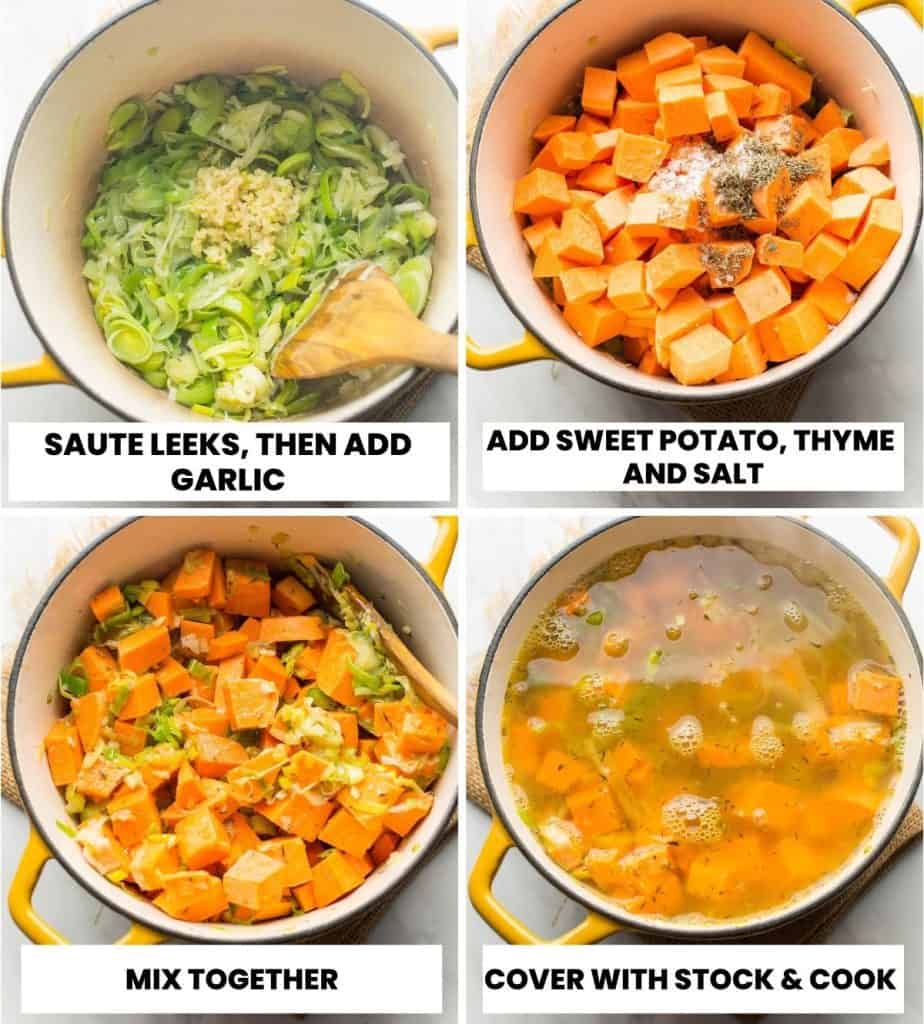 Sauté the leeks until soft, then add garlic. I used olive oil in this recipe to keep it dairy free, but butter is always an excellent choice when it comes to cooking with leeks.
Add the sweet potatoes and seasonings. The sweet potatoes should be diced into small chunks so that they cook faster. Add the thyme and salt along with the leeks and mix everything together.
Add stock and simmer until potatoes are soft. Use veggie stock (pre prepared or a vegetable stock cube) to keep this recipe vegan friendly, but chicken stock is also a great option! Bring the soup to a boil, then reduce the heat down to maintain a gentle simmer. Cook about 15-20 minutes until the potatoes are fork tender.
Optional Seasonings: This recipe makes for a delicious soup all on its own, but you can always spruce it up with an added spice here or there. I added some of my homemade vegetable boullion powder to enhance the overall flavor. Nutritional yeast or parmesan cheese will add a cheesy, savory flavor. You can also use fresh thyme for a more intense flavor.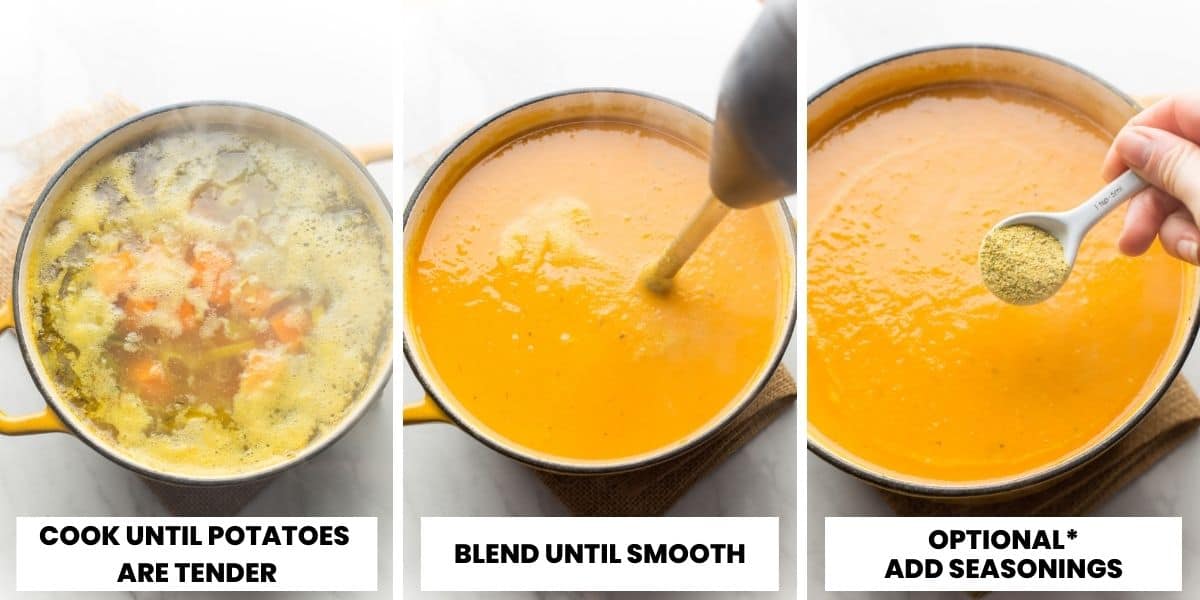 Blending Options
Once the potatoes have softened and the flavors have had a moment to come together, it's time to blend. You can approach this stage in a few different ways.
Immersion Blender: This can be done right in the pot making it by far, the easiest way to go about blending your soup
Blender or Food Processor: If you don't have an immersion blender, you can blend up the soup in batches using a regular blender or food processor. Secure the blender lid before you press go and mix into a smooth soup.

Just make sure to be careful when removing the lid and open away from your face and body. The soup will be hot and steamy and I can speak from experience when I say that you don't want that coming at you full force!
the Sweet & Spicy Roasted Pepitas
What Are Pepitas?
Pumpkin seeds without the shell! The word pepita is actually a Spanish word for 'little seed' and they're also known as 'naked seeds'. Pepitas are not physically hulled (de-shelled), but grown without an outer shell. Only certain varieties of pumpkin (Styrian pumpkins) can grow hulless seeds.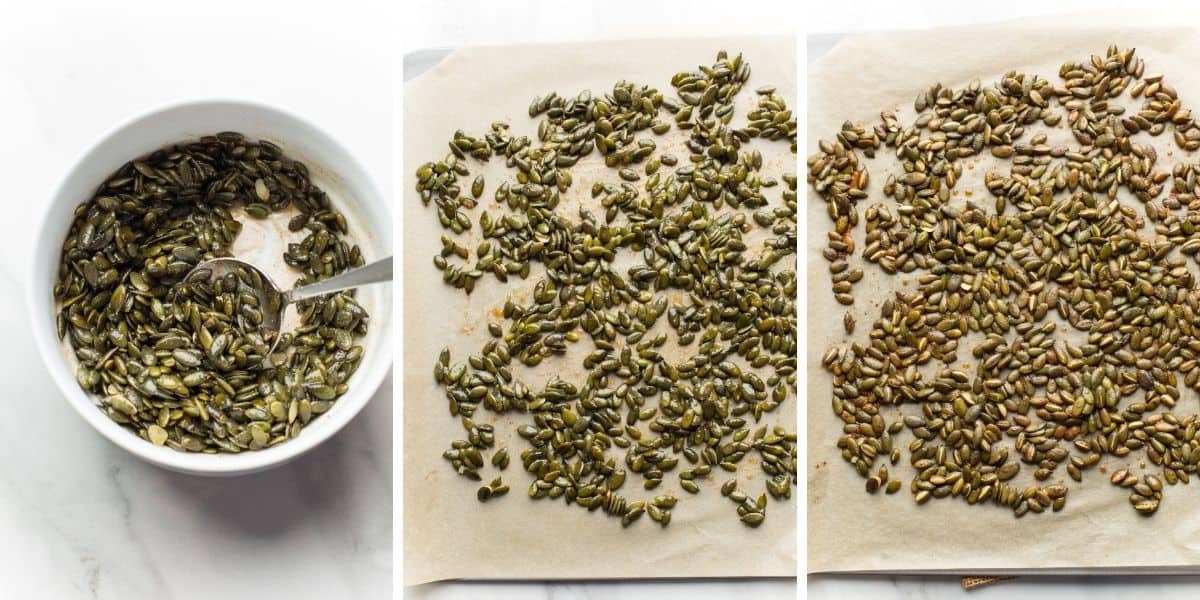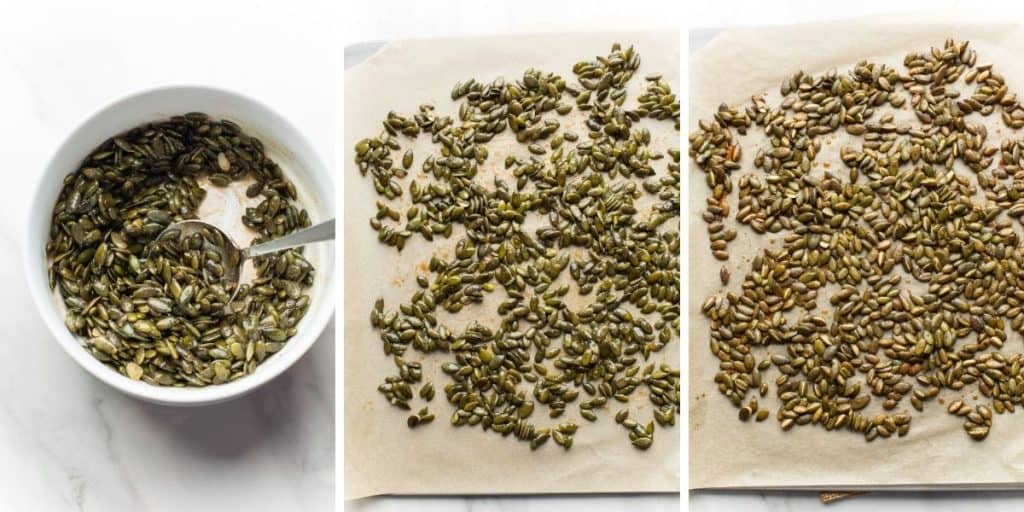 Why add roasted pumpkin seeds?
Toasted nuts and seeds are an easy, healthy and delicious way to add a bit more texture to soup. Think soup with a side of crackers, but with a more nutritionally rich way.
And that's it! Serve this soup with a slice of crusty bread (gluten free bread, of course) and enjoy! Make sure to check out my gluten free vegan bread recipe for an egg free bread recipe.
More Puréed Soups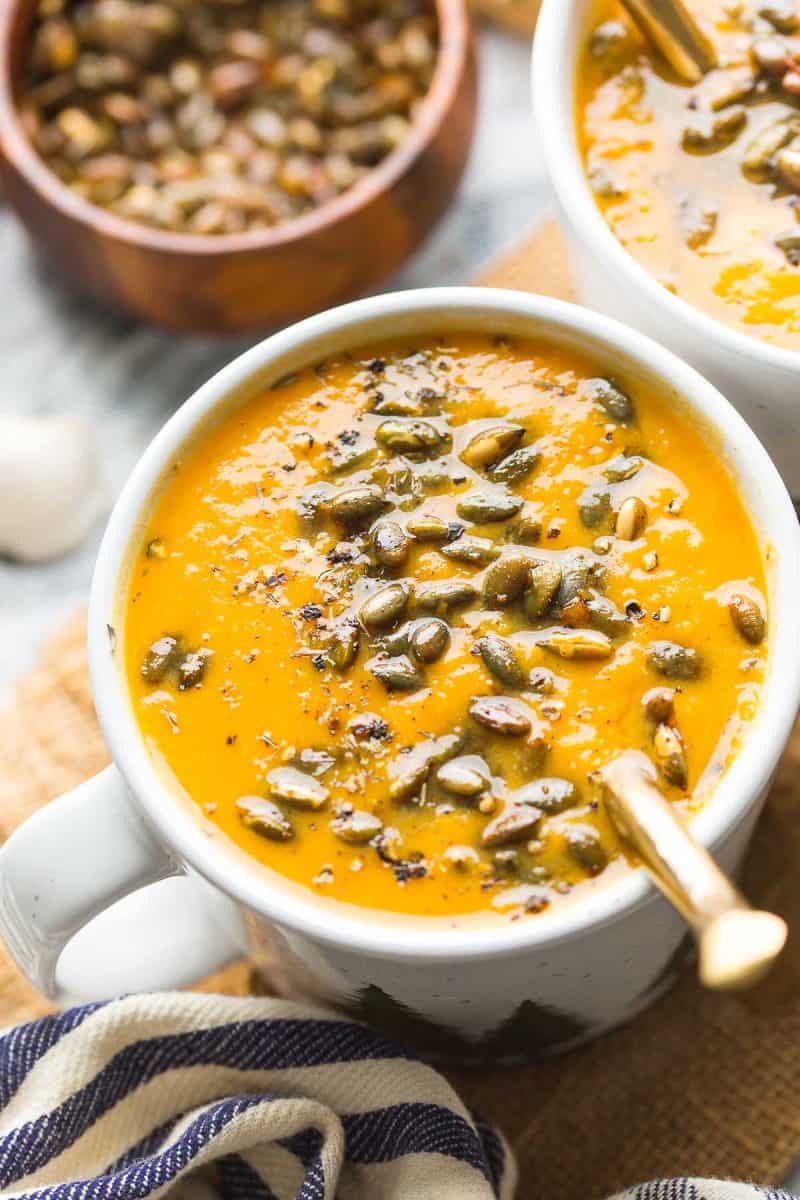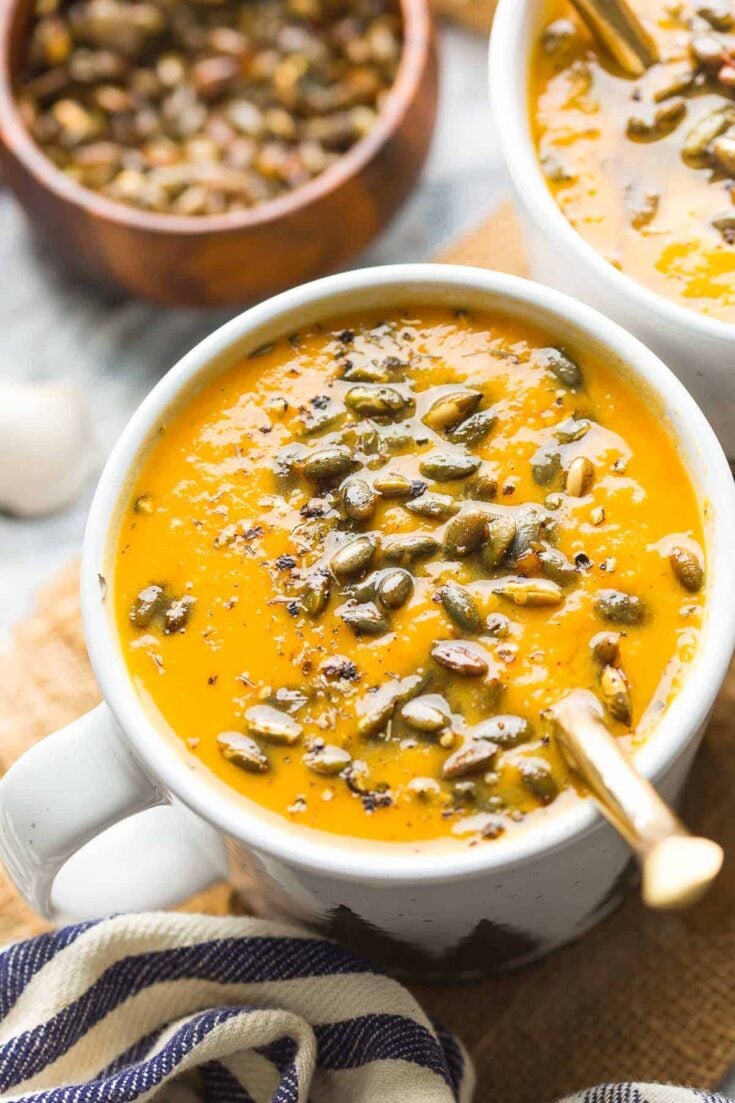 Recipe
Sweet Potato Soup with Sweet & Spicy Roast Pumpkin Seeds
Yield:
4-6 servings (about 6 cups)
Prep Time:
10 minutes
Cook Time:
30 minutes
Total Time:
40 minutes
Sweet Potato Leek Soup topped with Spicy Toasted Pumpkin Seeds: a veggie filled, warming winter soup
Ingredients
Soup
2 tablespoons (30 ml) olive oil or avocado oil
2 large leeks
4 garlic cloves, crushed
2 lbs (about 1 kg) sweet potatoes, peeled and diced into 1/2 inch cubes
6 cups (1.4litres) vegetable stock
1 teaspoon dried thyme
1 teaspoon salt (plus more to taste)
black pepper
Pumpkin Seeds
1 cup (100g) pumpkin sees/pepitas
1 tablespoon (15 ml) olive oil
2 teaspoons maple syrup
1/2 teaspoon cayenne
pinch of salt
Instructions
Soup
Chop the leeks up before washing them (this helps to get the dirt between layers).
Warm the oil in a large pot over a medium-low heat. Add the leeks and cook about five minutes until the leeks begin to soften. Add the garlic and cook another 2 minutes.
Add the diced sweet potatoes, stock, thyme and salt to the pot. Mix everything together.
Bring to a boil, then reduce heat down to simmer. Cover and let simmer for 20 minutes, or until potatoes are soft enough to easily pierce with a fork.
Using an immersion blender, puree the soup until it becomes creamy. You can also transfer the soup to a regular blender or food processor if you don't own an immersion blender. Note: If you blend this in a blender or food processor - blend the soup in batches only filling the blender halfway full at most. You must be careful not to overfill the blender or the heat and pressure force the lid off. Also make sure to open the lid away from your face so the steam doesn't hit you.
Season with additional salt if it needs it and top with freshly grated black pepper.
Pumpkin Seeds
While the soup is simmering, preheat your oven to 350°F/180°C
Toss the pumpkin seeds in a small bowl with the other ingredients until they are coated and then spread them out on a baking sheet lined with baking parchment. Spread the seeds out so that they are in an even, single layer and then roast in the oven for about 12-15 minutes. Remove from the oven and allow the seeds to cool slightly before adding them to the soup
Notes
You can use white sweet potatoes if you prefer. Keep in mind that white sweet potato has a less sweet flavor than orange sweet potato.
Nutrition Information
Yield:

4
Serving Size:
serving
Calories:

232
Saturated Fat:

4g
Sodium:

2145mg
Carbohydrates:

34g
Fiber:

4g
Sugar:

10g
Protein:

4g
This website provides approximate nutrition information for convenience and as a courtesy only. Nutrition data is gathered primarily from the USDA Food Composition Database, whenever available, or otherwise other online calculators.