Cozy up with a bowl of this Broccoli Potato Soup! Made with a foundation of sautéed garlic and onions, simmered carrots, broccoli and potatoes and mixed together with a few spoonfuls of cream cheese and grated cheddar for a little added richness. | Gluten Free + Vegetarian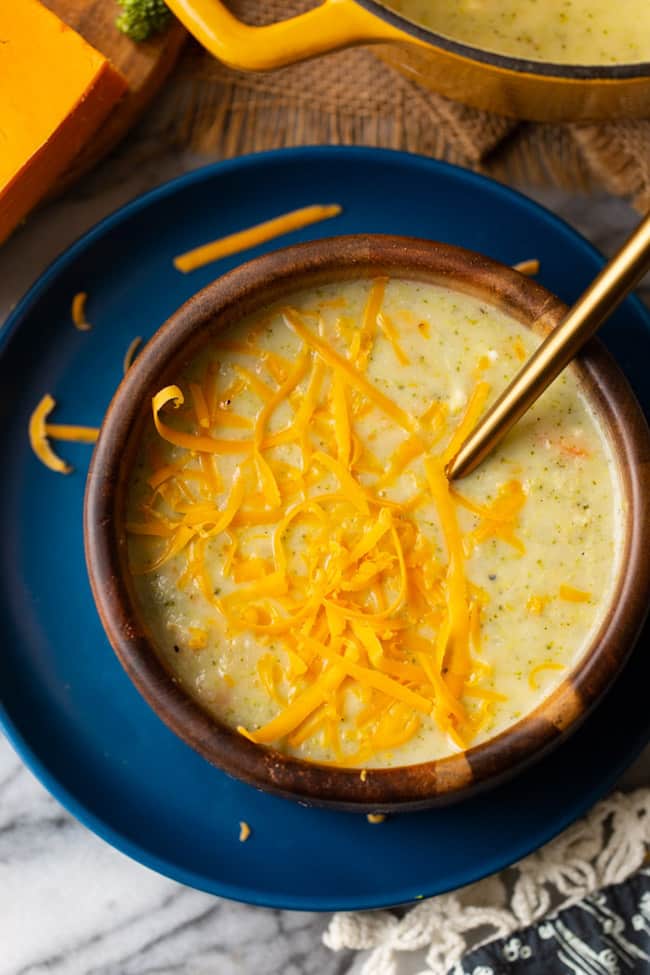 I love broccoli soup so much I had to come up with a new recipe from one I shared previously just so I had a reason to make some more. (In fact, I also have another broccoli soup recipe in my Effortless Vegan cookbook coming out in the Summer which you can preorder now!)
FYI – if you're interested in a dairy free + paleo recipe you should check out my Broccoli Leek Soup. If, however, you're in the mood for some creamy, cheesy, indulgent goodness then you're in just the right place for this Broccoli Potato Soup! It's
✔️Rich
✔️Indulgent
✔️Healthy
✔️Filling
✔️Easy
How to Make This Broccoli Potato Soup
Even with all the chopping and peeling this recipe is fairly easy and straight forward. It's all cooked in one pot though so you will need to use either an immersion blender or a standard jug blender to mix everything together in the end.
To begin, start out by sautéing the onion and garlic in a little bit of butter or olive oil. Sprinkle in a little salt and sauté over a medium heat for about 8-10 minutes. The idea is to soften and sweeten the onions by giving them enough time to cook and deepen in flavour.
While the garlic and onion are cooking, take this time to prep your remaining veg: peel and dice the carrots and potatoes and chop the broccoli florets into small, bite sized pieces. When you're ready, add the remaining veggies to the pot and cover with either stock or water and salt and let it all simmer for about 20 minutes until the broccoli and potatoes are soft and tender.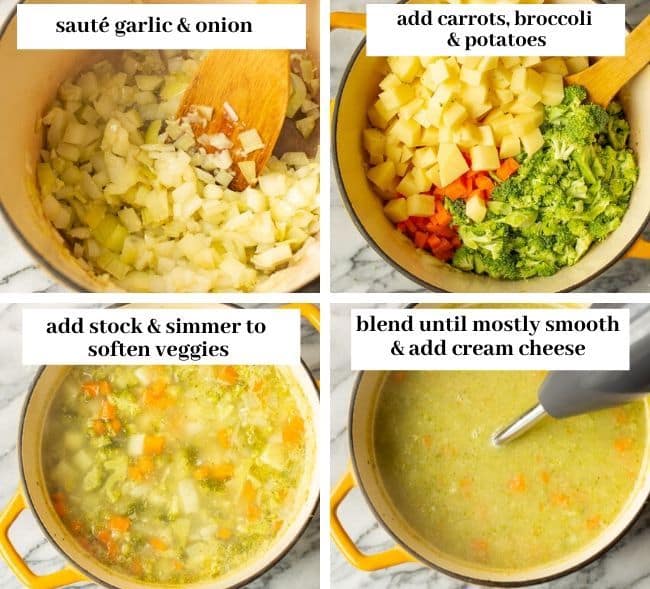 Just a little reminder: Make sure to use either vegetable stock or water if you need this soup to be vegetarian for you or someone you're sharing it with!
How to Blend the Soup?
Once the veggies have softened and the flavours have had a moment to come together add the cream cheese + grated cheese and it's time to blend. You can approach this stage in a few different ways.
You can blend the soup up in the pot with an immersion blender. I prefer to only blend about 3/4 of the veggies up so that there are still bits of carrots, broccoli and potato left intact. This is up to you though!
If you don't have an immersion blender, you can blend up the soup in batches (so you don't overfill it) using a blender or food processor. Just make sure to be careful when removing the blender lid and open away from your face and body. The soup will be hot and steamy and I can speak from experience when I say that you don't want that coming at you full force.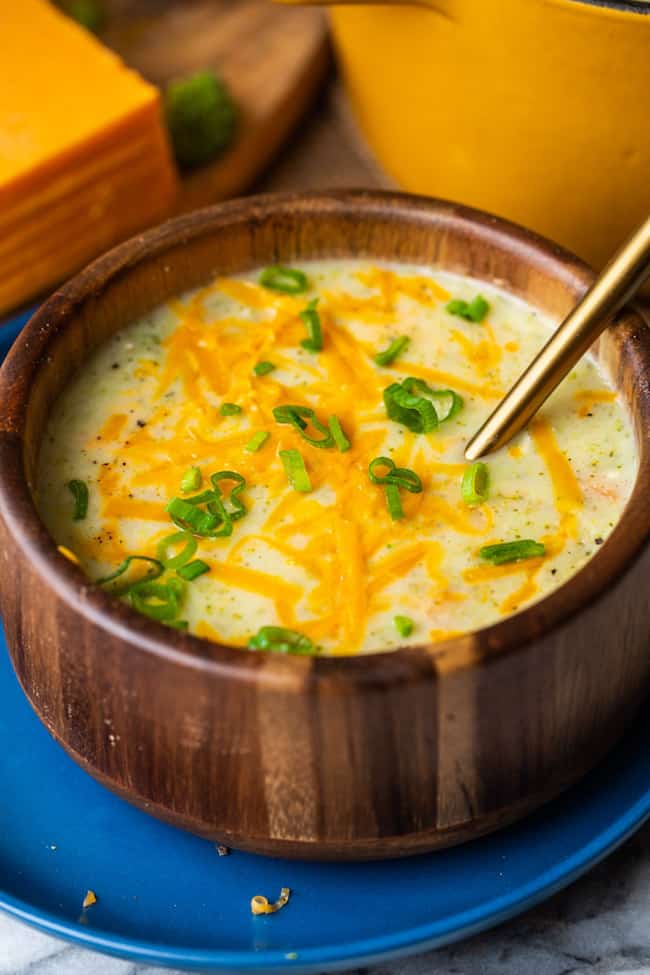 I recommend topping your soup off with fresh chopped chives or spring onions. You also can't go wrong crumbling some crispy bacon pieces over the top for a baked potato kind of feel. I'm also a huge fan of adding more grated cheese to my soup.
This soup is great served with a side of crusty gluten free bread (I have an egg free version of that bread if you need it!).
You can also serve this broccoli potato soup with a side of crackers. They're great for dipping and crumbling over the top. These plain gluten free crackers would make a great side and can easily be made vegan with the use of dairy free/vegan butter. I also really enjoy these Sweet Potato Crackers – they're super easy to make, paleo friendly and are surprisingly delicious!
FACEBOOK | INSTAGRAM | PINTEREST
Don't forget to #asaucykitchen on instagram if you try this Broccoli Potato Soup! We love seeing what you make! You can also post your pictures to my facebook page!
Broccoli Potato Soup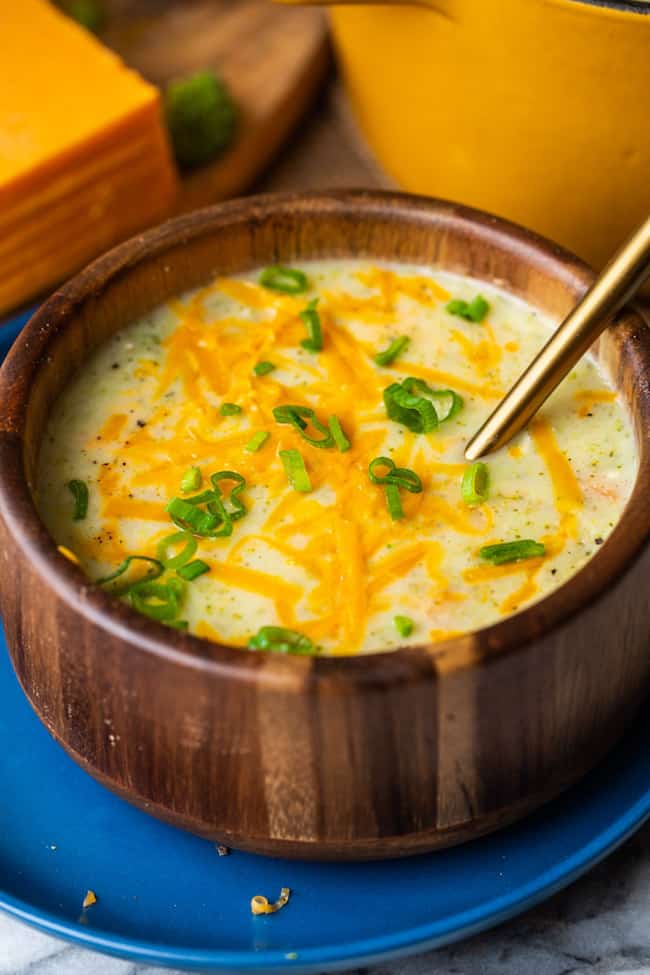 Cozy up with a bowl of this Broccoli Potato Soup! Made with a foundation of sautéed garlic and onions, simmered carrots, broccoli and potatoes and mixed together with a few spoonfuls of cream cheese and grated cheddar for a little added richness. | Gluten Free + Vegetarian

Ingredients
3 tbsp (45 g) unsalted butter or olive oil
1 large white onion, diced
1 1/4 tsp salt, divided
4 cloves garlic, minced
1 medium carrot
2 large heads broccoli
1 lb white potatoes, peeled
5 cups (1.2 L) water or low sodium chicken/vegetable stock (use water or veggie stock if you need this to be vegetarian)
3 tbsp (45 g) cream cheese
4 oz grated cheddar + more for serving (or whatever grated cheese you have on hand)
Chopped chives or green onions for serving
Instructions
Melt the butter (or olive oil) in a large Dutch oven or cooking pot over a medium heat. Add the onion, garlic, 1/4 tsp salt and cook, stirring occasionally about 8-10 minutes until the onions start to golden.
While the onions and garlic are cooking, prep the remaining vegetables: Remove the broccoli florets from the stalk (discard the stalk) and chop into bite sized pieces. Peel and dice the carrot and potatoes into 1/2 inch pieces.
Add the broccoli, carrot, potatoes, remaining 1 tsp salt and water/stock to the pot. Raise the temperature up high to bring the soup to a boil, then reduce to a simmer. Let cook about 20-25 minutes until the broccoli and potatoes are fork tender.
Remove the pot from the heat and add the cream cheese and grated cheese.
Use an immersion blender to process until you reach your desired consistency. You want some of the vegetables and soup blended up to create a thicker consistency, but make sure not to blend up everything. The idea is to have a thick soup with bits of potato and broccoli still intact. Tip: You can also transfer the soup to a traditional blender if needed. Just make sure to only blend the soup and in batches making sure not to overfill the blender open the lid of the blender carefully and away from your face as it will likely be steamy.
Taste and season with more salt and black pepper as needed.
Divide between bowls and top with freshly chopped chives or green onions and additional grated cheese.
Notes
If you're looking for a creamy, velvety soup texture use a traditional jug blender to mix this soup up.
Make this soup vegan: You can swap out the dairy-based cream cheese and grated cheese for vegan cream cheese/grated cheese and use water or vegetable stock.
If you use chicken or vegetable stock you will likely need to use less salt to season your soup/