Complete your next snack board with these Sweet Potato Paleo Crackers – only 7 ingredients needed & easy to make! |Grain Free + Vegan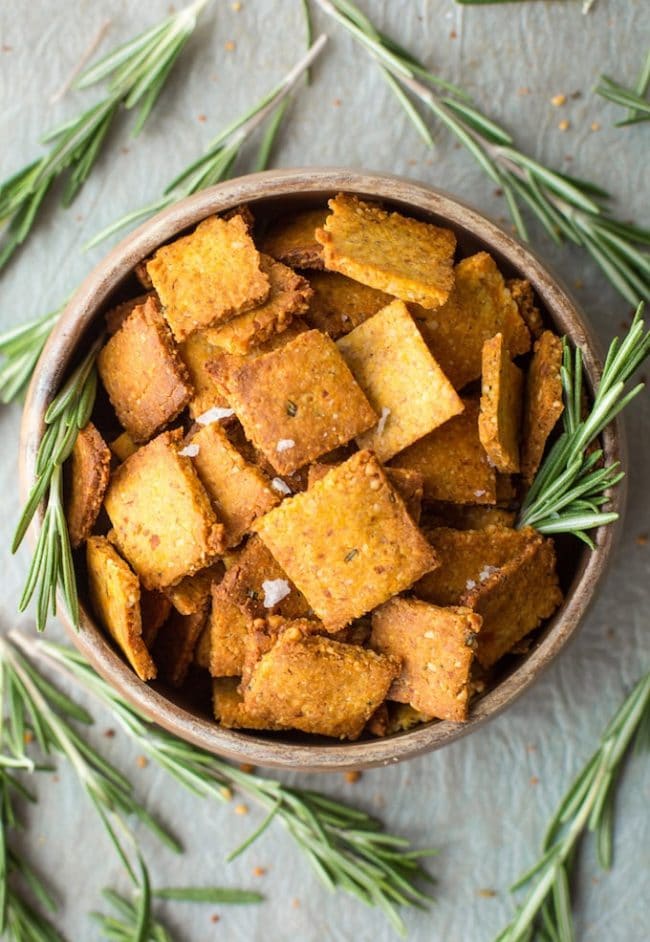 Last week someone left a really funny comment on my Coconut Lime Chicken. Some dude took offence that I listed it as being paleo friendly in the description, so naturally he left a one star review having clearly not actually tried the recipe along with a sassy little note about stupid diet trends. I deleted it because I only keep negative reviews that are actually constructive & relevant and from people who have actually…I don't know…made the recipe.
I'd just like to say first of all: Calm down, man! Don't let other peoples eating choices get you all hung up. You do you, and you just let everyone else do there own thing so long as it's not impacting on you.
Also, I would just like to point out the for a lot of people diet labels like 'paleo', 'vegan', 'grain free' etc are actually labels that could easily translate to mean 'safe'. If you're someone with a lot of food intolerances and health problems you've got to constantly be aware of what you're putting in your body. If you're allergic to eggs & dairy then you'll probably be on the look out for vegan labels at the store not because you know those items won't contain things that make your physically sick.
Or maybe you're just someone who wants to eat a paleo/vegan diet because of non health related reasons and that's fine too because it's nobody else's business. This goes both way too. I see plenty of people in the health community throwing all kinds of shade on people who like eating a little more decadently. Everyone just chill out and keep your eyes on your plate. Cooking should be fun and nonjudgmental because we're all just trying to do our best and eat tasty things.
So anyways…to you, Steve or Bill, or whatever your name was….these paleo crackers are for you 😘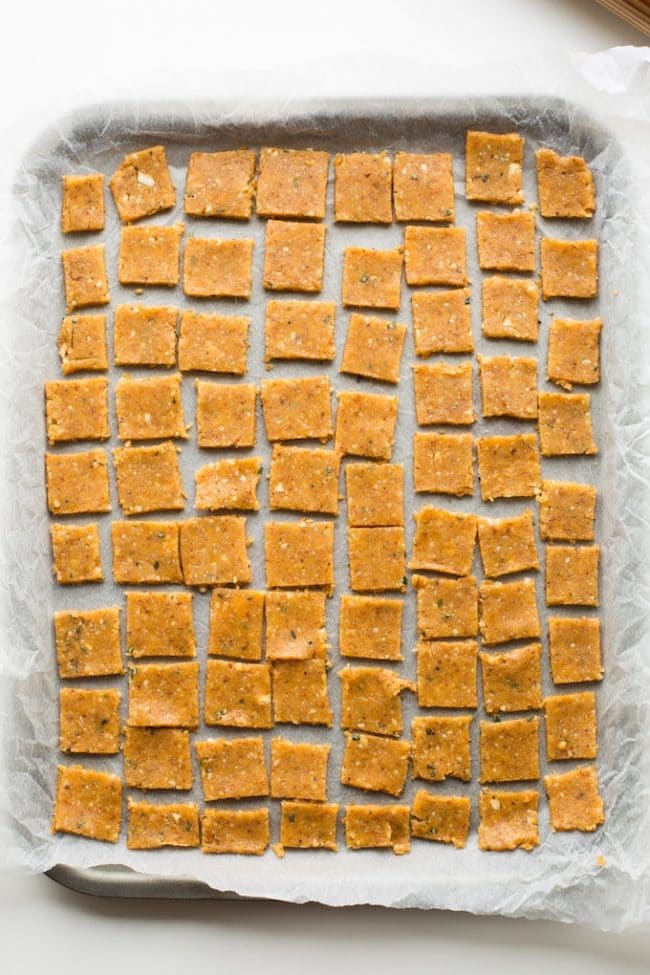 Right then! That's my spiel over. Hopefully that didn't sound too preachy because that was not at all my intention. Now on to what really matters:
The food!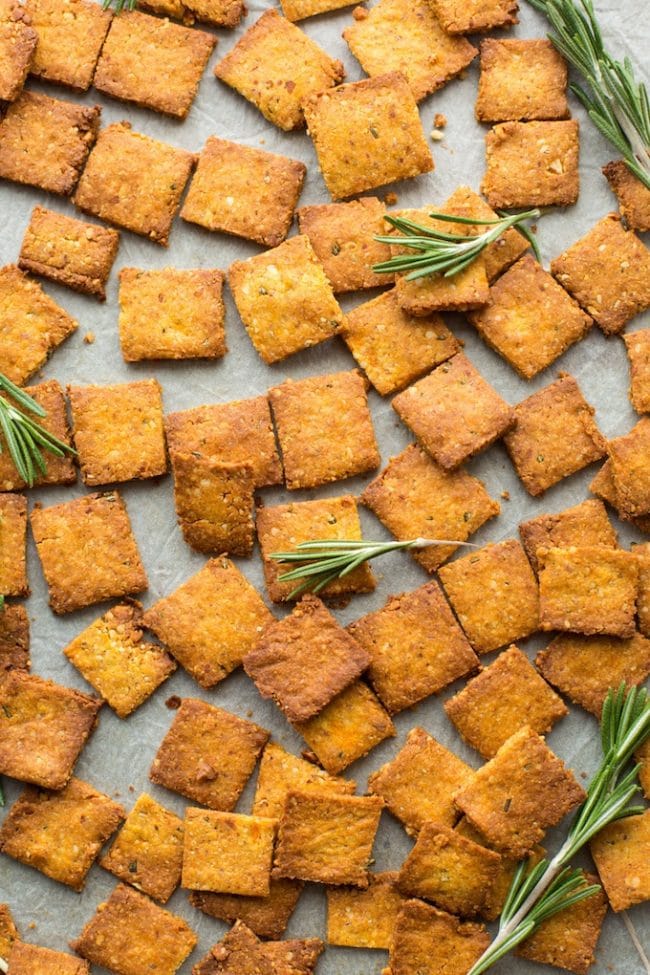 How to Make: Sweet Potato Paleo Crackers
As I said earlier these crackers are super easy to make and made up of only 7 ingredients – nothing too crazy. The recipe for these are based off of my grain free pizza rolls I shared awhile back. After playing around with leftover crust in the recipe I realised that they the dough hardened up to make nice and crunchy crackers without any additional work.
After grinding up your almonds in a blender or food processor until it reaches a sandy, flour like texture just mix every thing up in a large bowl until combined. For flavouring I went with a combo of fresh rosemary & garlic powder, but you could always play around with a few spices to spruce these up in your own way.
The sweet potato & tapioca flour here work as your binding agent which is why you don't need any eggs here. In order to get your mashed sweet potatoes there are a couple ways to go about it:
Microwave: Poke a sweet potato all over with a fork and then microwave for about 4-5 minutes until soft and tender. Large sweet potatoes will need more time than small potatoes. Once microwaved, let cool for about 10 minutes before handling and the slice the potato down the middle and scoop out the insides. The peel should easily come off at this point. Then just use a fork or potato masher to mash until smooth.
Oven: Poke a sweet potato all over with a fork and then bake in the oven for 45-60 minutes at 400°F/205°C. Remove from the oven and let cool for about 10 minutes before handling. Slice down the centre of the potato and scoop out the insides. Use a fork or potato masher and mash until smooth.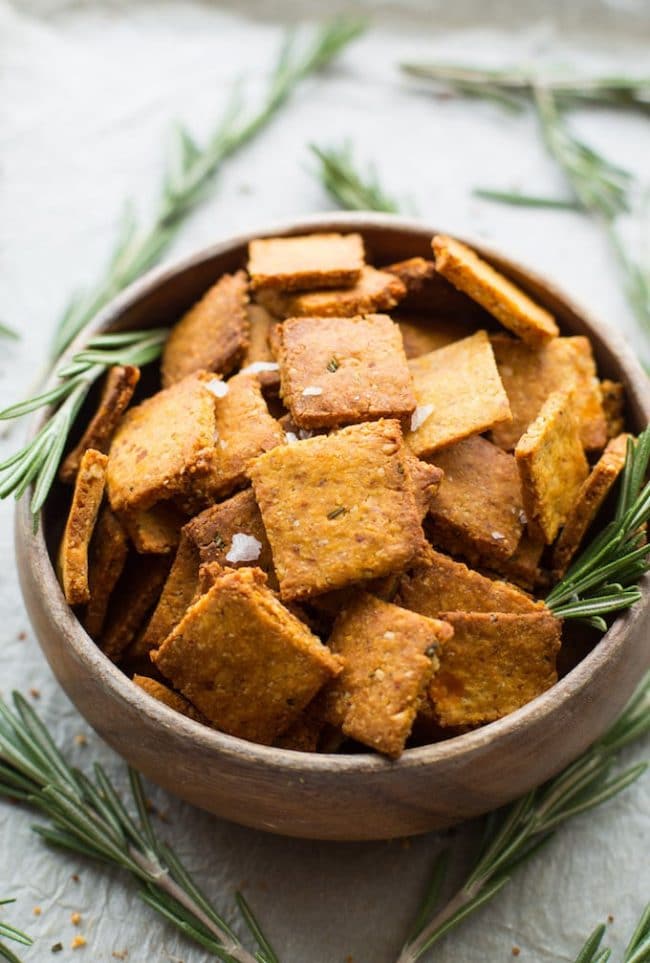 This dip would would go well with my basil & avocado tahini dip, and/or sun dried tomato dip.
Paleo or not – I hope you enjoy these crackers are much as we do!
FACEBOOK | INSTAGRAM | PINTEREST
Don't forget to #asaucykitchen on instagram if you try these Sweet Potato Paleo Crackers ! We love seeing what you make! You can also post your pictures to my facebook page!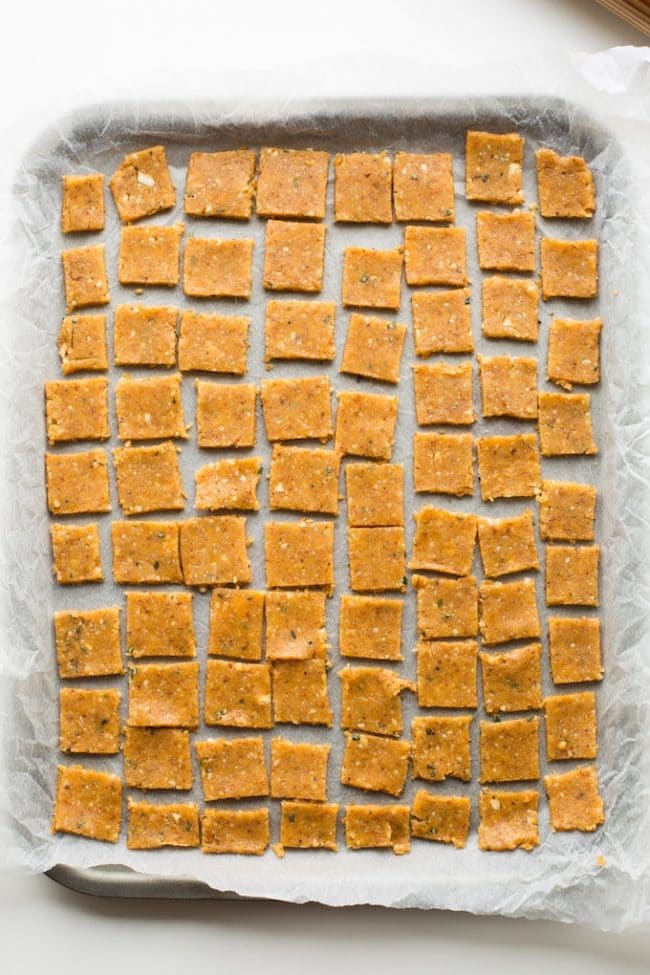 Recipe
Sweet Potato Paleo Crackers
Yield:
60 crackers (about 1 inch squares)
Prep Time:
15 minutes
Cook Time:
20 minutes
Total Time:
35 minutes
Complete your next snack board with these  Sweet Potato Paleo Crackers - only 7 ingredients needed & easy to make! |Grain Free + Vegan
Ingredients
1 cup | 150 grams whole almonds
1/2 cup | 100 grams mashed sweet potato (nothing added to it)
1/2 cup | 50 grams tapioca flour + more for rolling out the dough
1/2 teaspoon salt
1/2 teaspoon garlic powder
1 tablespoon fresh rosemary, chopped
2 tablespoons olive oil
Instructions
Preheat the oven to 375°F/190°C
Add the almonds to a blender or food processor and blend until you reach a sandy but flour-like texture.
Transfer the almond meal to a large mixing bowl with the mashed sweet potato, tapioca flour, salt, rosemary and garlic powder. Stir in the olive oil. Mix everything until it all comes together to form a sticky dough.
Sprinkle a little more tapioca flour over a large sheet of parchment paper. Place the dough on top of the paper and then place another sheet of parchment paper over the top. Roll out the dough between the paper until it's 1/8 inch thick.
Peel back the top piece of paper and cut the dough into 1 inch squares.
Transfer the squares to a lined or greased baking sheet. Leave a little bit of space between each square.
Transfer the baking sheet to the oven and bake for 18-20 minutes or until the tops are golden and edges are crispy. Remove from the oven and let cool for 5-10 minutes.
Notes
Almond flour isn't always easy to get where I live so I haven't tried this using flour yet. You could probably make this with almond flour but the crackers won't have quite the same amount of crunch/texture.
Nutrition Information
Yield:

60
Serving Size:
10 crackers
Calories:

230
Total Fat:

17g
Saturated Fat:

2g
Unsaturated Fat:

0g
Cholesterol:

0mg
Sodium:

204mg
Carbohydrates:

16g
Net Carbohydrates:

12g
Fiber:

4g
Sugar:

2g
Protein:

6g
This website provides approximate nutrition information for convenience and as a courtesy only. Nutrition data is gathered primarily from the USDA Food Composition Database, whenever available, or otherwise other online calculators.