Paleo Sweet Potato Pancakes | A cinnamon & nutmeg spiced almond flour blend that's grain, dairy, and refined sugar free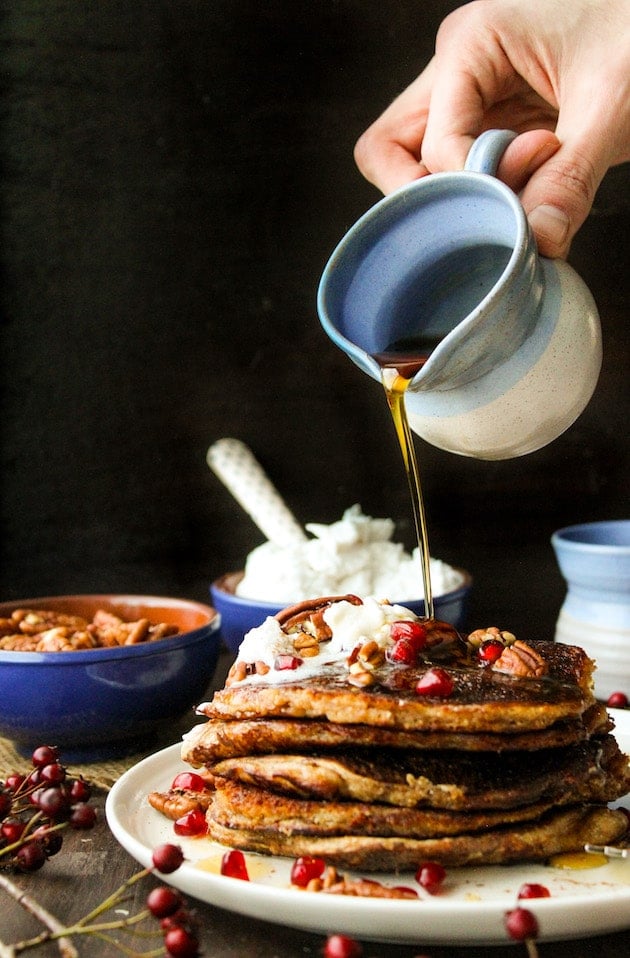 Has it been one hell of a week or what?
This time last year Mike & I were in Dublin meeting up with my Aunt Margie who was there on a business trip. After wandering up and down the festive cobblestone streets we wandered into a posh whisky bar. We sat with our fancy whisky drinks recommended by the bartender and discussed the merits (and lack there of) of potential presidential candidates and the upcoming primaries. What a difference a year makes, eh?
Whatever your thoughts are on what went down Tuesday/Wednesday I think it's time we sit down with friends and family – whatever ones are left on our friends list anyways – and share a stack of paleo sweet potato pancakes.
If there's one thing we can all agree on celebrating it's that we've got another four more years before we all have to endure another presidential race. If that's not something to be grateful for then I don't know what is.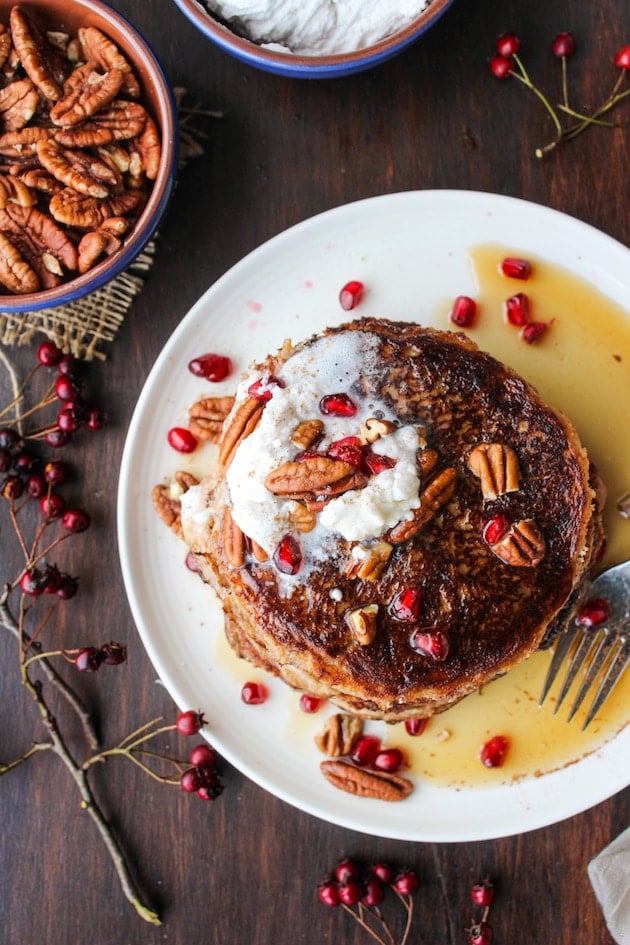 Paleo Sweet Potato Pancakes
And pancakes! We can all agree on pancakes, yeah?
I mentioned in another post recently that I've been having a moment with sweet potatoes. Does a month count as a moment? Probably not.
I've mostly been slicing them up nice and thin, sprinkling a little cumin and sea salt and baking them in the oven until crisp. Sweet potato chips with a fresh bowl of guacamole = the best dinner ever. Also, these sweet potato pancakes for dinner = the best dinner ever. You can never go wrong with breakfast for dinner. If sweet potato casserole can count as a side dish on Thanksgiving then these pancakes should definetly count as dinner worthy, maple syrup or not.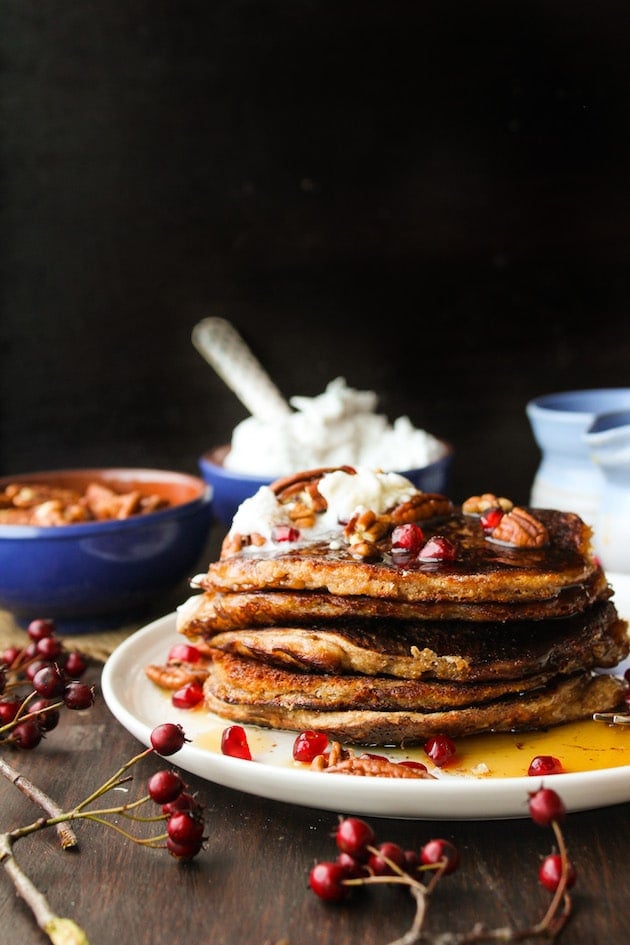 FACEBOOK | INSTAGRAM | PINTEREST  
Don't forget to #asaucykitchen on instagram if you make these sweet potato pancakes. I love seeing what you make!  You can also post your pictures to our facebook page!
Yield: 10 pancakes
Paleo Sweet Potato Pancakes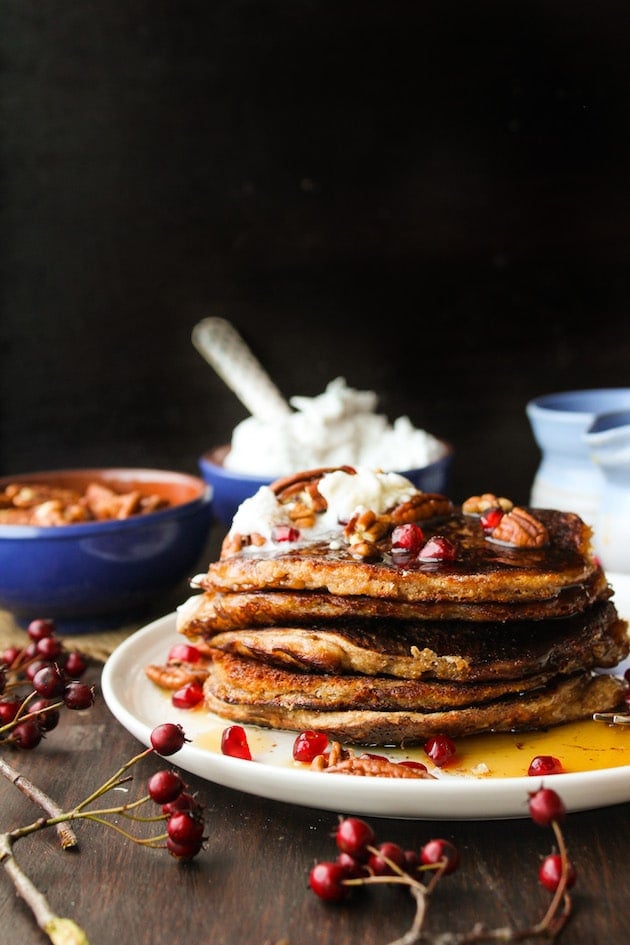 Paleo Sweet Potato Pancakes | A cinnamon & nutmeg spiced almond flour blend that's grain, dairy, and refined sugar free
Ingredients
1 1/4 cups | 120 grams almond flour
3/4 teaspoon ground cinnamon
3/4 teaspoon ground nutmeg
1/2 teaspoon baking powder
1/2 teaspoon baking soda
1/4 teaspoon sea salt
2 eggs
1 cup dairy free buttermilk, see notes
2 tablespoons maple syrup
1 teaspoon vanilla extract
1/2 cup mashed sweet potatoes, see notes
Instructions
In a large mixing bowl whisk together the dry ingredients.
In a medium sized mixing bowl whisk the eggs, milk, maple and vanilla extract until fully combined. Stir in the mashed sweet potatoes.
Pour the wet ingredients into the flour mixture and mix together until fully combined.
Heat a large skillet on the stove top and a little coconut oil to grease the pan. Once the pan is hot, use a 1/4 cup measuring cup to pour the batter on the skillet. Cook for about 2-3 minutes or until the top of the pancake starts to form bubbles and edges look set. Flip, and cook the other side until golden brown, about 2 minutes. Repeat with the remaining pancakes.
Serve immediately and top with pecans and coconut whipped cream.
Notes
To make buttermilk: add 1 tablespoon lemon juice or apple cider vinegar to your dairy free milk. Stir gently to mix together and let sit for about 5 minutes to let the milk curdle.
To make mashed sweet potatoes: Peel and dice one medium/large sweet potato. Bring a pot of water to boil, add the potatoes and cook for 20 minutes until the sweet potatoes are tender and easily pierced with a fork. Drain the water and mash the potatoes with a potato masher or electric mixer until smooth. To freeze for later: allow the pancakes to cool completely before packing away in a ziplock bag and storing for up to 3 months.
Recipe adapted from The Kitchn
Serving size per pancakes (4-6 inches diameter) : Calories: 121 Fat: 9 g Saturated fat: 1 g Carbohydrates: 5 g Sugar: 2 g Fibre: 2 g Protein: 6 g
Nutrition Information:
Yield:
10
Serving Size:
pancake
Amount Per Serving:
Calories:

114
Cholesterol:

32mg
Sodium:

162mg
Carbohydrates:

7g
Fiber:

1g
Sugar:

3g
Protein:

4g