Peanut butter cup inspired Chia Pudding. Mix together the night before and wake up to a delicious, fiber filled, nutrient packed breakfast!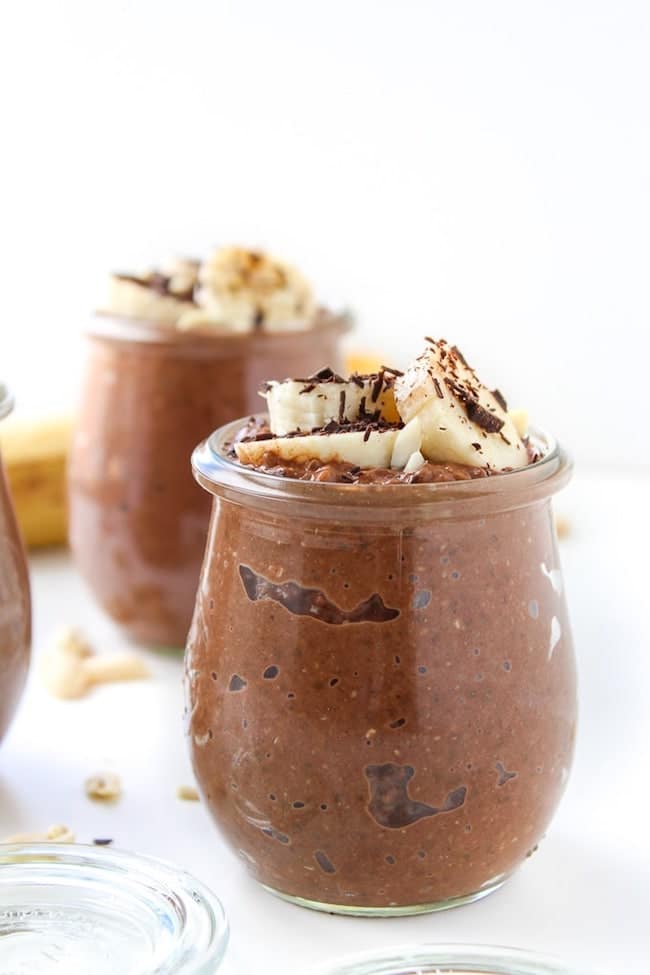 You see those chia pudding jars right up there?
About 2 minutes after taking that picture I was wiping globs of chocolate + peanut butter chia pudding up off of the floor because my nutjob of a cat tried to jump up on the precariously placed 'table' I have set up to take my food photography.
In fairness to Mabel, it wasn't exactly a stable steady set up. I like to take my food photos in my bedroom because we get the best light. My photography set up is really just an Ikea desktop balanced on the window ledge and stack of pillows piled on top of a little table to keep it straight. Super professional, yes?
Mabel was able to jump up on the desktop for all of about two seconds before everything went tumbling to the floor and she went flying out of the room like a bat (or cat?) outta hell.  If it wasn't so funny looking I might have been a little annoyed at the loss of a perfectly good chia pudding.
She just looked at me with that dumb face afterwards as if to say, 'what's your problem, human?'.
I've grown up with dogs all my life, but I've come to learn that there is a special kind of chaos that is reserved for cat owners and it usually involves glassware falling from tabletops.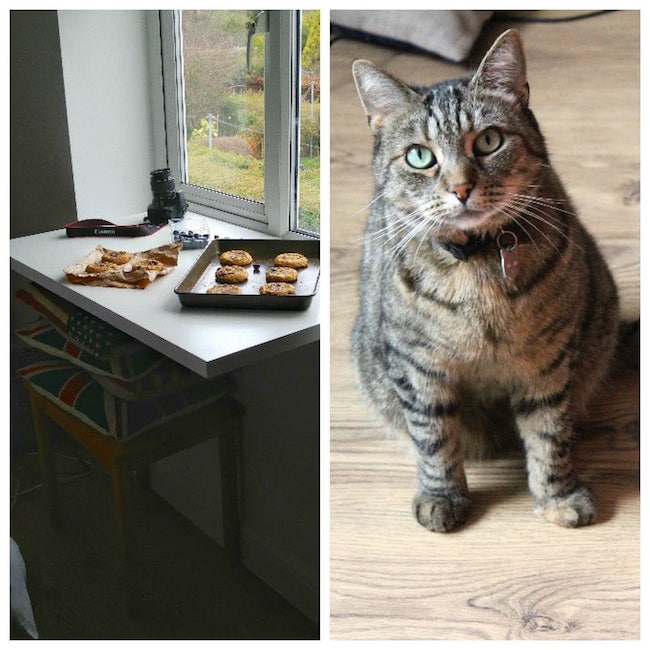 Now let's talk chia pudding!
Thank goodness for Costco and affordable bulk buying because these little pudding pots have become a morning staple for Mike for the past couple of months. Aside from the fact that it's loaded with chocolate and peanut butter I love the fact that it takes all of 5 minutes to throw everything together in a jar, mix it up, and store it in the fridge until morning.
Ready made breakfasts are ?
I guess another reason I can't be upset at that little thug you see pictured above it because it's easy enough to whip up another chia pud in a flash. The most difficult thing making this is the fact that you need to wait at least 2-3 hours for the seeds to do their thing and gel up before you can eat it.
But really, I think what most people love the most when it comes to chia pudding is the fact that it's a breakfast pretending to be a dessert which also happens to be extremely energy dense. Chia seeds are full of fiber, protein, antioxidants, and healthy omega 3 fats.
What better way could you start your day than with something that's as nutritious as it is decadent?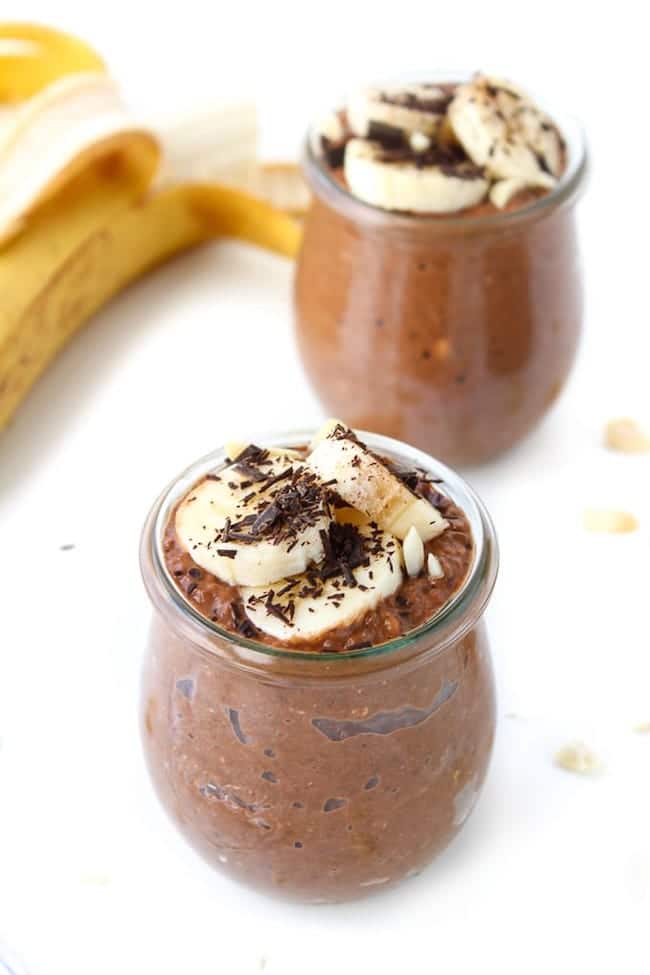 FACEBOOK | INSTAGRAM | PINTEREST 
Don't forget to #asaucykitchen on instagram if you this Chocolate Peanut Butter Chia Pudding!  I love seeing what you make!  You can also post your pictures to my facebook page!
More Chia Pudding Recipes:
Warm Chai Chia Pudding
Carrot & Turmeric Chia Pudding
Chocolate Orange Chia Pudding
Yield: 2 servings
Chocolate Peanut Butter Chia Pudding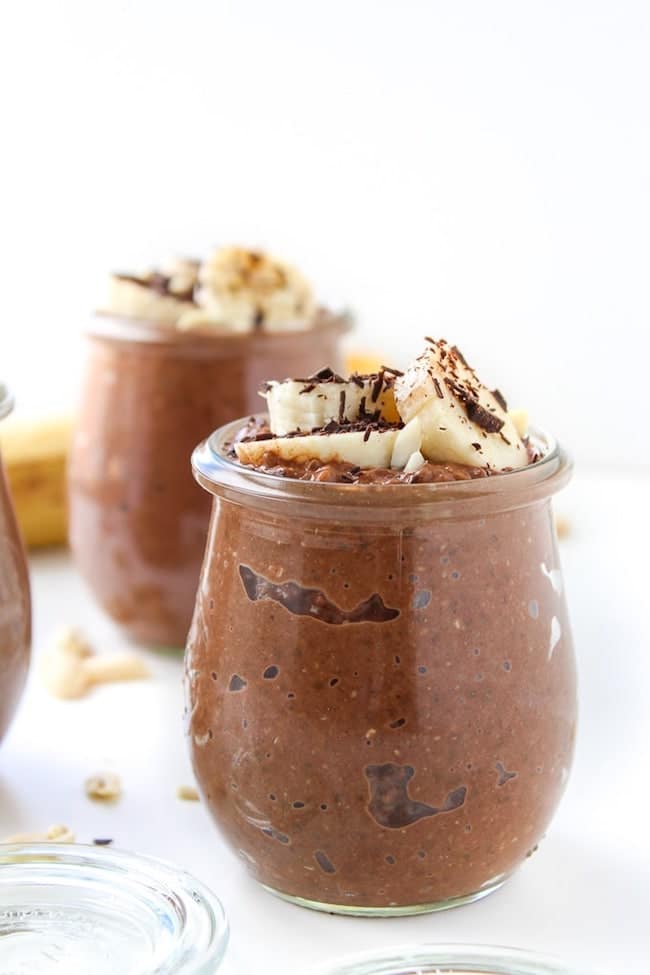 Peanut butter cup inspired Chia Pudding. Mix together the night before and wake up to a delicious, fiber filled, nutrient packed breakfast! | Gluten Free, Vegan, Low FODMAP, Paleo Option
Ingredients
1 cup dairy free milk of your choice, 240 ml
¼ cup chia seeds, 40 grams
3 tablespoons cocoa powder
1 teaspoon vanilla extract
2 tablespoons peanut butter or almond butter for Paleo
1-2 tablespoon sweetener of your choice, maple syrup, honey, agave etc
Instructions
In a jar or container large combine all the ingredients. Whisk until combined.
Cover and refrigerate at least 2-3 hours or overnight.
Top sliced banana, chocolate chips, more peanut butter, or whatever you would like.
Notes
Prep time is about 5 minutes but these need to be left in the fridge at least 1 hour.
Nutrition Information:
Yield:
2
Serving Size:
g
Amount Per Serving:
Calories:

264
Saturated Fat:

2g
Sodium:

241mg
Carbohydrates:

23g
Fiber:

11g
Sugar:

7g
Protein:

9g