Homemade Almond Butter – almonds meet blender. Easy!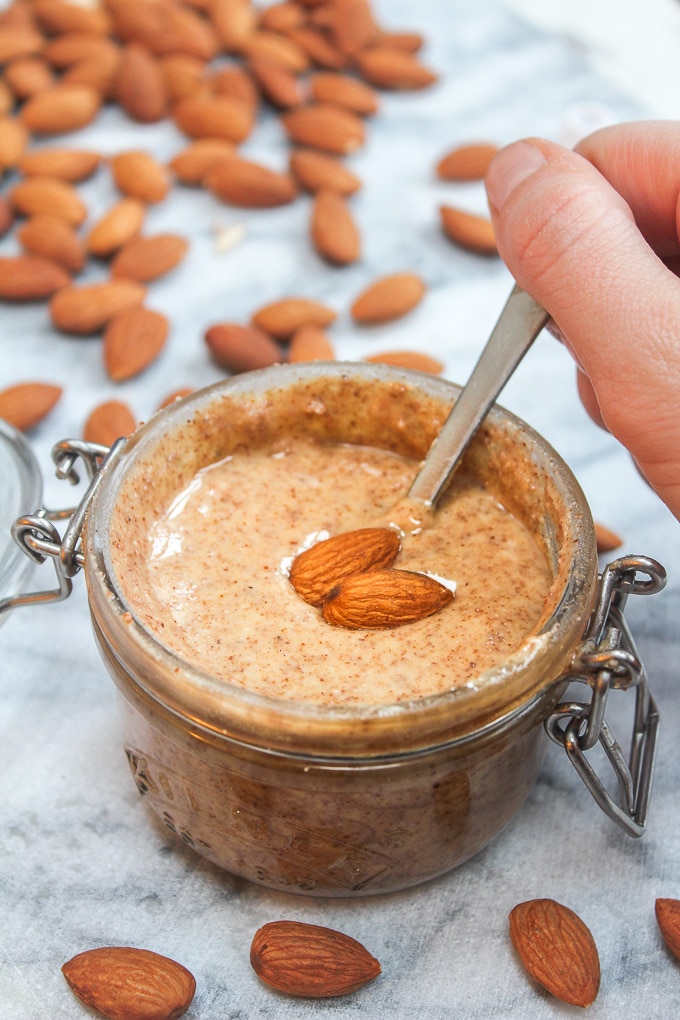 Homemade almond butter
So creamy. So versatile. So deceptively simple.
You probably already know that on some level, but until you try it for yourself you don't know just how easy it actually is. The most difficult part is practicing a bit of patience which, let's be real, is easier said than done. Just hold tight, scrape down the sides of the blender a few times, and let that motor do its job.
If you own a food processor, making homemade almond butter (or any nut butter for that matter) is just that easy. However, if you're working with a high powered blender like a Vitamix or a Blendtec there is a little more manoeuvring involved, but it can still be done with a little effort. I personally use a Blendtec. Softer nuts like cashews and peanuts are a lot easier to work with, but almonds can be a little tricky.
If you're struggling to get your almond butter past the sticky, crumbly phase I've found two things to be particularly helpful to see you on through to the smooth and creamy phase that we're all looking for.
Add a tablespoon of melted coconut oil (or another neutral flavoured oil) to the almond butter.
Take half of the almond butter out of the jar and mix it in two batches.
Sometimes you just need you need a little more oil and sometimes you just need to break it up to really get things moving. Warming the almonds in the oven first also help to release their oils which speeds up blending tremendously.
One more thing to note just so that we're all on the same page – the amount of time this is going to take will vary from appliance to appliance. I've read some people say that this process takes 5 minutes and others say it's closer to 30. For me it took about 20 minutes of blending on and off. Every couple of minutes I stopped to give the blender and my ears a break. Just remember to be patient and your efforts will pay off!
Once you've got the basics down you can have a little fun coming up with your own variations.
This post contains affiliate links. I only post links for products I personally use and believe in. If you make a purchase on Amazon after clicking one of my links, I receive a small commission and the price you pay is not affected. Thank you!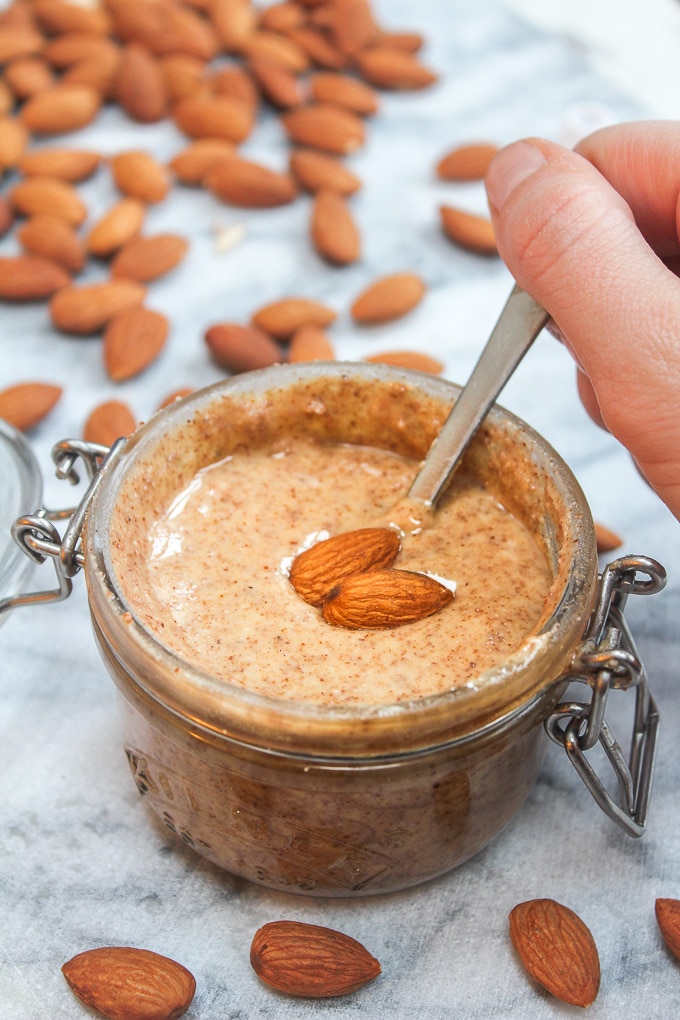 Recipe
Homemade Almond Butter
Yield:
20 tablespoons
Prep Time:
30 minutes
Total Time:
30 minutes
Homemade Almond Butter - almonds meet blender. Easy!
Ingredients
3 cups whole almonds, unsalted
1 tablespoon melted coconut oil optional
Instructions
Preheat your oven to 250°F/120°C. Spread the almonds on a lined baking sheet in an even layer and lightly roast for 10-15 minutes. They will be warm to the the touch.
Add the almonds to a quality high powered blender or food processor and blend.
Your almonds are going to go through a few phases before you reach the final product. In the first 1-2 minutes they are going to become coarse and sandy like almond meal. Then they will turn into a thick, sticky paste like substance as the almonds release their oils.
If your almond butter isn't getting past the thick and sticky phase add 1 tablespoon of melted coconut oil (or another neutral flavored oil if you prefer). You can also remove half of the mixture if your jar is too small to help move the mixture about easier.
Make sure to stop every couple of minutes to scrape down the sides of the blender and give it a break. Keep blending until your almond butter is smooth and creamy. Depending on your blender or food processor this can take anywhere from 5-30 minutes.
Notes
Once done store in an airtight concealer and keep in the fridge for up to 2 weeks.
Makes about 1 1/4 cups or 20 tablespoons
Nutrition Information
Yield:

20
Serving Size:
tablespoon
Calories:

86
This website provides approximate nutrition information for convenience and as a courtesy only. Nutrition data is gathered primarily from the USDA Food Composition Database, whenever available, or otherwise other online calculators.