Double Decker Almond Butter Cups – made with six ingredients! Paleo, Vegan, and low FODMAP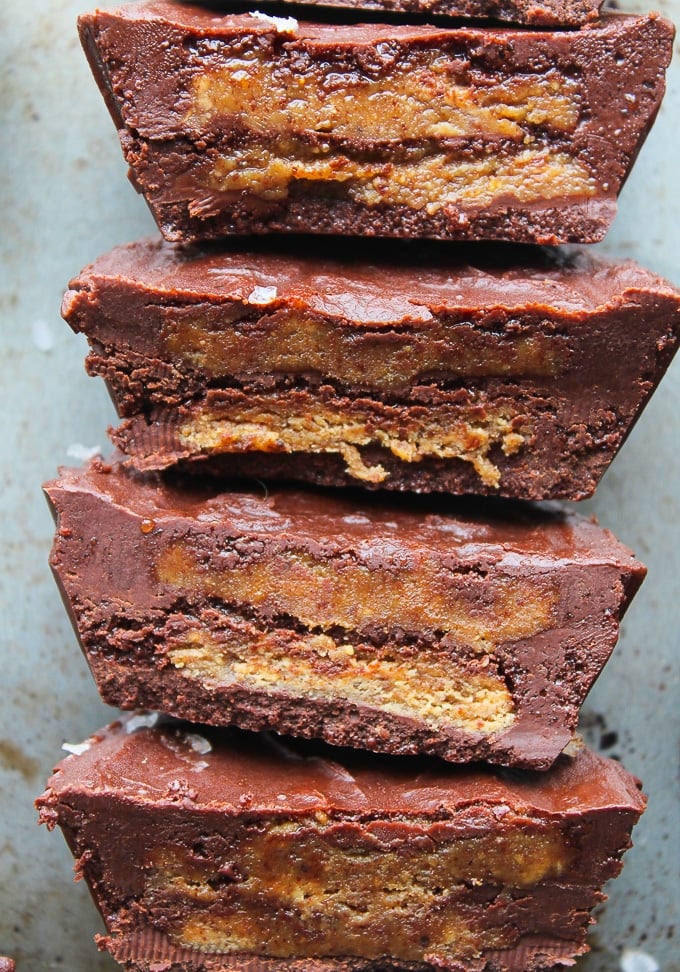 Hello, six ingredient decadence. Let's be friends.
These double decker almond butter cups were born partly out of laziness, which, let's be real are usually the best desserts anyways.
Originally I set out to make normal, single layer almond butter cups. After realizing how much of the chocolate/almond butter mixtures I still had left when my first almond butter cups done I basically just said screw it and started layering up my chocolate cups. And thus, the double decker almond butter cups were born.
Sure, you could just take two single cups and stack them on top of each other.
This is better. There is just something so satisfying about biting into one chocolate cup and discovering an extra layer of fun.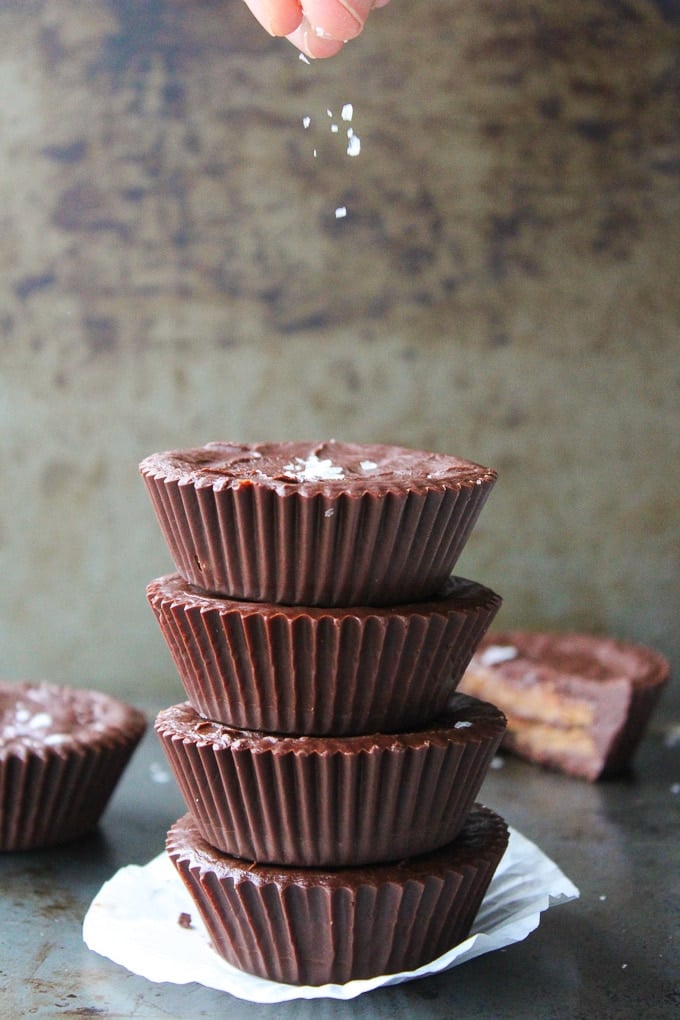 About this Recipe
These almond butter cups are a riff off of my Paleo Millionaires Shortbread, so I already know that you're going to love them!
For some reason the Millionaires Shortbread recipe that I posted almost a year ago has been really popular recently. I keep getting tagged on Instagram with people showing off their own millionaire creations.
Side note: I LOVE seeing that stuff. Knowing that people all over the world actually make and like these recipes puts the biggest, dumbest smile on my face…..no pressure guys…no pressure at all…..
Anyways
Seeing my millionaires pop up all over the place reminded me of how much we loooooved those things. I loved the whole thing, but personally the almond butter caramel center is what really did it for me. Any chance I get I figure out ways to incorporate that recipe into other desserts – it's just too good not to share.
One reason you'll love making these is how easy it all comes together. The setting time in the most difficult, only because it means you have to wait, but I promise the wait time isn't bad at all. The chocolate layers take about 15 or so minutes to set in the fridge and you can leave them in the freezer to speed up even more.
As always, when you're dealing with chocolate make sure that your mixing bowls, pots, and utensils are completely dry with no spots of water left on the equipment. I recently learned the hard way that even the slightest bit of water drops can cause chocolate to seize up which gives it a shriveled, sad look to it.
Enough talking from me now – you've got some sweets to get making!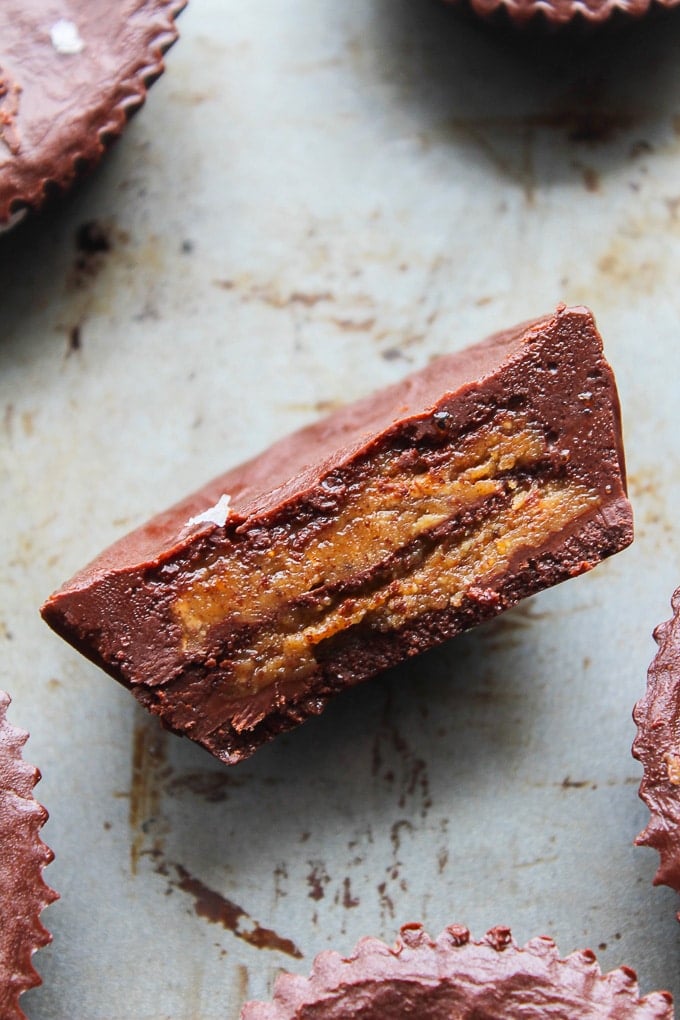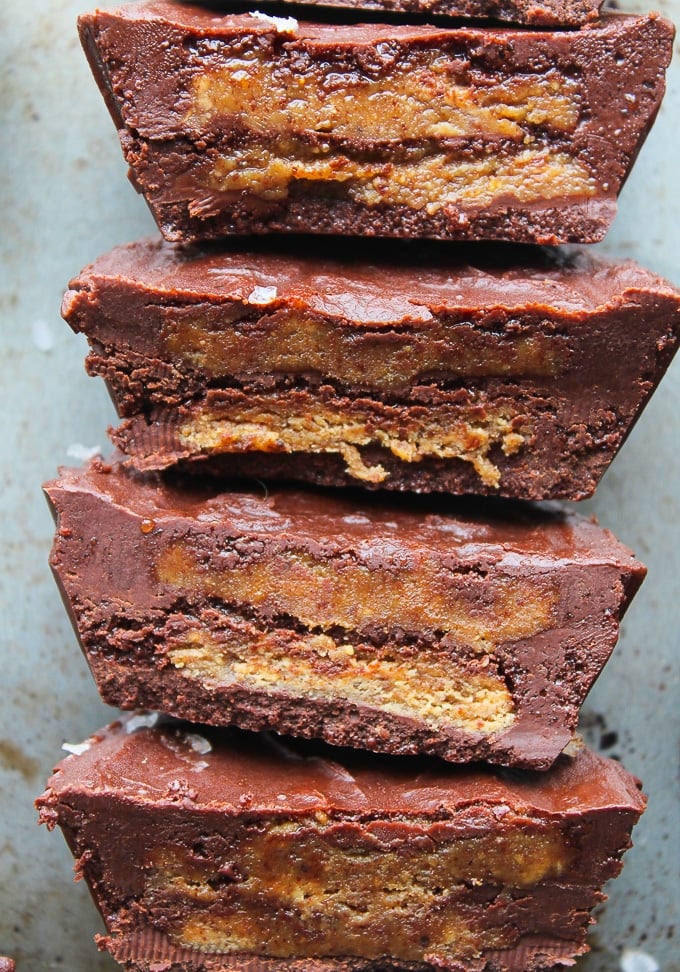 Recipe
Double Decker Almond Butter Cups
Yield:
10 -12 cups
Prep Time:
1 hour
Total Time:
1 hour
Double Decker Almond Butter Cups - made with six ingredients! Paleo, Vegan, and low FODMAP
Ingredients
Chocolate
1 cup coconut oil, 200 grams
1 cup cocoa powder, 118 grams
1/2 cup maple syrup, 156 grams, adjust to your taste
1 teaspoon vanilla extract
pinch of sea salt
Almond Butter Center
1/4 cup almond butter, 60 grams
2 tablespoons maple syrup, 40 grams
2 tablespoons melted coconut oil, 26 grams
1 teaspoon vanilla extract, 5ml
pinch of sea salt
Instructions
Melt the coconut oil in a small sauce pot. Once melted pour the oil into another bowl to combine your ingredients. Stir in the maple, cocoa powder, vanilla and salt. Combine until there are no remaining lumps. Set aside for the moment.
Add the almond butter mixture ingredients to that same small sauce pot and melt on a low heat. Stir until combined. Remove from the heat and set aside to cool.
Line a cupcake/muffin tin with papers.
Pour a small amount of chocolate into the paper liners - just enough to cover the bottom of the liners. Place the muffin tin the fridge to allow the chocolate to set - takes about 15 minutes.
Remove the muffin tin from the fridge. Spread about 1 teaspoon of the almond butter mixture over the top of each bottom chocolate layer. Leave a little room around all sides so that the almond butter doesn't show from the side. Pour just enough of the chocolate to cover the almond butter. Place the cups back in the fridge for another 15 minutes to harden once more.
Once again spread about 1 teaspoon of almond butter over the topmost chocolate layer. Cover the almond butter cups with the final layer of chocolate and place back in the fridge to set the final time.
Sprinkle a few flakes of sea salt over the top if desired and enjoy!
Notes
Make sure to use completely dry equipment when making/handling the chocolate. Chocolate seizes when it comes in contact with water making the surface crinkle. Store these in the fridge or freezer to keep them from melting.
Nutrition Information
Yield:

10
Serving Size:
cup
Calories:

311
Saturated Fat:

20g
Sodium:

4mg
Carbohydrates:

19g
Fiber:

3g
Sugar:

12g
Protein:

2g
This website provides approximate nutrition information for convenience and as a courtesy only. Nutrition data is gathered primarily from the USDA Food Composition Database, whenever available, or otherwise other online calculators.