Dangerously delicious six ingredient, three layer chocolate and caramel Vegan and Paleo Millionaires Shortbread.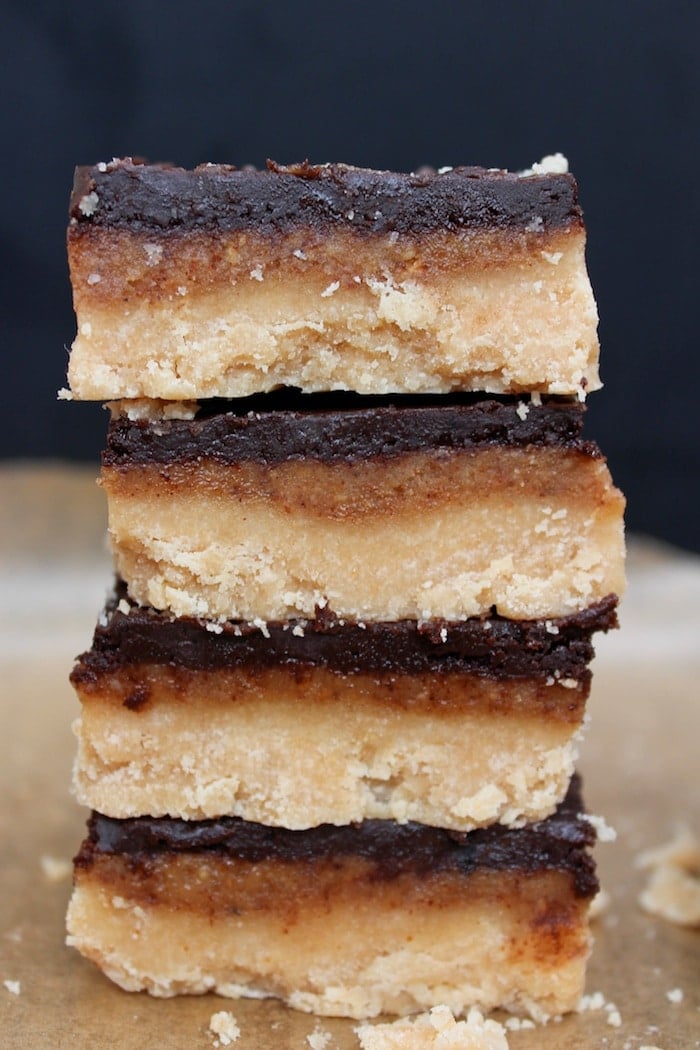 Now, I'm not really one to brag or anything, but these Paleo Millionaires Shortbread squares are  Ah– M A Z  I N G . It's actually a problem how good they are because I want to eat them all…yesterday.
Since moving to Sheffield, I've become the resident birthday cake maker – a job I take very seriously. So of course with my father-in-law's birthday coming up, I asked him what kind of cake he wanted. Instead of the usual cake, he asked if I could make him a batch of flapjack millionaires like the kind he was able to have before being diagnosed with Coeliac disease. I think going gluten free for him was more of a challenge than it was for Mike. He had to give up too many of his favorite foods, and he's not too keen on a lot of the gluten free store bought substitutes. So, not wanting to disappoint, I got right to it.
BTW: Did you know that Coeliac Disease runs in families? If you have a family member or you are that family member with gluten issues then make sure others in your family get tested too! You don't have to display the usual signs and symptoms of Coeliac Disease to have a problem. Mike can tell you all about it.  Right then. PSA over.
So I made his birthday millionaires with oats, and caramel, and dairy chocolate – just like he wanted, but I thought I'd try my hand at making a Paleo version for myself and Mike (and you all!). Now, I'm not going to kid myself into thinking that just because something is technically 'Paleo' makes it healthy, but I do prefer my sweets these days without refined sugars and grains. Seeing the amount of golden syrup that went into those flapjacks, as good as they were,  just felt so morally wrong to me. Like – chill, bro. Who needs three cups of sugar in anything?
Not only are these chocolatey, caramel millionaires refined sugar and grain free they are also vegan. The best part about vegan baked goods? The fact that you can lick the spoon at any time without any worry of salmonella. Not that that ever came between me and my cookie dough.  I mean, what?
The prep for these little slices of heaven is actually pretty minimal, requiring only six ingredients and a melting pot or two. The worst part is having to wait for the caramel and chocolate layers to harden in the fridge before going to town on these. But trust me – they are so worth the wait. Seriously. You need to make these so we can discuss how freakin' delicious they are.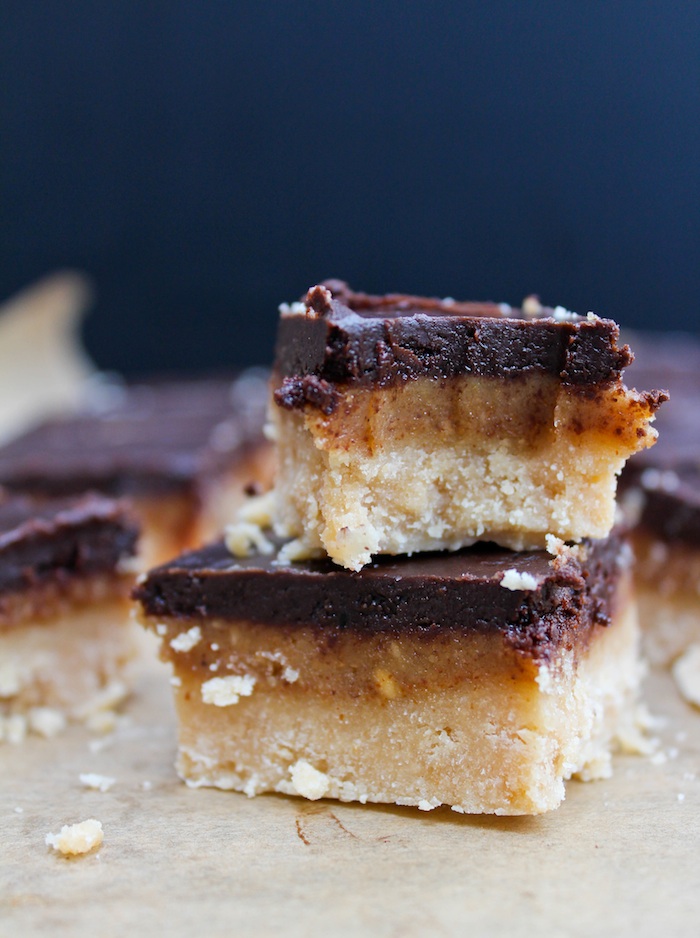 FACEBOOK | INSTAGRAM | PINTEREST  
Don't forget to #asaucykitchen on instagram if you try these Paleo Millionaires!  I'd love to see what you make with it!  You can also post your pictures to my facebook page!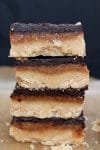 No Bake Paleo Millionaires Shortbread
Dangerously delicious six ingredient, three layer chocolate and caramel Vegan and Paleo Millionaires Shortbread.
Ingredients
Shortbread Layer
1

cup

| 112 grams coconut flour

1/2

cup

| 118 ml maple syrup

1/2

cup

| 74 grams grams melted coconut oil

1

teaspoon

| 5 ml vanilla extract
Caramel Layer
1/4

cup

| 60 ml maple syrup

1/4

cup

| 52 grams melted coconut oil

1/4

cup

| 60 grams almond butter

1

| 5 ml teaspoon vanilla extract

pinch of sea salt
Chocolate Layer
1/2

cup

| 104 grams coconut oil

1/2

cup

| 60 grams cocoa powder

3 -4

tablespoons

| 45- 60 ml maple syrup

1

teaspoon

| 5 ml vanilla extract

pinch of sea salt
Instructions
In a small bowl mix together your shortbread ingredients (the coconut flour, maple, oil, and vanilla. Press the dough into a lined 8x8 in baking tin to make the bottom crust. Set aside for later.

In a small pot melt the caramel ingredients on a medium low heat for about 3 minutes (the maple, oil, almond butter, and vanilla). Make sure to stir while everything melts to keep from burning. Let cool for a couple of minutes then pour over the top of the shortbread crust. Cover and refrigerate for about 30 minutes to set let the caramel set.

While the caramel is setting, begin making the chocolate by melting the coconut oil in a small sauce pot first. Stir in the maple, cocoa powder, vanilla and salt. Make sure there are no remaining lumps, then remove from heat and cool.

After the caramel has firmed up you can pour the chocolate over the top, spread with the back of a spoon to even out the top, then cover and refrigerate for 30-60 minutes until firm.
Recipe Notes
Before pouring the chocolate over the top of the caramel you want to make sure that the chocolate isn't too hot still or you'll end up melting the caramel which and you won't get those individual layers. Store these in the refrigerator.
Nutrition Facts
No Bake Paleo Millionaires Shortbread
Amount Per Serving
Calories 254
Calories from Fat 180
% Daily Value*
Total Fat 20g 31%
Sodium 18mg 1%
Potassium 106mg 3%
Total Carbohydrates 17g 6%
Protein 2g 4%
* Percent Daily Values are based on a 2000 calorie diet.
Leave me a comment letting me know what you think, and if when you do make these Paleo Millionaires don't forget to snap a picture and tag me on instagram @asaucykitchen so I can see too!
She brains and reluctant dishwasher for A Saucy Kitchen