Flourless Almond Butter Cookies – crispy around the edges and chewy in the middle | Paleo + Gluten Free
I hear that abs are made in the kitchen – so, surely by staying up late and baking cookies post workout, I'm working on my gains, yes?
No?
Not even if they are almond butter cookies? Almond butter is full of protein right? They're grain free too! No refined sugars either! I'm going to pretend you're saying yes and just go with it.
To be perfectly honest I always find it a bit funny to label a dessert "paleo". As if there were actually cavemen and cavewomen hanging around over wood burning fires enjoying a big ol' slice of
chocolate cake
. I still do it though and I completely understand why there is such a thing as
primal cookie dough
 <–sounds amazing, right? I think clear labels are helpful to people who choose to live by specific criteria for personal/health reasons.Besides, who am I or anyone else to be a total kill joy and police anyone else's food?
I guess what I'm trying to say is:
No, these almond butter cookies will of course not give you rock hard abs
Yes, they are grain and refined sugar free – though if you don't have any coconut sugar on hand you can absolutely sub it out for brown sugar and it's still amazing
Cookies = soul food
FACEBOOK | INSTAGRAM | PINTEREST  
Don't forget to #asaucykitchen on instagram if you try these Almond Butter Cookies! We love seeing what you make!  You can also post your pictures to my facebook page!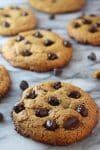 Almond Butter Cookies
Crispy around the edges and chewy in the middle - these flourless almond butter cookies are sure to be your new favorite cookie!
Instructions
Preheat your oven to 350°F/180°C

In a medium sized bowl beat the almond butter, coconut sugar, egg and baking soda. Fold in the chocolate chips.

Roll the cookie dough into little tablespoon sized balls and drop them onto your preprepared baking sheets. The cookies will spread so leave a couple of inches in between each cookie dough ball. If you have used natural, oily almond butter your cookie dough may be extra greasy - if that is the case use a paper towel to blot some of the excess oil.

Bake for 9-10 minutes for softer cookies and 11-12 minutes for crisper cookies. Take the cookies out of the oven and press a few extra chocolate chips into the cookies if you want that bakery style cookie look.

Allow the cookies to cool for at least 10 minutes on the cookie sheets. They'll firm up on the sheets and if you try to remove them too early they crumble. Once the cookies have cooled down enjoy!
Nutrition Facts
Almond Butter Cookies
Amount Per Serving (1 cookie)
Calories 234
Calories from Fat 153
% Daily Value*
Total Fat 17g 26%
Cholesterol 16mg 5%
Sodium 142mg 6%
Potassium 250mg 7%
Total Carbohydrates 16g 5%
Protein 6g 12%
* Percent Daily Values are based on a 2000 calorie diet.
 Ps take this one step further by making your own
homemade almond butter
! All you need is a quality blender/food processor and some almonds and you're good to go!
She brains and reluctant dishwasher for A Saucy Kitchen