Simple Vegan Nacho Cheese – made with less than 10 ingredients (plus water and salt but those don't count)! dairy, nut, and soy free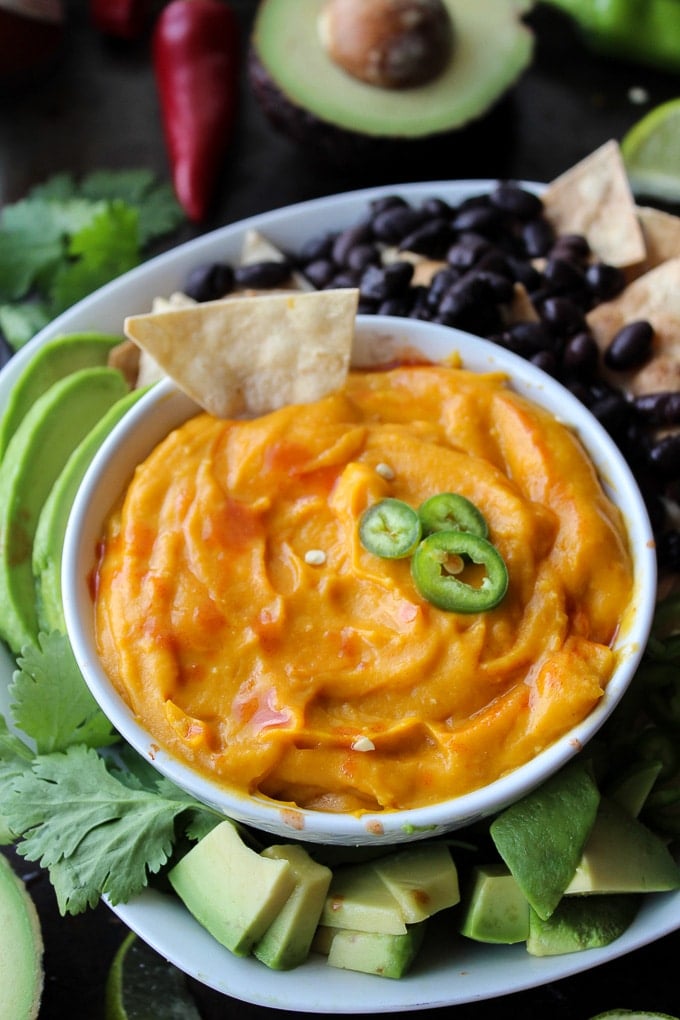 So here's the thing with cheese. I love it, but I'm not convinced that my body loves it. I'm also not at a point where I'm ready to give it up for forever. Thinking about the idea of 'forever' freaks me out enough without thinking about a cheese free 'forever'.
So instead of swearing it off completely I resign myself to save all my dairy filled cheese eating for special occasions like eating out or whenever the craving it particularly strong. Like on Wednesdays.
In the mean time I've found myself quite enjoying making dairy free cheeses at home. I can honestly say that I've liked some of the vegan cheeses over their dairy counterparts – like with this vegan nacho cheese. To be honest I've never actually liked most nacho cheeses before. I always think of movie theatre/sports event nachos that have that stick to your ribs, plasticky, this most definitely came from a can kind of vibe. I'd happily skip the cheese and load up on all the guac.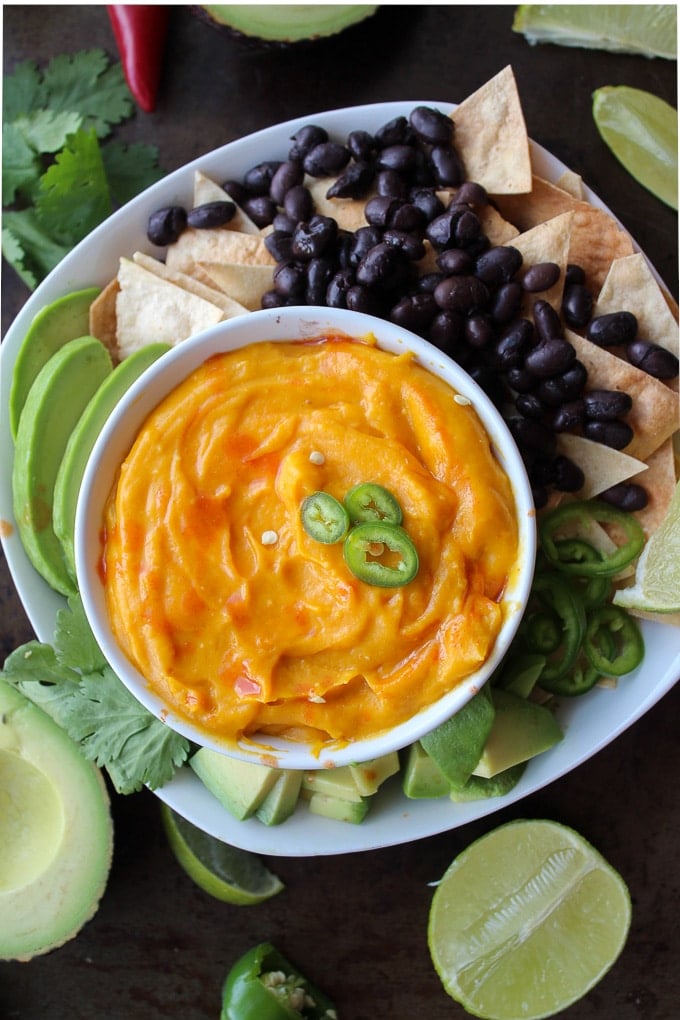 This cheese though.
It's
simple
versatile
going to make you want to keep dipping those chips.
I've tried other dairy free cheeses in the past that have been alright but I'm really loving this one. I think it'd also make a great mac n cheese base that I plan on experimenting with in the future.
The key with this recipe is to heat up the sauce after you've blended it all together.  After about 10 minutes on the stove top the tapioca starch begins to thicken and stretch becoming more cheesy and less gloopy.
I note in the recipe that the garlic is optional – If you have FODMAP issues feel free to leave it out. I've made it with and without. Both options are great, I just find that the garlic balances out some of the sweetness from the sweet potato. You can also add a little asafoetida powder in place of garlic. I personally am not a fan of asafoetida but a lot of people who need to eat low FODMAP diet like it as a garlic/onion substitute. Just be careful when you buy it because it can often times be cut with wheat flour making it an issue if you can't have gluten.
Whatever way you choose to enjoy it just make sure you've got plenty of chips on hand!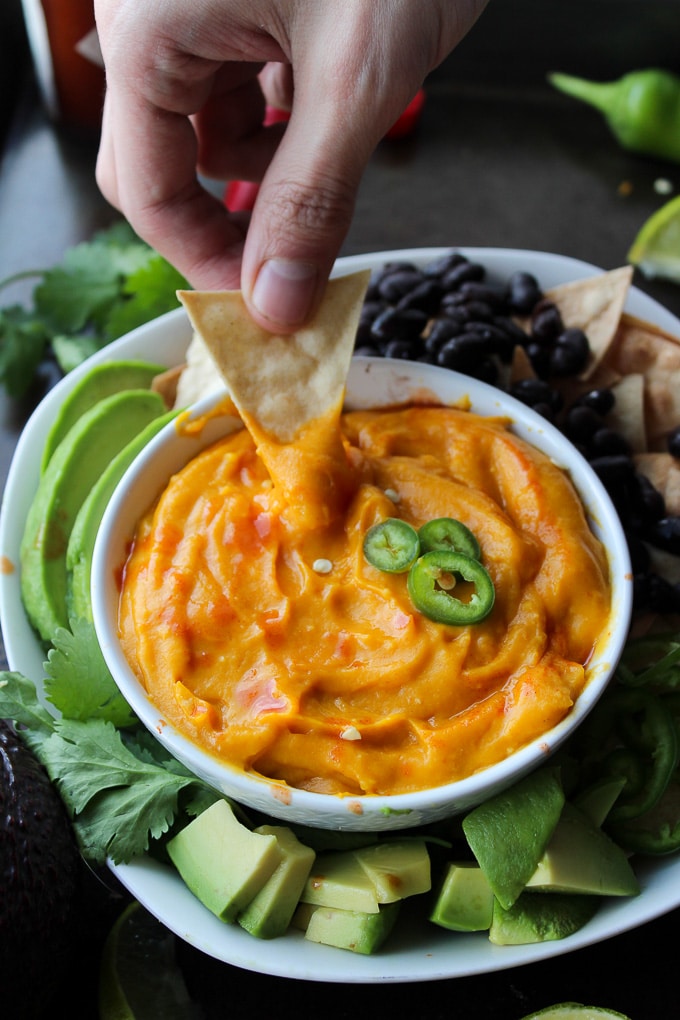 FACEBOOK | INSTAGRAM | PINTEREST | SNAPCHAT
Don't forget to #asaucykitchen on instagram if you try this vegan nacho cheese. I love seeing what you make!  You can also post your pictures to my facebook page!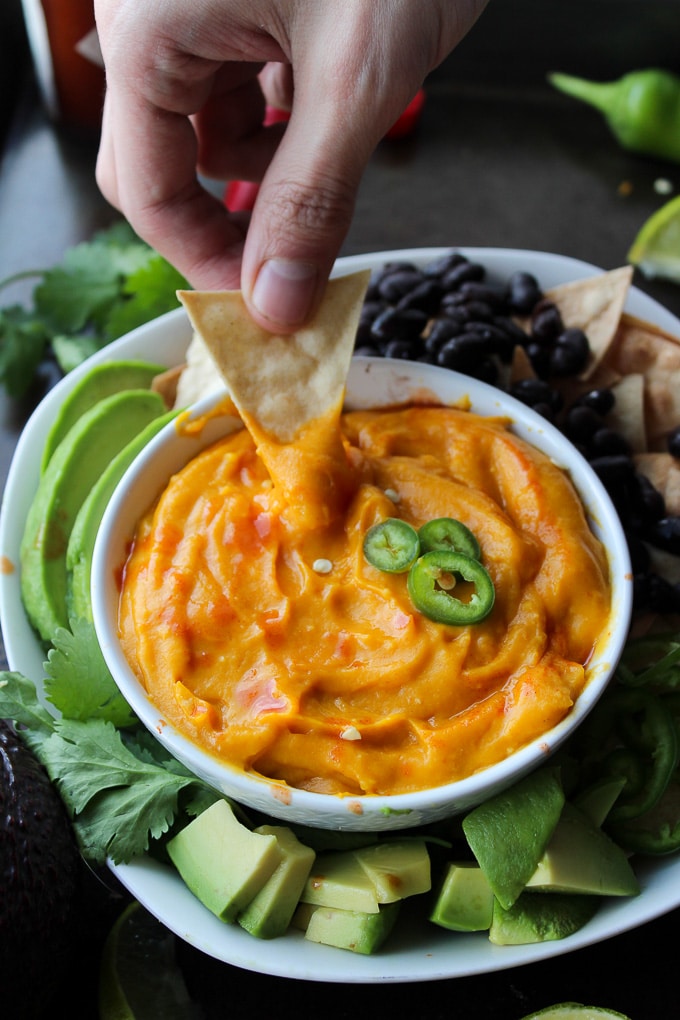 Recipe
Vegan Nacho Cheese
Yield:
10 servings
Prep Time:
20 minutes
Cook Time:
10 minutes
Total Time:
30 minutes
Vegan Nacho Cheese - less than 10 ingredients (plus water and salt but those don't count)! Dairy, nut, and soy free!
Ingredients
3 cups | 600 grams sweet potato peeled and cut into cubes
1 1/2 cups | 355 m water + more for boiling
5 tablespoons nutritional yeast
5 tablespoons tapioca starch/flour
1-2 cloves garlic, optional
1 tablespoon lemon juice
1 teaspoon smoked paprika
1 teaspoon sea salt, plus more to taste
1 teaspoon hot sauce, optional
Instructions
Add the diced sweet potato to a medium sized sauce pan, cover with water and bring to a boil. Allow it to boil for about 20 minutes or until you can easily pierce the sweet potatoes with a fork. Drain the water and add allow the potatoes to cool slightly before adding them to a blender.
Add the remaining ingredients to a blender or food processor and blend until smooth.
Pour the blended sauce back into the sauce pan you used before and warm on a low heat. After about 10 minutes the sauce will thicken and become stretchy like real nacho cheese. Make sure to stir the sides and bottom every so often to keep it from burning on the bottom.
After the sauce has thicken remove it from the heat and you're done!
Notes
If you want to speed up the cooling time for the sweet potatoes you can run them under cold water. Just be careful with adding hot things to a blender. If the pressure and heat is too great the lid may pop off covering you and your ceiling in hot liquids.
Nutrition Information
Yield:

10
Serving Size:
g
Calories:

63
Sodium:

265mg
Carbohydrates:

13g
Fiber:

2g
Sugar:

1g
Protein:

2g
This website provides approximate nutrition information for convenience and as a courtesy only. Nutrition data is gathered primarily from the USDA Food Composition Database, whenever available, or otherwise other online calculators.