Sweet, simple and supremely satisfying – perk up your day with these Lemon Ginger Flapjacks! Made with less than 10 ingredients, mixed in one pot and baked in about 30 minutes. Gluten Free + Tested with Low FODMAP & Vegan options!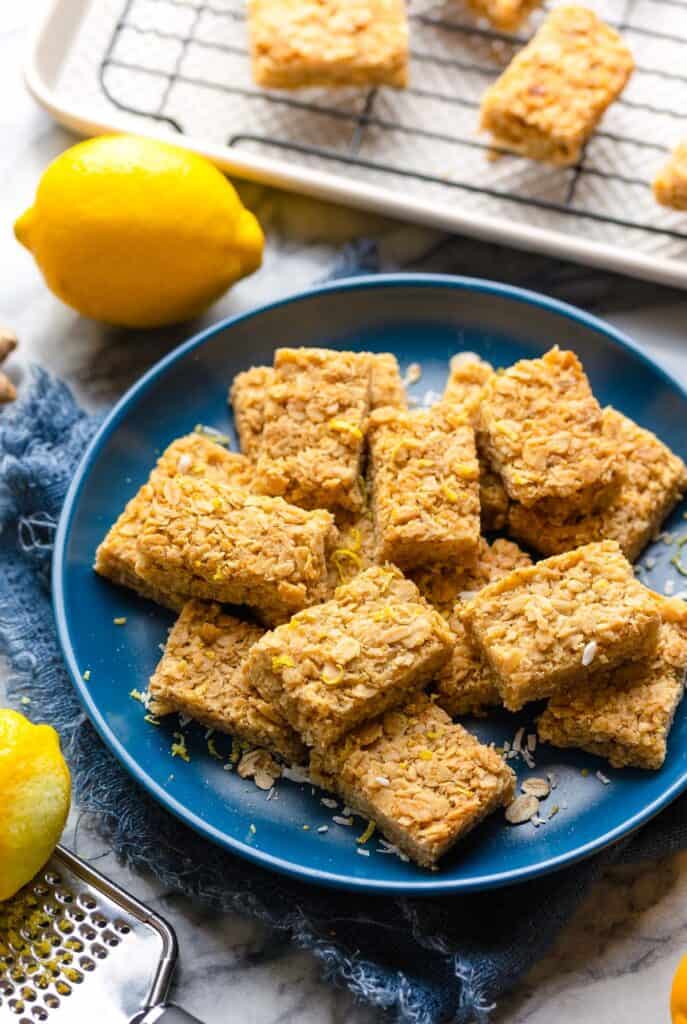 I love a good flapjack. They're cheap and easy to make and they're always great with a cup of tea or coffee.
While you can't go wrong with a traditional flapjack, I think these zesty lemon ginger flapjacks might be my new favourite!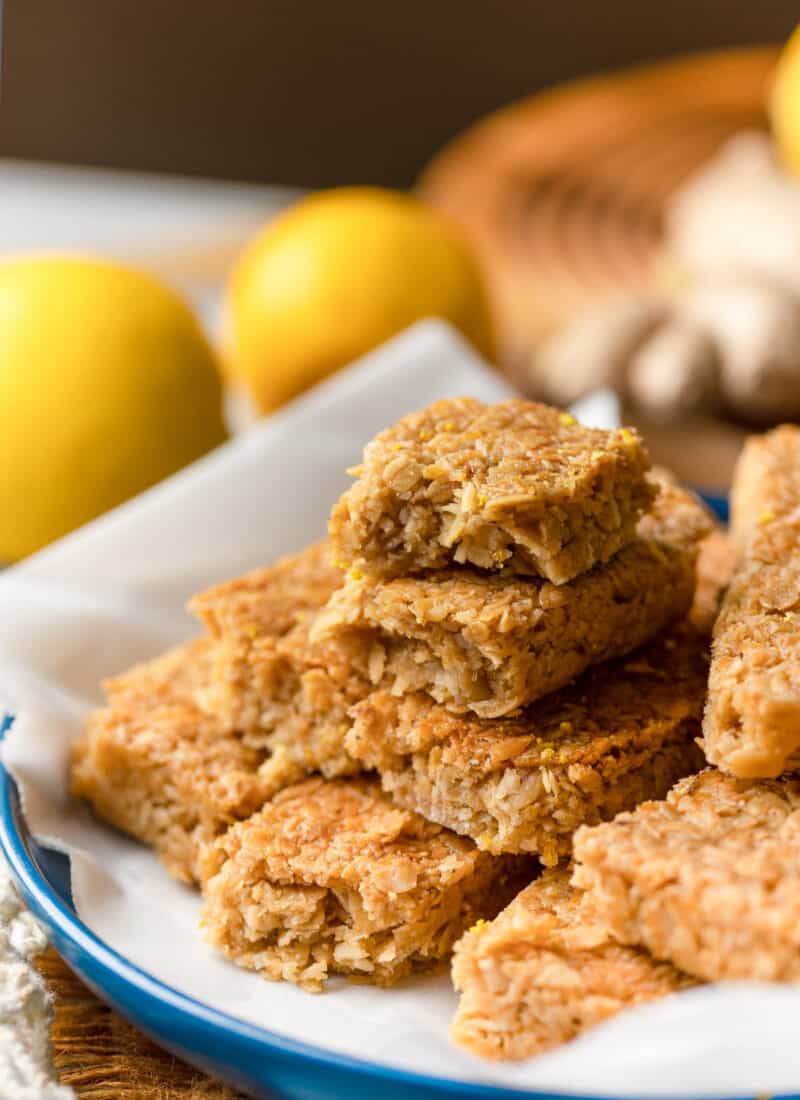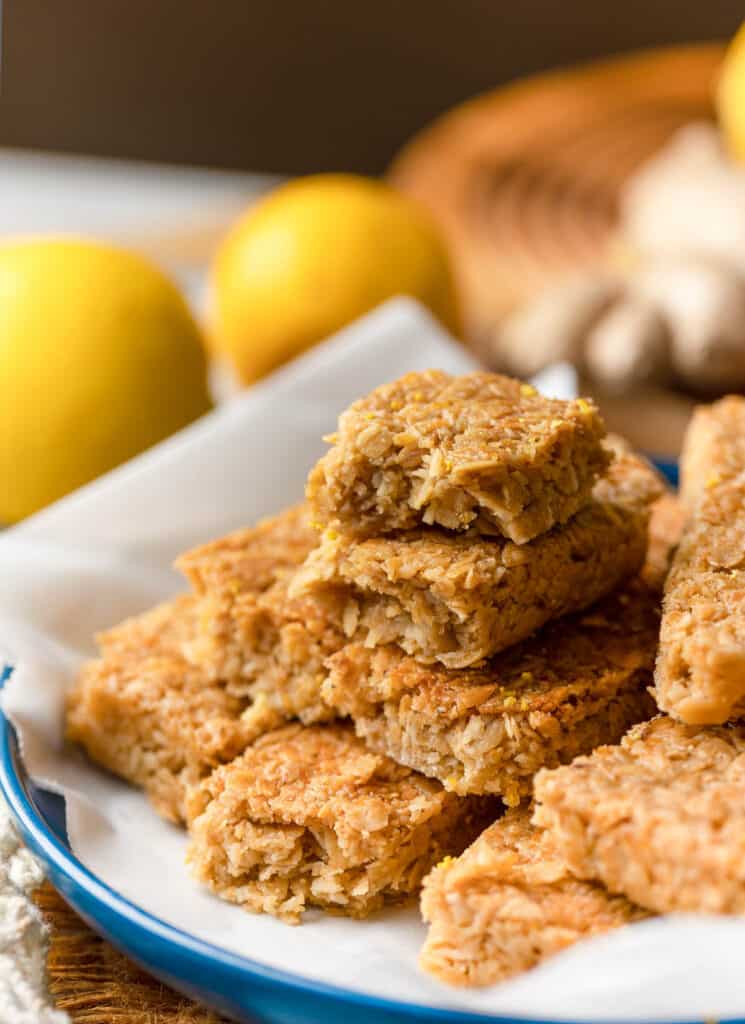 Lemon Ginger Flapjack Ingredients
Ginger Powder & Lemon Zest – Always a powerful and delicious flavor combo – these two ingredients are what makes this simple traybake really pop!

Powdered ginger is better than fresh in this recipe as it mixes more evenly throughout and adds a more intense flavor.

Oats – Make sure to use certified gluten free oats to ensure this recipe is truly gluten free. While oats are inherently gluten free, processing and production often leads to cross contamination which can make them a tricky ingredient for celiac/gluten intolerant people.

Choose quick oats (also known as porridge oats) or rolled oats (also known as old fashioned oats). Quick oats are a flatter looking version of rolled oats. Normally this means they'd cook faster than rolled oats, but in this context it doesn't matter. Rolled oats will just make for slightly chewier lemon flapjacks.

Coconut – This recipe is sweet enough as is so choose unsweetened desiccated coconut or shredded coconut for best results. Coconut adds a bit more variety in texture and flavor. Feel free to check the recipe notes if you'd prefer to make these without.
Butter – Use a vegan butter block or coconut oil for a dairy free option.
Honey or Maple Syrup – I prefer making flapjacks using honey or pure maple syrup instead of golden syrup (a super concentrated sugar syrup or cane molasses) as I think it tastes better. Choose maple syrup if you'd like a vegan or low fodmap option, but check the recipe notes for further tips on using maple.
Brown Sugar – I recommend light brown sugar as dark brown sugar contains extra molasses and can make these too sweet.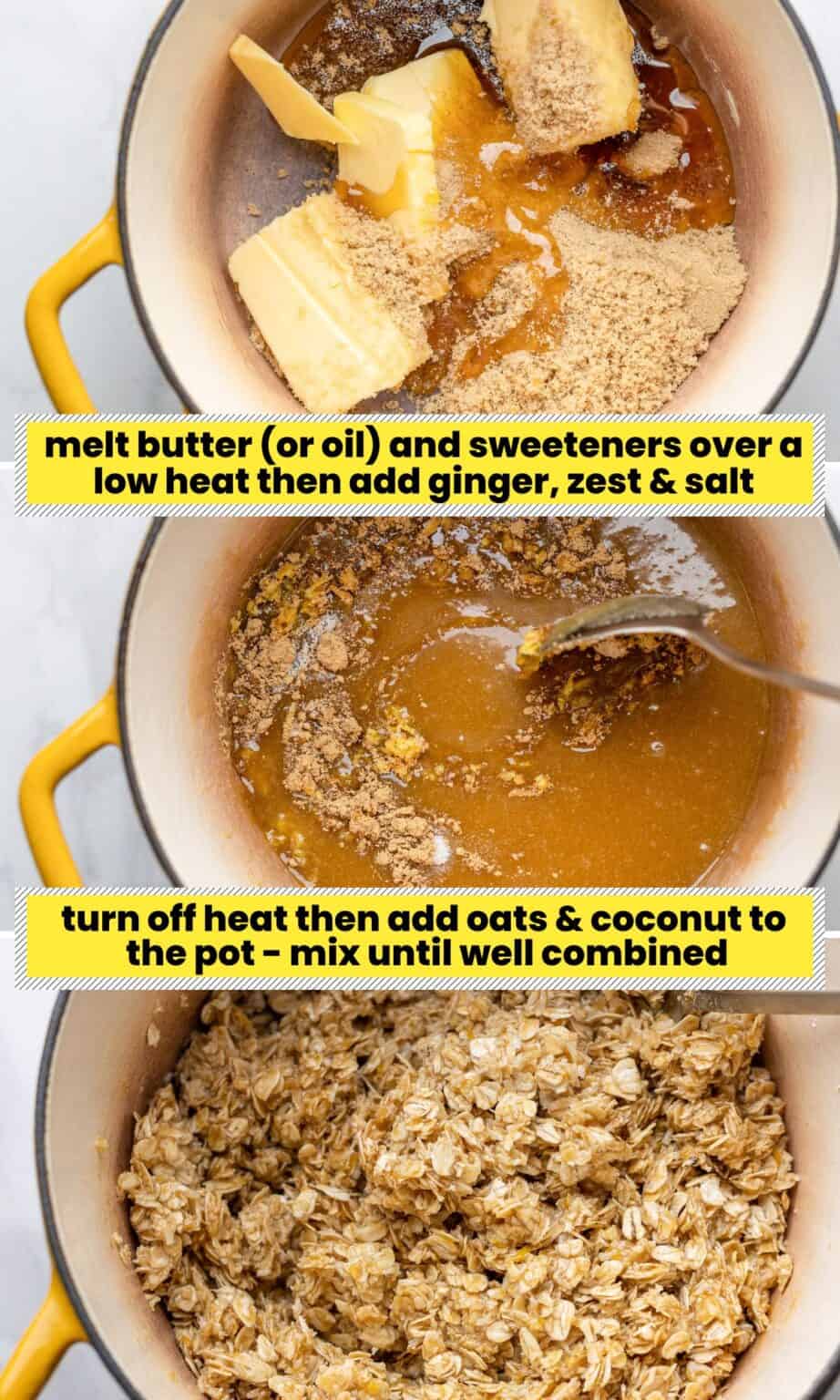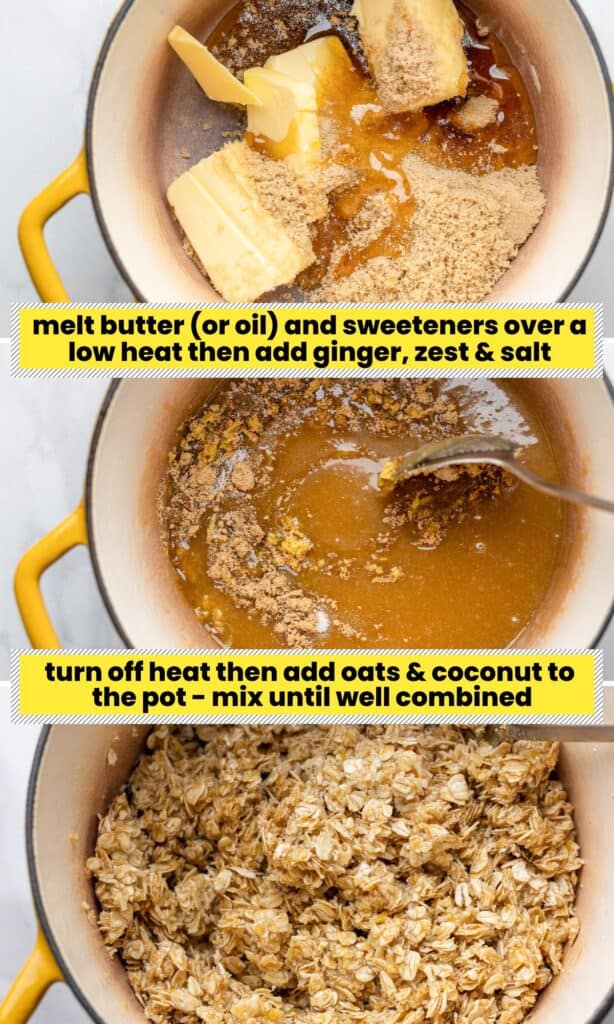 Steps
Just like my traditional gluten free flapjacks, these lemon ginger oat bars are super quick and easy to make! Broken down into a few simple steps:
Melt the butter, honey/maple and sugar over a medium heat until the butter has melted and sugar dissolved.
Stir the lemon zest, ginger powder and salt into the wet ingredients, then add the oats and coconut and mix into a thick and sticky flapjack mixture.
Press the oat mixture into a prepared baking dish. Use the bottom of a flat cup or back of your spoon to evenly press the mixture into the pan.
Bake in the middle of the oven until set.
Cool the bars in the pan a bit then cut into slices and enjoy!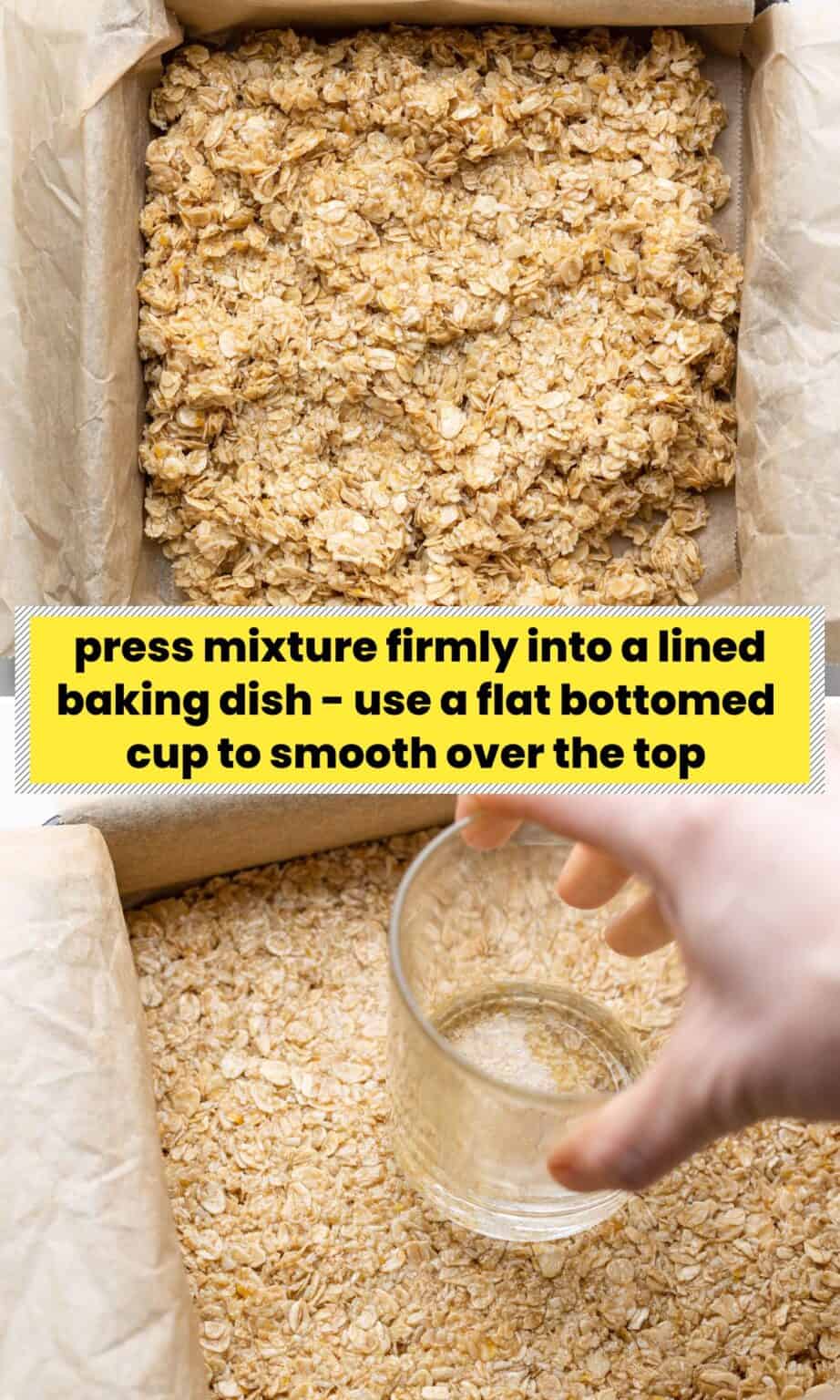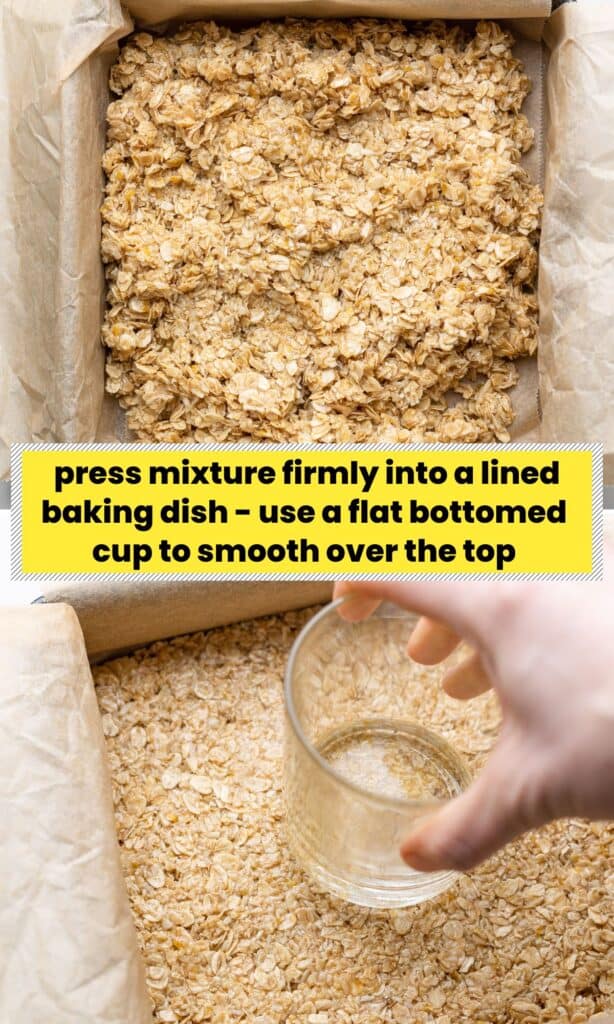 Substitutions or Additions
Coconut oil instead of butter: For an even more intense coconut flavor, use coconut oil instead of butter. Just make sure to use coconut oil that's still solid at room temperature (not the type that is always in liquid form).
Golden syrup in place of honey/maple: Traditional flapjacks use golden syrup. If you'd prefer, feel free to swap out the maple/honey with golden syrup.
Omit the desiccated/shredded coconut: Reduce to 1/2 cup/ 150 g butter and leave out the coconut. Everything else can remain the same.
Add vanilla extract (or other extracts): A teaspoon of vanilla, though not necessary is always delicious. You can even try lemon extract if you have it, though I wouldn't add any more than 1/2 teaspoon as a little goes a long way.
Add White Chocolate: Turn these lemon flapjacks into lemony white chocolate flapjacks with either a melted chocolate drizzle or white chocolates chips mixed into the bars before baking!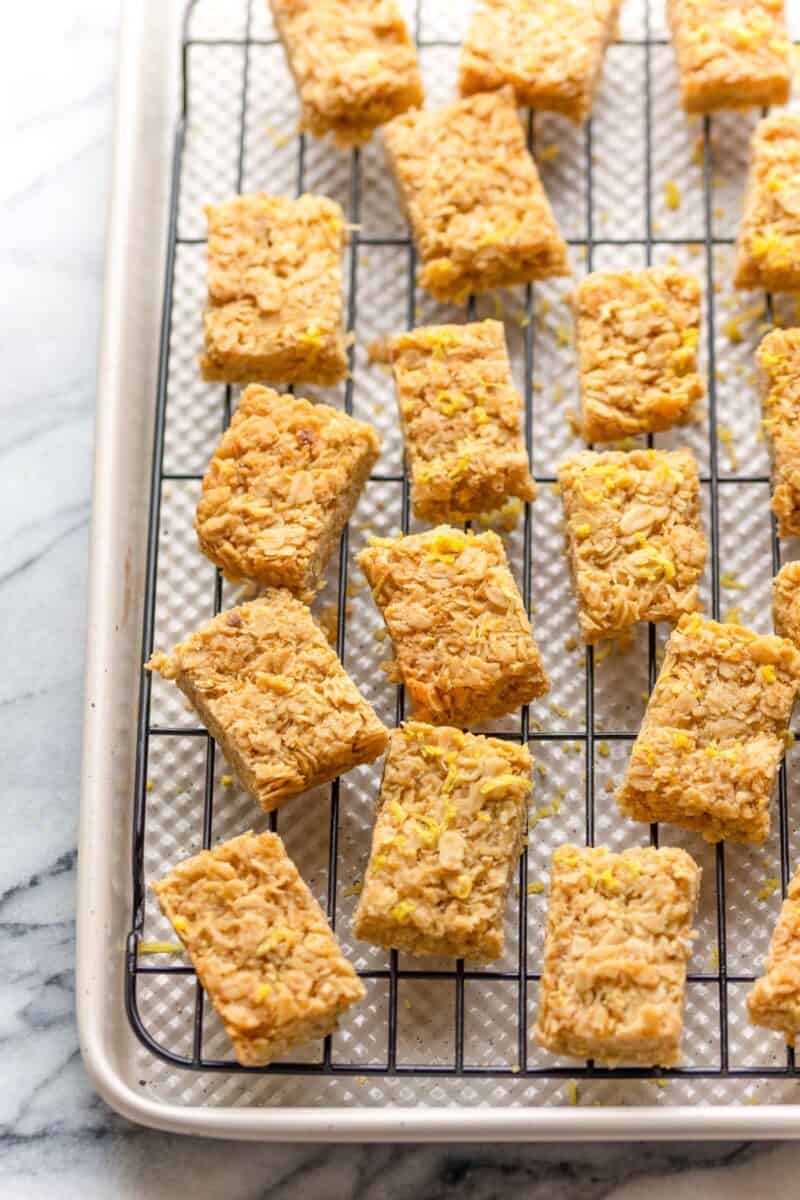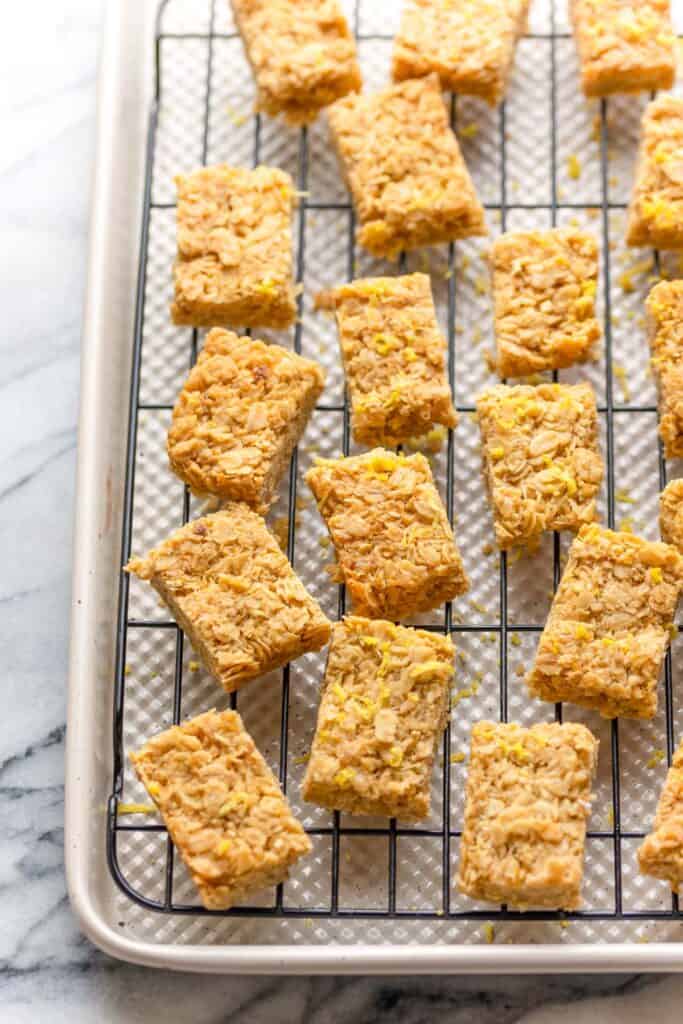 And that's it! Sweet, simple and delicious!
These make for great on-the-go snacks or breakfast bars.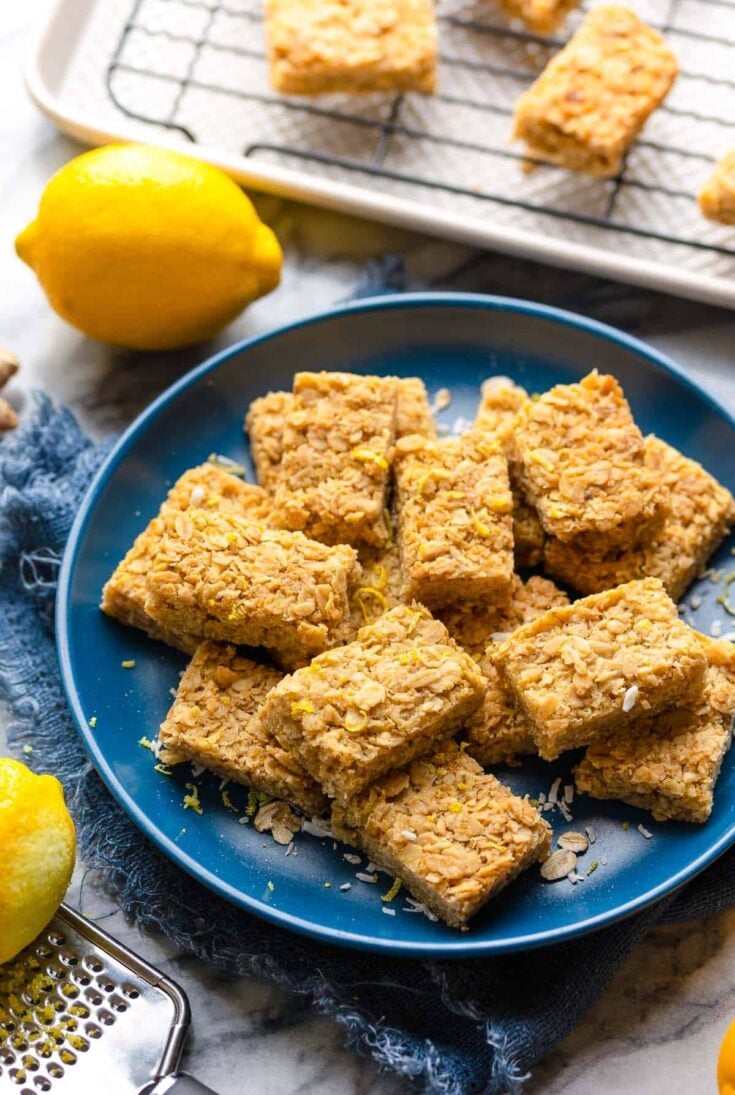 Recipe
Lemon Ginger Flapjacks
Yield:
16 flapjacks (2inch long)
Prep Time:
15 minutes
Cook Time:
30 minutes
Total Time:
45 minutes
Made with less than 10 ingredients, mixed in one pot and baked in about 30 minutes
Ingredients
2/3 cup (150 g) butter or vegan butter block
1/4 cup (85 g) honey or maple syrup (103 g)
1/2 cup (110g) light brown sugar
1/4 tsp salt (optional - omit if using salted butter)
2 tablespoons lemon zest (or zest from 2 lemons)
1 heaped teaspoon ground ginger
2 1/2 cups (225 g) certified gluten free oats
1/2 cup (48 g) unsweetened desiccated coconut
Instructions
Pre heat oven the 325°F/160°C. Line an 8x8 inch square tin with baking paper. Leave an inch of paper hanging over the sides so that you can easily remove the bars from the pan later. Set aside.
In a medium saucepan combine the butter, honey/maple and light brown sugar and warm over a medium heat until the butter has melted and the sugar dissolved.
Add salt, lemon zest and ginger powder to the melted butter mixture. Mix until fully combined. Turn off the heat.
Add oats and coconut. Mix into a thick, evenly combined mixture.
Transfer the flapjack mixture into the lined baking tin. Press evenly into the tin. Use the back of a spoon of bottom of a flat glass to firmly and evenly press the mixture into the pan.
Bake in the middle of the oven for 28-30 minutes. See notes for flapjacks made with maple syrup.
Let cool in the pan about 15 minutes then use the over hanging baking paper to lift the bars out of the pan. Cut cooled flapjacks into slices and enjoy.

Notes
Substutitute: You can use coconut oil instead of butter (2/3 cup | 140 g)
Make it vegan: use vegan butter block and maple syrup.
Make it low fodmap: use maple syrup
Maple Syrup Note: After 30 minutes, turn off the heat and open the door. Leave the pan inside the oven (with the door still open) and leave for 15-20 minutes to fully set. Then remove from the oven and set aside until fully cool. Since maple isn't as sticky as honey it needs a bit more time to set.
Nutrition Information
Yield:

16
Serving Size:
1 flapjack
Calories:

175
Total Fat:

11g
Saturated Fat:

7g
Cholesterol:

20mg
Sodium:

99mg
Carbohydrates:

19g
Fiber:

2g
Sugar:

4g
Protein:

2g
This website provides approximate nutrition information for convenience and as a courtesy only. Nutrition data is gathered primarily from the USDA Food Composition Database, whenever available, or otherwise other online calculators.
What to do with the leftover whole lemon?
The natural lemon flavouring here comes entirely from the zest – no lemon juice required. Here are a few ways to use your leftover lemon if you're short on ideas.